Greetings everyone, I'm Nitsu and I want to show you the work done by my classmates from my industrial design career. The slogan they had was to create food packaging that were possible to be produced industrially in a medium scale seeking to revalue a product or native food of a province of my country Argentina.
Saludos a todos, soy Nitsu y quiero mostrarles los trabajos que realizaron compañeros de mi carrera de diseño industrial. La consigna que ellos tenían era crear empaques de alimentos que fueran posible ser producidos industrialmente en una mediana escala buscando revalorizar algún producto o alimento autóctono de alguna provincia de mi país Argentina.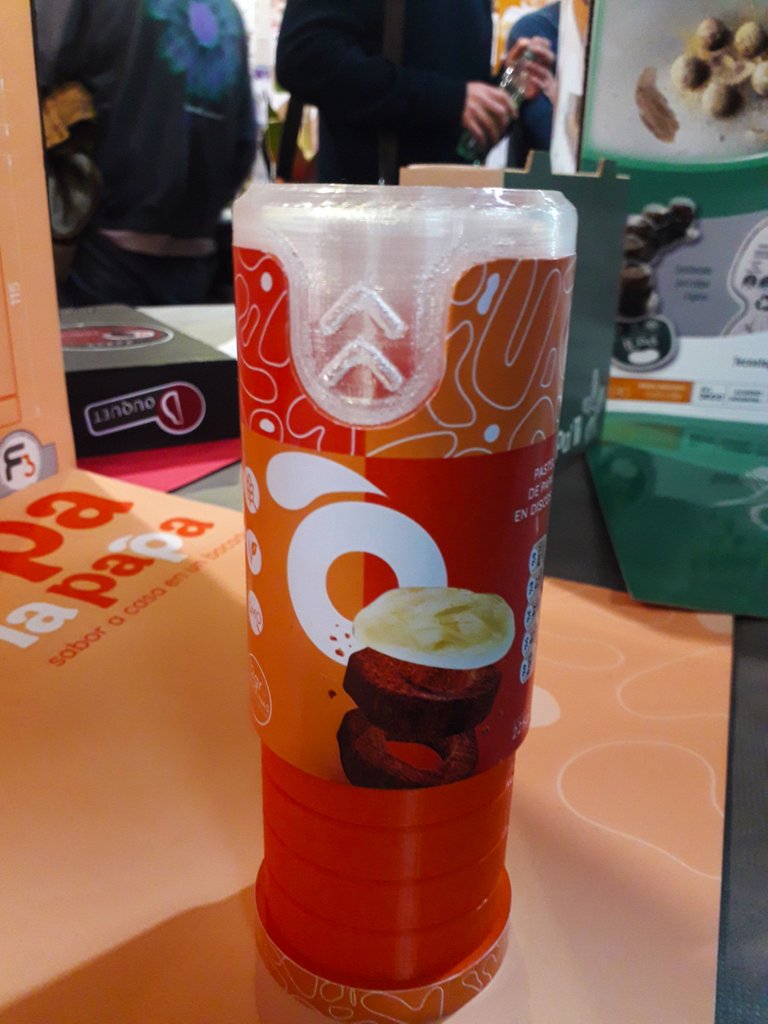 Why produce them on a medium scale? This work is designed to contextualize it as a food or gift to take to an acquaintance or relative in order to revalue foods that are typical of the provinces, but are often overlooked trying to generate an experience for the person who consumes it.
¿Por qué producirlos en mediana escala? Este trabajo esta pensado para contextualizarlo como un alimento o regalo para llevar a algún conocido o pariente de esta manera se logran revalorizar alimentos que son típicos de las provincias, pero muchas veces son pasados por alto intentando generar una experiencia para la persona que lo consume.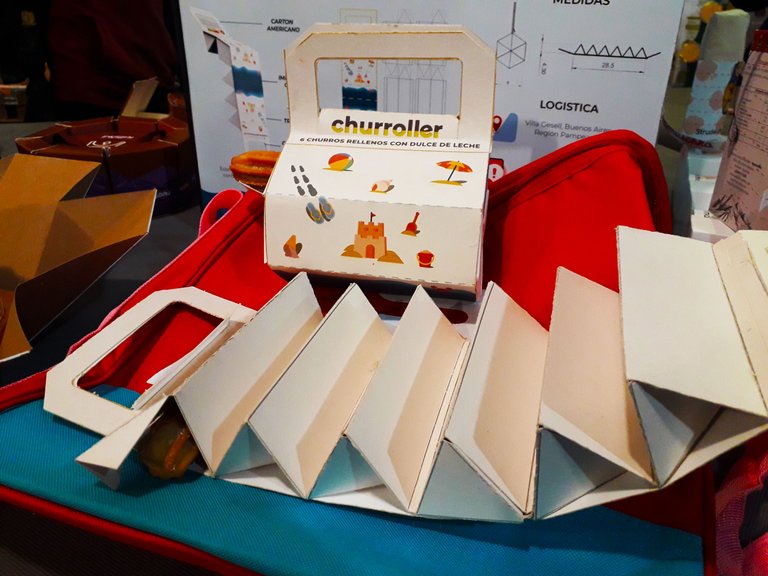 This was the slogan set, the photos were taken in the exhibition that is always done at the end of a job and luckily a common sharing is organized with the deliveries of all levels from first year to fifth year of industrial design.
Esta fue la consigna planteada, las fotos las tome en la exposición que se hace siempre al finalizar un trabajo y por suerte se organiza una puesta en común con las entregas de todos los niveles desde primer año hasta quinto año de diseño industrial.
The works delivered in general have a great final finish, they are projects that were made with a lot of dedication and look very professional. If I saw them in another context I would be sure that they are packaging that are currently in circulation, but they are only ideas for possible packaging. In addition to packaging there are also proposals for food kits designed as lunch boxes to transport food in different contexts.
Los trabajos entregados en general tienen un gran acabado final son proyectos que fueron hechos con mucha dedicación y se ven muy profesionales. Si los viera en otro contexto estaría seguro que son empaques que actualmente se encuentran en circulación, pero solo son ideas para posibles empaques. Además de packaging también hay propuestas de kit de alimentos pensadas como viandas para poder transportar comida en diferentes contextos.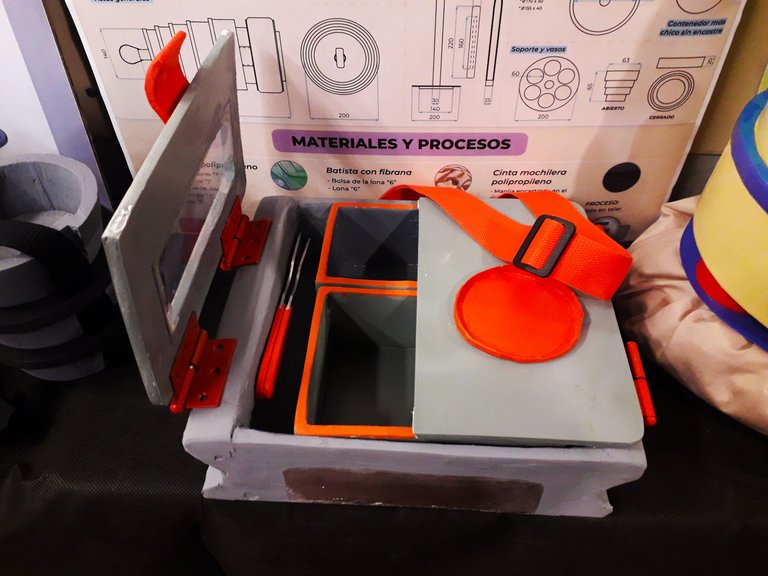 This first food kit is simple, but with a great personality inside it comes with its own kit of utensils to be used and apparently it can be carried like a small suitcase because it has a strap to be slung over the shoulder.
Este primer kit de alimento es sencillo, pero con una gran personalidad dentro trae su propio kit de utensilios para ser usados y al parecer puede ser trasportado como una pequeña valija porque tiene una correa para se colgado en el hombro.
This food kit is very striking, visually it is cute, but for me it is too literal and on that side I do not like if it were more subtle and only suggested to be an avocado I think it would be much better, the colors are very vivid, it also has a cutlery kit and a space to place a water container like the previous one can be transported as a bag.
Este kit de alimentos es muy llamativo, visualmente es lindo, pero para mí es demasiado literal y por ese lado no me gusta si fuera mas sutil y solo sugiriera ser una palta creo que estaría mucho mejor, los colores son muy vivos, también cuenta con un kit de cubiertos y con un espacio para colocar un contenedor de agua al igual que el anterior se puede transportar como un bolso.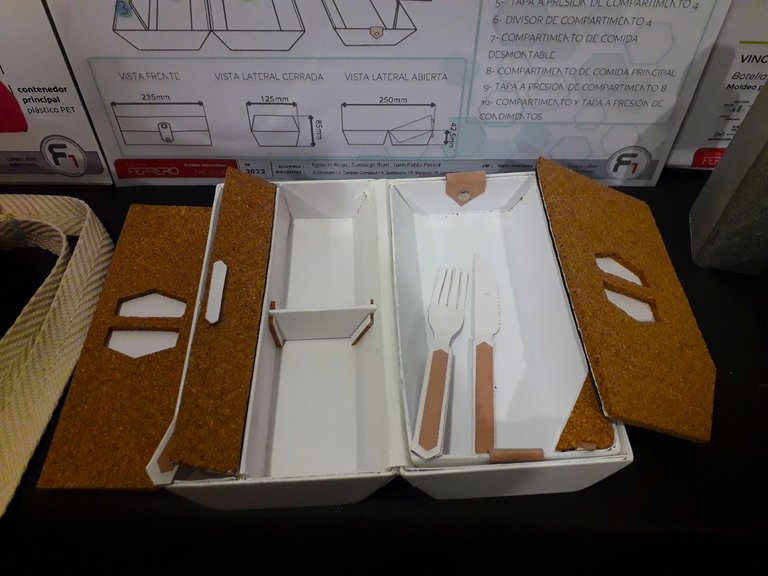 This last kit is made with a simple materiality, but I like that they have delimited the utility areas with the cork material is its main strength giving a great personality to the product and almost making it its main feature.
Este último kit este hecho con una materialidad sencilla, pero me gusta que hayan delimitado las zonas de utilidad con el material de corcho es su fuerte principal dándole una gran personalidad al producto y casi convirtiéndolo en su principal característica.
This one is very large, it has a lot of detail, but the size is justified as it allows carrying a lot of food for several people, it was designed to carry food on long walks for a group of people.
Aquí ya empiezan los empaques para comida, este a mi pareces es muy grande, cuenta con mucho detalle, pero el tamaño esta justificado al permitir trasportar mucha comida para varias personas fue pensado para llevar alimentos en largas caminatas para un grupo de personas.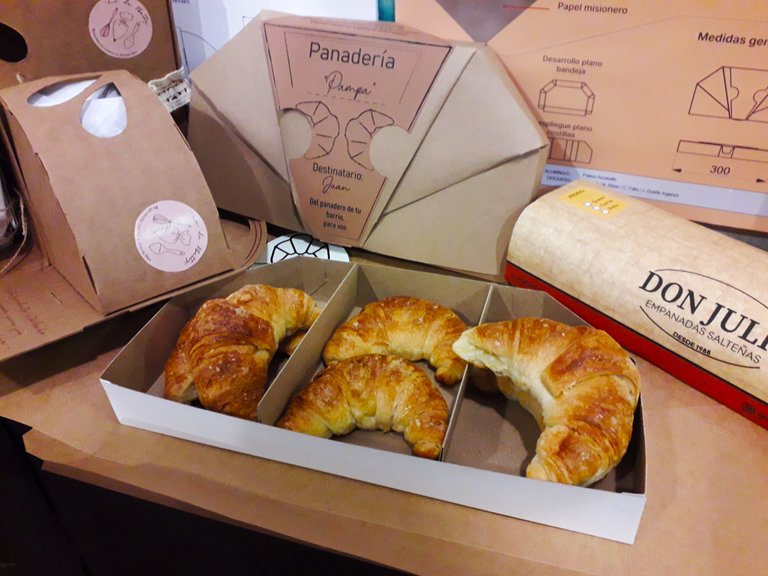 This person creates a packaging to commercialize invoices, he chose a missionary cardboard and created a very good graphic to give priority to the food. Next to it there is a packaging of empanadas, it is a rectangular box where by stretching to one side we can take out the empanadas. The box is accompanied by an area with a typical sauce from Salta, allowing a new experience with this food.
Esta persona arma un packaging para comercializar facturas, eligió un cartón misionero y creo una muy buena grafica se logra darle prioridad al alimento. A su lado hay un empaque de empanadas, es una caja rectangular donde al estirar hacia un lado podremos ir sacando las empanadas. La caja esta acompañada con una zona con salsa típica de Salta permitiendo una nueva experiencia con este alimento.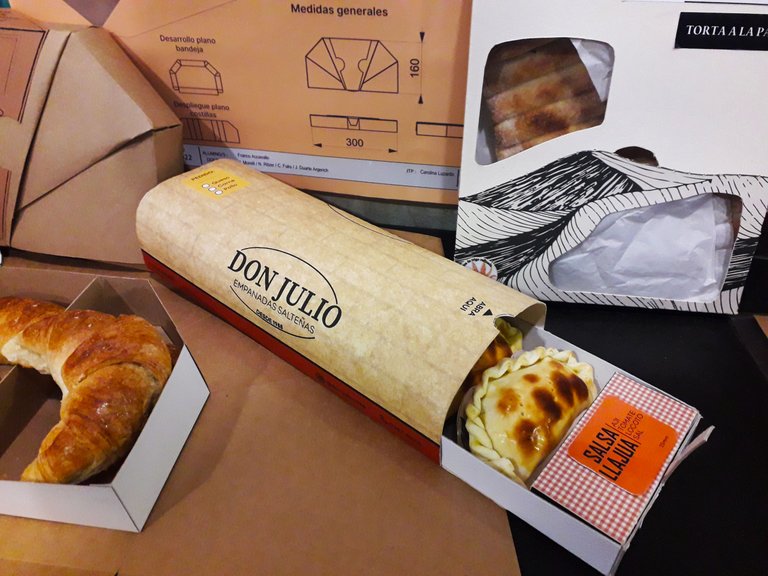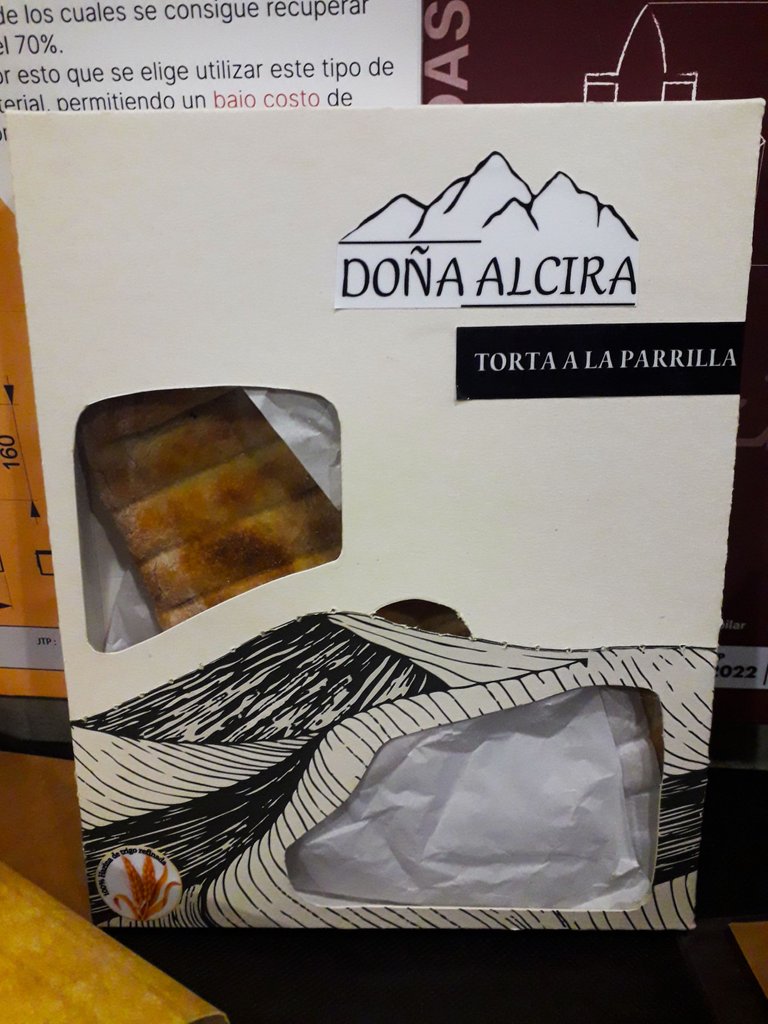 There are many outstanding works, some more striking for the food they market and others for the packaging and graphics, I could easily be analyzing each of them and highlighting what I find remarkable. There are packages that are more focused on a group experience where there are several portions to share with family or friends, all of them made a great effort in the development of their work as well as in the final presentation of the packaging and the explanatory sheets, you can notice the great passion for the race.
Hay muchos trabajos destacables, algunos más llamativos por el alimento que comercializan y otros por el empaque y la gráfica tranquilamente podría estar analizando cada uno de ellos y resaltando lo que a mi me parece destacable. Hay empaques más enfocados en una experiencia grupal donde se busca que haya varias porciones para poder compartir con familiares o amigos, todos se esforzaron mucho ya sea en el desarrollo de sus trabajos como en la presentación final del empaque y las laminas explicativas se puede notar la gran pasión por la carrera.
| | | |
| --- | --- | --- |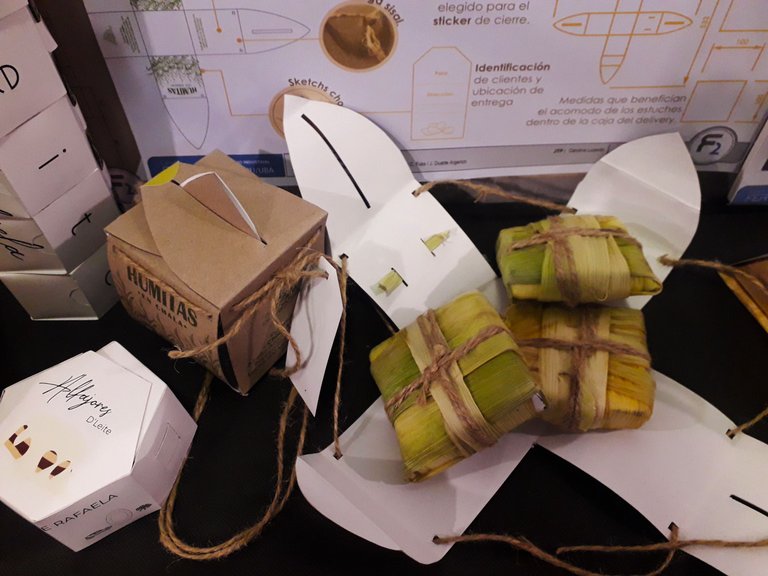 I would like to talk a little about the productive reality of packaging. As you will see there are many very original proposals but most likely if you are hired to design a packaging you are asked to be as cheap and easy to transport, there are jobs that meet this, but many that are probably very expensive to produce either by the form or the materials used. The good thing is that at this stage of the race are still jobs to experiment and get the creativity perhaps it would be good that at some point the subject is touched in the race as many of these jobs are only as concepts, it would be optimal that we approached a little closer to the productive reality so that once we leave we are more familiar with the labor market.
Me gustaría hablar un poco sobre la realidad productiva de los empaques. Como verán hay muchas propuestas muy originales pero lo más probable si te contratan para diseñar un packaging te pidan que sea lo mas barato y sencillo de transportar, hay trabajos que cumplen con esto, pero muchos que seguramente son muy caros de producir ya sea por la forma o los materiales que se usan. Lo bueno es que en estas instancias de la carrera todavía son trabajos para experimentar y sacar la creatividad tal vez estaría bueno que en algún momento se tocara el tema en la carrera ya que muchos de estos trabajos solo quedan como conceptos, lo optimo seria que nos acercaran un poco más a la realidad productiva así una vez salimos estamos mas familiarizados con el mercado laboral.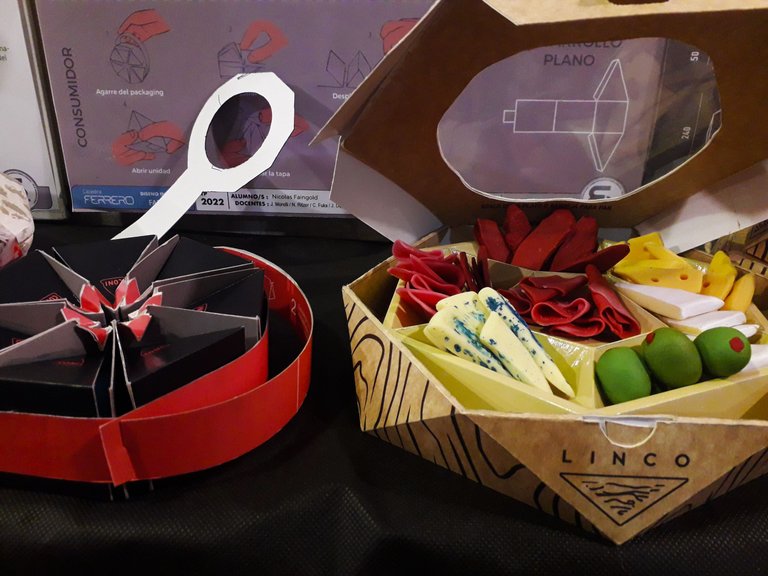 | | | |
| --- | --- | --- |
What did you think of the works I showed in this post, are there any that you like the most or that you feel is a great idea to market? I love to be able to read your comments and give you feedback. I hope I can continue to bring you work from my career, I'm Nitsu and I wish you a great day.
¿Qué les parecieron los trabajos que mostré en este post? ¿Hay alguno que les guste más o sientan que es una gran idea para comercializar? Me encanta poder leer sus comentarios y opinar al respecto. Espero poder seguir trayéndoles trabajos de mi carrera, soy Nitsu y les deseo un gran día.

My 3D printing works @nit_3dprinting
Mis trabajos de impresión 3D @nit_3dprinting
Translated by DeepL
Traducido con DeepL
All images are my own
Todas las imágenes son de mi autoría
My last post Our TITI of Karmaland [ENG-ESP]
Mi último post Our TITI of Karmaland [ENG-ESP]