Wireless charging at the food court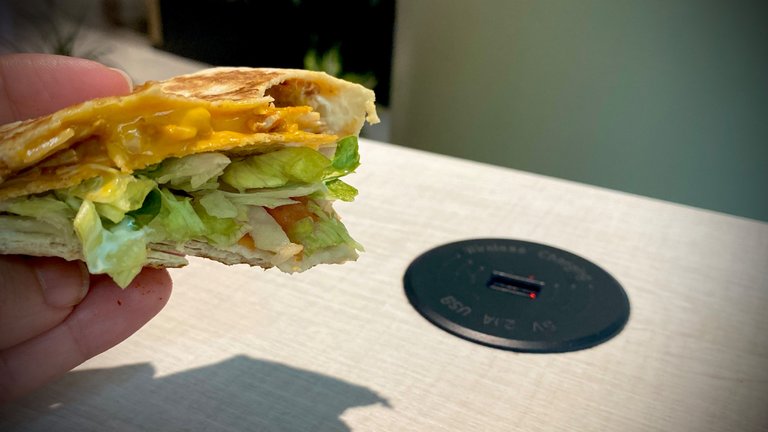 Probablemente no sea lo último en tecnología, y tampoco es que lleve poco tiempo a disposición del público, pero para mí fue todo un descubrimiento hace un par de meses. No me refiero al conocimiento del tipo de tecnología o al alcance de esta, sino a la proximidad del espacio público en donde se encuentra y la comodidad que puede brindarnos.
Fue un descubrimiento bastante casual, un día de esos en los que no se está pendiente de cosas importantes y tu cabeza repara en detalles que normalmente pasarías por alto, como un puerto de carga para teléfonos ubicado en la mesa de la zona de comidas de un centro comercial en la que te has sentado a comer.
Y por supuesto que pasaría de prestarle atención porque estos puntos suelen ser para carga mediante USB y lo de salir con cables me parece bastante molesto, intento llevar encima lo mínimo, pero claro, el símbolo universal del wireless captó mi atención cuando le estaba tomando una foto a mi bandeja de comida y me estorbaba el punto de carga en la imagen.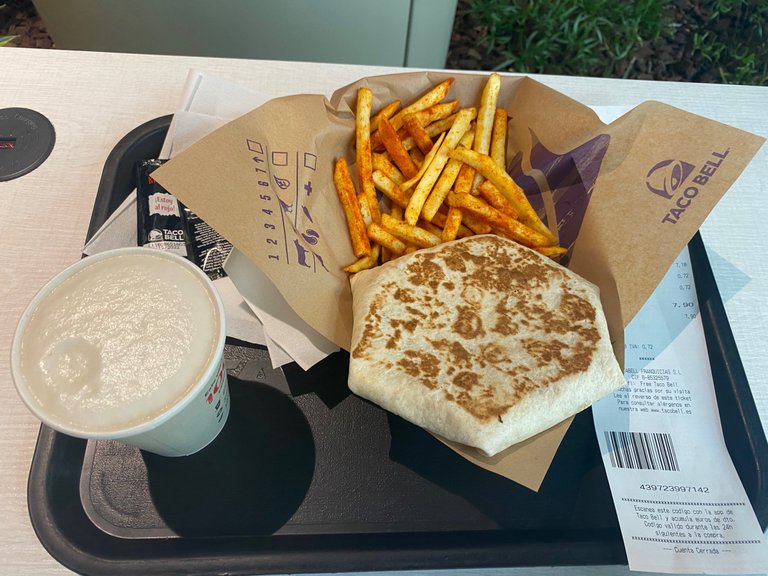 It is probably not the latest in technology, and it is not that it has been available to the public for a short time, but for me it was a real discovery a couple of months ago. I am not referring to the knowledge of the type of technology or the access to it, but to the proximity of the public space where it is located and the convenience it can provide.

It was a rather serendipitous discovery, one of those days when you're not minding your own business and your head notices details you'd normally overlook, such as a phone charging port located on the table in the food court of a shopping mall where you've been sitting down to eat.

And of course I'd pass on paying attention to it because these are usually USB charging points and I find going out with cables quite annoying, I try to carry as little as possible, but of course the universal wireless symbol caught my eye when I was taking a picture of my lunch tray and the charging point was in the way in the picture.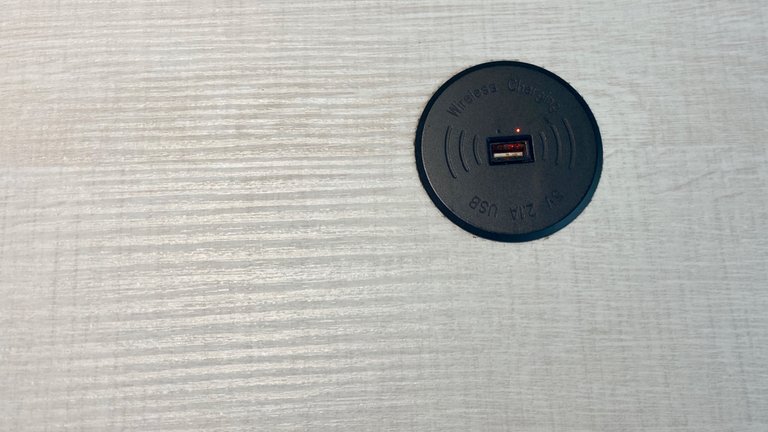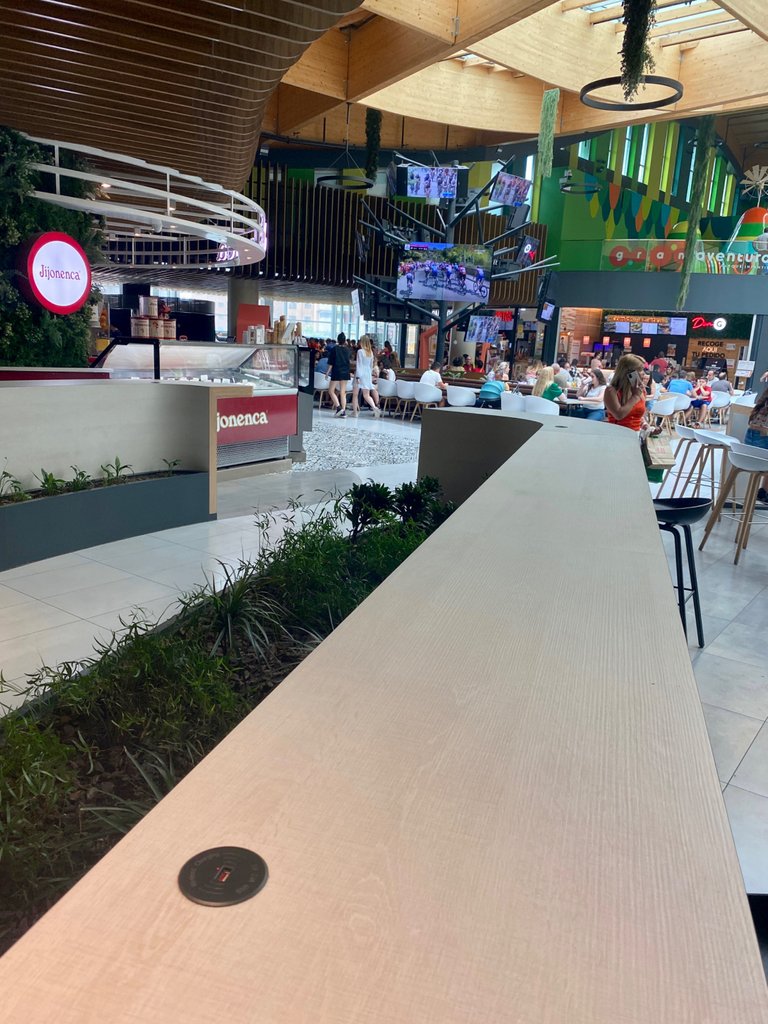 Entonces le presté un poco más de atención y fue cuando me di cuenta que estaban distribuidos a lo largo de las mesas comunes dispuestas para los usuarios de la zona de comidas del centro comercial.
De hecho en esta página web del centro comercial lo destacan como uno de los servicios especiales que ofrecen a sus asistentes, la Recarga de móviles.
Es normal que haya puntos de carga en este tipo de lugares, pero yo nunca había visto uno tan bien ubicado en la mesa para poder ir cargando el teléfono mientras comes y mucho menos que contara con tecnología inalámbrica.
Claro está que si mi teléfono no contara con esta tecnología tampoco le hubiera prestado mucha atención.
Pero al disponer de ella me pareció divertido probar qué tan efectivo podría ser este servicio y aunque no necesitaba recargar la batería en ese momento, lo dejé en el punto un rato y tardo aproximadamente 20 minutos en completar la carga.
Inicialmente contaba con 80% de batería, por lo que no es la velocidad asociada a los dispositivos inalámbricos de carga rápida, aunque está bastante bien para ser un servicio gratuito a disposición de cualquiera.
La tecnología wireless resulta muy cómoda, te permite realizar gran cantidad de cosas mediante un solo dispositivo y se hace mucho más fácil salir sin tantas tarjetas o cables encima.
A mí particularmente me gusta mucho, y desde que "descubrí" estas zonas de carga las he utilizado en varias oportunidades, es bueno saber que si tienes cosas que hacer durante mucho rato en sitios como este puedas contar con un cargador a mano.
Si alguien siente curiosidad por la comida que pedí el día que sucedieron los hechos, era simple fast food, del Taco Bell ubicado en en centro comercial GranCasa de Zaragoza, España.
Por 7,90 € pedí un menú "Crunchywrap Supreme", de una tortilla rellena, entre otras cosas de pollo frito acompañado de papitas fritas y una cerveza, en fin ¡Buen provecho!
Then I paid a little more attention to it and that's when I realized that they were distributed along the common tables arranged for the users of the food court of the mall.

In fact in this web page of the mall they highlight it as one of the special services they offer to their attendees, the Mobile charging.

It is normal that there are charging points in this type of places, but I had never seen one so well located at the table to charge your phone while you eat and much less that had wireless technology.

Of course, if my phone didn't have this technology I wouldn't have paid much attention to it either.

But having it available I thought it would be fun to test how effective this service could be and although I didn't need to recharge the battery at the time, I left it on the spot for a while and it took about 20 minutes to complete the charge.

Initially it had 80% battery, so it's not the speed associated with fast charging wireless devices, although it's pretty good for a free service available to anyone.

The wireless technology is very convenient, it allows you to do a lot of things with one device and it makes it much easier to get out and about without so many cards or cables.

I particularly like it a lot, and since I "discovered" these charging areas I have used them several times, it is good to know that if you have things to do for a long time in places like this you can have a charger at hand.

If anyone is curious about the food I ordered the day the events happened, it was simple fast food, from Taco Bell located in the GranCasa shopping center in Zaragoza, Spain.

For 7,90 € I ordered a "Crunchywrap Supreme" menu, a tortilla filled with, among other things, fried chicken accompanied by french fries and a beer, so Bon appetit!
---
Thanks for dropping by!

|

|



Animated GIFs: Bloggif
Free Icons from: Iconfinder
Photo credits: All of the photos in this post were taken by me with my Iphone 11 and belong to me.