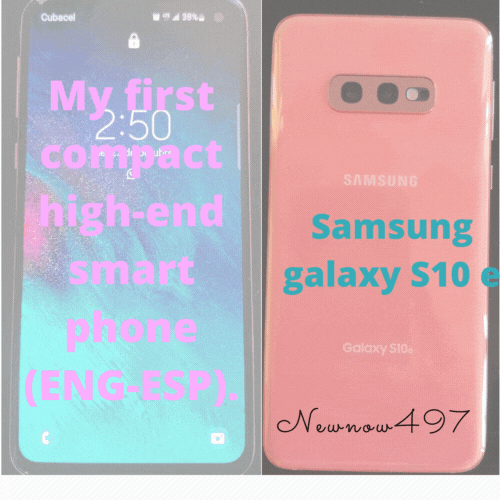 Good morning guys, put on your glasses and drink your cup of coffee, today I bring you my experience with my new phone, Samsung s10e.
Buen día muchachos como están, pónganse los espejuelos y tomen su tasita de café que hoy les traigo mi experiencia con mi teléfono nuevo,Samsung s10e.
First I want to tell you that I didn't have a cell phone, I used my wife's cell phone to be able to publish the posts when I came home from work since I had sold mine to buy a pc, but the mother card got damaged and I decided to buy a new phone.
Primeramente quiero comentarles que no tenía movil, usaba el de mi esposa para poder publicar los post cuando llegaba de trabajar ya que el mío lo había vendido para comprar una pc, pero a esta se le jodio la tarjeta madre y pues decidí comprarme de nuevo un teléfono.

I spent days looking for which option to buy, whether a xiaomi, samsung, huawei, in short the odyssey of buying the best, add to this that in Cuba the phones are bought on the black market, by the government do not sell and when there are, very expensive, but well that's all part of this journey 🤣🤣🤣🤣.
Pasé días buscando que opción comprar, que si un xiaomi, samsung, huawei, en fin la odisea de comprar lo mejorcito, a esto sumenle que en Cuba los móviles se compran en el mercado negro, por el gobierno no venden y cuando hay, muy caros, pero bueno todo eso es parte de esta travesía 🤣🤣🤣.

I finally decided on the Samsung s10e, it was also the most I could afford since if I had a choice I would take the latest model 😅😅😅😅. But in these two days that I have had it I have fallen in love with it, I am super happy with my purchase as I didn't think it would be such a good device. My model is the orange iridescent very beautiful, I was one of those that I liked only white or black mobiles. This one has the volume up and volume down buttons on the left side and underneath a button that I still don't know what it's for 🤣🤣🤣🤣, on the other side it has the power button that acts as a fingerprint as well. It has a speaker that smells with tremendous quality and volume as does the microphone. The front camera is on the screen on the top right and the rear camera on the top back centered, being two and the flash. At the bottom we have the usb type c ports and the headphone port.
Finalmente me decidí por el Samsung s10e, también era lo máximo que podía pagar ya que si pudiese elegir, tomaría el último modelo 😅😅😅. Pero en estos dos días que llevo con el me ha enamorado, estoy super contento con mi compra ya que no pensé que fuera a ser tan buen dispositivo. Mi modelo es el naranja tornasolado muy bello, yo era de los que me gustaban solo los móviles blancos o negros. Este tiene los botones de subir y bajar el volumen en la parte izquierda y debajo un botón que aun no se para que es 🤣🤣🤣, del otro lado tiene el botón de encendido que actúa como huella dactilar también. Tiene una bocina que se olle con tremenda calidad y volumen al igual que el micrófono. La cámara delantera está en la pantalla en la parte superior derecha y la trasera en la parte superior trasera centradas, siendo dos y el flash. En la parte inferior tenemos los puertos usb tipo c y el puerto de los auriculares.
| | |
| --- | --- |
Once described its aesthetics, let's go to the technical part, which is what many will be very interested in.
It is a small phone, so if you like big screens this is not your device. It measures 140 × 70 mm and weighs only 150 grams approximately. With a 5.8 inch full hd+ amoled screen, it looks great guys a definition and abysmal color quality. The microprocessor is an exynos 9820, octacore 8nm, in my experience in these two days I have not locked the phone with all the open applications I have installed. It has 6gb of ram and has to put a micro SD up to 512 gb, in my case I do not think I will fill or 128 gb. The originally comes running on android 9, in my case I updated it to Android 12 without problems. In the case of the cameras, I am not an expert on this subject but this is the information that says, 16 MP (wide angle f/2.2) FF, Dual Pixel 12 MP (main) f/1.5-f/2.4 OIS AF, I know that the photos have a tremendous quality, brightness, lighting, the flash illuminates a lot, and the same selfie camera takes tremendous photos, with the following features, Dual Pixel 10 MP AF f/1.9. It has a fairly faithful fingerprint reader and 2d facial recognition technology. The aspect that shocks me the most is the battery of only 3100 mha since I always had xiaomis notes, and these have a lot of battery, but it fits perfectly capacity for the full day if we do not play especially. The type c port is fast charging which helps us compensate for the size of the battery. The other thing I did not like is that it only brings for a single, just as I was used to the particular sim and corporate.
Una vez descrita su estética vamos a la parte técnica que es lo que a muchos les va a interesar muchisimo.
Es un teléfono de tamaño pequeño, por lo que si te gustan las pantallas grandes este no es tu dispositivo. Mide 140 × 70 mm y pesa solo 150 gramos aproximadamente. Con una pantalla amoled de 5.8 pulgadas full hd+, se ve de maravillas muchachos una definición y calidad de colores abismal. El microprocesador es un exynos 9820, octacore de 8nm, en mi experiencia en estos dos días no se me ha trabado el teléfono con todas las aplicaciones abiertas que he instalado. Cuenta con 6gb de ram y tiene para poner una micro SD de hasta 512 gb, en mi caso no creo que vaya a llenar ni los 128 gb. El originalmente viene corriendo en android 9, en mi caso lo actualice a Android 12 sin problemas. En el caso de las cámaras, yo no soy ducho en este tema pero esta es la información que dice, 16 MP (gran angular f/2.2) FF, Dual Pixel 12 MP (principal) f/1.5-f/2.4 OIS AF, yo se que las fotos tienen una calidad tremenda, un brillo, una iluminación , el flash alumbra cantidad, y la cámara de selfie igual toma tremendas fotos,con las características siguientes, Dual Pixel 10 MP AF f/1.9. Tiene un lector de huellas bastante fiel y tecnología de reconocimiento facial de 2d. El aspecto que más me choca es la batería de solo 3100 mha ya que yo siempre tuve xiaomis notes, y estos tienen mucha batería, pero se ajusta perfectamente la capacidad para el día completo si no jugamos sobre todo. El puerto tipo c es de carga rápida lo que nos ayuda a compensar el tamaño de la batería. Lo otro que no me gustó es que solo trae para una simple, al igual estaba acostumbrado a la sim particular y a la corporativa.

This compact design of the samsung s10 also has ip68 protection against dust and water, gorilla glass 5 on the screen and the back gives us more protection.
It has wifi 6 and bluetooth 5.0, not having another device with wifi 6 I could not test the speed, but transferring with my wife's huawei p30 lite, if copied quite fast. There is an issue that had me worried and is the coverage, boys is the best cell phone that has passed through my hands in this aspect. I remind you that it is the experience of only two days, you feel excited having a high end but small.
Este diseño compacto del samsung s10 cuenta también con la protección ip68 contra polvo y agua, gorila glass 5 en la pantalla y la parte trasera nos da mayor protección.
Cuenta con wifi 6 y bluetooth 5.0, al no tener otro dispositivo con wifi 6 no pude probar la velocidad, pero transfiriendo con el huawei p30 lite de mi esposa, si copio bastante rápido. Hay un tema que me tenía preocupado y es el de la cobertura, muchachos es el mejor celular que ha pasado por mis manos en este aspecto. Les recuerdo que es la experiencia de solo dos días, te sientes entusiasmado teniendo un gama alta pero pequeño.

Buying this terminal was the best choice I made and I am very happy with it./ Comprar este terminal fue la mejor opcion que tome y estoy muy contento con el.

Banner & footer
Photos/fotos: huawei p30
Twitter: @newnow497
Facebook: @newnow497