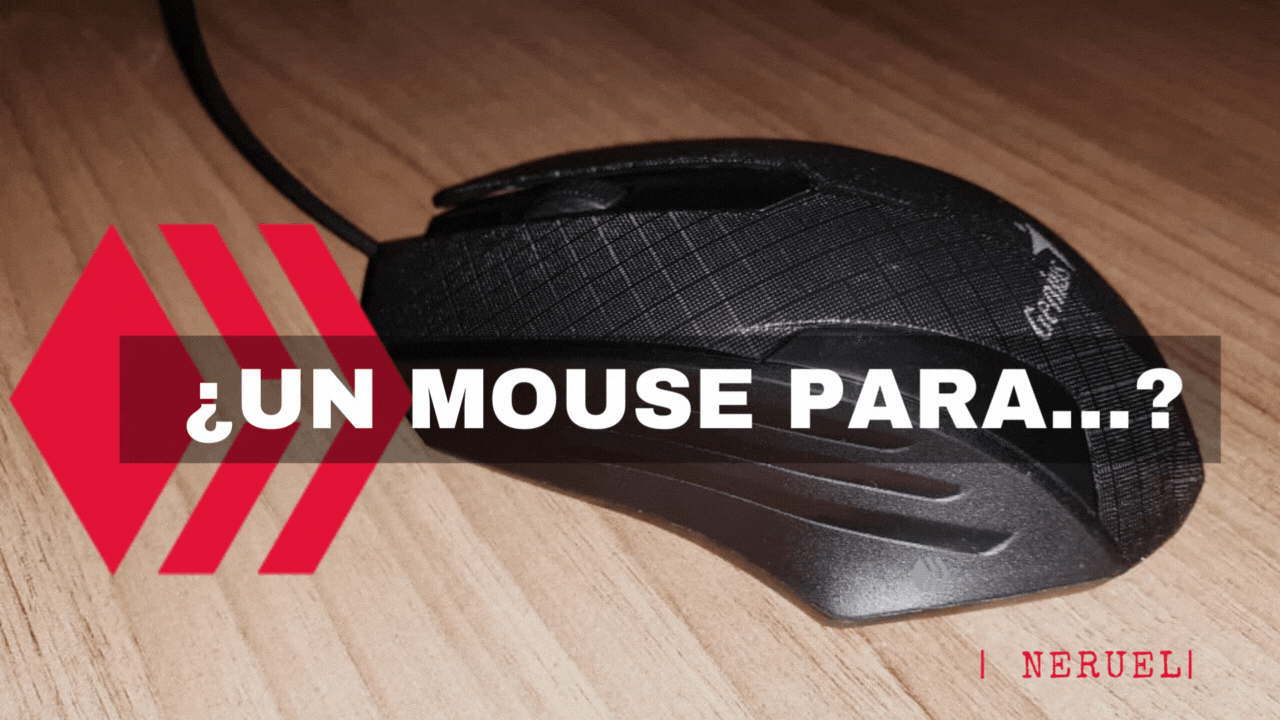 Al parecer me ha tocado volver nuevamente, volver a adquirir un nuevo artículo esta semana, pero la razón es que cuando vi tal situación, no sólo me pude reír demasiado, sino que también razoné en el hecho de ella.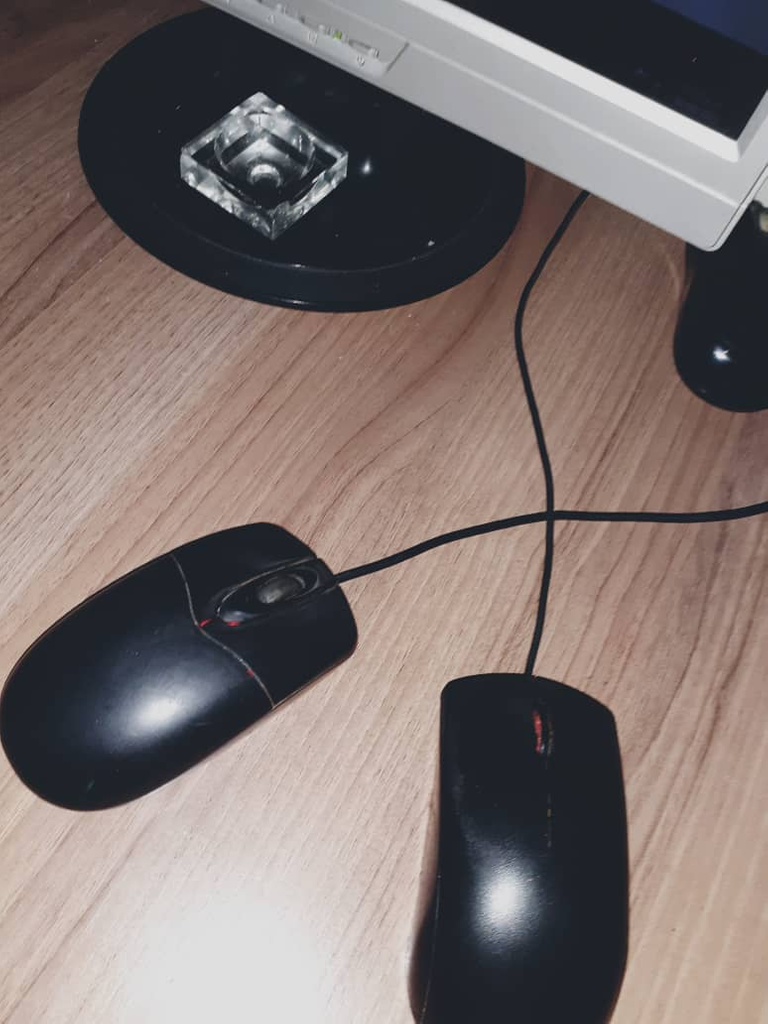 En mi casa poseemos cada quien su equipo para hacer sus diversas actividades, ese es un punto a favor, pero cuando resulta en el hecho de no poseer uno bien equipado pasa lo que está en la fotografía. Mi hermana, a modo de ver, es toda una cuestión, reí demasiado con ella no únicamente por el hecho de cómo estaba trabajando con el computador en los últimos días; sino por el hecho de no decir mouse, sino la conjugación en español de esta, he reído mucho sobre esto.
La cuestión ahora parte de una situación estándar, estaban utilizando el computador de la sala de mi casa con todos los mouse que encontraban, al punto de tener tres conectados, la cuestión de ello es que hace unos días se dañó el que era de tal computador.
Pero… pero… A mí no me dijeron absolutamente nada, y como esta semana ha sido muy ajetreada debido a la universidad, sin contar el trabajo, no me di cuenta del asunto hasta hace unos días. Ellos siempre están también en su mundo, y bueno, es para mí más factible resolver ante la premura de la situación. Contacté a mi compañera de clases que posee el emprendimiento donde compré mi teclado la última vez y le pedí que me enviara los mouse que tenía disponibles. La señorita emprendedora no se hizo esperar y procedió con el envío de los que poseía en su catálogo.
Estaba un poco indeciso en cuál comprar, pero bueno, si compraba uno inalámbrico, lo más probable es que mi sobrina hiciera algo con él, o en efecto no durara mucho, esto no por su periodo de vida útil; sino más bien, por el hecho de que mi sobrina es una cuestión, todo lo que ve lo toma para jugar o lo esconde de nuestra vista. Esto es algo muy típico en los niños de su edad, yo creo que también lo hacía, XD.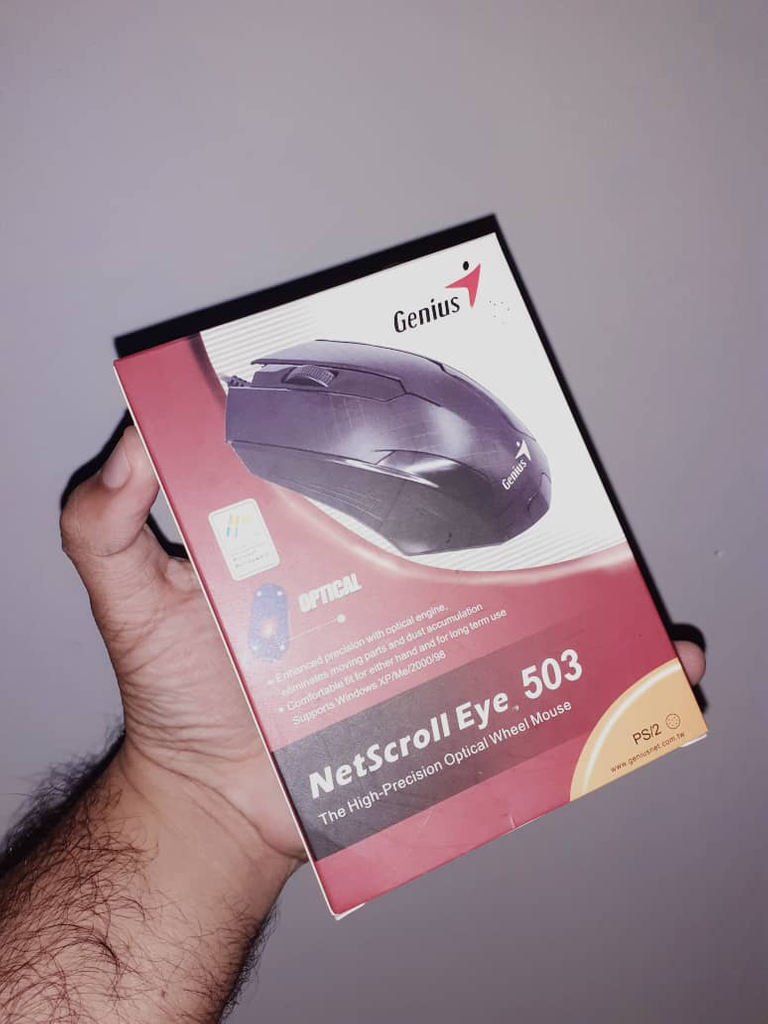 Desempacando el mouse.

El computador de la sala de mi casa es elemental para mí, debido a que posee uno de los programas con los que diseño las cosas de mi pregrado de urbanismo, aunque no estoy en eso en este momento, por eso debe estar en plenitudes para su utilización. Mi hermana también estudia desde ella, y se hacen miles de cosas referentes a trabajo en ella, la premura del mouse, no sólo era una cuestión básica; sino también elemental para aminorar tiempo en todo. No me gusta tener que desaprovechar tiempo, esto es irrecuperable e invaluable, es en lo que creo.
En este punto decidí, comprar un mouse de 4 USDT, cómo aceptan pagos por la opción de Pay de Binance mejor para mí, y además su local no está muy lejos de donde vivo, eso es un punto muy factible. Busqué el mouse luego de seleccionarlo y procedí a instalarlo.
Instalando el mouse.

En realidad quería comprar un mouse inalámbrico, pero pensé mucho en el aspecto de lo frágil que es y a la misma vez en los posibles escenarios. Por otro lado, estos equipos tienen un periodo de vida corta o mediana, y esto no escapa para el que he adquirido.
Escogí uno de tono negro, creo que había en el catálogo de las fotografías uno de tono blanco, pero no era una opción para la sala, aparte a mi hermana no le gustó, a ella le gusta todo lo que sea neutro y sí es negro aún mejor. De modo que opté por esa opción que era más viable y estandarizada.
Igualmente en las características del mouse se puede evidenciar que es para un puerto con modo usb, algo estándar y óptimo. En este punto en las descripciones que pude constatar y que se encontraban en inglés debido a que es el idioma universal y en este caso están las siguientes:
Requisitos del sistema:
Ahora bien, uno de los puntos atractivos de la cuestión de la nueva adquisición es que según las descripciones, el mouse posee un mejor motor óptico, eso significa que se puede utilizar pertinentemente, y así lo constaté o constatamos cuando lo instalamos en el computador, existen mouse que se quedan pegados o que no son agradables y más si son económicos.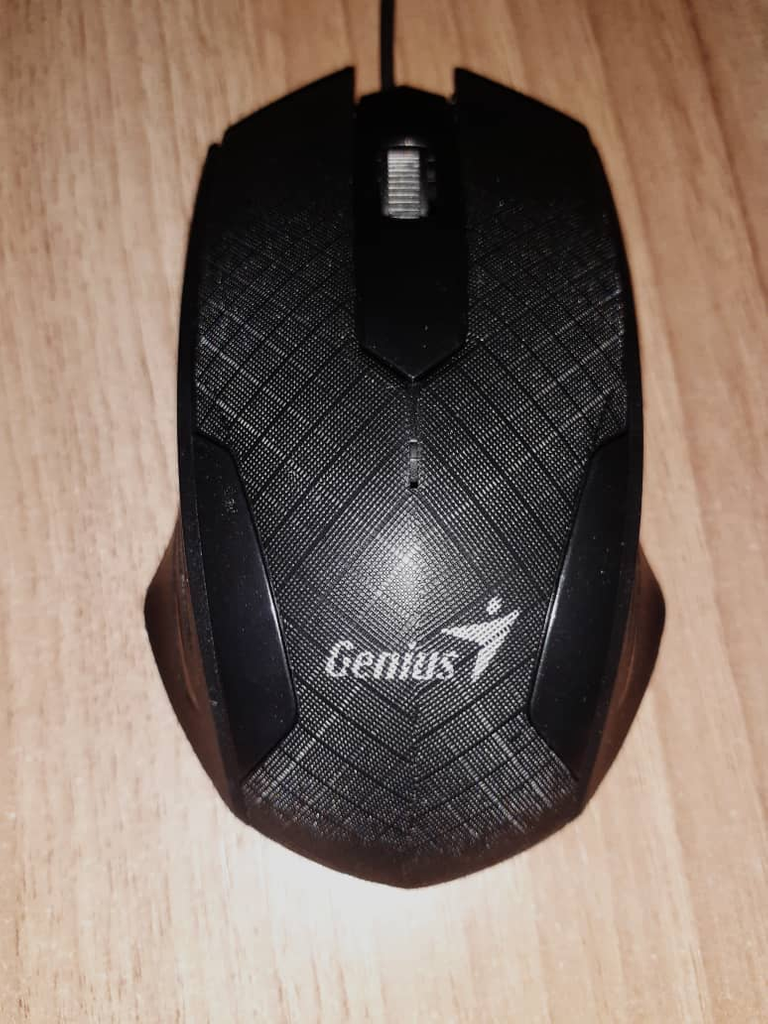 Al mismo tiempo, en las descripciones del empaque del mouse evidencié lo siguiente: elimina las partes móviles, esto debe estar asociado a la precisión de movimiento que se efectúa con él cuando se está trabajando o utilizándole, otro punto considerable y llamativo en el asunto.
Lo único que si me causo un poco de intriga es que dice que elimina el polvo acumulado, quedé un poco extrañado cuando leí esto. Bueno, la tecnología y sus cosas, aparte de los posicionamientos de marketing.
Esta semana ha sido demandante, pero logré solventar la mayoría de todas las cuestiones que derivaron progresivamente, esta es una de ellas, pero lo más interesante es que pude reír no solo por la escena en la sala de mi casa, sino la forma en la que estaban conectados los mouse y alternándolos para utilizarlos debido a que cada uno poseía una falla técnica. La razón de ello es que ya habían perecido o más bien la vida útil se extinguió hace tiempo.
Bueno, puedo cerrar con el hecho de que cuando me toque ir a hacer algo en ese computador tendrá un nuevo mouse, y no tendré que buscar en el depósito de mi casa uno que ayude o en efecto trasladar el de la PC de mi cuarto a la de la sala de mi casa.
Disfruta la vida, si existe algo que te ayude a poder facilitar las cosas mucho mejor y si la razón es que te da tranquilidad aún mejor. Eso es en lo que creo, y en definitiva en lo que pienso de manera estándar.

English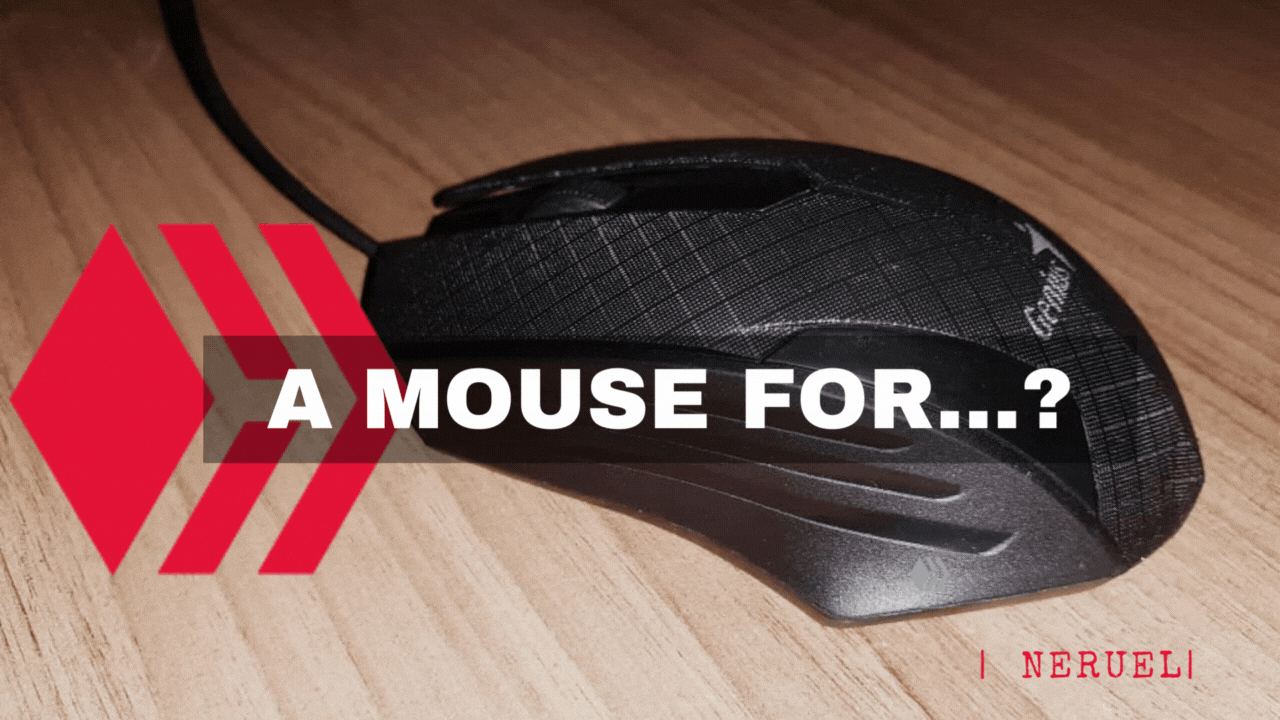 Apparently it was my turn to come back again, to re-acquire a new article this week, but the reason is that when I saw such a situation, I could not only laugh too much, but also reasoned in the fact of it.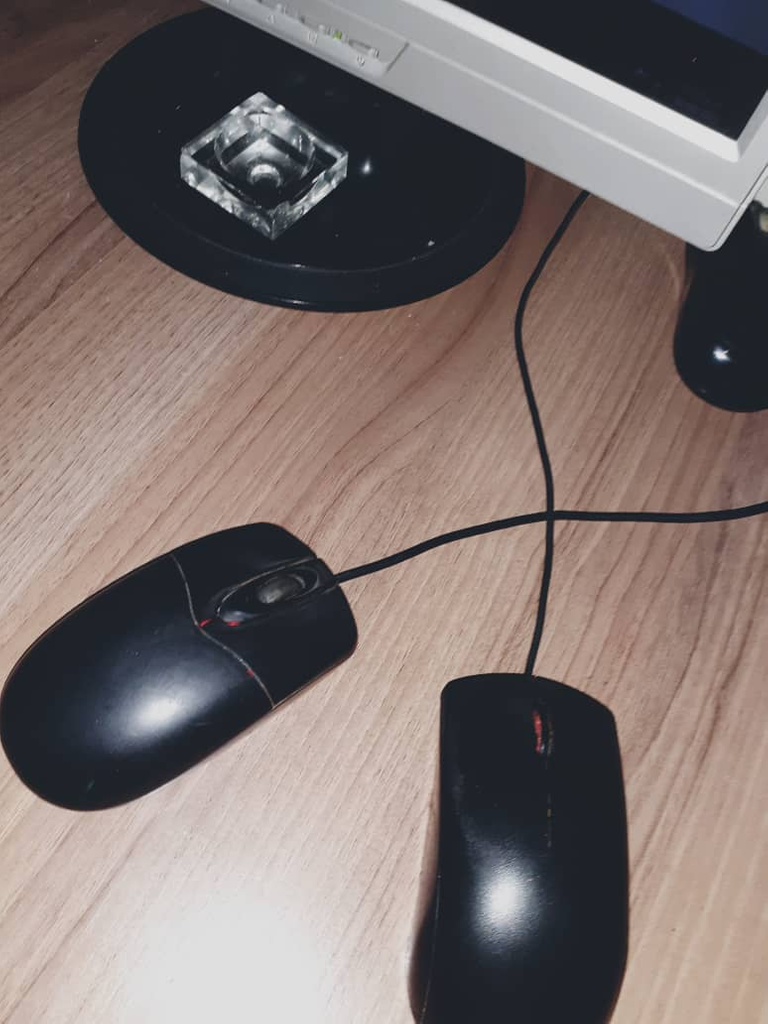 In my house we each have our own equipment to do our various activities, that is a plus, but when it results in the fact of not owning a well equipped one happens what is in the picture. My sister, as I see it, is quite an issue, I laughed too much with her not only for the fact of how she was working with the computer in the last days; but for the fact of not saying mouse, but the Spanish conjugation of this, I laughed a lot about this.
The question now starts from a standard situation, they were using the computer in the living room of my house with all the mice they could find, to the point of having three connected, the point of it is that a few days ago the one that was of such computer was damaged.
But... but... they didn't tell me anything at all, and since this week has been very busy due to the university, not to mention work, I didn't realize the matter until a few days ago. They are always in their world too, and well, it's more feasible for me to resolve in the rush of the situation. I contacted my classmate who owns the business where I bought my keyboard last time and asked her to send me the mice she had available. The enterprising lady didn't wait long and proceeded to send me the ones she had in her catalog.
I was a bit undecided on which one to buy, but well, if I bought a wireless one, my niece would most likely do something with it, or indeed it wouldn't last long, this not because of its lifespan; but rather, because of the fact that my niece is a matter, everything she sees she takes it to play with or hides it from our sight. This is a very typical thing for kids her age, I think she used to do it too, XD.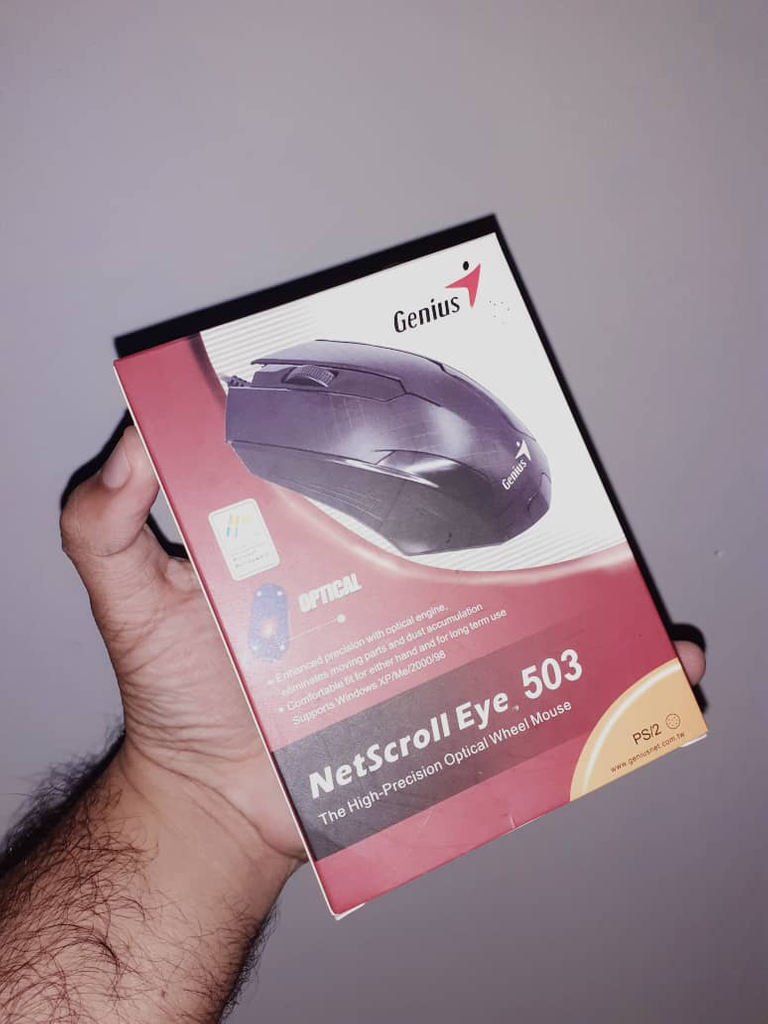 Unpacking the mouse.

The computer in the living room of my house is elementary for me, because it has one of the programs with which I design things for my undergraduate degree in urbanism, although I'm not in that at the moment, so it must be in full use. My sister also studies from it, and thousands of things are made referring to work in it, the haste of the mouse, not only was a basic question; but also elementary to lessen time in everything. I don't like having to waste time, this is irretrievable and invaluable, is what I believe in.
At this point I decided to buy a 4 USDT mouse, as they accept payments through the Binance Pay option better for me, and also their store is not very far from where I live, that is a very feasible point. I looked for the mouse after selecting it and proceeded to install it.
Installing the mouse.

I actually wanted to buy a wireless mouse, but I thought a lot about the aspect of how fragile it is and at the same time the possible scenarios. On the other hand, these devices have a short to medium life span, and this does not escape for the one I purchased.
I chose a black one, I think there was a white one in the catalog of the photographs, but it was not an option for the room, besides my sister did not like it, she likes everything that is neutral and if it is black even better. So I opted for that option which was more viable and standardized.
Also in the characteristics of the mouse it can be evidenced that it is for a port with usb mode, something standard and optimal. At this point in the descriptions that I could see and that were in English because it is the universal language and in this case are the following:
SystemRequire ments:
Now, one of the attractive points of the question of the new acquisition is that according to the descriptions, the mouse has a better optical engine, that means that it can be used properly, and so I found or we found when we installed it in the computer, there are mice that are stuck or that are not pleasant and more if they are inexpensive.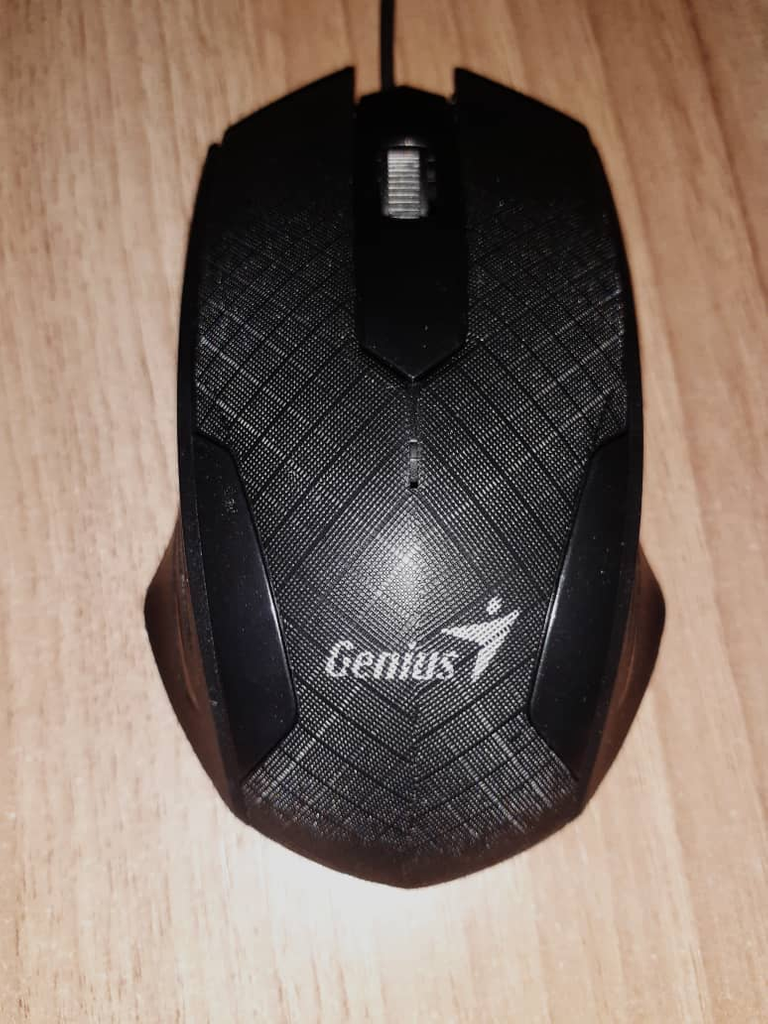 At the same time, in the descriptions of the mouse packaging I noticed the following: it eliminates the moving parts, this must be associated with the precision of movement that is made with it when you are working or using it, another considerable and striking point in the matter.
The only thing that did cause me a bit of intrigue is that it says that it removes accumulated dust, I was a bit puzzled when I read this. Well, technology and stuff, apart from marketing positioning.
This week has been demanding, but I managed to solve most of the issues that progressively derived, this is one of them, but the most interesting thing is that I could laugh not only because of the scene in the living room of my house, but the way the mice were connected and alternating to use them because each one had a technical failure. The reason for this is that they had already perished or rather the useful life was extinguished long ago.
Well, I can close with the fact that when it's my turn to go do something on that computer it will have a new mouse, and I won't have to look in my home depot for one to help or indeed move the one from my bedroom PC to the one in my living room.
Enjoy life, if there is something that helps you to be able to make things easier all the better and if the reason is that it gives you peace of mind even better. That is what I believe in, and ultimately what I think about as a standard.

Todas las fotografías son de propiedad y fueron tomadas con un teléfono celular: Samsung A10. El diseño fue efectuado en Canva: 1 / 2.
All photographs are proprietary and were taken with a cell phone: Samsung A10. The design was made in Canva: 1 / 2.

Con aprecio, Neruel || With appreciation, Neruel