---
---
Por lo general todos utilizamos un programa básico para editar las fotografías, esto es un aspecto que nos puede ayudar de una manera factible, a hacer múltiples cosas, y ahorrar tiempo. En esta cuestión estoy haciendo un análisis profundo de las páginas que me pueden ayudar a editar fotos de manera rápida y estandarizada.
Usually we all use a basic program to edit photos, this is an aspect that can help us in a feasible way, to do multiple things, and save time. In this issue I am making a deep analysis of the pages that can help me to edit photos in a fast and standardized way.
---
El punto es que estoy pensando retomar: fotografía, pintura y dibujo, para ello, he hecho una investigación profunda en los últimos meses, y en ella está, este programa llamado Factor, que también mi hermana emplea, ya que ella es comunicadora social (cuando necesito ayuda en este aspecto ella es perfecta para ayudar).
The point is that I am thinking of taking up again: photography, painting and drawing, for this, I have done a deep research in the last months, and in it is, this program called Factor, which also my sister uses, since she is a social communicator (when I need help in this aspect she is perfect to help).
---
Hacer fotografía y arte es complejo a mi modo de ver, debido a la calidad de las imágenes, además de cómo se debe mostrar todo de manera característica. Un lindo paisaje puede que requiera un brillo, algo de contraste y nitidez para jugar de manera expresiva con los colores, esto es un aspecto que dependerán de: los gustos de cada quien, para qué necesitamos la imagen como tal o en efecto el tipo de contenido que podamos hacer acá en la plataforma.
Doing photography and art is complex in my opinion, due to the quality of the images, as well as how everything must be shown in a characteristic way. A nice landscape may require a brightness, some contrast and sharpness to play expressively with colors, this is an aspect that will depend on: the tastes of each person, why we need the image as such or indeed the type of content that we can do here on the platform.
---
En este recorrido interesante, dentro del ecosistema siempre debemos estar en un constante flujo de aprendizajes, y no debemos detener el hecho de aprender cosas nuevas. Esto es un aspecto incluso que se toma mucho en cuenta en la vida tanto personal como laboral también.
In this interesting journey, within the ecosystem we must always be in a constant flow of learning, and we must not stop learning new things. This is an aspect that is even taken into account in both personal and work life as well.
---
Hablemos un poco de Factor, según lo que evidencié es un programa de edición, aunque trabaja de forma parecida que canva, pero recordemos que este último es para generar algún diseño característico en modo Flyer, Banner, Tarjetas o presentaciones, en cambio, la funcionalidad de Factor es generar una edición bondadosa en las imágenes.
Let's talk a little bit about Factor, according to what I evidenced it is an editing program, although it works in a similar way as Canva, but let's remember that the latter is to generate some characteristic design in Flyer, Banner, Cards or presentations mode, on the other hand, Factor's functionality is to generate a kind edition in the images.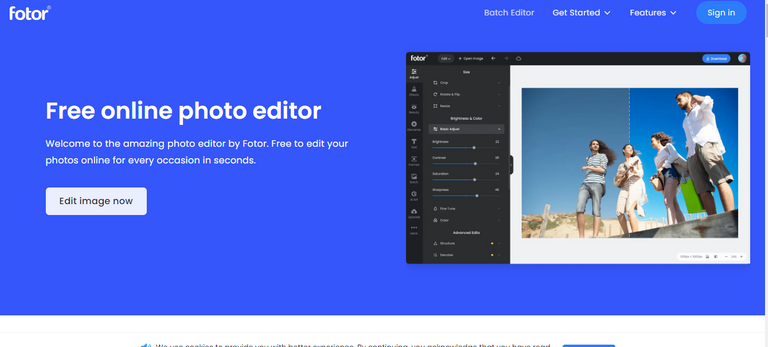 Este programa es interesante, porque facilita la edición en de manera virtual, online y gratuita, eso realmente es atrayente en todos los aspectos. En este caso este programa es perfecto para trabajar directo de la PC, ese es otro punto a favor debido a la comodidad que implica.
This program is interesting, because it facilitates editing in a virtual way, online and free, that is really attractive in all aspects. In this case this program is perfect to work directly from the PC, that is another point in favor due to the comfort it implies.
---
La creación de contenido es meramente variable en todos los sentidos, por ello una herramienta como esta permite y facilita diversos aspectos al momento de crear. ¿A qué me refiero? No siempre estamos trabajando directamente de un celular la edición de fotografías, Illustrator y Adobe Photoshop, además de que los dos últimos poseen un grado de dificultad y técnica para manejar, en mi caso, solo manejo Illustrator y nociones básicas de Photoshop.
The creation of content is merely variable in every way, so a tool like this allows and facilitates various aspects when creating. What do I mean? We are not always working directly from a cell phone editing photographs, Illustrator and Adobe Photoshop, besides the last two have a degree of difficulty and technique to handle, in my case, I only handle Illustrator and basic notions of Photoshop.
---
Factor posee una bondad que puede ayudar a muchos creadores de contenido, y como he dicho: las opciones que sean fáciles de utilizar siempre van a ser las mejores, la cuestión, de ello implica una razón: comodidad.
Factor possesses a goodness that can help many content creators, and as I said: options that are easy to use are always going to be the best, the point, of it involves one reason: convenience.
---
Recuerdo las palabras de mi profesora de Módulo Urbano, lo que equivale a taller de diseño en arquitectura, todo lo que pueda emplearse de forma fácil siempre será más atractivo e impactante. La cuestión es que si podemos hacer las cosas que son complejas por un medio fácil, eso nos ayudará en miles de plenitudes.
I remember the words of my Urban Module teacher, which is equivalent to design workshop in architecture, anything that can be used in an easy way will always be more attractive and impactful. The point is that if we can do things that are complex by an easy means, that will help us in a thousand plenitudes.



Créditos | Credits


Videos Obtenidos de Pexels || Videos Retrieved from Pexels : Link /Link /Link /Link /Link
Música || Music : Aqua Unfold — WOMA | Free Background Music | Audio Library Release

El diseño fue efectuado en Canva | The design was made in Canva: Link
Edición || Edition : InShot, Filmora, y Capcut.


Con aprecio, Neruel || With appreciation, Neruel
---
▶️ 3Speak