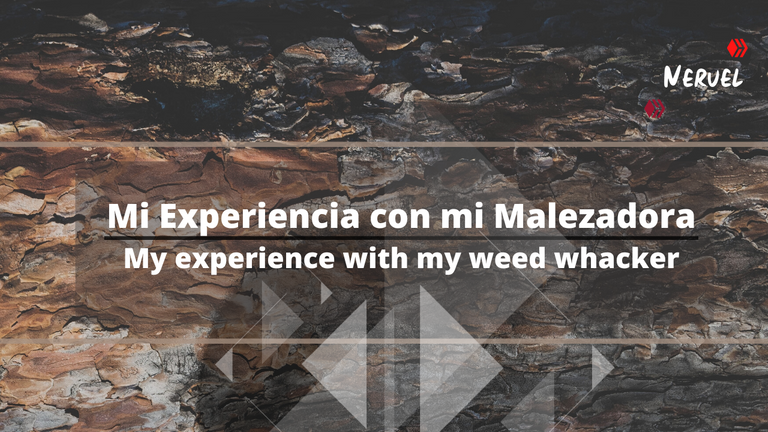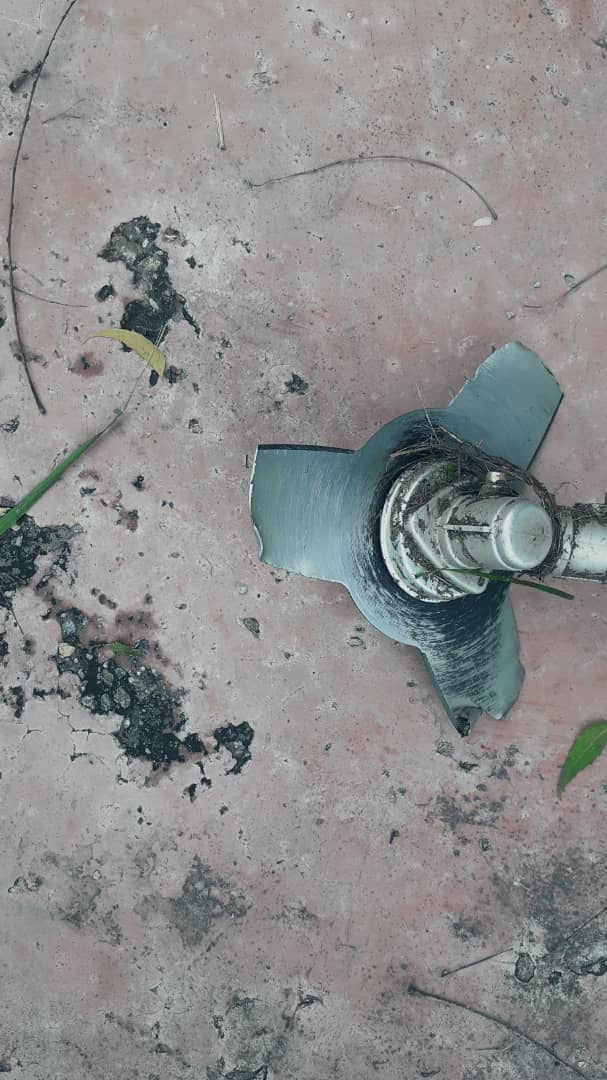 ¡Hola a todos! He regresado por acá, bueno, esta vez para contarles algo que sucedió hace unas semanas. Hace un tiempo escribí que hice una inversión de unos aproximados 150 USDT que en su mayoría obtuve por mis recompensas en Hive en una malezadora . Bueno, todos pensarían en aquel momento que era una cuestión un poco alocada de comprar, pero la razón por lo que lo hice fue para ahorrar debido a los costos de mantenimiento de una parcela de terreno que adquirí hace tiempo.
Las cosas siguen cambiando y los planes que visualmente tengo ya no son los mismos que hace dos años, y menos estando yo únicamente en mi país. En este punto, fui hace unas semanas a limpiar el terreno y poner en uso nuevamente la malezadora, está ya la habíamos utilizado con anterioridad, pero la situación era un poco compleja ahora. Parecía que estaba entrando a un bosque lleno de maleza o paja, como se le conoce comúnmente.
Para precisar el asunto un poco más: en Venezuela no existen estaciones; sino dos temporadas climáticas, una que se esboza en un periodo de sequias y otro de lluvias, cuando llueve significa que toda la vegetación crece muy rápidamente, y más si es en tierra fértil, esto lo acoto para simplificar todo. Mi cara al ver esto, sencillamente era de impacto, no lo podía creer, es que el tamaño de la maleza era casi de mi altura.

Hello everyone! I'm back here, well, this time to tell you about something that happened a few weeks ago. A while ago I wrote that I made an investment of about 150 USDT that I mostly got for my rewards on Hive in a weed-weeder . Well, everyone would think at the time that it was a bit of a crazy thing to buy, but the reason I did it was to save money due to the maintenance costs of a plot of land I acquired some time ago.

Things keep changing and the plans I have visually are no longer the same as they were two years ago, especially since I am only in my country. At this point, I went a few weeks ago to clean the land and put the weed whacker back into use, we had used it before, but the situation was a little complex now. It seemed that I was entering a forest full of weeds or straw, as it is commonly known.

To clarify the matter a little more: in Venezuela there are no seasons; but two climatic seasons, one that is outlined in a period of drought and another of rain, when it rains it means that all the vegetation grows very quickly, and more if it is in fertile land, this I shorten it to simplify everything. My face when I saw this was simply shocked, I could not believe it, the size of the weeds was almost my height.

Ese día llevamos provisiones, y mi adquisición con la misiva de tener un combate en un espacio de casi 900 metros cuadrados, pero los problemas poco a poco comenzaron a relucir. Instalamos en la malezadora la cuchilla, pero la realidad es que todo era demasiado fuerte, y aparte había piedras que trabaron esta.
El primer punto, en todo el asunto, es que la cuchilla de la malezadora empezó a sufrir daños; aun así, continuamos y la afilamos de manera manual. Sí, no le sorprenda, este tipo de cosas también las puedo hacer, y son en un punto muy divertidas. Aunque para ser sinceros pocos me han visto en este tipo de situación y puede que sea de mucha sorpresa, pero todo es posible; así que simplemente: guarden conmigo el secreto y por supuesto no le digan a nadie, XD.
Otras de las situaciones que sucedieron anómalas, es la estimación requerida de combustible para su funcionamiento. Originalmente, llevé 10 litros, pero requerí de 5 adicionales para poder completar la labor, una que no se cumpliría el mismo día.
Preocupado por la cuchilla me dispuse a averiguar en una ferretería cercana y sorpresivamente su monto oscilaba en 10$ dolares estadounidenses , pensé que lo mejor sería trabajar con la que teníamos y remplazarla para una nueva ocasión. No obstante, en ese pequeño trayecto dejé a la persona que me acompañó en estas labores, ya que nos turnamos, pero cuando llegué nuevamente la malezadora no quería encender.

That day we took supplies, and my acquisition with the missive to have a fight in a space of almost 900 square meters, but the problems gradually began to emerge. We installed in the weed cutter the blade, but the reality is that everything was too strong, and besides there were stones that jammed this one.

The first point, in the whole thing, is that the weed whacker blade started to get damaged; still, we went ahead and sharpened it manually. Yes, don't be surprised, I can do this sort of thing too, and it is at one point fun. Although to be honest few have seen me in this kind of situation and it may be of much surprise, but anything is possible; so just keep it a secret with me and of course don't tell anyone XD.

The first point, in the whole thing, is that the weed whacker blade started to get damaged; still, we went ahead and sharpened it manually. Yes, don't be surprised, I can do this sort of thing too, and it is at one point a lot of fun. Although to be honest few have seen me in this kind of situation and it may be of much surprise, but anything is possible; so just: keep it a secret with me and of course don't tell anyone, XD.

Another of the situations that happened anomalously, is the estimation of fuel required for its operation. Originally, I took 10 liters, but I required an additional 5 liters to complete the job, which would not be done the same day.

Worried about the blade I went to find out in a nearby hardware store and surprisingly its amount oscillated in 10$ US dollars, I thought it would be better to work with the one we had and replace it for another occasion. However, in that little journey I left the person who accompanied me in this work, since we take turns, but when I arrived again the weed whacker did not want to turn on.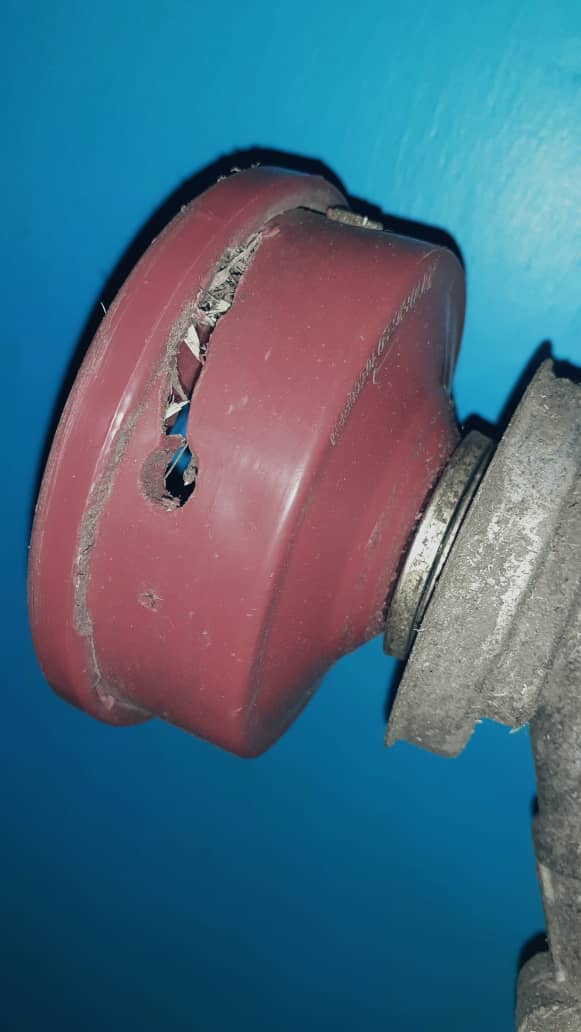 Hicimos varias revisiones, y al final pudimos visualizar que una de las piezas se había dañado, era una pequeña bujía. El pase de electricidad no se producía debido a este artículo tan peculiar, todo era por esta pieza, así que quedamos en un punto intermedio de todo el asunto. Simplemente, me dispuse a ir a comer en un lugar cercano y posponer esta labor para otro día. Ya estaba un poco cansado.
Los días pasaron y adquirí la bujía, pero ahora tendríamos otro problema que paralizaría nuestra misión, y es que también el yoyo, una pieza con la misma función que la cuchilla de la malezadora, sufrió un daño. La cuestión es que esta se partió levemente y esto me preocupó, logré acomodarla para seguir efectuando la labor con ella, pero lo más tedioso del asunto es que esta pieza vale 10 $ estadounidenses también; es decir, que para generar un breve mantenimiento tendría que comprar la cuchilla y evidentemente el yoyo donde va está colocada.
En términos generales no resulta para nada costoso, además, tener en mantenimiento de un lote de terreno es algo un poco complejo si se efectúa de manera manual. Ciertamente, no tengo que preocuparme por este tipo de cosas en mi casa como tal, ya que no tenemos jardines o espacios naturales. Simplemente, las pequeñas flores en macetas son las que imperan en la entrada.
Puedo decir, que utilizar la malezadora fue una maravilla, además me recordó el tiempo cuando solía ir al campo cuando estaba pequeño. Un punto a favor en todo esto es que este artículo ha resultado realmente útil en esta situación.
No existe nada que no podamos hacer, y a la vez, tampoco nada que no se pueda asimilar. Rétate a hacer este tipo de cosas que nadie piensa que harías y si te puedes apoyar en algún aparato tecnológico aún mejor.

We made several revisions, and at the end we could visualize that one of the parts had been damaged, it was a small spark plug. The electricity pass was not occurring because of this peculiar item, it was all because of this part, so we were in the middle of the whole thing. I simply set out to go to lunch at a nearby place and postpone this work for another day. I was already a bit tired.

The days passed and I acquired the spark plug, but now we would have another problem that would paralyze our mission, and is that also the yoyo, a piece with the same function as the blade of the weed whacker, suffered damage. The issue is that this was slightly broken and this worried me, I managed to accommodate it to continue working with it, but the most tedious of the matter is that this piece is worth $ 10 U.S. also, that is, to generate a brief maintenance would have to buy the blade and obviously the yoyo where it is placed.

Generally speaking, it is not expensive at all, and maintaining a plot of land is a bit complex if it is done manually. I certainly don't have to worry about this kind of thing in my house as such, since we don't have gardens or natural spaces. Simply, small flowers in pots are what reigns in the entryway.

I can say, using the weed whacker was a blast, plus it reminded me of the time when I used to go to the countryside when I was little. A plus point in all of this is that this article has really come in handy in this situation.

There is nothing we can't do, and at the same time, nothing that can't be assimilated. Challenge yourself to do this kind of things that nobody thinks you would do and if you can rely on some technological device even better.
---
Imagen y diseño principal | Image and main design: Mihai Lazăr | Unsplash / Canva.