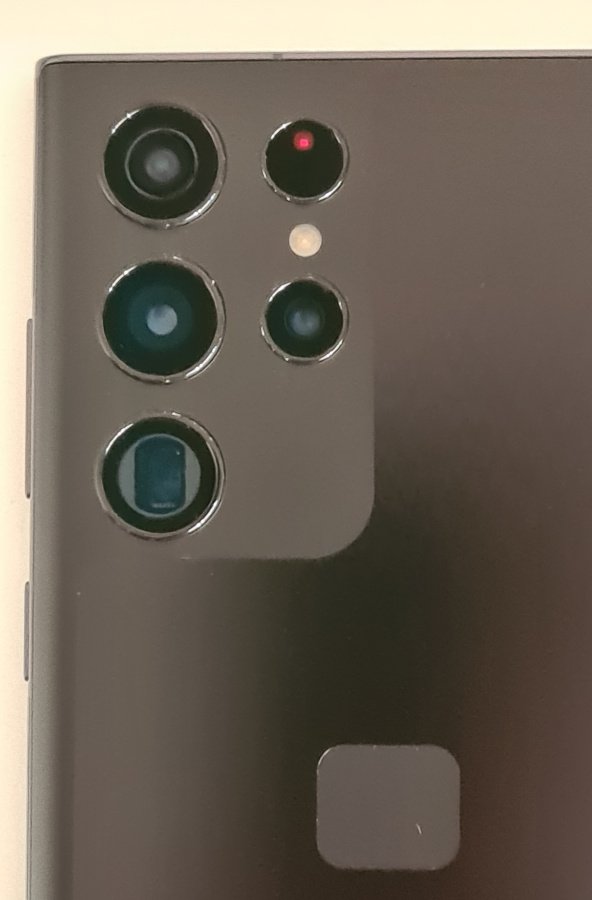 Castellano:
Hace unas semanas me compré el Samsung Galaxy S22 Ultra (128 GB), y decidí escribir este "unboxing" ( o "desempaquetado" para los puristas que no les gustan los anglicismos) en esta comunidad "Geek Zone", siendo la primera vez que publico en ella. Este es uno de los celulares de mayor gama del fabricante coreano y uno de los que tienen mejores cámaras entre los teléfonos móviles que se encuentran en el mercado. Siendo esta la principal razón por la cual lo compré, tengo una gran afición a la fotografía, quienes siguen mi blog en Hive saben qué este versa principalmente sobre este arte.
Actualmente he estado usando (y sigo usando ) el Samsung Galaxy S20, antes de este me encontraba en el mundo de los iPhones, explicar las razones de este cambio están fuera del alcance de esta publicación. Este post no es un "review" ( o reseña), sino solamente el "unboxing" del equipo. Puedo decir que es bastante costoso, sin embargo lo conseguí con un descuento por una oferta de mercadeo.
English:
Some weeks ago I bought the Samsung Galaxy S22 Ultra (128 GB), which is one of the flagships phones of Samsung. It has one of the best camera system in the market, for this reason I bought it. I am a serious enthusiast of photography, and this is the main subject of my blog in Hive.
I have been using a Samsung Galaxy S20, before that I was in the world of iPhones.
This post is not a review, is just an unboxing of the phone. I can see that it is quite expensive but I found a good deal, due to a "promotional offer".
This is my first post in this community "Geek Zone".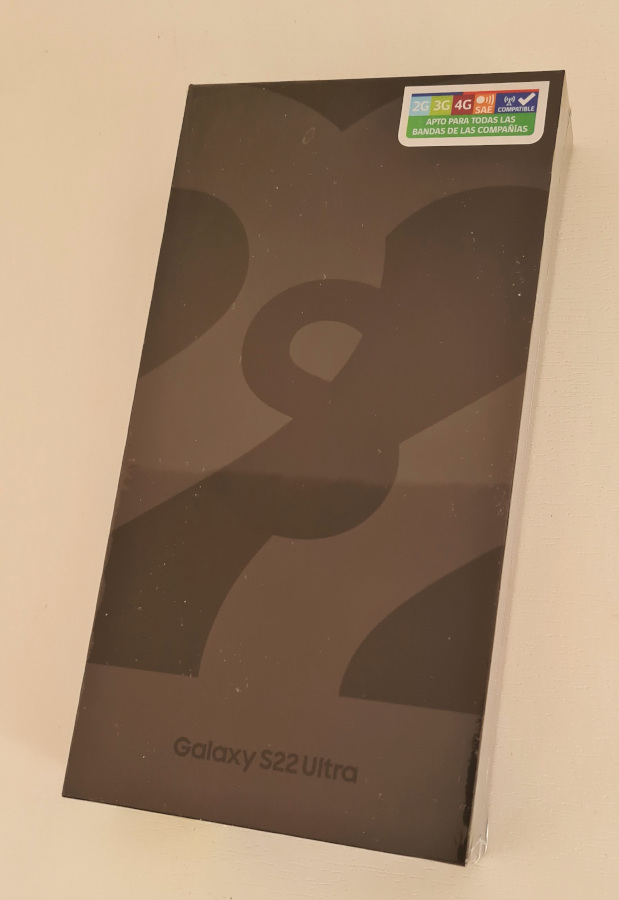 El equipo se siente bien sólido y robusto cuando se agarra y al mismo tiempo se nota que es un producto premium. En la caja solo se encuentra el teléfono y un cable USB-C a USB-C, no viene con cargador ni carcasa, tal como fue el caso del Samsung Galaxy S20 (al menos así fue mi situación). El puerto que usa el teléfono es USB tipo C. Vale la pena reseñar que no admite la posibilidad de expandir la memoria de almacenamiento mediante el uso de tarjeta SD o micro SD. Considero que esto es una de los principales defectos de este dispositivo. Compré el modelo de 128 GB, lo cual implica que la memoria se va llenar rápidamente.
The phone feels quite robust and solid when we grab it and at the same time we notice that it is a premium product. In the box we only find the phone and usb-c to usb-c cable, it does not come with a charger nor a case, as it was with the Samsung Galaxy S20 (at least in my case). The charge port of the phone is of type USB-C. It is worth mention that we can not expand the memory of storage, by using an external memory card (SD o micro SD). I consider this is an important draw back of this phone. I bought the 128GB model, so I think that the dispositive will ran out of memory quite soon.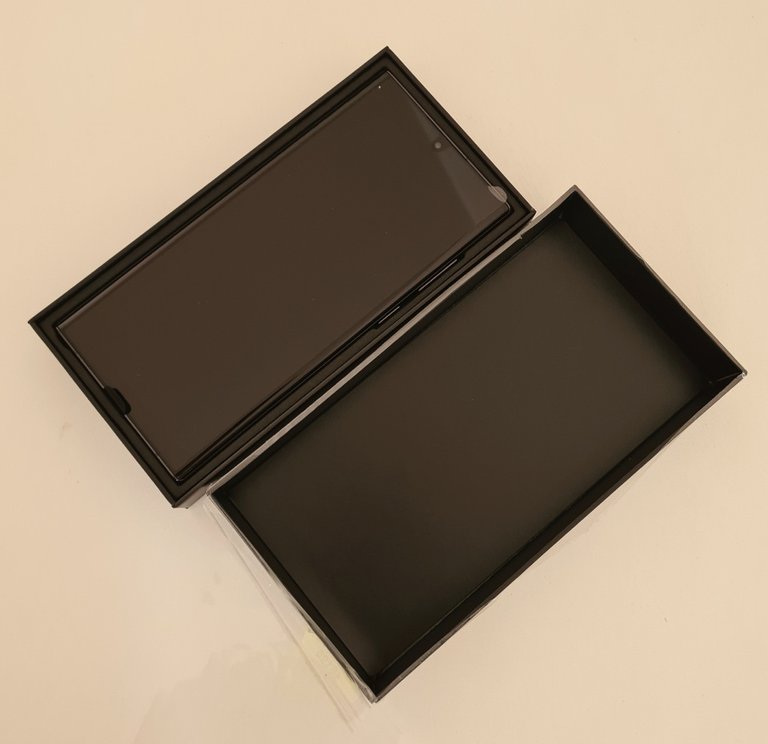 Viene con cuatro cámaras traseras: un gran angular (12 MP ~ F2.2 ~ FOV 120º ) que da un 0.6x, un lente regular que es el principal (108 MP ~ F 1.8 ~ FOV 85º) que es por convención el enfoque de 1.0x, un teleobjetivo (10 MP ~ F 2.4 ~ 36º) que produce un zoom óptico de 3x y otro teleobjetivo (10 MP ~ F4.9 ~ FOV11º) que nos permite obtener un zoom óptico de 10x. Esta característica es la que lo distingue de la competencia. Cómo se puede observar los lentes son de alta luminosidad (de baja apertura la cual es expresada en el número F). Por otro lado FOV ("field of view" traducido literalmente "campo de visión") es el "ángulo de visión" del lente. Por estas características del sistema de cámaras compré este equipo.
Planeo dar más detalles sobre la cámara y sus lentes en publicaciones posteriores, también mis impresiones al respecto y comentar sobre la calidad de las fotos producidas.
Me he dedicado a la fotografía por más de 40 años, y he visto la evolución de esta técnica y la de las cámaras. No deja de sorprenderme, que en un equipo tan pequeño se pueda tener una cámara de tal calidad y que permita tener un zoom óptico de 10x, que es una distancia focal equivalente a mas 200mm en un equipo tradicional de 35mm, en un espacio tan pequeño. La técnica como se logra esto es realmente fascinate, pero eso es tema de una futura publicación.
One of its main features is the camera system. It comes with four lenses at the rear:
a wide angle (12 MP ~ F2.2 ~ 120º ) which delivers 0.6x, a regular and main lens (108 MP ~ F 1.8 ~ 85º) gives an 1.0x, and tele-lens (10 MP ~ F 2.4 ~ 36º) of 3x and other zoom lens (10 MP ~F4.9 ~ 11º) which delivers an optical zoom of 10x
. Notice that the lenses are very luminous (low aperture of F number), the
fov (field of view)
is the "angle of vision" of the lenses. This is the feature that it differentiates from the other phones in the market. I plan to publish in a future post where I will give my impressions of the camera of the S22 Ultra and comment about the quality of the photos.
I have been enthusiast of the photography for more than 40 years, so I have seen its evolution and of the cameras through all this years. It is amazing that in a such a small space we can have a camera of this quality and an equipment that has the capability of an optical zoom of 10x (which in the format of 35mm is more than 200mm of focal length) in a such small space. The techniques that allow this capability is really fascinating, but describing it is beyond the scope of this post, this is material of a future publication.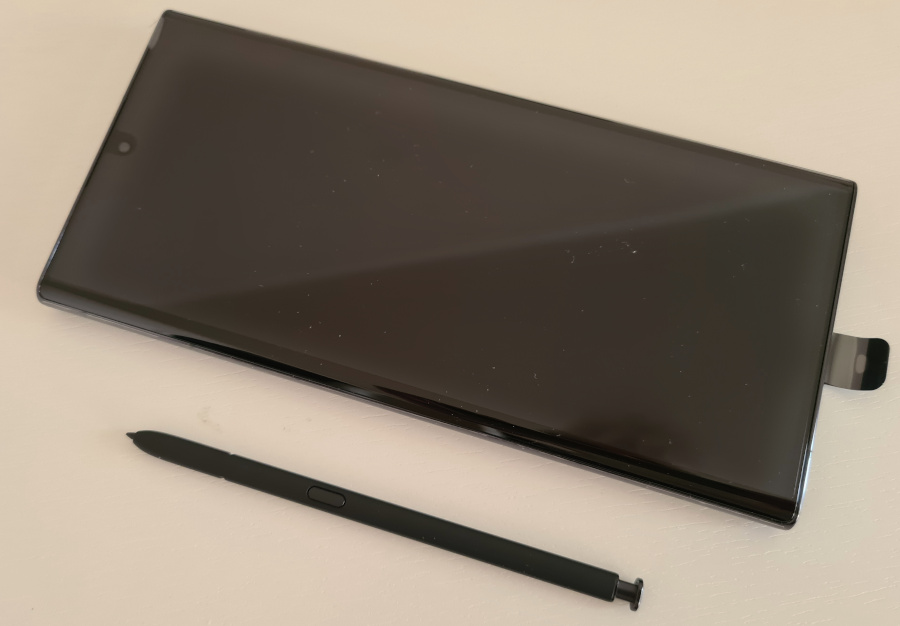 Otro elemento distintivo es que viene con un lápiz cuyo nombre comercial es "s-pen" (¿Cómo un hispanoparlante diría el plural de estos dispositivos? Jaja). La función del lápiz casi no la he usado, aunque puedo decir que es muy parecida a la de los lápices de las tabletas Samsung, aunque su tamaño es mucho más chico. El lápiz se guarda dentro del teléfono tal como lo muestra una de las imágenes, lo cual es muy cómodo.
Other distinctive feature of the phone is the stylus, it comes with a "pencil" known as "S-pen". Even I have used it very little, I can say that its functions are very similar to the Samsung tablets, but its size is much smaller. The pen can we put inside the phone, which is very confortable, as one of the images shows.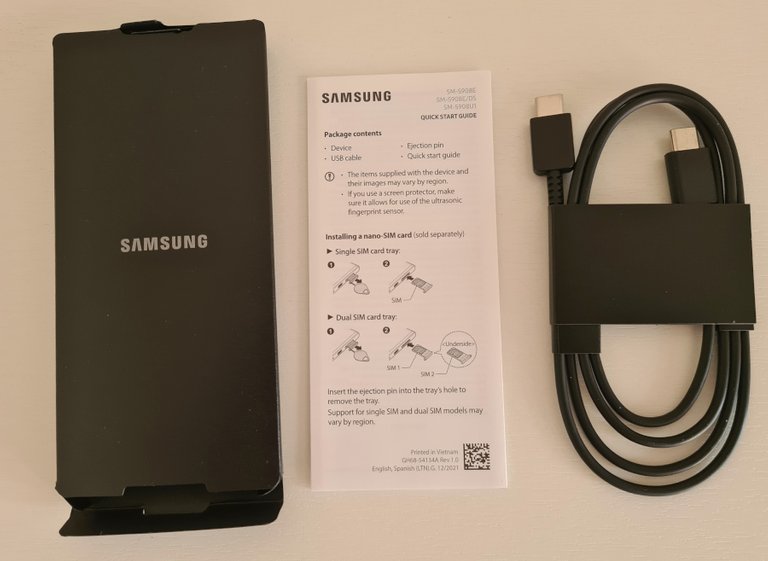 Configuré el equipo en idioma inglés, como normalmente lo hago en todos mis dispositivos electrónicos.
I set up the language in English, as I usual do in all my electronic devices.
---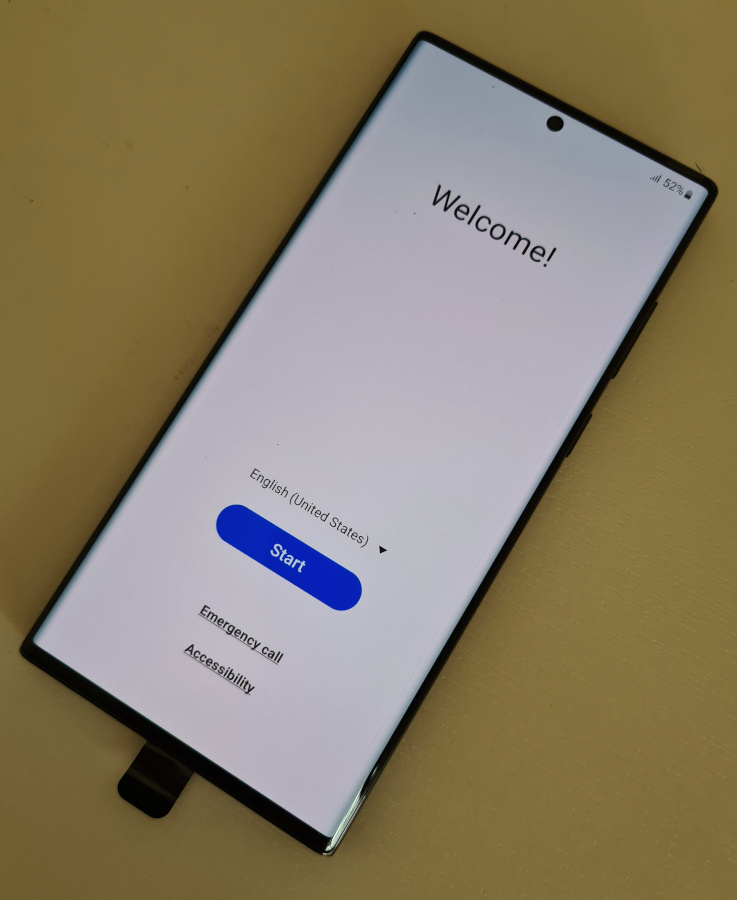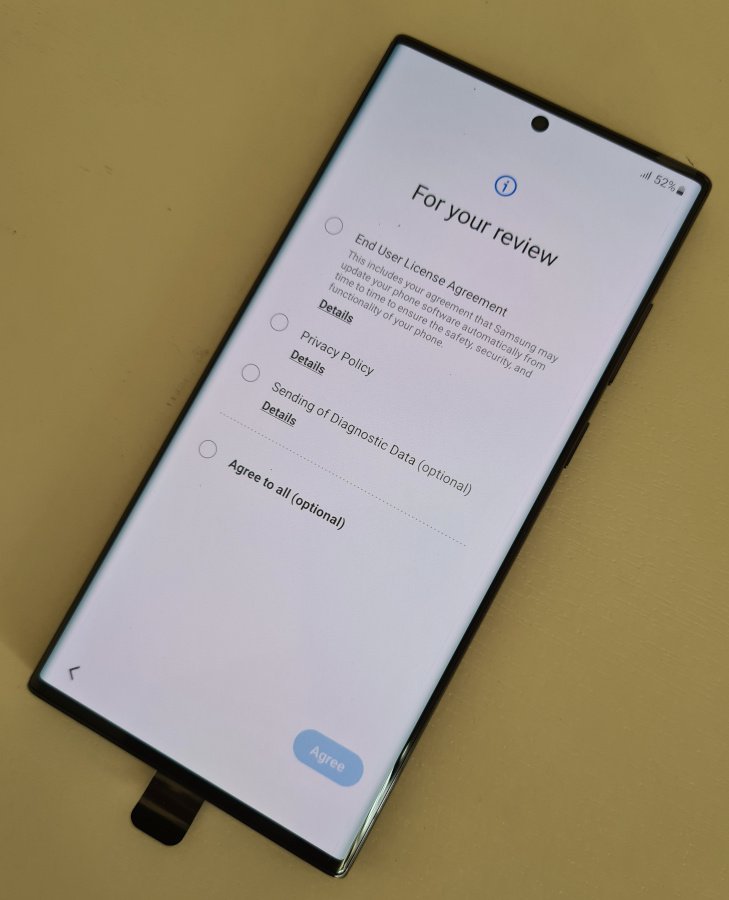 Todas las imágenes del post fueron tomadas por mí con la cámara del Samsung Galaxy S20 y editadas en Gimp.
All the photos of the post were taken by myself with the camera of a Samsung Galaxy S20 and edited in Gimp.
---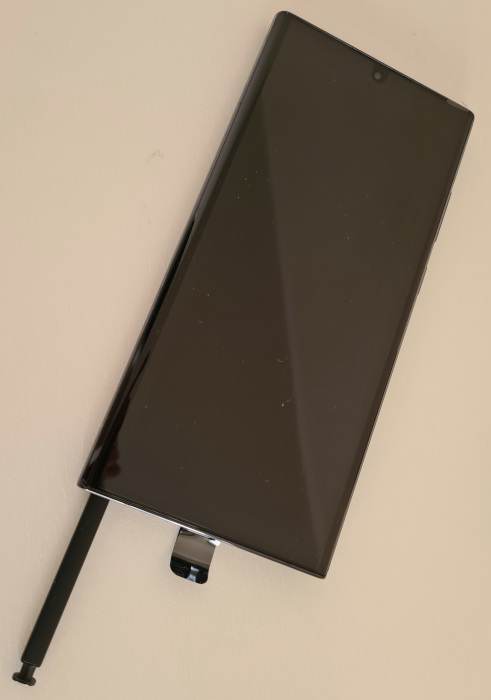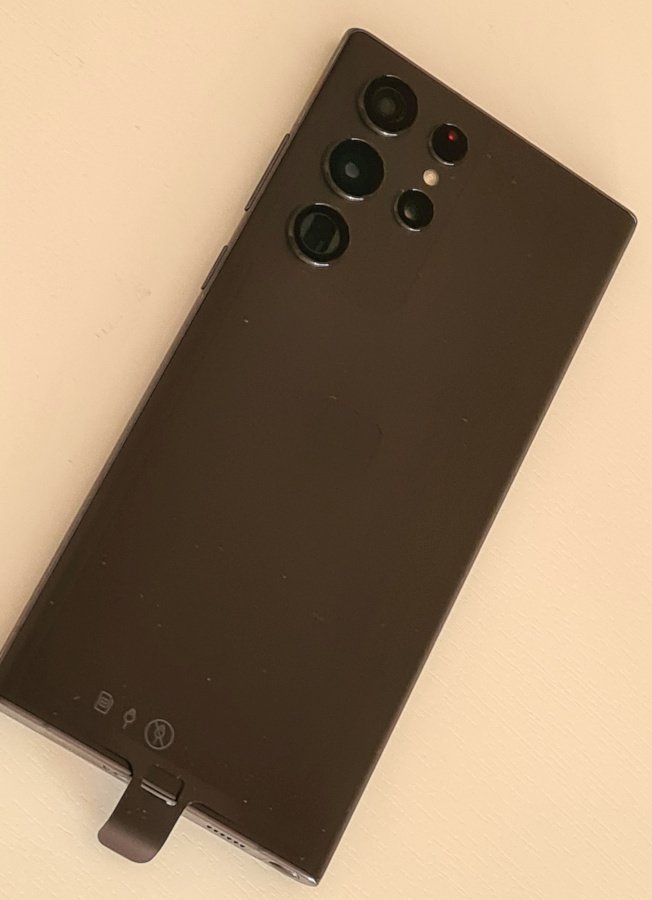 ---
Thank you for visiting my blog. I hope that you enjoyed the post.
Gracias por pasearse por mi blog y espero que el post haya sido de su agrado.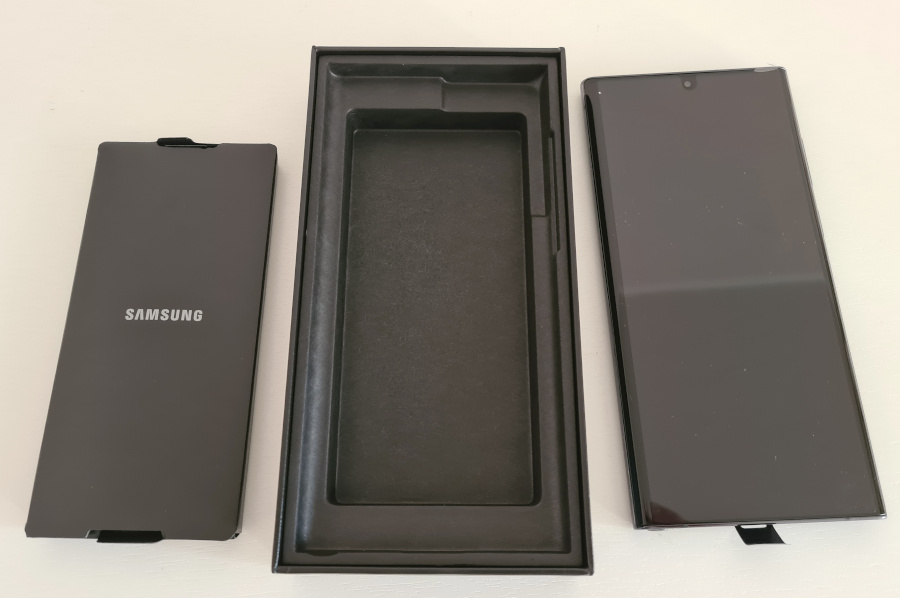 Referencias/References:
https://www.samsung.com/global/galaxy/galaxy-s22-ultra/specs/