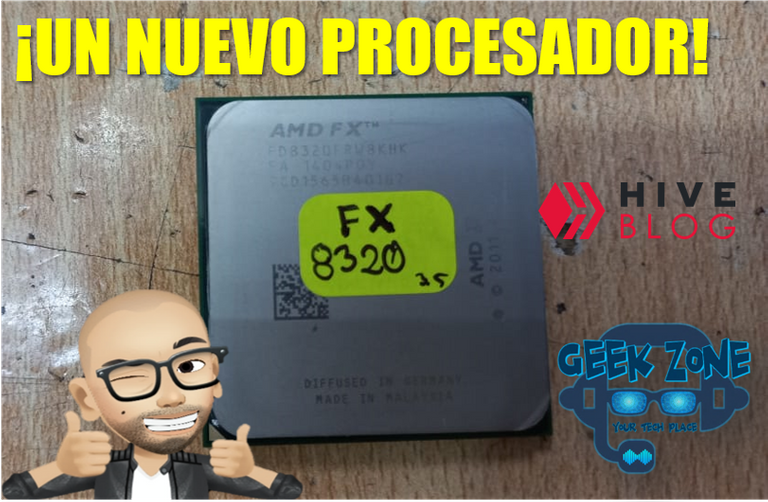 La primera vez que tuve una computadora de relativa gama competitiva fue por allá en el año 2010, recuerdo que contaba con algunos dólares digitales que el gobierno a duras penas nos vendía para pagos y compras electrónicas y en ese sentido decidí armar un carrito de Amazon con los componentes que estuvieran a mi alcance pero siempre tratando de elegir lo mejor posible.
Siempre fui usuario de AMD ya que como todos sabemos es más económico que Intel y a su vez de aceptable rendimiento, claro, todo va a depender del procesador que estemos hablando en el momento ya que esto cambia y se actualiza con mucha frecuencia. En esos tiempos, lo mejor que podías conseguir eran los procesadores AMD FX de 8 núcleos pero eran un sueño para mí por su alto costo.
El carrito de Amazon lo llené con los siguientes componentes:
Tarjeta Madre ASRock - 960GM/U3S3 FX

Procesador AMD Phenom X4 945

Memoria RAM 4GB Corsair

Tarjeta de video AMD Radeom HD 6670
The first time I had a relatively competitive computer was back in 2010, I remember that I had some digital dollars that the government hardly sold us for payments and electronic purchases and in that sense I decided to put together an Amazon cart with the components that were within my reach but always trying to choose the best possible.
I was always an AMD user because as we all know it is cheaper than Intel and at the same time of acceptable performance, of course, everything will depend on the processor we are talking about at the time because it changes and is updated very often. In those days, the best you could get were the AMD FX 8-core processors but they were a dream for me because of their high cost.
I filled my Amazon cart with the following components:
ASRock - 960GM/U3S3 FX motherboard.
AMD Phenom X4 945 Processor
Video card AMD Radeom HD 6670

Ahora mismo no recuerdo cuanto gasté exactamente pero sé que rondaba los 500$ y para serles franco se sentía como un proyecto de vida (Quizá era más tonto que ahorita), sabía que no era lo mejor del mercado pero con eso podía jugar casi que cualquier famoso título del momento y así lo hice, no podía creer que "Call Of Duty Modem Warfare 2" y el "Pro Evolution Soccer" del año corrían con normalidad en 1080p, ello sumado al aceptable sistema de sonido que tenía en el momento me hizo sentir muy afortunado, de hecho pocos conocidos tenían una PC de ese nivel.
Fueron por lo menos un par de años en los que sentía que me mantenía en un estándar aceptable respecto a las características de mi computadora, pero pronto empecé a sentir la pegada de las actualizaciones y avances a nivel de gráficos en los juegos, cada vez más rápido salían nuevos y mejorados procesadores, 4GB de RAM ya eran totalmente insuficientes, la tarjeta de video aguantaba pero no era apoyada por los demás componentes, así que sencillamente me quedé atrás y sin posibilidades económicas de hacer compras que mantuvieran el nivel de mi computadora.
Es así que dejé a un lado los juegos actuales y me quedé únicamente con Pro Evolucion Soccer que era de los más benévolos en cuanto a exigencias, de hecho recuerdo claramente que el último que pude jugar de forma óptima fue el 2017. Haciendo un lado a los juegos, los programas de edición de audio, Office y demás programas comunes si funcionaban perfectamente, respecto a ello nunca tuve quejas, podía decir que aún era una buena computadora para el uso común.
Right now I don't remember how much I spent exactly but I know it was around 500$ and to be frank it felt like a life project (Maybe I was dumber than now), I knew it was not the best in the market but with that I could play almost any famous title of the moment and so I did, I could not believe that "Call Of Duty Modem Warfare 2" and "Pro Evolution Soccer" of the year ran normally in 1080p, this added to the acceptable sound system I had at the time made me feel very lucky, in fact few acquaintances had a PC of that level.
It was at least a couple of years in which I felt that I kept an acceptable standard with respect to the features of my computer, but soon I began to feel the impact of updates and advances in graphics level in games, faster and faster new and improved processors came out, 4GB of RAM were already totally insufficient, the video card held but was not supported by the other components, so I was simply left behind and without economic possibilities to make purchases that would keep the level of my computer.
That's how I left aside the current games and I stayed only with Pro Evolucion Soccer which was one of the most benevolent in terms of requirements, in fact I clearly remember that the last one I could play optimally was 2017. Leaving aside the games, the audio editing programs, Office and other common programs if they worked perfectly, regarding this I never had complaints, I could say that it was still a good computer for common use.

Con el pasar de los años me desinteresé en aplicar mejoras en la computadora ya que otras prioridades fueron surgiendo y la situación económica no era de las mejores, me resigné a pensar que tenía una PC humilde que solo me facilitaría realizar funciones básicas y la verdad estaba bien con eso; sin embargo, hace un año por temas de trabajo tuve que cambiar obligatoriamente de procesador ya que el aplicativo que debía utilizar para laborar exigía al menos AMD FX y evidentemente el Phenom debía ser sustituido.
Al tratarse se procesadores descontinuados, tuve que acercarme a un lugar muy famoso acá en Lima en el que venden componentes de segunda en el que por suerte pude encontrar un AMD FX 4100 a un precio de regalo, es obvio que no era lo máximo pero me servía para cumplir con los requisitos del trabajo, a pesar de ser un procesador superior debo decir que sinceramente el rendimiento no cambió mucho.
Over the years I became disinterested in applying improvements to the computer as other priorities were emerging and the economic situation was not the best, I resigned myself to think that I had a humble PC that would only help me perform basic functions and the truth was fine with that; however, a year ago for work issues I had to compulsorily change the processor because the application that I had to use to work required at least AMD FX and obviously the Phenom had to be replaced.
Being discontinued processors, I had to go to a very famous place here in Lima where they sell second hand components where luckily I could find an AMD FX 4100 at a gift price, it is obvious that it was not the best but it served me to meet the requirements of the work, despite being a superior processor I must say that honestly the performance did not change much.
Procesador AMD FX-4100 / - AMD FX-4100 Processor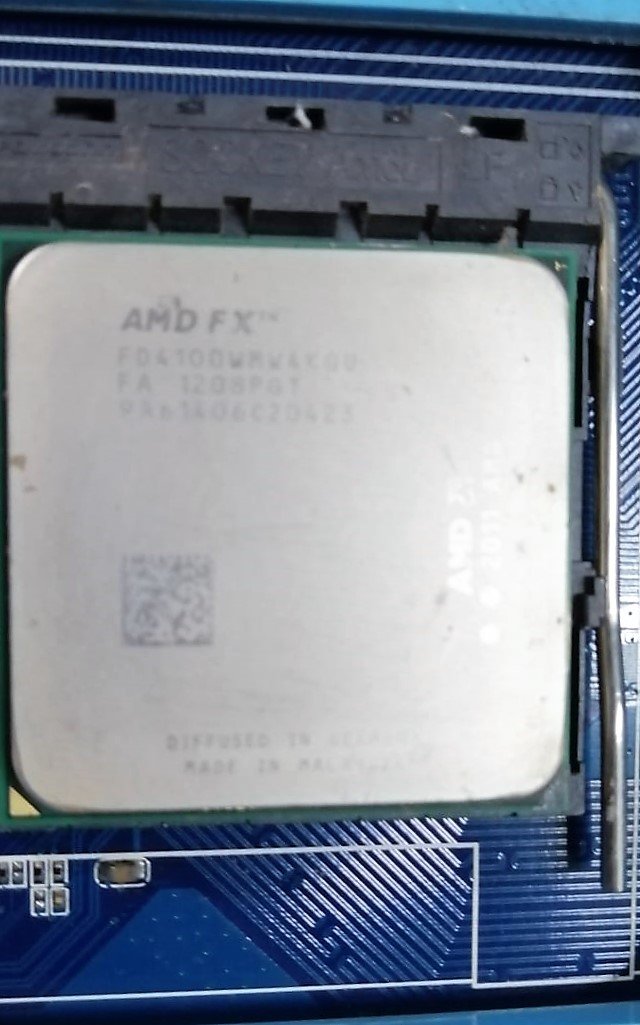 Specifications / Especificaciones

En las últimas semanas en rendimiento de la PC empezó a bajar notablemente, era muy lenta para las mismas funciones básicas que antes corrían con total normalidad, de hecho incluso apagarla era un procedimiento que demoraba absurdamente y de hecho pensé en formatearla pero sabía que eso no haría gran diferencia; es así que decidimos realizar una inversión para resolver estos problemas.
Considero que mis conocimientos son bastante básicos así que inicié un investigación en internet tomando en cuenta el modelo de mi tarjeta madre y su Socket AM3+, lo de aumentar la RAM no era difícil de entender pero en cuanto al procesador debía tener más cuidado, al estar descontinuados no era fácil encontrar un buen modelo pero la suerte estaba de mi lado, en un lugar poco visible de este mágico lugar de piezas de computadoras encontré un AMD FX(tm)-8320 Eight-Core Processor de 3.50 GHz y otras características que detallaré más adelante, pero lo que me causó dudas fue el TDP de 125W ya que este no era compatible con los 95W que indicaba la Web de As Rock.
In the last weeks the performance of the PC began to drop noticeably, it was very slow for the same basic functions that before ran normally, in fact even turning it off was a procedure that took absurdly long and in fact I thought about formatting it but I knew that it would not make a big difference; so we decided to make an investment to solve these problems.
I consider that my knowledge is quite basic so I started a research on the internet taking into account the model of my motherboard and its Socket AM3+, increasing the RAM was not difficult to understand but as for the processor I had to be more careful, being discontinued it was not easy to find a good model but luck was on my side, in a little visible place of this magical place of computer parts I found an AMD FX(tm)-8320 Eight-Core Processor of 3. 50 GHz and other features that I will detail later, but what caused me doubts was the TDP of 125W as this was not compatible with the 95W that the As Rock Web indicated.
Procesador AMD FX(tm)-8320 / AMD FX(tm)-8320 Processor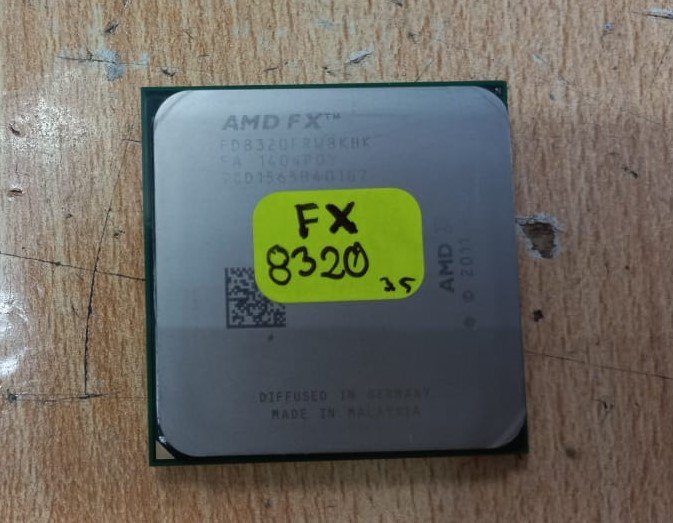 Specifications / Especificaciones
Ante esas dudas me tomé el atrevimiento de consultar a @bananasfallers quien a su vez consulto a @cryptoalvirin, ambos con muchos más conocimientos que los míos y a quienes agradezco con el alma, y me indicaron que no debía haber problemas ya que el Socket era totalmente compatible. Y bueno, realizada la compra y puesto a prueba resulta que funcionó con normalidad, sin embargo, el vendedor me recomendó cambiar el cooler ya que al ser un procesador más exigente el que tenía actualmente no iba a ser suficiente para mantener una temperatura adecuada, así que me mostró uno de segunda mano que en comparación con el mío es mucho mejor; tomando en cuenta el bajo precio en el que me lo ofreció, decidí comprarlo.
Además de lo anterior, compré una memoria RAM DDR3 de 8GB que sumada a los 4GB ya existentes suman unos nada despreciables 12GB que hasta ahora parecieran ser más que suficientes, aunque mi meta es llevar este elemento a 16GB en un futuro no tan lejano.
Given these doubts I took the audacity to consult @bananasfallers who in turn consulted @cryptoalvirin, both with much more knowledge than mine and whom I thank with my soul, and they told me that there should be no problems since the Socket was fully compatible. And well, after the purchase was made and tested, it worked normally, however, the seller recommended me to change the cooler because being a more demanding processor the one I currently had was not going to be enough to maintain an adequate temperature, so he showed me a second hand one that compared to mine is much better; taking into account the low price at which he offered it to me, I decided to buy it.
In addition to the above, I bought an 8GB DDR3 RAM memory which added to the 4GB already existing add up to a not inconsiderable 12GB which so far seems to be more than enough, although my goal is to take this item to 16GB in the not so distant future.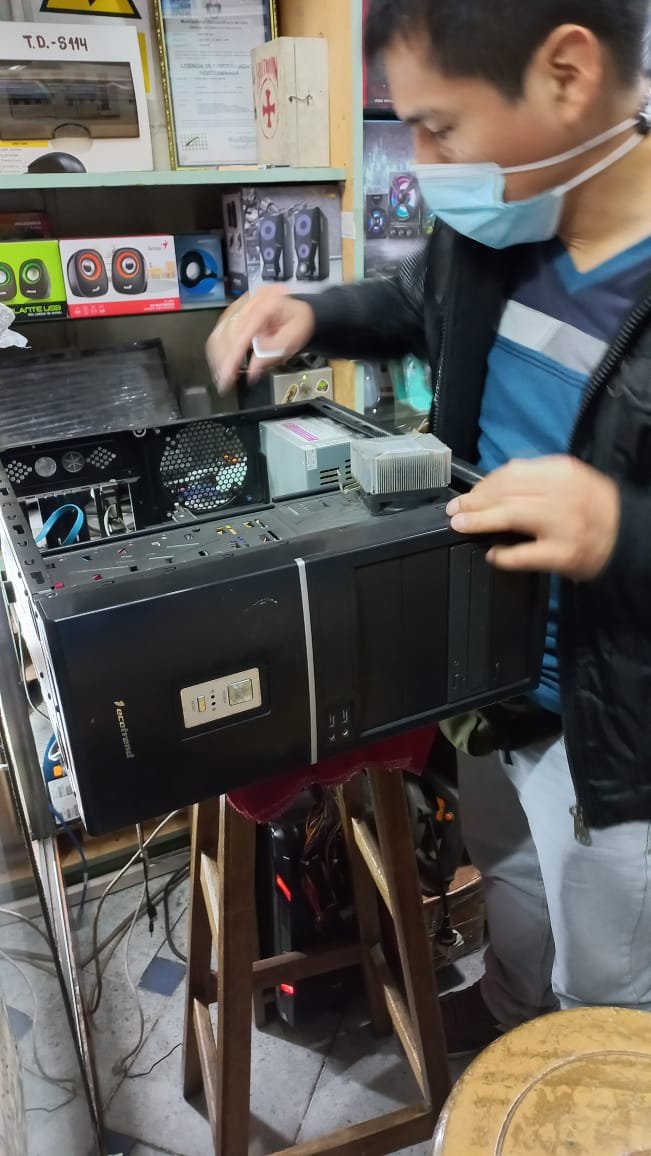 Debo decir que las diferencias se empezaron a notar inmediatamente, el inicio de Windows es notablemente más rápido y las labores básicas volvieron a ser ligeras y de reacción inmediata; claro, la prueba de fuego llegó cuando me tocó renderizar un video de cinco minutos en el VEGAS PRO 17.0, este programa siempre fue exigente y ya con más de 100 videos renderizados tenía una idea del tiempo que normalmente se tomaba, así que podría decir que la diferencia sería de 1 a 3 o quizá 4, o para ser más explícito, si antes tardaba 10 minutos renderizando, ahora tarda 3 o 4 minutos.
I must say that the differences began to be noticed immediately, Windows startup is noticeably faster and the basic tasks were again light and immediate reaction; of course, the acid test came when I had to render a five minute video in VEGAS PRO 17. 0, this program was always demanding and already with more than 100 videos rendered I had an idea of the time it normally took, so I could say that the difference would be from 1 to 3 or maybe 4, or to be more explicit, if before it took 10 minutes rendering, now it takes 3 or 4 minutes.

En conclusión, podría decir que ahora tengo una PC más rápida y eficiente, incluso hasta podría decir que es otra, no hay comparación alguna entre lo que tenía anteriormente y lo que tengo ahora; claro, no todo es color de rosa, debo estar vigilante con la temperatura ya que el actual procesador no está en la lista de compatibles de la tarjeta madre y los que sí, son de 95W, mientras que el que tengo ahora es de 125W.
En las próximas semanas voy a agregar un disco sólido el cual me va a permitir tener un mejor arranque y una mayor velocidad de escritura, creo que con eso ya tendría más que suficiente por un tiempo hasta que decida invertir en algo totalmente nuevo.
In conclusion, I could say that now I have a faster and more efficient PC, I could even say that it is another one, there is no comparison between what I had before and what I have now; of course, not everything is rosy, I must be vigilant with the temperature since the current processor is not in the list of compatible of the motherboard and those that are, are of 95W, while the one I have now is of 125W.
In the next weeks I am going to add a solid disk which will allow me to have a better boot and a higher writing speed, I think that with that I would have more than enough for a while until I decide to invest in something totally new.
- Antes / Before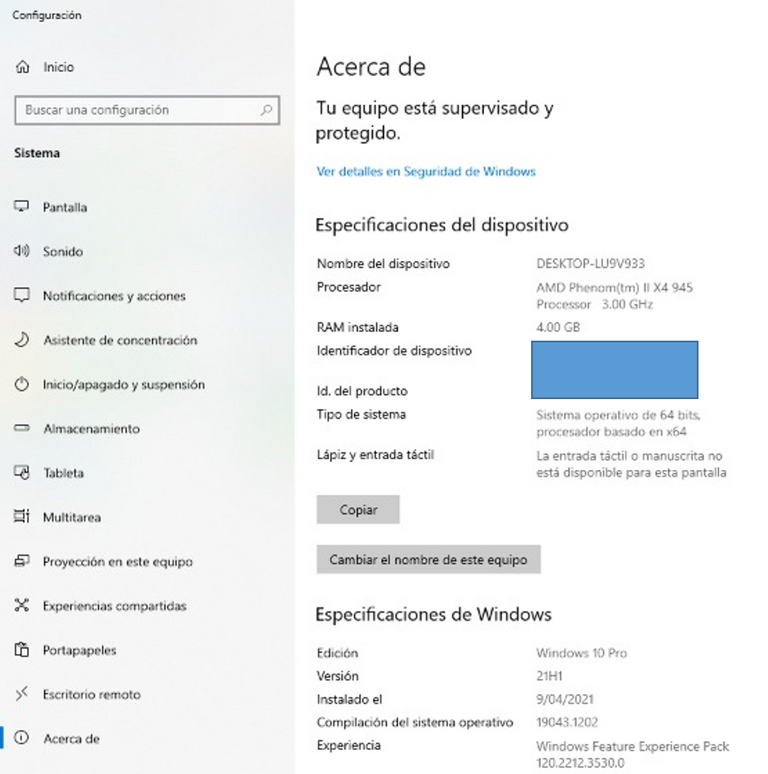 - Después / After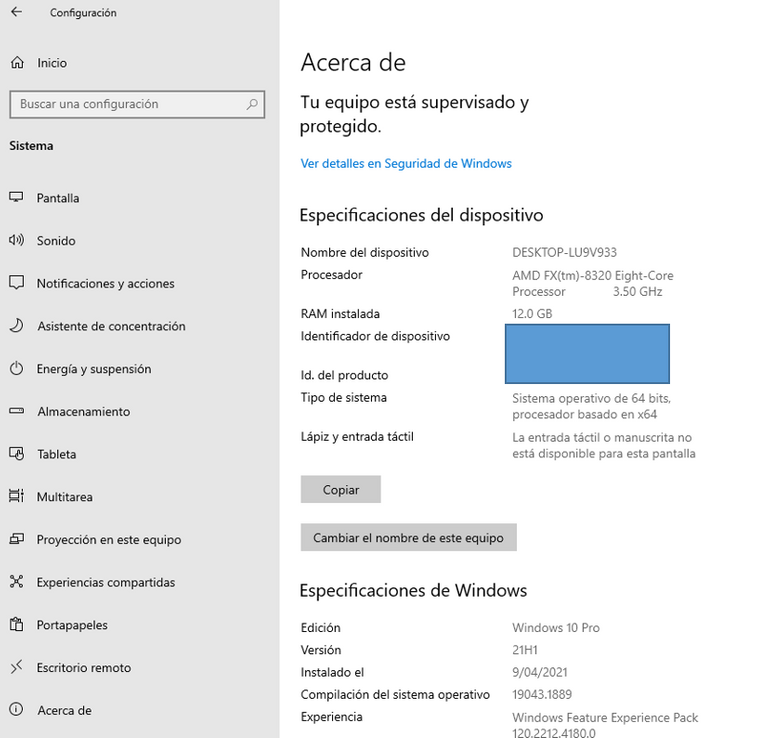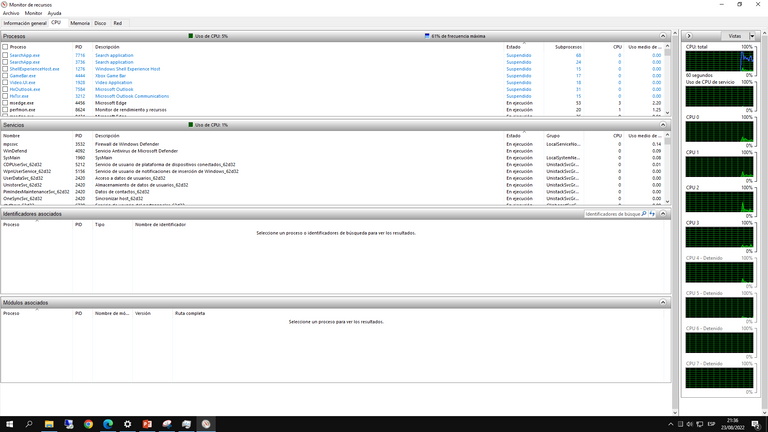 Costo del procesador: 135 Soles/ 35 US
Costo de la memoria RAM: 120 Soles / 30 US
Cost of the processor: 135 Soles/ 35 US
Cost of the RAM memory: 120 Soles / 30 US