---
Multimedia Speaker DHS-2111 | Catharsis
---

Cuando adquirimos un producto tecnológico queremos que funcione de la forma esperada. Cuando no obtenemos los resultados esperados podemos sentirnos decepcionados y frustrados. Que bueno que existen las garantías, así podemos hacer el reclamo y no perder nuestra inversión.
Algo así me sucedió con unos parlantes que compré hace algunos meses. Eran realmente una necesidad. Las compré para mi laptop con el objetivo de cuidar las cornetas internas que trae y poder contar con un dispositivo que aumente el volumen del sonido. Se hicieron más indispensables cuando estaba conectada a videoconferencias o a otras actividades y no podía escuchar bien por motivo de lluvia. Así que las cornetas de la laptop se hicieron insuficientes.
Aproveche la oportunidad de comprar unos parlantes que me costaron 15 dólares (60.000 pesos colombianos). Me parecieron muy lindas por lo pequeña, el color y porque al momento de probarlas tenían un buen volumen de sonido. Compartiré para ustedes algunos detalles del equipo (información encontrada en el manual de uso).
When we purchase a technological product we want it to work as expected. When we do not get the expected results we can feel disappointed and frustrated. It's a good thing that warranties exist, so we can make a claim and not lose our investment.

Something like this happened to me with some speakers I bought a few months ago. They were really a necessity. I bought them for my laptop in order to take care of the internal speakers and to be able to have a device that increases the sound volume. They became more indispensable when I was connected to videoconferences or other activities and I could not hear well because of rain. So the laptop speakers became insufficient.

I took the opportunity to buy some speakers that cost me 15 dollars (60,000 Colombian pesos). I thought they were very nice because of the small size, the color and because when I tried them they had a good sound volume. I will share with you some details of the equipment (information found in the user manual).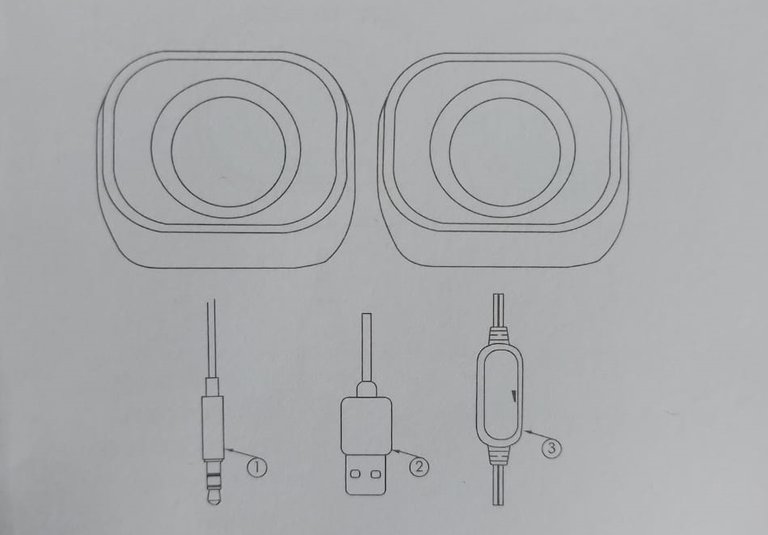 | 1) 3.5 mm jack puerto | 2) Entrada USB | 3) Control remoto en línea |
| --- | --- | --- |
| 1) 3.5 mm jack port | 2) USB input | 3) On-line remote control |

Características técnicas | Technical characteristics
| Potencial nominal: 2 x 3 W | Rated potential: 2 x 3 W |
| --- | --- |
| Respuesta de frecuencia: 150 Hz - 20 kHz | Frequency response: 150 Hz - 20 kHz |
| Sensibilidad: 85 dB ± 3 dB | Sensitivity: 85 dB ± 3 dB |
| Impedancia: 4 Ω x 2 | Impedance: 4 Ω x 2 |
| Tamaño de altavoz: 52 mm | Speaker: size 52 mm |
| Conectores: conector de 3.5 mm (audio), USB (alimentación) | Connectors: 3.5 mm plug (audio), USB (power) |
| Fuente de alimentación: DC 5 V/1A | Power supply: DC 5 V/1A |
| Longitud del cable: 1.2 m | Cable length: 1.2 m |
| Peso: 270 g | Weight: 270 g |
| Disensiones: 64 x 78 x 55 mm | Dimensions: 64 x 78 x 55 mm |

Requerimientos de sistema | System requirements
| PCs, Laptops y otros dispositivos que soporten conector de audio 3.5 mm. | PCs, laptops and other devices that support 3.5 mm audio jack. |
| --- | --- |

Descripción de Altavoz multimedia | Description of Multimedia Speaker
| Ángulo de inclinación para dispersión amplia del volumen. | Tilt angle for wide volume dispersion. |
| --- | --- |
| Bocinas de 6 watts de sonido claro y de calidad. | 6 watts speakers with clear and quality sound. |
| Controlador de volumen por cable. | Wired volume controller. |
| Pequeño y delicado, ahorro de espacio. | Small and delicate, space saving. |
| Garantía limitada a 1 año. | 1-year limited warranty. |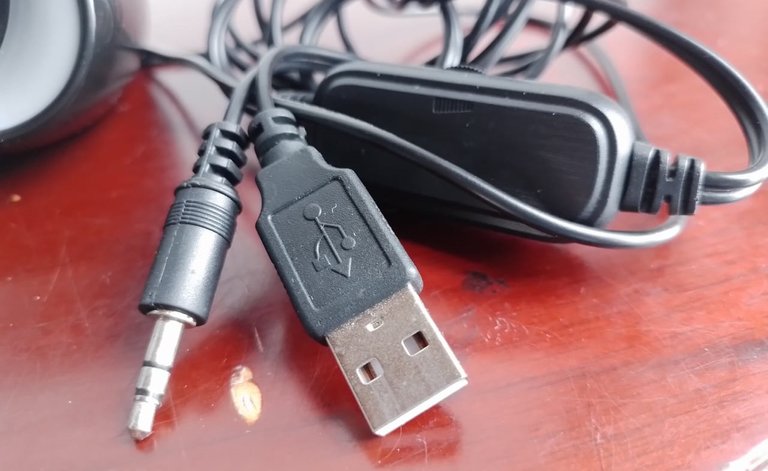 Según las características del dispositivo me pareció bueno, por eso adquirí estos parlantes. Y como les dije al probarlas sonaban muy bien, pero con el pasar de los días comencé a notar un sonido constante en las cornetas, aún sin tener ninguna música, ellos tenían un sonido extraño. Al principio pensé que era porque tenía el control de sonido con volumen, pero al bajarle todo el volumen el sonido continuaba.
Aquel sonido se volvió fastidioso porque sonaba con más intensidad cada vez que movía la ruedita del mouse y como lo utilizo con mucha frecuencia, el sonido de los parlantes no era nada agradable. Quise seguir dándole la oportunidad a los parlantes y quise conectarlas solo cuando fuese a usar sonido y así comencé a hacerlo.
Creí que así seguirían funcionando, pero paso algo más. Un día, cuando las conecte para escuchar música, comencé a sentir un olor extraño, como ha quemado. Al principio me asusté que no fuese la laptop, pero al acercarme me fije que eran los parlantes. ¡Se dañaron!, supuse. Las desconecté para dejar de utilizarlas.
According to the characteristics of the device I thought it was good, so I bought these speakers. And as I told you when I tested them they sounded very good, but as the days went by I began to notice a constant sound in the horns, even without having any music, they had a strange sound. At first I thought it was because I had the sound control on volume, but when I turned it all the way down the sound continued.

That sound became annoying because it sounded louder every time I moved the mouse wheel and as I use it very often, the sound of the speakers was not pleasant at all. I wanted to keep giving the speakers a chance and I wanted to connect them only when I was going to use sound and so I started to do it.

I thought they would keep working, but something else happened. One day, when I plugged them in to listen to music, I started to feel a strange smell, like it was burning. At first I was scared that it wasn't the laptop, but when I got closer I realized it was the speakers. They were damaged, I assumed. I unplugged them to stop using them.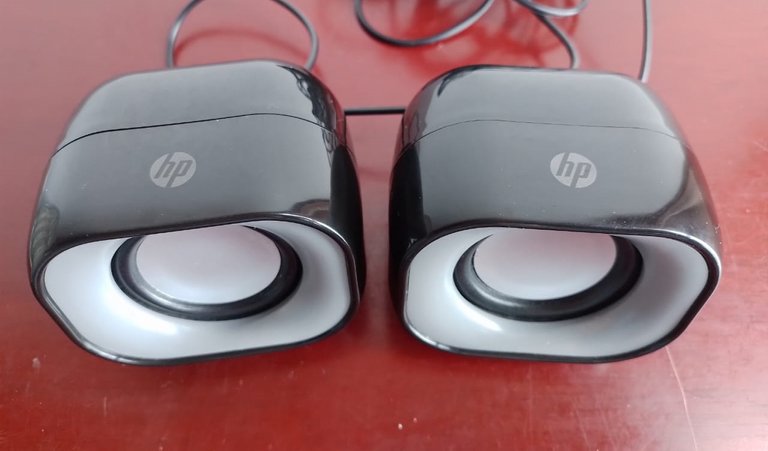 Pasados los días necesitaba escuchar algo con volumen y la lluvia no colaboraba, así que pensé en conectar de nuevo los parlantes para ver si funcionaba. Sonaron normal y después de un rato no tenían olor a quemado. ¡Se arreglaron!
Como vi que funcionaban las seguí usando. Así duré por un tiempo, las conectaba solamente para cuando iba a utilizar sonido. Un día me dice mi esposo ¿Por qué se escucha el sonido cortado?, en ese momento estaba conectada a una actividad en Discord, yo le dije que de seguro era la conexión a Internet, pero él me dijo que desconectara el parlante para escuchar si era el internet. Después de desconectarlo se escuchaba bien sin interrupciones.
Más tarde, luego de terminar el programa, las probé de nuevo con música de YouTube, y efectivamente se cortaba la música y a los segundos continuaba, es como si se apagaran y se volvieran a encender cada minuto. Escuchar música así es horrible.
Así que me resigne con estos parlantes. Los muchos intentos fueron porque realmente las necesitaba. Decidí buscar la factura para ver la fecha límite de la garantía y se vence el 23/06/22 ¡todavía tengo tiempo de cambiarlas!, bueno espero que me las cambien. Aunque en la caja dice que la garantía es por un año, en la tienda donde las compre dice que solo 6 meses.
After a few days I needed to listen to something loud and the rain didn't help, so I thought I'd plug the speakers back in to see if it would work. They sounded normal and after a while they didn't have a burnt smell, they were fixed!

Since I saw that they worked I kept using them. I only plugged them in when I was going to use sound. One day my husband said to me "Why do you hear the sound cut, at that moment I was connected to an activity in Discord, I told him that for sure it was the internet connection, but he told me to disconnect the speaker to hear if it was the internet. After disconnecting it, I could listen well without interruptions.

Later, after finishing the program, I tried them again with music from YouTube, and indeed the music would cut out and after a few seconds it would continue, it's as if they were turning off and on again every minute. Listening to music like that is horrible.

So I resigned myself to these speakers. The many attempts were because I really needed them. I decided to look for the invoice to see the warranty deadline and it expires 6/23/22, I still have time to replace them, well I hope they will replace them. Although it says on the box that the warranty is for one year, the store where I bought them says only 6 months.

Mi mayor sufrimiento es que los parlantes se compraron en Bogotá, y yo vivo en otra ciudad y por lo que veo ya casi tengo 6 meses sin ir a Bogotá, así que estoy pensando si vale la pena viajar a hacer el cambio o mejor reunir el dinero para comprarme otras.
Me genera mucha frustración porque estoy como antes, necesitándolas sobre todo cuando llueve. Pero bueno, estas cosas pasan. Quise compartir mi experiencia con ustedes no pensando que esta será su misma experiencia, pero si para que si vas a comprar estos parlantes seas precavido y las pruebes con más tiempo en la tienda o no las compren lejos como yo jejeje y así puedan reclamar la garantía. Quizás fui yo quien no corrí con la suerte, pero bueno, cada experiencia suma.
My biggest suffering is that the speakers were bought in Bogota, and I live in another city and as far as I see I have almost 6 months without going to Bogota, so I'm thinking if it's worth traveling to make the change or better to raise the money to buy others.

It generates a lot of frustration because I am like before, needing them especially when it rains. But well, these things happen. I wanted to share my experience with you not thinking that this will be your same experience, but so that if you are going to buy these speakers be cautious and try them with more time in the store or do not buy them far away like me hehehe and so you can claim the warranty. Maybe it was me who was unlucky, but well, every experience adds up.

---
---


Recursos utilizados en la publicación: / Resources used in the publication:
Imágenes: Las fotos fueron tomadas desde mi celular Samsung Galaxy A03. / Images: The photos were taken from my Samsung Galaxy A03 cell phone.
Separador: elaborado por mi/ Separator: elaborated by me.
Banner: pixabay by Sponchia, editado por mi / edited by me.
Links: creados por mi, recurso utilizado / created by me, resource used pixabay by OpenClipart-Vectors
Editores: / Editors: Canva, PowerPoint.
---