Español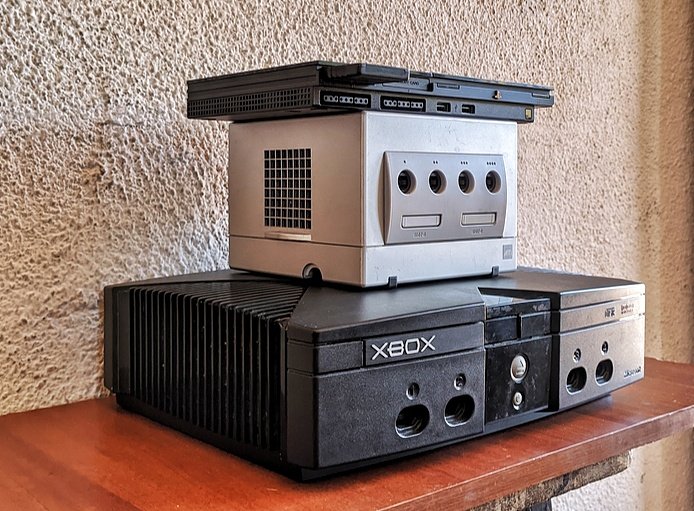 Photo taken by the author
Hola amigos de Geek Zone ¿Cómo están? Espero que estén super bien y sean bievenidos a una nueva publicación hecha por mí. Sean bienvenidos a esta publicación de inicio de semana y que mejor forma de iniciar que hablar de una generación de consolas que para mí fue una de las mejores, esta generación fue un salto gigante en la industria donde los gráficos y la jugabilidad de muchos videojuegos cambiaron para bien.
El día de hoy les hablaré desde mi opinión personal y de mi propia experiencia sobre la sexta generación de consolas de videojuegos, ya saben, la generación del PlayStation 2, Gamecube y Xbox, yo tuve la fortuna de jugar en las tres consolas y al día de hoy las conservo muy bien, hablaré de algunos puntos buenos, pero también de algunas cosas que no me gustan mucho de las consolas, no diré cosas de historia ni de ventas porque todo el mundo sabe de eso, sólo hablaré desde mi experiencia jaja.
Hace un par de semanas estuve hablando de la quinta generación de consolas, lo que es la Nintendo 64 y el PlayStation 1, en esa publicación hablé sobre algunos videojuegos del catálogo, sus mandos, su forma de guardar los juegos, entre otras cosas, por suerte en la generación que toca hoy tengo más experiencia porque me críe más jugando a una de estás consolas jaja.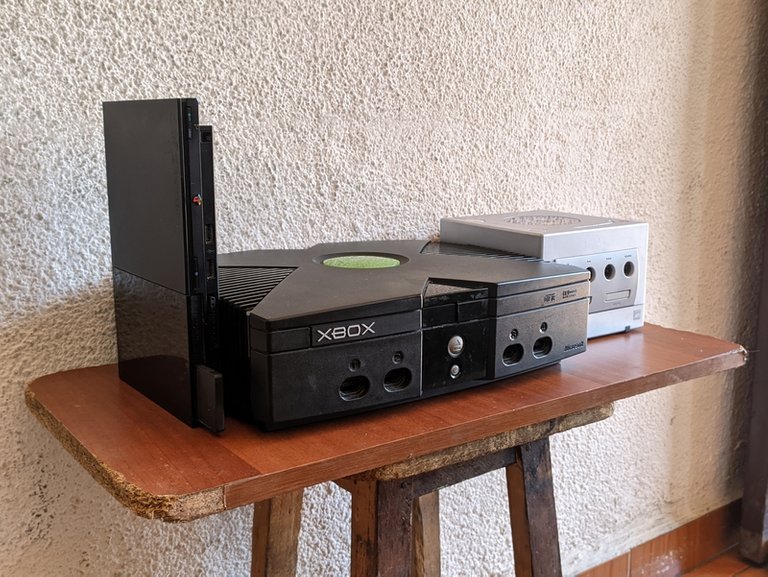 Photo taken by the author
Para mí esta generación de consolas es una de las mejores porque salieron videojuegos que marcaron por completo mi infancia, a su vez son las últimas consolas que usan mandos con cables antes de pasarse a tecnología inalámbrica, una lastima que estas consolas sólo hayan durado en el mercado 5 años, excepto el PlayStation 2 que duró 15 años (pero ese es otro tema) en si fue una generación apresurada que duró desde el año 2001 hasta el 2006.
Empecemos por las características de las consolas, primero con la consola más longeva de las tres, la PlayStation 2, esta fue la primera en salir de las tres y gracias al tremendo éxito que tuvo la PlayStation 1 la consola se vendió como pan caliente en todos los sentidos, las más vendida sin duda, cuenta con su lector de DVD, en esta época ya no usaban CDs por cuestiones de almacenamiento, es una tecnología más avanzada, esta consola usa memory card, personalmente tengo la versión Slim, es decir, la versión más pequeña, esta variante es la más cómoda para trasladar pero su lector falla mucho, al menos en mi caso.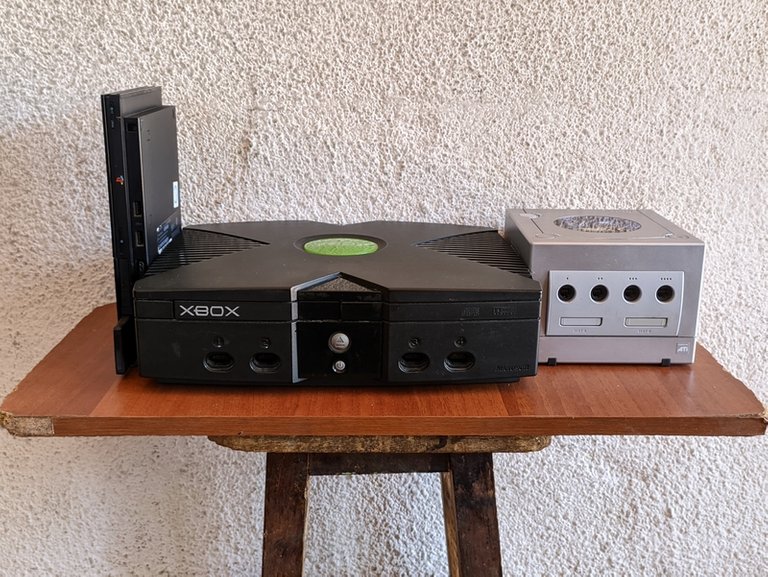 Photo taken by the author
Luego salió la Gamecube, lo particular de esta consola es que parecía una lonchera, es decir, es un cubo eso está claro, pero por detrás tiene como una ranura donde puedes encajar tu mano y te la puedes llevar a donde tú quieras y eso facilita mucho te la puedes llevar en la mano, con respecto a su lector es el que más me gusta porque es original, son discos pequeños de DVD, esto es lo más característico de la consola sin duda, los discos son una miniatura y delicados se te cae, se raya el juego fácilmente jaja, esta consola también usa memory card.
Por último salió el Xbox, es la primera consola de Microsoft en el mundo de los videojuegos y desde ya les adelanto que es mi favorita entre la tres, según sus creadores la describen como una pc hecha consola, el Xbox también tiene su lector DVD, pero la principal novedad es que tiene su propio disco duro donde puedes guardar tus partidas, sin necesidad de una memory card que eso en lo personal no me gusta, eso si la consola pesa mucho, de las tres es la más difícil de transportar, lo digo por experiencia.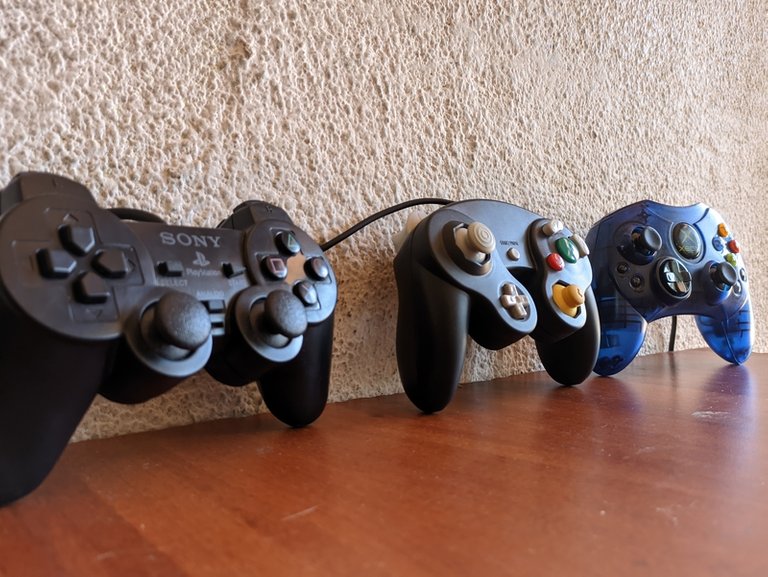 Photo taken by the author
Vamos ahora con los mandos, bueno el mando del PlayStation 2 es el mismo prácticamente solamente que es de color negro, la principal novedad que tiene este mando con respecto al anterior es que tiene dos botones más, estos están ubicados en las palancas, si las presionas accionas, son el L3 y R3, estos botones tienen funciones importantes en algunos juegos como Call of Duty por ejemplo que sirve para aumentar la mira del rifle, bueno esa es la principal novedad, del resto es igual, este mando me parece el menos cómodo.
El de Gamecube me gusta mucho más que su antecesor del N64, me parece uno de los mandos más cómodos de la industria la verdad, sus botones están ubicados de forma inusual, por ejemplo, el botón "A" es el más grande, mientras que el "B" "X" y "Y" son más pequeños y están al su alrededor, también cuenta con dos palancas, la principal es la blanca mientras que la amarilla tiene un rol secundario, hay una cruceta pequeña al lado izquierdo y por detrás tiene gatillos que son el "L" y "R" y el botón "Z", lo mejor sin duda es que tiene dos soportes para mano y no tres como el del N64 jaja.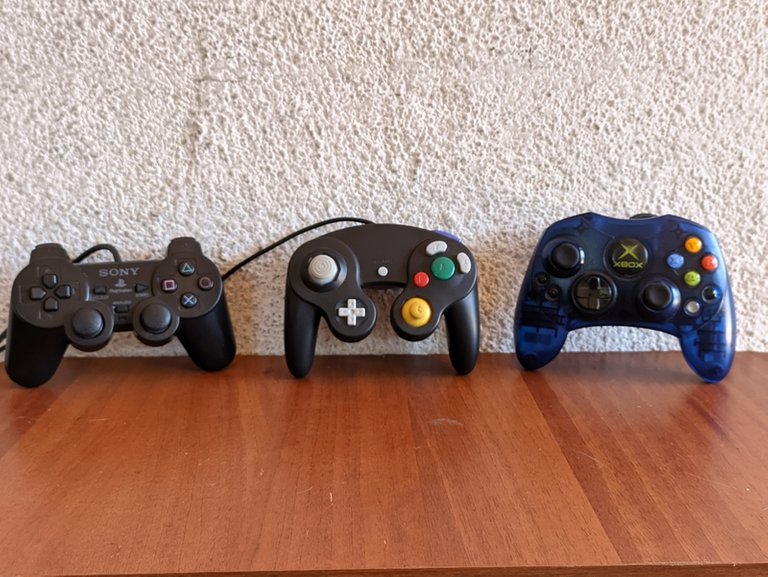 Photo taken by the author
Por otro lado, tengo el mando del Xbox y el de los tres es el que me parece más cómodo, su diseño se adhiere a cualquier mano ya sea grande o pequeña, tiene la palanca superior en la parte superior izquierda, los botones están todos del mismo tamaño y con colores para diferenciarlos, con la palanca secundaria está debajo de los botones, con una cruceta a su izquierda que es grande y cómodo, el botón "start" lo tiene del lado izquierdo algo exclusivo y los gatillos que son una genialidad, sobre todo para juegos de disparos y de carreras.
Ahora vamos con el catálogo de videojuegos, con respecto a los juegos del PlayStation 2 no he tenido la fortuna de probar muchos, debido a que mi consola su lector no funciona bien y no puedo tener juegos digitales porque no tengo disco duro básicamente, pero alcanzo a tener un podio, el juego que más horas dediqué a la consola sin duda fue el Gran Turismo 4, ese fue el que más me gustó, luego estaría el Naruto Shippuden Ultimate 5, un juego de peleas basado en el anime de Naruto con una historia genial y para completar el podio está el GTA Vice City que lamentablemente jamás pude completar por el poco espacio de mi memory card.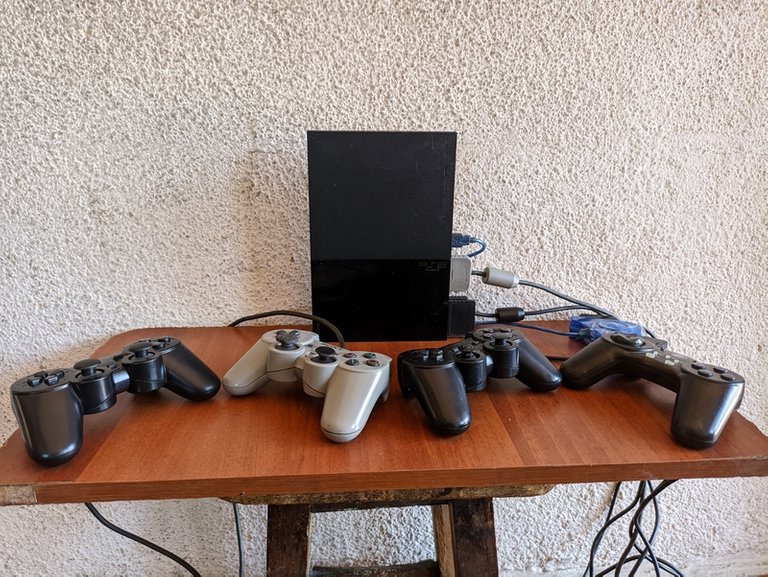 Photo taken by the author
Luego estamos con los videojuegos de la Gamecube, aquí si tengo más terreno explorado, los que más disfruté sin duda fueron el Super Mario Strikers, el Mario Party 7, Samuari Jack, Racing Evolución, Pokémon XD, Naruto Clash of Ninja, Shadow, por supuesto el Super Smash Bros Melee, pero tengo mi podio, las sagas que más me gustan de la consola son Metroitd Prime, F-Zero y Star Fox, estás tres sagas son las mejores, tanto por su jugabilidad, historias y por sus gráficos que son los que mejor se ven Dios mío.
Posteriormente, está el Xbox que no se queda atrás con el catálogo de videojuegos, los que más me gustan y sigo jugando al día de hoy son el Burnout 3, Italian Job, Black, Dead of Alive 2, Mortal Kombat, Marvel vs Capcom 2, Def Jam, Hot Wheels, pero como en el caso del catalogo del Gamecube tengo un podio que se despega del resto, por lo mismo historia, jugabilidad y que tanto me marcaron, estos son Halo, Fable y la saga de Blinx Time, los tres que acabo de mencionar son unos juegazos y no me imagino en un mundo sin ellos.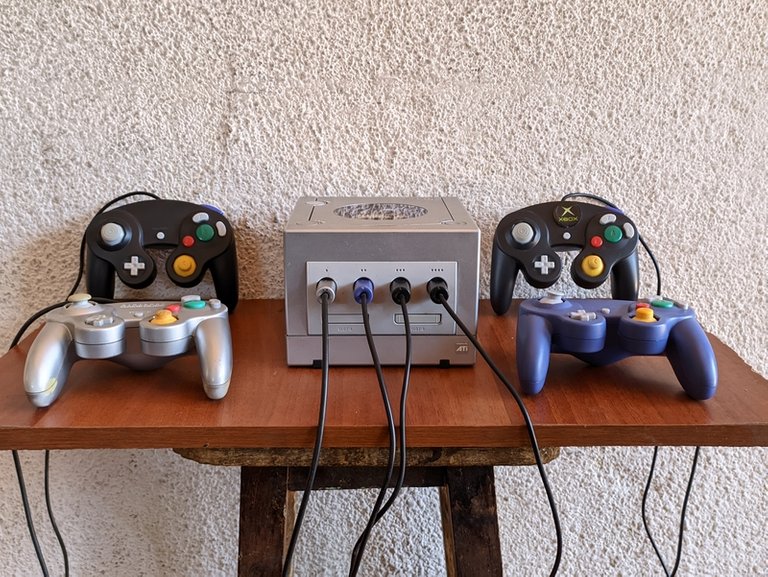 Photo taken by the author
Para acabar vamos a ver cual sería mejor consola para jugar en familia, en el caso de la PlayStation 2 desde mi opinión personal, no es una buena consola para jugar en multijugador, al menos que tengas un solo amigo, o al menos que tengas el adaptador para conectar más mandos, porque en la consola sólo pueden ir dos, en mi familia jamás jugamos con el PlayStation 2 así en multijugador, solamente era yo y un primo muy de vez en cuando.
Caso contrario al del Gamecube que de las tres ha sido la más disfrutada en el multijugador, juegos como Smash Bros Melee, Mario Party 7 y el Naruto Clash of Ninja han sido los juegos que más horas se han invertido, incluso te puedo decir que, hasta días jugados, éramos todos los primos, mi hermano e incluso se podía sumar un tío mío que estaba por ahí jaja, nunca faltaba nadie.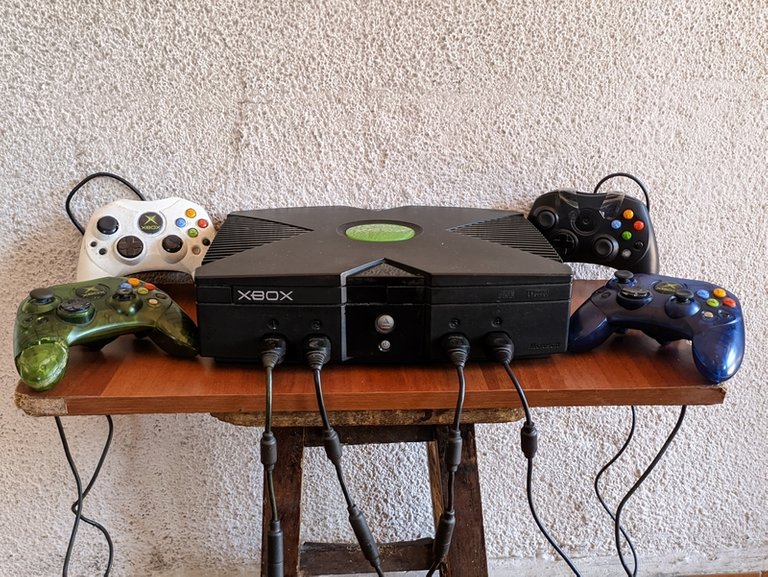 Photo taken by the author
Xbox estaría en el medio, recuerdo que se jugaba bastante con el Xbox en multijugador cuando yo era pequeño, para no hacerme sentir mal me daban un mando desenchufado para hacerme creer que estaba jugando con mis primos jaja, hoy en día los videojuegos que más disfruto en multijugador tanto con mis amigos como con mi familia son el Def Jam, el Halo 2 y los emuladores sobre todo el de N64.
Bueno amigos de Geek Zone, espero que les haya gustado la publicación de este día jaja, esta publicación la quise hacer breve para no hacerla larga jaja, pero si me preguntan con cual de estás tres consolas me quedo pues sin duda alguna sería con el Xbox, aparte que tiene un disco duro, puedo almacenar en él juegos digitales, se pueden enchufar 4 mandos sin ningún problema y jugar de 4, aparte la mayoría de videojuegos de mi infancia están en esta consola, pero bueno todas las consolas me gustan no lo voy a negar, Gamecube también me gusta mucho y si quiero jugar al Gran Turismo 4 siempre cuento con el PlayStation 2.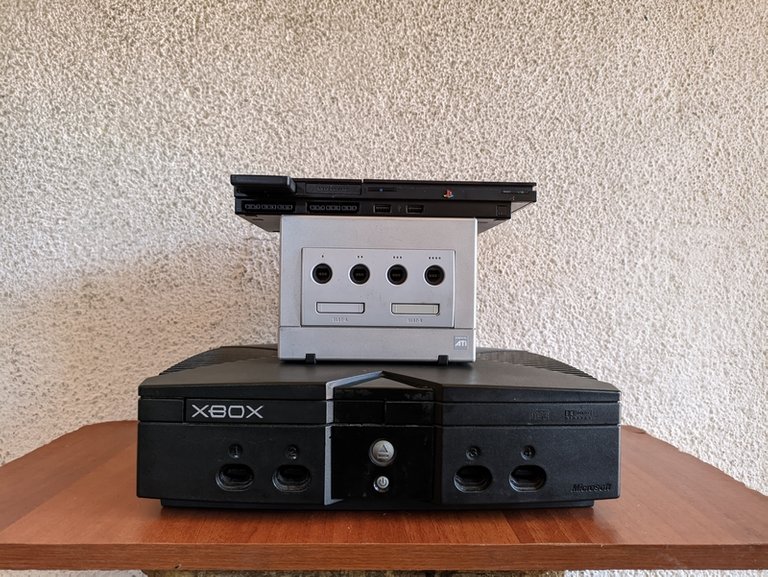 Photo taken by the author
Hay más cosas por hablar, pero lo dejaré por aquí, si hay algo que no mencioné me gustaría que lo colocarán en los comentarios de abajo así podemos aprender entre todos, esta una de las mejores generaciones de consolas de videojuegos. No les quiero quitar más tiempo, gracias por leer y por escuchar.

🎮¡Adiós!🎮
¡¡Muchas Gracias!!

Translated with www.DeepL.com/Translator


English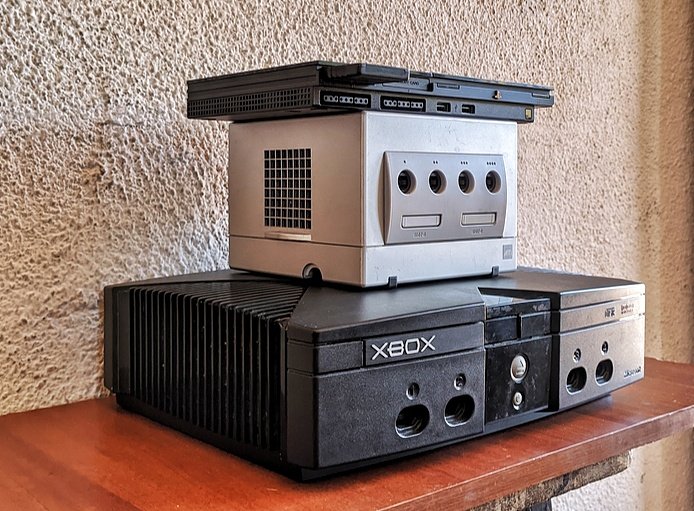 Photo taken by the author
Hello Geek Zone friends, how are you? I hope you are doing great and welcome to a new publication made by me. Welcome to this week's post and what better way to start than talking about a generation of consoles that for me was one of the best, this generation was a giant leap in the industry where the graphics and gameplay of many video games changed for the better.
Today I will talk about my personal opinion and my own experience with the sixth generation of video game consoles, you know, the generation of PlayStation 2, Gamecube, and Xbox, I had the fortune to play on the three consoles and today I keep them very well, I will talk about some good points, but also about some things that I don't like much about the consoles, I will not say things about history or sales because everyone knows about that, I will only talk from my experience haha.
A couple of weeks ago I was talking about the fifth generation of consoles, which is the Nintendo 64 and the PlayStation 1, in that publication, I talked about some video games in the catalog, their controllers, and how to save the games, among other things, luckily in the generation that touches today I have more experience because I grew up more playing one of these consoles haha.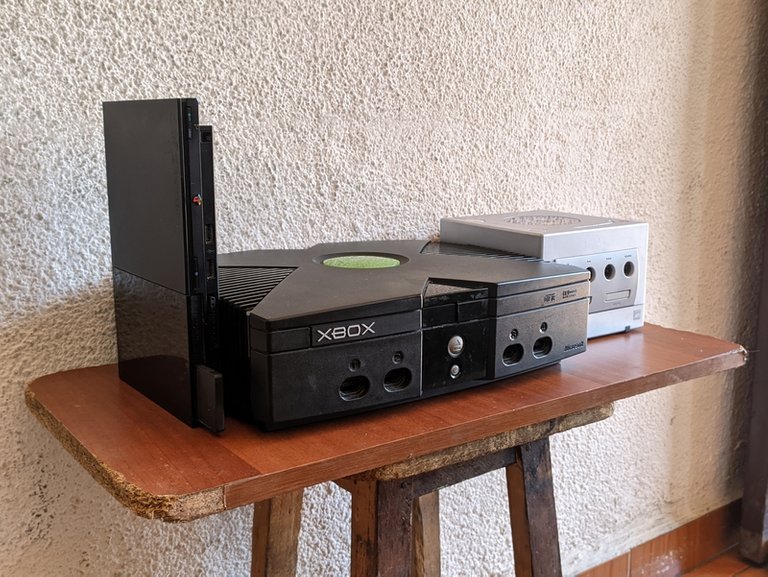 Photo taken by the author
For me, this generation of consoles is one of the best because they released video games that completely marked my childhood, at the same time are the last consoles that use wired controllers before going wireless, a pity that these consoles have only lasted 5 years in the market, except the PlayStation 2 that lasted 15 years (but that's another topic) if it was a hasty generation that lasted from 2001 to 2006.
Let's start with the features of the consoles, first with the longest-lived console of the three, the PlayStation 2, this was the first to come out of the three, and thanks to the tremendous success of the PlayStation 1 the console sold like hot cakes in every way, the most sold without a doubt, It has its DVD player, at this time no longer used CDs for storage issues, is a more advanced technology, this console uses a memory card, I have the Slim version, ie the smaller version, this variant is the most comfortable to move but its reader fails a lot, at least in my case.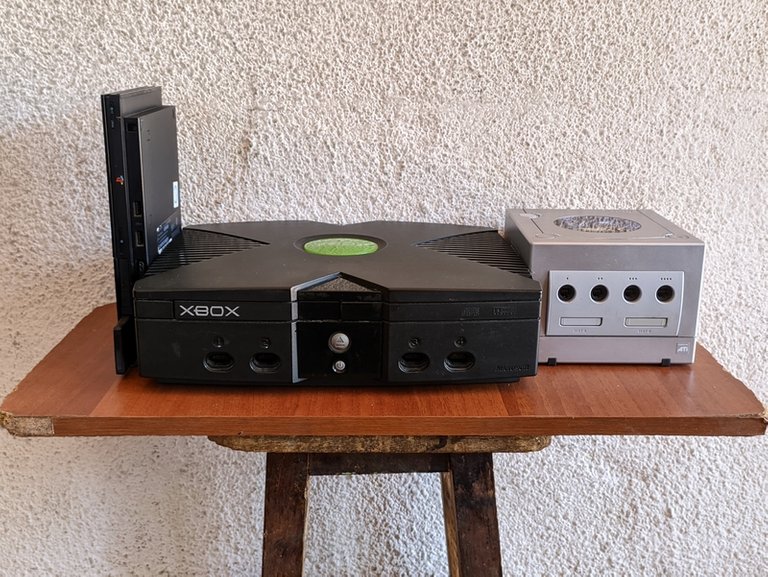 Photo taken by the author
Then came the Gamecube, the particularity of this console is that it looked like a lunch box, that is, it is a cube that is clear, but behind it has a slot where you can fit your hand and you can take it wherever you want and that makes it much easier you can take it in your hand, concerning its reader is the one I like the most because it is original, are small DVDs, this is the most characteristic of the console, without doubt, the discs are a miniature and delicate you drop, the game is scratched easily haha, this console also uses memory card.
Finally came out the Xbox, it is the first Microsoft console in the world of video games and I already tell you that it is my favorite of the three, according to its creators describe it as a pc made console, the Xbox also has its DVD player, but the main novelty is that it has its hard drive where you can save your games, without the need for a memory card that I do not like, that if the console weighs a lot, of the three is the most difficult to transport, I say this from experience.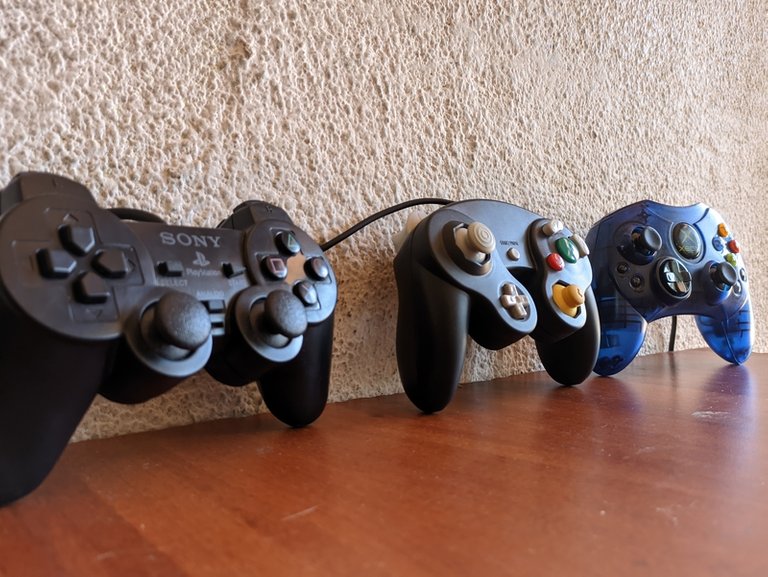 Photo taken by the author
Let's go now with the controls, well the PlayStation 2 controller is practically the same only that it is black, the main novelty of this controller concerning the previous one is that it has two more buttons, these are located on the levers, if you press them, they are the L3 and R3, these buttons have important functions in some games like Call of Duty for example that serves to increase the sight of the rifle, well that is the main novelty, the rest is the same, this controller seems to me the least comfortable.
The Gamecube I like much more than its predecessor of the N64, I find it one of the most comfortable controllers in the industry the truth, its buttons are located unusually, for example, the "A" button is the largest, while the "B" "X" and "Y" are smaller and are around it, it also has two levers, the main one is the white one while the yellow one has a secondary role, there is a small crosshead on the left side and at the back, it has triggers that are the "L" and "R" and the "Z" button, the best thing without a doubt is that it has two hand holders and not three like the N64's haha.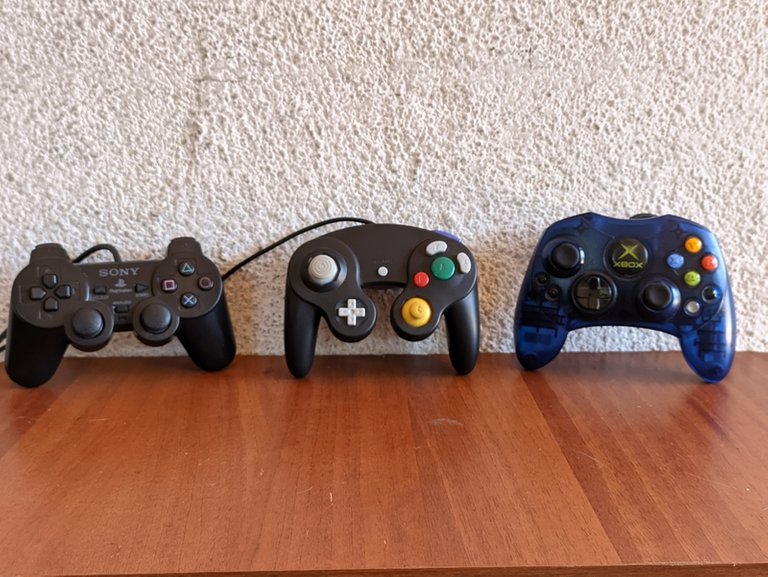 Photo taken by the author
On the other hand, I have the Xbox controller and of the three is the one I find most comfortable, its design adheres to any hand whether large or small, has the top lever at the top left, and the buttons are all the same size and with colors to differentiate them, with the secondary lever is below the buttons, with a crosshair on your left that is large and comfortable, the "start" button has it on the left side something unique and the triggers that are a genius, especially for shooting and racing games.
Now let's go with the catalog of video games, for the PlayStation 2 games I have not had the fortune to try many, because my console reader does not work well and I can not have digital because I have no hard drive basically, but I reach to have a podium, the game that I spent more hours on the console was undoubtedly Gran Turismo 4, that was the one I liked the most, then would be the Naruto Shippuden Ultimate 5, a fighting game based on the Naruto anime with a great story and to complete the podium is the GTA Vice City that unfortunately, I could never complete because of the little space on my memory card.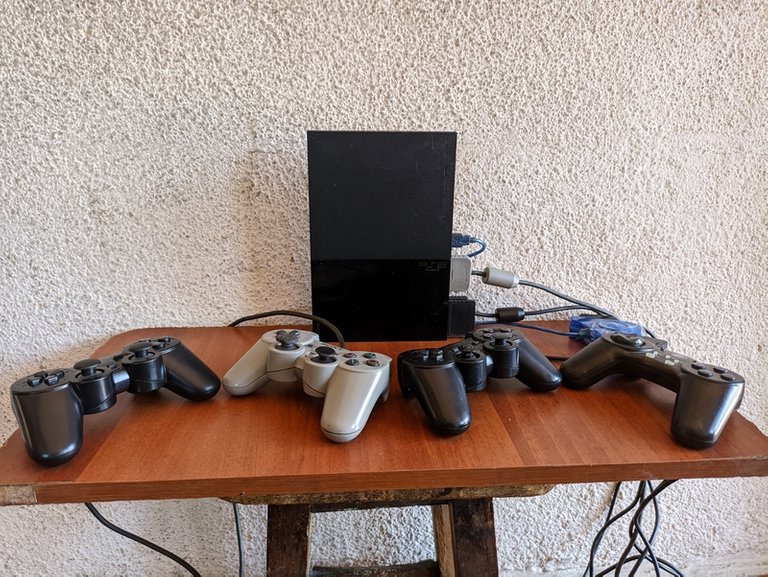 Photo taken by the author
Then we are with the Gamecube video games, here if I have more ground explored, the ones I enjoyed the most were undoubtedly the Super Mario Strikers, Mario Party 7, Samuari Jack, Racing Evolution, Pokémon XD, Naruto Clash of Ninja, Shadow, of course, the Super Smash Bros Melee, but I have my podium, the sagas that I like the most of the console are Metroid Prime, F-Zero, and Star Fox, these three sagas are the best, both for its gameplay, stories and for its graphics that are the best looking, my God.
Subsequently, there is the Xbox that is not far behind with the catalog of video games, the ones I like the most and still play today are Burnout 3, Italian Job, Black, Dead or Alive 2, Mortal Kombat, Marvel vs Capcom 2, Def Jam, Hot Wheels, but as in the case of the Gamecube catalog I have a podium that stands out from the rest, for the same story, gameplay and that both marked me, these are Halo, Fable and the saga of Blinx Time, the three I just mentioned are great games and I can not imagine myself in a world without them.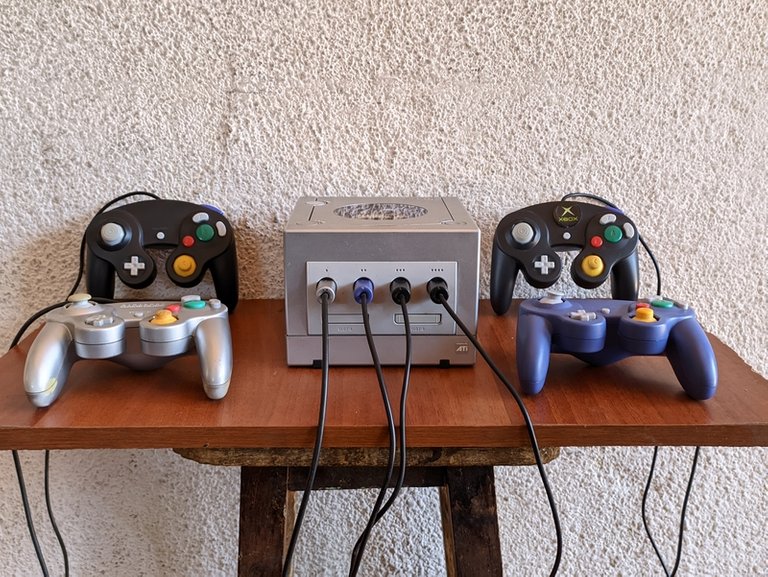 Photo taken by the author
Finally let's see what would be the best console to play with the family, in the case of the PlayStation 2 from my personal opinion, it is not a good console to play multiplayer, unless you have only one friend, or at least you have the adapter to connect more controllers, because the console can only go two, in my family we never played with the PlayStation 2 in multiplayer, it was only me and a cousin very occasionally.
The opposite case to the Gamecube that of the three has been the most enjoyed in multiplayer, games like Smash Bros Melee, Mario Party 7 and Naruto Clash of Ninja have been the games that have been invested more hours, even I can tell you that, until days played, we were all cousins, my brother and even could join an uncle of mine who was around haha, no one was ever missing.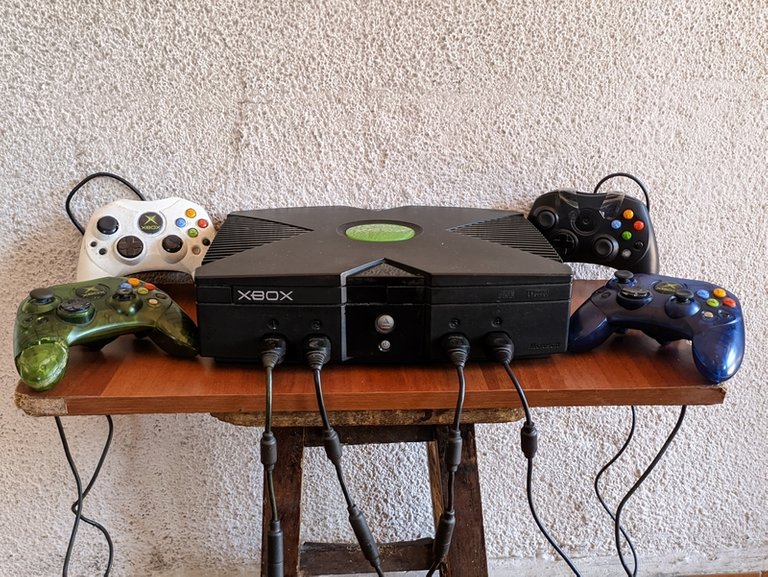 Photo taken by the author
Xbox would be in the middle, I remember playing quite a lot with the Xbox in multiplayer when I was little, to not make me feel bad they gave me an unplugged controller to make me believe I was playing with my cousins haha, nowadays the video games I enjoy the most in multiplayer with my friends and family are Def Jam, Halo 2 and emulators, especially the N64.
Well, friends of Geek Zone, I hope you liked the publication of this day haha, this publication I wanted to make it short so as not to make it long haha, but if you ask me which of these three consoles I'm left with no doubt it would be the Xbox, besides it has a hard drive, I can store digital games on it, you can plug 4 controllers without any problem and play with 4, besides most of my childhood videogames are in this console, but well all consoles I like I will not deny it, Gamecube I also like a lot and if I want to play Gran Turismo 4 I always have the PlayStation 2.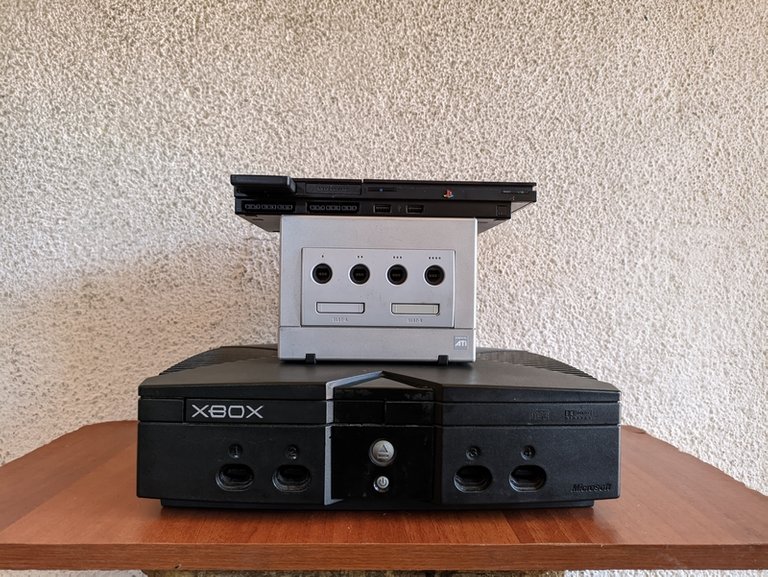 Photo taken by the author
There are more things to talk about, but I'll leave it here, if there is something I didn't mention I would like you to post it in the comments below so we can learn from each other, this is one of the best generations of video game consoles. I don't want to take up any more of your time, thanks for reading and for listening.

🎮Bye!🎮
Thank you very much!!

Translated with www.DeepL.com/Translator