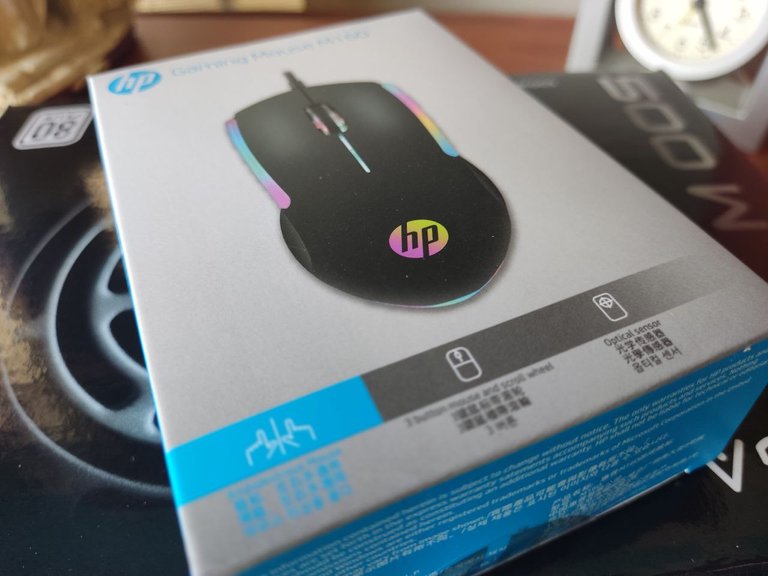 Technology gives us the facilities
that diminish the barriers of time and distance.
La tecnología nos da las facilidades
que disminuyen las barreras del tiempo y la distancia.
Emily Greene Balch

Much has been said about technology throughout life. In times when the rudimentary was the norm, as time went by, inventions were revealed that made our lives easier, transforming the rudimentary into accessibility and optimization of time and effort. Technology had appeared which, from now on, would be the great benefactor of our daily existence.
Among this technological boom, the computer appeared. I belong to the generation that lived before and after the existence of this technology. Times when neither the cell phone nor the computer dreamed of being present and becoming indispensable in our lives.
Having a computer and lightening all the tasks that were previously done manually or with a typewriter, was undoubtedly a positive change as well as a great blessing.
However, it was not until I was about 30 years old, when I used them, going through the analog technology of that time, arriving today after 50 years old, to feel that they are essential for both daily works and our entertainment.
The components of a computer are all important in their right measure. There are some that last longer and others that are replaceable after a certain period, due to the frequency of use we give them.
Mucho se ha hablado de la tecnología a lo largo de la vida. En épocas en que lo rudimentario era lo normal, al paso del tiempo fueron revelándose invenciones que hicieron nuestra vida más fácil, transformando lo rudimentario en accesibilidad y optimización de tiempo y esfuerzo. Había aparecido la tecnología que, desde ahora en adelante, sería la gran benefactora de nuestra existencia diaria.
Entre ese boom tecnológico, apareció la computación. Soy de la generación que vivió el antes y el después de la existencia de esta tecnología. Tiempos en que ni el celular ni la computadora, soñaban estar presentes haciéndose imprescindibles en nuestras vidas.
Tener una computadora y aligerar todas las tareas que antes se hacían desde la escritura en forma manual o con la máquina de escribir, fue sin duda alguna un cambio en positivo además de una gran bendición.
Sin embargo, no fue sino hasta la edad más o menos después de los 30 años, cuando de verdad las utilicé, pasando por la tecnología analógica de aquel tiempo, llegando hoy después de los 50 años, a sentir que son imprescindibles tanto para el trabajo diario como para nuestra diversión.
Los componentes de un computador son importantes todos en su justa medida. Hay algunos que son de mayor duración y otros que son reemplazables después de cierto tiempo, por la frecuencia de uso que le damos.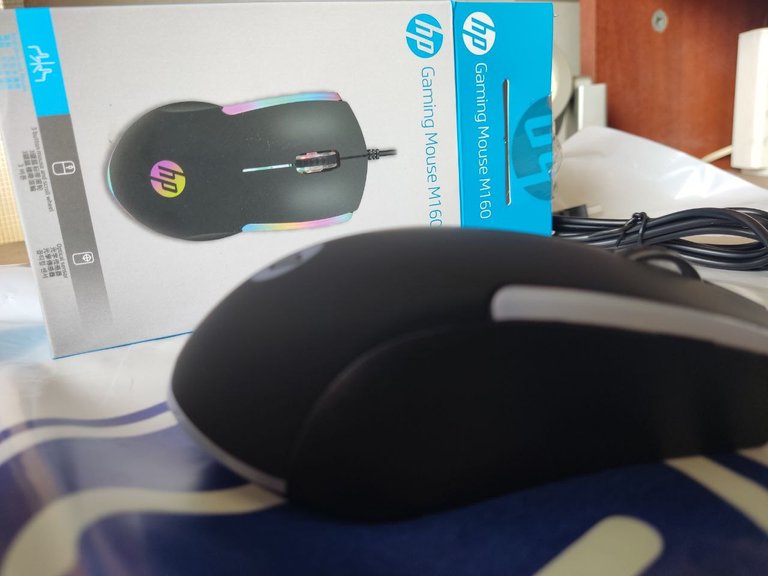 Among these accessory components is the mouse. Perhaps so-called because of its similarity to a mouse, one of those that we shy away from and often dread (include me in this group).
The mouse is a piece that connects to the body of the computer (CPU) and gives us support in moving the cursor on the screen and clicking where we decide right there. I make the caveat that I am not making a technical publication but rather based on my personal experience with this accessory.
With time, this is one of the components that is most often damaged by use, both by the fact of having to click it, as well as rolling it through a button located in its center (scroll), to go up and down on the screen.
It is a part that can be cleaned, that is to say, it can be maintained by disassembling the mouse, but with previous and precise knowledge so as not to damage it in the process. However, even though we can clean it, there comes a time when, inevitably, it must be replaced by a new part.
The mouse that I had been using for a long time in my laptop, began to present problems perhaps because of the time of use. When I clicked, many times it did nothing and in others, the action was exaggerated.
Entre estos componentes accesorios se encuentra el mouse. Quizás denominado así por la similitud con un ratón de esos a los que le huimos y muchas veces tenemos pavor (inclúyanme en este grupo).
El mouse es una pieza que se conecta al cuerpo de la computadora (CPU) y nos da apoyo en mover el cursor en la pantalla y hacer click en dónde decidamos allí mismo. Hago la salvedad de que no estoy realizando una publicación de tipo técnico sino más bien basada en mi experiencia personal con este accesorio.
Con el paso del tiempo, este es uno de los componentes que más suele dañarse por el empleo, tanto por el hecho de tener que clickearlo, así como el de rodarlo a través de un botón ubicado en su centro (scroll), para subir y bajar en la pantalla.
Es una pieza que puede limpiarse o sea, se le puede hacer un mantenimiento, desarmando el mouse, eso sí, bajo conocimiento previo y preciso para no dañarlo en el proceso. Sin embargo, muy a pesar de que podamos limpiarlo, llega el tiempo en que, irremediablemente, debe ser reemplazado por una nueva pieza.
El mouse que venía usando desde hace bastante tiempo en mi laptop, comenzó a presentarme problemas quizás por el tiempo de utilización. Al clickear, muchas veces no hacía nada y en otras era exagerada la acción.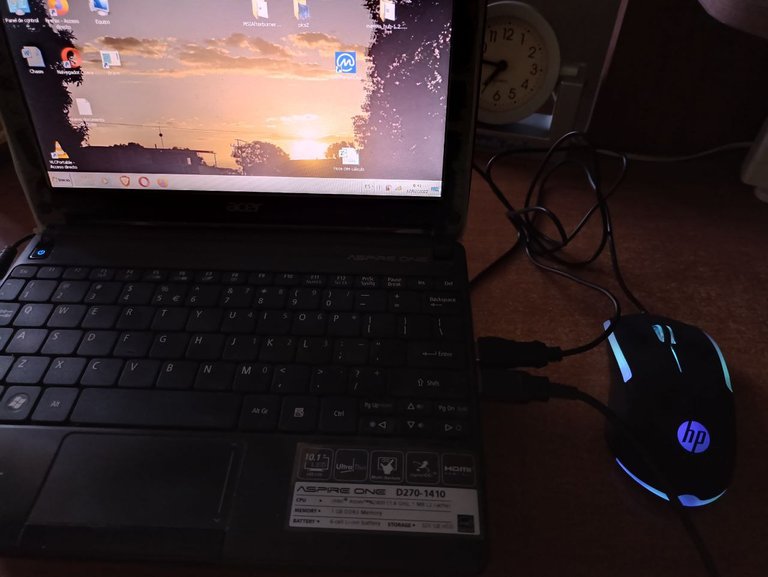 It started to bother me to such an extent that I used more the laptop's pad mouse (which I confess to being very clumsy) than the conventional one adapted to the device. Even though I have a laptop, I am one of those who prefer traditional pieces and also desktop computers. For that reason, I adapt both the keyboard and external mouse to the laptop.
That is why I decided to buy a new mouse to replace the one that, due to its years of use, stopped working at its proper capacity.
I went to a local store and among the ones on offer they showed me one that I loved both for its design, the recognized brand, and of course, its affordable price. Something like what is popular slang we call the Three B's (Good, Nice, and Cheap).
The mouse is a model known as Gaming Mouse. Very ergonomic and comfortable to the touch. Its external design is beautiful. Very well finished and as I told you, very comfortable to use. It fits perfectly to the hand.
The brand is HP (Hewlett Packard), a recognized brand in terms of computer products and the like. I have heard it a lot on printer models and some other items.
Comenzó a causarme molestias a tal punto que utilizaba más el mouse pad de la laptop (en lo cual me confieso muy torpe), que el convencional adaptado al dispositivo. Les cuento que aún teniendo laptop, soy de las que prefiere las piezas tradicionales y también las computadoras tipo desktop o de escritorio. Por eso, a la laptop le adapto tanto teclado como mouse de tipo externo.
Por ello me decidí a comprar un nuevo mouse que sustituyera el que ya, por sus años de uso, dejó de funcionar a su adecuada capacidad.
Fui a una tienda de la localidad y entre los que ofertaban me mostraron uno que me encantó tanto por su diseño, la marca reconocida y por supuesto, su precio accesible. Algo así como lo que en argot popular llamamos Las Tres B (Bueno, Bonito y Barato).
El mouse es de un modelo conocido como Gaming Mouse. Muy ergonómico y cómodo al tacto. Su diseño externo es hermoso. De muy buen acabado y comí les dije, muy cómodo al usarlo. Se adapta perfectamente a la mano.
La marca es HP (Hewlett Packard), una marca reconocida en cuanto a productos de computación y similares. La he escuchado mucho en modelos de Impresoras y algunos otros rubros.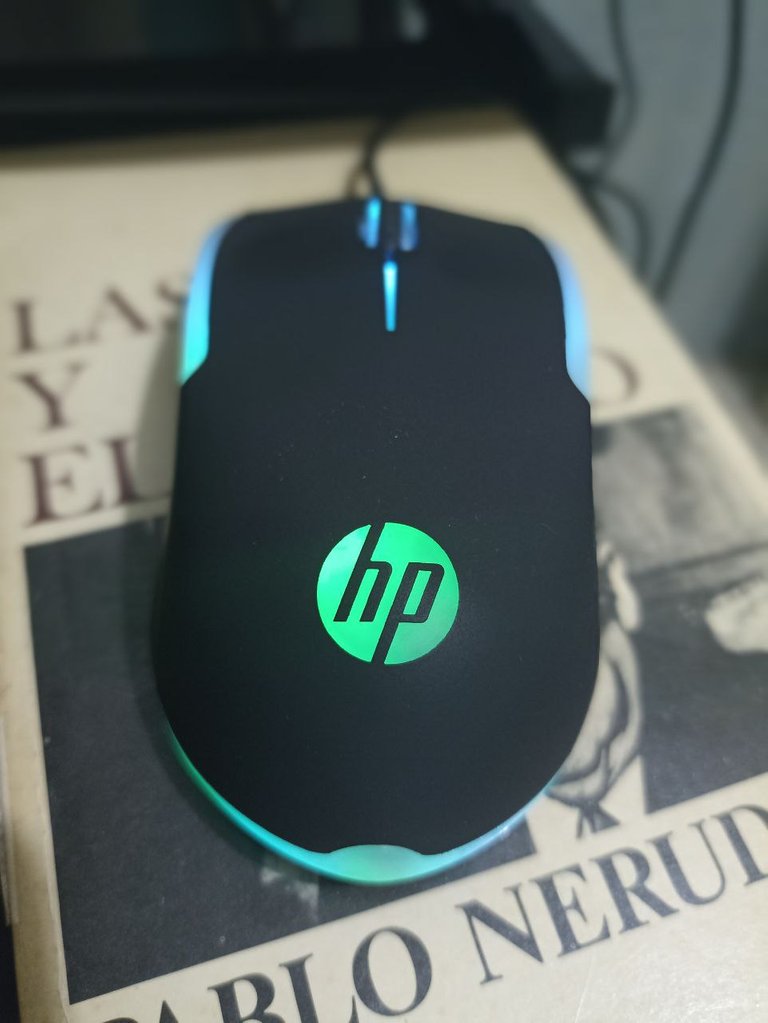 It is very smooth to manipulate on the scroll button. They specify on the box that it has an optical sensor for the precision of this function. And the truth is that it is very smooth to manipulate it.
Another detail that I loved is that the mouse changes colors when the computer is turned on. It goes from shades of red to blues, purples, greens, and even oranges. A spectacular feature that fascinated me about this component I purchased.
I fell in love when I tried it because the spectacle of changing colors while you are using it, is a detail that may not influence the technical and performance, but in the aesthetic and pleasing to the eye, while it is being used, it is refreshing and very nice. In use, it is very smooth and comfortable, as well as effective.
One last detail, not technological, but also important is the price, which I found fabulous and very economical for the brand of product I offer. It cost me 5$ and I found it very cheap for the quality and presentation of the mouse.
This mouse is of the traditional type, that is to say, of those that are not wireless, since those seem to be disadvantageous and not as good performance as these first ones.
Es muy suave para manipular en el botón de scroll. Especifican en la caja que tiene un sensor óptico para la precisión de esta función. Y la verdad es muy suave al manipularlo.
Otro detalle que me encantó es que el mouse cambia de colores cuando se enciende la computadora. Va de tonalidades como el rojo a los azules, violetas, verdes y hasta naranjas. Toda una espectacularidad que me fascinó de este componente que adquirí.
Quedé enamorada cuando lo probé pues el espectáculo del cambio de colores mientras lo estás empleando, es un detalle que quizás no influya en lo técnico y el rendimiento, pero que en lo estético y agradable a la vista mientras se está utilizando, es refrescante y muy bonito. Al uso es muy suave y confortable, además de efectivo.
Un último detalle, no tecnológico, pero también importante es el precio, el cual me pareció fabuloso y muy económico para la marca del producto yo que ofrece. Me costó 5$ y me pareció muy barato para la calidad y presentación del mouse.
Este mouse es de tipo tradicional, es decir, de los que no son inalámbricos, ya que esos me parecen desventajosos y no tan de buen rendimiento como estos primeros.
It is a product that I recommend both for the features mentioned in its technological part, as well as for the cost.
This tool will allow me to continue improving my work as a content creator since it will provide me with more comfort and performance when using the computer for the elaboration of my publications. We should always invest in improving our technology and the means that help us to keep progressing in our daily work at Hive.
Es un producto que recomiendo tanto por las características mencionadas en su parte tecnológica, como por el costo.
Esta herramienta me permitirá seguir mejorando en mi trabajo como creadora de contenido, ya que, me proporcionará más confort y rendimiento a la hora de usar la computadora para la elaboración de mis publicaciones. Debemos siempre invertir en mejorar nuestra tecnología y los medios que nos ayudan a seguir progresando en nuestro trabajo diario en Hive.
Let's invent tomorrow instead of worrying about
worrying about what happened yesterday.
Inventemos el mañana en lugar
de preocuparnos sobre que ocurrió ayer.
Steve Jobs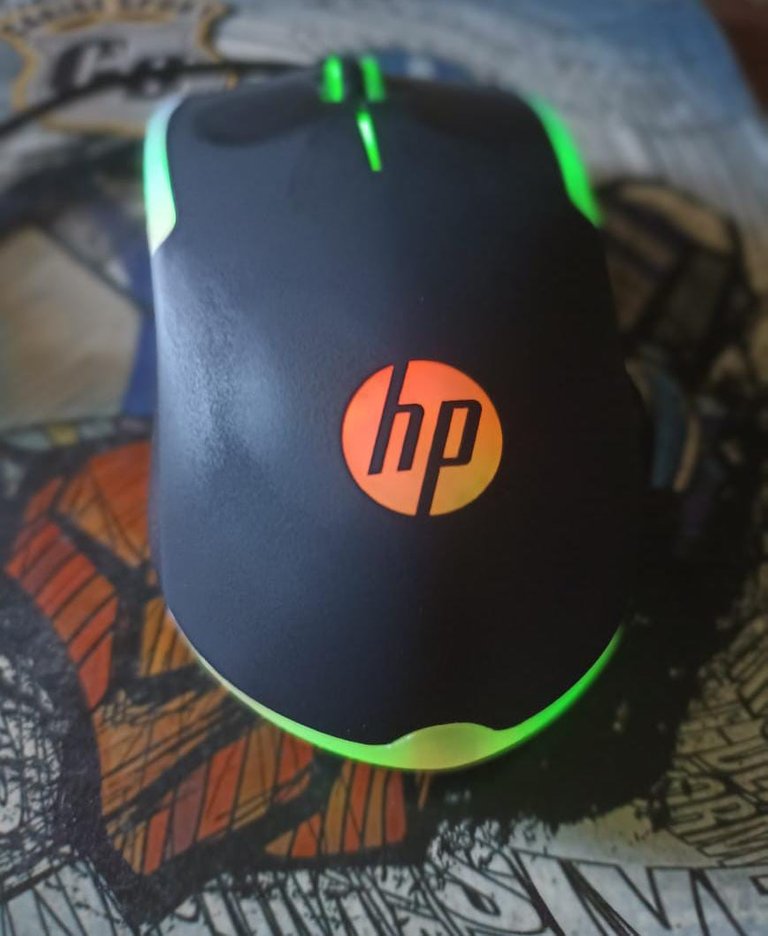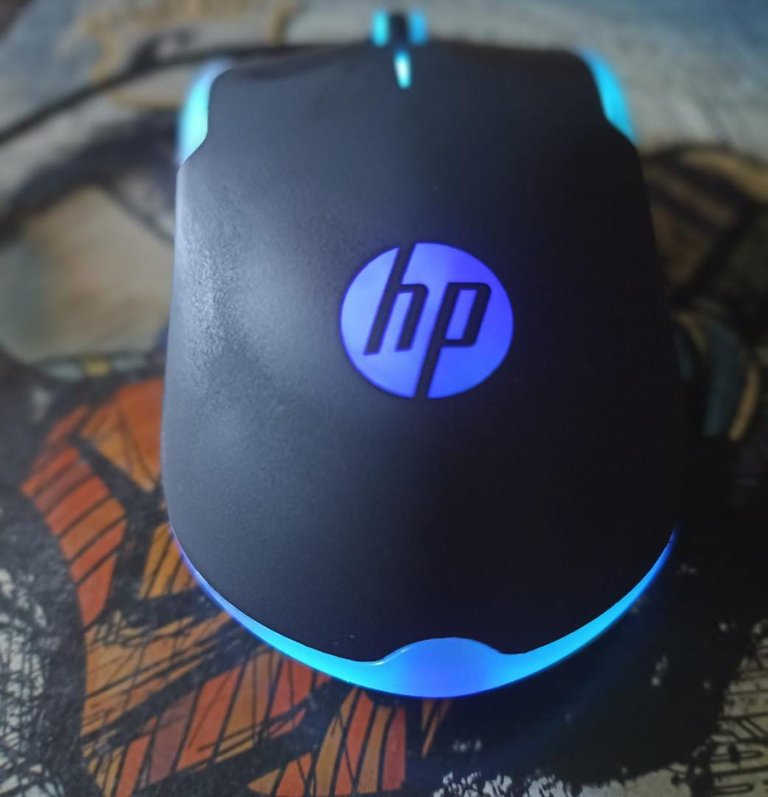 Thank you for taking the time for this reading
Gracias por tomarse un tiempo para esta lectura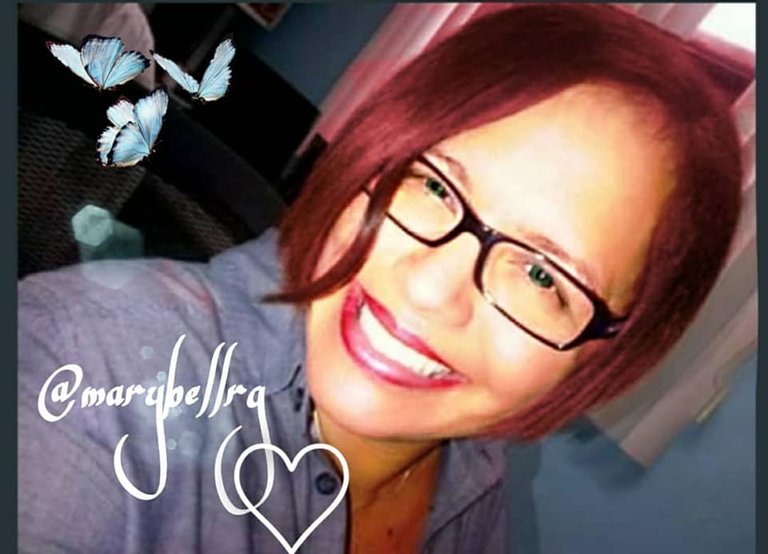 Gif created and given to me by my friend @equipodelta │ Gif creado y obsequiado por mi amiga @equipodelta.



Source on @thealliance's blog │ Fuente en el blog de @thealliance
I am a member of the @thealliance family,
a true family at HIVE
Yo soy miembro de la familia @thealliance,
una verdadera familia en HIVE

All images are my property. They were taken with the camera of my Redmi Note 10S, in Barcelona, Venezuela | Todas las imàgenes son de mi propiedad. Fueron tomadas con la càmara de mi Redmi Note 10S, en Barcelona, Venezuela.
The gif was made with my own video, using the GIF Maker application, from my Redmi Note 10S | El gif fuè realizado con video de mi propiedad, utilizando la aplicaciòn GIF Maker, desde mi Redmi Note 10S.