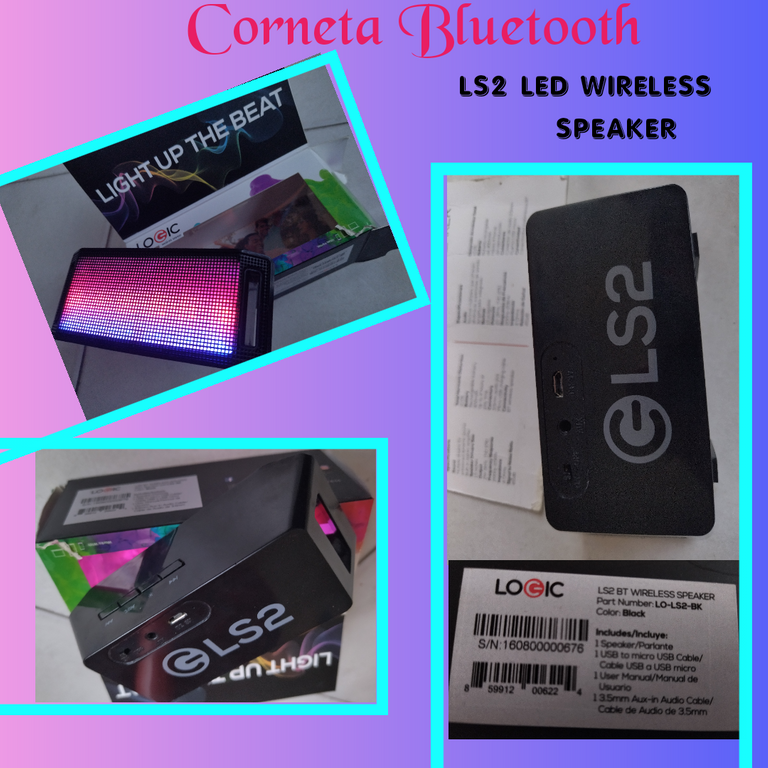 Good morning HIVE community I come with this purchase of a cornet LS2 LED WIRELESS SPEAKER in the previous post I mentioned that I bought a Tablet and the sound is not of good quality when we place in high voice, that's why I decided as a priority to improve this aspect to use the Tablet brand AMAZON model FIRE KIDS EDITION of PINK CASE, this cornet impressed me to start the aesthetic part of the box where it comes is of good material colors are pleasing to the eye, bought with others in the store that has no box and the presentation is, give it to you cornet in your hands I am inclined to buy this because as every woman we are detail-oriented and compared to the others this is love at first sight.
Buenos días comunidad de HIVE vengo con esta compra de una corneta LS2 LED WIRELESS SPEAKER en el post anterior mencione que compre una Tablet y el sonido no es de buena calidad cuando colocamos en alta vos, es por eso que decidí como prioridad mejorar este aspecto para utilizar la Tablet marca AMAZON modelo FIRE KIDS EDITION de PINK CASE, esta corneta me impresiono para empezar la parte estética de la caja donde viene es de buen material los colores son agradables a la vista, comprada con otras en el tienda que no tiene caja y la presentación es, dártela corneta en tus manos me incline a comprar esta ya que como toda mujer somos detallista y comparada con las otras esta es amor a primera vista.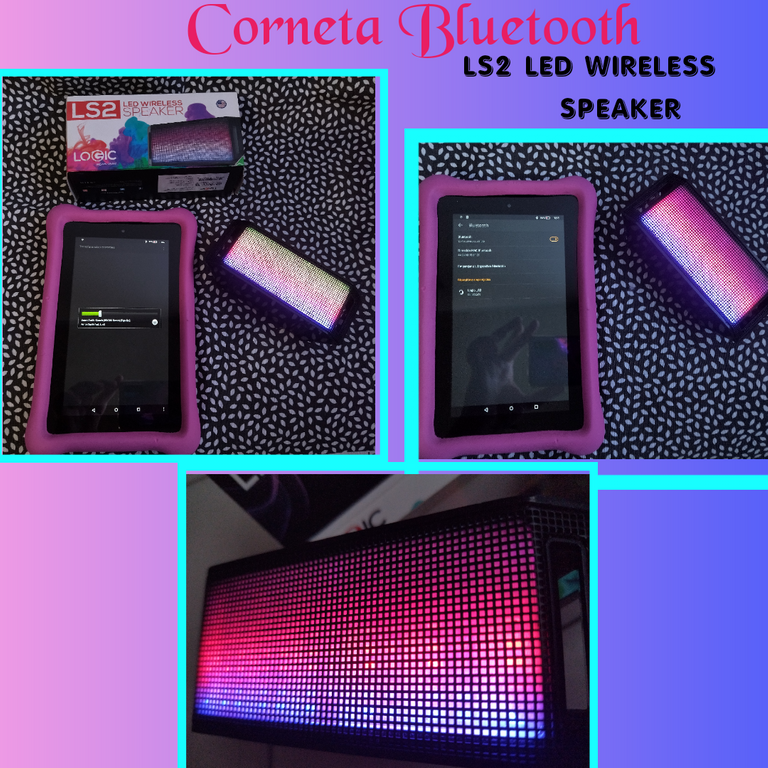 I will talk a little of what includes the speaker that is the wireless bugle, this aspect of wireless bugle I liked because I can move anywhere, the only requirement is that the battery is charged, it is one of the best options because I need when we watch movies, when we listen to music to clean our home, share with background music among friends, having this bugle brought a lot of points in favor for the use of our home. To charge the battery brings micro USB cable, this cable is very commercial and used many phones has this input port on several occasions do not require charging this cable in my wallet if not that when I move my bugle and is low on battery I can borrow a friend, as it is a very common cable.
Hablare un poco de lo que incluye el parlante que es la corneta inalámbrica, este aspecto de corneta inalámbrica me agrado porque puedo trasladar a cualquier lugar, en único requisito es que este cargada la batería, es una de las mejores opciones porque me hace falta cuando vemos películas, cuando escuchamos música para limpiar nuestro hogar, compartir con música de fondo entre amistades, tener esta corneta trajo mucho puntos a favor para el uso de nuestro hogar. Para cargar la batería trae cable micro USB, este cable es muy comercial y utilizado muchos teléfonos cuenta con este puerto de entrada en varias oportunidades no requiero cargar este cable en mi cartera si no que cuando traslado mi corneta y queda con poca batería puedo quitar prestada a una amiga, ya que es un cable muy común.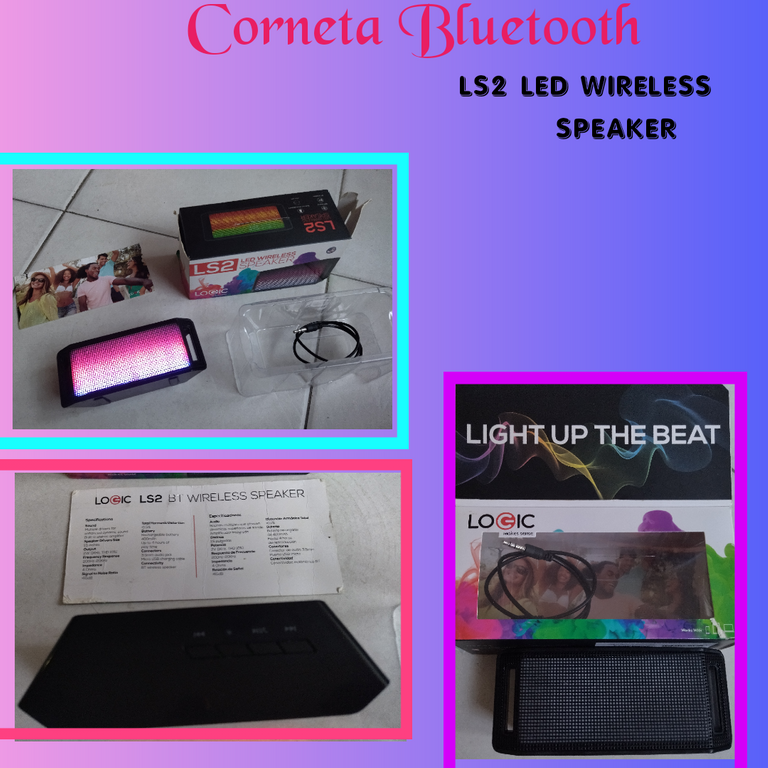 User manual with the features, in the user manual we can see the features of the product is a card that on the front we can see some people sharing and being happy with the music that is a universal language, the back we have the specifications of my beautiful cornet cornet. Audio cable 3.5mm this cable is useful for equipment that do not have Bluetooth. In many opportunities it is complicated to synchronize our equipment such as desktop pc, nintendo 3ds even the same Tablet, but we have the option to use this cable that is very practical in that aspect because we only connect and transmit the audio. In my home we have an iPod that does not have Bluetooth is the only way to use, we have a writing computer that also does not have that option.
Manual de usuario con las características, en el manual de usuario podemos ver las características del producto es una tarjeta que en la parte delantera podemos ver unas personas compartiendo y estando feliz con la música que es un lenguaje universal, la parte de atrás tenemos las especificaciones de mi corneta hermosa corneta. Cable de audio de 3.5mm este cable es útil para equipos que no cuenten Bluetooth. En muchas oportunidades es complicado sincronizar nuestros equipos como pc de escritorio, nintendo 3ds hasta la misma Tablet, pero tenemos la opción utilizar este cable que es muy práctico en ese aspecto porque solo conectamos y transmitimos el audio. En mi hogar tenemos un iPod que no cuenta con Bluetooth es la única forma de utilizar, tenemos un computadora de escrito que de igual forma no cuenta con esa opción.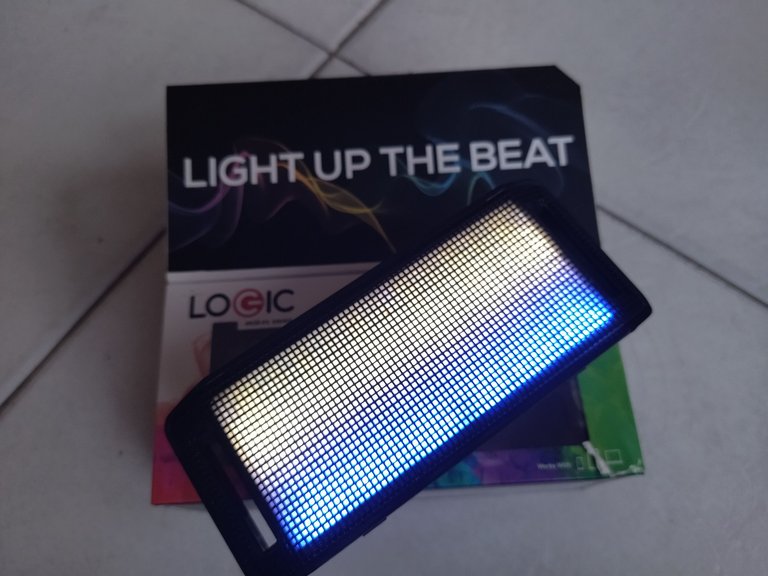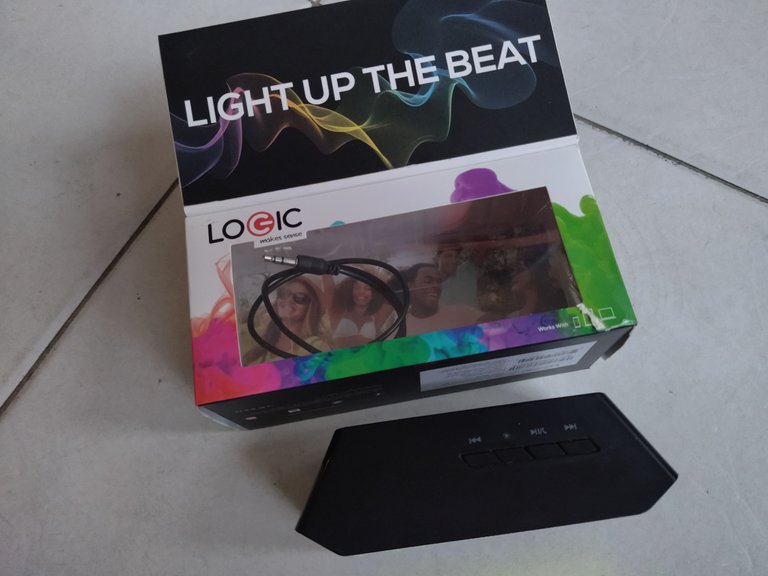 Now I touch the turn for the wireless bugle she has LED lights blue, red, purple, green, white, fuchsia, these LED lights has the function of on and off, has several movements LED lights creates an effect colors move according to the intensity of the music, the material of the bugle is shiny black plastic, on the back of the bugle we have the logo of the brand is gray in that part we have located the charger connector is micro USB port, we have the connector for auxiliary cable 3. 5mm, we have a button that we must move from left to right to turn on or off the bugle, the front of the bugle has a protector that protects the LED lights is a grid of black color and we can see how it projects light, at the bottom we have the model and the general characteristics of the product has 2 anti-slip rubber, at the top we have 4 buttons 2 has the function of raising and lowering the volume these same we can pass the music or rewind it. One button works to change the function of the light and the other is to pause the music.
Ahora toco el turno para la corneta inalámbrica ella cuenta con luces LED de colores azul, rojo, morado, verde, blanco, fucsia, estas luces LED cuenta con la función de encender y apagar, tiene varias movimientos las luces LED crea un efecto los colores se mueven de acuerdo a la intensidad de la música, el material de la corneta es plástico color negro brillante, en la parte trasera de la corneta tenemos el logo de la marca es de color gris en esa parte tenemos ubicada el conector del cargador que es puerto USB micro, tenemos el conector de cable auxiliar de 3.5mm, tenemos un botón que debemos mover de izquierda a derecha para encender o apagar la corneta, la parte delantera de la corneta tiene un protector que protege las luces LED es una rejilla de color negro y podemos ver como proyecta la luz, en la parte inferior tenemos el modelo y las características generales del producto cuenta con 2 gomas anti resbalante, en la parte superior tenemos 4 botones 2 cuenta con la función de subir y bajar el volumen estos mismo podemos pasar la música o retrocederla. Un botón funciona para cambiar la función de la luz y el otro es para pausar la música.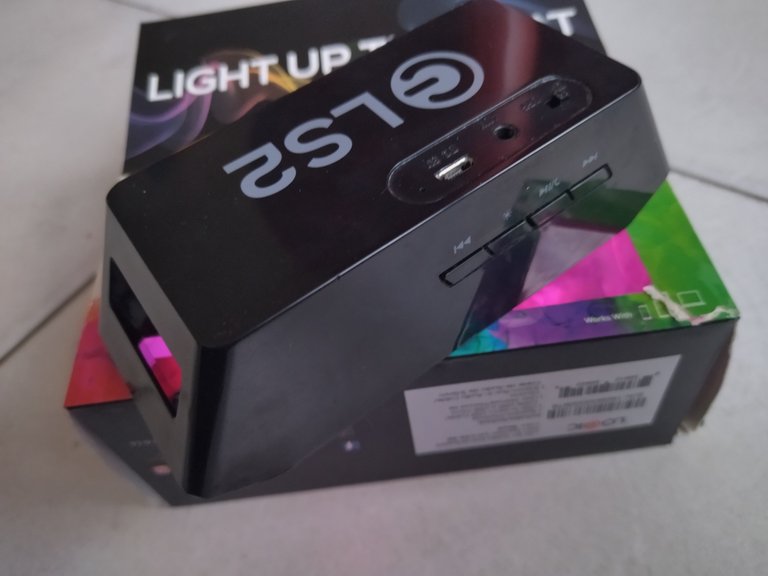 My recommendation is good cornet its estimated charging time is 4 hours we can use in that time with peace of mind, with the light off can last long battery, is a good choice because it is portable weighs nothing, has good sound thanks to the community and my readers for helping me find a solution to my Tablet now if I can watch movies with my daughter and we are both very happy thanks a hug to all.
Mi recomendación es buena corneta su tiempo estimado de carga es de 4 horas podemos utilizar en ese tiempo con toda tranquilidad, con la luz apagada puede durar mucho la batería, es una buena opción porque es portátil no pesa nada, cuenta con buen sonido gracias a la comunidad y mis lectores por ayudarme a buscar una solución a mi Tablet ahora si puedo ver películas con mi hija y ambas estamos muy feliz gracias un abrazo a todos.

Images are taken by my redmi 9T cell phone
Las imágenes son tomadas por mi celular redmi 9T