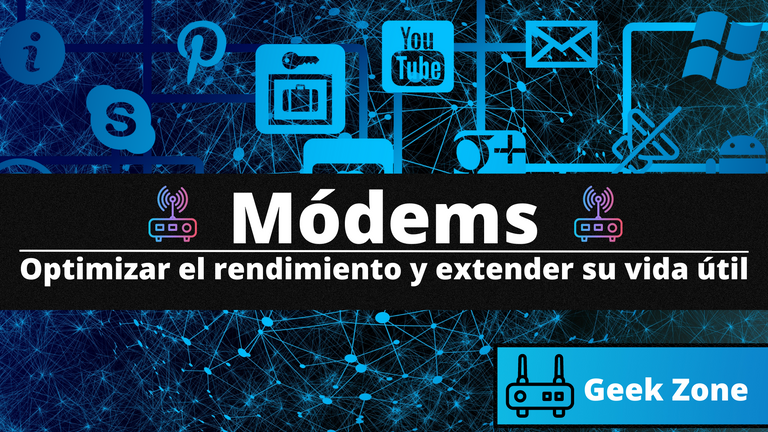 Imagen hecha en Canva 👨‍💻 Image made in Canva
Sin importar la compañía que nos provea internet, siempre sucede que en algún punto de cualquier día de la semana y a cualquier hora, nuestra conexión comienza a ser inestable, en algunos casos más que otros, esto, difícilmente tenga alguna solución, pues se ven incluidos diversos aspectos que no podemos controlar, muchas veces el problema suele ser externo, y muchas otras interno, por lo que algo que podemos hacer, es optimizar el rendimiento de nuestro equipo y a su vez, contribuir con la extensión de su vida útil, esto sin duda es una alternativa muy útil de la que estoy seguro que más de uno desconocerá.
Regardless of the company that provides internet, it always happens that at some point of any day of the week and at any time, our connection begins to be unstable, in some cases more than others, this is difficult to have a solution, because it includes various aspects that we can not control, often the problem is usually external, and many others internal, so something we can do is to optimize the performance of our equipment and in turn, contribute to the extension of its useful life, this is certainly a very useful alternative that I am sure that more than one is unaware of.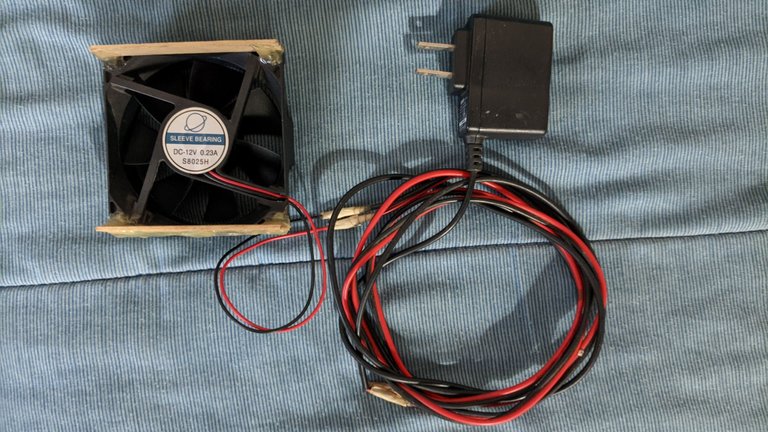 Es normal que nos frustremos cuando el internet se vuelve demasiado lento, pero alguna nos hemos preguntado ¿he hecho algo para mejorar la estabilidad de mi conexión?, esa misma pregunta me la hice hace un par de años, por lo que rápidamente busqué alguna alternativa que me permitiese contar con un internet más estable, o al menos lograr que se cayera con menos frecuencia, partiendo de eso, encontramos que prácticamente todos los modems y routers que conocemos, carecen de sistemas de ventilación, las compañías simplemente no añaden disipadores de calor o elementos externos que contribuyan a las bajas temperaturas de nuestros equipos de internet, por lo que un Fan Cooler se resume en una de las soluciones más viables y económicas.
It is normal that we get frustrated when the internet becomes too slow, but have we ever asked ourselves, have I done anything to improve the stability of my connection? I asked myself that same question a couple of years ago, so I quickly looked for an alternative that would allow me to have a more stable internet, or at least make it fall less frequently, based on that, we found that virtually all modems and routers we know, lack ventilation systems, companies simply do not add heat sinks or external elements that contribute to the low temperatures of our internet equipment, so a Fan Cooler is summarized in one of the most viable and economical solutions.
Para crear este componente adicional, necesitamos únicamente de un Fan Cooler que podemos reutilizar de alguna fuente de poder dañada o simplemente comprarlo (vía internet, tienda de electrónica o en algún servicio de reparación de computadoras), así mismo, un cable de la longitud que necesitemos para conectar (grosor de 4 milímetros, un muy cercano a ese valor, pudiendo tomar como referencia el grosor de los cables de una fuente de poder), un transformador dependiendo de la capacidad del Fan Cooler, tomando como prioridad el Voltaje del mismo que esté por debajo o igual a su valor, ejemplo: si el Fan es de 12V, el transformador debe ser de 12V o inferior, en mi caso utilizo uno de 5V durante hace más de 2 años y aún no se estropea, finalmente 2 paletas y un poco de silicón caliente.
To create this additional component, we only need a Fan Cooler that we can reuse from a damaged power supply or simply buy it (via internet, electronics store or in a computer repair service), likewise, a cable of the length we need to connect (thickness of 4 millimeters, a very close to that value, being able to take as reference the thickness of the cables of a power supply), a transformer depending on the capacity of the Fan Cooler, taking as a priority the voltage of the same that is below or equal to its value, example: if the Fan is 12V, the transformer must be of 12V or lower, in my case I use one of 5V for more than 2 years and it still does not break down, finally 2 paddles and some hot silicone.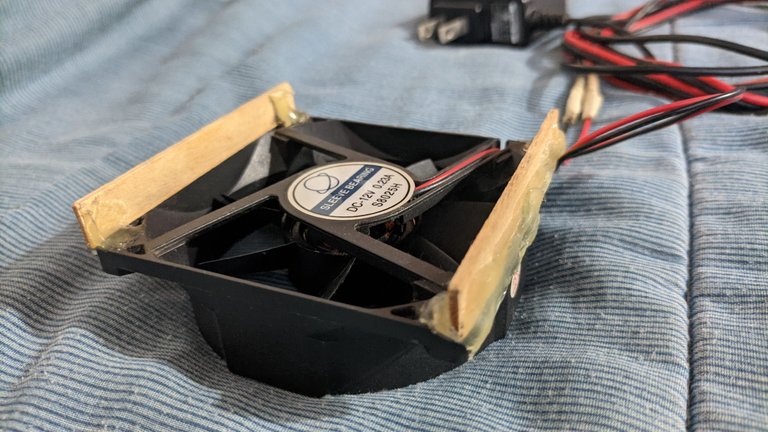 Lo que sigue ahora es conectar los cables, pero ¿Cómo lo hacemos?. Lo primero es que debemos recordar que el cable rojo es de electricidad y el negro el de tierra, por lo que debemos hacer precavidamente esta conexión de la manera más práctica que consideremos y recordando poner algún recubrimiento a las conexiones para evitar algún corto.
The next step is to connect the wires, but how do we do it? The first thing to remember is that the red wire is for electricity and the black wire is for ground, so we must carefully make this connection in the most practical way we consider and remembering to put some coating to the connections to avoid any short.
A todas estas, ¿Para que necesitamos en sí el Fan Cooler?, sabemos que los modems y routers al no disponer de un sistema de disipación de calor, los componentes internos suelen calentarse demasiado, y tomando en consideración que dejamos día y noche conectado los equipos, el desgaste es bastante considerable, por lo que el Fan Cooler ayudará a disipar el calor, y con esto los componentes estarán con menos fatiga y tendrán un mejor desempeño, conservando a los mismos y prolongando la vida útil de nuestros equipos. Por lo general este problema es el que hace que nuestro servicio algunas veces sea un poco inestable con caídas de internet en lapsos cortos de tiempo.
We know that modems and routers do not have a heat dissipation system, the internal components tend to heat up too much, and taking into consideration that we leave the equipment connected day and night, the wear is quite considerable, so the Fan Cooler will help dissipate the heat, and with this the components will be with less fatigue and will have a better performance, preserving them and prolonging the life of our equipment. Usually this problem is what makes our service sometimes a little unstable with internet drops in short periods of time.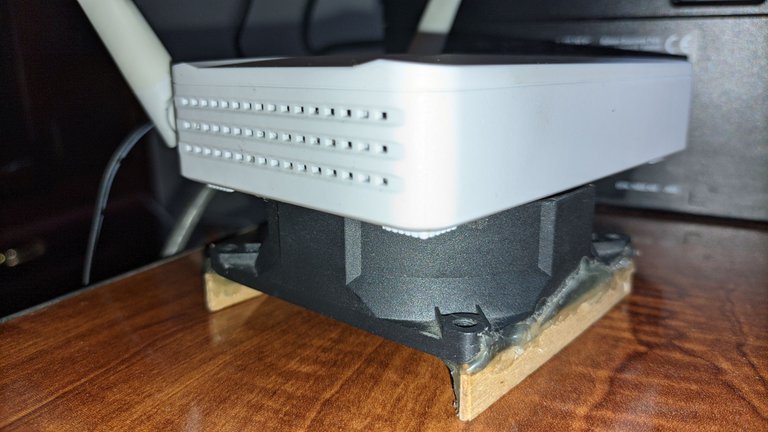 Finalmente, lo que sigue es cortar las paletas y ponerlas hacia la salida de aire del Fan Cooler en dos de los extremos del mismo, esto para dejar ese pequeño espacio para que el aire caliente tenga una salida libre. Luego lo colocamos como logran apreciarlo en la imagen de arriba y de ahora en adelante tendremos nuestro modem o router libre de sobrecalentamientos.
Finally, what follows is to cut the vanes and put them towards the air outlet of the Fan Cooler at two of the ends of it, this to leave that little space for the hot air to have a free exit. Then we place it as you can see in the image above and from now on we will have our modem or router free of overheating.
Otra forma de realizar este componente es con un cable USB estropeado, la conexión es igual como lo he mencionado anteriormente, y la conexión puede ir directo a la pc, tomando en cuenta que le generará un consumo extra a nuestra fuente de poder, si consideramos que tenemos holgura de potencia, no habrá problema alguno.
Another way to make this component is with a damaged USB cable, the connection is the same as I mentioned above, and the connection can go directly to the pc, taking into account that it will generate an extra consumption to our power supply, if we consider that we have power slack, there will be no problem.
Mi experiencia hasta ahora ✔️ My experience so far
Llevo más de 2 años utilizando este pequeño componente casero, cuando cambié de proveedor de internet, decidí no utilizar el disipador, pero empecé a notar cierta inestabilidad del servicio, y además que el modem se calentaba en exceso, por lo que decidí montar el Fan Cooler para mejorar su rendimiento, para mi agradable sorpresa, el servicio dejó de ser tan inestable y a su vez, el Fan Cooler ayuda para que el modem-router se mantenga prácticamente frío, funcionando como un coche nuevo.
I have been using this small homemade component for more than 2 years, when I changed internet provider, I decided not to use the heatsink, but I began to notice some instability of the service, and also that the modem was overheating, so I decided to mount the Fan Cooler to improve its performance, to my pleasant surprise, the service stopped being so unstable and in turn, the Fan Cooler helps to keep the modem-router practically cold, running like a new car.
No digo que emplear esto que he dicho sea algo absolutamente necesario, pero sin duda que ayuda bastante, "un coche frío correrá, uno caliente tarde o temprano se accidentará", una pequeña ayuda que nuestro modem nos agradecerá. Cualquier duda estaré atento a la caja de comentarios para responderla a la brevedad. Los pequeños detalles, hacen grandes diferencias.
I am not saying that using what I have said is absolutely necessary, but it certainly helps a lot, "a cold car will run, a hot one will sooner or later crash", a little help that our modem will thank us for. Any doubt I will be attentive to the comments box to answer it as soon as possible. Small details make big differences.

Source of images || Fuente de imágenes
---
1
Fotos de mi autoría 🎮 Photos by me

---