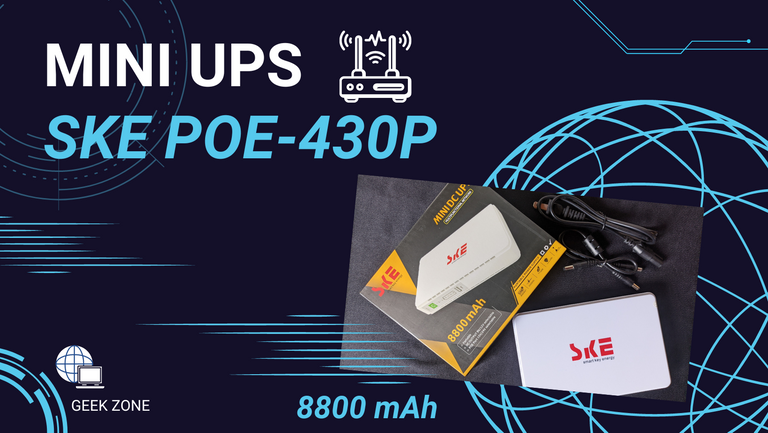 En las últimas décadas, los diversos problemas que atormentan a nuestro país Venezuela, nos han llevado a gestionar soluciones y dejar a un lado el conformismo, lo importante siempre ha sido, el dar salvedad a las cosas que quizás nos permitan vivir con cierta "normalidad". El tema de la luz, es un va y ven cada año, y este 2023, no ha sido la excepción para este tema tan trillado. Hace un tiempo les contaba acerca de mi método para tener internet mientras no hubiese servicio energía eléctrica, en aquél momento, les presentaba un Power Bank y su respectivo cable de corriente con transformador de 5 a 12 Voltios, algo que en su momento quizás no era muy popular y que de a poco, las personas fueron conociendo. Hoy, inmersos de nuevo en el tema de la ausencia de servicio energético, decidí adquirir un Mini UPS debido a que mi Power Bank cumplió su vida útil, además, este nuevo dispositivo me permite mayor comodidad en mi hogar, algo de lo que a continuación les estaré hablando.
In recent decades, the various problems that torment our country Venezuela, have led us to manage solutions and leave aside conformism, the important thing has always been, to give salvation to things that perhaps allow us to live with some "normality". The issue of electricity is a yearly back and forth, and this year 2023 has not been the exception for this well-worn topic. Some time ago I told you about my method to have internet while there was no electricity service, at that time, I presented a Power Bank and its respective power cord with 5 to 12 Volt transformer, something that at the time was perhaps not very popular and that little by little, people were getting to know. Today, immersed again in the issue of the absence of energy service, I decided to acquire a Mini UPS because my Power Bank fulfilled its useful life, in addition, this new device allows me more comfort in my home, something that I will be talking about next.
---
---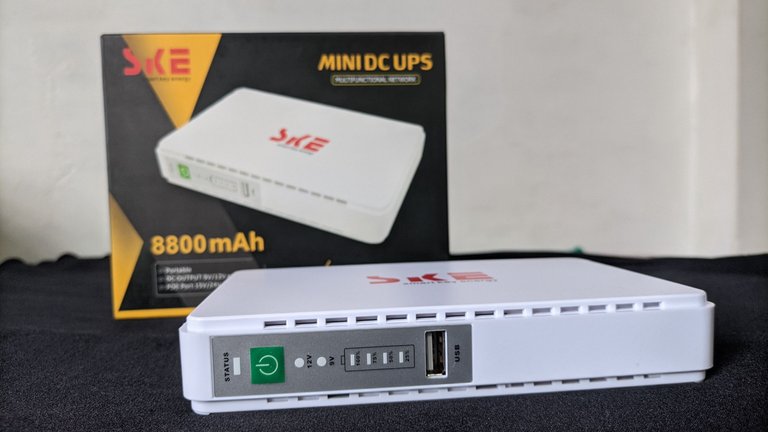 El Mini UPS a diferencia del Power Bank, permite un trabajo continuo de nuestro internet, cuando falla el servicio eléctrico, el Modem, Modem-Router o Router, no se reiniciará ni nada parecido, esto gracias a que cuenta con un respaldo de energía directo desde su salida de corriente, un total de 4 baterías de 2200 mAh cada una, completan un total de 8800 mAh para brindarnos un promedio de entre 6 a 8 horas de internet, ante la ausencia de la luz.
The Mini UPS unlike the Power Bank, allows a continuous work of our internet, when the electrical service fails, the Modem, Modem-Router or Router, will not restart or anything like that, this thanks to the fact that it has a direct energy backup from its power outlet, a total of 4 batteries of 2200 mAh each, complete a total of 8800 mAh to give us an average of between 6 to 8 hours of internet, in the absence of light.
La autonomía se verá sujeta a cuantos dispositivos tengamos conectados al Mini UPS, si cuentas con un modem-router o dos en uno como en mi caso, el respaldo será entre 7 a 8 horas, mientras que si cuentas con modem y router por separado, el promedio de respaldo de energía, será de entre 6 a 7 horas.
The autonomy will be subject to how many devices we have connected to the Mini UPS, if you have a modem-router or two in one as in my case, the backup will be between 7 to 8 hours, while if you have modem and router separately, the average power backup will be between 6 to 7 hours.
Algo que en particular me gusta del modelo que adquirí, es que cuenta con certificación ISO-9001, que hace referencia a un producto que aprobó los estándares de calidad, que van desde la materia prima, proceso productivo y producto final, una certificación que genera enorme tranquilidad frente a otros modelos de Mini UPS, así mismo, cuenta con la certificación ISO-14001 que hace referencia a la gestión ambiental implementada por la fábrica, para la elaboración de este producto.
Something that I particularly like about the model I purchased, is that it has ISO-9001 certification, which refers to a product that passed the quality standards, ranging from raw materials, production process and final product, a certification that generates enormous peace of mind compared to other models of Mini UPS, also has ISO-14001 certification that refers to environmental management implemented by the factory, for the development of this product.
---
---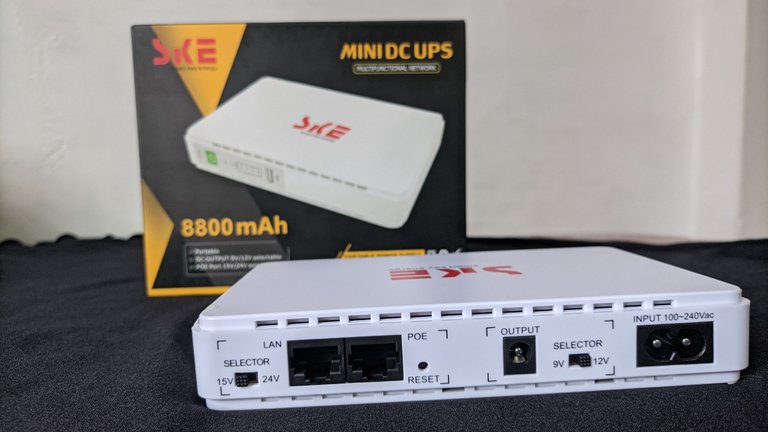 Un tema sumamente importante, y que debemos saber a la hora de adquirir un producto de estas características, es que no cualquiera servirá de la misma forma para nuestro internet, es importante que previo a la compra, sepamos que tenemos y con que voltaje trabaja, es decir, si tenemos un modem-router, debemos verificar en la etiqueta ubicada en la parte inferior del producto, para saber su voltaje, en la mayoría de los casos, los modem-router varían entre los 9 y 12 voltios, en cambio, si tenemos un modem y un router por separado, estos podrán variar su voltaje, siendo un modem variable entre 5,9 y 12 voltios, y un router variable entre los 9 y 12 voltios, por lo que los problemas siempre surgirán, cuando tengamos el modem y el router por separado, pues si no son del mismo voltaje, debemos verificar que el Mini UPS disponga de un puerto USB para conectar allí un adaptador de usb a corriente, según la entrada de nuestro modem o router, este adaptador, la mayoría de los casos, no viene incluido en la caja del producto.
An extremely important issue, and that we must know when purchasing a product of these characteristics, is that not any will serve in the same way for our internet, it is important that prior to purchase, we know that we have and what voltage works, ie, if we have a modem-router, we must check the label located at the bottom of the product, to know its voltage, in most cases, the modem-router vary between 9 and 12 volts, however, if we have a modem and a router separately, these will be able to vary their voltage, being a modem variable between 5.9 and 12 volts, and a router variable between 9 and 12 volts, so the problems will always arise, when we have the modem and router separately, because if they are not of the same voltage, we must verify that the Mini UPS has a USB port to connect there a usb to current adapter, according to the input of our modem or router, this adapter, most of the cases, does not come included in the box of the product.
Cabe resaltar, que existen diversos modelos de UPS, principalmente variando entre las salidas de voltaje y los puertos LAN y POE, en el caso de la salida de voltaje para modems y routers, encontraremos equipos con salida única y switch selector, puede ser como en mi caso de 9 y 12V, o en otros casos de 5, 9 y 12V, algunos equipos, ausentan la presencia de un switch, y en su caso, disponen de salidas independientes de 5, 9 y 12V, con esto debemos ser muy cuidadosos para asesorarnos bien y adquirir todo lo necesario para disponer de internet en casa de forma segura, ya que si nuestros equipos no trabajan con su voltaje indicado, podríamos echar a perder el modem o el router.
It should be noted that there are several models of UPS, mainly varying between voltage outputs and LAN and POE ports, in the case of voltage output for modems and routers, we will find equipment with single output and switch selector, can be as in my case of 9 and 12V, or in other cases of 5, 9 and 12V, some teams, some equipments do not have the presence of a switch, and in their case, they have independent outputs of 5, 9 and 12V, with this we must be very careful to advise us well and acquire everything necessary to have internet at home safely, because if our equipment does not work with its voltage indicated, we could spoil the modem or router.
---
---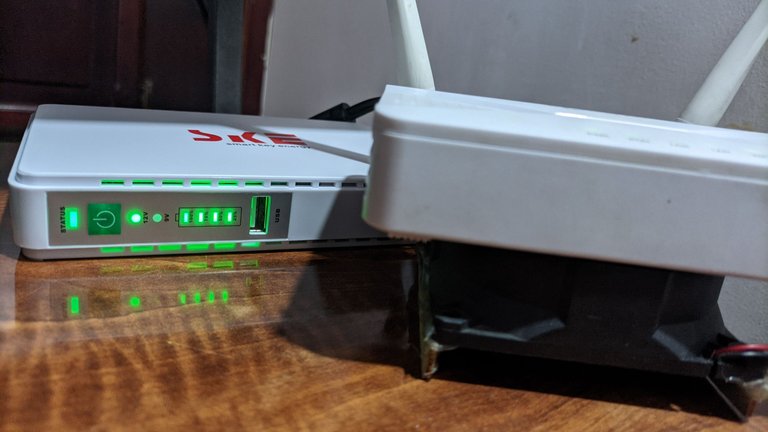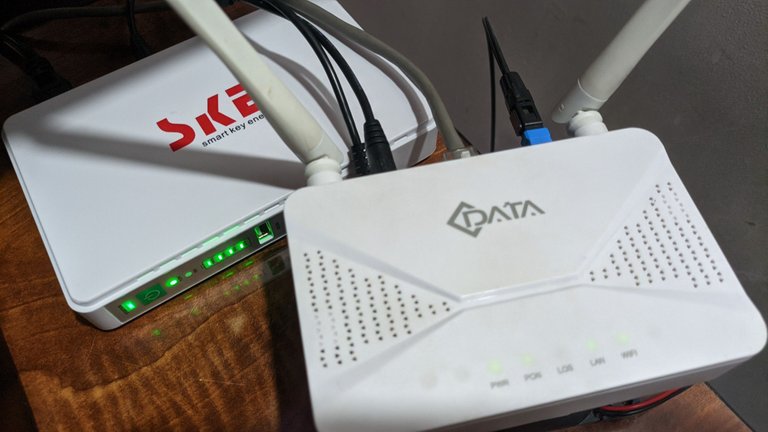 Este dispositivo en particular, trae salida USB para cargar teléfonos o cualquier cosa que se pueda conectar en esa salida de 5V, incluso, ante la ausencia de la salida de 5V, podríamos adquirir un adaptador USB a DC para conectar allí un modem de 5V, o un adaptador que sea elevador de 5 a 9 o 12V. Con mi equipo, venía incluido un cable DC en Y y su respectivo cable de corriente.
This particular device has a USB output to charge phones or anything that can be connected to that 5V output, even, in the absence of the 5V output, we could acquire a USB to DC adapter to connect a 5V modem there, or an adapter that is an elevator of 5 to 9 or 12V. With my equipment, a DC Y-cable and power cord were included.
Una vez que se va la luz, el Mini UPS dispone de toda su carga para mantenernos conectados en casa a internet, y una vez llega la luz, automáticamente empieza a cargarse para restituir sus baterías al 100%, esto es muy práctico, pues en casa durante el día, están mis padres y les costaba un poco coenctar y desconectar el Power Bank cada vez que se iba y llegaba la luz, ahora ellos saben que con este aparato, no deben hacer nada y seguirán disponiendo de internet por una muy buena cantidad de horas.
Once the power goes out, the Mini UPS has all its charge to keep us connected at home to the internet, and once the light comes, it automatically begins to charge to restore its batteries to 100%, this is very practical, because at home during the day, my parents are at home and it was a little difficult to connect and disconnect the Power Bank every time the light came and went, now they know that with this device, they should not do anything and will continue to have internet for a very good amount of hours.
La inversión del Mini UPS fue de 27,21$, un precio que en el interior del país resultará más accesible, pero que en zona andina es un costo promedio que encontraremos en la mayoría de tiendas. Me siento bastante a gusto con esto, ya que sé que mientras no esté en casa, mis padres tendrán acceso a internet y podrán tomarse un buen descanso conectados a la web mientras llega la luz, a nivel de trabajo, es sumamente útil para no quedar a la deriva en medio de una jornada laboral, bien sea en casa, o en nuestra oficina. Cabe resaltar, que este dispositivo se ajusta también para respaldar equipos tales como: cámaras de seguridad, sistemas de circuito cerrado de máximo 4 cámaras, teléfonos, televisores, videoconsolas, puntos de venta, antenas de internet y mucho más.
The investment of the Mini UPS was $27.21, a price that in the interior of the country will be more accessible, but in the Andean zone is an average cost that we will find in most stores. I feel quite comfortable with this, since I know that while I am not at home, my parents will have access to internet and can take a good rest connected to the web while the light comes, at work level, it is extremely useful to not be adrift in the middle of a workday, either at home or in our office. It should be noted that this device also fits to support equipment such as: security cameras, closed circuit systems of up to 4 cameras, telephones, televisions, game consoles, points of sale, internet antennas and much more.
---
---
Fuente de imágenes || Source of images
1 - 2
Fotos de mi autoría 🎮 Photos taken by me
---

Traducciones de Texto || Text Translations:
Traductor DeepL
---