While it is true that I have already talked about my work as a technician installer of gps equipment, today I also want to talk about the monitoring platform and the advantages or benefits that we can acquire using the different platforms that in essence is the same but really each one can provide more accurate and precise data and give you more features in terms of maintenance of their units or vehicles that you have with a gps device already installed.
Si bien es cierto ya he hablado de mi trabajo como técnico instalador de equipos gps, hoy también les quiero hablar sobre la plataforma de monitoreo y las ventajas o bondades que podemos adquirir utilizando las diferentes plataformas que en esencia es lo mismo pero realmente cada una puede aportar datos más exactos y precisos y brindarte más funciones en cuento al mantenimiento de sus unidades o vehículos que tengas con un dispositivo gps ya instalado.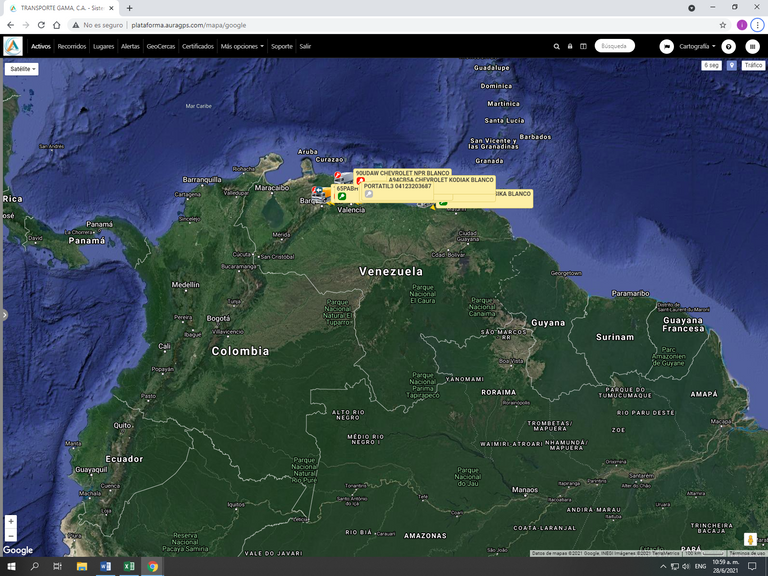 Let's talk a little about the geo-fences, which allow us to establish a predetermined route for our units, taking into account that if the vehicle or vehicles deviate or leave the route that you can create for them, an alert should automatically arrive indicating that this vehicle has left the established parameters.
Hablemos un poco sobre las geo-cercas estas nos permiten establecer ruta predeterminadas a nuestras unidades teniendo en cuenta que si el vehículo o vehículos se desvían o salen de la ruta que tú mismo puedes crearle automáticamente debe llegar una alerta indicándote que este vehículo se salió de los parámetros establecidos.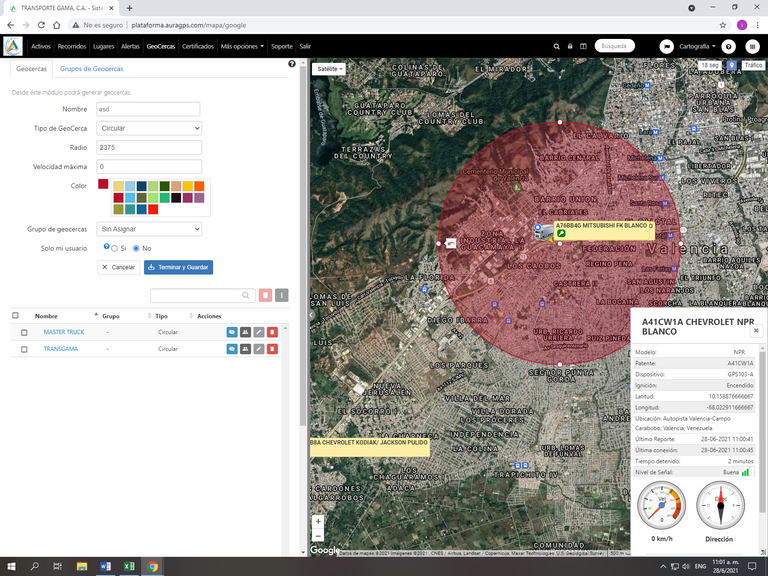 Observe the routes: with the help of the platform you are using, you can choose to visualize the routes taken by the vehicle and know if your driver has used too much fuel by taking routes he should not have taken, so that you have control of your unit at all times and you do not have to doubt whether his word is true, also in case of robbery or theft you can know exactly where the criminals were with your vehicle and be able to track them.
Observar los recorridos: con la ayuda de la plataforma que estés utilizando puedes elegir visualizar las rutas que el vehículo tomo y saber si tu chofer utilizo combustible demás tomando rutas que no debería haber tomado y así tener tú el control de tu unidad todo el tiempo y no tener que quedarte con la duda de si es verdad su palabra, también en caso de robo o hurto puedas saber exactamente donde los delincuentes estuvieron con tu vehículo y poder seguirle la pista.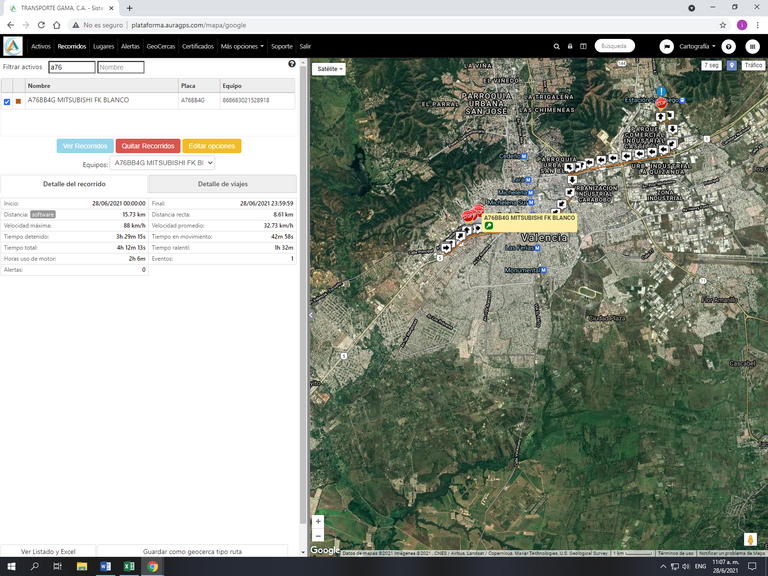 Alerts for speeding: with this option we can control speeding and establish parameters that allow us or allow the user to control speed limits, if we do not want our vehicle to exceed 100 km/h we can establish this limit, this does not mean that the vehicle will stop at that speed, like the previous options we will receive an alert message letting us know that the vehicle exceeded the speed that we established, we can call the driver of the vehicle in case we are not the one driving the vehicle.
Alertas por exceso de velocidad: con esta opción podemos controlar los exceso de velocidad y establecer parámetros que nos permitan o le permita al usuario realizar el control de límites de velocidad, si nosotros no queremos que nuestro vehículo pase de 100 km/h podemos establecer este límite, esto no quiere decir que el vehículo se va a detener a esa velocidad, como las anteriores opciones nos llegara un mensaje de alerta haciéndonos notar que el vehículo supero la velocidad que nosotros establecimos podemos nosotros llamar al conductor del vehículo en caso de no ser el que maneja el vehículo.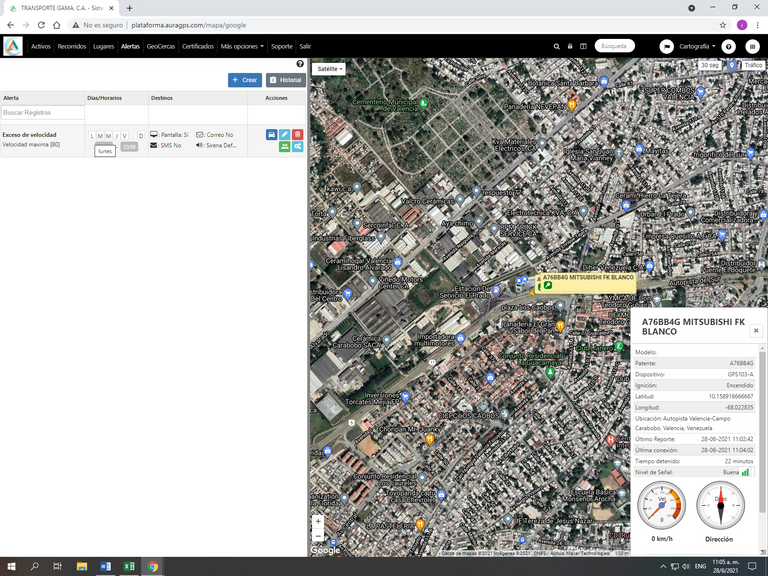 we can notice that the gps is a tool that will be very helpful not only to know where our vehicle is but also allows us to go to the past and to track the vehicle to know the exact time, the exact date where the vehicle was at all times and so we will have remote control of our assets that really is what we want at this time, it is a technological advance that gives us the ability to monitor our vehicle.
Podemos notar que el gps es una herramienta que nos servirá de mucha ayuda no solo para saber dónde está nuestro vehículo sino que también nos permite ir al pasado y poder rastrear el vehículo saber la hora exacta, la fecha exacta por donde estuvo el vehículo en todo momento y así tendremos el control remotamente de nuestros activos que realmente es lo que queremos en estos momentos, es un avance tecnológico que nos da la posibilidad de vigilar nuestro vehículo.
Soon I will bring you what other benefits gps can offer us and from the above mentioned benefits I will do something more extensive and explanatory of how to perform each of these functions although each monitoring platform may be different in organization all offer the same basic functions with its derivatives to make the customer feel more satisfied and have more options when monitoring their assets or vehicles.
Pronto les traeré que otra bondades nos puede ofrecer el gps y de las bondades antes mencionadas hacerlo algo más extenso y explicativo de cómo llevar a cabo cada uno de estas funciones aunque cada plataforma de monitoreo puede ser distinta en organización todas ofrecen las mismas funciones básicas con su derivados para que el cliente se sienta más satisfecho y tenga más opciones a la hora de vigilar sus activos o vehículos.
all images are screenshots from my computer