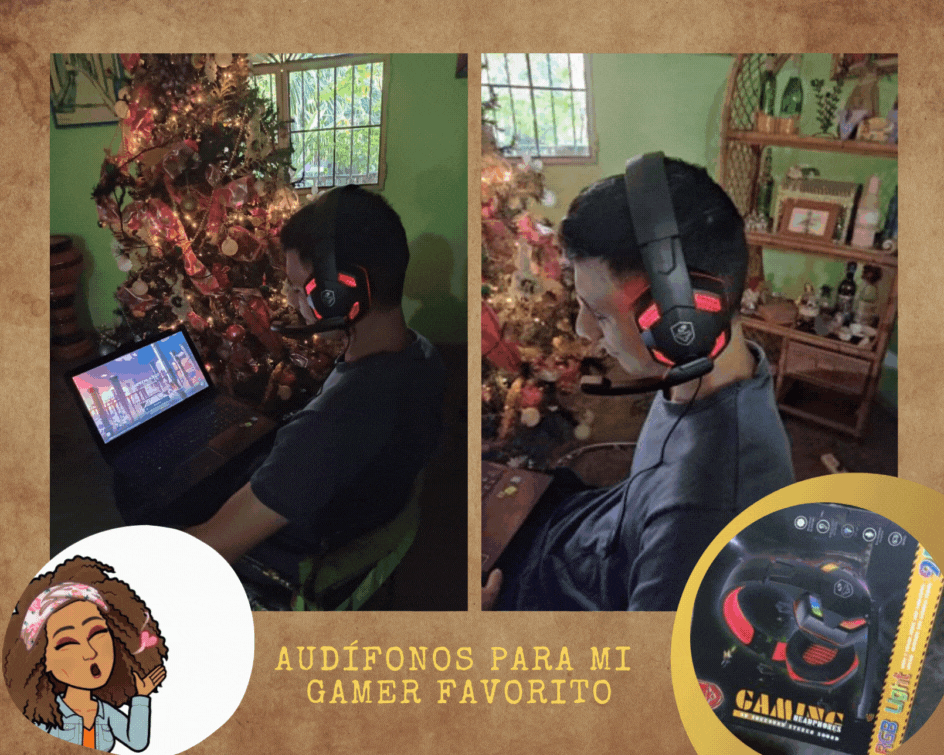 "There's always a new tool coming along. Technology is neutral, it depends on how it's used."
(Rick Smolan)

Technology is advancing by leaps and bounds, new devices allow humans to streamline processes and be more efficient. Human beings cannot remain stranded, we have to change and get on the moving train. Soon we will live like the Supersonic family, cartoons from my childhood. Wuao, it was released in 1962, but I saw it for the first time when Dad bought TV in the 70s. Absolutely, everything will be commanded by a button, OFF AND ON.
As for music and sound, every day better devices and accessories appear on the market, specialized and adapted to the new demands of human beings. Of higher quality, and innovating every day to become smaller and imperceptible. All with the purpose of facilitating the work of people who require it. My son Jesus, always and since he was a child, likes video games and currently generates some income. I tell him that he is my favorite gamer. He just laughs and says mom: "I am not a gamer".
As he moves in this virtual world and video games, I considered that he needed a good and professional headset. I took the opportunity to buy them for him as a birthday present. He liked his headset, I took some pictures of them, but when I went to edit them they were out of order and I didn't like the way they looked. The whole month of December I was busy with cleaning, decorating and parties and I had not been able to do the photo section. It was yesterday when I told Jesus: "before leaving let me take some pictures of you for the publication to show the headphones in the #Geekzone Community".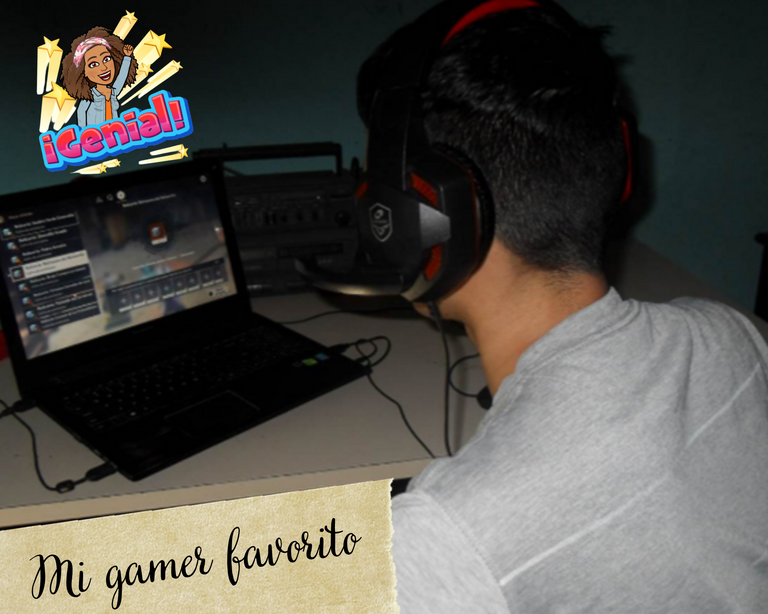 The months at the end of the year were complicated with the rains, as we lost many material things and finally a health problem. We managed to overcome these adversities, we came out successful and together as a family. It is for this reason that we did not feel like celebrating my son Jesus' birthday as we do every year, however, I wanted to give him a special gift that would be useful for him. His hearing aids were damaged, and he was using the ones from his cell phone. I decided to give him some for his birthday.
I put my hands to work and as a detective I searched in the stores, in the GINAN Shopping Center where the commercial office of the company where I work is located, and in the nearby stores in the center of my city. I enjoyed shopping with my friend @surglen and I went around comparing prices, they had offered me some at $30, approximately 600.00 bolivars, but I found them too expensive. By chance, we met my friend Efraín, a former co-worker. He invited us to visit a small shop that he set up when he returned from Panáma.
This is a small store, dedicated to the sale of cell phones, headphones, cell phone cases and accessories, called TOLON ACCESORIOS, located on the first floor of the C.C GINAN. We had a coffee while he showed me the headphones, and a black and red headphone with red fluorescent lights and a microphone caught my attention. In the dark it looks beautiful. I used the headphones and they are very comfortable, the earmuffs are spongy and soft. The sound is very clear, the music is spectacular and also the sound of video games.
The headphones can be connected to PCs, laptops and cell phones. According to the box, they are Gamer Headphones G17 Red. With HD microphone, rotating and volume control. and a 3.5 mm PLUG USB connector. Checking on the internet I found a sales page, www.fernapet.cl and I found the same headphones and from there I got the following features: Volume adjustment, 3.5 mm connector, ABS plastic material and clean acoustic sound. If you want more information I leave the link:
"Link"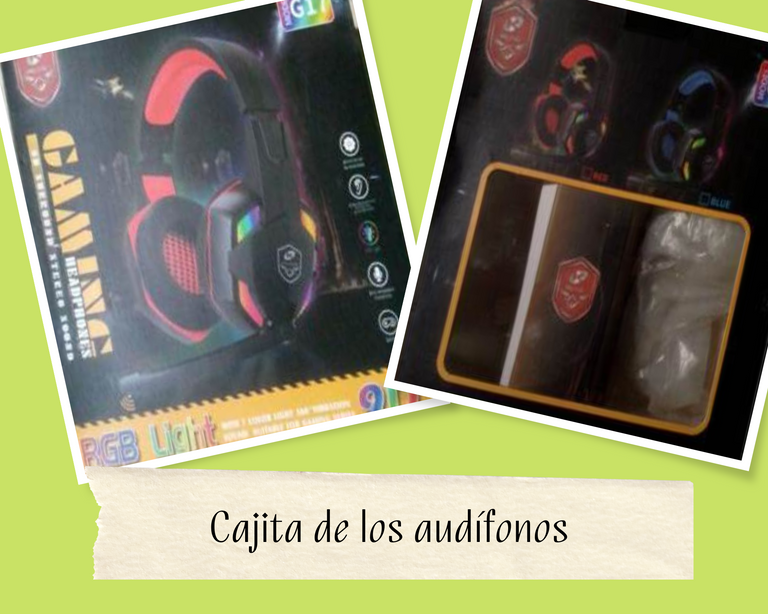 It is a pleasure for me and it gives me joy to give gifts, even more, to our loved ones, especially to my son. A gift is one of the thousands of ways that human beings have to express love to the people who are important in our lives, the ones we love. It should be noted that giving love, a smile and a hug is essential for emotional balance. However, a present is never too much.
Greetings friends and team of the #Geekzone Community, the year is starting and I hope you reap many successes for your praiseworthy work. Keep doing your best, as we Venezuelans say, for the growth of #Hive.
Thanks for visiting my Blog in #Hive.
Namaste
"Technology is always a double-edged sword. It will bring many benefits, but it will also bring many disasters."
(Alan Moore)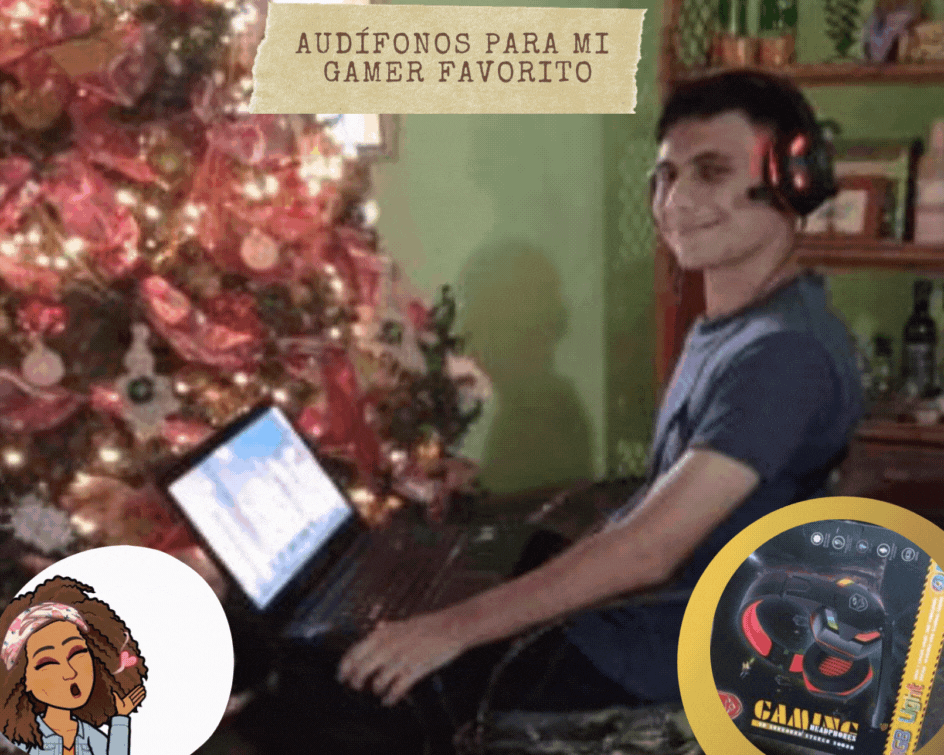 (Es)
"Siempre llega una nueva herramienta. La tecnología es neutral, depende de cómo se use".
(Rick Smolan)

La tecnología avanza a pasos agigantados. Los nuevos dispositivos permiten al ser humano agilizar procesos y ser más eficiente. Los seres humanos no podemos quedarnos varados, tenemos que cambiar y montarnos en el tren en movimientos. Dentro de muy poco viviremos como la familia Supersónicos, comiquitas de mi época cuando era niña. Wuao, fue estrenada en el año 1962, pero la vi por primera vez cuando papá compro televisión en los años 70. Absolutamente, todo será comandado por un botón, OFF Y ON.
En cuanto a la música y al sonido, cada día aparecen en el mercado mejores dispositivos y accesorios, especializados y adaptados para las nuevas exigencias del ser humano. De mayor calidad, e innovando cada día hasta llegar a ser más pequeños e imperceptibles. Todo con la finalidad de facilitar el trabajo de las personas que requieren de ello. A mi hijo Jesús, siempre y desde niño, le gustan los videojuegos y en la actualidad genera algo de ingresos. Le digo que es mi Gamer favorito. Él solo ríe y dice mamá: "no soy Gamer"
Como él se mueve en este mundo virtual y de los videojuegos, considere que necesitaba unos buenos audífonos y que fueran profesionales. Aproveche de comprárselos de regalo de cumpleaños. A él le gustaron sus audífonos, les tomé algunas fotos, pero cuando fui a editarlas estaban descuadradas y no me gustaron como quedaron. Todo el mes de diciembre estuve ocupada con la limpieza, decoración y fiestas no había podido realizar la sección de fotos. Fue ayer cuando le dije a Jesús: "antes de salir déjame tomarte unas fotos para la publicación para mostrar los audífonos en la Comunidad de #Geekzone".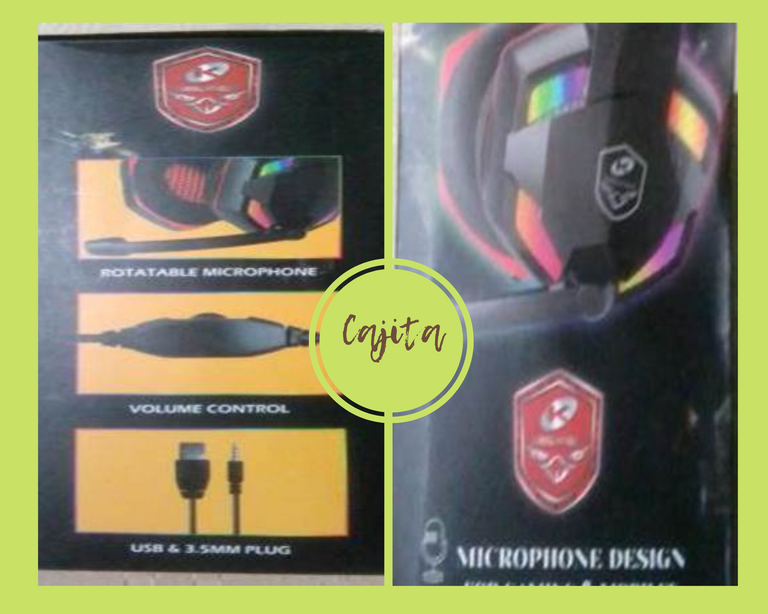 Los meses de finales de año estuvieron complicados con las lluvias, ya que perdimos muchas cosas materiales y al final un problema de salud. Logramos superar estas adversidades, salimos airosos y juntos como familia. Es por esta razón que no tuvimos ánimos para celebrar en grande como todos los años el cumpleaños de mi hijo Jesús, sin embargo, deseaba darle un detalle especial que fuera útil para él. Sus audífonos se dañaron, y estaba usando los del celular. Decidí regalarle unos para su cumpleaños.
Puse manos a la obra y como detective busque en las tiendas, en el C.C GINAN donde está ubicada la oficina comercial de la empresa donde laboro, y en los comercios cercanos del centro de mi ciudad. Disfrute ir de shopping con mi amiga @surglen y anduve comparando los precios, me habían ofrecido unos a $30, aproximadamente 600,00 bolívares, pero los encontré demasiados caros. Por casualidad, nos encontramos con mi amigo Efraín, ex compañero de trabajo. Nos invitó a visitar un pequeño local que monto cuando regreso de Panamá.
Este un pequeño local, dedicado a la venta de celulares, audífonos, estuche de celulares y accesorios, llamado TOLON ACCESORIOS, ubicado en la Planta Baja del C.C GINAN. Nos tomamos un café mientras me mostraba los audífonos, y me llamaron la atención unos audífonos color negro y rojo, con las luces rojas fluorescentes con micrófono. En la oscuridad se ve precioso. Me use los audífonos y son muy cómodos, las orejeras son esponjocitas y suavecitas. El sonido es muy nítido, la música se escucha espectacular y también el sonido de los videojuegos.
Los audífonos se pueden conectar a PC, laptop y también en los celulares. Según la caja, son unos Gamer Headphones G17 Rojo. Con micrófono HD, rotativo y control de volumen. y un Conector USB de 3,5 mm PLUG. Revisando en internet encontré una página de venta, www.fernapet.cl y encontré unos audífonos iguales y de allí saque las siguientes características: Ajuste de volumen, Conector de 3,5 mm, Material plástico ABS y Sonido acústico limpio. Si desea más información les dejo el link:
"Link"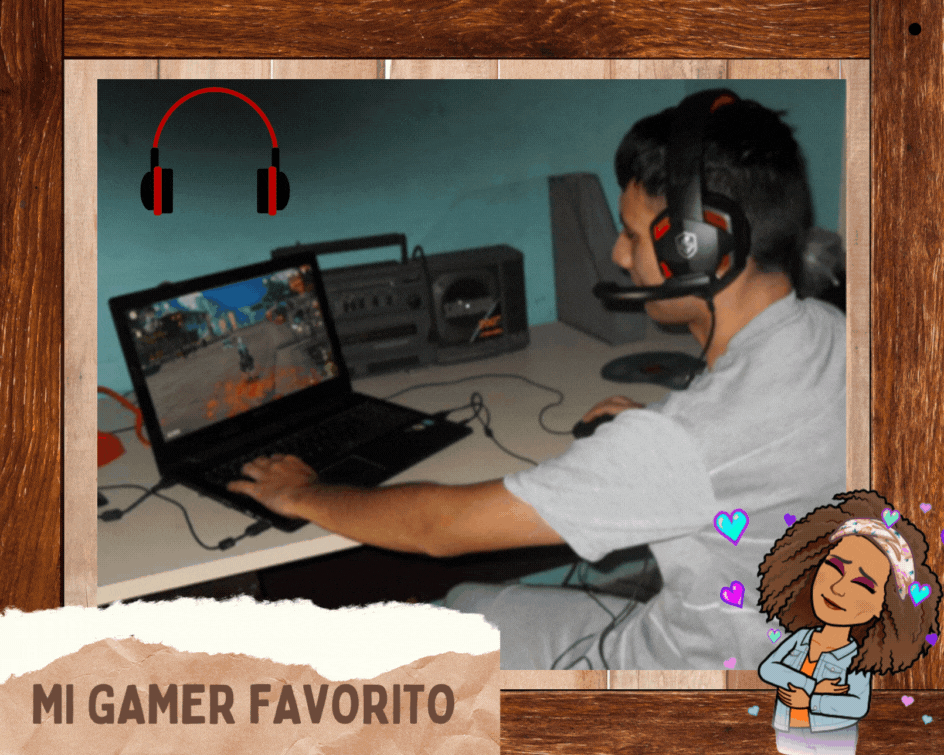 Es un placer para mí y me da alegría obsequiar, más aún, a nuestros seres queridos, en especial a mi hijo. Un obsequio es una de los miles de formas que tiene el ser humano para expresar el amor a las personas que son importantes en nuestras vidas, a las que amamos. Cabe destacar que brindar amor, una sonrisa y un abrazo es fundamental para el equilibrio emocional. Sin embargo, un presente nunca está de más.
Saludos amigos y equipo de la Comunidad de #Geekzone, está iniciando el año y espero que cosechen muchos éxitos por su loable trabajo. Sigan echándole pichón como decimos los venezolanos para el engrandecimiento de #Hive.
Gracias por visitar mi Blog en #Hive.
Namaste
"La tecnología es siempre un arma de doble filo. Traerá muchos beneficios, pero también muchos desastres".
(Alan Moore)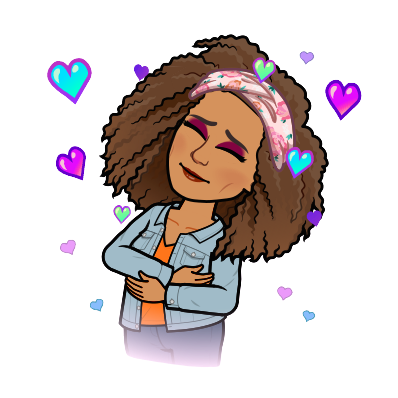 Todas las imágenes son de mi propiedad
All images are my property.

Los banner fueron realizados en CANVA; las letras, imágenes y todos los elementos son de CANVA.
The banners were made in CANVA; the letters, images and all the elements are from CANVA.

Los separadores fueron diseñados en CANVA.
The separators were designed in CANVA.

La imagen con mi avatar la diseñe en la app Bimoji.
The image with my avatar was designed in the Bimoji app.

Mi hijo Jesús autorizo el uso de su imagen en esta publicación.
My son Jesus authorizes the use of his image in this publication.

Las características de los audífonos las tome de la caja.
The characteristics of the headphones are taken from the box.