Finding a reliable product but at a budget is quite hit and miss. Sometimes you get a good quality product but sometimes, it's total crap.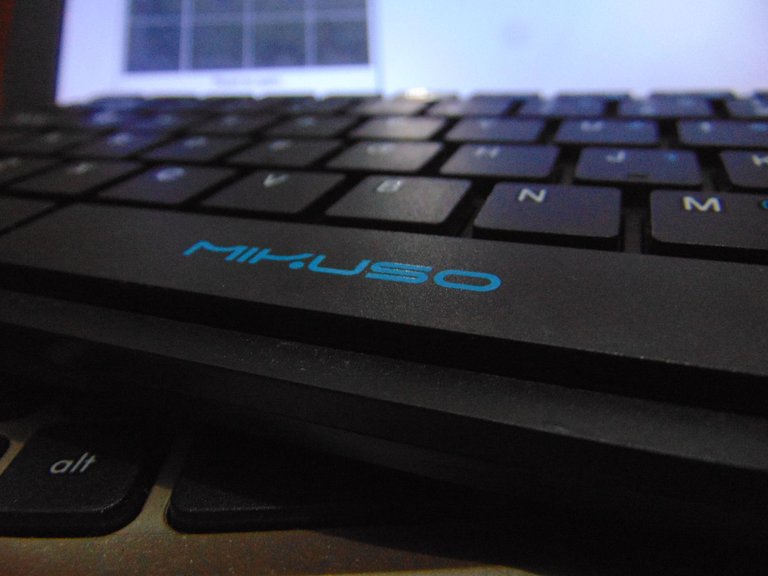 When it comes to gadgets, we definitely have our own preference that suits our lifestyle and needs. For me, since I am nomadic, I like to have an extra mini portable keyboard to carry around. When I travel, it would mean I also leave out my gaming gears and stick to basics. That's why, in my life, portability and functionality matter and it's the approach I take when buying something.
What's your approach when buying a gadget?
The keyboard that I am going to review today is not a gaming keyboard but a simple keyboard suitable for students, creators, and anyone that needs it for simple activities. Although,after testing for writing codes, this keyboard is pretty nice as well. It is also suitable for tablets and android phones if you use your phone to write thesis or work.
🅜🅘🅝🅘 🅜🅘🅚🅤🅢🅞 🅚🅑-⓿⓿➊🅤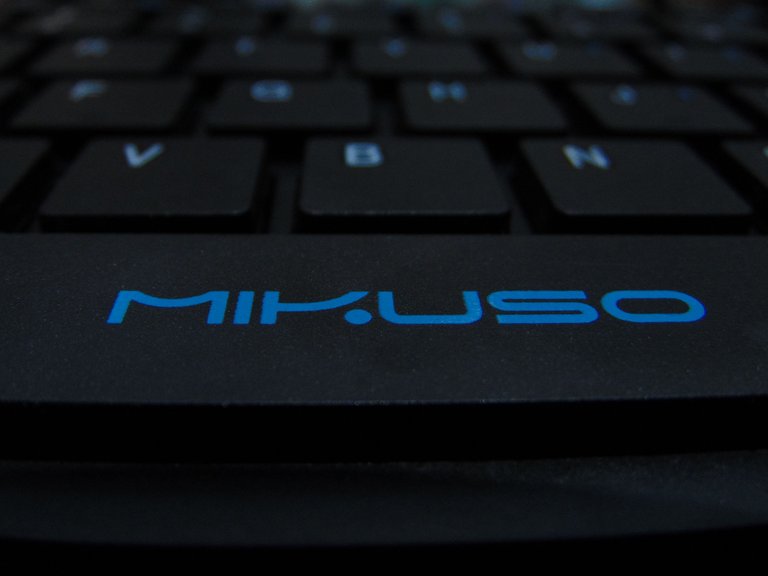 Mikuso KB-001U is a minimized keyboard with length less than 30 cm and 11cm width. It's small enough to not space up a 20Lt day pack. Compared to my other keyboard, Logitech, it is definitely much smaller. I forgot when I bought this keyboard but I suppose it was around when I was about to start a long-travel adventure. However, I ended up not bringing this keyboard with me and stuck to logitech for some reason.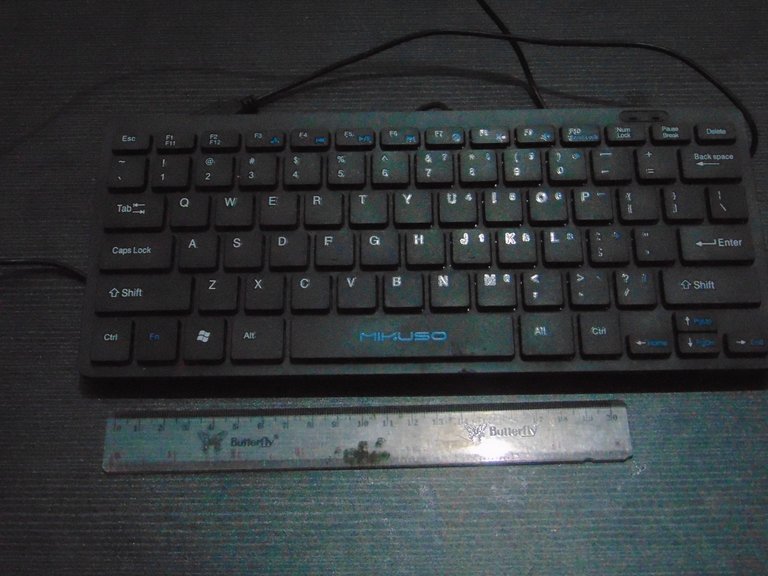 Priced at around 4 to 5$, this keyboard is an option for those who need a quick external keyboard. Honestly, only today I am using it again as I want to change my logitech into something smaller and test its comfort to type.
So, after testing it, this keyboard is not suitable for those who have big fingers as the keypads are tiny. However, they are still well-spaced unlike some laptop keyboards and even cheap external keyboards that don't even have space. I also think that instead of wasting money into foldable keyboard, this is a better and cheapest option to have.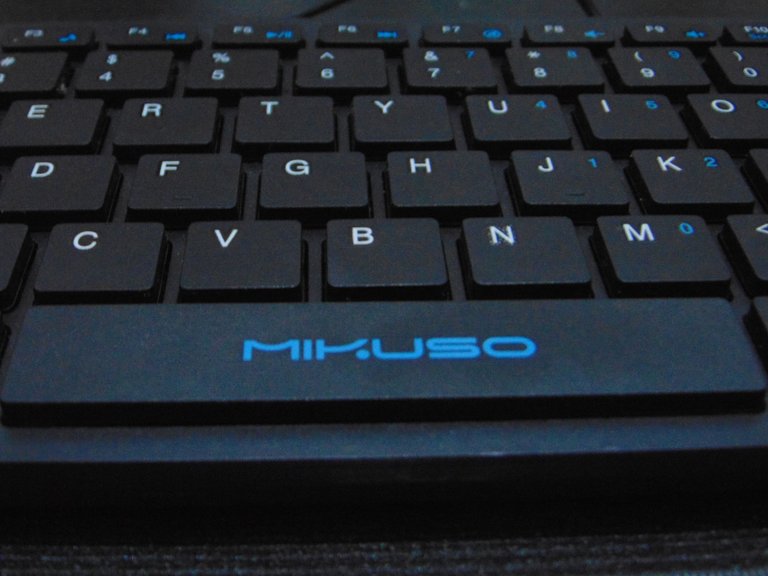 This keyboard is old-school as It's wired. However,thankfully, the wire is short. So you don't have to worry about its wire being too long. Although my only concern is the fault that the keyboard will have if we twist and roll the cable. Compared to a keyboard with batteries, this is a cheaper option even for long-term use.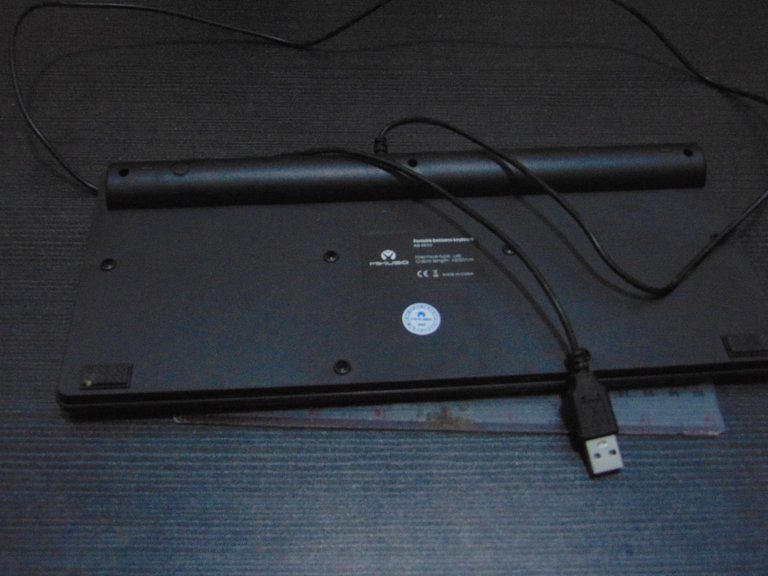 The color itself is plain, it's dark with blue colors on the numeric symbols. It is a pretty generic color, so if you are considering aesthetics when having a keyboard, this is also not for you. The keyboard doesn't have an adjustable stand but the back is quite bulky and functions to lift the keyboard up so it's not too flat. Overall, it's also a featherlight that even holding a book is heavier than lifting his keyboard.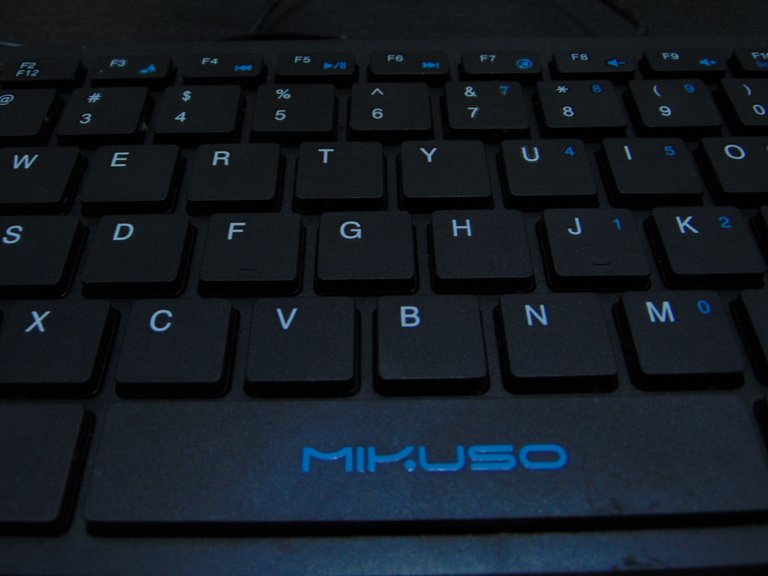 I tried typing on the keyboard for 2 hours and I don't feel strained on my wrist. It's definitely not built for being ergonomic-friendly but it's quite okay for something that doesn't adhere to ergonomic principles.
All in all, I think this is the keyboard that does the job. It's something nice to have while traveling considering the size but do not expect too much for gaming as it's not suitable for that. The keyboard is definitely not crap compared to many with the same price and even the rubber foldable keyboard that is sometimes way more expensive than this keyboard. Have you ever seen this product out there? Let me know if you are interested in mini keyboards too!

Mac's Pinmapple Travel List

Don't hesitate to upvote for more content like this ! You can also support me below!

---
𝘔𝘢𝘤 𝘪𝘴 𝘢 𝘴𝘦𝘭𝘧-𝘦𝘮𝘱𝘭𝘰𝘺𝘦𝘥 𝘯𝘪𝘯𝘫𝘢. 𝘈 𝘵𝘺𝘱𝘪𝘤𝘢𝘭 𝘪𝘯𝘵𝘳𝘰𝘷𝘦𝘳𝘵 𝘪𝘯 𝘭𝘰𝘷𝘦 𝘸𝘪𝘵𝘩 𝘭𝘪𝘵𝘦𝘳𝘢𝘵𝘶𝘳𝘦, 𝘣𝘰𝘰𝘬𝘴, 𝘵𝘦𝘤𝘩𝘯𝘰𝘭𝘰𝘨𝘺 𝘢𝘯𝘥 𝘱𝘩𝘪𝘭𝘰𝘴𝘰𝘱𝘩𝘺. 𝘛𝘩𝘪𝘴 𝘪𝘴 𝘩𝘦𝘳 𝘱𝘦𝘳𝘴𝘰𝘯𝘢𝘭 𝘣𝘭𝘰𝘨 𝘵𝘩𝘢𝘵 𝘤𝘰𝘷𝘦𝘳𝘴 𝘩𝘦𝘳 𝘫𝘰𝘶𝘳𝘯𝘦𝘺 𝘥𝘦𝘭𝘷𝘪𝘯𝘨 𝘪𝘯𝘵𝘰 𝘱𝘩𝘰𝘵𝘰𝘨𝘳𝘢𝘱𝘩𝘺, 𝘵𝘳𝘢𝘷𝘦𝘭, 𝘯𝘰𝘰𝘵𝘳𝘰𝘱𝘪𝘤𝘴, 𝘱𝘳𝘰𝘥𝘶𝘤𝘵𝘪𝘷𝘪𝘵𝘺, 𝘮𝘪𝘯𝘪𝘮𝘢𝘭𝘪𝘴𝘵 𝘭𝘪𝘧𝘦𝘴𝘵𝘺𝘭𝘦, 𝘤𝘺𝘣𝘦𝘳𝘴𝘦𝘤𝘶𝘳𝘪𝘵𝘺, 𝘢𝘯𝘥 𝘭𝘢𝘯𝘨𝘶𝘢𝘨𝘦𝘴. 𝘐𝘯 𝘩𝘦𝘳 𝘧𝘳𝘦𝘦 𝘵𝘪𝘮𝘦, 𝘴𝘩𝘦 𝘦𝘯𝘫𝘰𝘺𝘴 𝘭𝘦𝘢𝘳𝘯𝘪𝘯𝘨 𝘷𝘢𝘳𝘪𝘰𝘶𝘴 𝘵𝘩𝘪𝘯𝘨𝘴. 𝘐𝘧 𝘺𝘰𝘶 𝘭𝘪𝘬𝘦 𝘩𝘦𝘳 𝘤𝘰𝘯𝘵𝘦𝘯𝘵, 𝘥𝘰𝘯'𝘵 𝘩𝘦𝘴𝘪𝘵𝘢𝘵𝘦 𝘵𝘰 𝘶𝘱𝘷𝘰𝘵𝘦, 𝘭𝘦𝘢𝘷𝘦 𝘢 𝘤𝘰𝘮𝘮𝘦𝘯𝘵 𝘰𝘳 𝘢 𝘧𝘦𝘦𝘥𝘣𝘢𝘤𝘬. 𝘈 𝘳𝘦-𝘣𝘭𝘰𝘨 𝘪𝘴 𝘢𝘭𝘴𝘰 𝘢𝘱𝘱𝘳𝘦𝘤𝘪𝘢𝘵𝘦𝘥.