💕 Hello Hive Community! 💕
---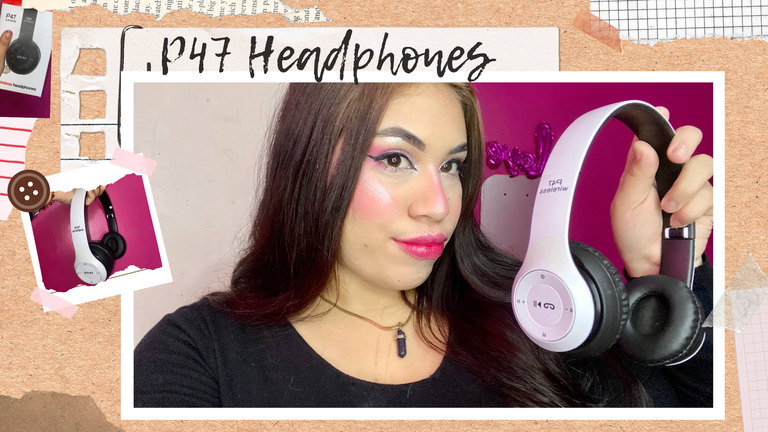 ---
Un producto indispensable en mi vida son los audifonos, ya sean inalambricos, de cable, pequeños o grande,s no puedo vivir sin mis complementos para escuchar musica. A lo largo de mi vida audífonos de un montonde marcas diferentes, de hecho tengo un repertorio de audífonos dañados en mi colección de tantos que he tenido, los conservo para ver si los encuentro nuevamente y comprarlos. Actualmente solo tenía mis audifonos Xiaom inalambricos, que a pesar de qué son bastante inestables en cuanto a calidad de vida, ya que a veces uno se apaga y no prende por varios días, me termine acostumbrando porque era lo que tenía. Luego se me perdieron y llego la hora de buscar un reemplazo, para ello me fui primero por unos audifonos pequeños que luego les hare una reseña, y compre también unos de Blueethoy a traves de MercadoLibre que les presento hoy.
An indispensable product in my life is headphones, whether they are wireless, wired, small or large, I can not live without my accessories to listen to music. Throughout my life I have had headphones of a lot of different brands, in fact I have a repertoire of damaged headphones in my collection of so many I have had, I keep them to see if I can find them again and buy them. Currently I only had my Xiaom wireless headphones, which although they are quite unstable in terms of quality of life, as sometimes one turns off and does not turn on for several days, I ended up getting used to it because it was what I had. Then I lost them and it was time to look for a replacement, so I went first for some small headphones that I will review later, and I also bought some from Blueethoy through MercadoLibre that I present to you today.
---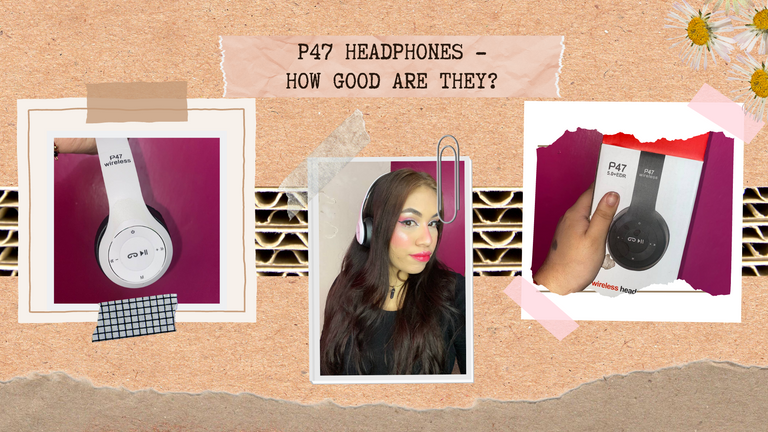 ---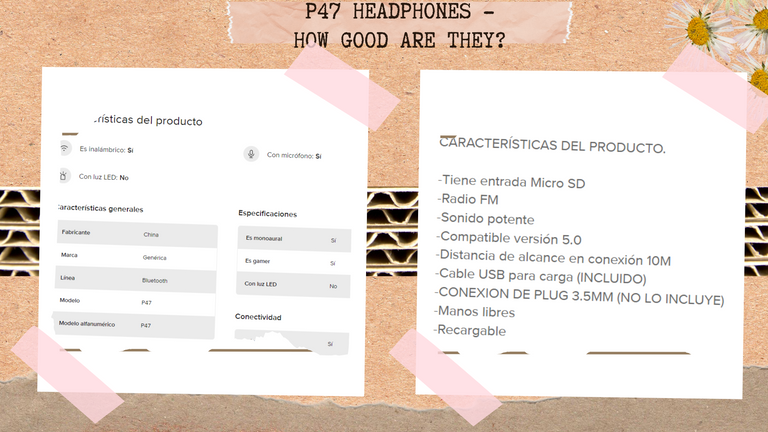 ---
Estos audífonos son de una marca llamada P47, cuando yo los vi, estaban en oferta y por eso me parecieron tan llamativos, estaban casi en 50% de descuento y quedaban a un precio de 5$. Desde un principio sabia que no iban a ser los grandes audífonos, pero como necesitaba unos economicos los compre y por sus características, las cuales les dejo en la foto. Pero resaltando lo que mas me llamó, fue el tema del Bluetooth, la entrada Auxiliar y el micrófono. Teniendo todo eso en cuenta los compré y al estar en una alta temporada del año, demoraron cómo una semana y media en llegar, asi que tengo varias cosas que decir al respecto.
These headphones are from a brand called P47, when I saw them, they were on sale and that's why I found them so striking, they were almost 50% off and were priced at $ 5. From the beginning I knew that they were not going to be the best headphones, but as I needed some economical ones I bought them and for their characteristics, which I leave you in the photo. But highlighting what called me the most, was the Bluetooth, the auxiliary input and the microphone. Taking all that into account I bought them and being in a high season of the year, they took about a week and a half to arrive, so I have several things to say about it.
---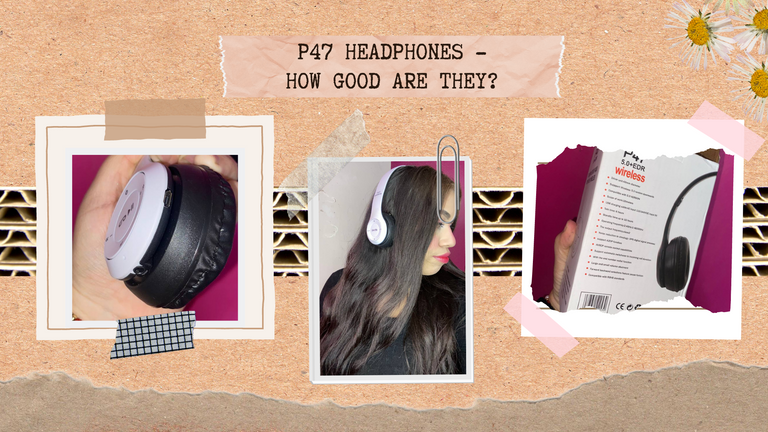 ---
Honestamente pensé que estos audífonos iban a ser más grandes en cuestión de tamaño. Cuando vi que llegó la caja, quede sorprendida porque habia comprado dos (uno para mi y otro para alguien más) y pensé que solo habían mandado uno, pero resultaron pequeños y por eso estaban los dos en un tamaño tan compacto. La otra cosa que no me agrado demasiado, en tema estetico, era que el producto venia con algunos rayones, parecen defectos de fabrica y una zona viene como rasposa y de un ligero color beige. Lo que me hace pensar que fue un lote de audífonos que no salieron tan buenos a nivel estetico y es por ello que tienen este precio. Y en cuestión de sonido, la verdad suenan duro, pero el bajo no es muy bueno, los medios son decentes, y a todo volumen chillan un poco, pero nada muy molesto cuando esta a un volumen decente, además que conectado con el cable auxiliar suenan un poco mejor. La bateria no dura tanto tiempo, el micrófono por Bluetooth no se escucha demasiado duro y el material se ve bastante sensible pero nada que un poco de cuidado no arruine la vida util de este producto.
I honestly thought these headphones were going to be bigger in size. When I saw the box arrive, I was surprised because I had bought two (one for me and one for someone else) and I thought they had only sent one, but they turned out to be small and that's why they were both in such a compact size. The other thing that did not please me too much, in terms of aesthetics, was that the product came with some scratches, they look like factory defects and one area is scratched and has a light beige color. What makes me think that it was a batch of headphones that did not come out so good aesthetically and that is why they have this price. And in terms of sound, the truth is they sound hard, but the bass is not very good, the mids are decent, and at full volume they squeak a little, but nothing too annoying when at a decent volume, plus connected with the auxiliary cable they sound a little better. The battery doesn't last that long, the Bluetooth mic doesn't sound too harsh and the material looks pretty sensitive but nothing that a little care won't ruin the life of this product.
---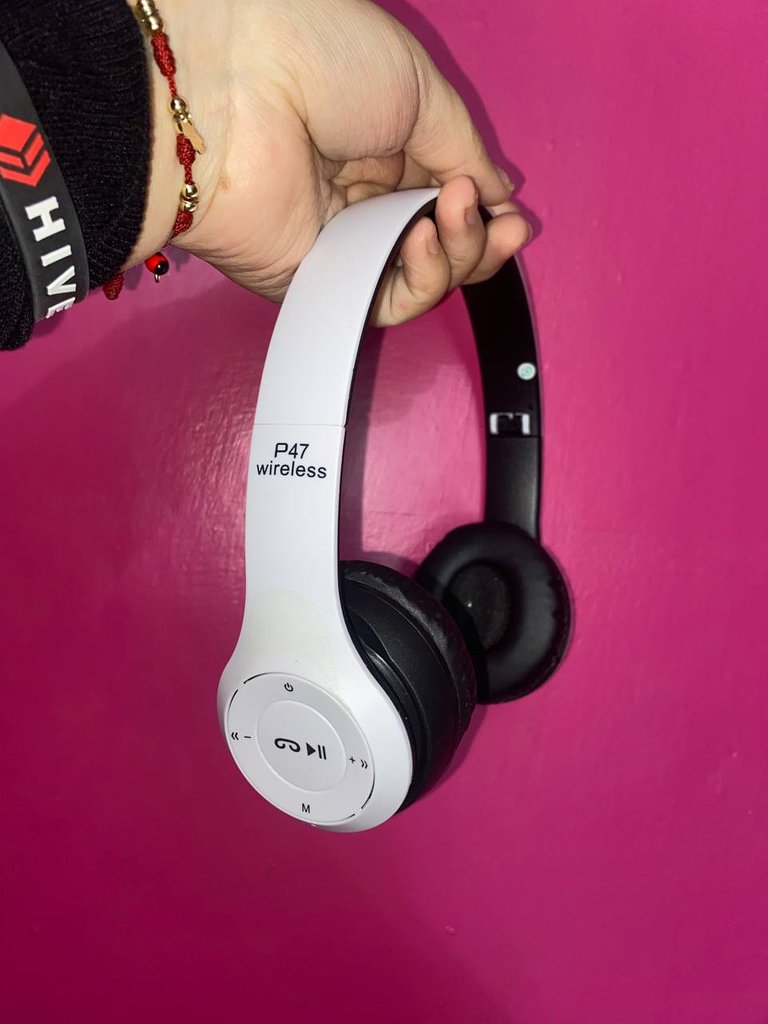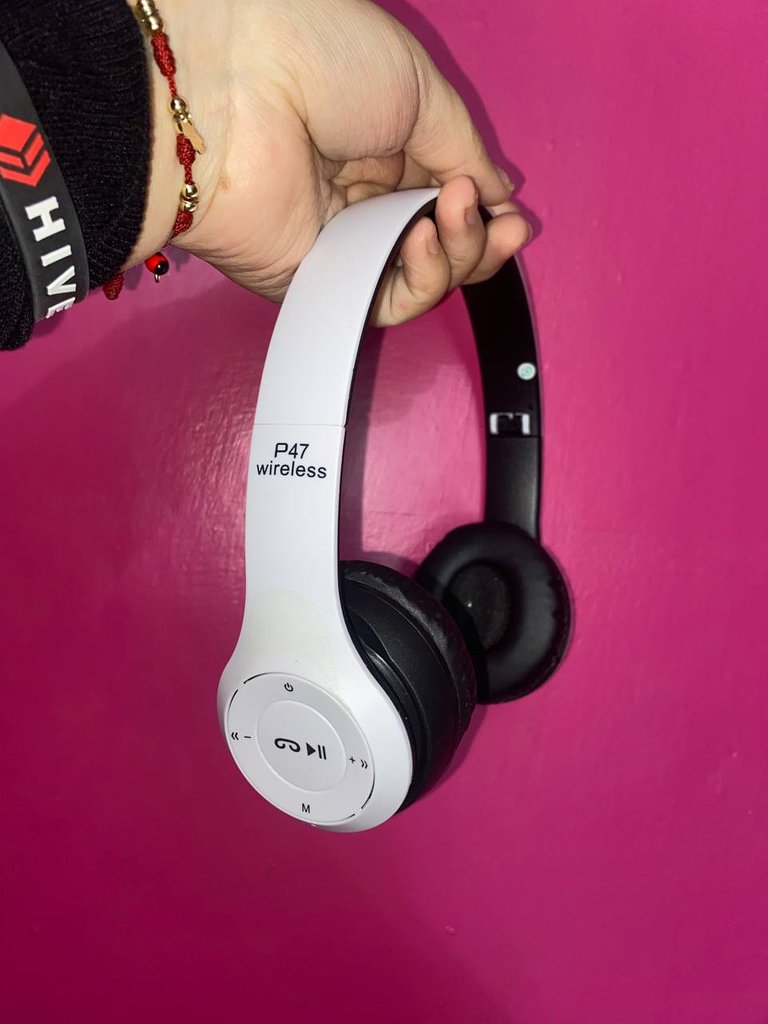 ---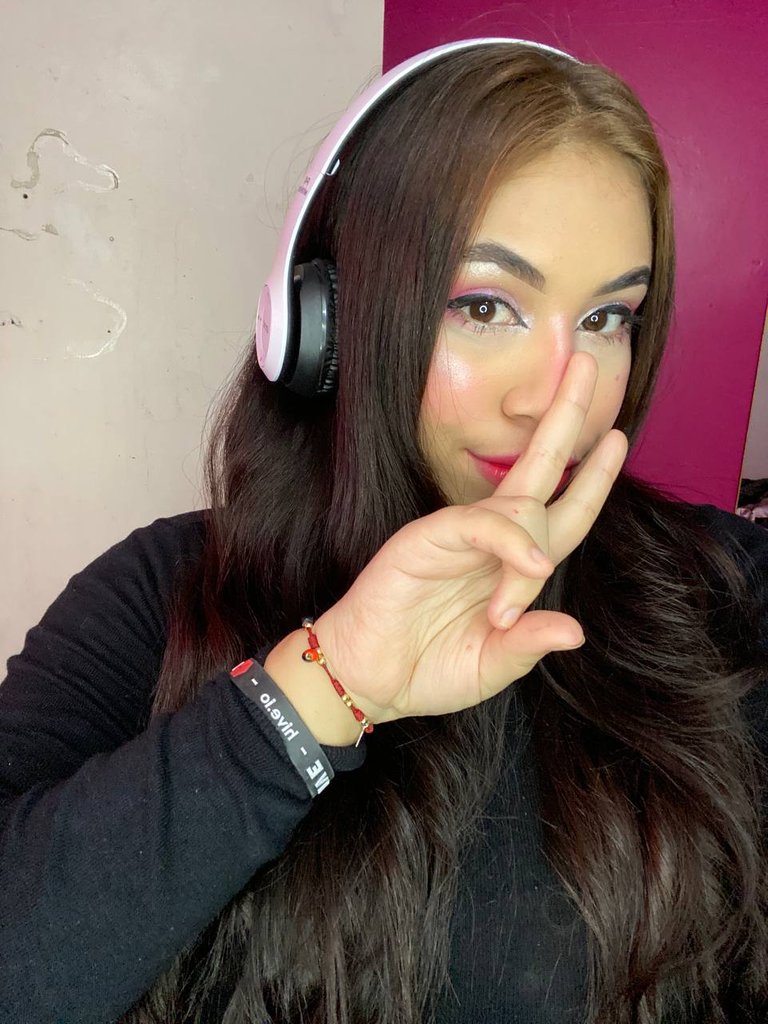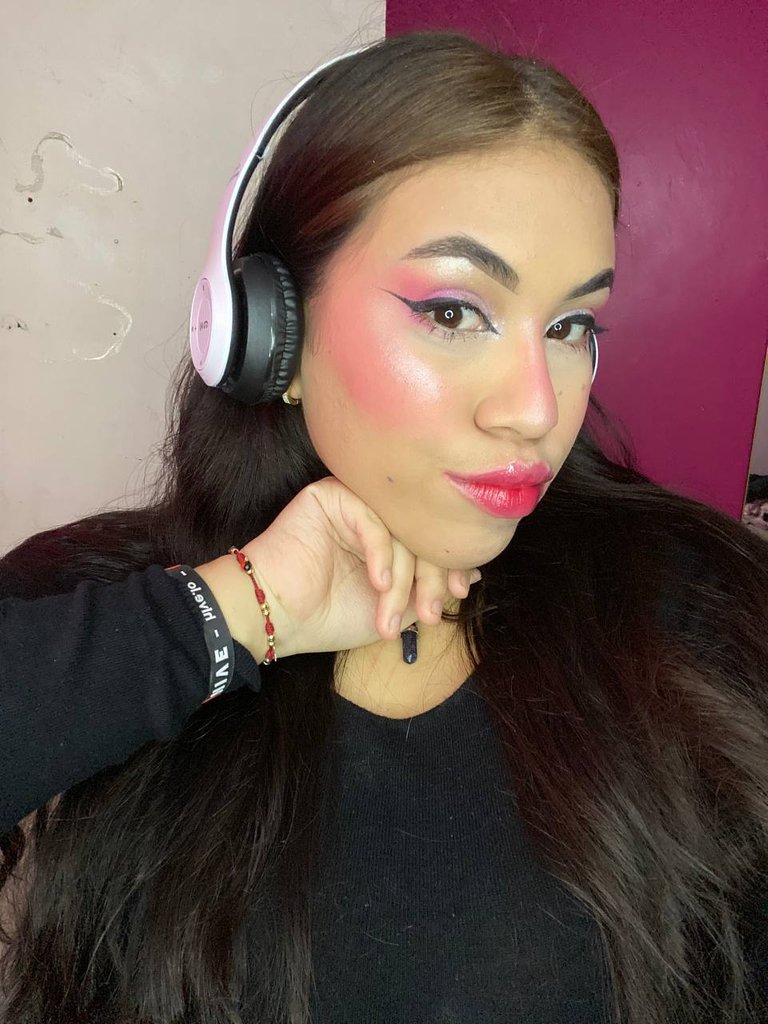 ---
En conclusión, no recomiendo estos audífonos si estan buscando una calidad alta en todos los sentidos. Pero, teniendo en cuenta el precio, ya que para tener unos muy buenos audífonos debemos pagar lo suficiente, y también si nos da igual los puntos negativos de este producto, si lo recomendaría para un uso casual. Es decir, escuchar musica por periodos cortos de tiempo, aproximados de 3 horas, o menos, son bastante buenos y realmente no estoy del todo decepcionada. Aún sigo buscando mis audífonos ideales de este estilo, tenia unos P47 rosados con orejas de gato (cuyo precio fue de 10$), preciosos, que sonaban muy bien pero los rompí por la mitad y aunque siguen sonando, no he podido arreglarlos adecuadamente y es algo incómodo, además que si ponía pausa a la musica, se desconectaba a los 2 minutos del Bluetooth, cosa que me molestaba demasiado. Lo que quiere decir, que los P47 siempre tienen algún defecto. Espero que les haya gustado conocer esta reseña, de todas formas les dejo el link aquí de este producto, nos leemos pronto!
In conclusion, I do not recommend these headphones if you are looking for high quality in every way. But, considering the price, since to have a very good headphones we must pay enough, and also if we do not care about the negative points of this product, if I would recommend it for casual use. That is, listening to music for short periods of time, approximately 3 hours or less, they are quite good and I'm really not entirely disappointed. I'm still looking for my ideal headphones of this style, I had a pink P47 with cat ears (whose price was $10), beautiful, they sounded great but I broke them in half and although they still sound, I have not been able to fix them properly and it is somewhat uncomfortable, plus if I paused the music, it disconnected after 2 minutes of Bluetooth, something that bothered me too much. Which is to say, the P47s always have a flaw. I hope you liked this review, anyway I leave you the link here of this product, see you soon!
---
---
Pictures of my property.
Exclusive Content for HIVE.
Camera: Apple iPhone 11.

If you like makeup, the world of beauty or making art on your skin I invite you to the Makeup Power Community and the Makeup Power Telegram
---
Scan the QR and follow me!
| Instagram | Twitter | Telegram | TikTok | 3speak |
| --- | --- | --- | --- | --- |
| | | | | |
---