---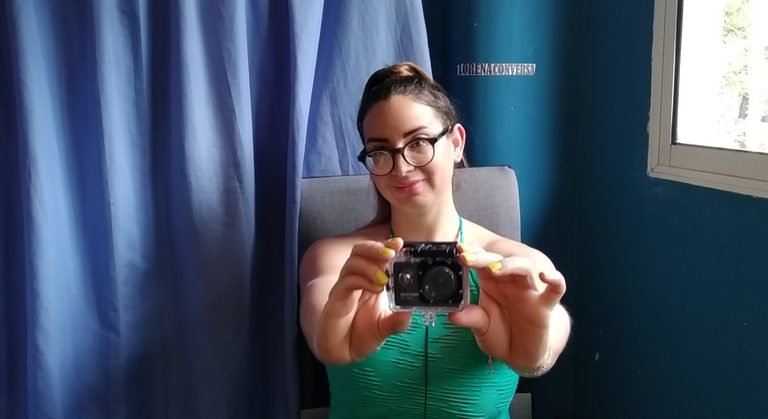 Hola apreciados amigos de toda la comunidad de Hive y de Geek Zone, el día de hoy les comparto mi opinión muy realista sobre la Cámara Deportiva ENJIPRIME. Siempre había querido tener una, luego de comenzar a desempeñarme como creadora de contenido, me di cuenta que esto me apasionaba, y me daba curiosidad como seria tener una cámara que me pudiese ofrecer la oportunidad de tener tomas acuáticas, al ver los precios muy costosos dejé un poco la ilusión y pues me olvide de ello. Pasados unos meses vi que había un tipo de cámara china que era mas accesible, quizás no de tanta calidad pero que se podría adaptar a mi presupuesto, tenía pensado reunir el dinero para comprarla, sin embargo, mi familia me da la sorpresa el día de mi cumpleaños y me la entregan como regalo, la verdad me puse muy feliz, y valore mucho lo que ellos habían hecho por mi.
Hello dear friends of the entire Hive and Geek Zone community, today I share with you my very realistic opinion about the ENJIPRIME Sport Camera. I had always wanted to have one, after starting to work as a content creator, I realized that I was passionate about this, and I was curious about how it would be to have a camera that could offer me the opportunity to have aquatic shots, when I saw the very expensive prices I left the illusion a little and then I forgot about it. After a few months I saw that there was a type of Chinese camera that was more accessible, perhaps not so high quality but that could be adapted to my budget, I had planned to raise the money to buy it, however, my family gave me the surprise on my birthday and gave it to me as a gift, the truth I was very happy, and I appreciated what they had done for me.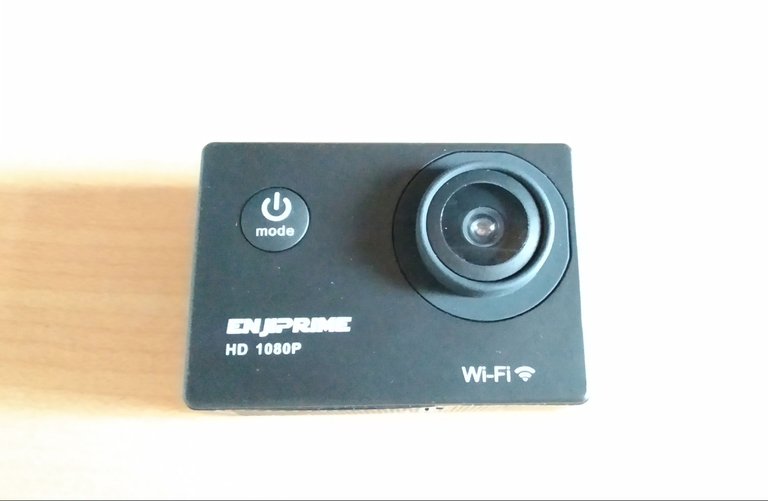 Entre las características de la cámara les puedo mencionar en primer lugar que captura imágenes en 12 Megapixels y graba videos en formato 720 pixels. De acuerdo a su manual de instrucciones es sumergible 30m, posee multilenguaje permitiendo cambiar al idioma de nuestra preferencia. Asimismo, con esta cámara podrás grabar durante un aproximado de 120 minutos de acuerdo a lo descrito, pero yo difiero pues en mi caso la batería me ha durado unos 60 minutos aprox, dependerá mucho del tiempo que la utilices, y algo muy importante nos permite conectarle un cable USB para enviar archivos directamente a nuestro computador. La primera vez que me lleve la cámara a la playa fue lo máximo, aunque al príncipio no les mentiré me dió miedo sumergirla, lo hice con precaución, por minutos pensaba y si la daño. Luego de salir hacia el lugar donde estabamos instalados seque mi cámara con una toalla así como mis manos y procedí a observar si había agua dentro y pues no verifique que estaba todo genial, así que me relaje. Una recomendación que les puedo dar es que una vez lleguen a sus casas laven el protector de la cámara con agua dulce, yo no lo hice y se me quedaron marcadas unas gotitas en el material transparente que cubre nuestro equipo. De igual manera, si van a un lugar donde las olas sean fuertes deben sujetarla muy bien para que no se les pierda en la inmensidad del mar, yo lo que hago es agarrarla fuerte y le coloco una cuerdita para atarla a mi mano pero igual sin soltarla.En el vídeo que les presento muestro cada detalle de la misma, como apagar, encender,cómo tomar fotos, videos, entre otros, los invito a verlo. Fue realizado con mucho cariño.
Among the features of the camera I can mention first of all that it captures images in 12 Megapixels and records videos in 720 pixels format. According to its instruction manual it is 30m submersible, it has multi-language allowing you to switch to the language of your preference. Also, with this camera you can record for about 120 minutes according to the description, but I differ because in my case the battery has lasted about 60 minutes approx, depending on how long you use it, and something very important allows us to connect a USB cable to send files directly to our computer. The first time I took the camera to the beach was the best, although at first I will not lie to you I was afraid to submerge it, I did it with caution, for minutes I thought and if I damage it. After going out to the place where we were installed, I dried my camera with a towel as well as my hands and proceeded to observe if there was water inside and I verified that everything was great, so I relaxed. One recommendation I can give you is that once you get home wash the camera protector with fresh water, I didn't do it and I got a few drops on the transparent material that covers our equipment. In the same way, if you go to a place where the waves are strong, you should hold it very well so that it does not get lost in the immensity of the sea, what I do is to hold it tight and place a string to tie it to my hand but still without letting go of it, in the video I show you every detail of it, how to turn it off, on, how to take pictures, videos, among others, I invite you to watch it. It was made with a lot of love.

Desde mi punto de vista, la relación precio calidad esta bien, no podemos pedir mucho cuando estamos conscientes de su precio en comparación con otros modelos y marcas. Este equipo nos brinda la oportunidad de comenzar en cualquier proyecto audiovisual de nuestra preferencia, o bien ayudarnos a darle un toque de originalidad a nuestro contenido. Yo siempre he pensado que lo único que nos falta para iniciar un proyecto es tener las ganas, pues todo se va construyendo paso a paso, y una cosa lleva a la otra. En mis inicios siempre ponía de excusa el hecho de no tener una buena cámara hasta que un día por fin tome la decisión de comenzar y desde entonces no me he detenido. Lo más importante en la vida es hacer lo que nos apasiona, lo que los llena como personas, sin hacerle daño a nadie. Si el cielo está cubierto de estrellas que brillan porque la tierra no podría también tenerlas. Todos tenemos un lugar para brillar.
From my point of view, the price-quality ratio is good, we can not ask much when we are aware of its price compared to other models and brands. This equipment gives us the opportunity to start any audiovisual project of our preference, or help us to give a touch of originality to our content. I have always thought that the only thing we need to start a project is to have the desire, because everything is built step by step, and one thing leads to another. In my beginnings I always used the excuse of not having a good camera until one day I finally made the decision to start and since then I have not stopped. The most important thing in life is to do what you are passionate about, what fulfills you as a person, without hurting anyone. If the sky is covered with shining stars, why couldn't the earth have them too. We all have a place to shine.

Gracias por leer esta publicación y por ver mi video.Será hasta pronto. . . 🖤
Las Imágenes son de mi autoría tomadas con mi celular Xiaomi A2 lite
Los separadores fueron creados en la aplicación PicsArt.
Y el vídeo fue editado en la aplicación Inshot

---
▶️ 3Speak