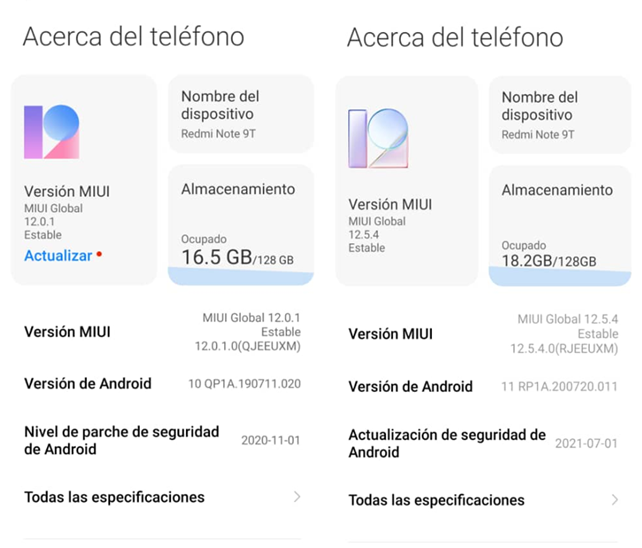 Hello my appreciated community
@GeekZone
, today I want to share my experience with my Redmi Note 9T phone, since I had a long time without having had a phone, it never ceases to impress me as technology does not stop when it comes to creating new software and new applications to make our lives easier. Despite having only a few days with the device, and researching about it since it was released in January 2020 and it caught my attention that when I checked in its settings on the phone it informed me that the software version needed to be updated.
Hola mi apreciada comunidad @GeekZone, el día de hoy quiero compartir mi experiencia con mi teléfono Redmi Note 9T, ya que tenía mucho tiempo sin haber tenido un teléfono, no deja de impresionarme como la tecnología no se detiene a la hora de crear nuevo software así como nuevas aplicaciones para facilitarnos la vida. A pesar de tener solo unos días con el equipo, y de investigar sobre el mismo ya que este salió al mercado en enero de 2020 y me llamó la atención que al revisar en sus ajustes sobre el teléfono me informó que la versión del software debía ser actualizada.
| | |
| --- | --- |
| | |
To be honest I was afraid, as I have seen that sometimes when updating the software they start to give certain failures. But I took a chance and proceeded to do it and I hope my experience can help others who were not expecting this on their new equipment.
Para ser sincero tenía miedo, ya que he visto que a veces al actualizar el software empiezan a dar ciertos fallos. Pero me arriesgué y procedí a hacerlo y espero que mi experiencia pueda ayudar a otros que no esperaban esto en sus nuevos equipos.
| | |
| --- | --- |
| | |
For this equipment came out its first update in February this year which is a security patch, reading this I proceeded to download the update friends, and I want to tell you that all this part was really an odyssey, because it was very slow, of course, this is due to the many problems that our country has with the internet, I also want to tell you that this update has a weight of 627 megabytes.
Para este equipo salió su primera actualización en febrero de este año la cual es un parche de seguridad, al leer esto procedí a descargar la actualización amigos, y quiero decirles que toda esta parte fue realmente una odisea, porque fue muy lenta, claro, esto se debe a los muchos problemas que tiene nuestro país con el internet, también quiero decirles que esta actualización tiene un peso de 627 megas.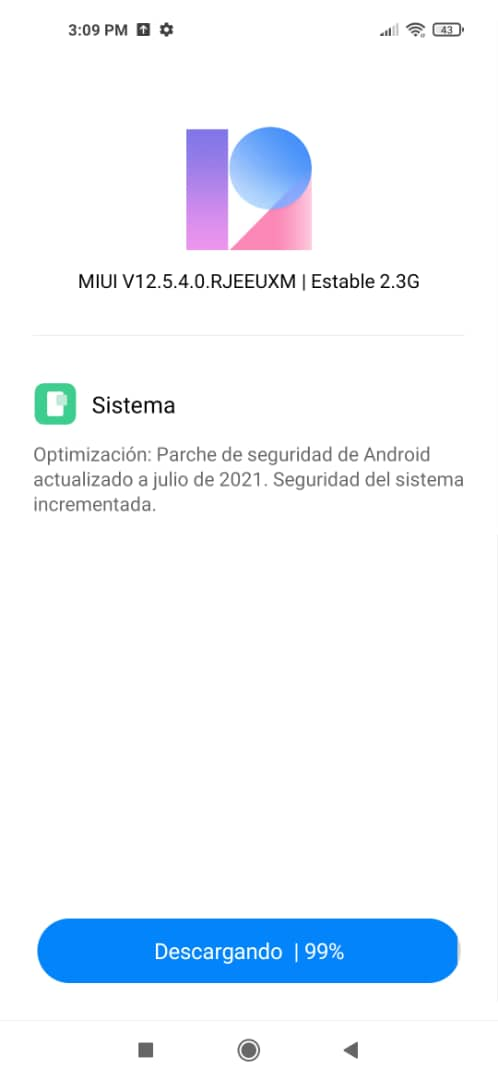 Another point I want to share with you is that the download was going normal, as far as it fits since it lasted almost three hours, but it happened to me that when I reached 98% of it I did not advance more, if this happens to you press the stop download option, and do not worry about starting again, Well that happened in my case and in this way I already had the complete download, the next thing it asked me was as in most cases, to restart my phone, and so I did, at this point I thought I had finished updating it.
Otro punto que quiero compartir con ustedes es que la descarga iba normal, dentro de lo que cabe ya que duró casi tres horas, pero me pasó que cuando llegué al 98% de la misma no avancé más, si esto les pasa presionen la opción de detener la descarga, y no se preocupen por volver a empezar, Bueno eso pasó en mi caso y de esta manera ya tenía la descarga completa, lo siguiente que me pidió fue como en la mayoría de los casos, reiniciar mi teléfono, y así lo hice, en este punto pensé que había terminado de actualizarlo.
| | |
| --- | --- |
| | |
When I checked my phone, there was no visible change, but what do you know, it showed me again that there was an update, at first I thought I didn't get it right, but when I checked I realized that this new package came out in July this year and Wow, it weighed 2.3G and that's why it took about 5 hours to download.
Cuando revisé mi teléfono, no había ningún cambio visible, pero qué creen, me volvió a mostrar que había una actualización, al principio pensé que no lo había hecho bien, pero cuando revisé me di cuenta que este nuevo paquete salió en julio de este año y ¡Vaya! Pesaba 2,3G y por eso tardó unas 5 horas en descargarse.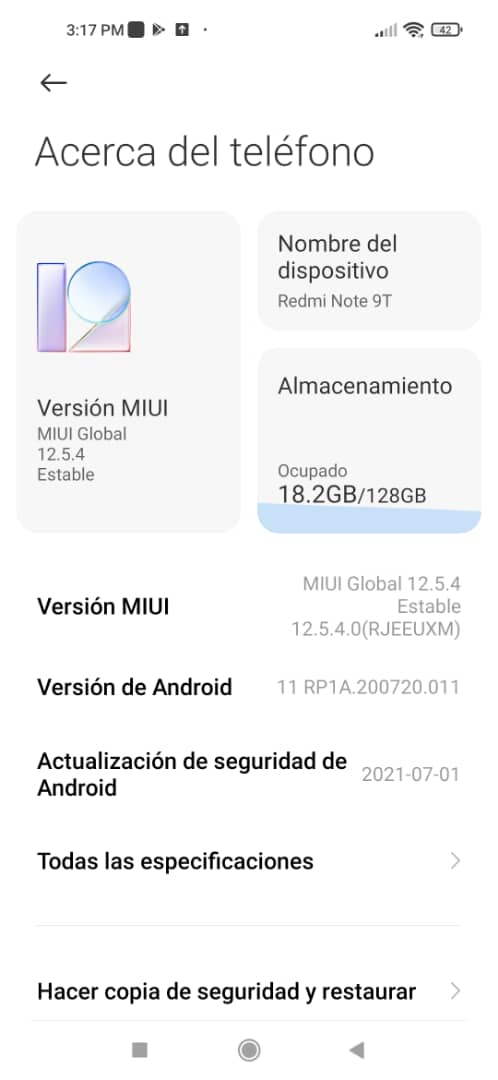 After finishing the same as the previous one, it asked me to restart the device, but this time I noticed that something had changed, because it showed me a window informing me that I could switch between the control center and the notification bar. This update brought with it the change from Android 10 coming originally, to Android 11, which makes me happy to be up to date with technology.
Tras finalizar la misma que la anterior, me pidió que reiniciara el dispositivo, pero esta vez me di cuenta de que algo había cambiado, porque me mostró una ventana informando que podía cambiar entre el centro de control y la barra de notificaciones. Esta actualización trajo consigo el cambio de Android 10 que viene originalmente, por Android 11, lo que me hace feliz de estar al día con la tecnología.
I can tell you that it is a very easy process, only that I recommend you to update in an official way and if this is no longer allowed we should not do it from others that are not official because our phone could malfunction with respect to the system. In the end I only needed to update the default system applications, and so I did, and in this way I had already updated my phone until that moment. Another tip I want to share with you that if you do not use any application that comes with your phone do not update it, this way you will save space on your phone, as these are constantly being updated. Good friends, I hope that with my experience I can help many who, like me, have doubts in doing so.
les puedo decir que es un proceso muy fácil, solo que les recomiendo actualizar de forma oficial y si esto ya no está permitido no debemos hacerlo desde otras que no sean oficiales porque nuestro teléfono podría funcionar mal con respecto al sistema. Al final solo necesitaba actualizar las aplicaciones del sistema por defecto, y así lo hice, y de esta manera ya había actualizado mi teléfono hasta ese momento. Otro consejo que quiero compartir con ustedes es que si no usan alguna aplicación que viene con su teléfono no la actualicen, de esta manera ahorrarán espacio en su teléfono, ya que estas se actualizan constantemente. Buenas amigos, espero que con mi experiencia pueda ayudar a muchos que, como yo, tienen dudas en hacerlo.
The images are screenshots from my phone.
Las imágenes son capturas de pantalla de mi teléfono.

Banner elaborado por mi en PowerPoint 1, 2. 3, 4.