ESPAÑOL
Hola querida comunidad de Hive, hoy quiero compartir mi experiencia con una plataforma, que en estos tiempos de pandemia, me ha ayudado a estar comunicada con mis amigos, y así acercarme cada día más a este mundo cambiante, en el tema de la tecnología.
ENGLISH
Hello dear Hive community, today I want to share my experience with a platform, that in these times of pandemic, has helped me to be communicated with my friends, and thus get closer every day to this changing world, in the subject of technology.
---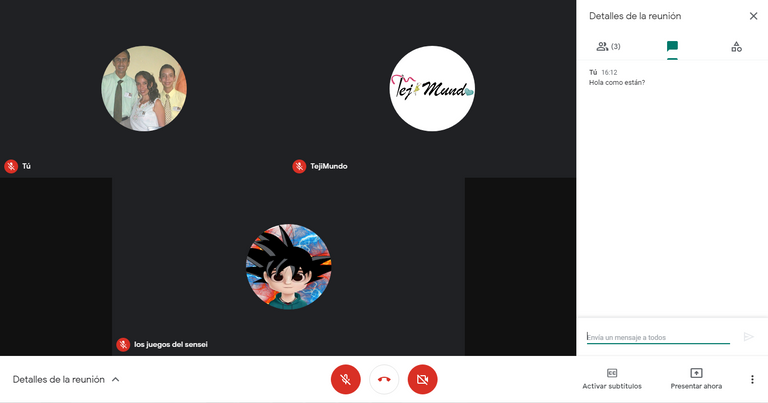 Hablo de la plataforma Google meet, muy útil en estos tiempos de pandemia, un servidor creado por Google para realizar videollamadas. Una plataforma muy fácil de usar que requiere que tengas tu cuenta de Gmail abierta en tu PC o teléfono inteligente. Llegué a ella a través de unos amigos que me la recomendaron y aunque al principio no sabía cómo usarla, es muy sencilla y fácil de aprender todas sus funciones.
I am talking about the Google meet platform, very useful in these times of pandemic, a server created by Google to make video calls. A very easy to use platform that requires you to keep your Gmail account open on your PC or smartphone. I came to it through friends who recommended it to me and although at first I did not know how to use it, it is very simple and easy to learn all its functions.
---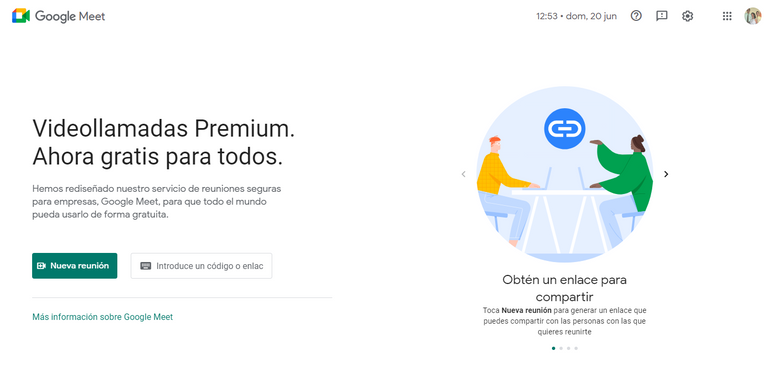 Fuente
Lo bueno de la plataforma es que no necesitamos descargarla, sólo hay que buscarla en el navegador y listo, todos los que han creado una cuenta de Gmail tienen acceso a las videollamadas que ofrece esta plataforma. Para mí es una experiencia ideal en estos tiempos ya que he podido comunicarme con amigos de Colombia, Perú, Ecuador, México, España e Italia. Lo maravilloso de esta plataforma es que te permite compartir videos e incluso tu pantalla con las personas con las que te conectas y por ahora, debido a la pandemia, es gratuita y puedo usarla todo el día.
The great thing about the platform is that we do not need to download it, just search for it in the browser and that's it, everyone who has created a Gmail account has access to the video calls offered by this platform. For me, this is an ideal experience in these times since I have been able to communicate with friends from Colombia, Peru, Ecuador, Mexico, Spain and Italy. The wonderful thing about this platform is that it allows you to share videos and even your screen with the people you connect with and for now, due to the pandemic, it is free and you can use it all day long.
---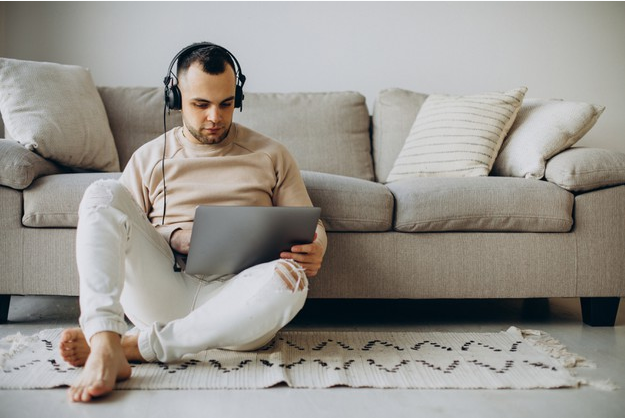 Fuente
Para mi primer encuentro fue muy fácil, entré a la plataforma, ahí indiqué si quería iniciar una nueva reunión y al hacer clic ahí, de esta manera la plataforma generó un enlace, que luego pude reenviar a mis amigos y listo, así de esta manera estuve cerca de ellos, guardé el enlace, para usarlo en futuros encuentros, algo que me gustó es que cuando haces la reunión, tú decides si admites o no a alguien a tu conversación.
For my first meeting it was very easy, I entered the platform, there I indicated if I wanted to start a new meeting and when I clicked there, in this way the platform generated a link, which I could then forward to my friends and ready, so in this way I was close to them, I saved the link, to use it in future meetings, something I liked is that when you make the meeting, you decide whether or not to admit someone to your conversation.
---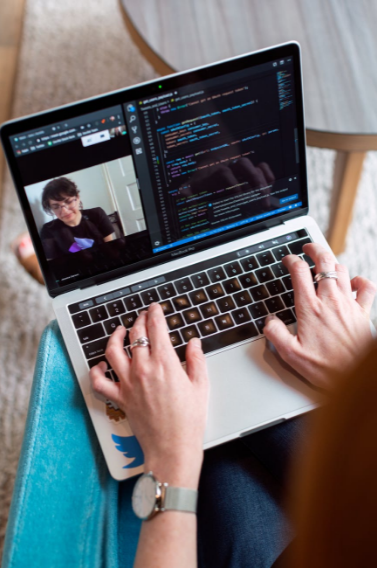 Fuente
Una plataforma en la que me he sentido muy cómodo, de hecho, me permite enviar mensajes sin interrumpir a la persona que está hablando. Google Meet me ha permitido tener una ventana abierta a todas las personas importantes para mí, en estos tiempos difíciles, una herramienta que recomiendo si queremos estar comunicados con las personas que amamos.
A platform in which I have felt very comfortable, in fact, it allows me to send messages without interrupting the person who is talking. Google Meet has allowed me to have an open window to all the people important to me, in these difficult times, a tool that I recommend if we want to be communicated with the people we love.
---
La foto de portada es una captura de pantalla tomada desde mi computador.
The cover photo is a screenshot taken from my computer.
Thank you for reading

@loboblanco