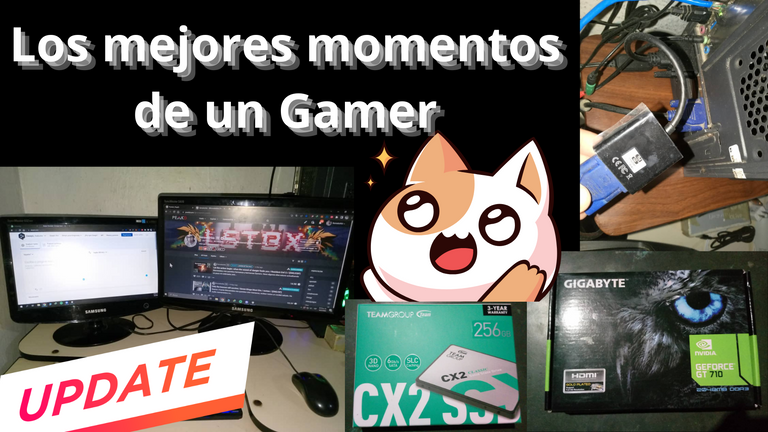 Todos en algún momento de nuestras vidas hemos pasado por maravillosos momentos en el mundo de los videojuegos, pero más allá de los juegos hay otra emoción, algo que nos hace llenarnos de fuerzas y con muchas más ganas que jugar día a día.
Efectivamente, hablo de las actualizaciones y no la de los videojuegos, sino a ¡nuestros equipos de vicio!.
Hoy vengo a compartirles la actualización que he tenido hasta los momentos en mi ordenador, para los que me conocen sabrán que soy más de ordenadores de mesa que a las consolas, pero eso no quiere decir que uno sea mejor que el otro, sino que me gusta y es algo a lo que te sientes satisfecho con ello.
All of us at some point in our lives have gone through wonderful moments in the world of video games, but beyond the games there is another emotion, something that makes us full of strength and with much more desire than playing day by day.
Indeed, I'm talking about updates, and not to video games, but to our vice equipment!


Today I come to share with you the update that I have had so far on my computer, for those who know me you will know that I am more of desktop computers than consoles, but that does not mean that one is better than the other, but I like it and it is something that you feel satisfied with it.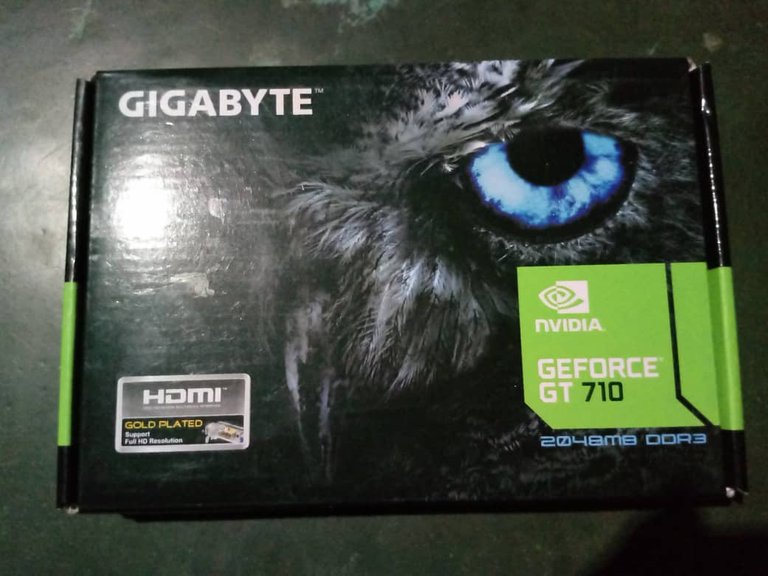 El primero de ellos y fue porque estaba algo limitado por mi fuente de poder, fue comprarle una tarjeta de video de 2 GB, por supuesto mi ordenador es nuevo y cuando lo compre le había invertido 2 memorias RAM DD3 de 8 GB haciendo un total de 16 GB de RAM, puesto que había ya comenzado a notar una gran diferencia en los videojuegos, por supuesto no tenía tarjeta de video en ese momento, así que quería comenzar con las memorias RAM.
Después compré la tarjeta de video de la marca NVIDIA GEFORCE GT 710, donde fue que comencé a ver la verdadera diversión y diferencia en el rendimiento de mi ordenador, al principio todo estaba genial, hasta que comencé a notar un pequeño fallo en mi Windows, así que dure meses pensando que hace y reiniciar todo, pero tenía mucha información almacenada que no quería perder, ya que requería de formatear el disco duro HDD para poder meter el nuevo Windows, porque no quería tener dos en una misma unidad.
The first of them and it was because I was somewhat limited by my power supply, was to buy a 2 GB video card, of course my computer is new and when I bought it I had invested 2 RAM memories DD3 of 8 GB making a total of 16 GB of RAM, since I had already begun to notice a big difference in video games, of course I had no video card at that time, so I wanted to start with the RAM memories.



Then I bought the video card of the brand NVIDIA GEFORCE GT 710, where was that I began to see the real fun and difference in the performance of my computer, at first everything was great, until I began to notice a small failure in my Windows, so I lasted months thinking what to do and restart everything, but I had a lot of stored information that I did not want to lose, as it required to format the HDD hard drive to put the new Windows, because I did not want to have two in the same unit.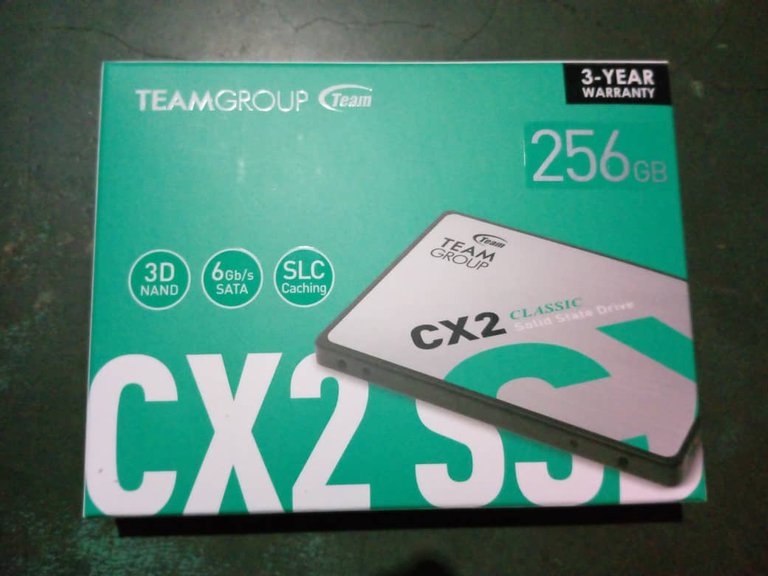 Así que tiempo después pensé en comprar y probar un disco SSD y ver que tan bueno era, según las críticas de muchos usuarios, algo que me había dado mucha curiosidad.
Dicha curiosidad fue dada por un familiar quien tenía un ordenador de 4 GB de memoria RAM sin tarjeta de video con un disco duro SSD, nada más con notar en lo rápido que arrancaba su Windows en su ordenador y lo lenta que era la mía al iniciarse con teniendo 16 GB de RAM con 2 GB de video era algo que me dejo superpensativo y no lo podía creer.
Hasta que me compre uno de la marca TEAM GROUP, marca que desconocía y que a pesar de no conocerla bien quise comprarla porque era lo que abia ese momento, así que instale todo lo importante en ella, entre ellos el nuevo Windows y algunos juegos y la verdad que la rapidez era demasiado inmensa, incluso había juegos que antes no podía jugar porque las FPS eran muy mínimas, pero ahora con este nuevo disco duro puedo jugar más juegos con mejores gráficos y grandes historias, pero mi mente deseaba algo más allá para aprovechar al máximo esta tarjeta de video.
So some time later it occurred to me to buy and test an SSD disk and see how good it was, according to the opinions of many users, something that had given me a lot of curiosity.
This curiosity was given to me by a relative who had a computer with 4 GB of RAM without video card with an SSD hard drive, nothing more to notice how fast Windows booted on your computer and how slow it was mine to boot with 16 GB of RAM with 2 GB of video was something that left me super thoughtful, and I could not believe it.


Until I bought one of the TEAM GROUP brand, a brand that I did not know and despite not knowing it well I wanted to buy it because it was what I had at that time, so I installed everything important on it, including the new Windows and some games and the truth that the speed was too immense, even there were games that before I could not play because the FPS were very minimal, but now with this new hard drive I can play more games with better graphics and great stories, but my mind wanted something more beyond to make the most of this video card.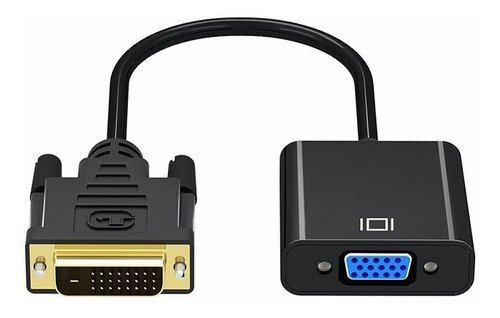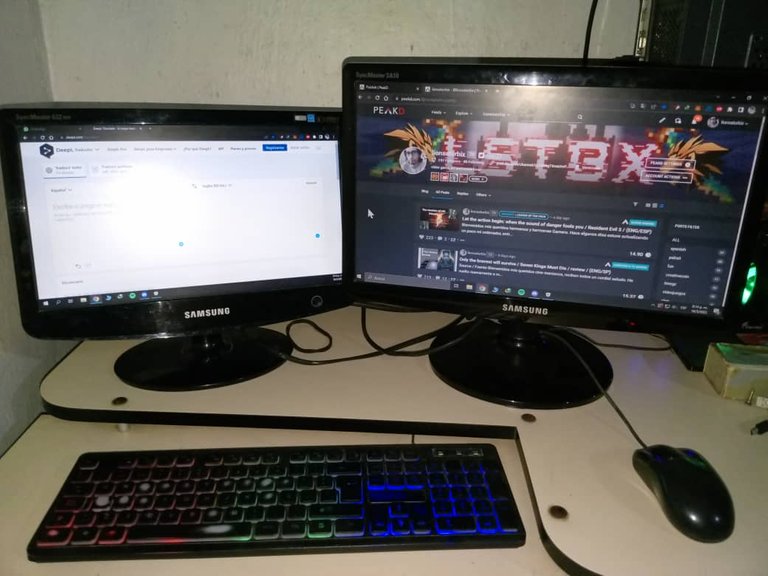 Fue en ese momento cuando compre el disco duro SSD donde comencé a preguntar y a hablar con algunos técnicos de confianza, e incluso amigos que tengo en la plataforma, quienes me hablaron de tener un monitor extra, no es para los juegos, sino para tener más rapidez al hacer mis trabajos, tema que me pareció bastante interesante y quise probar.
Para poder tener un segundo monitor necesitaba comprar un cable de DVI a VGA, ya que uno de los puertos del VGA estaba ocupada y necesitaba el DVI para poder tener otro monitor operativo, así que lo compre y es en ese momento donde sentía que podría lograr cosas el doble de rápido que antes.
Por ejemplo en una pantalla haces tu trabajo y en otra vez monitos chinos jajaja.
La conexión de este cable fue sumamente fácil, solo tenía que conectar el de DVI a si respectiva parte y posteriormente conecta el de VGA a la misma y listo, más con una configuración en el ordenador, en este caso Windows 10 sería tocar el botón Windows+P y darle la opción de ampliar y listo, sinceramente no soy técnico en esto y para mí era algo nuevo, pero el quién busca encuentra y lo hice de esta manera según la ayuda que he tenido de algunos amigos.
It was at that time when I bought the SSD hard drive where I started to ask and talk to some trusted technicians, and even friends I have on the platform, who told me about having an extra monitor, not for games, but to have more speed to do my work, a topic that I found quite interesting, and I wanted to try.


In order to have a second monitor I needed to buy a DVI to VGA cable, since one of the VGA ports was busy, and I needed the DVI to have another monitor operational, so I bought it, and it is at that moment where I felt that I could achieve things twice as fast as before.


For example, on one screen you do your work and on another screen you do Chinese monkeys hahaha.
The connection of this cable was extremely easy, I just had to connect the DVI to its respective part and then connect the VGA to the same and ready, plus with a configuration on the computer, in this case Windows 10 would be to touch the Windows + P button and give the option to expand and ready, honestly I'm not technical in this and for me, it was something new, but who seeks finds and I did it this way according to the help I've had from some friends.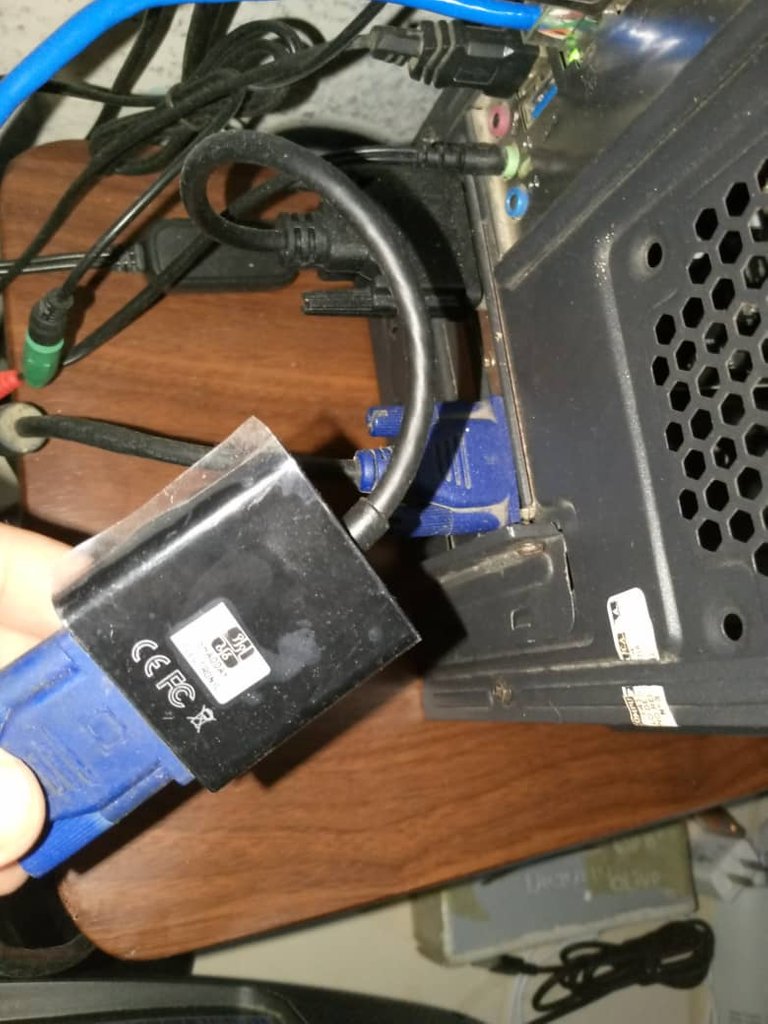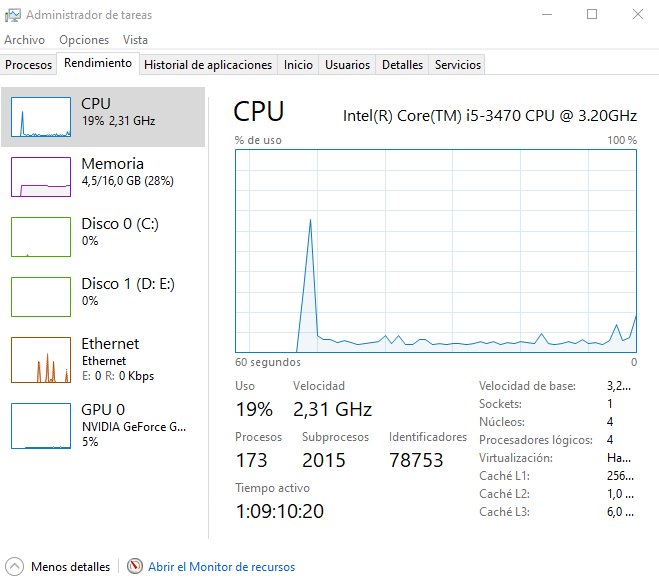 Ahora viene la gran pregunta.
¿He notado cambios positivos con esta actualización?
¡Por supuesto que sí!
La diferencia es grandísima y no solo por poder jugar a más juegos que requieran de más recursos, sino también el hecho de poder trabajar de manera mucho más rápida en mi ordenador, es increíble la rapidez de como lo hacía antes a ahora.
El rendimiento según mi administrador de tareas lo veo según un poco de mi ignorancia, bastante bien en comparación a antes que tenía muchas líneas hechas un desastre jajaja.
Pero estoy muy contento de todo lo que he logrado en estos 5 meses que llevamos de este año, todo lo bueno toma su tiempo y todo esfuerzo tendrá sus frutos más adelante, y me siento supercontento con esta gran actualización, lo siguiente que actualizaré será mi fuente de poder para comprar una tarjeta de video más potente, una de 4 u 8 GB si existen las posibilidades, ya para las memorias RAM en la generación que es mi ordenador no existe más de 8 Gb, pero con una tarjeta de video más potente podré hacer muchas más cosas.
Muchas gracias por llegar hasta aquí en mi publicación, espero que sea de tu agrado, hasta la próxima amigos Geek.
Now comes the big question.
Have I noticed positive changes with this update?
Of course, I have!
The difference is huge and not only to be able to play more games that require more resources, but also the fact of being able to work much faster on my computer, it's amazing how fast it was before to now.


The performance according to my task manager I see it according to a little of my ignorance, quite well compared to before I had many lines made a mess hahaha.


But I am very happy with everything I have achieved in these 5 months that we have this year, everything good takes time and every effort will have its fruits later, and I feel very happy with this great update, the next thing I will update will be my power supply to buy a more powerful video card, one of 4 or 8 GB if there are possibilities, and for RAM memories in the generation that is my computer there is no more than 8 Gb, but with a more powerful video card I will be able to do many more things.


Thank you very much for coming this far in my publication, I hope you like it, until next time Geek friends.
---
Discord LionSaturBix#7545

Source / Fuente Castle of Castlevania
Source / Fuente Terra Blade of Terraria
Los separadores son de mi autoría, las imágenes en referencia tienen su fuente, las ediciones del GIF son creados por mí.
The separators are of my authorship, the images in reference have their source, the GIF editions are created by me ***.
Programas que utilicé para crear mi diseño es este:
This is the program I used to create my design:
Gif y portada cortesía de Canva
Gif and cover courtesy of Canva
Traducido por Deepl