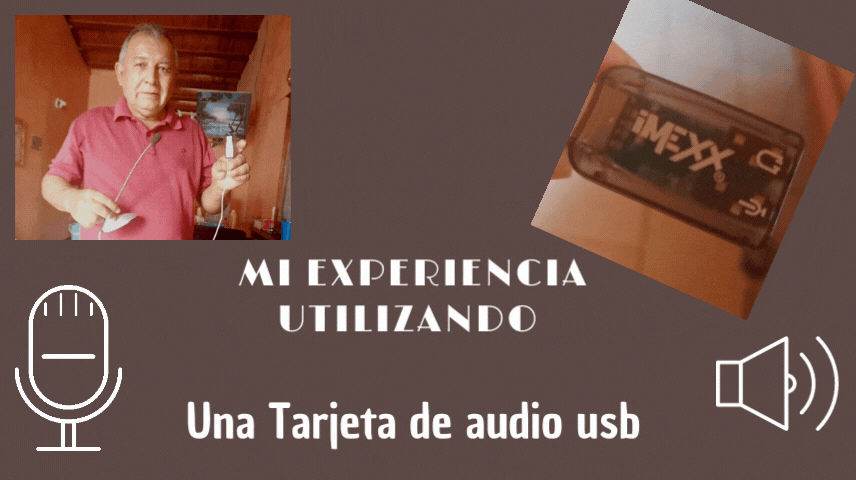 Imagen editada por @jemima1996 desde canva
¿Cómo están amigos? Esperamos que esta semana la pasen bien y con muchas ganas de seguir trabajando, ya que el esfuerzo que hacemos cada uno de nosotros es importante para seguir adelante esforzándonos cada día por estar activo en esta plataforma. Lo que con alegría quiero contarles en esta ocasión, es la alegría de contar de nuevo con audio en mi equipo para poder participar de nuevo con ustedes en las curaciones y muchas otras actividades importantes.
Como se habran dado de cuenta últimamente me estaba fallando el audio de mi equipo y no podía participar en la curación de mi post y esto me hacía sentir mal porque las veces que lo intente o no se escuchaba o se oía un sonido con mucha bulla y a veces se escuchaba una voz muy mínima lo cierto es que ustedes no entendían lo que yo les estaba diciendo sobre mi publicación por esto fue que no participe en varias oportunidades.
Pero como les dije al principio estoy alegre porque pude solucionar el problema por pude adquirir un aparato que, aunque es muy pequeño me pudo resolver el problema del audio porque ya lo probe y pude escuchar el sonido y note que se escucha claro, entonces espero poder utilizarlo desde hoy con ustedes para presentar esta publicación.
How are you friends? We hope you are having a good time this week and with a lot of desire to continue working, since the effort that each one of us makes is important to continue striving every day to be active on this platform. What I want to tell you with joy on this occasion, is the joy of having audio in my team to be able to participate again with you in the healing and many other important activities.
As you may have noticed lately the audio of my equipment was failing and I could not participate in the healing of my post and this made me feel bad because the times I tried or not heard or heard a sound with a lot of noise and sometimes you could hear a very minimal voice, the truth is that you did not understand what I was telling you about my publication for this was that I did not participate on several occasions.
But as I said at the beginning I am happy because I could solve the problem because I could acquire a device that, although it is very small, could solve the audio problem because I tried it and I could hear the sound and I noticed that it is clear so I hope to use it from today with you to present this publication.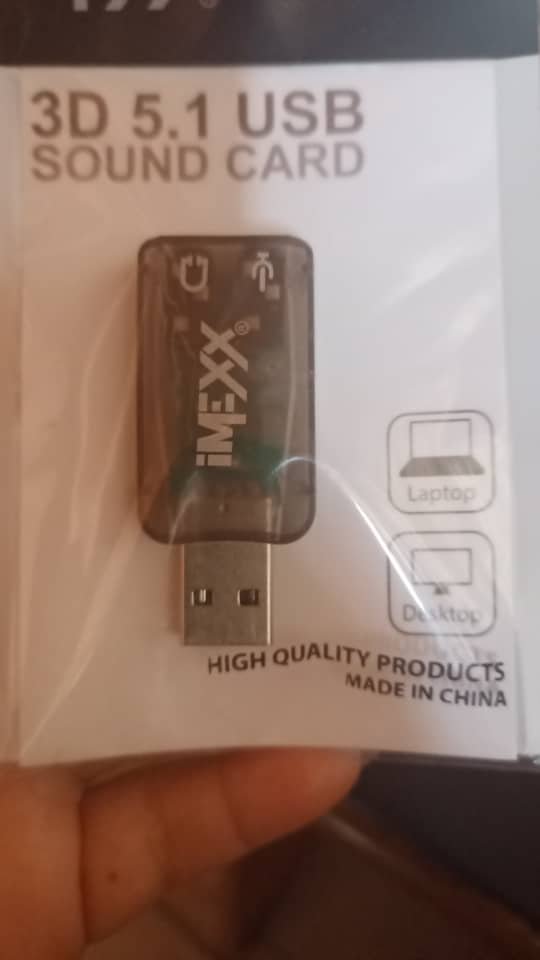 Se trata de un aparato parecido a un pendrive que se puede instalar a mi equipo, el cual tiene 2 entradas para conectar micrófono y corneta y listo porque era que no había manera de poner a funcionar el audio porque se había dañado algunas resistencia de las salidas del sonido de mi computadora, por esto no contaba con audio, pero este aparato tan pequeño que se conoce como IMEXX 3D5.1USB se puede instalar en una de las salidas del CPU y consigues el audio que necesitas en mi caso funcionó ya lo he probado hablando por Telegram y se escucha bien.
Tenemos que siempre buscar la manera de tener las cosas necesarias en este caso todo lo necesario para poder trabajar más tranquilos y que no allá problemas para cuando vayamos a presentar nuestra publicación y que nos puedan evaluar bien y nosotros podamos expresar las ideas de nuestro contenido de las publicaciones que escribimos y nos las puedan corregir
Como vemos este aparato pequeño les puede resolver el problema de audio a muchos y no es tan caro es bastante económico y te beneficia mucho porque no te vas a quedar sin poder participar en los programas de curación por no tener el audio adecuado y bueno siento la alegría, así como la siento yo en estos momentos por tener la oportunidad de participar con mi publicación y mis comentarios que puedo dar gracias a este pequeño dispositivo
It is a device similar to a flash drive that can be installed on my computer, which has 2 inputs to connect microphone and horn and ready because it was that there was no way to put the audio to work because it had damaged some resistance of the sound outputs of my computer, so I had no audio, but this small device that is known as IMEXX 3D5.1USB can be installed on one of the outputs of the CPU and get the audio you need in my case it worked and I've tried talking on Telegram and listens well.
We must always look for ways to have the necessary things in this case everything we need to be able to work more relaxed and that there are no problems when we go to present our publication and we can evaluate well and we can express the ideas of our content of the publications we write and we can correct them.
As we can see this small device can solve the audio problem to many and it is not so expensive, it is quite economical and it benefits you a lot because you will not be unable to participate in the healing programs for not having the right audio and well I feel the joy, as I feel right now for having the opportunity to participate with my publication and my comments that I can give thanks to this small device.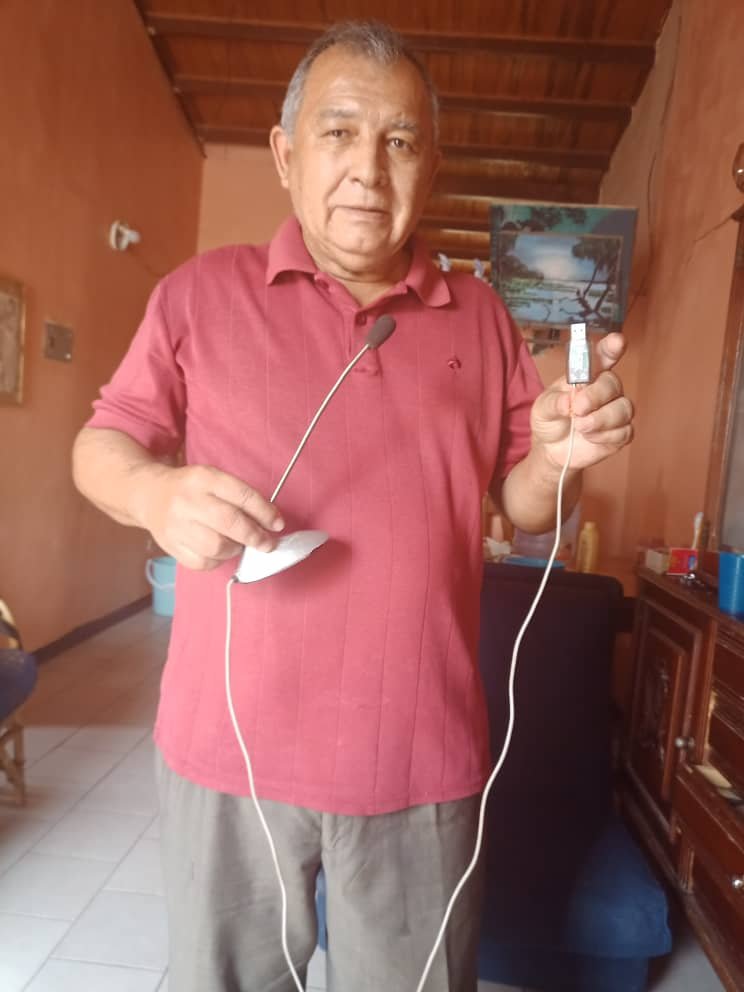 Espero les haya gustado a ustedes también esta idea que tuve yo y que también les puede servir a ustedes si tienen problemas con el audio de su equipo y le puedan sacar el máximo provecho a todos los programas que se realizan en esta plataforma. Lo importantes es estar preparado a la hora de nuestra participación entonces queremos tener nuestros equipos bien preparados para cuando nos toque el turno y no quedarnos por fuera y sentirnos mal por no poder participar seles quiere mucho cuídense y estén siempre preparados para seguir trabajando se despiden de ustedes como siempre sus amigos @liliayjuvenal.
I hope you also liked this idea that I had and that can also serve you if you have problems with the audio of your team and you can get the most out of all the programs that are made on this platform. The important thing is to be prepared at the time of our participation then we want to have our teams well prepared for when it is our turn and not be left out and feel bad for not being able to participate seles loves you very much take care and always be prepared to continue working I say goodbye to you as always your friends @liliayjuvenal.