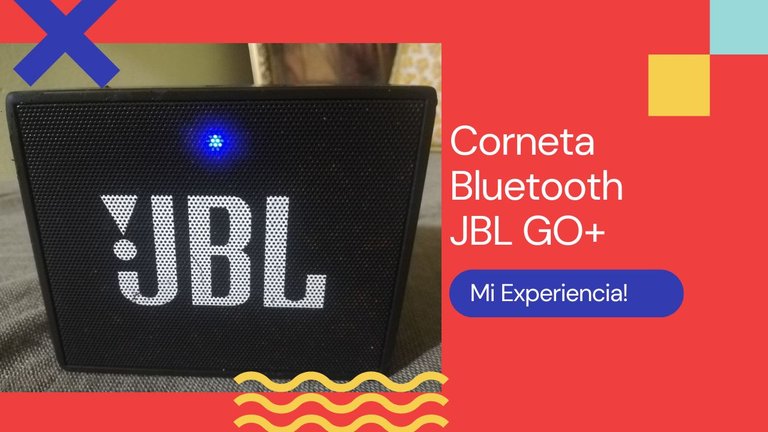 ---
To read in English click HERE
---
Saludos a toda la comunidad de Geek Zone! Hoy les vengo a hablar acerca de una de mis pertenencias más preciadas y que me han sido más útiles a la hora de entretenerme ya sea usando mi celular o mi laptop, se trata de mi corneta JBL Go+, y es que muchas veces los teléfonos y computadoras portátiles cuentan con cornetas bastante deficientes, ya sea porque no alcancen a tener un buen volumen y por ende sea difícil escucharlos, o más directamente por la calidad de su sonido, ya que no son dispositivos principalmente pensados para esa finalidad, porque aunque sean necesarias, son algo secundario, por lo que suelen dejar que desear, como es mi caso.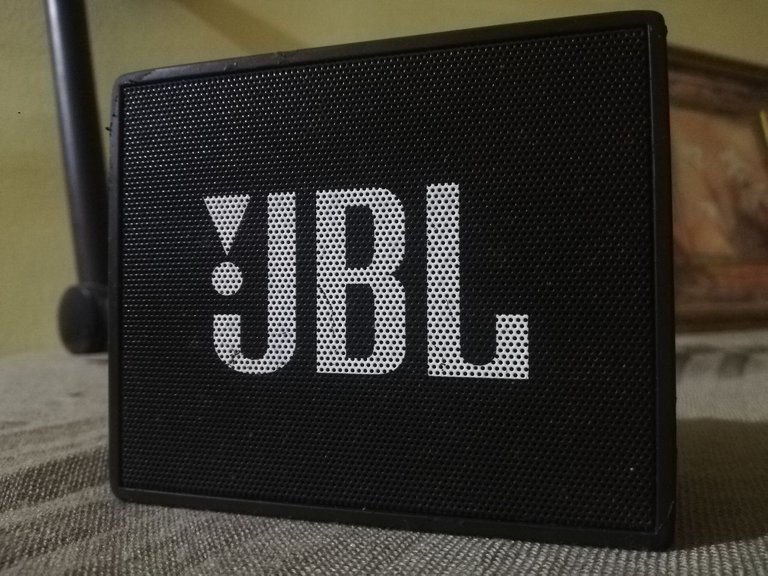 El parlante de mi celular es bastante deficiente en cuanto a sus bajos que casi no resaltan, resaltando más en agudos y eso causa un desequilibrio, y en mi laptop sucede lo mismo, bajos bastante pobres, y algo que ambos tienen es que no suenan nada fuerte por lo que si quiero oír algo no puede ser en un lugar ruidoso, y a mi laptop hay que sumarle la mala ubicación de sus cornetas, otras laptops que he visto tienen las cornetas en el espacio que hay entre la pantalla y el teclado, pero las de la mía vienen por alguna razón debajo de la laptop, lo cual considero que atrapa el sonido y no permite que se oiga bien.
Y un día, mi hermana Estefanía nos dio unos regalos entre los cuales estaba esta corneta para mí, como ya les dije, la JBL Go+, la cual en cuanto vi me sentí feliz, agradecido y aliviado porque ya se hacía bastante estresante querer ver un video, una serie, película, anime, escuchar música o lo que sea con el deficiente sonido de los parlantes de mi pc y celular, y esta corneta fue la medicina perfecta para ello. La JBL Go+ es una corneta portátil de bluetooth, y ya se sabe la gran comodidad que puede brindar la ausencia de cables, y el rango de distancia que puede tener con el dispositivo es bastante decente, esta además cuenta con una calidad de audio excelente, muy equilibrada en bajos, medios y agudos, con muy buen volumen sin llegar a saturar. Tiene además una entrada para cable Jack 3.5mm, que sirve para aquellos dispositivos que no tengan bluetooth (De hecho así la uso en mi computador), y una de Micro Usb para la carga, trayendo incluido por supuesto su propio cable. Además su diseño a mí en lo particular me gusta bastante (Debo resaltar su resistencia, ya que algunas veces no la he cuidado bien jajaja), tengo una de color negro, con el su conocido logo en grandes letras blancas en la salida del parlante y también detrás, y en la parte superior tiene botones para apagarla y encenderla (el cual lamentablemente hundí un poco una vez), activar el bluetooth, bajar y subir el volumen y un botón de play/pause.
| | |
| --- | --- |
| | |
| --- | --- |
Creo que la única deficiencia que podría destacar de esta corneta es que, al ser una única corneta, pues el audio es mono, por lo que se pierde el dinamismo que puede otorgar tener cornetas estéreo, pero la verdad es que mi experiencia no ha sido dañada en lo absoluto por este detalle por su calidad, y aunque yo le doy un uso puramente de entretenimiento, esta puede ser usada incluso por productores para pruebas de sonido mono.
Definitivamente les recomiendo este tipo de parlantes de esta marca que de hecho es bastante reconocida. Cuéntenme en los comentarios si la tomarían en cuenta, y si ya tienen una así, díganme cómo ha sido su experiencia! Gracias por leerme!
---
Fotos de mi autoría tomadas con mi celular Huawei Mate 10 Lite. Banner hecho con la app Canva.
---
---
English
Bluetooth Speaker JBL Go+ | Experience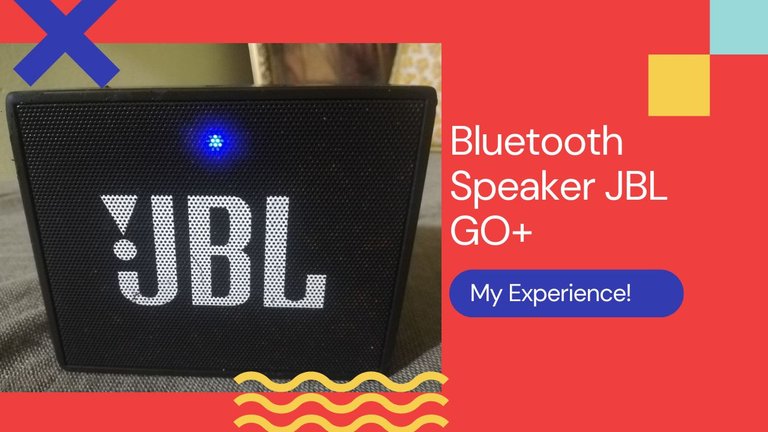 Greetings to the entire Geek Zone community! Today I come to talk about one of my most precious belongings and that have been most useful when it comes to entertain me either using my cell phone or my laptop, this is my JBL Go+ speaker, and is that many times phones and laptops have quite poor speakers, either because they do not reach a good volume and therefore it is difficult to hear them, or more directly because of the quality of their sound, since they are not devices primarily intended for that purpose, because although they are necessary, they are something secondary, so they tend to leave something to be desired, as in my case.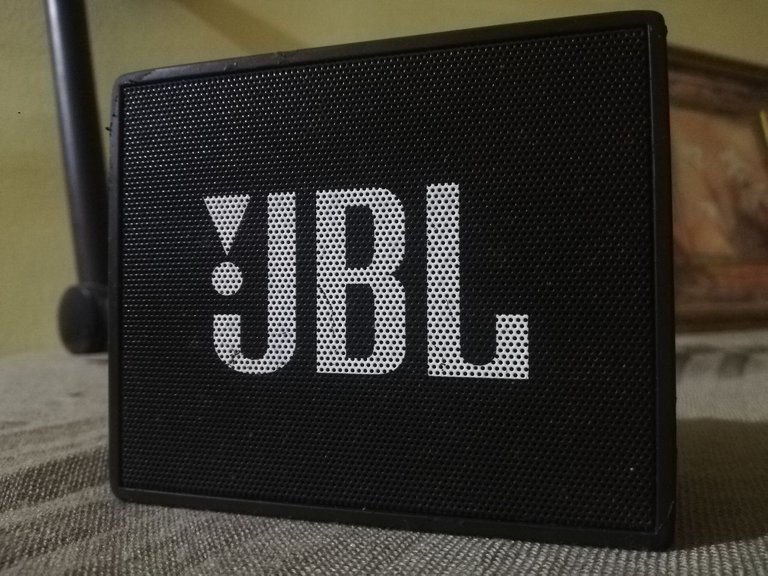 The speaker of my cell phone is quite deficient in terms of its bass that almost do not stand out, highlighting more in treble and that causes an imbalance, and in my laptop the same thing happens, quite poor bass, and something that both have is that they do not sound loud at all so if I want to hear something can not be in a noisy place, and to my laptop has to be added the bad location of its speakers, other laptops I have seen have the speakers in the space between the screen and the keyboard, but mine come for some reason under the laptop, which I consider that traps the sound and does not allow it to be heard well.
And one day, my sister Estefania gave us some gifts among which was this speaker for me, as I told you, the JBL Go+, which as soon as I saw it I felt happy, grateful and relieved because it was stressful enough to want to watch a video, a series, movie, anime, listen to music or whatever with the poor sound of the speakers of my pc and cell phone, and this speaker was the perfect medicine for it. The JBL Go+ is a portable bluetooth speaker, and you already know the great comfort that can provide the absence of cables, and the range of distance you can have with the device is quite decent, this also has an excellent audio quality, very balanced in bass, mid and treble, with very good volume without saturating. It also has an input for 3.5mm Jack cable, which serves for those devices that do not have Bluetooth (in fact that's how I use it on my computer), and a Micro Usb for charging, bringing included of course its own cable. In addition its design to me in particular I like it quite a lot (I must highlight its resistance, since sometimes I have not taken good care of it hahaha), I have a black one, with its well-known logo in large white letters on the speaker output and also behind, and at the top has buttons to turn it off and on (which unfortunately I sunk a little once), activate the bluetooth, lower and raise the volume and a play/pause button.
| | |
| --- | --- |
| | |
| --- | --- |
I think the only deficiency that could highlight this speaker is that, being a single speaker, the audio is mono, so you lose the dynamism that can give stereo speakers, but the truth is that my experience has not been damaged at all by this detail for its quality, and although I give it a purely entertainment use, this can be used even by producers for mono soundchecks.
I definitely recommend this type of speakers of this brand that is actually quite recognized. Tell me in the comments if you would take it into account, and if you already have one like this, let me know how your experience has been! Thanks for reading me!
---
Photos of my authorship taken with my Huawei Mate 10 Lite cellphone. Banner made wuth the Canva app.