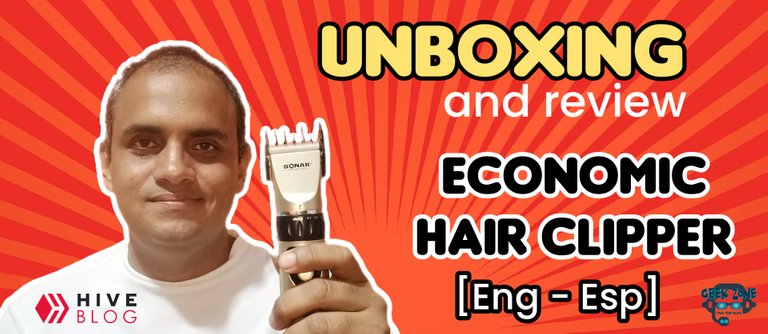 Imagen elaborada por mi en Background Eraser app
Español
En mis planes a corto plazo no estaba está adquisición, pero en vista de que en mi ciudad es complicado conseguir una peluquería para cortarse el pelo, y de que ya estoy algo descuidado, me ví en la obligación de realizar esta compra, una máquina eléctrica recargable para cortar pelo.
English
This acquisition was not in my short-term plans, but given that in my city it is difficult to find a hairdresser to cut my hair, and that I am already somewhat careless, I was forced to make this purchase, a rechargeable electric hair clipper.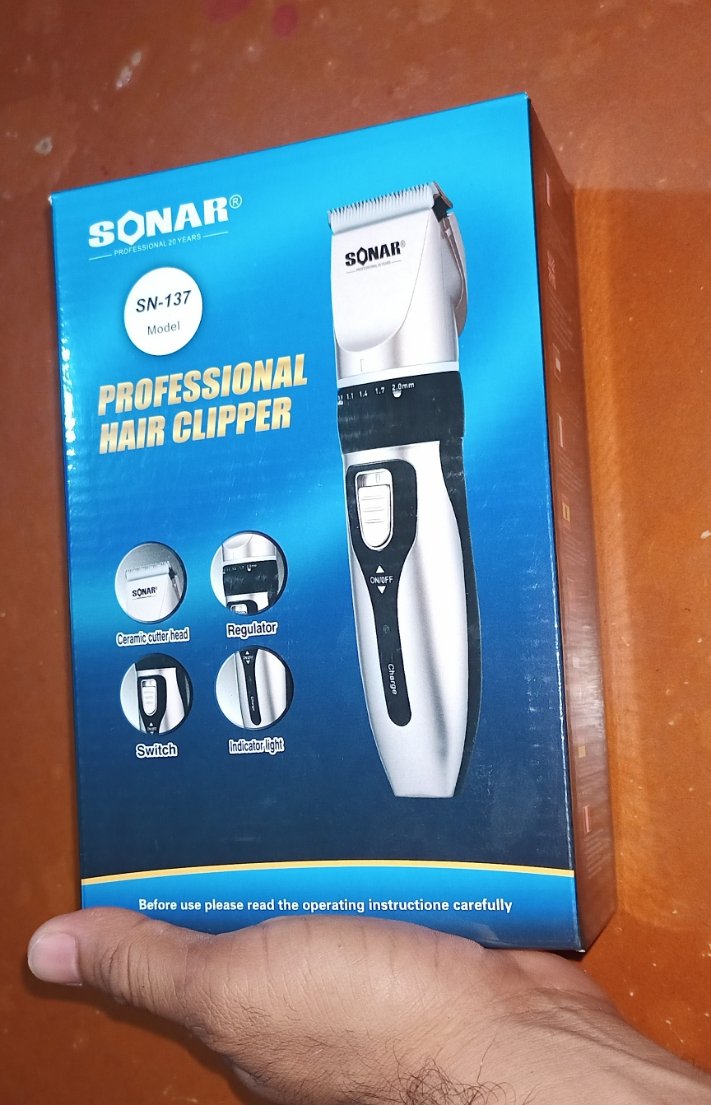 Español
Esta máquina me costó aproximadamente 13 HBD, al precio actual del mercado, considerando que un corte de pelo cuesta 6 HBD, no me parece una mala inversión.
English
This machine cost me approximately 13 HBD, at the current market price, considering that a haircut costs 6 HBD, it does not seem like a bad investment.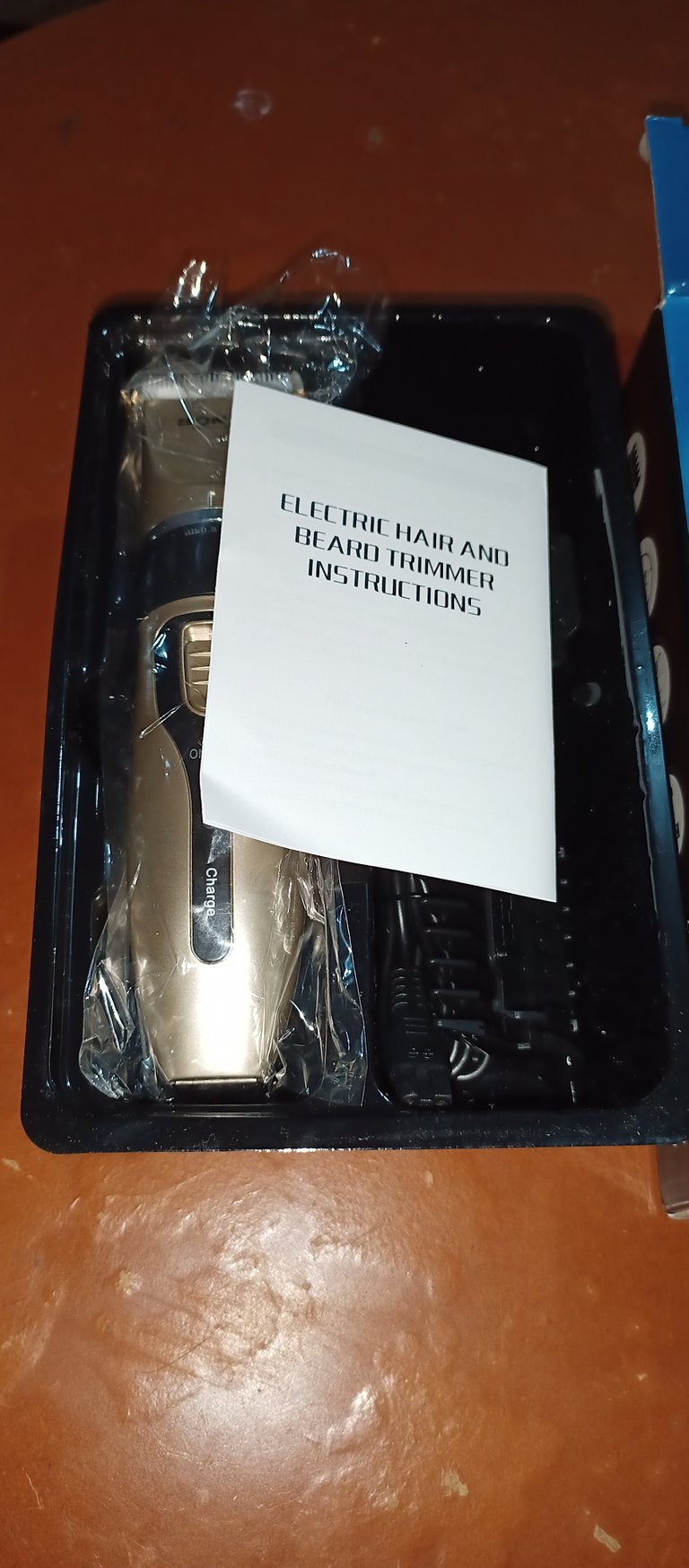 Español
Al abrir la caja vemos que trae el producto con sus accesorios y el manual de instrucciones (algo incompleto).
English
When opening the box we see that the product comes with its accessories and the instruction manual (somewhat incomplete).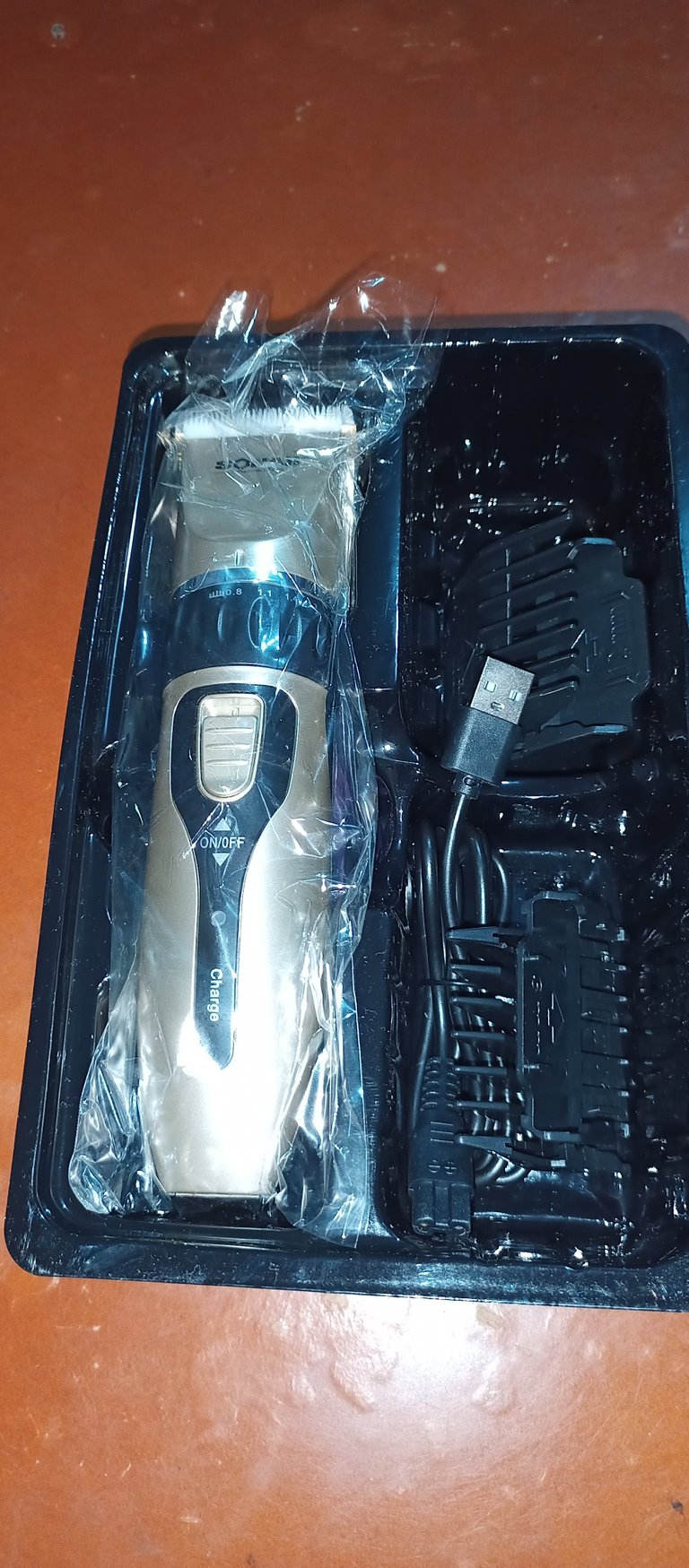 Español
Así luce la máquina con sus accesorios, en total contiene 4 peines, la máquina, una batería recargable, el cable de carga, 1 brocha y un frasquito de lubricante. Algo interesante es que el ajuste de las cuchillas está al lado del botón de encendido, en una rueda al rededor de la máquina.
English
This is what the machine looks like with its accessories, in total it contains 4 combs, the machine, a rechargeable battery, the charging cable, 1 brush and a bottle of lubricant. Something interesting is that the adjustment of the blades is next to the power button, on a wheel around the machine.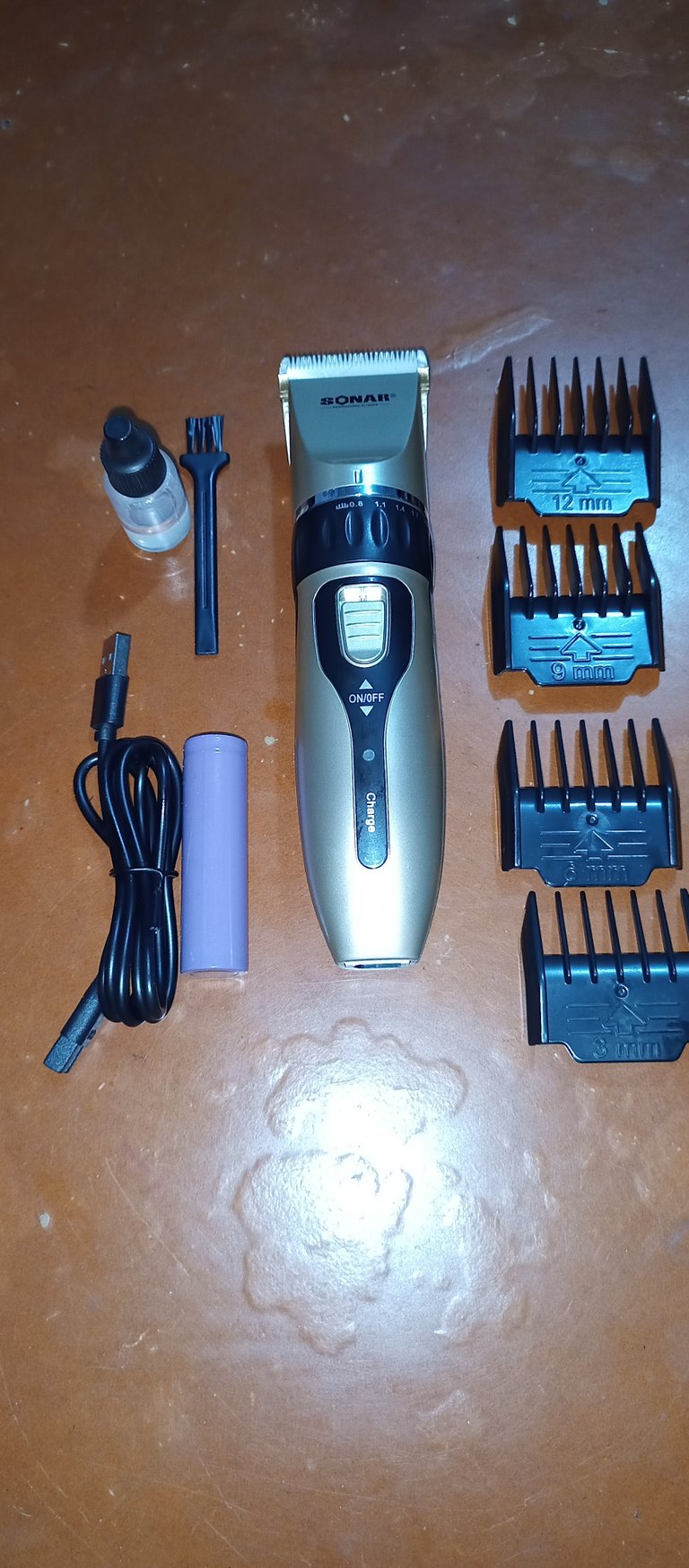 Español
Estas son algunas fotos donde se observan los detalles de la máquina, al tacto se siente de buena calidad
English
These are some photos where the details of the machine are observed, to the touch it feels of good quality.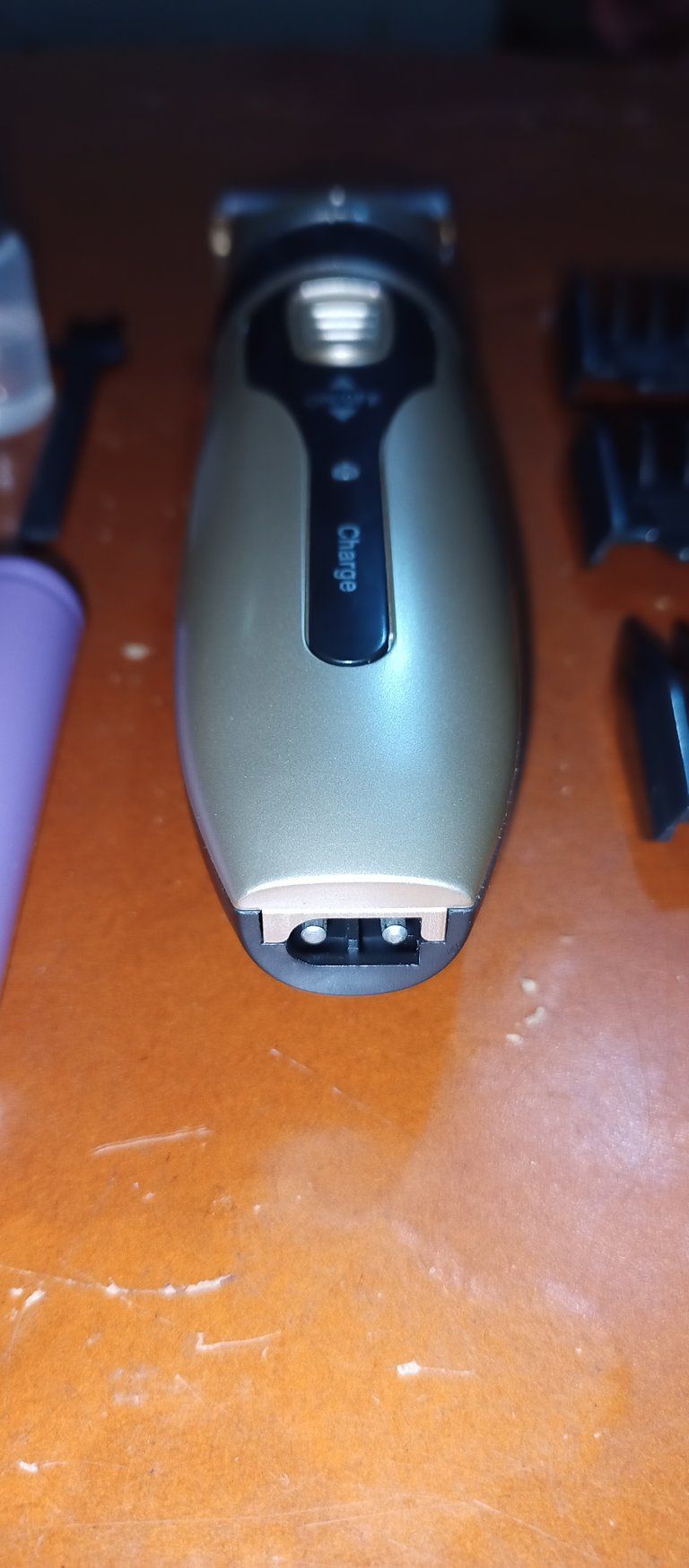 Aquí se puede observar el puerto de carga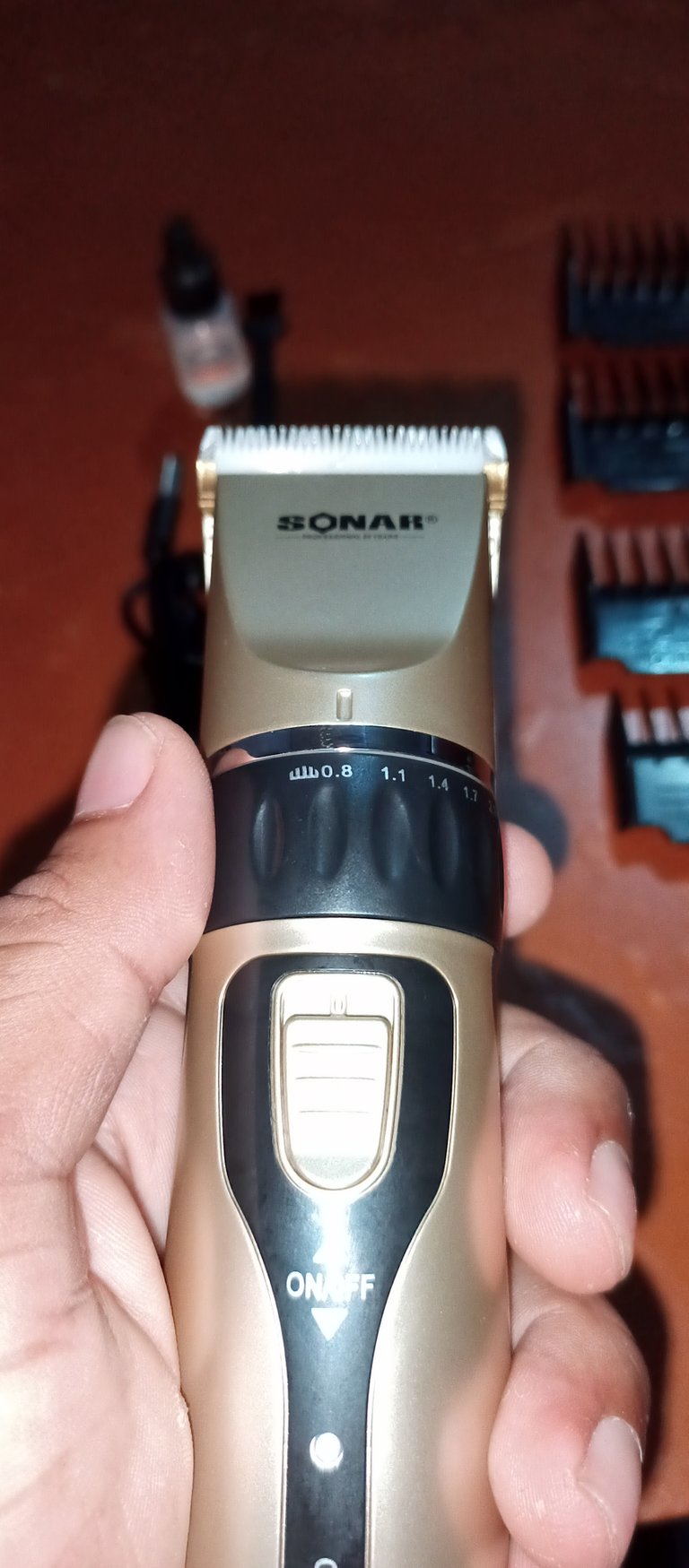 Aquí se puede observar el botón de encendido y el ajustador
Insertando la Batería / Inserting the Battery
Español
Para esto retiramos la tapa ubicada en la parte posterior de la máquina e insertamos la batería, al finalizar cerramos nuevamente la máquina. Es algo muy fácil e intuitivo de hacer.
English
For this we remove the cover located on the back of the machine and insert the battery, at the end we close the machine again. It is something very easy and intuitive to do.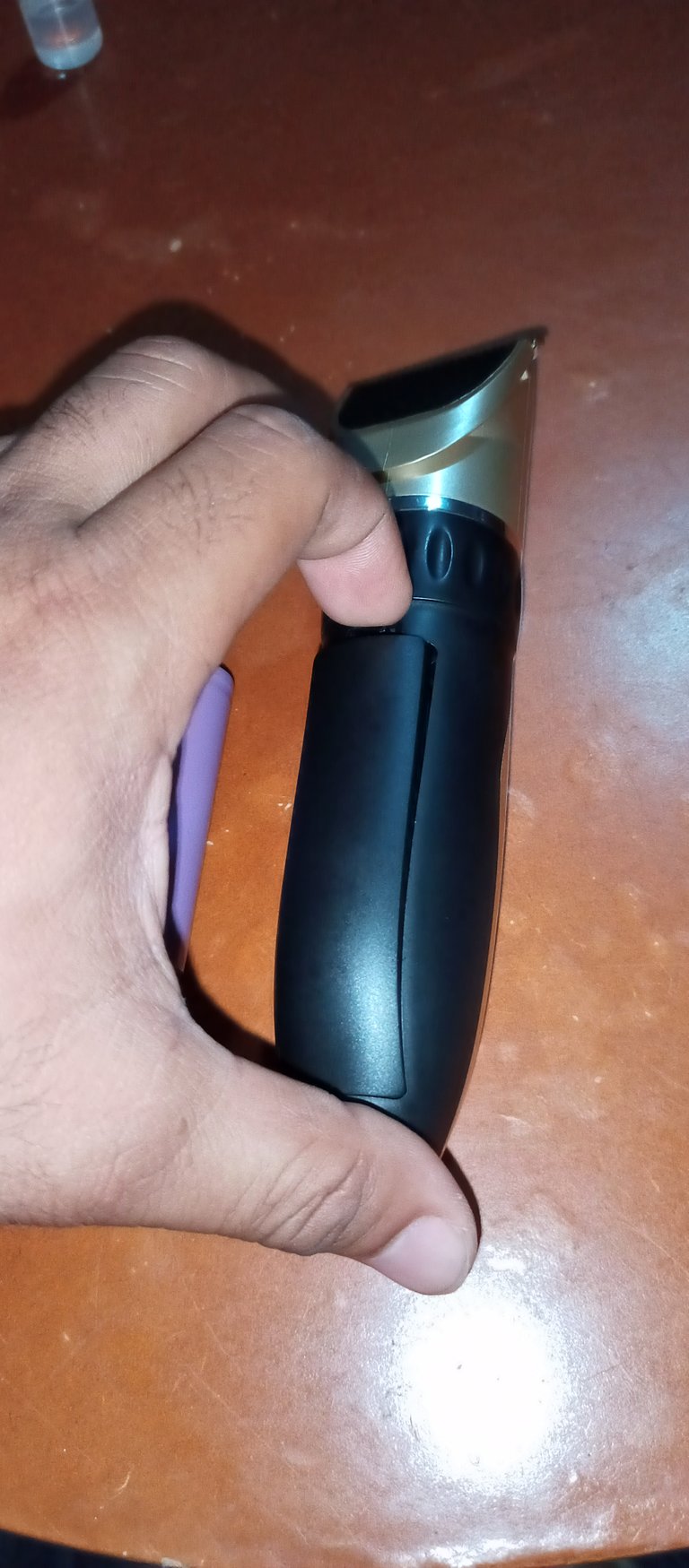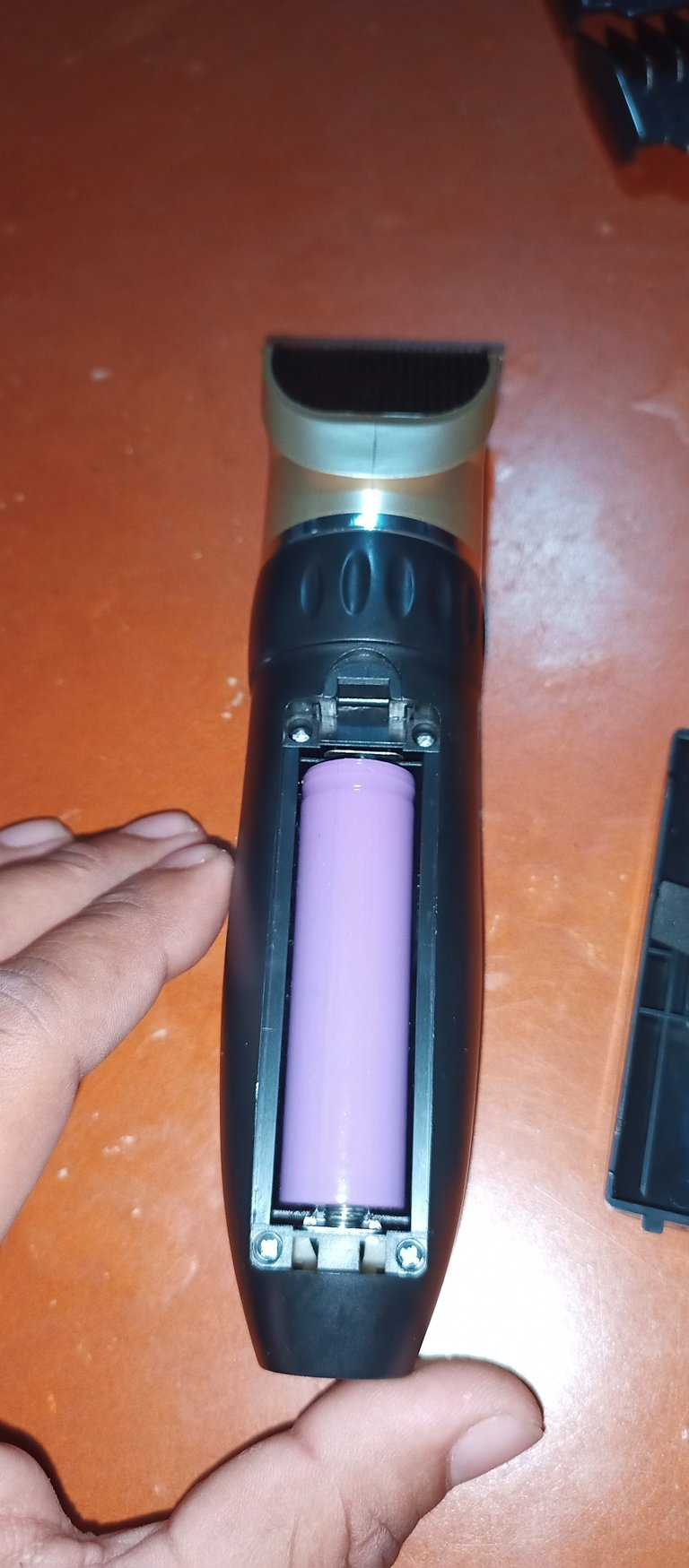 Insertando el peine / Inserting the comb
Español
En este paso ponemos el peine frente a las cuchillas de la máquina y deslizamos suavemente, es necesario ejercer un poco de presión para ajustar.
English
In this step we put the comb in front of the blades of the machine and slide gently, it is necessary to exert a little pressure to adjust.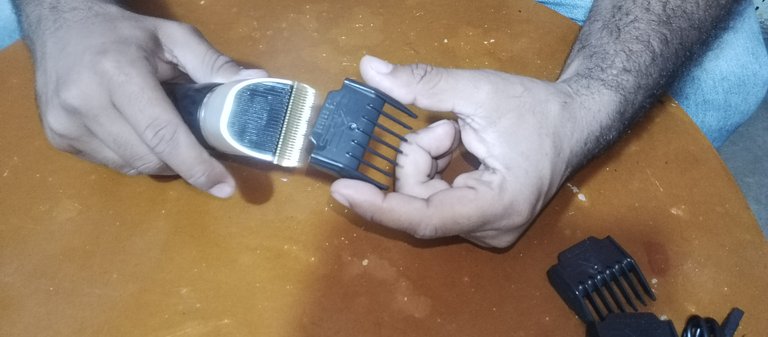 A cortar el pelo / To cut hair
Español
Esta parte no se las voy a explicar ya que la publicación es acerca de la máquina, no un curso de cortar cabello, pero puedo decirles que la máquina es silenciosa y muy buena.
El corte es suave y aunque mi cabello es grueso no me causó problemas, la carga de la batería fue suficiente para todo el corte y en ningún momento se recalentó.
Se trata de ser creativos y pacientes, en mi caso lo hice yo solo, sin ayuda y el resultado no fue malo.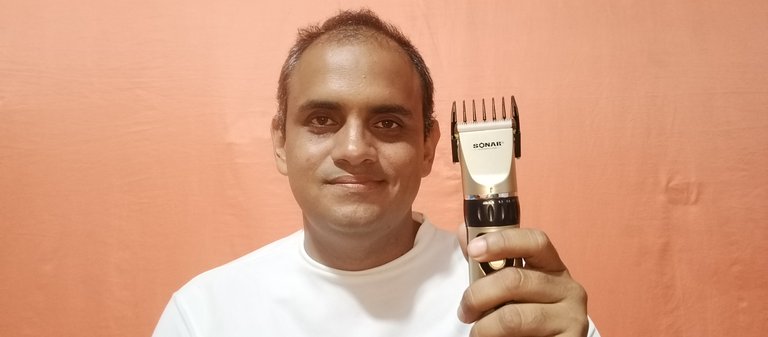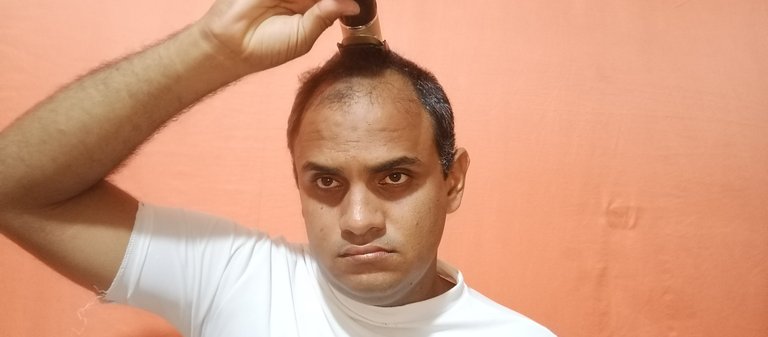 English
I am not going to explain this part to you since the publication is about the machine, not a hair cutting course, but I can tell you that the machine is quiet and very good.
The cut is smooth and although my hair is thick it did not cause me any problems, the battery charge was enough for the entire cut and it never overheated.
It is about being creative and patient, in my case I did it by myself, without help and the result was not bad.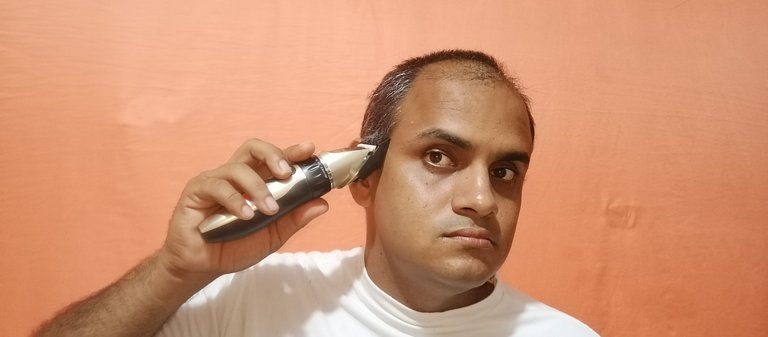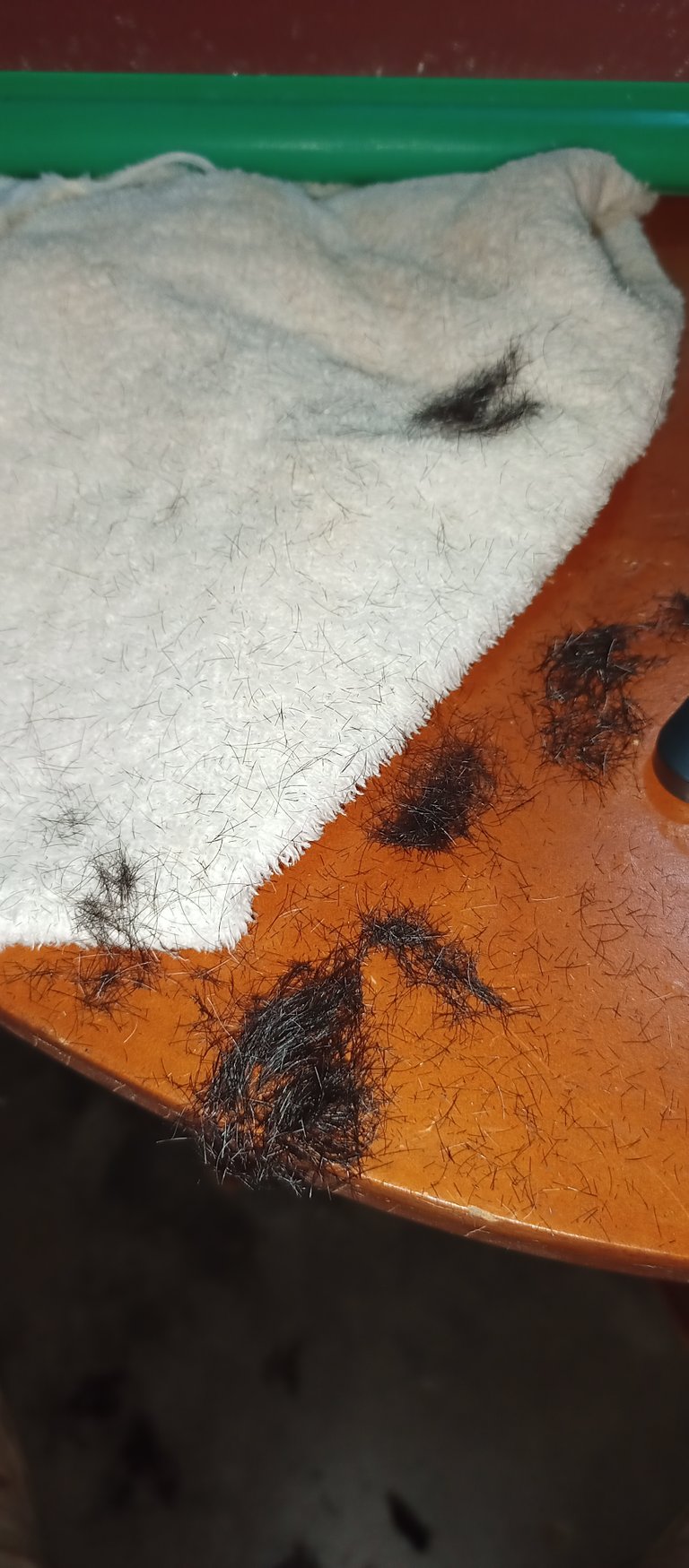 El Resultado / The result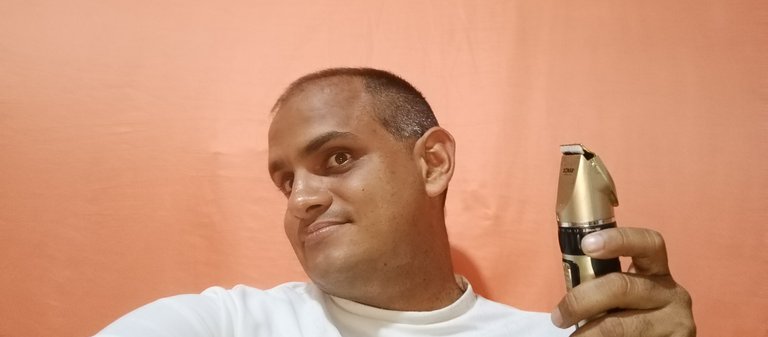 Español
Quizás no es un resultado digno de un salón de belleza, pero me siento conforme ya que por lo menos parezco una persona normal, mi aspecto es distinto y lo mejor de todo es que además de agarrar experiencia, tengo máquina nueva que me ayudará a ahorrar algo de dinero. Aunque no todo es tan bonito como piensan, hay una parte de la historia que aún no les he contado.
English
Perhaps it is not a result worthy of a beauty salon, but I am satisfied since at least I look like a normal person, my appearance is different and the best thing of all is that in addition to gaining experience, I have a new machine that will help me save some money. Although not everything is as beautiful as you think, there is a part of the story that I have not yet told you.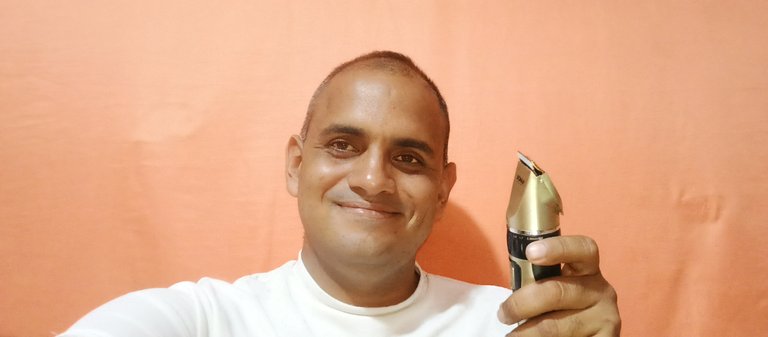 La máquina es buena pero yo no / The machine is good but not me
Español
El 90% del corte quedó bien, lo único que quedó feo fue la parte de atrás, no tenía como ver y controlar mis movimientos adecuadamente así que por falta de experiencia, no logré que quedara bien. Para la próxima pediré ayuda a mi hermana con esa parte y así evito problemas, pero no es culpa de la máquina sino de mis habilidades.
English
90% of the cut was fine, the only thing that was ugly was the back, I had no way to see and control my movements properly so due to lack of experience, I couldn't make it look good. For the next one I will ask my sister for help with that part and thus avoid problems, but it is not the fault of the machine but of my skills.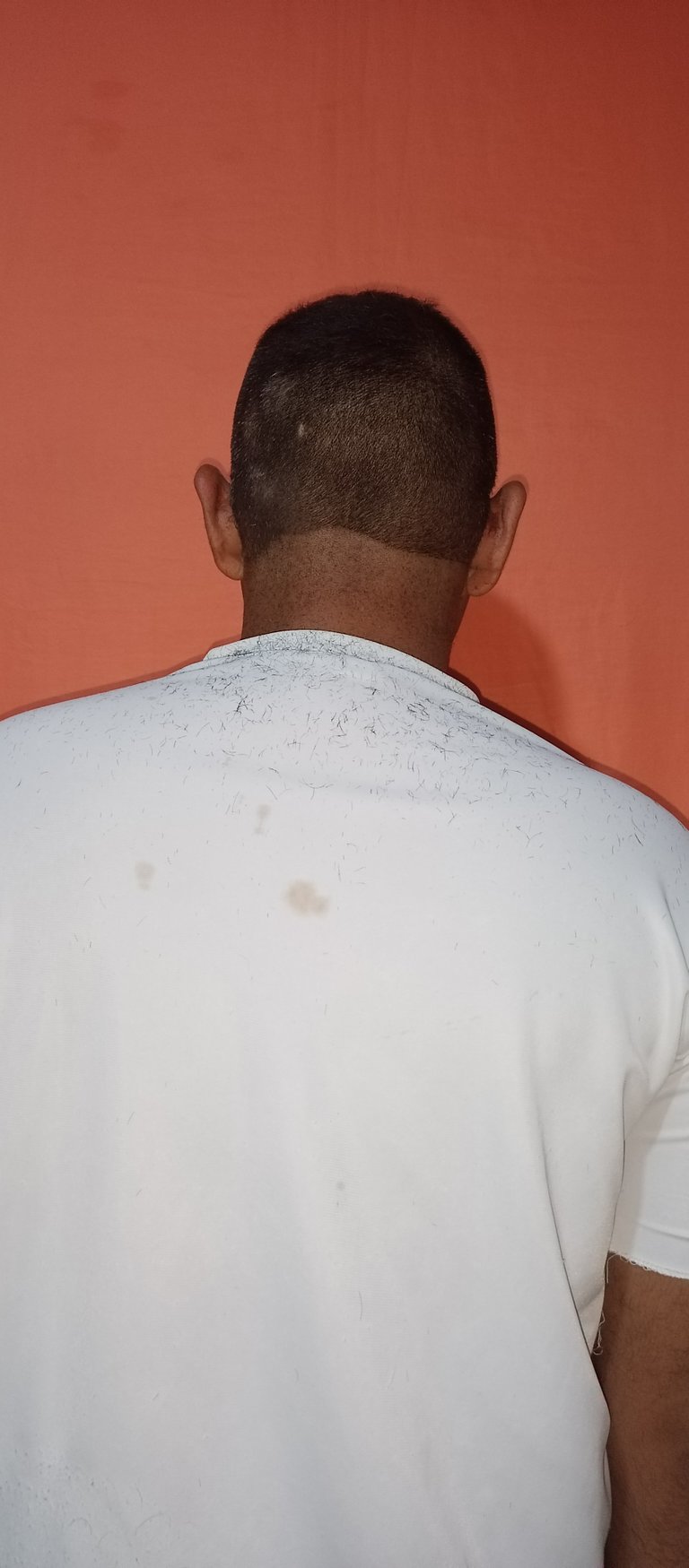 Limpiar antes de guardar / Clean before save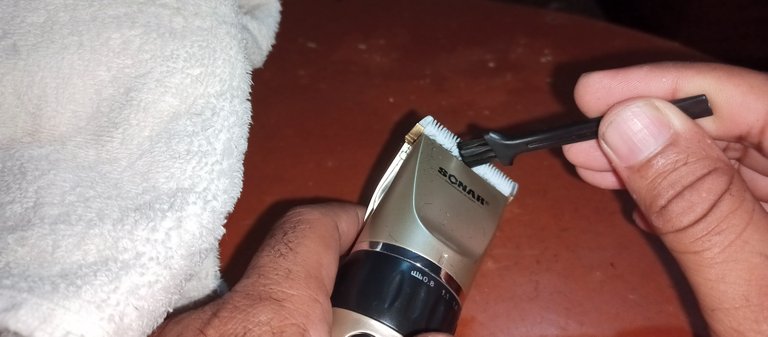 Español
Para finalizar, antes de guardar la máquina es importante hacer una pequeña limpieza con la brocha que trae, así se evita desgaste innecesario, al ser un producto económico es importante ser más cuidadoso con el mantenimiento adecuado.
No me arrepiento de esta inversión ya que recuperaré el gasto rápidamente.
English
Finally, before storing the machine it is important to do a little cleaning with the brush that comes with it, thus avoiding unnecessary wear, being an economical product, it is important to be more careful with proper maintenance.
I do not regret this investment as I will recover the cost quickly.