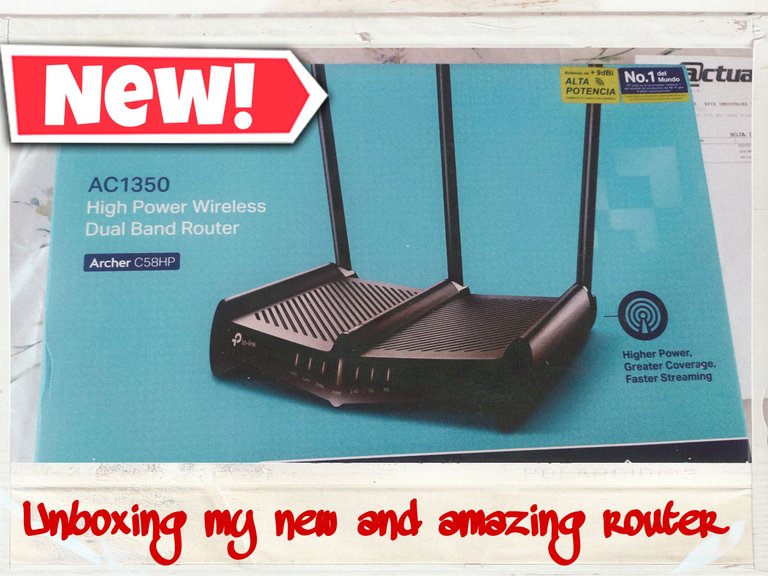 Muchos creearán que soy de estar comprando cositas muy girlys (y si, lo soy) pero lo que no saben es todo lo que me encanta a mí comprar aparatos tecnológicos y además de eso, todo el tiempo que invierto averiguando y consultando para poder adquirir el mejor dispositivo dentro del mi presupuesto. Esto super feliz porque hayan creado esta comunidad, porque justamente los que están detrás de @geekzone son a los primeros a los que acudo cuando digo que quiero comprar algo.
Many will think I'm a girly shopper (and yes, I am) but what they don't know is how much I love to buy tech gadgets and besides that, all the time I invest in researching and consulting to be able to buy the best device within my budget. I am super happy that they have created this community because the people behind @geekzone are the first ones I go to when I say I want to buy something.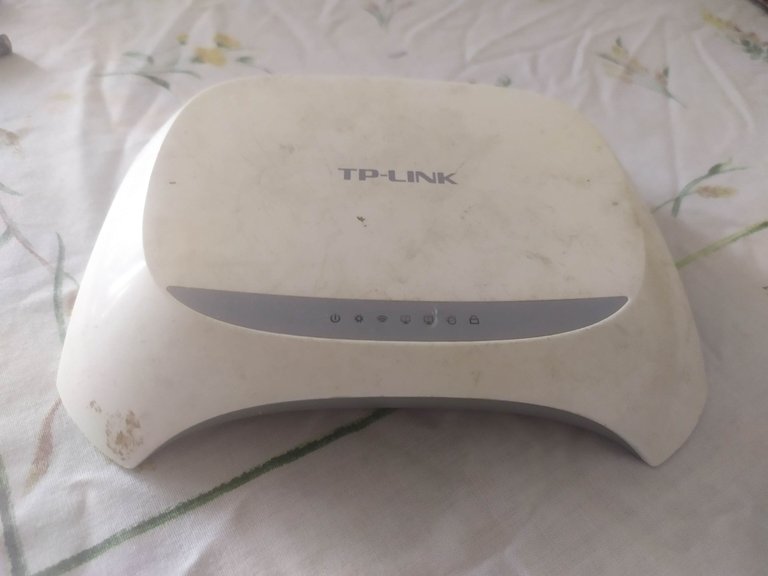 Días atrás, un par de semanas a lo sumo, adquirí un nuevo router para poder trabajar cómodamente en mi hogar, en mi cuarto, para ser más específica. Porque no podía estar cómodamente en mi cama porque no llegaba la señal de mi antiguo router allí, o al menos no llegaba con mucha fuerza. Mi router viejo era un TP-LINK TL-WR720N de 150Mbps. Mi apartamento mide alrededor de 100 metros cuadrados y el punto de mi proveedor de internet está en un extremo del apartment y mi habitación en el otro extremo, así que la potencia de la señal se iba debilitando. Además, en ocasiones estaba conectada y de pronto, me quedaba sin señal de wifi estando dentro del rango, muy cerca del dispositivo, así que ya estaba presentando algunas fallas. Otra razón por la que decidí cambiarlo era porque quería aumentar mi plan de internet, muchas personas me sugirieron cambiar el router primero antes de aumentar el plan a la velocidad que quería; mi plan era de 20 Mbps y quería aumentarlo a 100 Mbps por lo que empecé con la búsqueda de nuevos routers.
Days ago, a couple of weeks at most, I acquired a new router to be able to work comfortably at home, in my room, to be more specific. Because I could not be comfortable in my bed because the signal from my old router did not reach there, or at least it did not reach with much strength. My old router was a TP-LINK TL-WR720N 150Mbps. My apartment is about 100 square meters and my internet provider's point is at one end of the apartment and my bedroom at the other end, so the signal strength was getting weaker and weaker. Also, sometimes I would be connected, and then suddenly, I would run out of wifi signal when I was in range, very close to the device, so it was already showing some failures. Another reason why I decided to change it was because I wanted to increase my internet plan, many people suggested I change the router first before increasing the plan to the speed I wanted; my plan was 20 Mbps and I wanted to increase it to 100 Mbps so I started looking for new routers.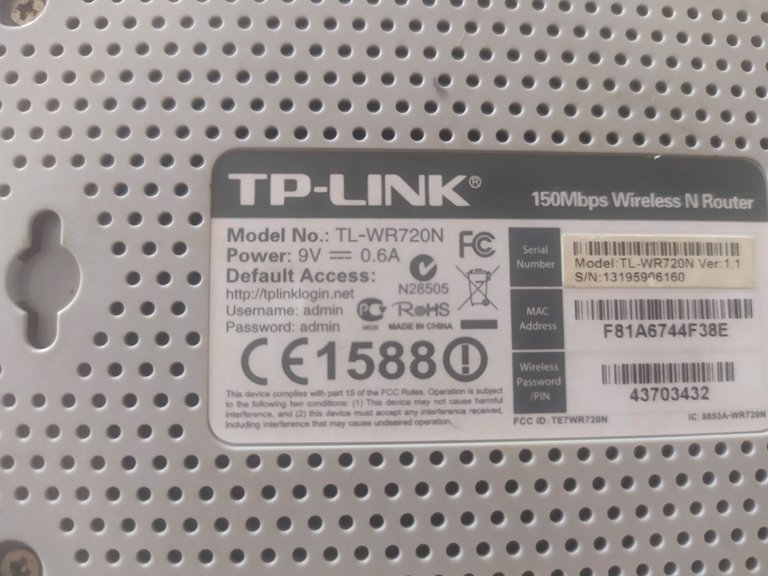 Me llegó un nuevo trabajo, en el que debo tener la mejor conexión posible y con las fallas del routers y la lejanía con mi escritorio, dentro de mi habitación, solicité un nuevo router y esto fue aprobado. Como ya lo dije, consulté con los expertos y empezó la búsqueda del mejor router dentro del presupuesto que me habían asignado, me recomendaron un rompe muros porque desde el sitio en donde está el punto, hasta mi habitación hay alrededor de 5 paredes, incluyendo los pilares, así que tenía que mientras buscaba rápidamente (y durante una semana radical) conseguí el mejor y a un buen precio.
I got a new job, in which I must have the best possible connection and with the router failures and the distance to my desk, inside my room, I requested a new router, which was approved. As I said, I consulted with the experts and began the search for the best router within the budget that had been assigned to me, they recommended a wall breaker because from the place where the point is, to my room there are about 5 walls, including the pillars, so I had to while searching quickly (and during a radical week) I got the best and at a good price.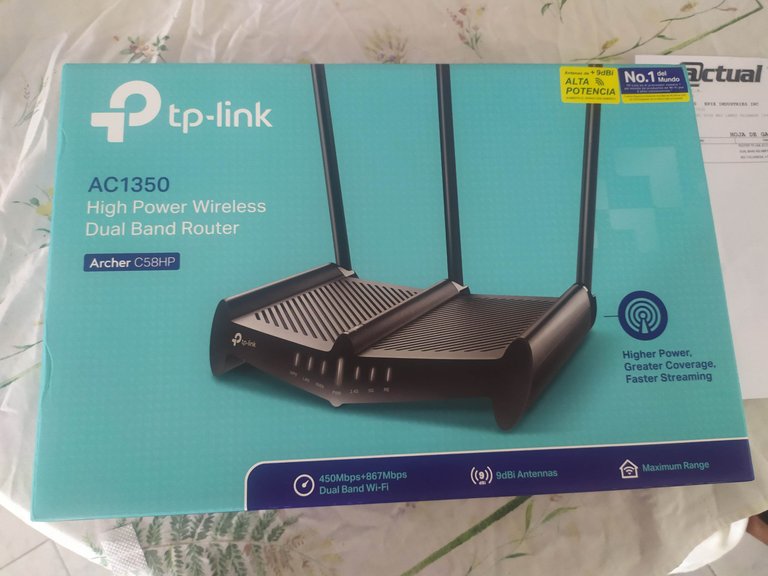 Se trata de un Tp-link AC1350 Archer C58HP que tiene las siguientes especificaciones:
Dual-Band Wi-Fi
450 Mbps on 2.4 GHz + 867 Mbps on 5GHz
3 antenas de 9dBi desmontables
Control parental: administra cuándo y cómo los dispositivos conectados pueden acceder a Internet
Calidad de Servicios: prioriza los dispositivos o aplicaciones para ofrecer un rendimiento más rápido donde lo necesite.
Seguridad:protege su red doméstica con los firewalls SPI y el cifrado WPA2
IPTV:admite IGMP Proxy / Snooping, Bridge y Tag VLAN para optimizar la transmisión de IPTV
Interfaz multilenguaje: proporciona una configuración sin problemas en 6 idiomas
IPv6: compatible con IPv6 (Protocolo de Internet versión 6)
It is a Tp-link AC1350 Archer C58HP which has the following specifications:
Dual-Band Wi-Fi
450 Mbps on 2.4 GHz + 867 Mbps on 5GHz
3 detachable 9dBi antennas
Parental Control: manages when and how connected devices can access the Internet
Quality of Service: prioritizes devices or applications to deliver faster performance where you need it.
Security: protects your home network with SPI firewalls and WPA2 encryption
IPTV: supports IGMP Proxy / Snooping, Bridge, and Tag VLAN to optimize IPTV streaming
Multi-language interface: provides a hassle-free configuration in 6 languages
IPv6: Support IPv6 (Internet Protocol version 6)
---
Pueden ver el unboxing en el video:
You can see the unboxing in the video:
Una vez con todos los componentes, empecé a montar. Fue un proceso largo porque el punto donde está el cable que viene del módem no es el más idóneo y hacía un efecto rebote, pero ya solucionado esto y configuradas mis dos redes pude hacer las respectivas pruebas en todos mis dispositivos.
Once I had all the components, I started to assemble them. It was a long process because the point where the cable coming from the modem is not the most suitable and it made a bouncing effect, but once this was solved and my two networks were configured, I could do the respective tests on all my devices.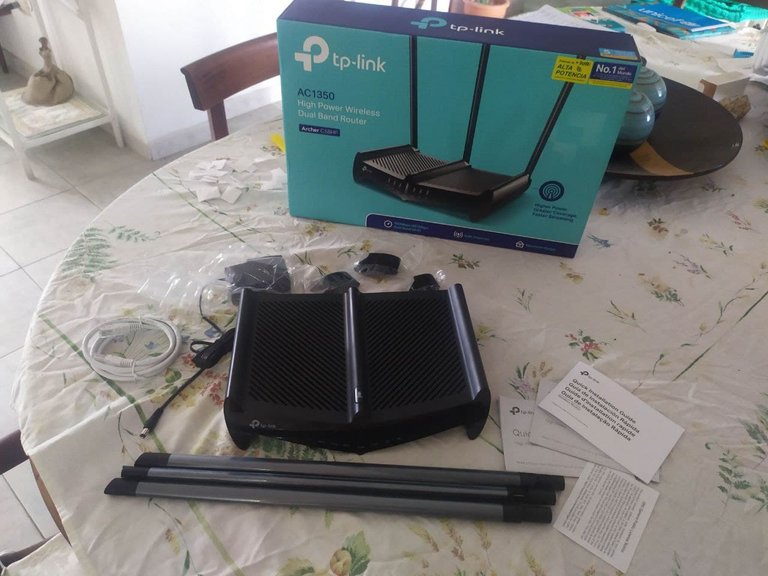 Mi celular no tiene la mejor antena así que le pedí el de mi hermana prestado para poder hacer la prueba de la señal y fue increíble. Así llegaba la señal a mi habitación:
My cell phone doesn't have the best antenna so I borrowed my sister's so I could test the signal and it was amazing. That's how the signal reached my room:
| | |
| --- | --- |
| Con la banda 5G | Con la banda 2.4 |
Mi router, entonces, quedo configurado con ambas bandas (Epix Industries) y listo para usarse.
My router, then, was configured with both bands (Epix Industries) and ready to use.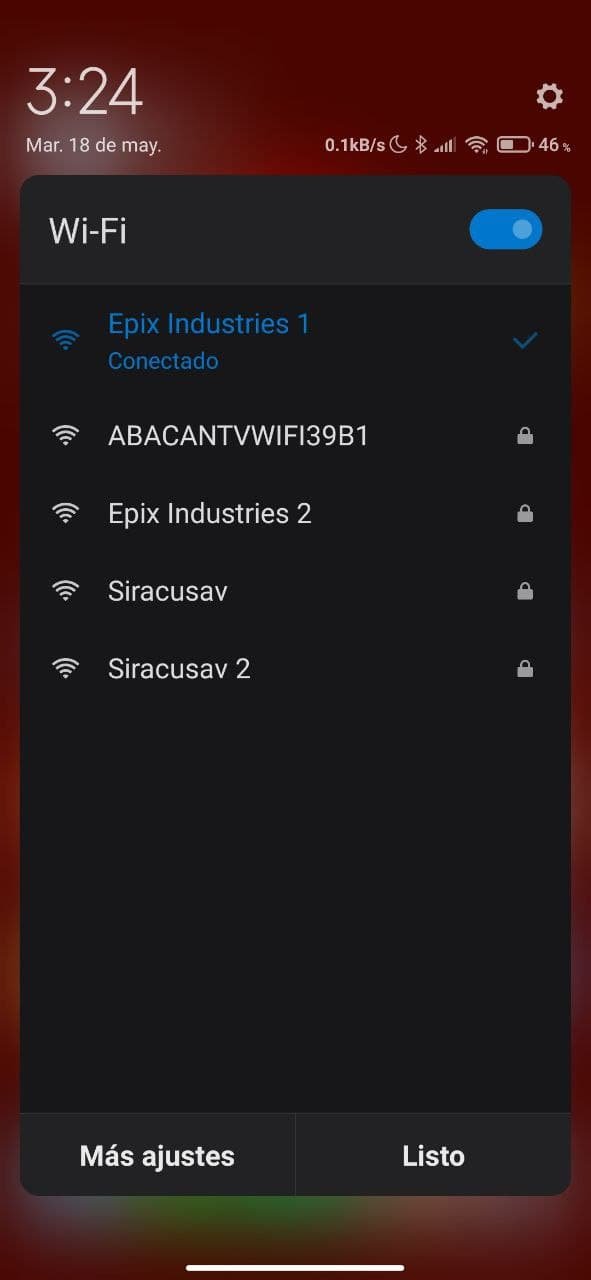 Y de esta manera quedó ubicado en mi hogar, a la espera del mejor sitio de todo el sitio, para esto necesitaré un cable de red más largo que al menos llegue a la mitad de mi hogar.
And so it was located in my home, waiting for the best place in the whole site, for this I will need a longer network cable that reaches at least half of my home.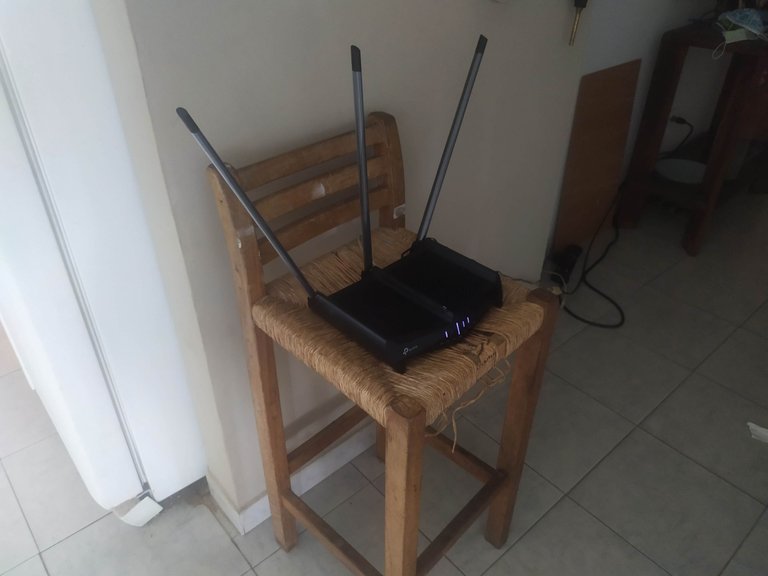 Luego de esto solo quedaba mejorar mi velocidad, y un par de días después hice lo propio y ahora soy una de las personas más felices de todo Hive por la velocidad que ahora tengo.
After that, all that was left was to improve my speed, and a couple of days later I did the same and now I am one of the happiest people in all of Hive because of the speed I now have.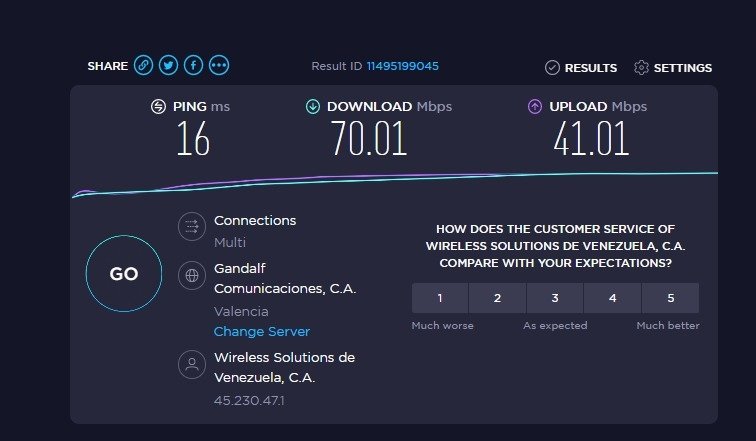 Gracias a @gorayii y a @josecarrerag por ayudarme a escoger y a instalar mi router, a veces estos process son estresantes y siempre es bueno tener a alguien que conozca para poder tener los mejores resultados.
Thanks to @gorayii and @josecarrerag for helping me choose and install my router, sometimes this process is stressful and it's always good to have someone who knows how to get the best results.

Video y fotos realizadas con un Redmi Note 7.
Banner realizado con PicsArt y footer con Canva.