Mi Nuevo A/A GTRONIC, Gracias a Hive.




Hola amigos de la comunidad de @Geekzone, es grata la ocasión para compartir con ustedes sobre una gran adquisición que hice este fin de semana; y se trata de un hermoso aire acondicionado tipo ventana. Les cuento que hace algunos meses, el equipo que tenía en mi cuarto, se dañó a consecuencia del pésimo servicio eléctrico. Los constantes apagones y variaciones en el voltaje, hacen mella en nuestros electrodomésticos y hoy en día se ha hecho común, escuchar de los vecinos y familiares "se me dañó la nevera" o "con el apagón de anoche se quemó el aire acondicionado".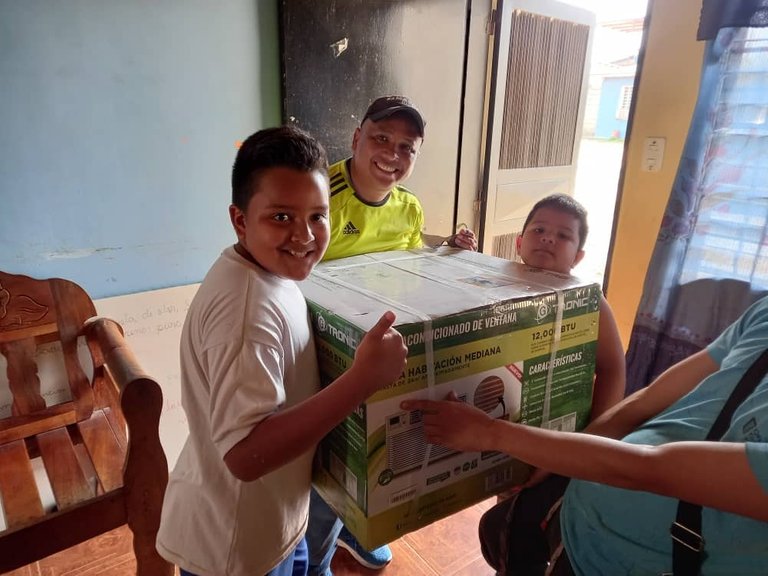 My New GTRONIC A/C, Thanks to Hive.

Hello friends of the @Geekzone community, it is a great occasion to share with you about a great acquisition I made this weekend; and it is a beautiful window type air conditioner. I tell you that a few months ago, the equipment I had in my room, was damaged as a result of the lousy electrical service. The constant power outages and voltage variations, make a dent in our appliances and today it has become common to hear from neighbors and relatives "I damaged the refrigerator" or "with last night's blackout burned the air conditioner.
Este tipo de problemas ha pasado a ser una especie de realidad, a la que lamentablemente nos acostumbramos; además de esto, todos estamos conscientes de lo necesario que resulta, acondicionar el ambiente en nuestros hogares y las oleadas de calor se intensificaron aún más, desde hace unas semanas. Estos factores se traducen en que, el aire acondicionado no es un lujo, sino una necesidad; sobre todo en mi caso, cuando estoy en la semana laboral nocturna, al llegar a casa todo lo que quiero es, tomar una ducha, comer mi desayuno y dormir unas horas, con el cuarto bien frío jajaja.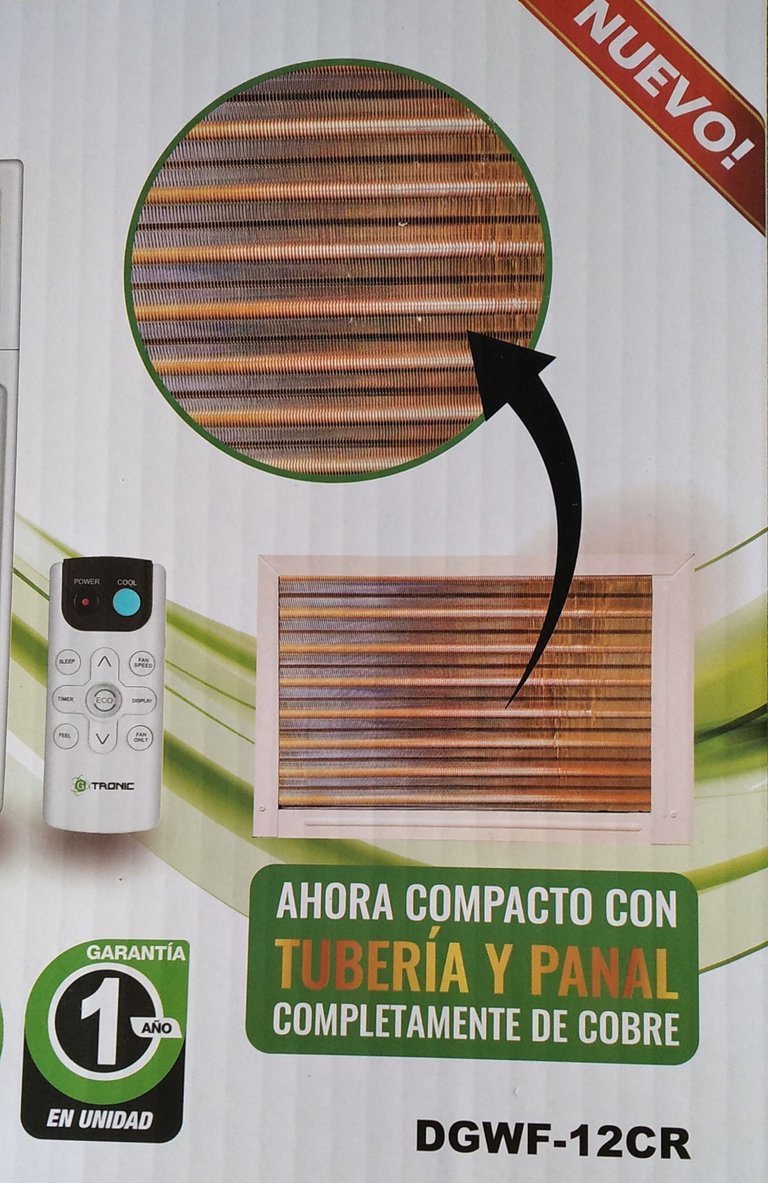 This type of problem has become a kind of reality, to which we unfortunately got used to; besides this, we are all aware of how necessary it is to condition the environment in our homes and heat waves intensified even more, since a few weeks ago. These factors mean that air conditioning is not a luxury, but a necessity, especially in my case, when I am in the night work week, when I get home all I want is to take a shower, eat my breakfast and sleep a few hours, with the room very cold hahaha.
El anterior equipo acondicionador de aire, me duró 15 años y eso es bastante tiempo, mi esposa me decía: ¿Qué más le vas a pedir a ese pobre aparato? Jajaja. Así que luego de repararlo en par de ocasiones; y teniendo muy en cuenta el valioso ahorro que tenía en mi billetera virtual, tomé la decisión de adquirir un equipo nuevo de paquete y seguir pidiéndole a Dios, que aguante los embates de lo que llaman "administración de carga o racionamiento eléctrico". Así que me pasee por casi todos los negocios de las ciudades gemelas, en la respectiva comparación de precios, otra tarea titánica.
The previous air conditioner lasted me 15 years and that's quite a long time, my wife told me: What else are you going to ask that poor device? Hahaha. So after repairing it a couple of times, and taking into account the valuable savings I had in my virtual wallet, I made the decision to purchase a new equipment package and keep asking God to endure the onslaught of what they call "load management or power rationing. So I wandered through almost all the stores in the twin cities, in the respective price comparison, another titanic task.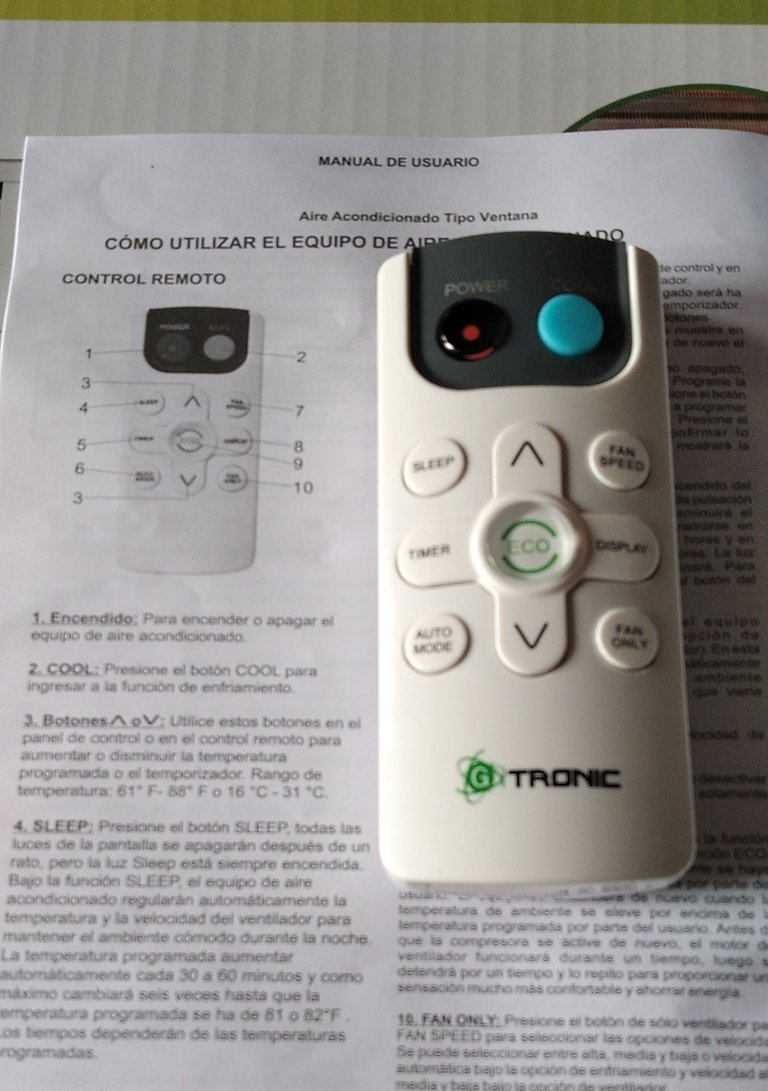 Luego de algunas horas y a pesar que la variedad era algo limitada, conseguí la mejor oferta del día; un aire acondicionado tipo ventana de 12.000 BTU, marca Gtronic, modelo DGWF – 12CR, el cual trabaja con un voltaje de 220 – 230 V/ Hz. Es un equipo compacto y cuenta con un panel view digital, que se acciona con control remoto; estos detalles representan una mejora respecto a mi equipo anterior, el cual era totalmente manual (de perilla), además, el área de la colmena o panal posterior, está hecho de cobre y posee una mejor estética, igualmente tiene mayor resistencia durante la limpieza.
After a few hours and although the variety was somewhat limited, I got the best deal of the day; a window air conditioner 12.000 BTU, Gtronic brand, model DGWF - 12CR, which works with a voltage of 220 - 230 V / Hz. It is a compact equipment and has a digital panel view, which is operated by remote control; these details represent an improvement over my previous equipment, which was completely manual (knob), in addition, the area of the hive or rear honeycomb, is made of copper and has a better aesthetic, also has greater resistance during cleaning.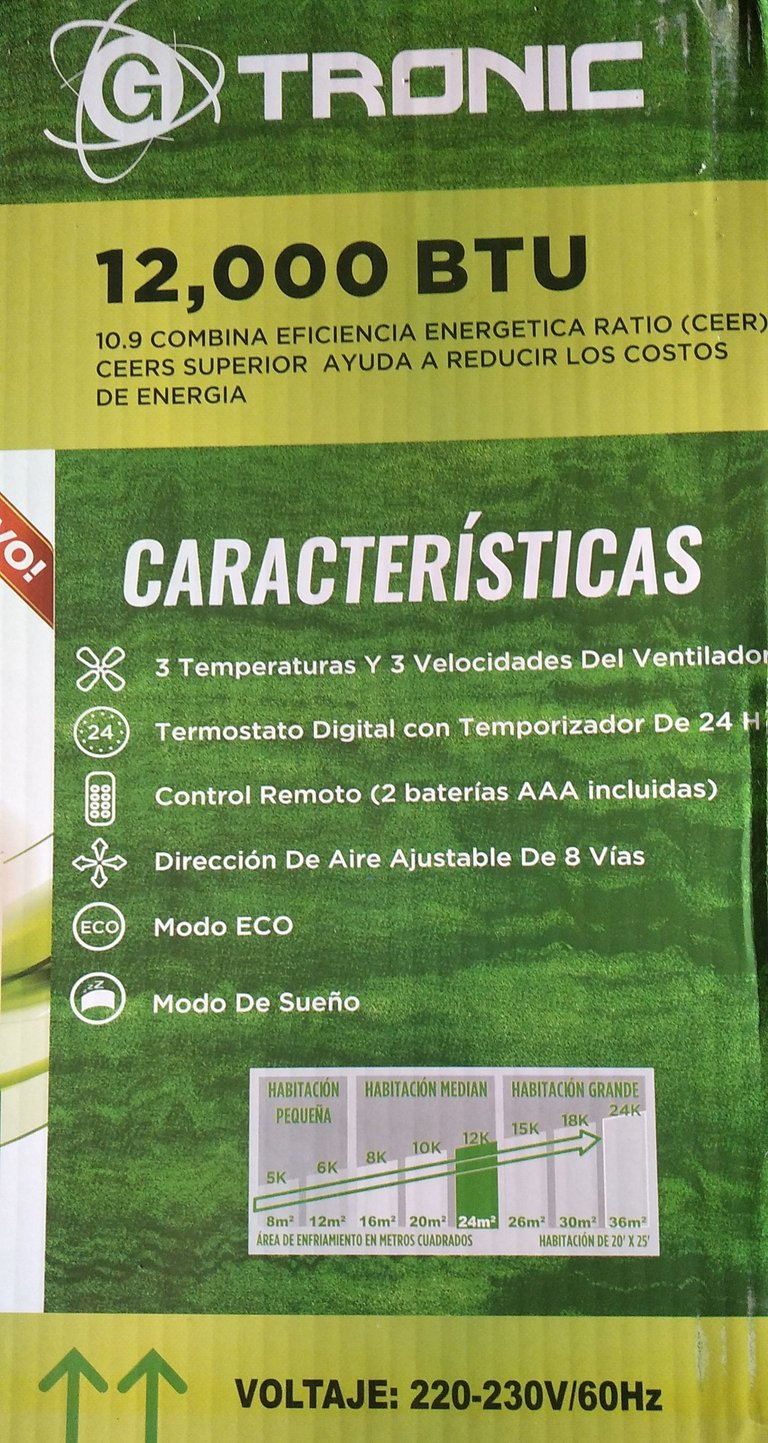 Este modelo de equipo está por todas partes y durante mi breve chequeo de precios, oscila entre los 290 y 310 dólares; pero en mi caso, pude obtener una especie de doble oferta, primero el precio ajustado a 280 dólares y segundo, que el modelo era a control remoto (dado que había modelos manuales). Sumado a estos dos factores, el árabe terminó de convencerme, ofreciéndome el flete gratis hasta mi casa, así que fue un negocio redondo, obviamente el vendedor está obteniendo ganancias, no sé a qué margen, pero en realidad me sentí bien con esta compra tan importante para mi familia.
This model of equipment is everywhere and during my brief price check, it ranges between $290 and $310; but in my case, I was able to get a kind of double offer, first the price adjusted to $280 and second, that the model was remote controlled (since there were manual models). In addition to these two factors, the Arabian guy ended up convincing me, offering me free freight to my house, so it was a round deal, obviously the seller is making a profit, I don't know at what margin, but I really felt good with this important purchase for my family.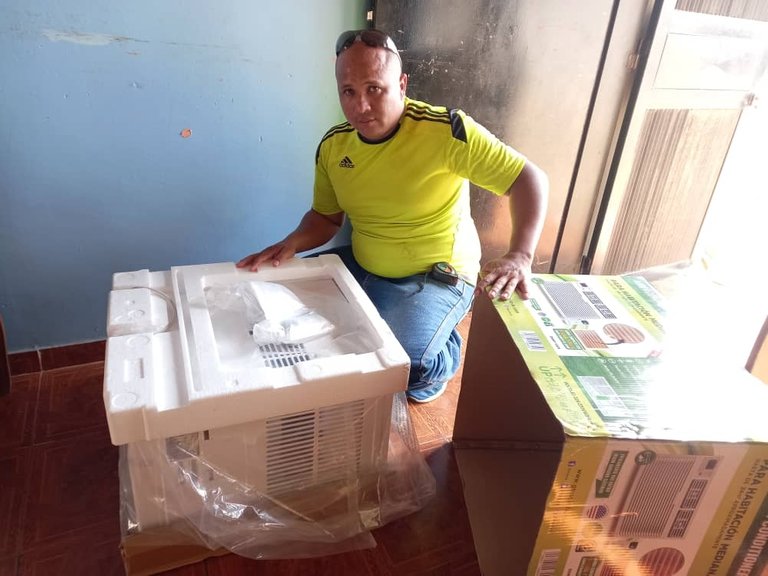 Después del trámite comercial, se vino la mejore parte de todas y era llegar a casa y mostrarle la sorpresa a mis hijos; ya me estaban esperando emocionados y al llegar, fueron ellos quienes retiraron los amarres y sacaron el anime jajaja. Y en pleno momento de alegría ¡Pum! ¡Se fue la luz! Jajaja. Como cosa rara, tuve que esperar que se restituyera el servicio y aproveché de hacer la instalación con el protector de voltaje. Creo que fue la espera de energía eléctrica más alegre que tuvimos, estábamos ansiosos por encender el equipo y hacer todas las pruebas de funcionamiento.
After the commercial procedure, the best part of all was to get home and show the surprise to my children; they were already waiting for me excitedly and when I arrived, they were the ones who removed the moorings and took out the anime hahaha. And in the middle of the moment of joy, bang, the power went out! Hahaha. As a rare thing, I had to wait for the service to be restored and I took the opportunity to do the installation with the voltage protector. I think it was the most joyful wait for electric power we had, we were anxious to turn on the equipment and do all the function tests.
Fuente
Mientras esperábamos, con el uso de un bombillo recargable, leímos las instrucciones del manual de usuario (solamente así jajaja) y luego de cuatro horas exactas, se reestableció el servicio; al cabo de unos minutos, el protec finalmente indicó la luz verde, era la hora esperada y mi hijo mayor hizo los honores, estrenando la nueva unidad de aire acondicionado. El control remoto es una nota, los botones son grandes y de fácil lectura, muy sencillo pero a la vez práctico. El aire trabaja súper sereno, nada de vibración ni ruido y los niveles de potencia del motor se activan sin problemas.
While waiting, with the use of a rechargeable bulb, we read the instructions in the user manual (just like that hahaha) and after exactly four hours, the service was restored; after a few minutes, the protec finally indicated the green light, it was the expected time and my eldest son did the honors, premiering the new air conditioning unit. The remote control is a note, the buttons are large and easy to read, very simple but practical at the same time. The air works super serene, no vibration or noise and the engine power levels are activated smoothly.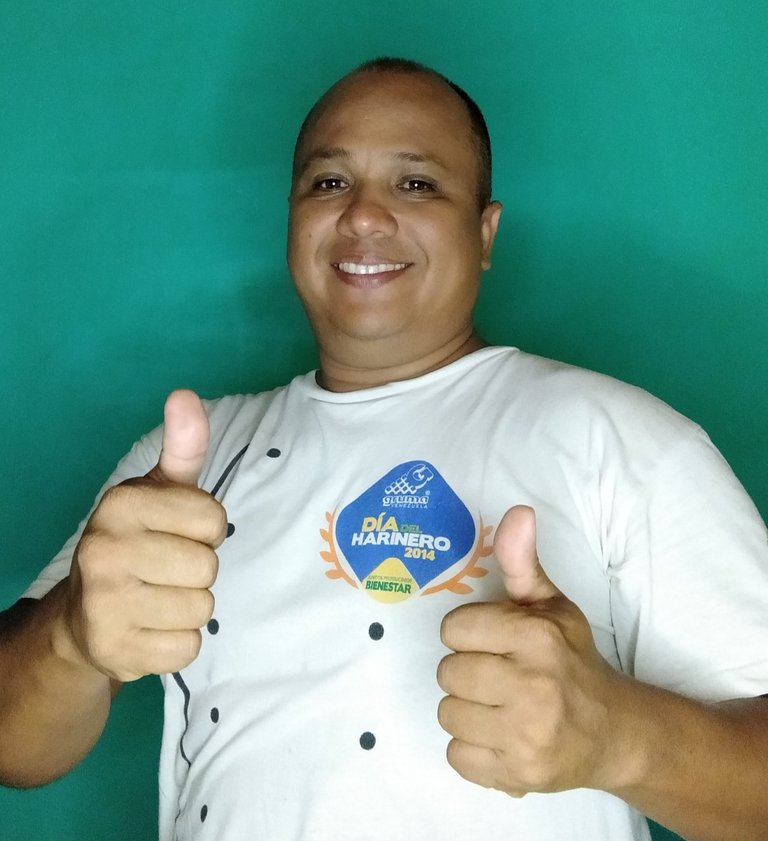 Otra de las novedades que incluye este equipo, es la opción del modo ECOlógico, que permite el descanso del motor (se detiene totalmente) y cuando el termostato detecta la subida de la temperatura por encima de la que haya sido programada, enciende de manera automática. Asimismo, la función SLEEP cuenta con una programación de temperatura y tiempo, en el que la unidad se ajusta bajo esos parámetros durante el tiempo establecido, mientras el equipo controla el ambiente. Estas funciones están recomendadas para ahorrar energía y mejorar el rendimiento del motor, alargando su vida útil y cuidando el medio ambiente (esto no lo sabía jajaja).
Another new feature of this unit is the ECOlogic mode option, which allows the motor to rest (it stops completely) and when the thermostat detects the temperature rise above the programmed temperature, it turns on automatically. Likewise, the SLEEP function has a temperature and time programming, in which the unit is adjusted under those parameters during the set time, while the equipment controls the environment. These functions are recommended to save energy and improve the performance of the motor, extending its useful life and protecting the environment (I didn't know this hahaha).
En la transacción comercial se estableció una garantía de funcionamiento por 8 meses y si se presenta alguna falla mayor, hasta 1 año (con el fabricante); en la parte superior de la caja, trae unas indicaciones para determinar el tamaño del equipo según su capacidad y de acuerdo al área que tenemos en casa. Esa relación tampoco la conocía y resulta de mucha utilidad, al momento de escoger o seleccionar el equipo que vamos a adquirir; en estos tiempos donde el costo de la vida sube mucho y baja poco, es importante hacer una inversión por el plazo más largo posible.
In the commercial transaction was established a guarantee of operation for 8 months and if any major failure occurs, up to 1 year (with the manufacturer); at the top of the box, brings some indications to determine the size of the equipment according to its capacity and according to the area we have at home. I did not know this relationship either and it is very useful when choosing or selecting the equipment we are going to acquire; in these times where the cost of living rises a lot and falls little, it is important to make an investment for the longest possible term.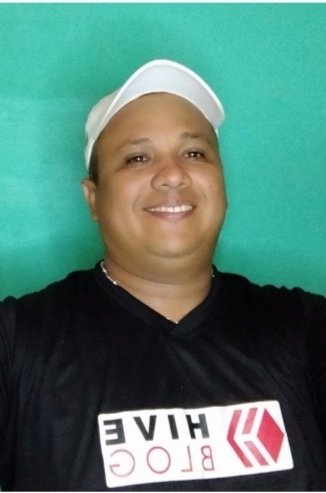 Es algo lógico que deseemos comprar los equipos de las marcas más reconocidas, soy de las personas que prefiere colocar un poco más de dinero y comprar algo de mayor calidad; pero en estos tiempos donde el fluido eléctrico es tan irregular, cualquier equipo con componentes electrónicos está expuesto y es propenso de sufrir fallas. Además, los aires acondicionados de marcas como Frigilux, Sankey, LG, o Condesa, eran diferentes, o bien sea por ser tipo Split o por ser para corriente 110 V. En mi caso, mis hijos y yo, estamos felices y eso es lo importante. Hay un dicho que reza, nuevo es nuevo así sea de cartón jajaja. He hecho una gran inversión y ¿Saben algo? El 90 % del costo lo he pagado con mis ahorros en Hive, así que es otro logro proveniente de mis recompensas dentro de la plataforma, algo que siempre agradeceré.
¡Hasta la Próxima!
It is logical that we want to buy the equipment of the most recognized brands, I am one of the people who prefer to put a little more money and buy something of higher quality; but in these times where the power supply is so irregular, any equipment with electronic components is exposed and is prone to failures. In addition, the air conditioners of brands such as Frigilux, Sankey, LG, or Condesa, were different, either for being Split type or for being for 110 V current. In my case, my children and I are happy and that is what is important. There is a saying that goes, new is new even if it is made of cardboard hahaha. I have made a big investment and you know what? I paid 90% of the cost with my savings in Hive, so it's another achievement coming from my rewards within the platform, something I will always be grateful for.
See you next time!

La opinión en esta publicación es de carácter personal por parte del autor.
Para Traducir el Texto he utilizado Deepl en su versión libre.
The opinion in this publication is of a personal nature on the part of the author.
To translate the text I have used Deepl in its free version.