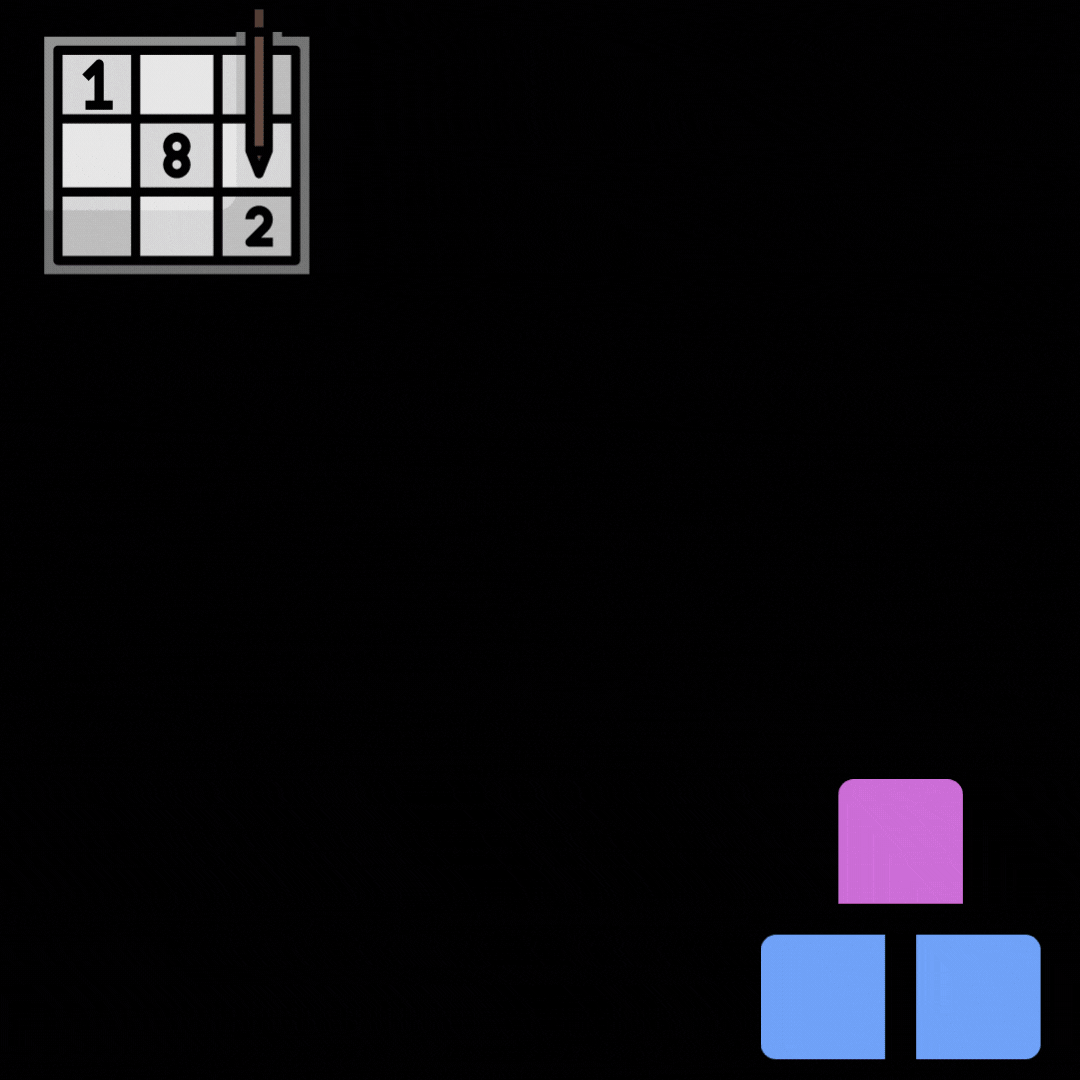 Imagen hecha por mi en la página de canva
Hello, how are you my dear readers? I come to tell you that I got a game that distracted my mind a little bit from several worries I have, it seems to me that we all need something with which we can forget for a moment of what is suffering in real life and I'm sure you will agree with me.
Searching in the Play Store I found a game of mental agility, I must tell you that while I was going on the metro cable, which there in Venezuela is known as cable car, since I live on a kind of hill, a lady was on the road playing this game, I thought this game was pretty good, so out of the corner of my eye I was watching how it was.
But the lady, looked up and told me that this game helped her to be distracted because she was quite afraid to get on the metrocable, this made me to call my attention, because I also want to be distracted from so many jokes, then looking on the internet more or less how the game was, I got it and downloaded it when I got to an area where I could have wifi.
Hola ¿qué tal están mis queridos lectores? Vengo a contarles que conseguí un juego que a distraído un poco mi mente de varias preocupaciones que tengo, me parece que todos necesitamos algo con lo que podamos olvidarnos por un momento de lo que está sufriendo en la vida real y estoy seguro de que estarán de acuerdo conmigo.
Buscando en la Play Store hallé un juego de agilidad mental, debo contarles que mientras iba en el metro cable, que allá en Venezuela se conoce como teleférico, ya que vivo en una especie de colina, una señora iba por el camino jugando este juego, me pareció bastante bueno este juego, así que de reojo estaba observando como era.
Pero la señora, levantó la mirada y me dijo que ese juego la ayudaba a distraerse porque le daba bastante miedo subirse al metrocable, esto hizo que me llamara la atención, porque yo también quiero distraerme de tantas bromas, entonces buscando en internet más o menos como era el juego, lo conseguí y lo descargué al llegar a una zona donde pude tener wifi.
---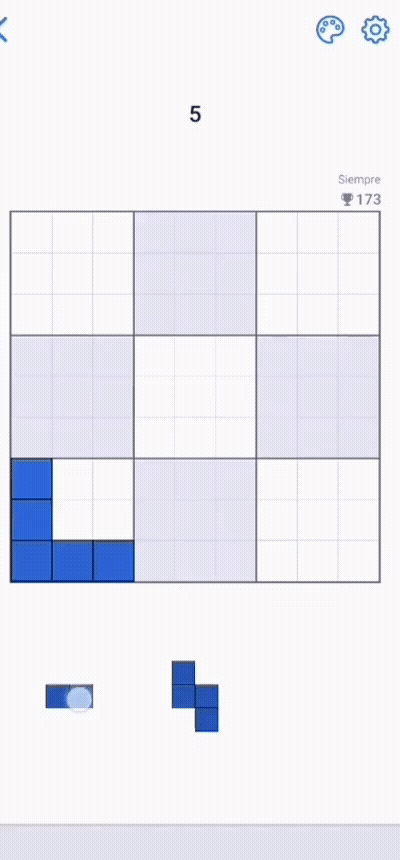 As you can see in the moving image I made from a video I recorded from my screen, the game is to complete the pictures or form a complete line without blanks with the pieces that are given to us at the bottom of the game, we have to go placing piece by piece fitting it well so that there are no blanks, as we complete a picture or a complete line we get points.
At first the levels are half easy and you can manage to put the pieces correctly several times, but then the difficulty level goes up and a little more to get a high score with the pieces that you get, as in teatrix to complete a line you are eliminated and that gives you several points, but if you get to the end and do not have enough space to put pieces, you run out of options and you lose.
How can you notice the game is designed in a way that we all know, what we have to do to win and I thought I was not going to send me with this game but I did, so every time I have a few minutes free I play for a while even when I'm eating, an excellent game that makes you think.
Cómo pueden ver en la imagen con movimiento que hice de un video que grabé de mi pantalla, el juego consiste en completar los cuadros o también formar una línea completa Sin espacios en blanco con las piezas que nos dan en la parte inferior del juego, tenemos que ir colocando pieza por pieza encajandola bien para que no queden espacios en blanco, a medida que vamos completando un cuadro o una línea completa vamos obteniendo puntos.
Al principio los niveles son medio fáciles y puedes lograr poner las piezas correctamente varias veces, pero después el nivel de dificultad va subiendo y un poco más lograr conseguir un puntaje alto con las piezas que te dan, igual que en teatrix al completar una línea estás elimina Y eso te da varios puntos, Pero si llegas al final y no tiene suficiente espacio para poner piezas, se te acaban las opciones y pierdes.
Cómo pueden notar el juego está diseñado de una manera que conocemos todos, qué es lo que tenemos que hacer para ganar y yo pensé que no me iba a enviar con este juego pero lo hice, por eso cada vez que tengo unos minutos libres me pongo jugando un rato hasta cuando estoy comiendo, un juego excelente, que te hace pensar.
---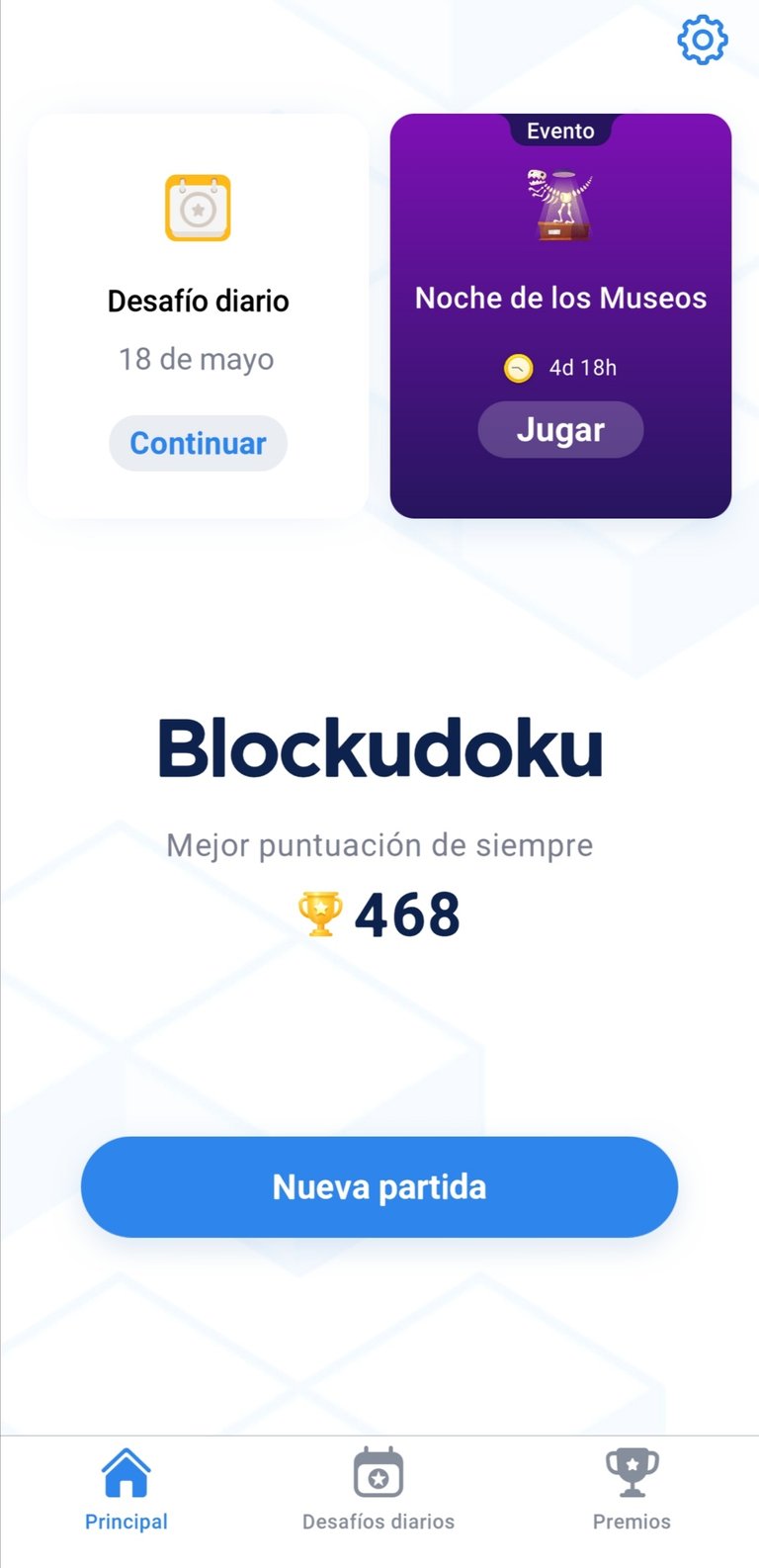 This game is called blockudoku and you can download it from the play store, at first glance it seems a very basic and easy game, because it really is easy to know what you have to do, with a brief tutorial at the beginning is enough to know how to play it, to me it seems like the union of tetrix and sudoku and both games I liked.
Upon entering the game we will see the main one where we will get our options to start the game, there in the screenshot you can see that there are several options not only you can start a normal game, but the game gives you daily challenges, you even get a notification on your phone inviting you to break your record and complete the daily score.
Although I have not completed any because I always forget that I want to play normal games, yes it is played several what happens is that these are much more complicated and if you do not overcome 100% then it fails to complete the challenge of the day, when the game ends because you no longer have more space where to place the pieces tell you what was the percentage to reach, I never pass 70% and so I'm still at zero.
Este juego se llama blockudoku y pueden descargarlo desde la play store, a primera vista parece un juego muy básico y fácil, porque de verdad que es fácil saber lo que tienes que hacer, con un breve tutorial al principio es suficiente para saber cómo hay que jugarlo, a mi me parece como la unión del tetrix y el sudoku y ambos juegos me gustaban.
Al entrar al juego vamos a ver la principal que dónde vamos a conseguir nuestras opciones para poder iniciar el juego, ahí en la captura de pantalla pueden ver qué son varias las opciones no solamente se puede Iniciar una partida normal, sino que el juego te da desafíos diarios, hasta te llega una notificación en el teléfono invitándote a romper tu récord y a completar el puntaje diario.
Aunque no he completado ninguno porque siempre se me olvide que quiero jugar partidas normales, sí es jugado varios lo que pasa es que estos son bastante más complicado y si no lo superas al 100% entonces no logra completar el desafío del día, cuándo termina el juego porque ya no tienes más espacio en dónde colocar las piezas te dicen cuál fue el porcentaje que alcanzar, yo nunca paso el 70% y por eso sigo en cero.
---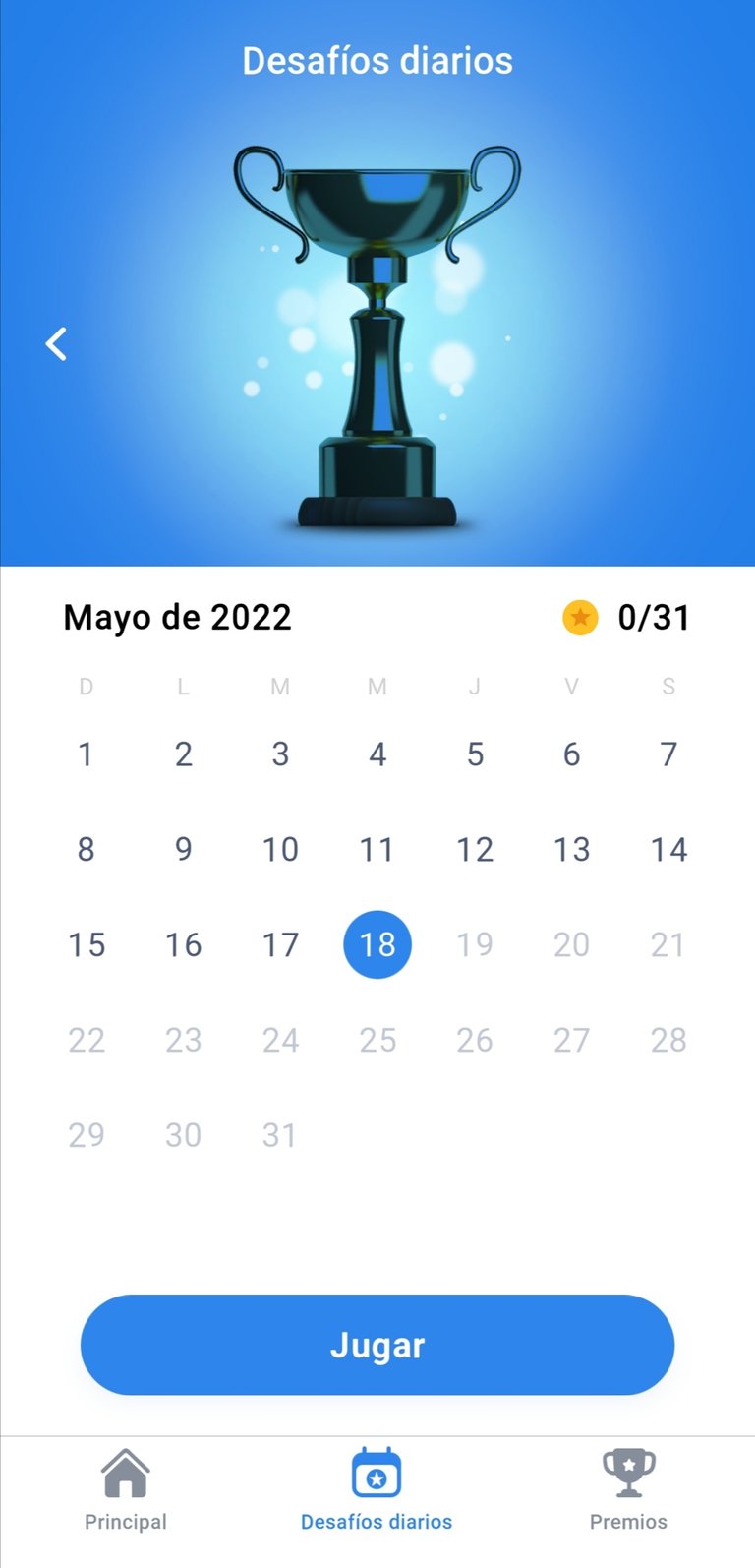 But I can assure you that the game is quite good, the best part of it is that it distracts you from the different things that are bothering you, and not that it speeds up the mind and it seems to me that this is something necessary, we do not give enough time to our mind to exercise, we know what a muscle is but sometimes the facilities that technology gives us make us not exercise the mind as we should.
These days a doctor who is treating me told me that one should use one's head more than he does, starting one of the reasons why there were so many people suffering from Alzheimer's before their time and other diseases that have to do with this.
It seems to me then that it is a good option to speed up our mind, to exercise it, to use it as we should for a while and at the same time we are having a little fun and leaving aside so many worries that fill us with anxiety, I believe that everything that a good game should have.
Pero le puedo asegurar que el juego de bastante bueno, La mejor parte de esta no es que te distrae de las diferentes cosas que te están molestando, y no que agilizar la mente y me parece que esto es algo necesario, no le damos el tiempo suficiente a nuestra mente para ejercitar, sabemos qué es un músculo pero a veces las facilidades que nos da la tecnología hacen que no ejercitemos la mente como deberíamos hacerlo.
En estos días un doctor que me está atendiendo me dijo que uno debería usar más la cabeza de lo que lo hace, empezar a una de las razones por la que había tanta gente padeciendo alzehimer desde antes de tiempo y otras enfermedades más que tienen que ver con esto.
Me parece entonces que es una buena opción para agilizar nuestra mente ejercitar la, utilizarla como debemos por un rato y al mismo tiempo estamos divirtiéndonos un poco y dejando de lado tantas preocupaciones que nos llenan de ansiedad, yo creo que todo lo que debería tener un buen juego.
---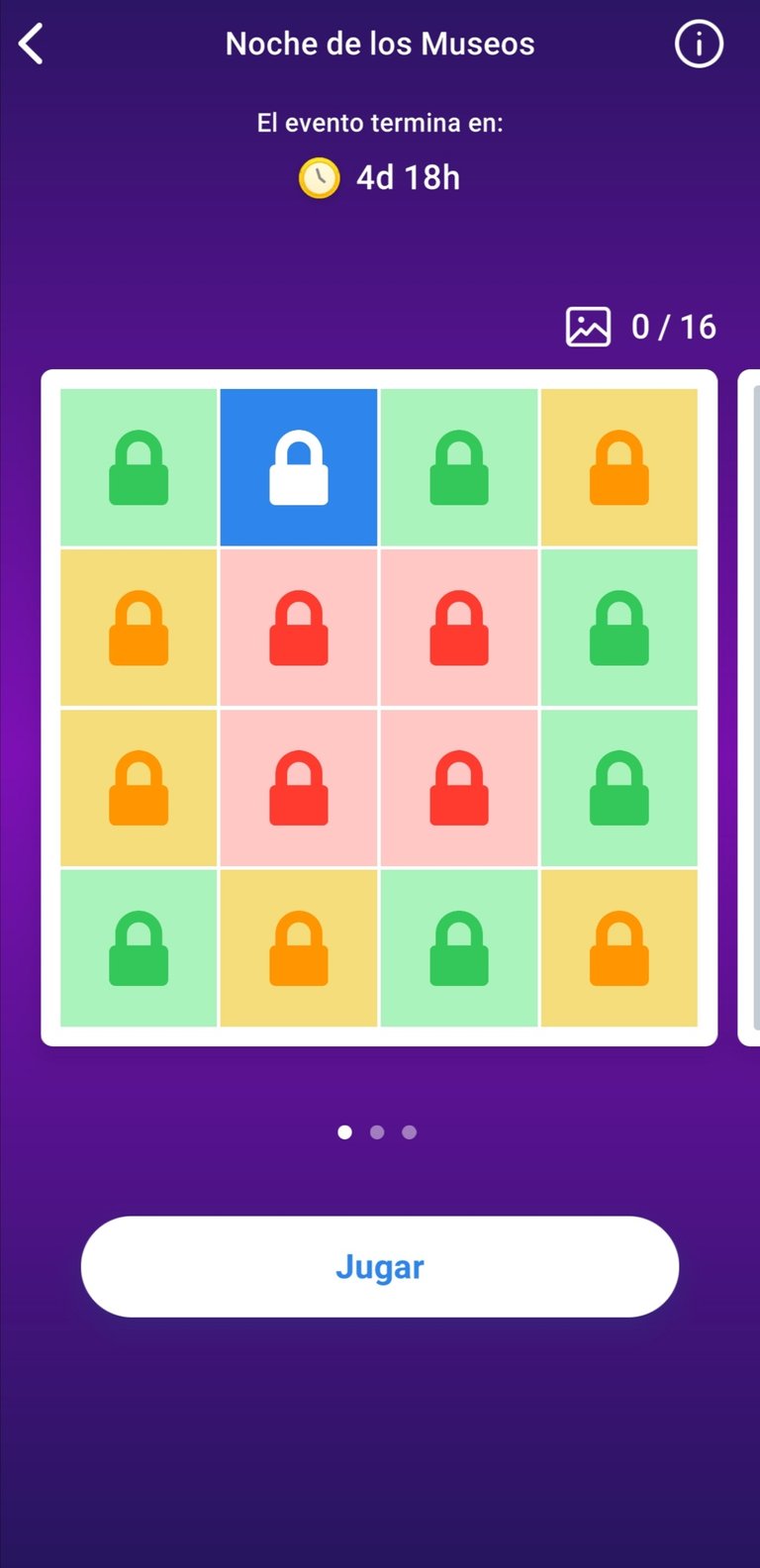 The game has another thing called event, these are not available time but fun and make you think much more, element has a time limit and unlock various postcards, rewards and achievements, in these events the level of difficulty seems to me to be higher, the boxes do not come empty, then you have to put the pieces in the places that are empty.
Among all these locks that you see in the image we can choose the one we want and we start a new game different from the others, where the pieces are placed in a different way than the others, how I want is to distract me for now, so I concentrate more on the normal games, and when I have more agility I will go for those postcards that give me a prize.
This game is good, go and download it and live in the same experience as me, you will realize that we are a little rusty mentally, it seems that no, but these games do help a lot, many say that they are games for older people but it seems to me that we also need to sharpen the mind because even being young we are affected by many things also for not doing it.
El juego tiene otra cosa que se llama evento, estos no están disponibles tiempo pero divertido y te hacen pensar mucho más, elemento tiene un límite de tiempo y desbloquear varios postales, recompensas y logros, en estos eventos el nivel de dificultad me parece que es mayor, las casillas no vienen vacías, entonces hay que poner las piezas en los lugares que están vacíos.
Entre todos estos candados que ven en la imagen podemos elegir el que queramos y comenzamos un nuevo juego diferente a los demás, En dónde las piezas están puestas una manera distinta al de los demás, cómo me deseo es distraerme por ahora, entonces me concentro más en las partidas normales, y cuando tenga mayor agilidad sí iré por aquellas postales que me dan de premio.
Está bien este juego, ve y descargalo y vive en la misma experiencia que yo, se van a dar cuenta de que estamos un poco oxidados mentalmente, pareciera que no, pero estos juegos si ayudan bastante, muchos dicen que son juegos para personas mayores pero a mí me parece que nosotros también necesitamos agilizar la mente porque incluso siendo jóvenes nos vemos afectados por muchas cosas también por no hacerlo.