---
English
Hello dear and beautiful geek zone community, how are you? People who are passionate about technology. I am learning every day more and more about technology, I am passionate about it.
Today I bring you the second chapter of my game play in the game called terraría and this chapter is called Initiating the construction of my house and why I want to call it that way? Because it is in this chapter I want to start building my house.
Normally, the houses that I build are a box with wall, roof, door, chair, and torch (the game considers this a house) These are necessary and most basic implements for inside the game is the house, and until there I get there, I just place those things.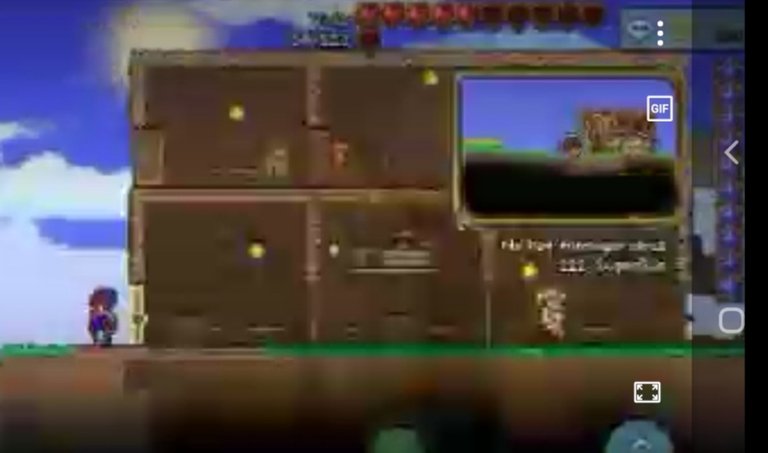 But in this game play I want to strive to give you a better beautiful design for my house. Let it be big, beautiful, tidy, with security, and lots of light. I want to do this so that in case you are encouraged to play this game, you will also be encouraged to do the same, create a nice house. In this game it is very easy to have the materials to make a house, the only thing you need is time to research the crafting of each implement. But I promise you will love to see the results. There is also an advantage, you can play with multiplayer and you can share your achievements and architectural designs. You can also enter the game files and copy the house to pass it to a friend. The latter would be like cheating, but if it can be done, why not do it jejej.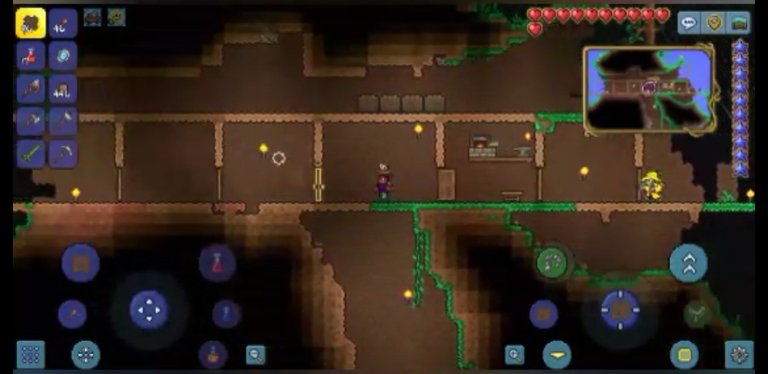 Why do I make many rooms in my house?
In the game there are several npc are virtual player characters of the game. Each of them has advantages, an example is that if you have with you the npc doctor she can heal you very fast for money and if you are in battle and you are about to die then this is worth it. There is also an npc called dryad and she sells things to make magic and a powder that transforms the biomes. This is useful to make drop farms and so on. So when you make a room with all the elements mentioned above, little by little the npc will move into the house and it is much better to play.
Well boy I hope you like this game play and enjoy watching it, I hope you are encouraged to create it. I want my house to look like a mansion.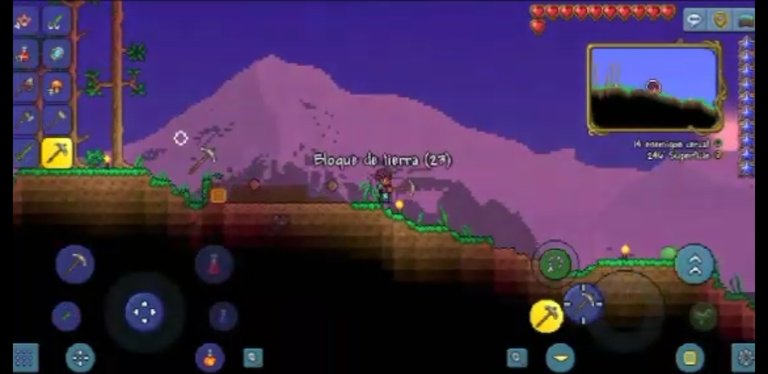 When I started I was flattening the world and this I realized, because sometimes we are running and we fall a cave and there we are trapped, then what I did was to remove the obstacles and holes and then I found a spectacular cave to start putting together my own house, I imagined it complete as a mansion.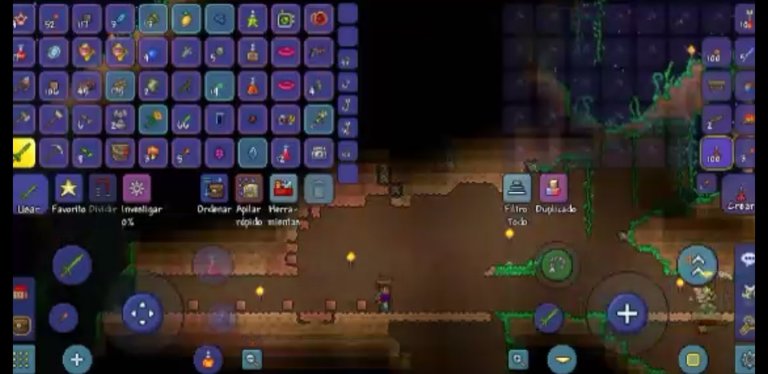 However, I also realized that the more I was generating it the more ideas came to improve it and as I continued making it I was improving it, then I began to demolish, to remove blocks in lateral form to originate my first rooms, then I began to lower columns to be able to create the doors, there were already blocks now only missing wall that is the back wall, then I began to create and place wall so that my house was well covered, then I began to create the chairs and tables and torches for each room, and so I placed it, at first I fenced only 6 rooms because I lacked time to continue building.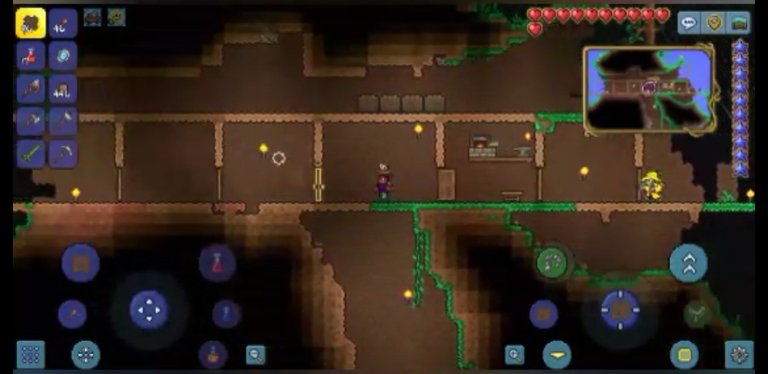 Then, in a corridor that I made above the rooms place the chests and they are not all, I must arrange them well. I placed torches in that corridor and also in the rooms, then I continued demolishing further up because there I wanted to generate more rooms, however, this will be for another chapter because it was already a lot of content for this one.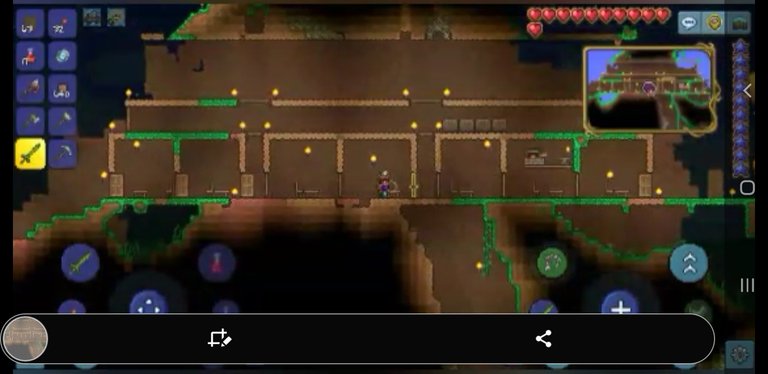 I hope you liked my home page my friend from hive geek zone
android installation apk: https://terraria.uptodown.com/android
Text translation: www.deepl.com
Photo and video: Picsart pro. YouCut. Samsung Galaxy j6 plus.
Source of authorship: own original
Gift creation: www.canva.com
---
Español
Hola querida y bella comunidad de geek zone ¿cómo están? Gente que le apasiona la tecnología. Yo aprendiendo cada día más de la tecnología, ella me apasiona.
Hoy les traigo el segundo capítulo de mi game play en el juego que se llama terraría y este capítulo se llama Iniciando la construcción de mi casa y porque quiero llamarlo así? Porque es en este capítulo quiero iniciar a construir mi casa.
Normalmente, las casas que construyo son un cuadro con pared, techo, puerta, silla, y antorcha (el juego considera esta una casa) Estos son implementos necesarios y más básicos para que dentro del juego sea la casa, y hasta allí llego, solo coloco esas cosas.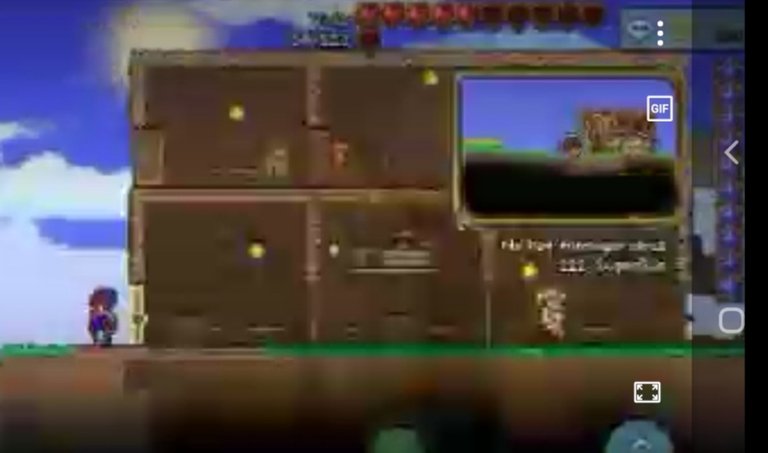 Pero en este game play quiero esforzarme por darles un mejor diseño hermoso para mi casa. Que sea grande, hermosa, ordenada, con seguridad, y mucha luz. Esto lo quiero hacer para por si acaso ustedes se animan a jugar este juego, también se animen a hacer lo mismo, crear unas buenas casa. En este juego es muy fácil disponer de los materiales para hacer una casa, lo único que necesitas es tiempo para investigar el crafteo de cada implemento. Pero te prometo que te encantaran ver los resultados. También existe una ventaja, puedes jugar con multijugador y así mismo puede compartir tus logros y diseños de arquitectura. Asimismo puedes entrar a los archivos del juego y copiar la casa para pasársela a un amigo. Esto último seria como trampa, pero si se puede hacer, porque no hacerlo jejej.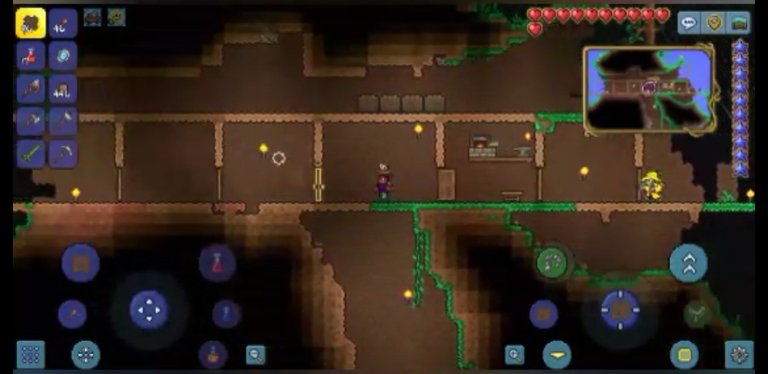 ¿Por qué hago muchos cuartos en mi casa?
En el juego existes varios npc son personajes jugadores del juego virtuales. Cada uno de ellos tiene ventajas, un ejemplo es que si tú tienes contigo a la npc doctora te puede sanar muy rápido por dinero y si tú estás en batalla y estás a punto de morir entonces esto vale la pena. También existe un npc que se llama dríada y esta vende cosas para hacer magia y un polvo que transforma los biomas. Esto te sirve para hacer granjas de drops y así. Entonces cuando tú haces un cuarto con todos los elementos antes mencionados, poco a poco se irán mudando a casa los npc y así es mucho mejor jugar.
Bueno chico espero les guste este game play y disfrutes mucho en verlo, espero te animes a crearlo. Quiero que mi casa se vea como una mansión.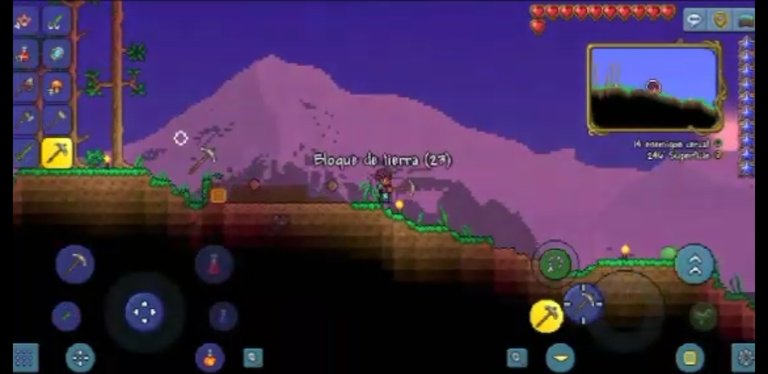 Cuando comencé estaba aplanando el mundo y esto lo realice, ya que a veces estamos corriendo y caemos una cueva y allí quedamos atrapados, entonces lo que hice fue quitar los obstáculos y huecos y después encuentre una cueva espectacular para comenzar a armar mi propia casa, me la imagine completa como una mansión.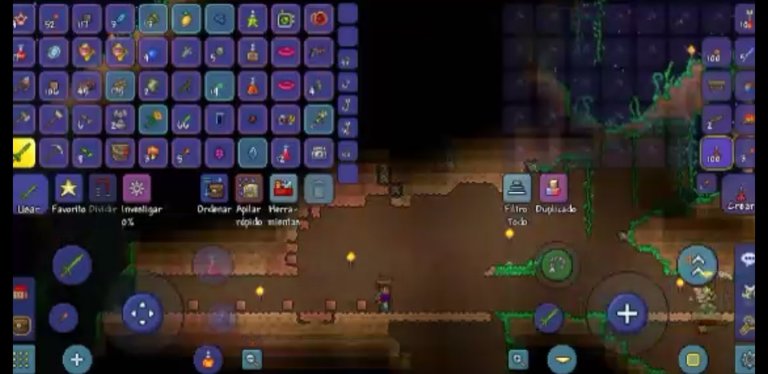 Sin embargo, también me di cuenta de que mientras más la iba generando más venían ideas para mejorarla y mientras continuaba haciendo iba mejorando, entonces comencé a demoler, a quitar bloques en forma lateral para originar mis primeros cuartos, después comencé a bajar columnas para poder crear las puertas, ya había bloques ahora solo faltaba pared que es el fondo de atrás, entonces comencé a crear y colocar pared para que mi casa quedara bien tapada, después comencé crear las sillas y las mesas y antorchas para cada cuarto, y así lo coloque, al principio cerqué solo 6 cuartos porque me falto tiempo para seguir construyendo.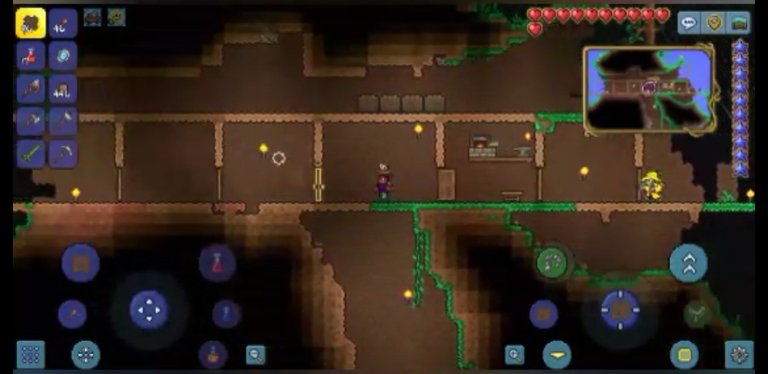 Luego, en un pasillo que realice arriba de los cuartos coloque los cofres y no son todos, debo acomodarlos bien. Coloque antorchas en ese pasillo y también en los cuartos, después seguí demoliendo más arriba pues allí quería generar más cuartos, sin embargo, esto quedara para otro capítulo porque ya era mucho contenido para este.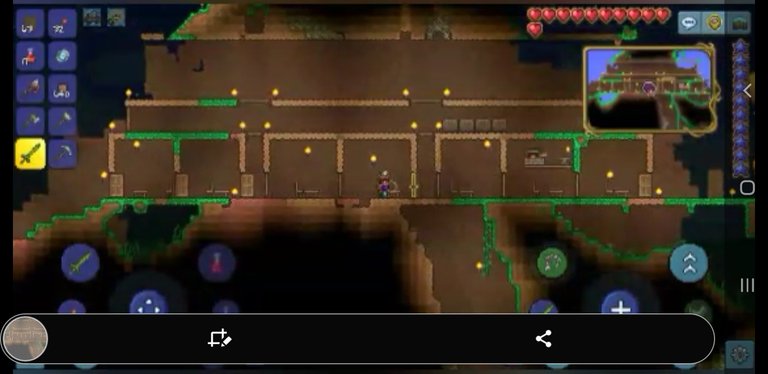 Espero te allá gustado mi principio de casa mi amigo de hive geek zone
Apk de instalacion android: https://terraria.uptodown.com/android
Traducción del texto: www.deepl.com
Foto y video: Picsart pro. YouCut. Samsung Galaxy j6 plus.
Fuente de Autoría: original propio
Creación de gift: www.canva.com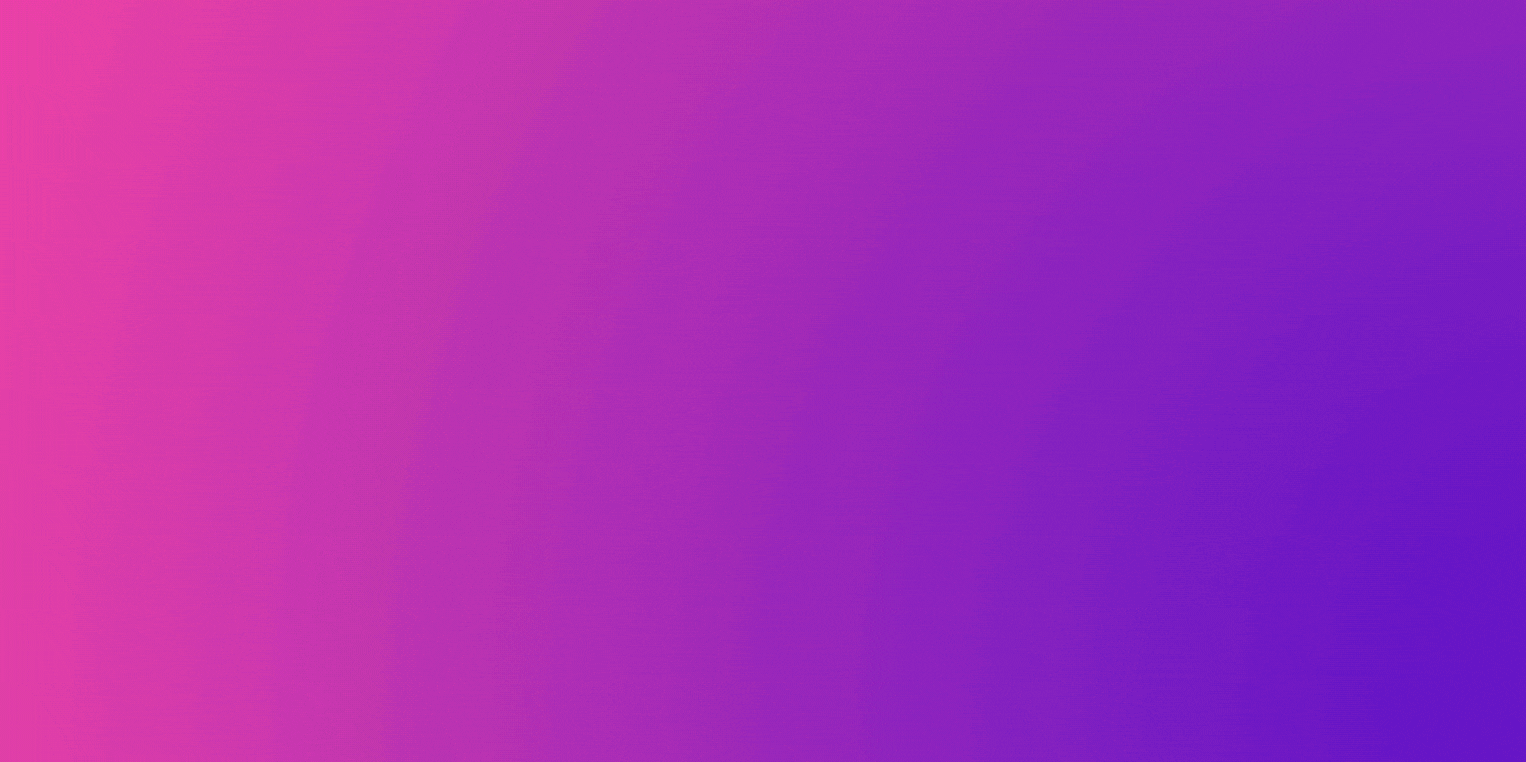 ---
▶️ 3Speak