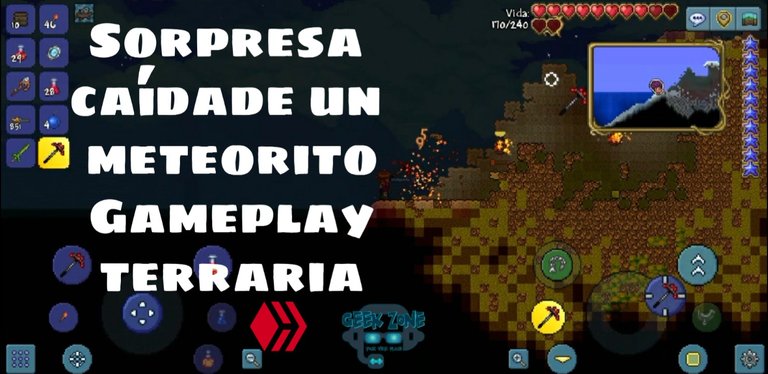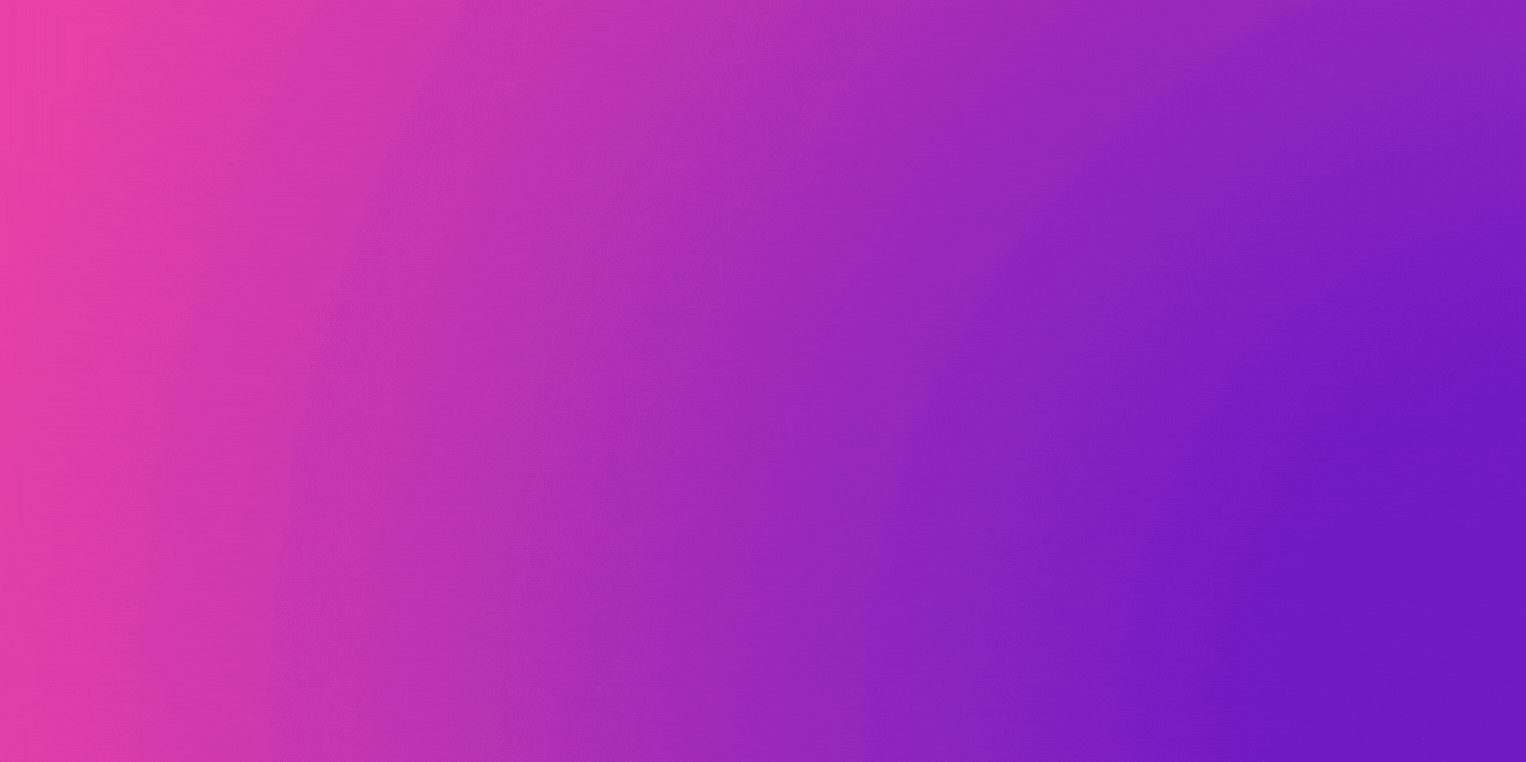 ---
English

This spike is called mortifero
.
Original image taken and cut from the game
.
Hi guys from geek zone how are you How are you doing? I'm Josuerr29 and this time I come to bring you another Gameplay, a little short but also very important, it is mostly informative about the game of Terraria I'm going to inform you of too many components. Today I am happy because there was a new component or mineral that fell, this mineral is called meteorite the truth I will tell you how it all happened.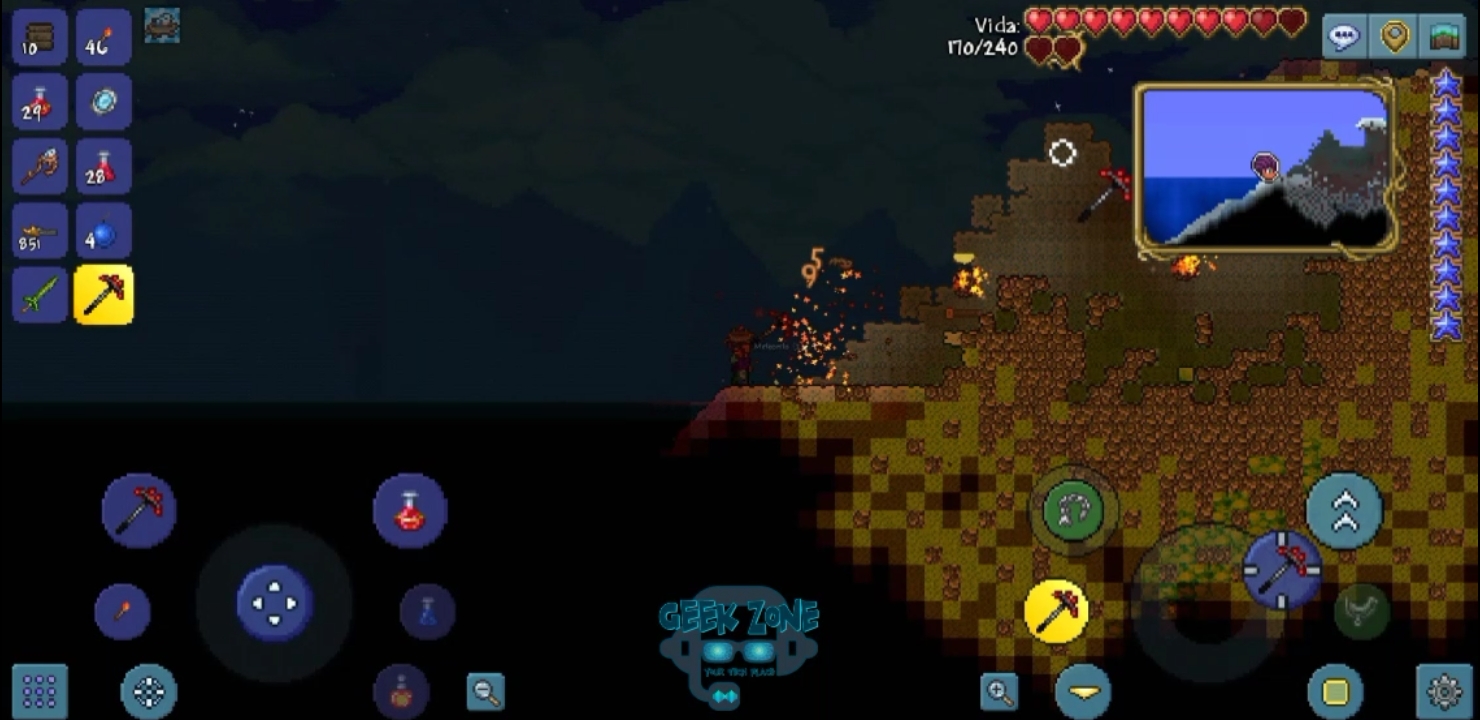 When I can finally destroy the brain that gave me so much trouble in the game of Terraria and what scared me so much, finally if you can destroy it and very easily I could do it trisas. I go then to my hut to craft happily my pickaxe, I think it is called mortifier pickaxe, but this pickaxe was of eskamas of the brain and in addition I had to craft the ingots of the crimson mineral, so I obtained the minerals when I destroyed the eye of kutulo.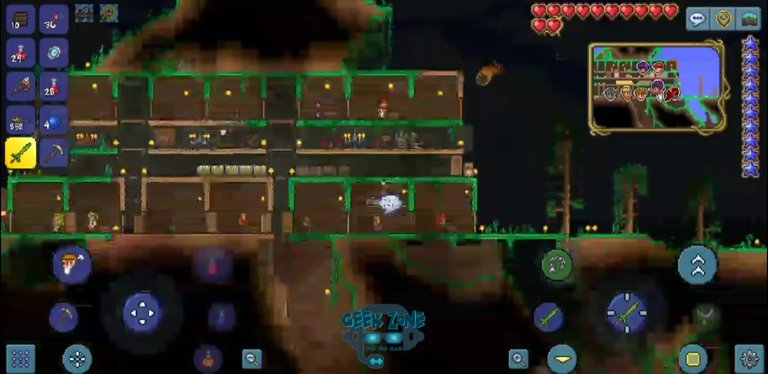 When I managed to mix this I was able to get the peak out which is over 70 power What a bliss!!!! Because it is a very very good pickaxe and finishing crafting I was sorting my inventory and I can see how a meteorite is falling from the sky how cool!!! I said it is very rare to see it I thought it was a decorative object But one second later appeared a notice that says "a meteorite has fallen" And what a thrill was the one that came to me because I haven't seen this for a long time.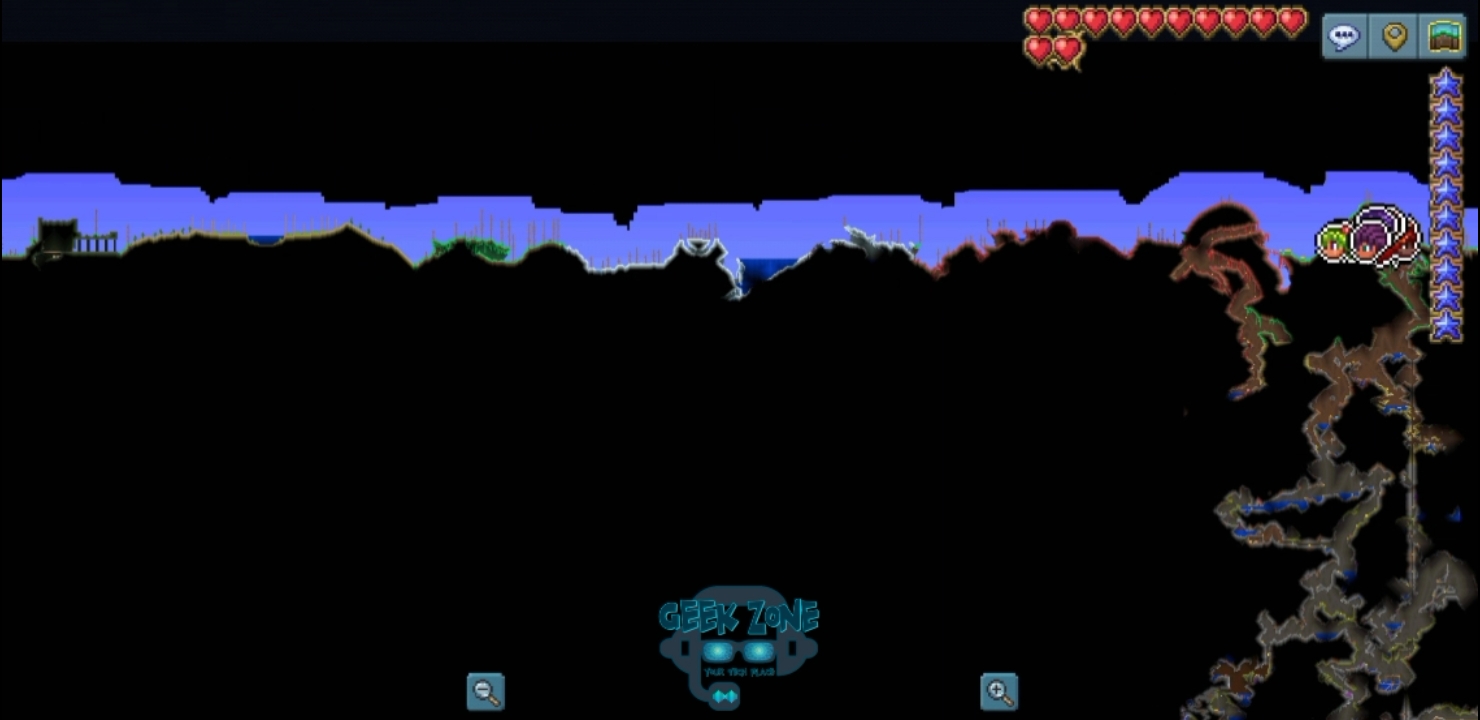 It's several good things happening at the same time, it manages to kill the brain, you can create at the end peak, and immediately a meteorite falls, it's a very good thing. When this meteorite falls the only way you can mine this stuff is with the pickaxe I just created, it's like the game itself unlocks this meteorite ore.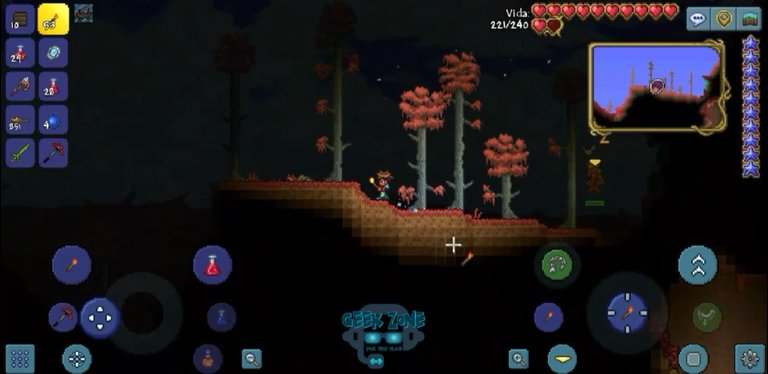 When I created this peak then I started to walk to the left, not before enlarging and the map to see if I could find the meteorite over there. Unfortunately I could not find it I could not see it with that method, so I just went to raid where the meteorite had fallen just to the left, it was night So I had to place torches, I encountered several monsters but all without problem did not stop me the truth that has been very easy to walk at night in this game I remember that before it was very difficult or I do not know if it is because my character is already quite advanced and has good life.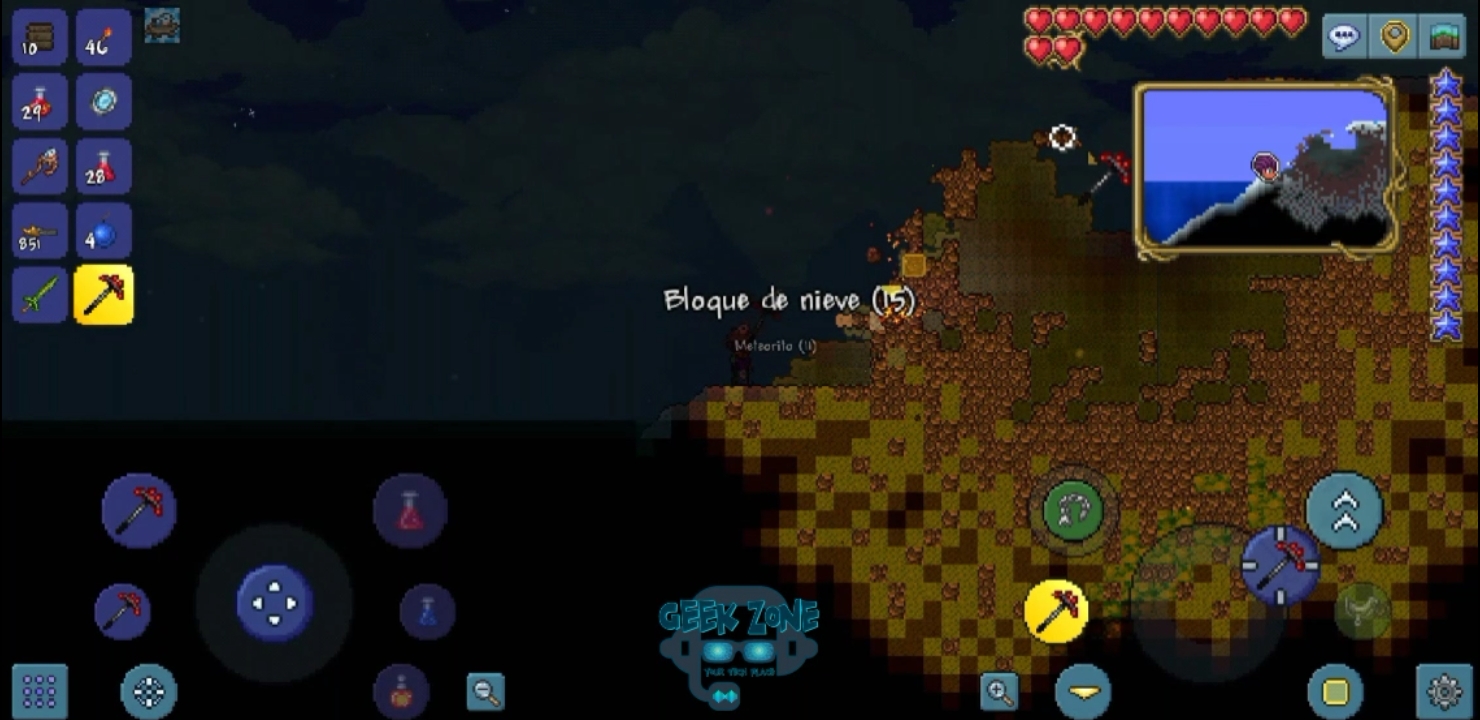 Then I continued to advance to the left and almost reaching the sea I could find the meteorite. What happiness!!! I had not seen this material for a long time then without more or less I started to mine this great meteorite, when it managed to start chopping I stepped on an ore and I started to burn I did not remember! when one is above this ore burns So I had to very carefully put me to mine it to get it out.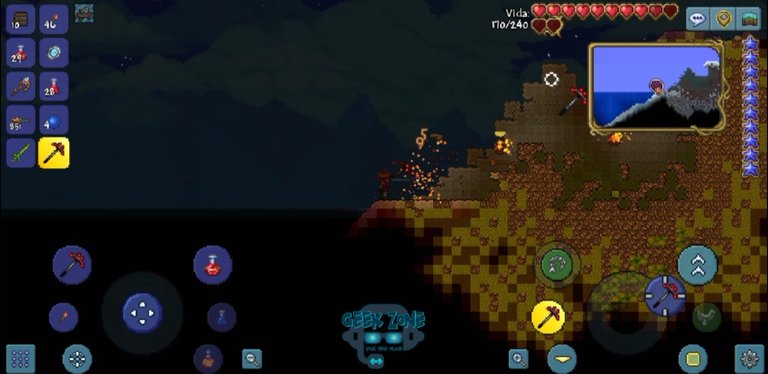 When I'm near the material I appear in the meteorite biome and the monsters appear which are small meteorites that go towards you, the truth are a nuisance Because while you are mining and they come from the side where the peak does not protect your body they can hurt you And if you are near a meteorite ore with low life they can throw you towards that place and die, what a nuisance because of that. However there was no problem guys everything has to be done very carefully, with a lot of patience I managed to mine half of this meteorite and I went home again and you will see that soon I will show you all the armors and all the good things you can do with all these materials.
This was all the gameplay guys until another opportunity where I can share some good stuff about this game, see you soon.
---
Español

Este pico se llama mortifero
Imagen original tomada y cortada del juego
Hola muchachos de geek zone ¿cómo están Cómo les va? Soy Josuerr29 y en esta oportunidad les vengo a traer otro Gameplay, un poco corto pero también muy importante, es más que todo informativo sobre el juego de Terraria los voy a informar de demasiados componentes. Hoy estoy alegre porque hubo un componente o mineral nuevo que cayó, este mineral se llama meteorito la verdad te voy a comentar Cómo fue que ocurrió todo.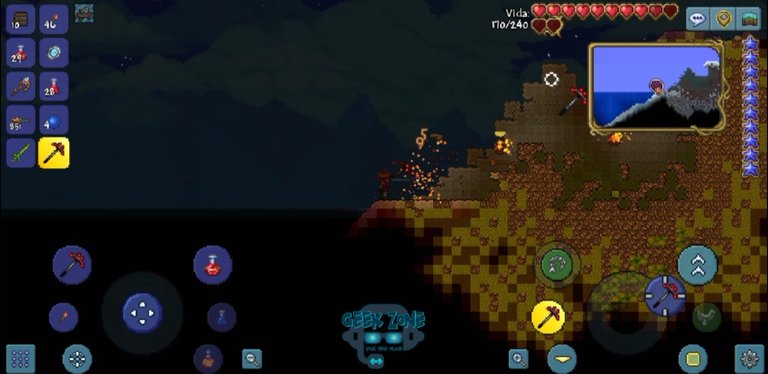 Cuándo por fin puede destrozar el cerebro qué tanto me dio problema en el juego de Terraria y qué tanto me asustó, al fin si lo puede destruir y con mucha facilidad pude hacerlo trisas. Me voy luego a mi cabaña a craftear felizmente mi picó, creo que se llama pico mortifero, pero este pico era de de eskamas del cerebro y además tenía que craftear los lingotes del mineral carmesí, así que los obtuve los minerales cuando destrocé al ojo de kutulo.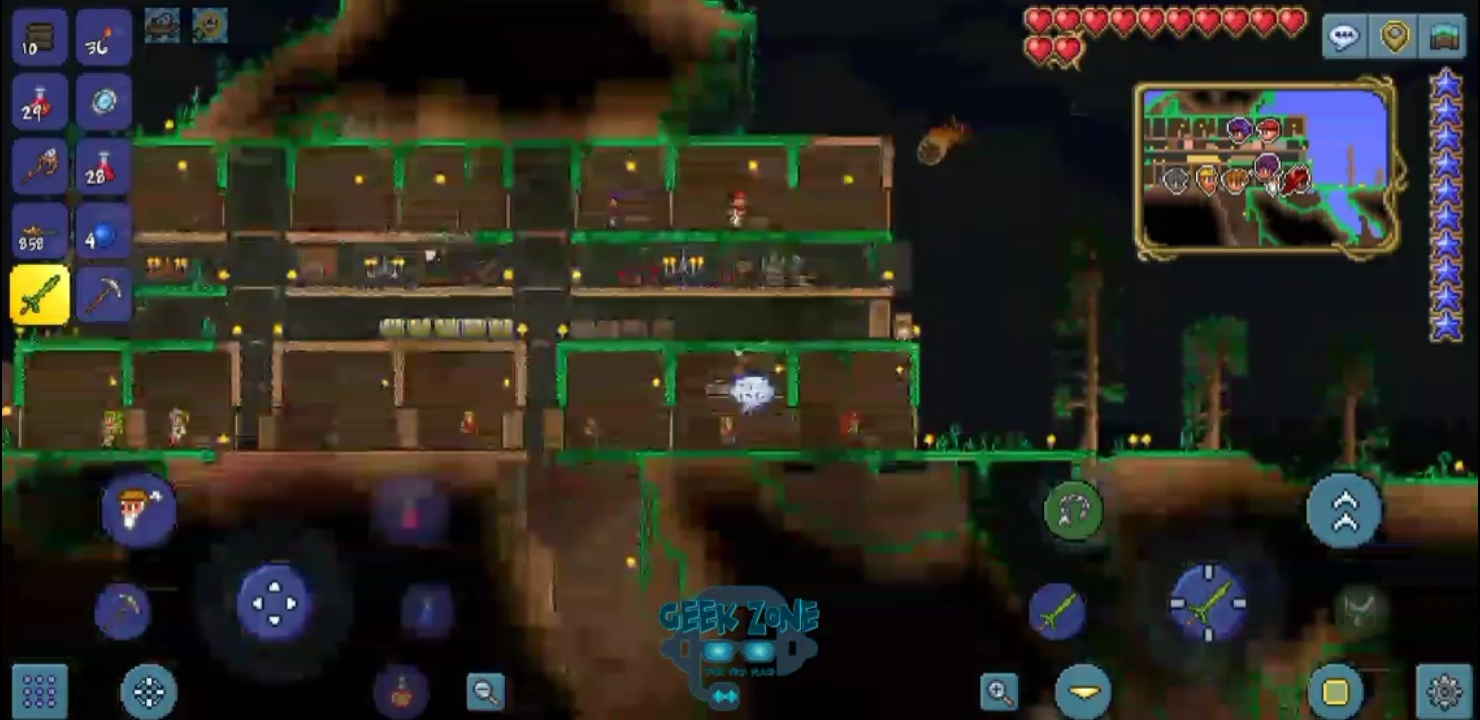 Cuando logré mezclar esto pude sacar el pico que tiene más de 70 de potencia ¡¡Qué felicidad!! Porque es un pico muy pero muy bueno y terminando de craftear estaba ordenando mi inventario y puedo ver como un meteorito Va cayendo desde el cielo ¡¡qué genial!! dije es muy raro verlo pensé que era un objeto decorativo Pero uno segundo después apareció un aviso que dice "ha caído un meteorito" Y qué emoción fue la que me vino porque llevo tiempo que no veía esto.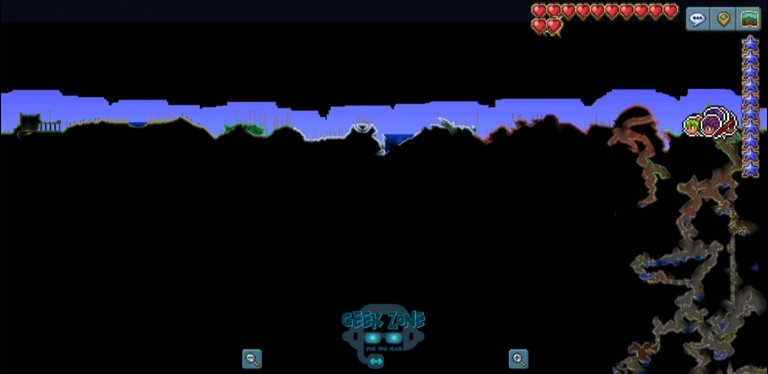 Son varias cosas buenas que pasan al mismo tiempo, logra matar al cerebro, puedes crear al final pico, y inmediatamente cae un meteorito, es algo muy bueno. Cuando cae este meteorito la única manera de poder minar este material es con el pico que Acabo de crear, es como si el juego mismo desbloqueara este mineral de meteorito.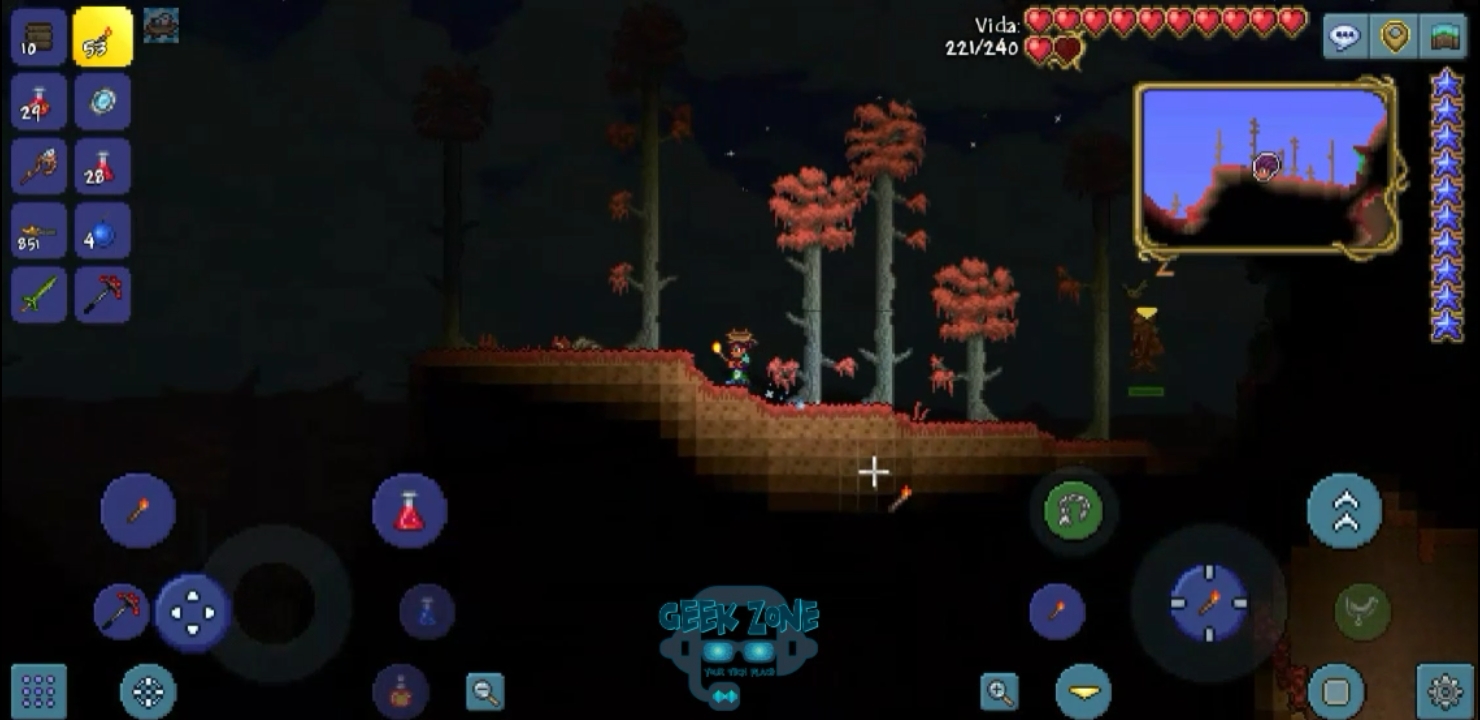 Cuando cree este pico entonces empecé a Caminar hacia la a la izquierda, no sin antes engrandecer y el mapa a ver si podía encontrar el meteorito por allí. Lamentablemente no lo pude encontrar no lo pude ver con ese método, así que simplemente me fui a incursionar donde había caído el meteorito justo hasta la izquierda, era de noche Así que tuve que colocar antorchas, me encontré con varios monstruos pero todo sin problema no me detuvieron la verdad que ha sido muy fácil andar de noche en este juego recuerdo que antes era muy difícil o no sé si es porque ya mi personaje está bastante avanzado y tiene buena vida.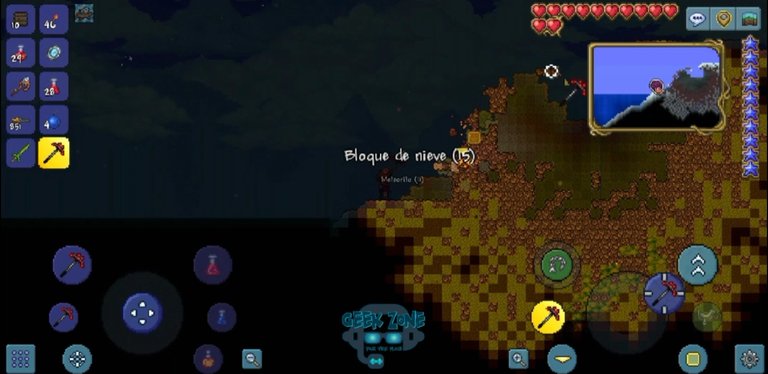 Entonces continúe avanzando hacia la izquierda y casi llegando al mar pude encontrar el meteorito. ¡¡Qué felicidad!! tenía tiempo que no lo veía este material entonces sin más ni menos me puse a minar este grandioso meteorito, cuando logró comenzar a picar pise sobre un mineral y me comencé a quemar ¡no lo recordaba! cuando uno está arriba de este mineral se quema Así que tuve que con mucho cuidado ponerme a minarlo para poder sacarlo.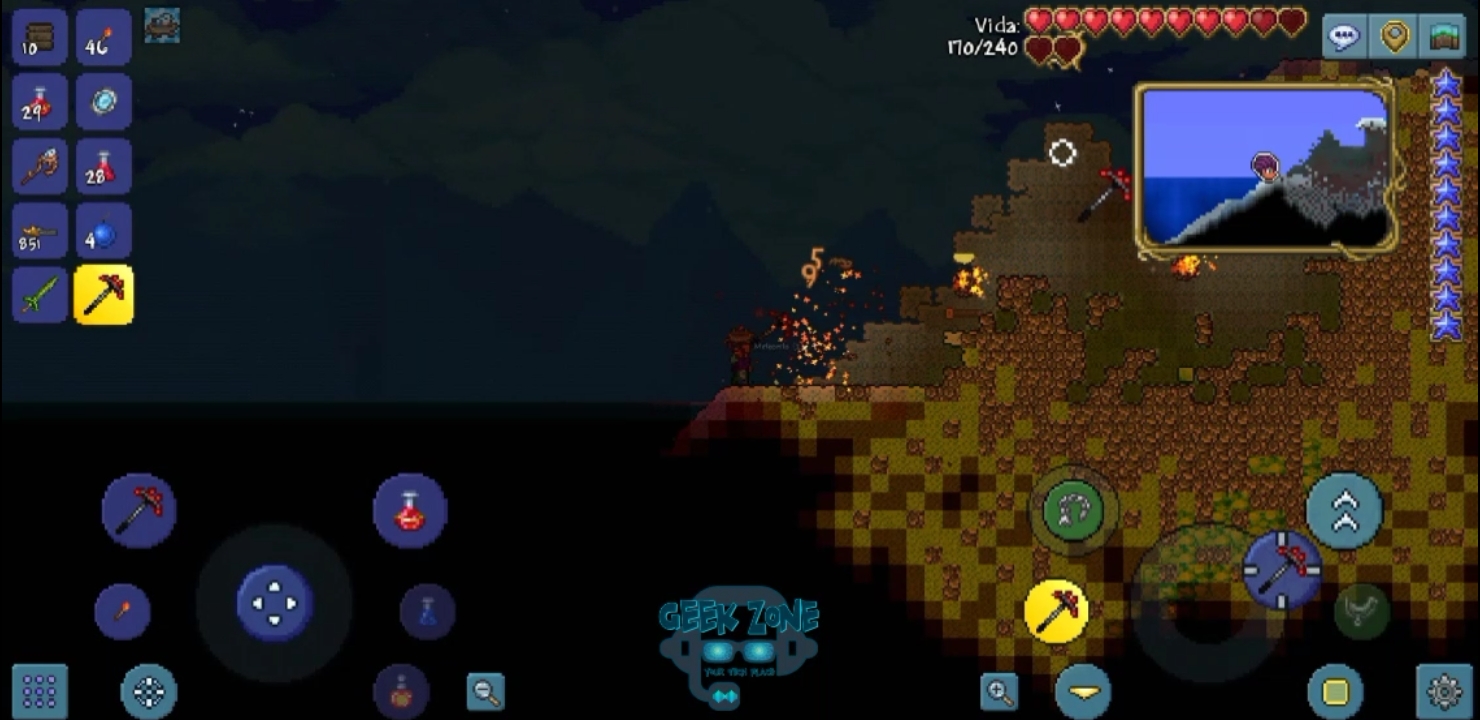 Cuando estoy cerca de el material aparezco en el bioma de meteorito y aparecen los monstruos que son meteoritos pequeños que van hacia ti, la verdad son un fastidio Porque mientras tú estás minando y llegan del lado donde el pico no protege tu cuerpo pueden hacerte daño Y si estás cerca de un mineral de meteorito con poca vida pueden tirarte hacia ese lugar y morir, qué fastidio por eso. Sin embargo no hubo problema muchachos todo hay que hacerlo con mucho cuidado, con mucha paciencia logré minar la mitad de este meteorito y me fui otra vez a casa ya verás que pronto les mostraré todas las armaduras y todas las cosas buenas que se pueden hacer con todo este materiales.
Esto fue todo el Gameplay muchachos hasta otra oportunidad donde le pueda compartir unas cosas buenas sobre este juego, Hasta pronto