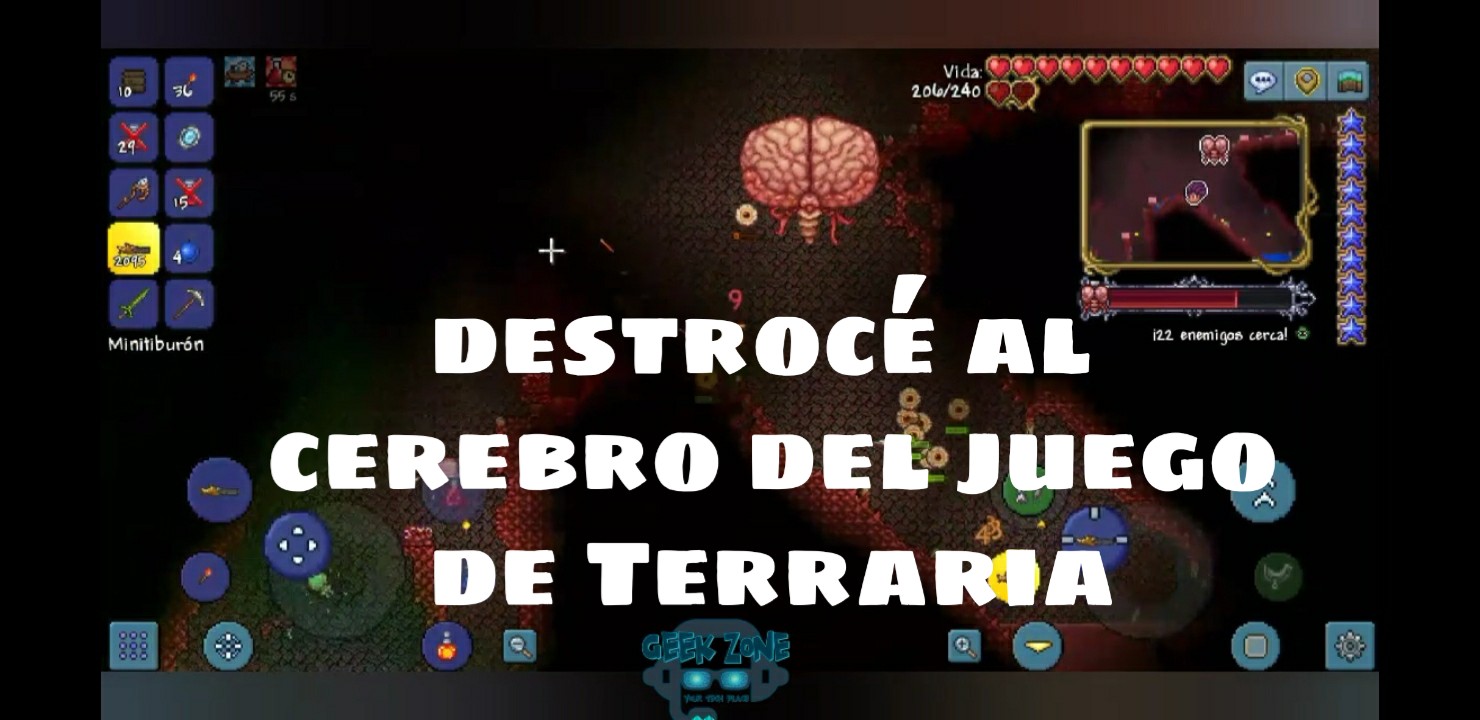 English
Hi guys from geek zone how are you? How are you doing? I'm josuerr29 and this time I come to bring you another video, another very important Gameplay very good. This Gameplay about the game called terraria in this opportunity I bring you a page which I showed you previously that is called wiki terraria here is everything you do not know how to craftear do or plans or ways to kill bosses in the game is a complete explanation and that game is too extensive And then this page was created so you can get information about the whole game in the first minutes of the Gameplay I show it to you so that you the next time you can if you are playing this game Search within this page to the concepts that do not understand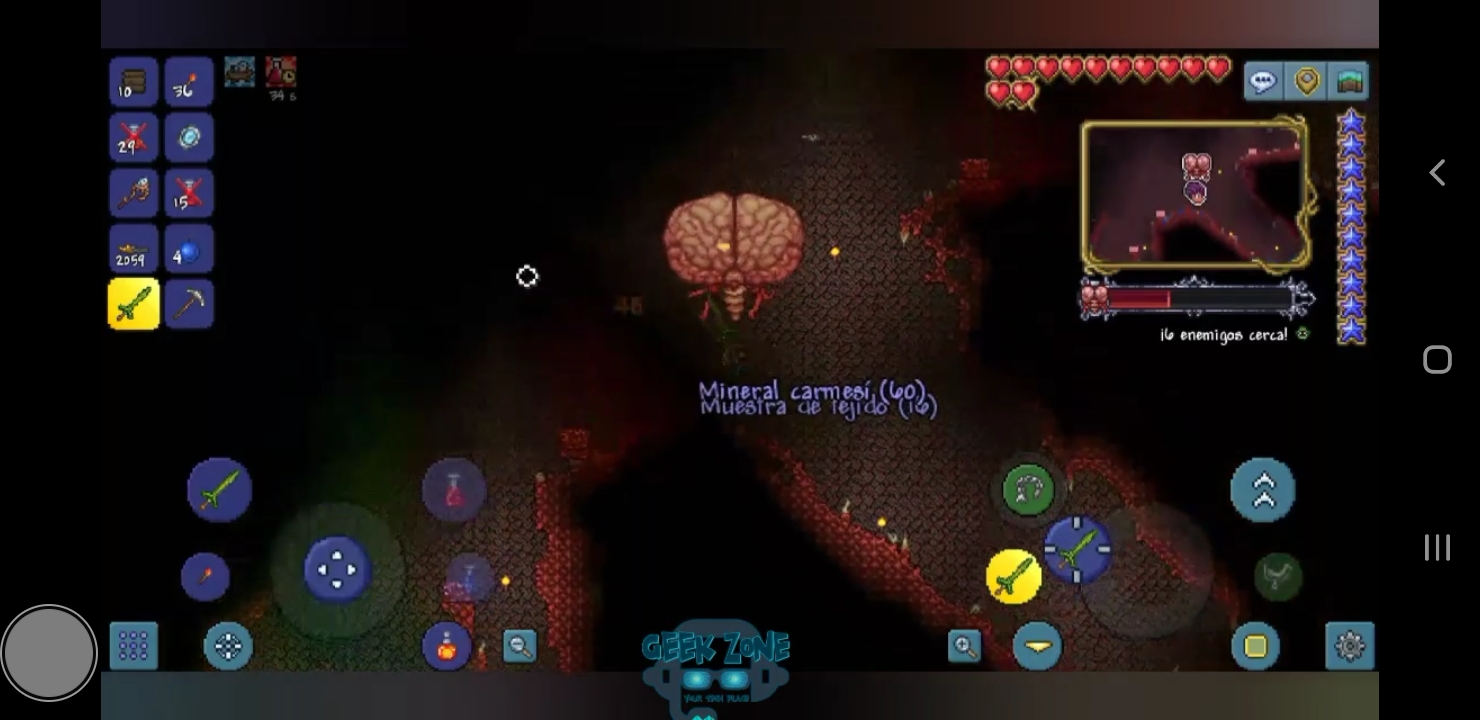 I start the game in this way: first selling some things to complete the money to buy the weapon called mega shark this weapon can also be craftear in a better just need some things like shark fins and other things to craftear a weapon that is called mega shark hit much more and is better, but for now we have to buy this weapon Why reason? because this weapon will serve us to defeat several bosses.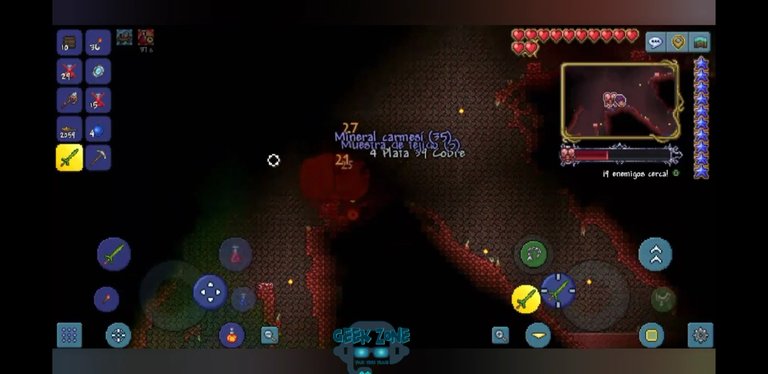 I bought it from the weapon merchant is an npc in the game, a tenant who is there, he sells you a variety of weapons, ammunition, and other things. I bought this one to go towards the brain that I need to destroy this brain will drop me some things like scales and other materials that are needed to make the pickaxe I'm looking for. This pickaxe has more than 60 power which is what I need to go get the infernal forge. The infernal forge will help me to craft much more powerful minerals such as meteorite minerals, adamantite minerals that are already in the hard mode and armor in the hard mode.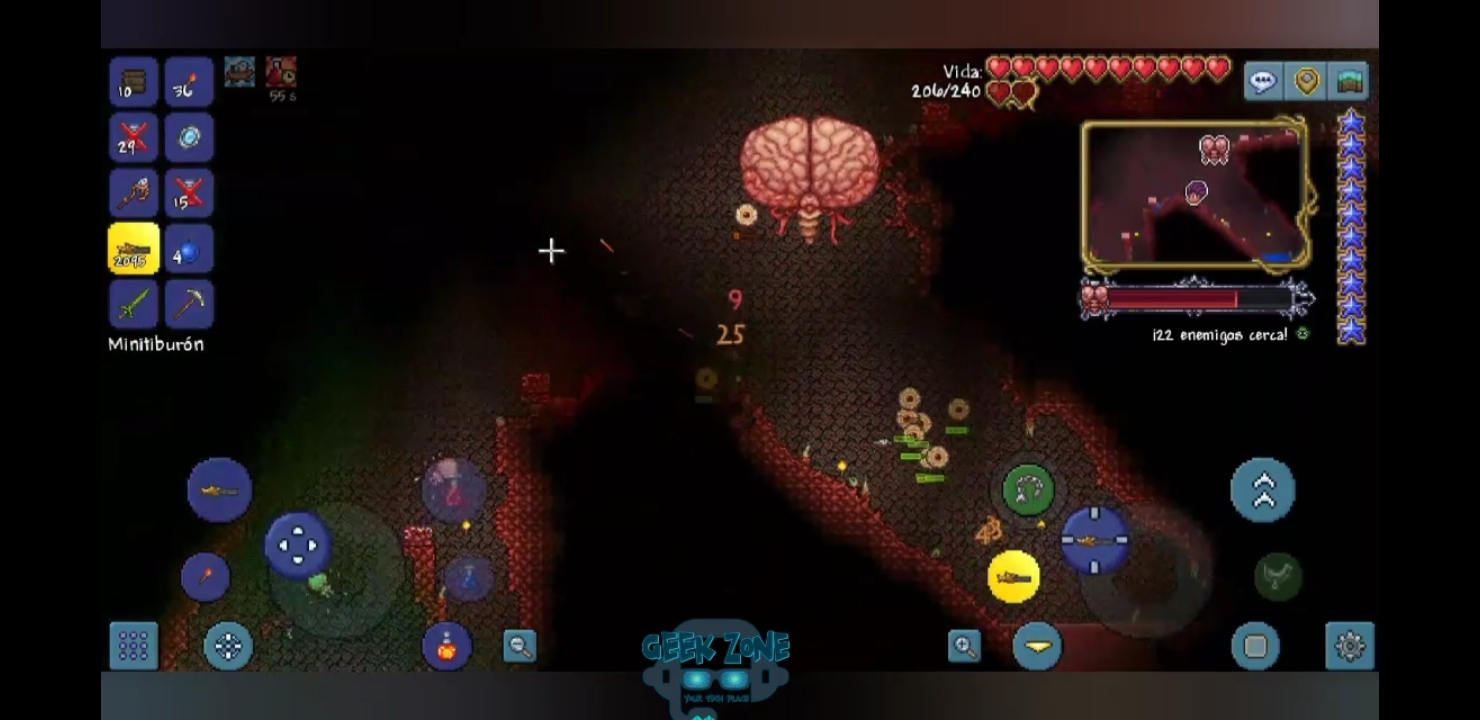 In the meantime I just need the materials that this voice I'm going to defeat is going to drug me so I equipped myself with all the things I need which were the poisonous sword, I bought the bullets I needed, and also I took the minitiburon weapon (this is a machine gun), I also went with iron skin potion and major healing fusion, some mushrooms that I needed to eat.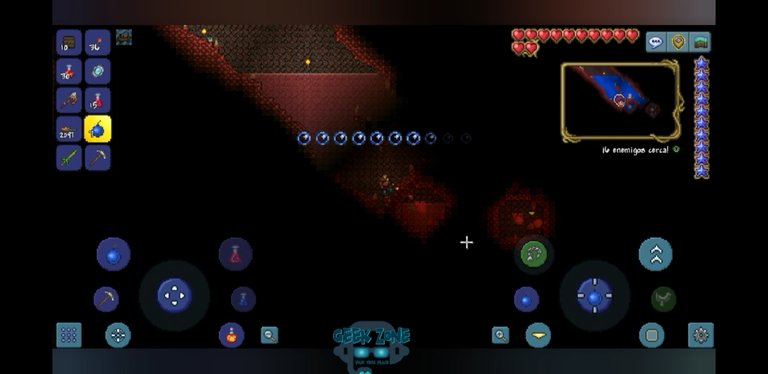 After leaning on everything mentioned I started to go around the world, I remember that on the left side I also had a crimson biome But when I got to that place there were no hearts which are the ones I need to destroy So I had to go to the right side of the world that there is if I remember there were hearts in the other crimson biome. So I went walking towards that place, when I managed to enter the crimson biome I could finally find the hearts and I destroyed them with the gelatinous bombs that are stuck on the wall.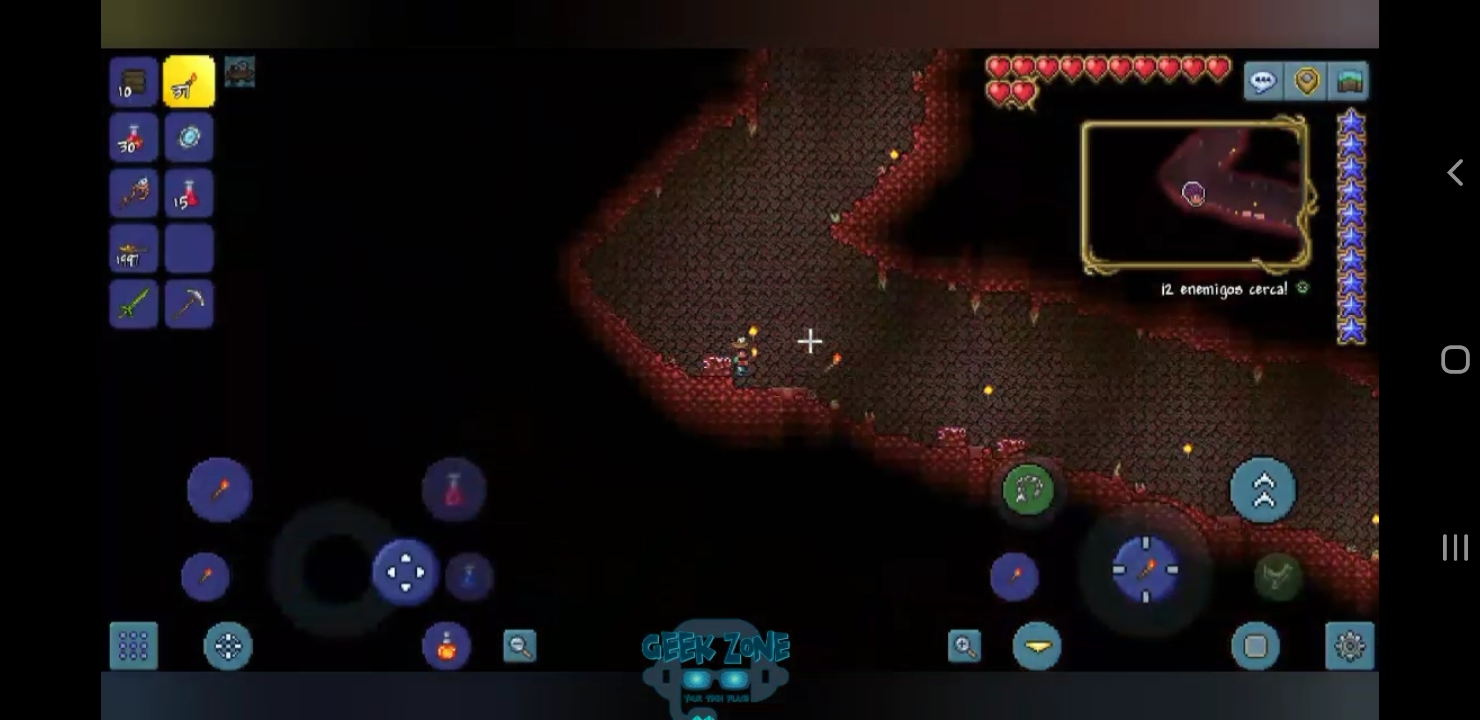 With these bombs is the only way that in my level I can destroy these hearts because I still don't have the specific weapons to destroy the blocks of this Carmen. So when I destroy the third heart this brain wakes up and I start to hit him hard I remember that because of the speed and fear I forgot to take the major healing potion but in the middle of the battle I took it and continued in my battle. Half of the fight I did it with the poison sword and the other half I did it with the machine gun and the truth was not as difficult as I thought it was very easy. I was able to finish it and make it.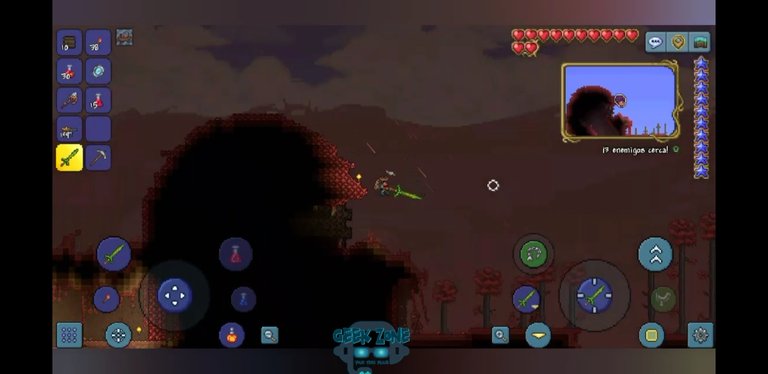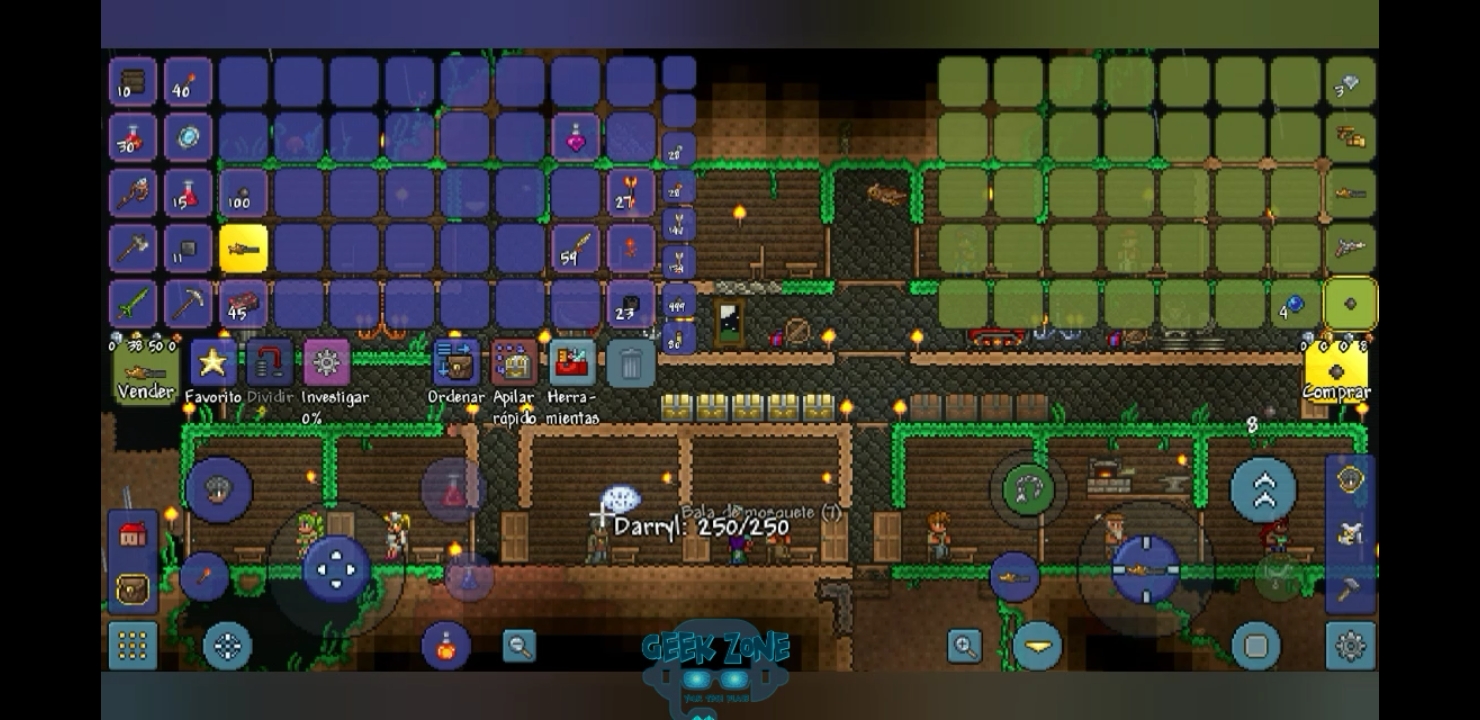 This is a very easy guide that you can do to do the same as I do
¡¡¡¡¡¡LO DESTRUÍ!!!!!!!!
---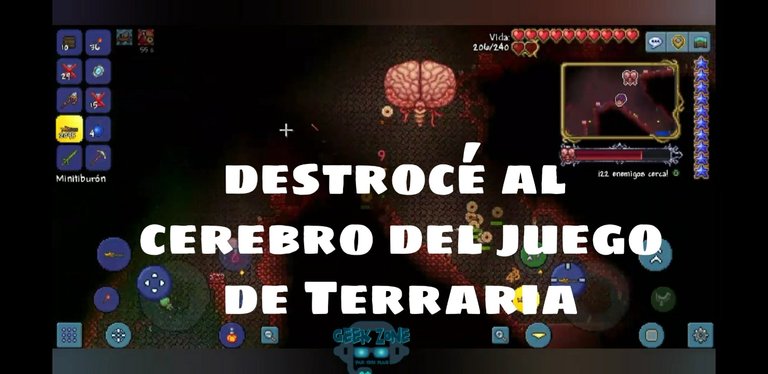 Español
Hola muchachos de geek zone ¿cómo están Cómo les va? soy un josuerr29 y en esta oportunidad vengo a traerles otro vídeo, otro Gameplay muy importante muy bueno. Este Gameplay sobre el juego llamado terraria en esta oportunidad te traigo una página la cual yo te mostré con anterioridad que se llama wiki terraria aquí se encuentra todo aquello que no sabes cómo craftear hacer o planes o maneras de matar jefes dentro del juego es una explicación completa y aquel juego es demasiado extenso Y entonces se creó esta página para que tú puedas obtener información acerca de todo el juego en los primeros minutos del Gameplay yo te la muestro para que tú la próxima vez puedas si está jugando este juego Buscar dentro de esta página a los conceptos que no entiendas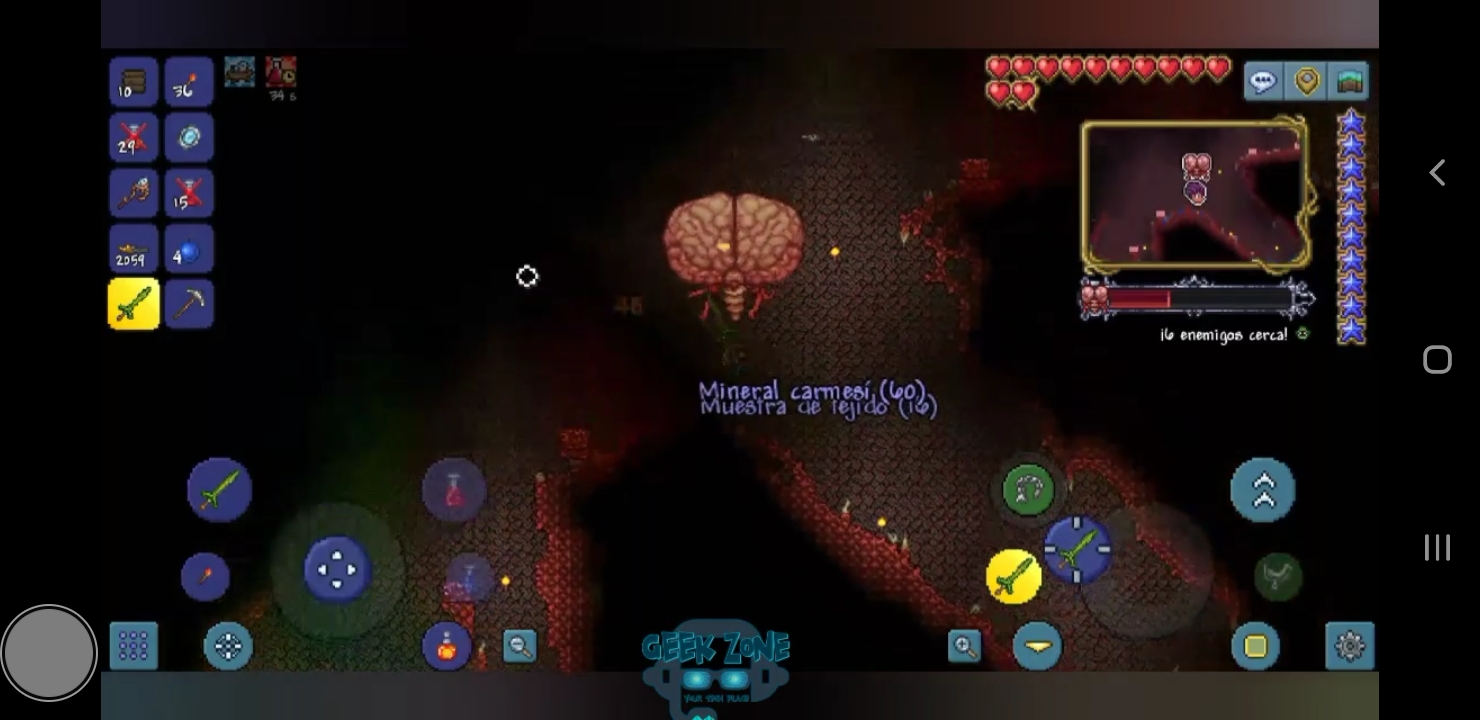 El juego lo comienzo de esta manera: primero vendiendo algunas cosas para poder completar el dinero para comprar el arma que se llama megatiburón esta armá también se puede craftear en una mejor solo necesitamos algunas cosas como aletas de tiburón y otras cosas para poder craftear un arma que se llama megatiburón pegan muchísimo más y es mejor, pero por ahora tenemos que comprar esta arma ¿Por qué razón? porque esta arma nos va a servir para derrotar a varios jefes.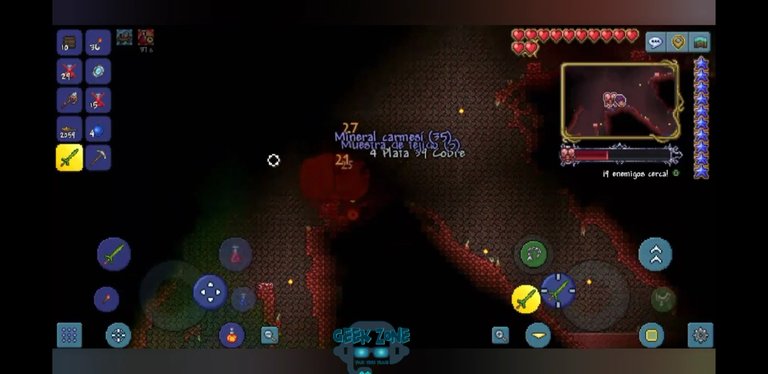 Se la compré al mercader de armas es un npc del juego, un inquilino que está allí, el te vende variedad de armas, municiones, y otras cosas. esta la compré para ir dirigido hacia el cerebro que necesito destruir este cerebro me va a dropear algunas cosas como escamas y otros materiales que se necesitan para hacer el pico que ando buscando. Este pico tiene más de 60 de potencia qué es lo que necesito para ir a buscar la forja infernal. La forja infernal me va a servir para craftear minerales muchísimo más potentes como por ejemplo minerales de meteorito minerales de adamantita que ya están en el modo difícil y armaduras del modo difícil.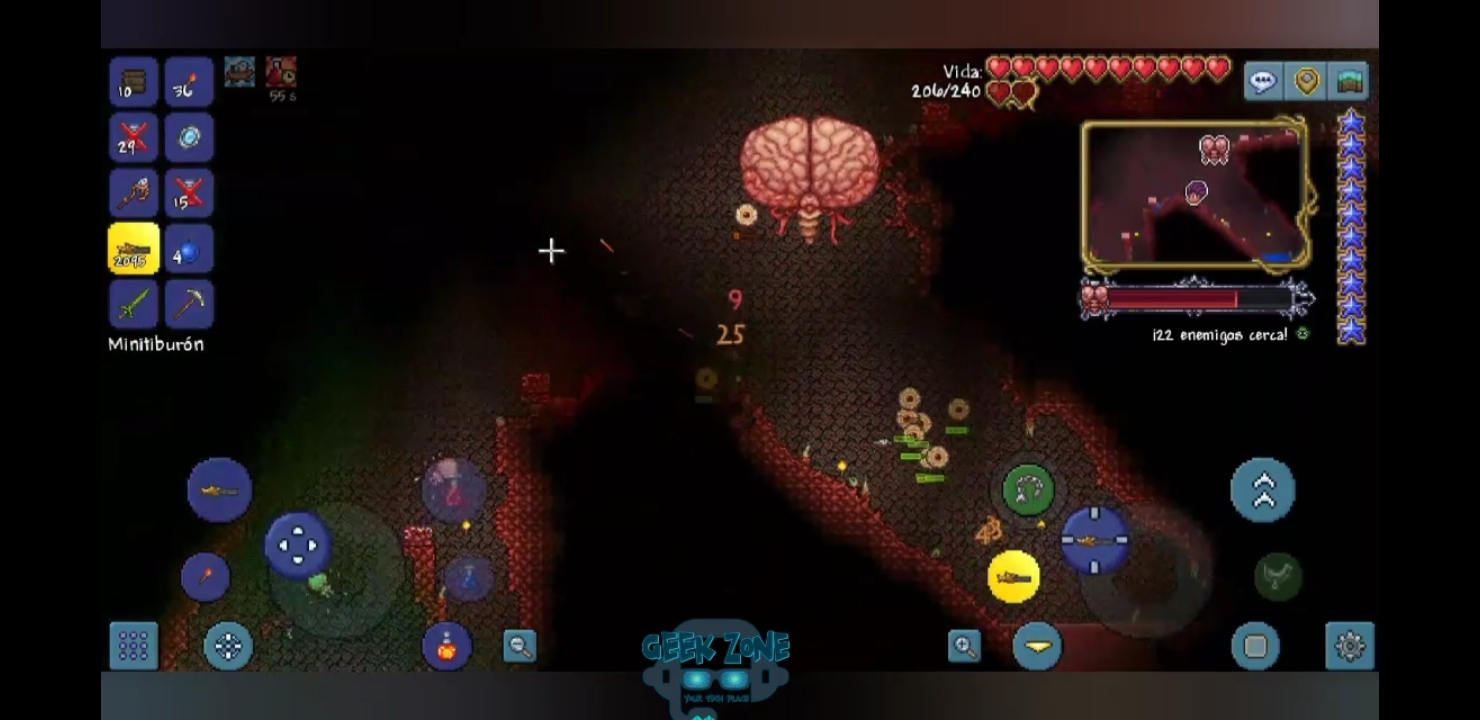 Mientras tanto solo Necesito los materiales que me va dropear este voz que voy a derrotar entonces me equipe con todas las cosas que necesito qué fueron la espada venenosa, compre las balas que necesitaba, y además me lleve la arma minitiburon (esta es una metralleta), también me fui con poción de piel de hierro y fusión curativa mayor, algunos hongos que necesitaba para comer.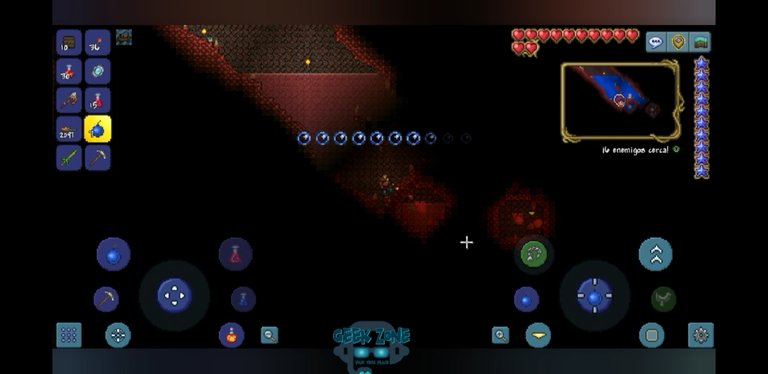 luego de apoyarme en todo lo mencionado comencé a ir por todo el mundo, recuerdo que del lado izquierdo también tenía un bioma de carmesí Pero cuando llegue a ese lugar no habían corazones que son los que necesito destruir Así que tuve que irme de lado derecho del mundo que hay si recuerdo que habían corazones en el otro bioma carmesí. Entonces me fui caminando hacia ese lugar, cuando logró entrar al bioma carmesí por fin puede encontrar los corazones y los cuales destrui con las bombas gelatinosas que se quedan pegadas en la pared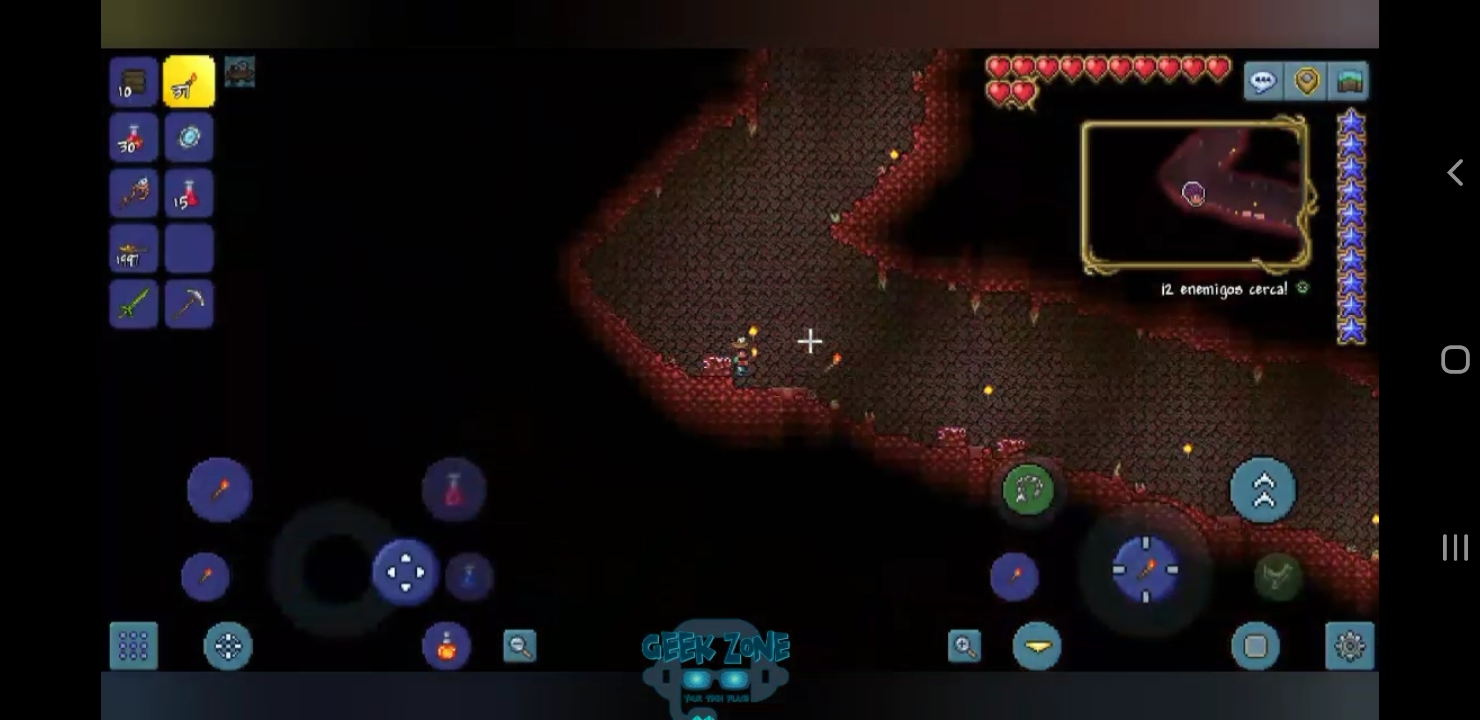 Con esas bombas es la única manera que en mi nivel yo pueda destruir estos corazones por que todavía no tengo las armas específicas para destruir los bloques de este Carmen. Así que al destruir el tercer corazón se despierta este cerebro y comienzo a pegarle con fuerza recuerdo que por la velocidad y el miedo se me olvidó tomar la poción curativa mayor pero en medio de la batalla me la tomé y continué en mi batalla La mitad de la pelea la realice con espada de veneno y la otra mitad le realice con la metralleta y la verdad no fue tan difícil como pensé esto fue muy fácil. Pude terminarlo y lograrlo.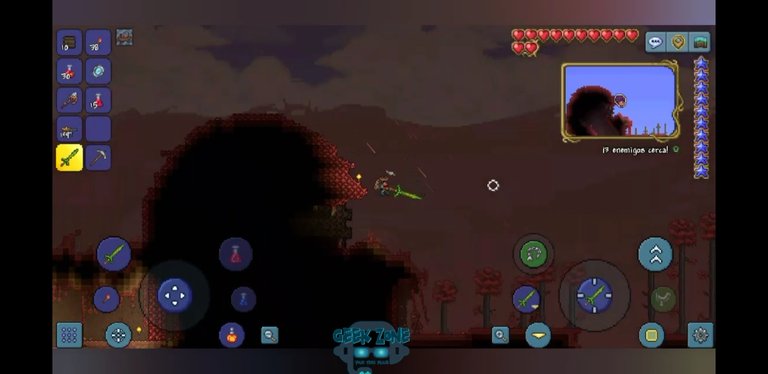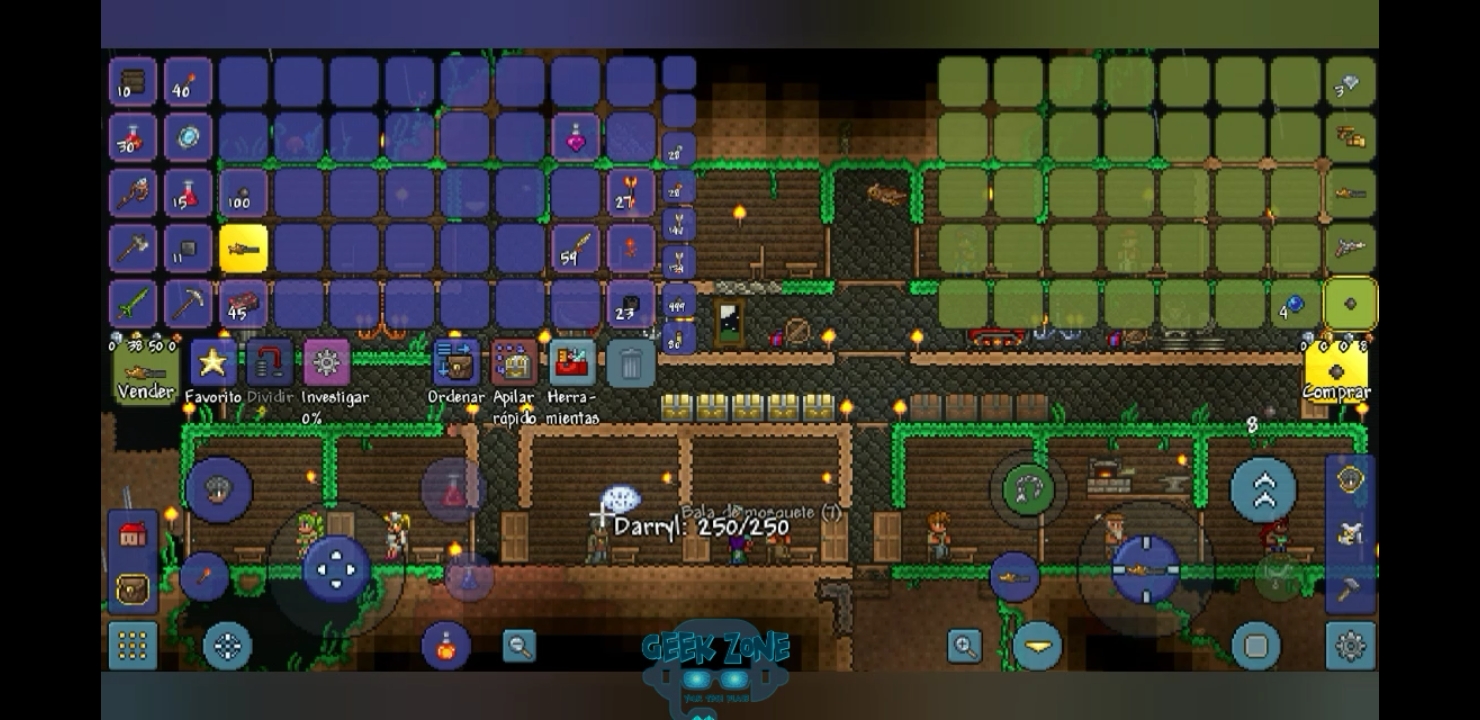 Esta es una guía muy fácil que tú puedes hacer para hacer lo mismo que yo
¡¡¡¡¡¡LO DESTRUÍ!!!!!!!!