For a long time, I have wanted to try an imitation smartwatch, one of those that look like the best known, to see how good they can be. There are so many imitation smartwatches on the market, there are so many brands that it can be overwhelming. Generally speaking, almost all these devices are the same, it seems that the same company mass produces them and grouped them in batches, places a brand and launches them to the market and I'm a fan of trying rare brands.
Desde hace bastante tiempo, he querido probar un smartwatch imitación, de esos que se parecen a los más conocidos, para ver que tan buenos pueden llegar a ser. En el mercado hay muchísimos smartwatch imitación, son tantas marcas que puede llegar a ser abrumador. En términos generales, casi todos estos dispositivos son iguales, pareciera que una misma empresa los produjera en masa y los agrupara por lotes, coloca una marca y los lanza al mercado y yo soy fan de probar marcas extrañas.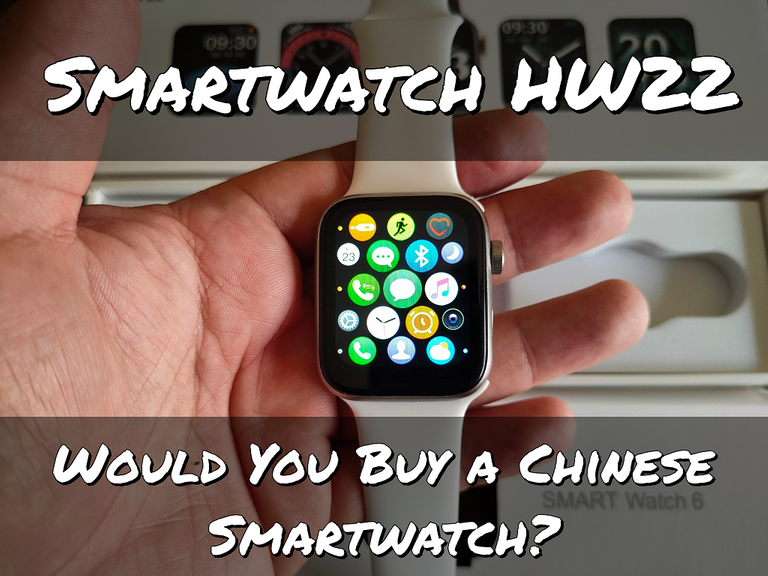 After some time studying which smartwatch to try, I decided on the HW22. There are many models similar to this one, but the HW22 has an advantage in terms of processor and sensors. The big question is, would you buy a Chinese smartwatch? I will answer this question as I tell you more details about the HW22 smartwatch.
Después de algún tiempo estudiando cual smartwatch probar, me decidí por el HW22. Hay muchísimos modelos parecidos a este, pero el HW22 tiene una ventaja en cuanto al procesador que tiene y los sensores. La gran pregunta seria si ¿Comprarías un smartwatch chino? La respuesta a esta pregunta la iré haciendo a medida que te cuento más detalles del smartwatch HW22.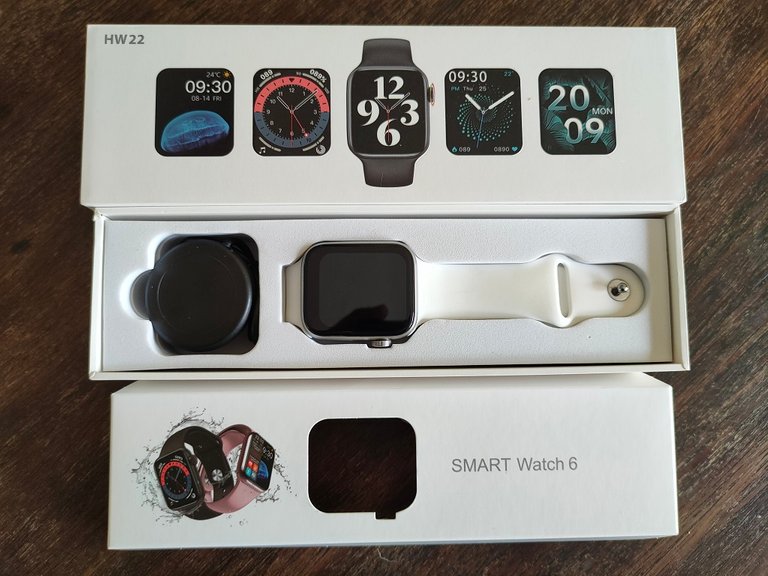 The HW22 smartwatch has a heart rate sensor, thermometer, oxygen saturation, blood pressure and pedometer. These 5 sensors were the first thing that made me buy it and although I understand that it is not a medical device, it is good to have these measurements to solve at a given time. I took the task of comparing measurements with some medical equipment and 80-85% of the time, it showed me a very accurate value.
El smartwatch HW22 cuenta con sensor de ritmo cardiaco, termómetro, saturación de oxígeno, presión arterial y podómetro. Estos 5 sensores fue lo primero cosa que me hicieron comprarlo y aunque entiendo que no es un dispositivo médico, es bueno contar con estas mediciones para resolver en un momento determinado. Me tome la tarea de comparar mediciones con algunos equipos médicos y en un 80-85% de las veces, me mostraba un valor muy acertado.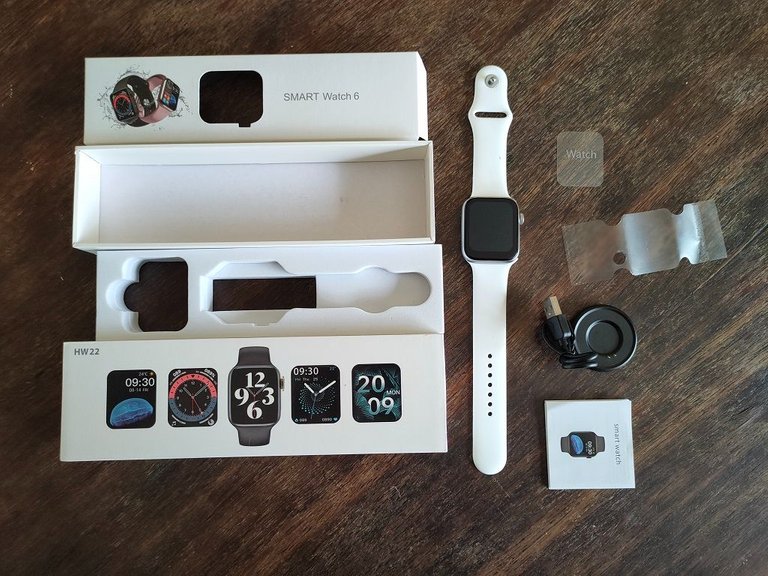 This watch has a 220mAh battery which, although not that much capacity, has given me a battery life of 3 days with all sensors activated and connected, 100% of the time, via bluetooh to my smartphone. Yes, it is true that 3 days is not much, but most imitation watches usually last 1 day. In reality, the HW22 smartwatch has given me a week of battery life, with moderate use.
Este reloj cuenta con una batería de 220mAh que, aunque no sea de tanta capacidad, me ha dado una duración de 3 días con todos los sensores activados y conectado, el 100% del tiempo, vía bluetooh a mi smartphone. Si, es cierto que 3 días no es mucho, pero la mayoría de los relojes imitación suelen durar 1 día. En la realidad, el smartwatch HW22 me ha dado una semana de batería, con un uso moderado.
The HW22 smartwatch allows you to control music, make and take calls, even talking and listening from the smartwatch. It displays all notifications from your smartphone, has reminder function to keep you hydrated, if you are sitting for a long time or a simple alarm. You can use this smartwatch to take pictures, it has some games and other essential functions that a watch brings such as date, time, calendar, calculator and even the weather.
El smartwatch HW22 te permite controlar la música, realizar y atender llamadas, incluso hablando y escuchando desde el smartwatch. Muestra todas las notificaciones de tu smartphone, tiene función de recordatorio para mantenerte hidratado, si estas mucho tiempo sentado o una simple alarma. Puedes utilizar este smartwatch para tomar fotografías, tiene algunos juegos y otras funciones esenciales que trae un reloj como lo son la fecha, hora, calendario, calculadora e incluso el clima.
A feature that is already common in smartwatches from well-known brands is the possibility of being able to set your own images as wallpaper.
Una función que ya es común en los relojes inteligentes de marcas conocidas es la posibilidad de poder colocar tus propias imágenes como fondo de pantalla.
So far everything seems very good, without leaving aside that it is resistant to dust and splashes and an average price of $ 25, there are certain things that I did not like. A Chinese smartwatch or imitation, can be very attractive, but there are certain things that usually do not work very well and that varies according to the model you want to try.
Hasta el momento todo parece muy bueno, sin dejar de lado que es resistente al polvo y a salpicaduras y un precio promedio de 25$, hay ciertas cosas que no me gustaron. Un smartwatch chino o imitación, puede ser muy atractivo, pero hay ciertas cosas que no suelen funcionar muy bien y eso varia de acuerdo al modelo que quieras probar.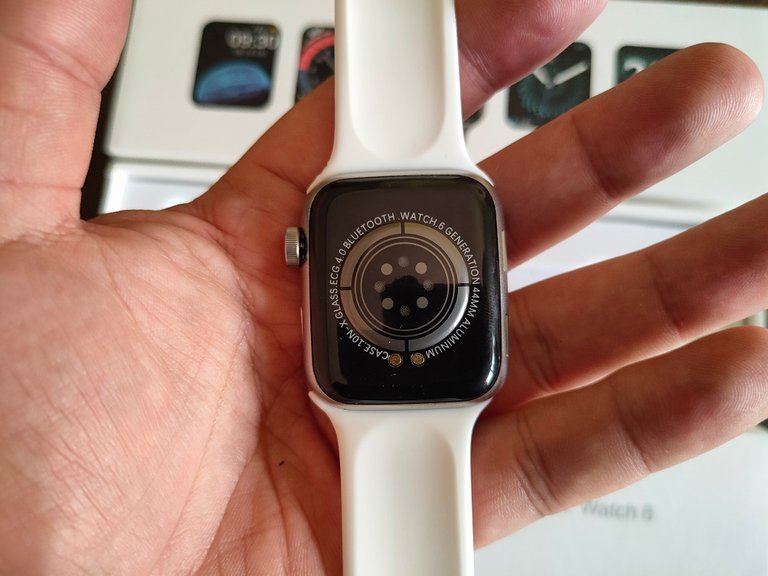 The first thing I didn't like is the pedometer, it suddenly goes crazy. One day I walked almost 5mil steps and spent the whole day sitting at the computer. I've also read in forums that this usually happens even with more expensive smartwatches. But in the case of the HW22 smartwatch, this sensor is used to trigger the alarm when you are sitting too long. This alarm has never sounded, since, when I move my arm, the watch thinks I'm walking.
Lo primero que no me gustó es el podómetro, de repente se vuelve loco. Un día caminé casi 5mil pasos y pasé todo el día sentado en la computadora. También he leído en foros que eso suele pasar incluso con los smartwatchs más costosos. Pero en el caso del smartwatch HW22, este sensor se usa para activar la alarma de cuando estas mucho tiempo sentado. Esta alarma nunca ha sonado, ya que, al mover el brazo, el reloj cree que estoy caminando.
Another aspect that I did not like at all, is the app that suggests the device to configure and synchronize. When I scanned the QR code, I automatically got a security alert of an unsecured website. I searched the app (M2wear) on Playtore and it doesn't have a good reputation. Even so I downloaded it and blocked all permissions except for notifications and bluetooh, even blocked it from accessing the internet. Other than that, the app works fine, but I'm still wary of it.
Otro de los aspectos que no me gustó en lo absoluto, es la app que te sugiere el dispositivo para configurarlo y sincronizar. Cuando escanee el código QR, automáticamente me salto una alerta de seguridad de un sitio web no seguro. Busque la app (M2wear) por la Playstore y no tiene una buena reputación. Aunque así la descargue y bloquee todos los permisos, salvo el de notificaciones y bluetooh, incluso le bloquee el acceso a Internet. Fuera de eso, la app funciona bien, pero aun desconfió de ella.
Back to the question Would you buy a Chinese smartwatch? If you ask me, I say yes. It really depends on what you expect from a device. If you're looking for a sports device, the HW22 isn't going to work, but if you want a device to keep an eye on notifications, monitor heart rate, understand calls, set some alarms, the HW22 smartwatch is going to satisfy all of those things. One aspect I didn't mention is that it doesn't come with GPS and you can't monitor that by connecting to your smartphone either.
Vuelvo a la pregunta ¿Comprarías un smartwatch chino? Si me preguntas a mí, yo digo que sí. Realmente depende de lo que esperas de un dispositivo. Si buscas un dispositivo deportivo, el HW22 no va a funcionar, pero si quieres un dispositivo para estar al pendiente de las notificaciones, monitorear el ritmo cardiaco, entender llamadas, activar algunas alarmas, el smartwatch HW22 va a satisfacer todas esas cosas. Un aspecto que no mencione es que no trae GPS y tampoco puedes monitorear eso al conectar con tu smartphone.
If I had to give it a score from 1 to 10, I would give it 7. The quality of the material with which it is built is quite good, it performs well with many of the functions it claims to have and you move smoothly through the device. If you don't want to spend a lot of money and want a device to keep up with all the notifications, the HW22 could be an acceptable option.
Si tuviera que darle una puntación del 1 al 10, le daría 7. La calidad del material con el que esta construido es bastante buena, cumple bien con muchísimas de las funcione que dice que tiene y te mueves fluidamente por el dispositivo. Sino quieres gastar mucho dinero y quieres un dispositivo para mantenerte al tanto de todas las notificaciones, el HW22 podría ser una opción aceptable.

---

All pictures were taken by me, with a Realme 7 pro phone, compressed to facilitate the visualization of the content.
Todas las fotografías fueron tomadas por mi con un Realme 7 pro, comprimidas para facilitar la visualización del contenido.