El teclado es uno de los periféricos más importantes en una computadora, si bien muchas cosas se pueden realizar con el mouse, el teclado de alguna forma viene siendo una extensión de las manos. Hay muchos tipos de teclado y depende de nuestras exigencias escoger aquel que se adapte a nuestras necesidades, pero también existen algunos teclados que ofrecen practicidad, sobre todo si no cuentas con mucho espacio en el escritorio o tienes una estación de trabajo móvil.
The keyboard is one of the most important peripherals in a computer, although many things can be done with the mouse, the keyboard is somehow an extension of the hands. There are many types of keyboards and it depends on our needs to choose the one that suits our needs, but there are also some keyboards that offer practicality, especially if you do not have much space on your desk or you have a mobile workstation.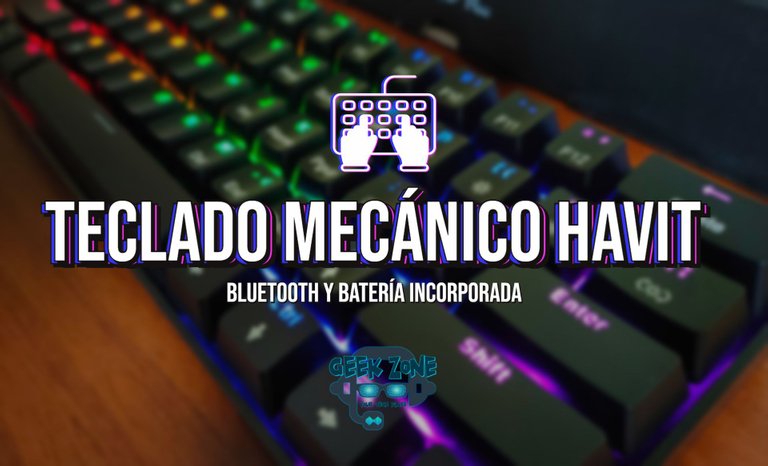 Ya yo tengo mi computadora de escritorio con un teclado que a mi gusto es bastante funcional, con accesos directos que me permiten acceder rápidamente a ciertos lugares. Estoy tan adaptado a ese teclado que cuando escribo con otro, mis dedos suelen buscar de manera automática esas teclas. Ahora bien, yo había comentado en una entrada anterior que había probado un teclado con mouse con una tablet como una posible estación de trabajo casual, sin exigirle mucho, pero yo no soy persona de exigirle poco a la tecnología así que tenía que pensar en algún teclado compacto, que pudiera mover con facilidad y que se conectara vía bluetooth y eso me llevo a este teclado Havit.
I already have my desktop computer with a keyboard that is quite functional to my taste, with shortcuts that allow me to quickly access certain places. I am so adapted to that keyboard that when I type with another one, my fingers tend to automatically search for those keys. Now, I had commented in a previous post that I had tested a keyboard with mouse with a tablet as a possible casual workstation, without demanding much, but I am not a person to demand little to technology so I had to think of a compact keyboard that I could move easily and that connects via bluetooth and that led me to this Havit keyboard.
Se trata de un teclado mecánico, primer punto que me encanta, sobre todo al momento de escribir y el sonido que hace. En la caja encontramos el teclado, un cable USB tipo C, manual de instrucciones y una piza para extraer las teclas. En cuanto a sus dimensiones, el teclado tiene casi los 30cm de largo y 10cm de ancho. Un tamaño que a mi parecer es suficiente para las dos manos y poder alcanzar las teclas sin problema alguno y sin que se atropellen entre ellas. No es pesado, aproximadamente unos 350-400gramos, permitiendo que lo podamos transportar fácilmente.
It is a mechanical keyboard, the first point that I love, especially when typing and the sound it makes. In the box we find the keyboard, a USB type C cable, instruction manual and a pencil to extract the keys. As for its dimensions, the keyboard is almost 30cm long and 10cm wide. A size that in my opinion is sufficient for two hands and to reach the keys without any problem and without running over each other. It is not heavy, approximately 350-400 grams, allowing us to transport it easily.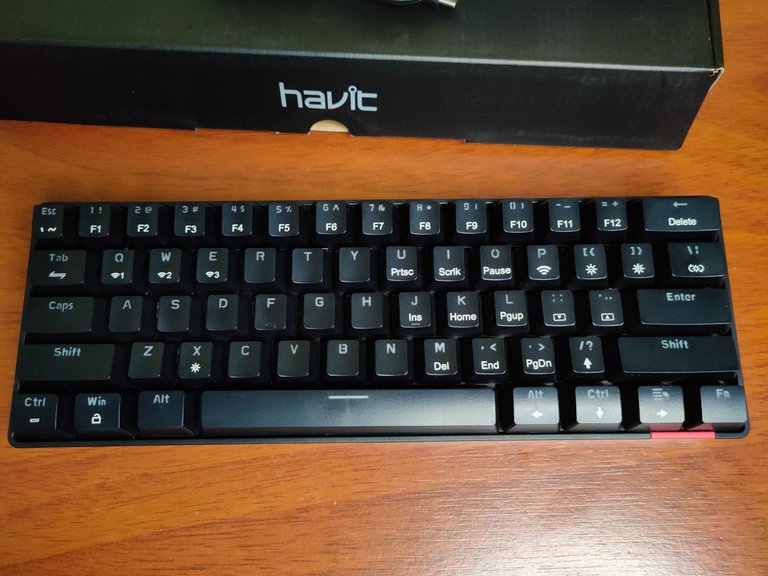 En cuanto a los materiales, es de plástico, pero se siente como un plástico resistente. La base es alta y le da robustez, dándote esa sensación de que no es un teclado delicado y que está diseñado para escribir bastante y es algo que te queda claro cuando el fabricante te deja en la descripción del producto que las teclas están diseñadas para aguantar 50 millones de pulsaciones.
In terms of materials, it's plastic, but it feels like a sturdy plastic. The base is tall and gives it sturdiness, giving you that feeling that it's not a delicate keyboard and that it's designed to type quite a bit and it's something that becomes clear to you when the manufacturer leaves you in the product description that the keys are designed to withstand 50 million keystrokes.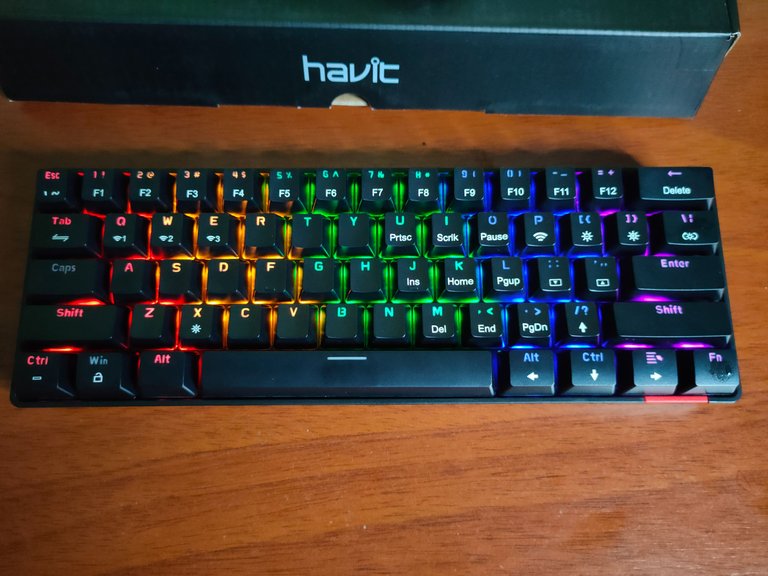 Este teclado Havit, para ser concreto el modelo KB255GCM, cuenta con modo dual. Esto quiere decir que se puede utilizar mediante un cable USB o mediante bluetooth. Esto es genial porque si se acaba la batería, puedes conectarlo mediante USB al pc y seguir escribiendo mientras se carga al mismo tiempo. Por cierto, tiene una batería de 1900mAh, que da en promedio una semana de uso, pero el tema de la duración dependerá de que tanto uso le des y si tienes activas las luces del teclado.
This Havit keyboard, to be specific the KB255GCM model, features dual mode. This means that it can be used via USB cable or via bluetooth. This is great because if the battery runs out, you can connect it via USB to the pc and continue typing while charging at the same time. By the way, it has a 1900mAh battery, which gives on average a week of use, but the issue of duration will depend on how much use you give it and if you have the keyboard lights active.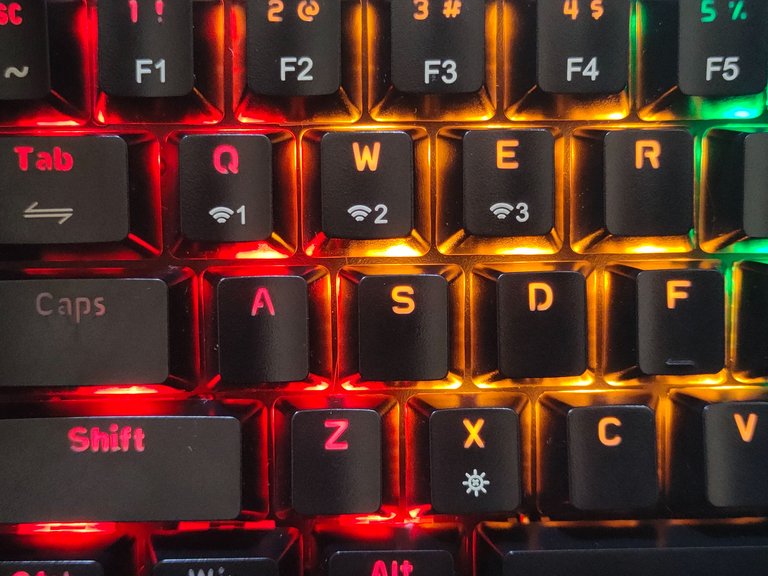 En cuanto a conectividad bluetooth, cuenta con bluetooth 5.0, permitiendo que se puedan conectar al mismo tiempo 3 dispositivos. Es una ventaja porque puedes tener el mismo teclado conectado por ejemplo a la computadora, a una tablet y a un Smart TV y luego seleccionar que conexión usar para escribir, sin tener que estar conectando el dispositivo de nuevo o tener que cambiar de teclado para escribir en ese otro dispositivo.
As for bluetooth connectivity, it has bluetooth 5.0, allowing 3 devices to be connected at the same time. It is an advantage because you can have the same keyboard connected for example to the computer, a tablet and a Smart TV and then select which connection to use for typing, without having to be connecting the device again or having to change the keyboard to type on that other device.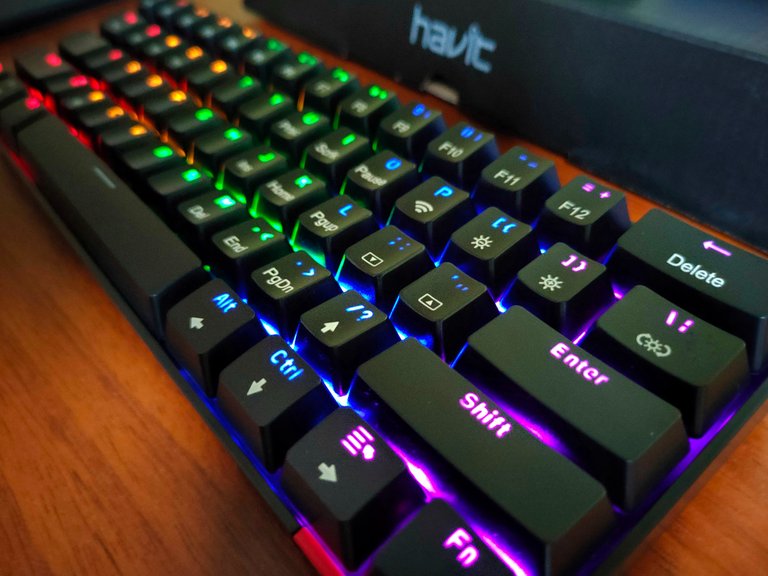 El teclado cuenta con luces, pero al estilo arcoíris, es decir que tiene diferentes tonalidades desde una punta a la otra. No es como otros teclados con luces donde puede definir el color que quieres que se muestre, aunque lo que si puedes hacer es modificar el patrón de luces para que se activen cuando toques alguna tecla o parpadeen en diferentes patrones. A las luces se les puede controlar la intensidad del brillo, para que lo adaptes en esos momentos donde consideres que el brillo te molesta o apagarlas por completo.
The keyboard has lights, but in a rainbow style, that is to say that it has different shades from one end to the other. It is not like other keyboards with lights where you can define the color you want to be displayed, although what you can do is modify the pattern of lights to be activated when you touch any key or flash in different patterns. You can control the intensity of the brightness of the lights, so that you can adapt it in those moments where you consider that the brightness bothers you or turn them off completely.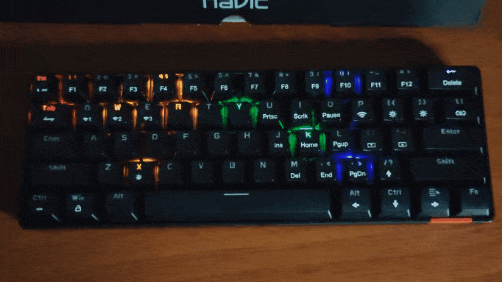 Me parece un buen teclado, da la sensación de que va a durar mucho tiempo. El toque de las luces le da ese aspecto gaming que les gusta a muchos usuarios en la actualidad. Si estas buscando una opción portátil, este teclado cabe perfectamente en un bolso, sin ocupar excesivo espacio. Si has utilizado algún periférico de esta marca, déjamelo saber en los comentarios.
I think it's a good keyboard, it feels like it will last a long time. The touch of the lights gives it that gaming look that many users like nowadays. If you are looking for a portable option, this keyboard fits perfectly in a bag, without taking up too much space. If you have used any peripherals from this brand, let me know in the comments.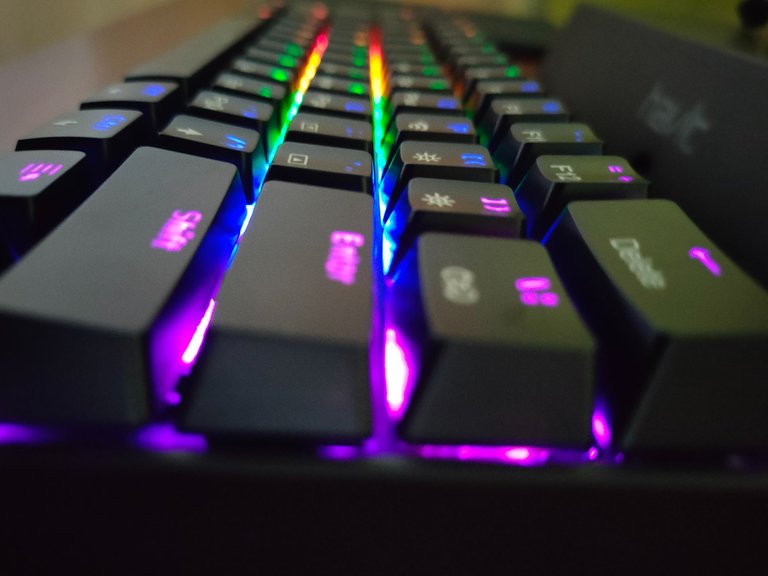 ---

Las fotografías fueron capturadas por mi con un Realme 7pro. Banner de portada creado con Adobe creative cloud express. Si quieres conocer más información sobre el teclado, puedes visitar la pagina oficial
The photos were captured by me with a Realme 7pro. Banner de cover created with Adobe creative cloud express. If you want to know more information about the keyboard, you can visit the official website