Si, no es un error que haya escrito 2023. El 2022 está por acabar y puede que estés pensando en adquirir una tablet en las festividades de navidad y, por lo tanto, utilizar el nuevo dispositivo durante todo el año 2023. Con tantas opciones en el mercado y dependiendo del presupuesto que tengamos, es bueno conocer todas las opciones en base a las cosas que deseamos hacer con una tablet. En mi caso, estaba buscando un equipo que me permitiera estudiar y trabajar cómodamente, pero que tuviera opciones extras y con un costo no tan elevado. Eso me hizo llegar a la Samsung Galaxy Tab S6 Lite y acá te cuento mi experiencia.
Yes, it's not a mistake that I wrote 2023. 2022 is almost over and you may be thinking about getting a tablet for the Christmas holidays and therefore using the new device for the entire year 2023. With so many options on the market and depending on the budget available, it's good to know all the options based on the things we want to do with a tablet. In my case, I was looking for a device that would allow me to study and work comfortably, but with extra options and at a not so high cost. That made me get to the Samsung Galaxy Tab S6 Lite and here I tell you my experience.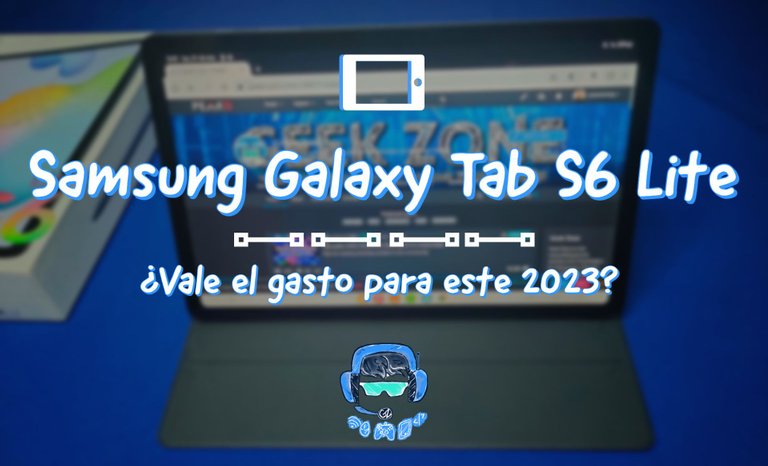 A lo largo de este escrito, podré imágenes como si fuera un unboxing, así también tienes idea de cómo viene este equipo en su caja. Lo primero que debo mencionar es que yo compre la versión que salió en el 2020, es un equipo que tiene más de dos años en el mercado, pero recientemente, Samsung ha sacado una versión 2022 de esta tablet, mejorando únicamente el procesador y eso se traduce en un mejor rendimiento.
Throughout this writing, I will be able to show images as if it were a unboxing, so you also have an idea of how this device comes in its box. The first thing I should mention is that I bought the version that came out in 2020, it is a device that has more than two years in the market, but recently, Samsung has released a 2022 version of this tablet, improving only the processor and that translates into better performance.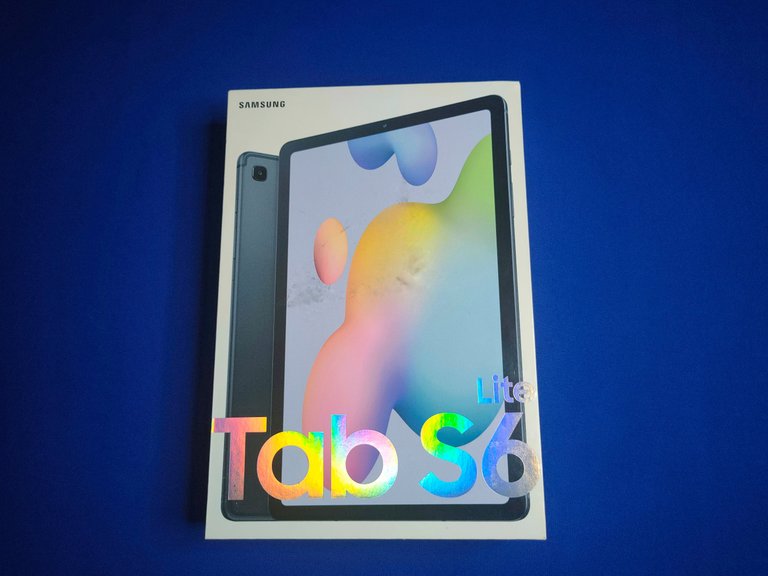 Pese a que mi tablet es del 2020, recientemente recibí Android 12 junto con ONE UI 4.1, permitiendo tener el equipo al día con las actualizaciones y está en la lista de espera para recibir Android 13, haciendo ese aspecto que este al día durante todo el año que viene. Ese aspecto en particular es importante, ya que hay muchas opciones en el mercado, sobre todo en la gama baja, que tienen Android 9 o 10 y no recibirán actualizaciones.
Although my tablet is from 2020, I recently received Android 12 along with ONE UI 4.1, allowing me to keep the device up to date with updates and it is on the waiting list to receive Android 13, making that aspect up to date for the entire next year. That particular aspect is important, as there are many options on the market, especially in the low segment, that have Android 9 or 10 and will not receive updates.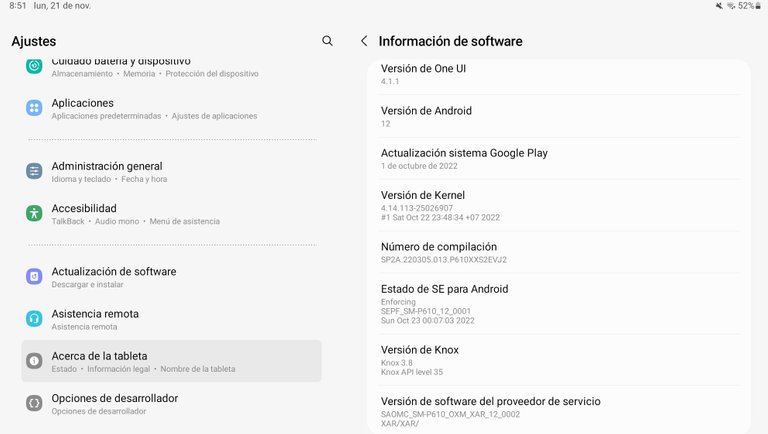 En cuanto al rendimiento, he tenido una buena experiencia a pesar de que la versión del 2020 tiene un procesador Exynos 9611, un procesador que no es para grandes exigencias, pero Samsung ha venido optimizando poco a poco y se nota con cada actualización que he recibido en el equipo. Mi experiencia ha sido positiva, sin grandes lags incluso a la hora de jugar a juegos sencillos. Ahora, la versión 2022 tiene un procesador Snapdragon 720G de Qualcomm, que le permite tener un mejor rendimiento, incluso para jugar. Ten eso presente, por si al final de leer este artículo, decides comprar una Galaxy Tab S6 Lite.
In terms of performance, I have had a good experience despite the fact that the 2020 version has an Exynos 9611 processor, a processor that is not for great demands, but Samsung has been optimizing little by little and it shows with each update I have received on the device. My experience has been positive, with no major lags even when playing simple games. Now, the 2022 version has a Qualcomm Snapdragon 720G processor, which allows it to perform better, even for gaming. Keep that in mind, in case at the end of reading this article, you decide to buy a Galaxy Tab S6 Lite.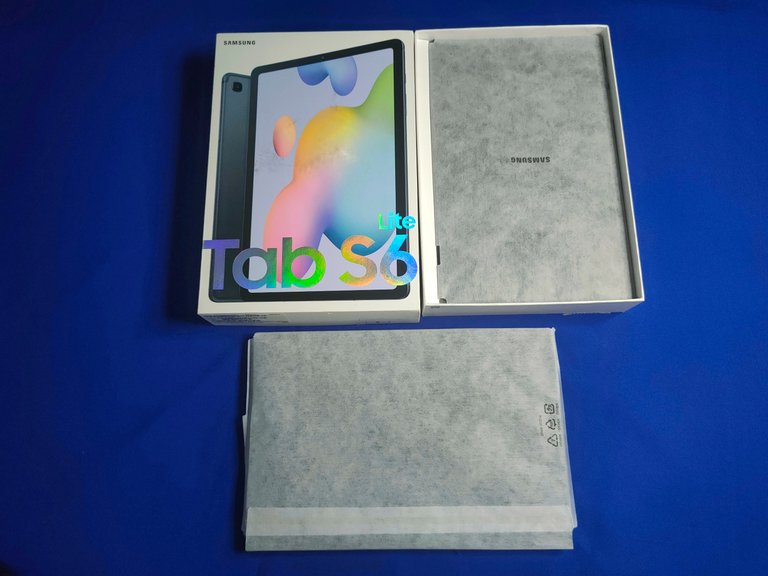 En cuanto a la pantalla, la Samsung Galaxy tab S6 Lite tiene una pantalla TFT de 10.4" y 224 pixeles por pulgada. Si bien la tecnología TFT no es la mejor, Samsung ha realizado un buen trabajo con esta pantalla, ofreciendo colores bonitos y así poder disfrutar el contenido multimedia, teniendo en claro que jamás se verá igual que una pantalla Amoled o las de nueva generación, pero a mi criterio, disfrutar del contenido streaming en HD es agradable en esta tablet, siempre y cuando estemos en condiciones de poca luz, ya que la pantalla no cuenta con un brillo muy alto y eso hace que se noten los reflejos.
As for the screen, the Samsung Galaxy tab S6 Lite has a 10.4" TFT screen with 224 pixels per inch. While TFT technology is not the best, Samsung has done a good job with this screen, offering beautiful colors and thus be able to enjoy multimedia content, being clear that it will never look the same as an Amoled screen or the new generation, but in my opinion, enjoy streaming content in HD is nice on this tablet, as long as we are in low light conditions, since the screen does not have a very high brightness and that makes the reflections are noticeable.
Siguiendo con el tema multimedia, esta tablet cuenta con parlantes estéreo, pero con la característica de que están certificados por AKG, ofreciendo una calidad estupenda de sonido, perfecto para no tener que conectar auriculares o cornetas adicionales para disfrutar del contenido multimedia. Eso sin dejar de lado que cuenta con Dolby Atmos, que mejora aún más la calidad. En mi experiencia, no tengo quejas con la calidad del sonido, es uno de los puntos fuertes de esta tablet, a pesar que algunos de sus competidores, han colocado 4 altavoces en vez de dos, pero al tener la certificación AKF, ya es suficiente.
Continuing with the multimedia theme, this tablet has stereo speakers, but with the characteristic that they are certified by AKG, offering great sound quality, perfect for not having to connect additional headphones or earphones to enjoy multimedia content. Not to mention that it has Dolby Atmos, which further improves the quality. In my experience, I have no complaints with the sound quality, it is one of the strengths of this tablet, although some of its competitors have placed 4 speakers instead of two, but having AKF certification, it is enough.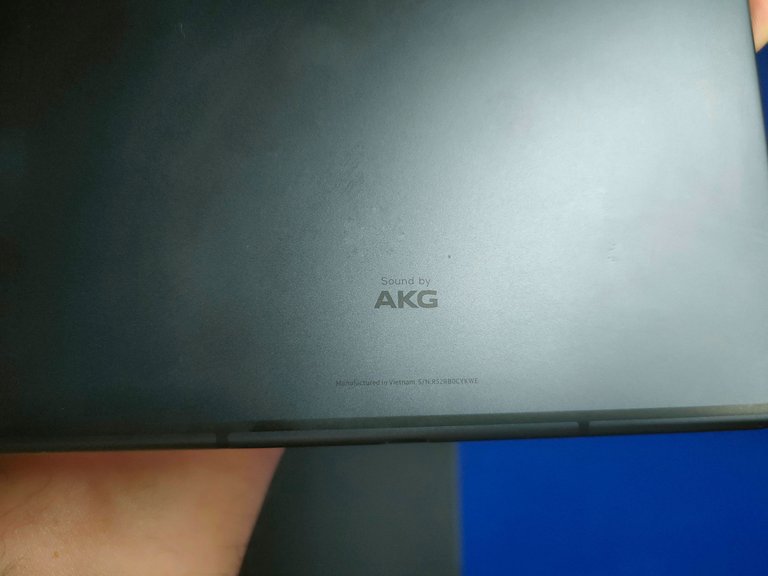 Si no se desean utilizar los parlantes que tiene la tablet, cuenta con un puerto jack para audio o conectividad bluetooth, permitiendo más opciones de sonido y así poder conectar el gadget de audio de nuestra preferencia. Me gusta destacar el puerto Jack que, si bien pareciera que se está quedando obsoleto, yo particularmente prefiero conectar mis audífonos mediante este puerto, que utilizar el bluetooth.
If you do not want to use the speakers that the tablet has, it has a jack port for audio or bluetooth connectivity, allowing more sound options and thus be able to connect the audio gadget of our preference. I like to highlight the jack port, which although it seems to be becoming obsolete, I particularly prefer to connect my headphones through this port, rather than using bluetooth.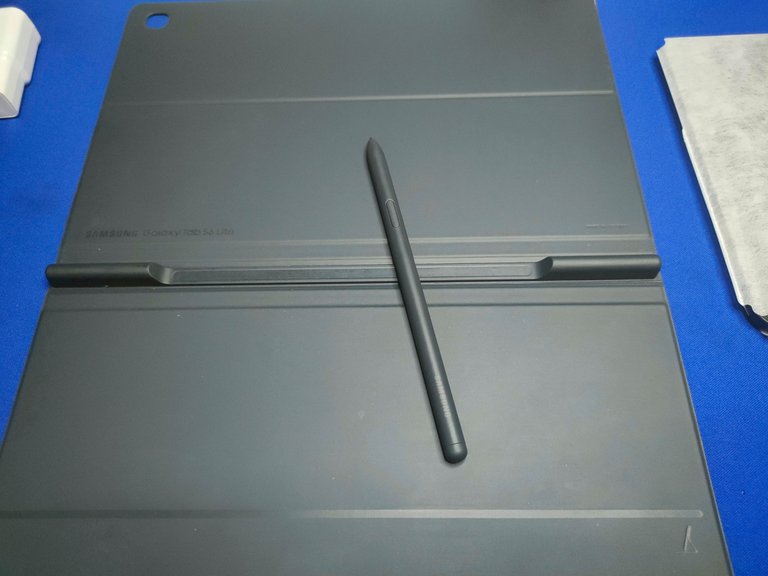 Otro punto que me encanta de esta tablet y sobre todo la version que compre, es que trae su protector y el SPen, evitando el tema de tener que comprar accesorios extras y disponer de todas las ventajas del equipo desde el día uno. Adicional trae el cargador, pero de carga lenta, unos 7.5W. La tablet soporta 15w de carga y termine comprando un cargador adicional, porque cargar una batería de 7040 mAh, con el cargador que trae en la caja, fácilmente son unas 5 horas de carga. Pero si no se tiene problemas con el tiempo, lo importante es acotar que trae un cargador.
Another point that I love about this tablet and especially the version I bought, is that it comes with its protector and the SPen, avoiding the issue of having to buy extra accessories and having all the advantages of the equipment from day one. In addition, it comes with the charger, but with a slow charge, about 7.5W. The tablet supports 15w charging and I ended up buying an additional charger, because charging a 7040 mAh battery, with the charger that comes in the box, is easily about 5 hours of charging. But if you do not have problems with the time, the important thing is to note that it comes with a charger.
| | |
| --- | --- |
| | |
Otro de los puntos que me encanta de esta tablet es su compatibilidad con un S-PEN. Esto facilita la toma de notas o interactuar con la tablet y fue una de las cosas que me hicieron comprarla. Adicional, para los que son artistas, podrán destacarse dibujando sin tener que gastar un presupuesto alto. Mi experiencia utilizando el lápiz ha sido 100% positiva, no he tenido lag en los trazos, es sensible a la presión y no necesita batería. Me atrevo a decir que este es uno de los puntos más fuertes de este equipo, para no decir el mejor.
Another thing I love about this tablet is its compatibility with an S-PEN. This makes it easy to take notes or interact with the tablet and was one of the things that made me buy it. Additionally, for those of you who are artists, you will be able to excel at drawing without having to spend a high budget. My experience using the pen has been 100% positive, I have had no lag in the strokes, it is sensitive to pressure and does not need battery. I dare to say that this is one of the strongest points of this equipment, not to say the best.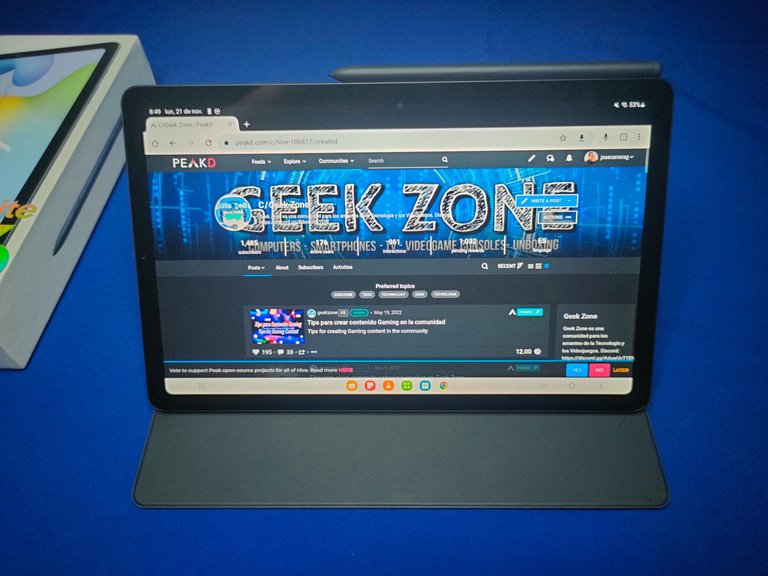 La duración de la batería, en reproducción continua, sobre pasa las 10 horas, algo que me gusta. Particularmente suelo cargar la tablet cada 3-4 días, aunque depende el uso que le de al equipo. Debo destacar que no he sentido sobrecalentamiento, por lo menos con las tareas que he realizado.
The battery life, in continuous playback, is over 10 hours, which I like. I usually charge the tablet every 3-4 days, although it depends on how I use the device. I should note that I have not felt overheating, at least with the tasks I have done.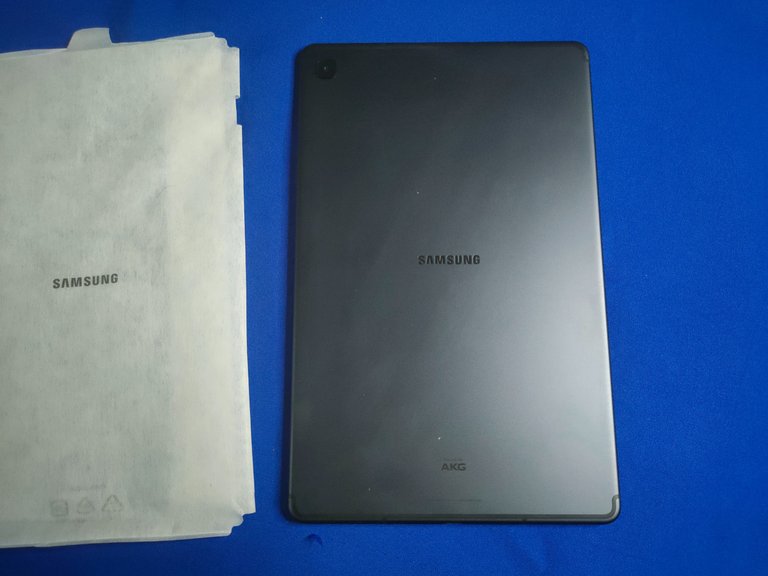 Otro punto que me encanta es sus materiales. El acabado en general se siento de calidad, con un táctil agradable en la pantalla y un acabo metálico en la parte trasera. Tener esta tablet en las manos, es sentir que tienes una tablet super costosa en las manos. Incluso el forro que trae, es de buena calidad, permitiendo que todo el conjunto se sienta premium. Destacando que el forro protector, no exagera el volumen de la tablet.
Another point that I love is its materials. The overall finish feels quality, with a nice touch on the screen and a metallic finish on the back. Having this tablet in your hands, is to feel that you have a super expensive tablet in your hands. Even the lining is of good quality, allowing the whole thing to feel premium. The protective lining does not exaggerate the volume of the tablet.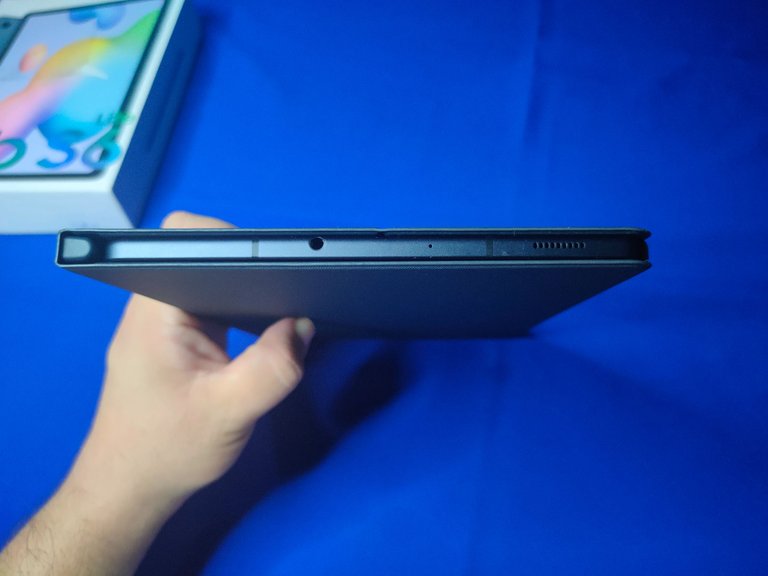 Ya que menciono el forro protector, este también sirve para sostener la tablet de manera horizontal y así poder disfrutar del contenido multimedia, trabajar o estudiar. Tengo más de 6 meses con este equipo, dándole bastante uso y el forro sigue como si estuviera nueva, incluso en la parte donde se dobla para poder sostener la tablet.
Since I mentioned the protective cover, this also serves to hold the tablet horizontally and thus to enjoy multimedia content, work or study. I have more than 6 months with this equipment, giving it a lot of use and the lining remains as if it were new, even in the part where it folds to hold the tablet.
Otro punto fuerte de esta tablet es el modo DEX, esta opción no estaba disponible cuando la compre, pero llego una actualización. Sobre modo DEX hable en detalles en un post pasado, puedes saber más aquí. En resumen, este modo permite manipular la tablet como si fuese un computador, cambiando la interfaz a una más conocida y que si conectamos un teclado y ratón, cambia toda la experiencia.
Another strong point of this tablet is the DEX mode, this option was not available when I bought it, but it arrived in an update. About DEX mode I talked in details in a past post, you can learn more here. But in short, this mode allows you to manipulate the tablet as if it were a computer, changing the interface to a more familiar one, and if you connect a keyboard and mouse, it changes the whole experience.
La tablet cuenta con 2 cámaras, una frontal y una en la parte trasera. La cámara frontal es de 5mp, lo suficiente para una buena resolución en videollamadas y la cámara trasera es de 8mp, que no es el mejor sensor fotográfico, pero funciona bien para escanear documentos y tomar algunas fotografías cuando el móvil no está disponible, teniendo presente que las condiciones de luz deben ser optimas. Acá te dejo unas muestras del sensor principal de 8mp:
The tablet has 2 cameras, one on the front and one on the back. The front camera is 5mp, enough for a good resolution in video calls and the rear camera is 8mp, which is not the best photo sensor, but it works well for scanning documents and taking some pictures when the mobile is not available, keeping in mind that the light conditions must be optimal. Here are some samples of the 8mp main sensor:
Si tuviera que darle algún puntaje a esta tablet, seria 8.5 de 10. Es un equipo bastante completo, una buena pantalla a pesar de ser TFT, un rendimiento aceptable, a pesar del procesador que tiene en la versión 2020 y un funcionamiento perfecto con el S-Pen, que mejora la experiencia de usuario y puedo decir que la mía ha sido de la mejor. La versión que tengo es de 4gb de ram y 64gb de rom, siendo esto suficiente para las tareas que hago, teniendo la opción de ampliar la memoria RAM, utilizando parte del almacenamiento interno. Adicional, se puede colocar una tarjeta SD de hasta 1 tera.
He disfrutado cada aspecto de esta tablet, la compre por temas de salud y me ha funcionado perfecto. Luego se ha convertido en mi dispositivo favorito para estudiar y también para trabajar cuando no tengo el pc disponible. La utilizo para jugar Brawl Stars de vez en cuando, ver series o películas y la experiencia ha sido positiva. Tengo en mente cambiar esta tablet por una de sus hermanas mayores, pero ya eso será para después, porque ahora es que le queda vida para este 2023 que está a la vuelta de la esquina. Si has tenido alguna experiencia positiva o negativa con esta tablet, déjamelo saber en los comentarios.
If I had to give any score to this tablet, it would be 8.5 out of 10. It is a fairly complete equipment, a good screen despite being TFT, acceptable performance, despite the processor it has in the 2020 version and a perfect operation with the S-Pen, which improves the user experience and I can say that mine has been the best. The version I have is 4gb ram and 64gb rom, being this enough for the tasks I do, having the option to expand the RAM, using part of the internal storage. Additionally, you can put an SD card up to 1 tera.
I have enjoyed every aspect of this tablet, I bought it for health issues and it has worked perfect for me. It has become my favorite device for studying and also for work when I don't have the pc available. I use it to play Brawl Stars from time to time, watch series or movies and the experience has been positive. I have in mind to change this tablet for one of its bigger sisters, but that will be for later, because now it has life left for this 2023 that is just around the corner. If you have had any positive or negative experience with this tablet, let me know in the comments.
---

Todas las imágenes son capturas de pantallas tomadas en una tablet Samsung Galaxy Tab S6 Lite. Las fotografías fueron tomadas con un Realme 7 pro. El banner de portada fue realizado en Adobe Express. Está publicación fue escrita en español y luego traducida al ingles.
All images are screenshots taken on a Samsung Galaxy Tab S6 Lite tablet. The pictures were taken with a Realme 7 pro. The cover banner was made in Adobe Express. This publication was written in Spanish and then translated into English..