If you are a person who loves to play on PC, surely it has crossed your mind to buy a gaming mouse or keyboard. There are many varieties and brands in the market, by habit, we usually buy the well-known brands, to avoid risks in bad quality or something like that. I am one of those people who like to try all kinds of brands, that has allowed me to find good products in brands that most people would not buy.
Si eres una persona que le encanta jugar en PC, de seguro te ha pasado por la mente comprar un mouse o teclado gaming. Hay muchas variedades y marcas en el mercado, por costumbre, solemos comprar las marcas conocidas, para evitar riesgos en mala calidad o algo por el estilo. Yo soy de las personas que les gusta probar de todo tipo de marcas, eso me ha permitido encontrar buenos productos en marcas que la mayoría no compraría.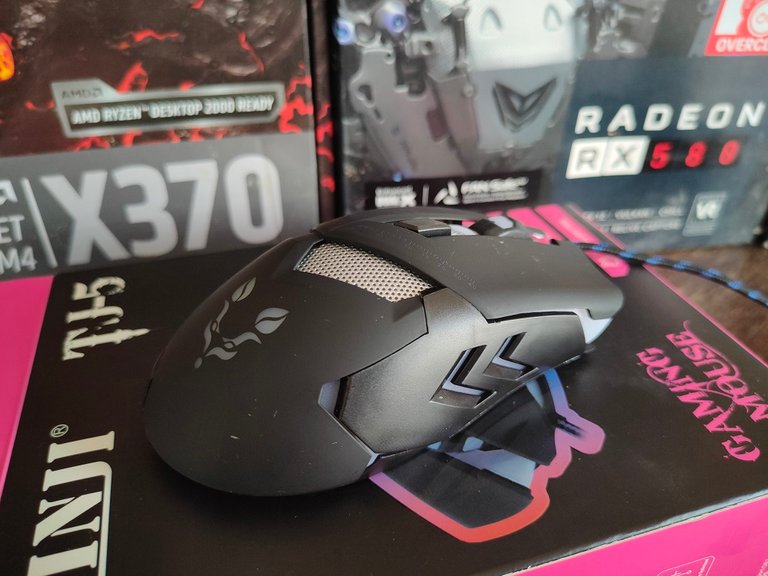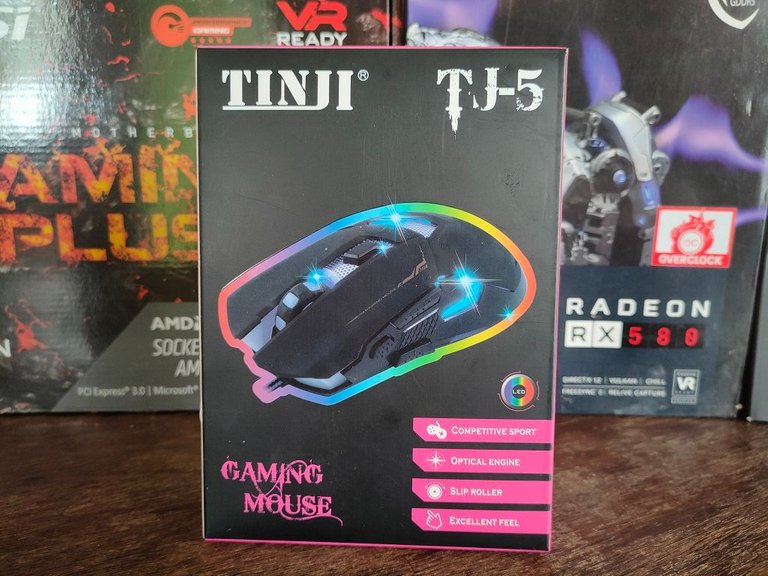 I would like to mention that I don't like to play with keyboard and mouse on my computer, I particularly use a ps3 or ps4 controller (whichever one I grab first).All my life I've been used to play with a controller, I love to lie down to play in the distance and adopt any position, something that a mouse and keyboard don't allow you to do. Of course, a mouse and keyboard give you many advantages when playing video games.
Me gustaría mencionar que no me gusta jugar con teclado y mouse en mi computadora, particularmente uso un mando de ps3 o ps4 (el que agarre primero). Toda mi vida he estado acostumbrado a jugar con un mando, me encanta acostarme a jugar en la distancia y adoptar cualquier posición, algo que no te permite un mouse y teclado. Claro está, un mouse y teclado te brindan muchísimas ventajas a la hora de jugar videojuegos.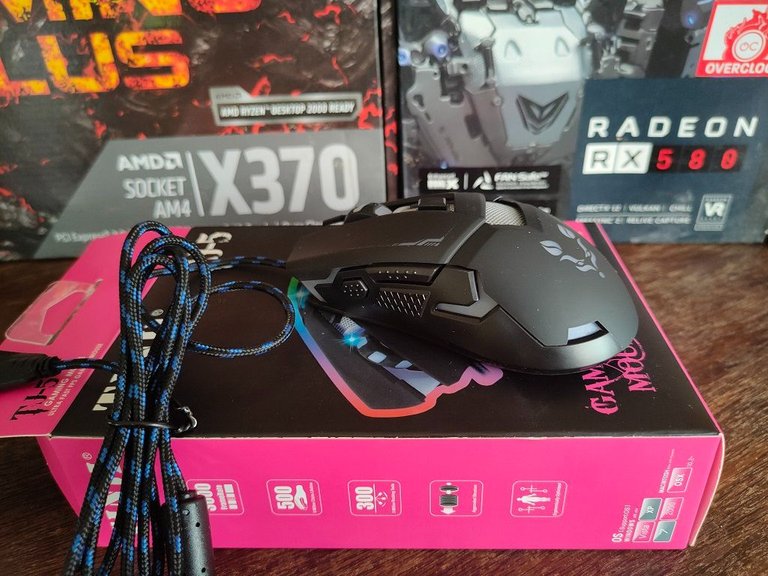 I needed to buy a mouse for the pc, I was really looking for something simple and when I entered a variety store in electronic devices, these Tinji mouses caught my attention. Instead of buying a normal mouse, I opted to buy one of these. A Tinji mouse costs on average 8$, depending on where you buy it and the model of the mouse. I opted for the Tinji 5, I liked the design, it has metal parts and feels a mouse resistant to the touch.
Necesitaba comprar un mouse para el pc, buscaba realmente algo sencillo y al entrar en una tienda de variedades en dispositivos electrónicos, estos mouses Tinji captaron mi atención. En vez de comprar un mouse normal, opte por comprar uno de estos. Un mouse Tinji cuesta en promedio 8$, dependerá de donde lo compres y el modelo del mouse. Yo opte por el Tinji 5, me gusto el diseño, tiene partes en metal y se siente un mouse resistente al tacto.
Among some of its features is the fact that it has 6 buttons, it has a false button that serves to keep the thumb in position and also a better grip. According to the features mentioned on the box, it has a lifetime of 5 million clicks, has a high framerate and an ergonomic design that fits almost anyone.
Entre algunas de sus características esta el hecho de que tiene 6 botones, tiene un falso botón que sirve para mantener en posición el dedo pulgar y también un mejor agarre. De acuerdo a las características que menciona en la caja, tiene una vida útil de 5 millones de clicks, tiene un framerate alto y un diseño ergonómico que se adapta a casi cualquier persona.
Another feature it has are the lights. Particularly this aspect is not my favorite, I usually disable all the LED lights on my computer, because when we are really playing, I'm not aware of the lights, I'm aware of the screen.
Otra de las características que tiene son las luces. Particularmente este aspecto no es mi favorito, yo suelo desactivar todas las luces led de mi equipo, ya que realmente cuando estamos jugando, yo no estoy pendiente de las luces, yo estoy pendiente de la pantalla.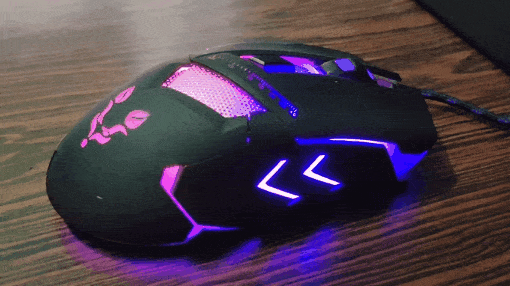 The Tinji 5 mouse has internal LEDs that change color to illuminate the inside of the mouse and highlight the design.
El mouse Tinji 5 cuenta con unos leds internos que cambiar de color que iluminan el interior del mouse y hacen resaltar el diseño.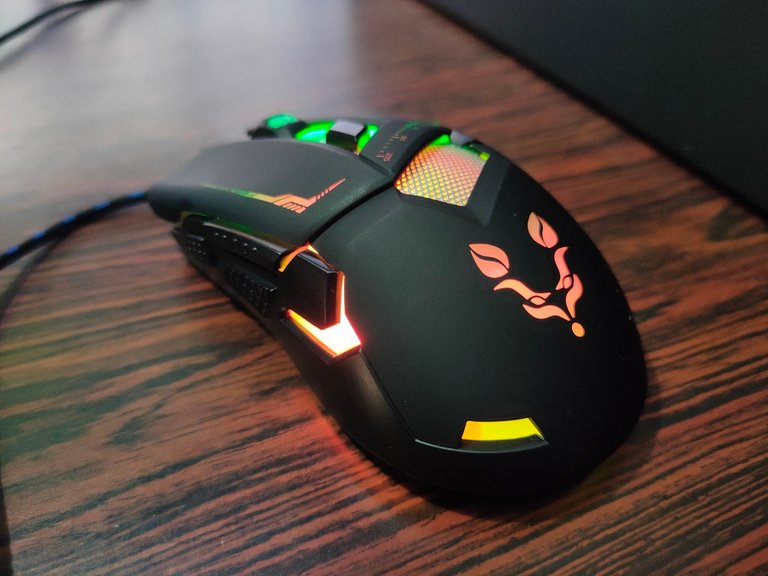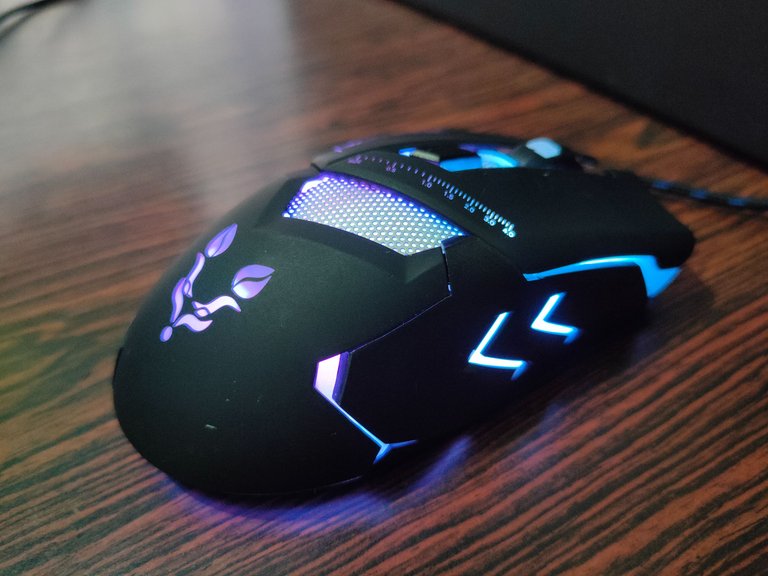 I tested this mouse with games like Monster Hunter, Horizon Zero Down and Hades. The result has been quite good, the response time is adequate, the additional buttons fulfill their function according to the activity you assign to them, at no time I saw my gaming experience minimized by any failure, as there was none. The clicks have some resistance, to prevent you from accidentally clicking, but it is not a resistance that makes it difficult to use the buttons.
Probé este mouse con juegos como Monster Hunter, Horizon Zero Down y Hades. EL resultado ha sido bastante bueno, el tiempo de respuesta es el adecuado, los botones adicionales cumplen con su función de acuerdo a que actividad asignes en ellos, en ningún momento vi mi experiencia de juego minimizada por alguna falla, ya que no la hubo. Los clicks tienen cierta resistencia, para evitar que por accidente hagas click, pero no es una resistencia que dificulte usar los botones.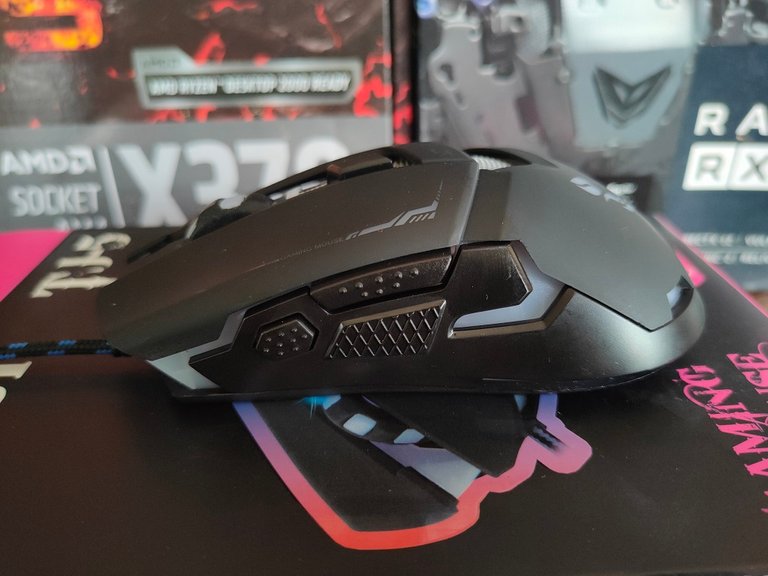 In conclusion, I can say that this gaming mouse has given me a pretty good gaming experience, it has also given me a very good normal use experience. If I had to give it a score, I would give it a 7.5/10 for its low cost, resistant materials and ergonomic design. Of course, if you play at a more professional level, there are more advanced mouse options on the market, but at a higher cost. It would be up to you to try it and decide if you opt for a low-cost gaming mouse with good performance or go for the professional brands.
En conclusión, puedo decir que este mouse gaming me ha brindado una experiencia de juego bastante buena, también me ha brindado una experiencia de uso normal muy buena. Si tuviera que darle una puntuación, le daría un 7.5/10 por su bajo costo, materiales resistentes y diseño ergonómico. Claro está, si juegas a nivel mas profesional, en el mercado hay opciones de mouse más avanzadas, pero a un costo mayor. Ya quedaría de tu parte probarlo y decidir si optas por un mouse gaming de bajo costo y buen rendimiento o te vas por las marcas profesionales.

---

All pictures were taken by me, with a Realme 7 pro phone, compressed to facilitate the visualization of the content.
Todas las fotografías fueron tomadas por mi con un Realme 7 pro, comprimidas para facilitar la visualización del contenido.