Hace varios años atrás, cuando estaba en el 5to semestre de ing en telecomunicaciones, existía la tendencia de hablar sobre el Internet de las cosas. El tener todo conectado a Internet: bombillos, tv, neveras, lavadoras, microondas, aires acondicionados, equipos de sonido, calefacción, entre otras cosas. Todo parecía muy futurista en aquella época, pero solo contábamos con redes 3G, que no aportaban el suficiente ancho de banda para soporta la alta demanda de datos de sistemas IoT.
Several years ago, when I was in my 5th semester of telecommunications engineering, there was a tendency to talk about the Internet of things. Having everything connected to the Internet: light lamps, TVs, refrigerators, washing machines, microwaves, air conditioners, stereos, heating, among other things. It all seemed very futuristic at that time, but we only had 3G networks, which did not provide enough bandwidth to support the high data demand of IoT systems.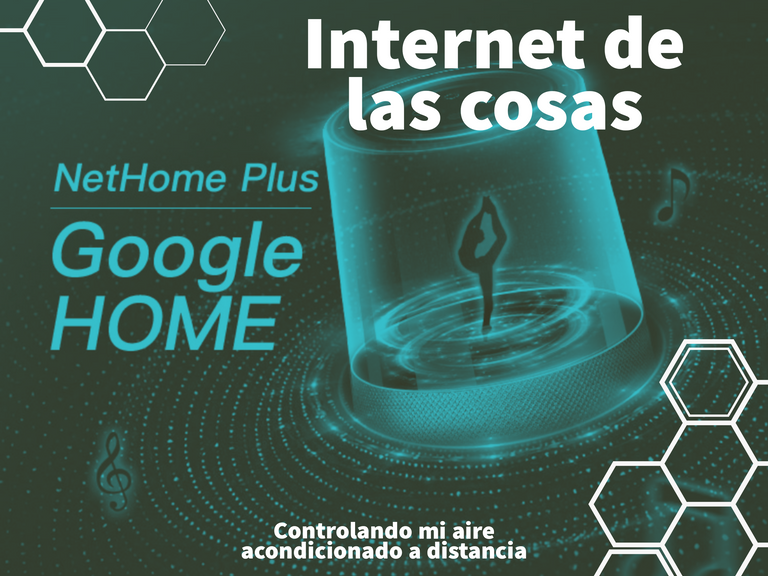 Me encantaba entrar a mis clases de transmisión de datos, se podrán imaginar como me encontraba de emocionado al ir a una clase donde se hablaba de tecnología. Recuerdo que a los meses nacen las redes 4g y con ella se esperaba poder crear hogares inteligentes, pero aun así no era suficiente. Ya hoy contamos con redes 5g e incluso 6g y los sistemas WLAN han evolucionado muchísimo y aunque todavía no se ha implementado el Internet de las cosas como lo esperaba CISCO para estas fechas, es algo que cada vez mas y mas esta presente.
I loved going to my data transmission classes, you can imagine how excited I was to go to a class where we talked about technology. I remember that after a few months 4g networks were born and it was expected to create smart homes, but still it was not enough. Today we already have 5g and even 6g networks and WLAN systems have evolved a lot and although the Internet of Things has not yet been implemented as CISCO expected by now, it is something that is becoming more and more present.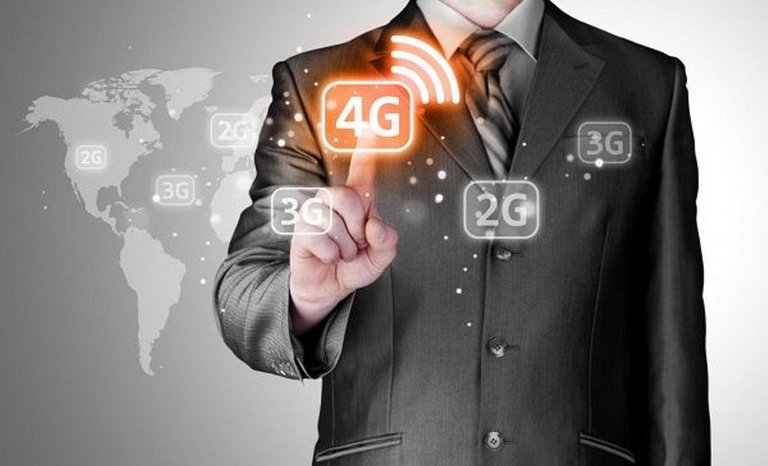 Imagen de louvainlaneuve9 en Pixabay
Ya casi toda la tecnología se puede conectar a Internet, pero el estar conectado no quiere decir que ya sea el Internet de las cosas, todavía hace falta automatizar, pero el solo poder controlar a distancia todo en nuestro hogar, es un progreso grandísimo. Hablar de esto me lleva a contarles sobre una app que me permite controlar el aire acondicionado de mi cuarto. No es una simple app, como si se tratase de un control remoto, que cumple muy bien esa función.
Almost all technology can be connected to the Internet, but being connected does not mean that it is already the Internet of things, we still need to automate, but just being able to remotely control everything in our home, is a huge progress. Talking about this leads me to tell you about an app that allows me to control the air conditioning in my room. It is not a simple app, as if it were a remote control, which fulfills that function very well.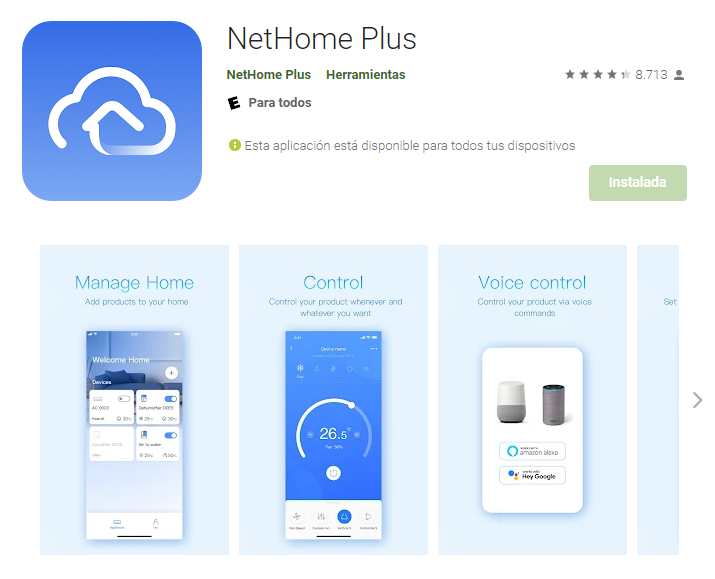 PlayStore
Se trata de NetHome Plus, una app que te permite conectar diferentes dispositivos y controlarlos a distancia, tal cual se tratase de una red Iot (internet de las cosas), Les seré honesto, en el pasado y aunque amo la tecnología, me parecía un poco exagerado el tener conectado un simple bombillo a Internet, pero luego me di cuenta que el poder monitorear si dejamos prendidas las luces de la casa y apagarlos, o prenderlos cuando sea tarde en la noche y aun no estemos en casa o simplemente estar acostados cansado, luego de un largo día de trabajo y solo decir Ok Google, apagar bombillo o alexa, apaga el bombillo, es una ventaja increíble.
It's NetHome Plus, an app that allows to connect different devices and control them remotely, just like an Iot network (internet of things), I'll be honest, in the past and although I love technology, I thought it was a bit exaggerated to have a simple light bulb connected to the Internet, But then I realized that being able to monitor if we leave the lights on in the house and turn them off, or turn them on when it is late at night and we are still not at home or just lying down tired, after a long day of work and just say Ok Google, turn off light or alexa, turn off the light, is an incredible advantage.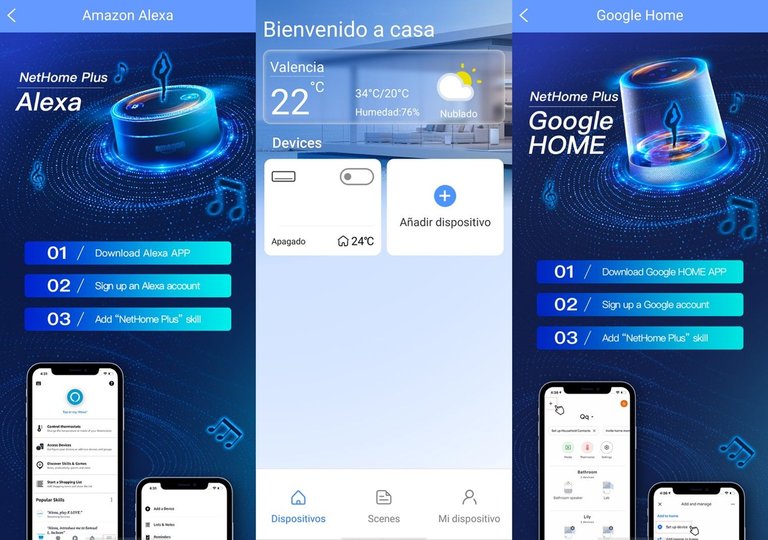 El aire acondicionado claramente tiene funciones que le permiten ser manejado a distancia, siendo NetHome Plus el intermediario. EL aire acondicionado esta conectado a Internet y yo puedo estar conectado a otra red diferente e igual controlar el aire, al que me encanta, porque cuando voy camino a casa, luego de un día de caminar y estar cansado por el calor, verifico la temperatura del cuarto y si esta muy alta, enciendo el aire acondicionado para que el cuarto se refresque o configuro que se prenda de manera automático dentro de un tiempo, calculo cuando llegare a casa.
The air conditioner clearly has functions that allow it to be managed remotely, with NetHome Plus being the intermediary. The air conditioner is connected to the Internet and I can be connected to a different network and still control the air, which I love, because when I'm on my way home, after a day of walking and being tired from the heat, I check the room temperature and if it is too high, I turn on the air conditioner to cool the room or set it to turn on automatically after a while, I calculate when I get home.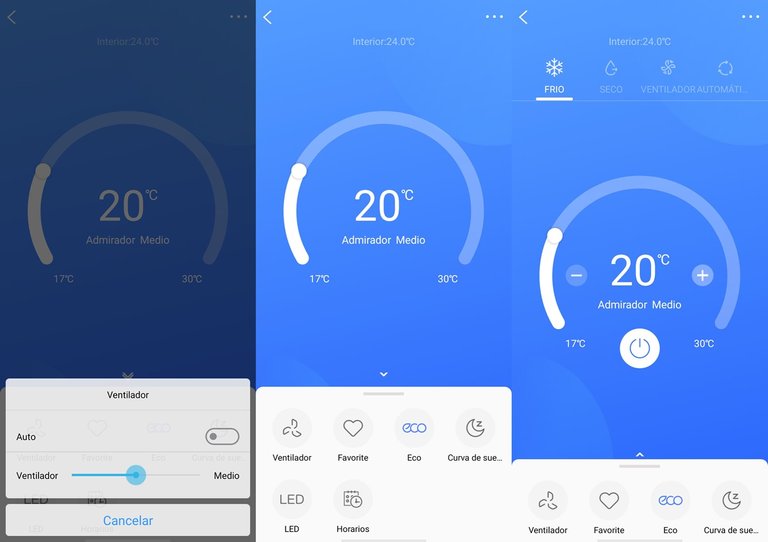 Eso tan sencillo y que quizás uno diga que parece tonto y que se puede hacer tranquilamente de manera manual al llegar a casa, ahorra muchísimo tiempo a largo plazo. Imagina tener la nevera conectado y llevar un registro de lo que ingresas y sacas de ella. Saliste a comprar comida y se te quedo la lista de cosas que tenias planeado comprar, pero como es una nevera inteligente, te conectas a ella, verificas que cosas has consumido, ves el contenido de adentro y comienzas a comprar tranquilamente lo que sea necesario.
Podría dar muchísimos ejemplos de cosas que podemos tener conectadas a Internet y que podría facilitar la vida. Quizás puedas pensar que se fomenta una vida sedentaria, fácilmente podría levantarme de la cama y encender el aire sin tener que usar la app o hablarle a Alexa para que lo haga, pero hay una línea que divide el cansancio de la flojera.
That simple thing that you might say seems silly and can be done manually when you get home, saves a lot of time in the long run. Imagine having the refrigerator plugged in and keeping track of what you take in and what you take out of it. You went out to buy food and you left the list of things you had planned to buy, but since it is a smart fridge, you connect to it, check what you have consumed, see the contents inside and start buying what you need.
I could give many, many examples of things that we can have connected to the internet that could make life easier. Maybe you might think it encourages a sedentary lifestyle, I could easily get out of bed and turn on the air without having to use the app or talk to Alexa to do it, but there is a line that divides tiredness from laziness.


Imagen de geralt en Pixabay
Imagina trabajar 12 horas estando de pie en una tienda, o cualquier trabajo agotador físicamente. Desde tu cuarto te das cuenta que la luz de la cocina esta encendida y el cansancio es tal que tienes 2 decisiones: pararte de la cama e ir hasta la cocina para apagar el bombillo (sin pasar por la nevera por favor) o dejarlo encendido toda la noche, algo que podrá ser repetitivo y verse reflejado en el recibo de electricidad. ¿No seria mas fácil si desde tu teléfono inteligente pudieras solo tocar la pantalla y apagarlo?
Mas que hablar de la app NetHome Plus, quería transmitir lo grandioso que es poder controlar todo en casa, desde un solo dispositivo. Esos pequeños esfuerzos que dejamos de hacer, con el tiempo suman una gran cantidad de tiempo que puede ser invertido en otros aspectos mas importantes. Pero no te voy a dejar con ganas de saber que otras cosas se pueden hacer con la app.
Imagine working 12 hours standing up in a store, or any physically exhausting job. From your room you realize that the kitchen light is on and the fatigue is such that you have 2 decisions: get out of bed and go to the kitchen to turn off the light bulb (without going through the fridge please) or leave it on all night, something that could be repetitive and be reflected in the electricity bill. Wouldn't it be easier if from your smartphone you could just touch the screen and turn it off?
More than talking about the NetHome Plus app, I wanted to convey how great it is to be able to control everything at home, from a single device. Those little efforts that we neglect to make, over time add up to a lot of time that can be spent on more important things. But I won't leave you wanting to know what else you can do with the app.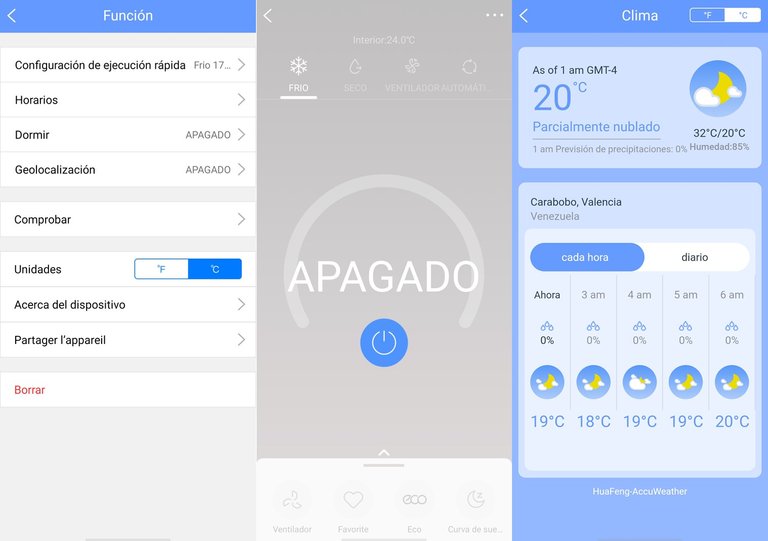 He venido colocando algunas capturas, básicamente la app te permite gestionar los dispositivos que sean compatibles. Como menciono un aire acondicionado, puedo controlar la temperatura, la velocidad del ventilador, las luces del panel, activar el modo ecológico, configurar horarios de encendido, entre otras cosas. Puedo controlar una mayor cantidad de opciones que las que incluso trae el control remoto, que parece totalmente desechable.
I have been posting some screenshots, basically the app allows me to manage the devices that are compatible. As I mention an air conditioner, I can control the temperature, fan speed, panel lights, activate the eco mode, set up switch on times, among other things. I can control a greater number of options that even brings the remote control, which seems totally disposable.

Configurarlo desde el inicio fue sencillo, solo escanee con la app un código QR, de esa forma se agrego la información de mi red Wi-Fi y el aire se conecto automáticamente a mi red. El aire tiene un módulo llamado smart kit, conectado por USB y desde ahí comienza toda esta aventura de controlarlo a distancia.
Setting it up from the beginning was simple, just scan a QR code with the app, that way the information of my Wi-Fi network was added and the air automatically connected to my network. The air has a module called smart kit, connected by USB and from there begins all this adventure to control it remotely.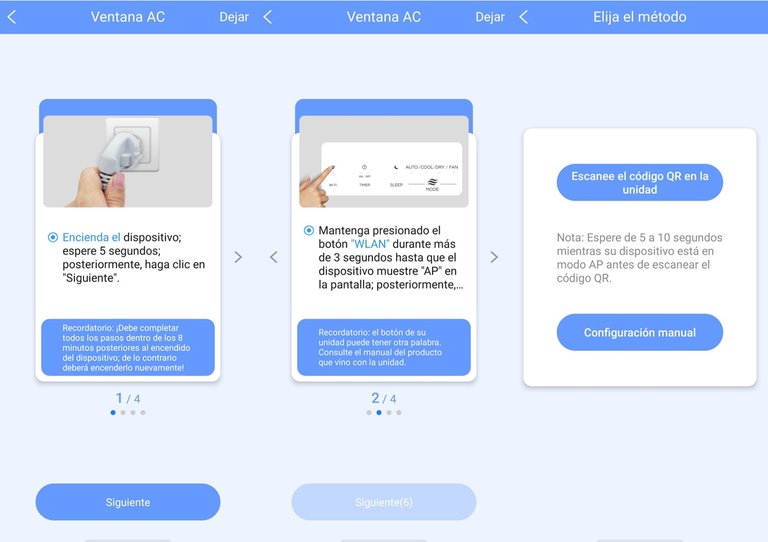 Ahora, hasta aquí todo parece muy bueno, pero debo hablar de las fallas que tiene la app. Si la buscas en la appstore o playstore, te darás cuenta que hay muchos comentarios donde las personas expresan problemas de comunicación con los dispositivos. Yo particularmente no he tenido ese problema, he notado mas bien problemas de retardo al tocar un opción, no sucede todo el tiempo, pero es algo que esta presente, también he notado que sino hay Internet, aunque este en la misma red Wi-Fi, no puedo controlar el aire e imagino que por eso trae un control remoto.
Now, up to here everything seems very good, but I must talk about the problems that the app has. If you look for it in the appstore or playstore, you will notice that there are many comments where people express communication problems with the devices. I particularly have not had that problem, I have noticed rather problems of delay when touching an option, it does not happen all the time, but it is something that is present, I have also noticed that if there is no Internet, even if it is in the same Wi-Fi network, I can not control the air and I imagine that's why it brings a remote control.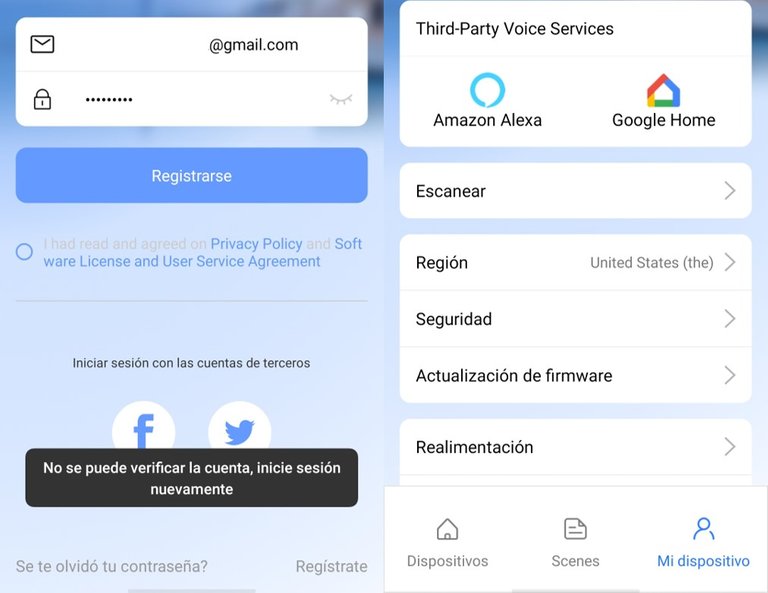 Adicional a eso, la app esta mal optimizada con los idiomas, esta mezclado el Ingles, francés y español por todos lados, pero se que es algo que se puede solucionar con cualquier actualización. Esta es la app que el aire acondicionado recomienda utilizar, pero indagare si se puede controlar utilizando otra. Dentro de poco espero adquirir unos bombillos inteligentes y así ir poco a poco incursionando en el Internet de las cosas, un futuro que estudie años atrás y que cada vez esta mas presente.
In addition to that, the app is poorly optimized with the languages, it is mixed English, French and Spanish everywhere, but I know it is something that can be fixed with any update. This is the app that the air conditioner recommends to use, but I will find out if it can be controlled using another one. Soon I hope to acquire some smart bulbs and thus go slowly dabbling in the Internet of things, a future that I studied years ago and that is increasingly present.


Imagen de TheDigitalArtist en Pixabay
Si tienes algún dispositivo dispositivo en casa que puedes gestionar tal cual como las cosas que describí en este articulo, déjamelo saber en los comentarios junto con tu experiencia de uso.
If you have any devices at home that you can manage just like the things I described in this article, let me know in the comments along with your experience using them.

---
---

Las imágenes sin fuente son capturas de pantalla de la app NetHome plus en su versión para Android. La imagen de portada fue realizada con Adobe Spark Post, utilizando una de las capturas de pantalla.
Las imágenes sin fuente son capturas de pantalla de la app NetHome plus en su versión para Android. La imagen de portada fue realizada con Adobe Spark Post, utilizando una de las capturas de pantalla.