Greetings dear Geeks, consumers of technology. This time I bring you an unboxing of the HP H100 gamer headset. I needed to buy a headset with microphone for my computer, since the ones I had suffered an accident and were damaged. I will be honest, I did not want to spend a lot of money on a headset that would give me a 3D and immersive sound, the truth is I hate using headphones, I have a sound system connected to the computer, but I understand that there are times when it is necessary to use headphones to maintain privacy or just concentrate.
Saludos apreciados Geeks, consumidores de tecnología. En esta oportunidad les traigo un unboxing de los audífonos gamer HP H100. Necesitaba comprar unos audífonos con micrófono para mi computador, ya que los que tenia sufrieron un accidente y se dañaron. Les seré sincero, no quería gastar mucho dinero en unos audífonos que me brindaran un sonido 3D y de inmersión, la verdad detesto utilizar audífonos, yo tengo un sistema de sonido conectado al computador, pero entiendo que hay momentos en que es necesario utilizar audífonos para mantener la privacidad o simplemente concentrarse.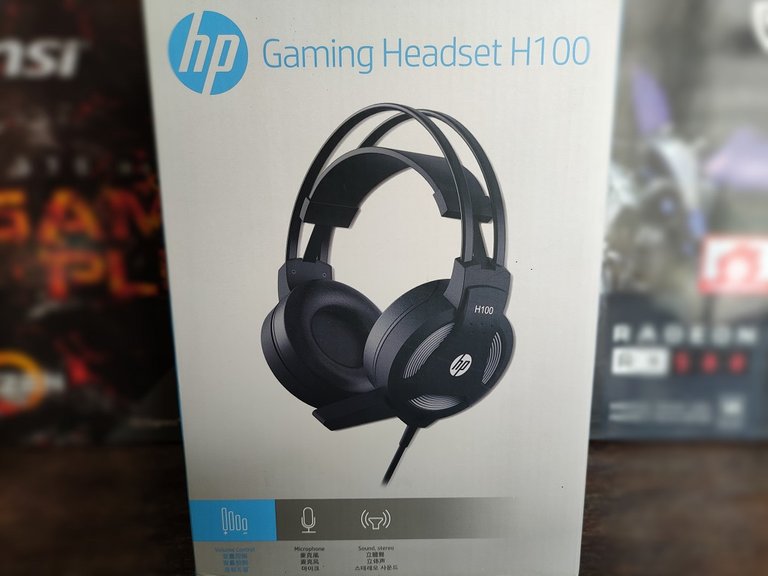 I was looking for a headset that was big and comfortable enough and that didn't have lights, I hate the lights in the peripherals for computer gamers. After some shopping around and trying out a variety of headphones, I came across these HP H100 headphones.
Me encontraba en la búsqueda de unos audiófonos que fueran lo suficientemente grande y cómodos y que no tuvieran luces, detesto el tema de las luces en los periféricos para computador gamers. Después de indagar en algunas tiendas y probar una gran variedad de audífonos, me encontré con estos audífonos HP H100.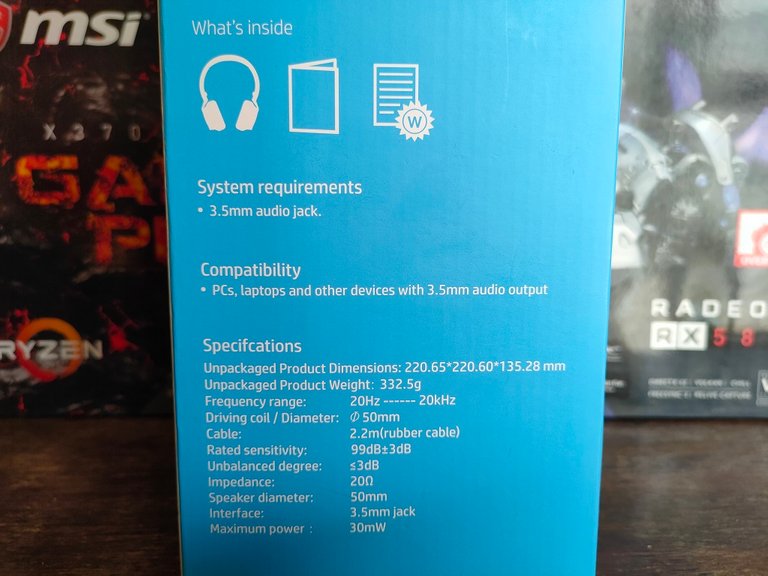 The first thing I liked was the design, the quality of the material, there are no lights and the microphone should not be moving. Those details made me buy it, for a price of 25$ and here I will tell you if I lost my money or if they have fulfilled their function.
Lo primero que me gusto fue el diseño, la calidad del material, no tienen luces y el micrófono no debes estar moviéndolo. Esos detalles me hicieron comprarlo, por un precio de 25$ y aquí te contare si perdí mi dinero o han cumplido con su función.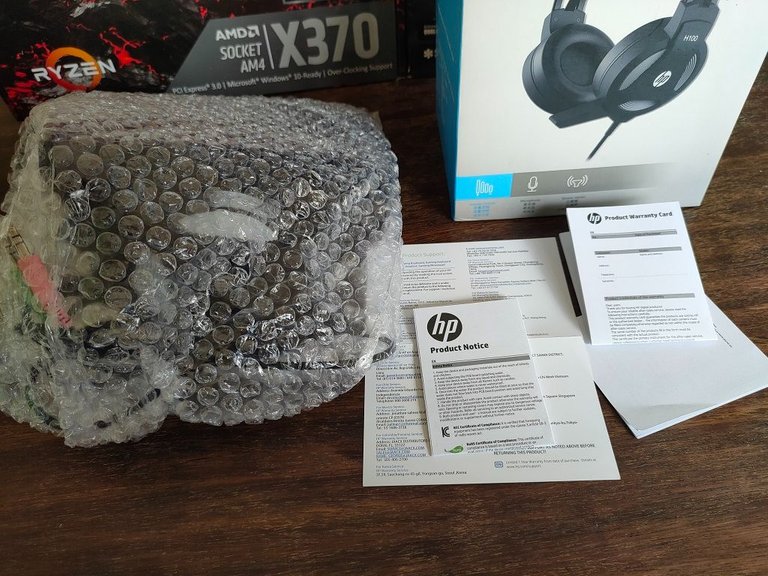 Out of the box, the headphones come wrapped in this bubble wrap, which I spent some time distracting myself by popping each one of them XD. Once you take the headphones out, you will also find some informative manuals and warranty documentation. It's not a bluetooth headset, another aspect I love, it comes with a 2.2 meter cable, with dual 3.5mm jack terminals, that is, one for the headphones and one for the microphone.
Al sacarlos de la caja, los audífonos vienen envueltos en este plástico que tiene burbujas y con el cual me distraje un buen tiempo reventando cada una de ellas XD. Una vez sacado los audífonos, encontraras también algunos manuales informativos y documentación sobre la garantía. No es un audífono bluetooth, otro aspecto que me encanta, viene con un cable de 2.2 metros de distancia, con terminales Jack de 3.5mm dual, es decir, uno para los auriculares y otro para el micrófono.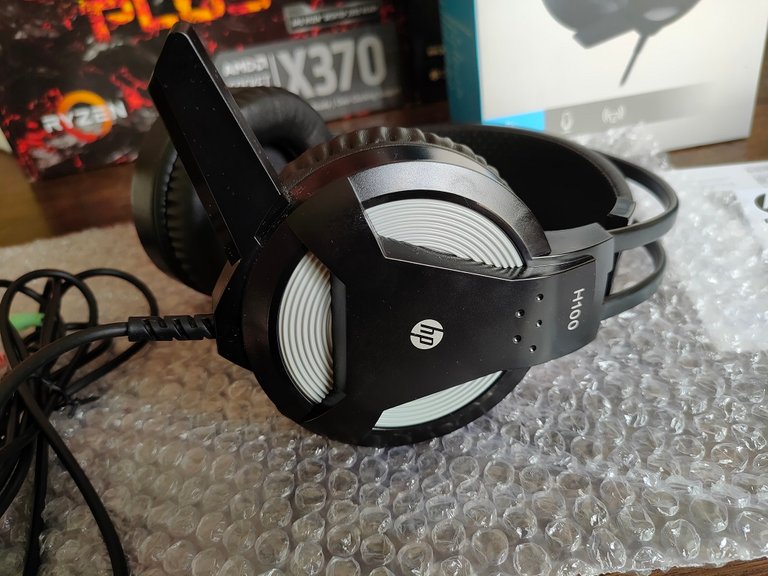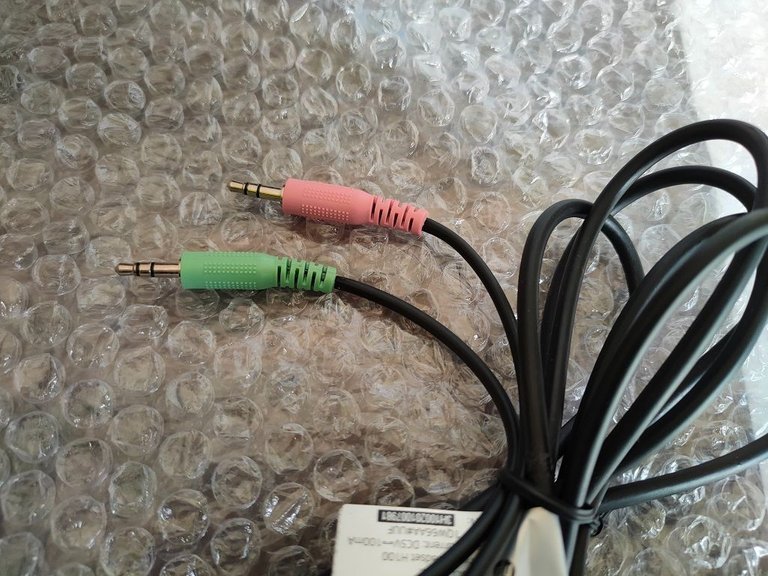 Before I tell you about the sound and microphone quality, I loved the quality of the materials. The headband is made of plastic-coated metal, with an additional soft rubber band that molds to the head according to the size of the head. The ear cups are covered with a very soft and pleasant to the touch foam rubber, especially when you have them on.
Antes de hablarles de la calidad del sonido y micrófono, me ha encantado la calidad de los materiales. La parte del arco que se amolda a la cabeza es de metal recubierto con plástico, con una banda adicional de goma suave que se amolda a la cabeza de acuerdo al tamaño. Los auriculares están recubiertos con una goma espuma muy suave y agradable al tacto, sobre todo cuando los tienes puesto.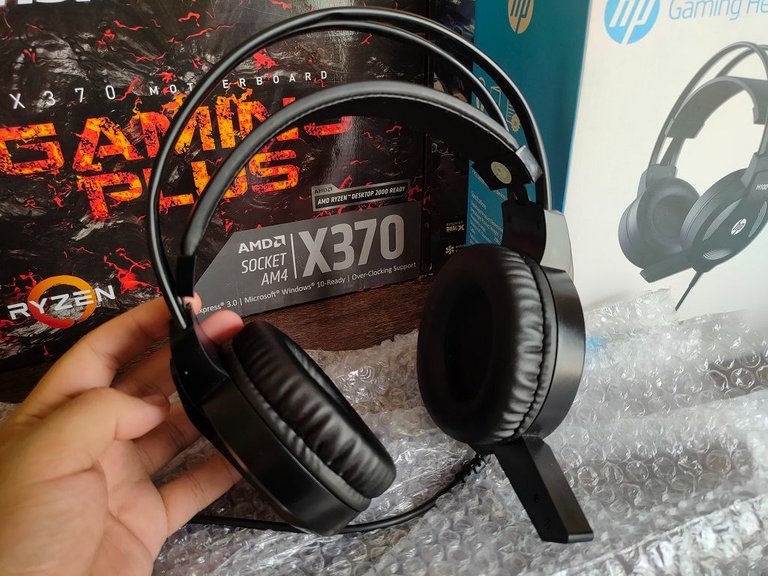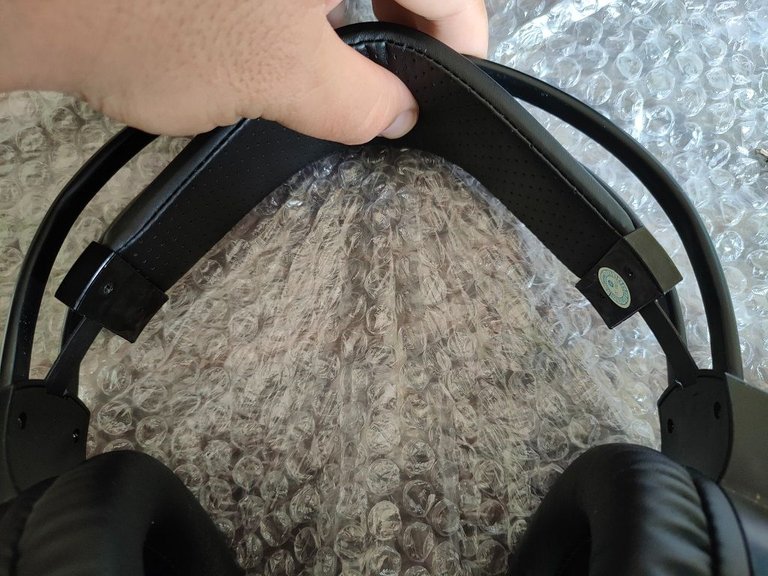 Despite the size, these headphones are not heavy and do not feel uncomfortable to wear. The weight of these headphones is approximately 300gr, something that, in particular, goes unnoticed when I'm using them. The material used for the cable looks like a standard material, but it will last a long time.
A pesar del tamaño, no son audífonos pesados y que sientas que molestan al cargarlos puesto. El peso de estos audífonos es de aproximado 300gr, algo que, en lo particular, pasa desapercibido cuando los estoy utilizando. El material utilizado para el cable se ve como un material estándar, pero que tendrá una duración prolongada.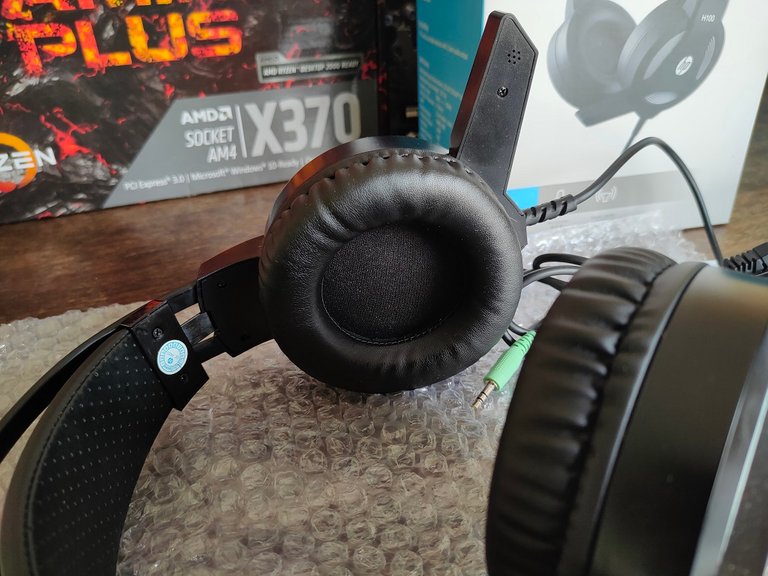 In terms of sound quality, I would classify them within the average. Depending on the sound track you are playing and the quality it has, they will sound enough that you won't miss any sound, helped by the fact that your ears are covered by the foam rubber and help your ears to be isolated from outside sounds. However, it is not the best sound quality in terms of power, so if you are looking for headphones to listen to music or enjoy many hours of multimedia content, there are other options that provide better sound quality, but at a higher cost.
En cuanto a calidad de sonido, yo los clasificaría dentro de la media. Dependiendo de la pista de sonido que estés reproduciendo y la calidad que tenga, sonaran lo suficiente para que no pierdas ningún sonido, ayudando el hecho de que tus orejas quedan recubiertas por la goma espuma y ayudan a que tus orejas estén asiladas de los sonidos de afuera. Sin embargo, no es la mejor calidad de sonido en cuanto a potencia, así que, si buscas unos audífonos para escuchar música o disfrutar de muchas horas de contenido multimedia, existen otras opciones que brindaran mejor calidad de sonido, pero a un mayor costo.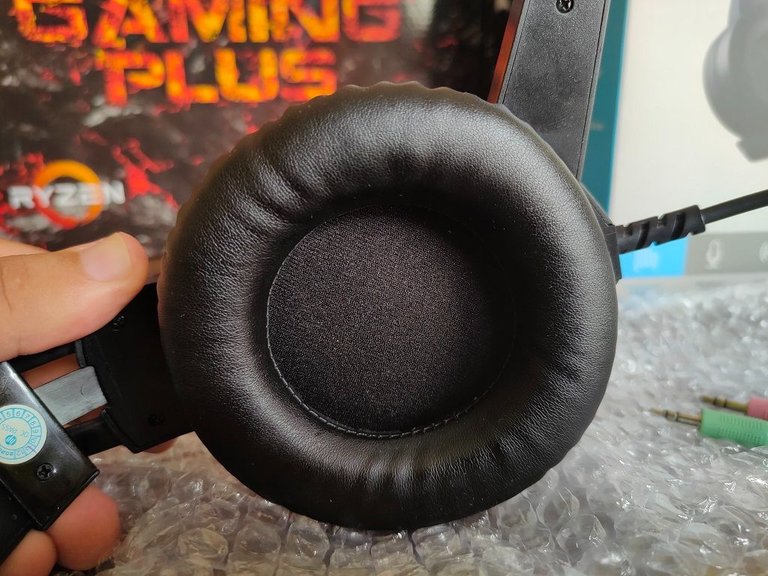 Although I must say that, by making certain adjustments to the equalizer, I was surprised at what I was able to achieve. But if you feel that in some moments you need more volume or that there is some distortion in the voice, especially in music. The good thing is that the impedance is 20 ohms, this means that we can connect them to almost all devices that have a 3.5mm jack input.
Aunque debo decir que, haciendo ciertos ajustes al ecualizador, me sorprendí de lo que pude lograr. Pero si sientes que en algunos momentos necesitas mas volumen o que existe cierta distorsión en la voz, sobre todo en música. Lo bueno es que la impedancia es de 20 ohms, esto quiere decir que los podremos conectar en casi todos los dispositivos que tengan una entrada Jack de 3.5mm.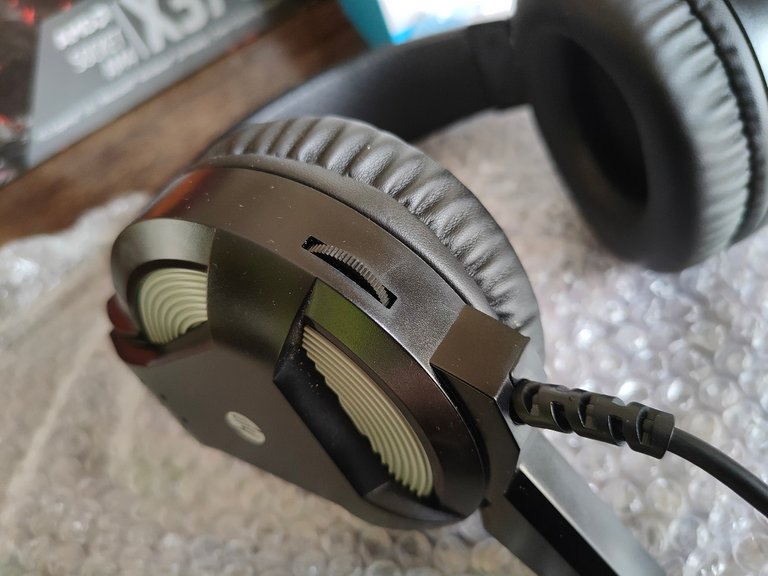 As for the quality of the microphone, I am quite satisfied. At no time have I felt distortion when speaking or that the distance at which the microphone is not adequate. It is not a microphone to sing or professional to record high quality audio, but it has enough quality for video calls or different types of activities where you need to talk.
En cuanto a la calidad del micrófono, estoy bastante conforme. En ningún momento he sentido distorsión al hablar o que la distancia a la que queda el micrófono, no sea la adecuada. Tampoco es un micrófono para cantar o profesional para grabar audio de alta calidad, pero si tiene la calidad suficiente para videollamadas o diferentes tipos de actividades donde se necesite hablar.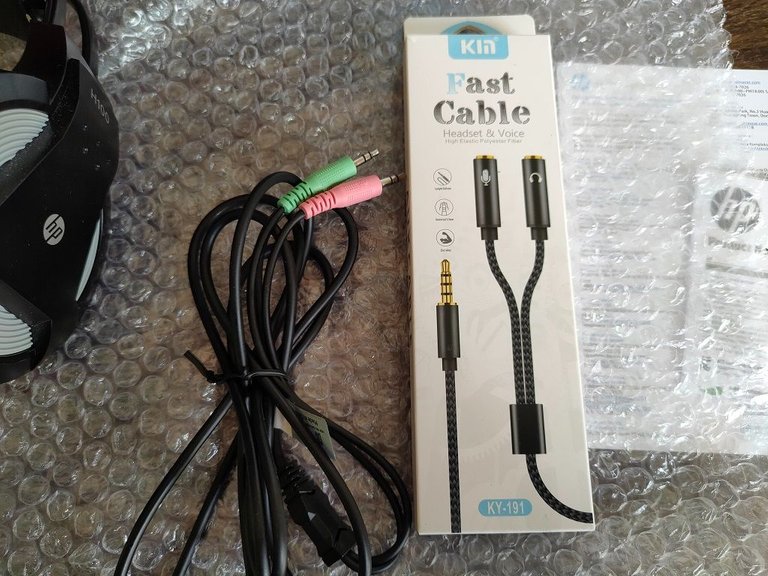 Unlike other gaming headphones, the box does not come with an adapter cable to connect them to the phone and thus also use the microphone. Buy a simple adapter and perfect function on the phone, although for my smartphone I have available a JBL headphones that have better sound quality, but as I said at the beginning, I only use headphones when necessary, I love to consume multimedia content with a room sound system.
A diferencia de otros audífonos gamers, en la caja no trae un cable adaptador para poder conectarlos al teléfono y así utilizar también el micrófono. Compre un adaptador sencillo y función perfecto en el teléfono, aunque para mi smartphone tengo disponible unos audífonos JBL que disponen de mejor calidad de sonido, pero como les comenté al principio, solo utilizo audífonos cuando es necesario, me encanta consumir el contenido multimedia con un sistema de sonido de habitación.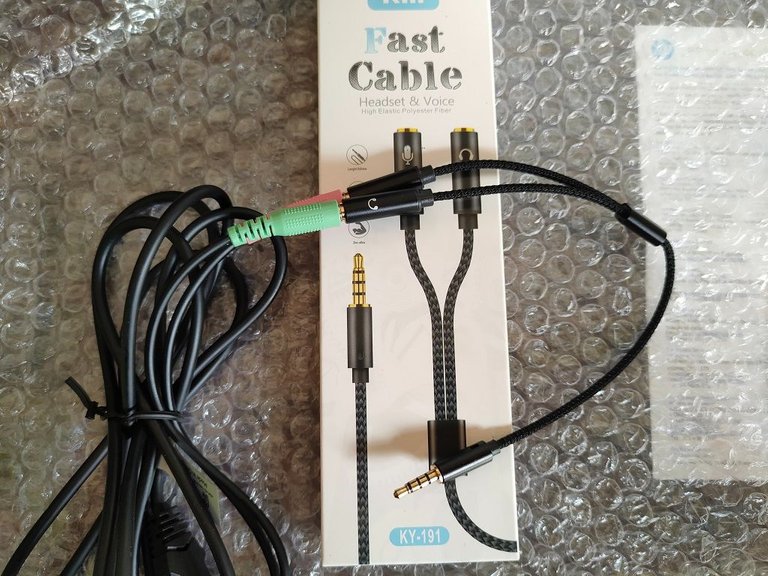 If I had to give them a rating from 1 to 10, I would give them 7 points. The first thing to highlight are the materials they are built with, they do not have lights and the community and softness of the earmuffs. They could have been better in terms of sound quality, but I assume that the other top HP models do provide this quality. If you are looking for a headset only for Discord voice activities or video calls, you are not one of those people who listen at full volume and value the comfort of your ears, the H100 model can be an option if you also want to economize.
Si tuviera que darles una clasificación del 1 al 10, le daría 7 puntos. Lo primero a resaltar son los materiales con los que están construidos, no disponen de luces y la comunidad y suavidad de las orejeras. Pudieron ser mejor en cuanto a calidad de sonido, pero asumo que los otros modelos HP superiores si brindan esta calidad. Si buscas unos audífonos únicamente para actividades de voz por Discord o videollamadas, no eres de esas personas que escuchan a todo volumen y valoran la comodidad de tus orejas, el modelo H100 puede ser una opción si quieres también economizar.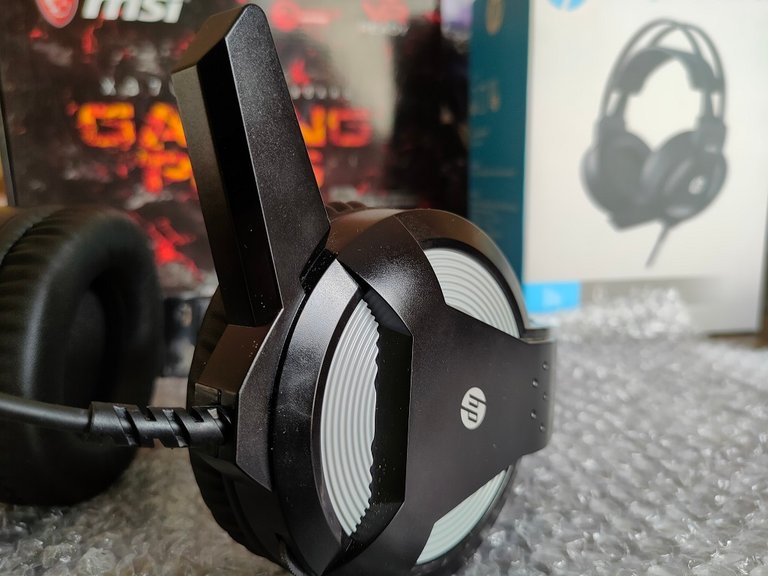 ---
---

All pictures were taken by me, with a Realme 7 pro phone, compressed to facilitate the visualization of the content.
Todas las fotografías fueron tomadas por mi con un Realme 7 pro, comprimidas para facilitar la visualización del contenido.