Yo soy team AMD, si en algún momento has leído mi contenido de tecnología, es algo que suelo mencionar. No tengo problemas con Intel, pero me gusta más AMD, se siente más gaming. Mi computadora está equipada con CPU y tarjeta de video de AMD. AMD cuenta con un programa llamado AMD software adrenalina edición, el cual te permite gestionar diferentes parámetros del equipo, con muchas características para los videojuegos. Nunca he hablado sobre este programa y lo tengo pendiente de tarea, pero hoy quiero hablar de una aplicación de la cual estoy enamorado jajaja.
I'm team AMD, if you've ever read my tech content, it's something I often mention. I have no problem with Intel, but I like AMD better, it feels more gaming. My computer is equipped with AMD CPUs and GPUs. AMD has a program called AMD adrenaline software edition, which allows you to manage different parameters of the computer, with many features for gaming. I have never talked about this program and I have it pending homework, but today I want to talk about an application that I am in love with hahaha.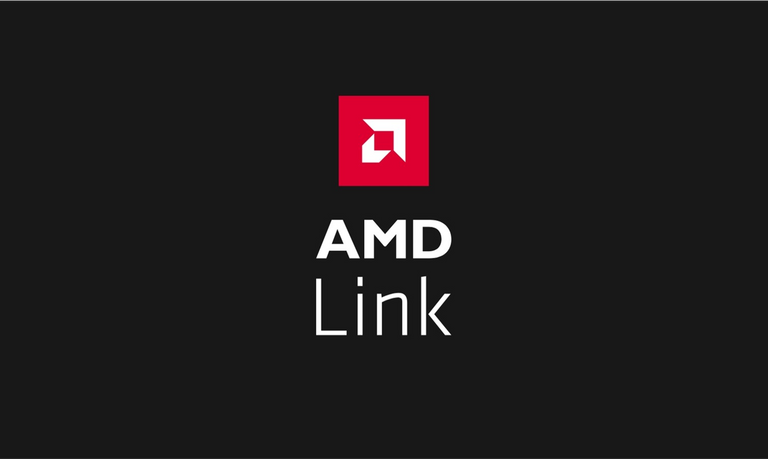 la aplicación se llama AMD Link, está disponible para diferentes plataformas (al final te dejo los enlaces de descarga oficiales). Con esta aplicación, podemos de una manera simplificada, monitorear la computadora mientras jugamos, ejecutar juegos, sacar capturas de pantalla, grabar la pantalla, controlar opciones de streaming y jugar a distancia los juegos que tengamos instalado en la computadora.
The application is called AMD Link, it is available for different platforms (at the end I leave the official download links). With this application, we can in a simplified way, monitor the computer while we play, run games, take screenshots, record the screen, control streaming options and remotely play the games we have installed on the computer.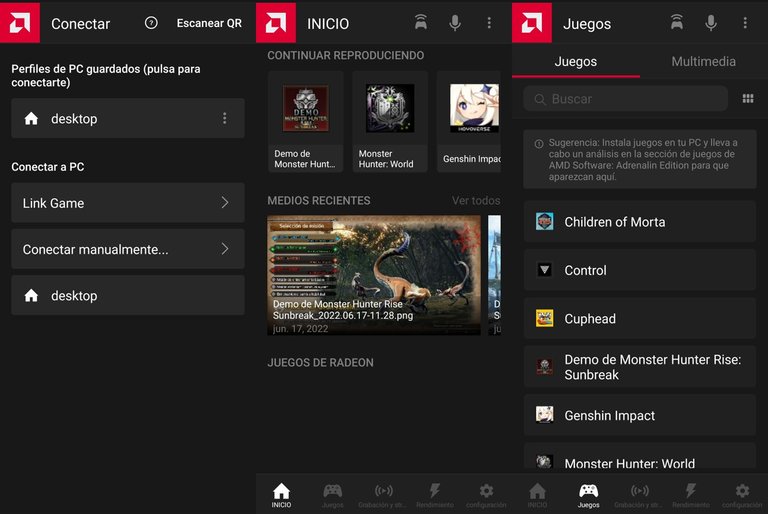 Yo no juego con teclado ni mouse, prefiero jugar con un mando, ahorita uso uno de Xbox powerA y, aunque puedo tomar capturas utilizando la Xbox bar, me gusta más la calidad que da el AMD Radeaon Sotware. La cuestión es que si estas lejos del pc, tienes que tener el teclado a un lado y cuando tomas una captura, dependiendo del atajo que tengas configurado, puede que suceda alguna acción en el juego. Con la app uno se olvida de todo eso, simplemente tocas el botón en pantalla y se toma la captura.
I don't play with keyboard or mouse, I prefer to play with a controller, right now I use one from Xbox powerA (article in Spanish only) and, although I can take screenshots using the Xbox bar, I like the quality that the AMD Radeaon Sotware gives better. The issue is that if you are far away from the pc, you have to keep the keyboard aside and when you take a screenshot, depending on the shortcut you have configured, some action may happen in the game. With the app you forget about all that, you just tap the button on the screen and the screenshot is taken.
Otras de las cosas que me gusta es poder monitorear el hardware de mi pc mientras juegos, hay veces en que se me ha olvidado activar el programa que controla los ventiladores de la tarjeta de video y la temperatura sube tanto que comienzo a sudar y es que me doy cuenta. Desde la app puedo estar pendiente de esos detalles sin tener que complicarme tanto con colocar widgets, un 2do monitor, etc.
Another thing I like is to be able to monitor the hardware of my pc while I play games, there are times when I have forgotten to activate the program that controls the fans of the video card and the temperature rises so much that I start to sweat and I realize it. From the app I can keep an eye on those details without having to complicate so much with widgets, a 2nd monitor, etc.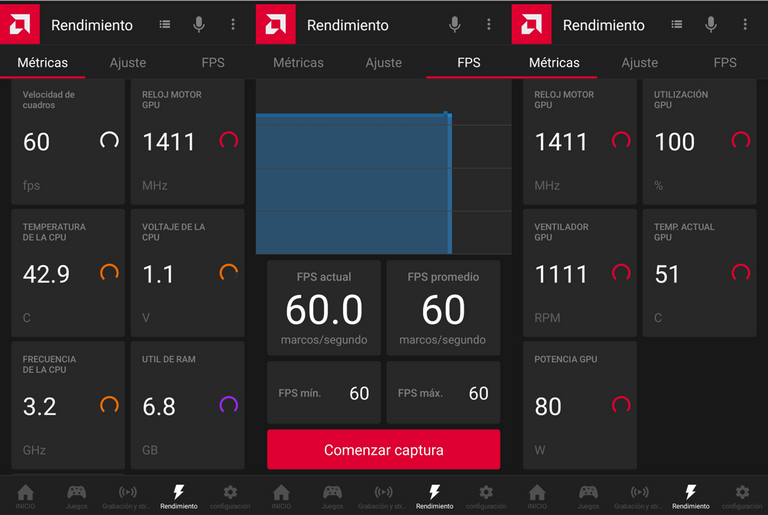 La app ofrece un modo juego en streaming que me ha encantado, puede ser usado como segunda pantalla o jugar desde ese modo, por si estamos fuera de casa y queremos jugar, claro teniendo la computadora encendida y conectada a Internet. Si, puede ya hay muchos servicios de streaming gaming, pero no está demás tener una opción que te permita jugar a esos juegos que tienes en el pc, sobre todo cuando es de escritorio y no se va contigo de viaje. Cuando instalé la app, vi que era compatible con Android TV y me parece una opción interesante para usar ese tv que está lejos y no podemos conectar por cable, y así transmitir la pantalla para cuando hay varios espectadores viendo el juego.
The app offers a streaming game mode that I loved, it can be used as a second screen or play from that mode, if we are away from home and want to play, of course having the computer on and connected to the Internet. Yes, there may already be many streaming gaming services, but it is not superfluous to have an option that allows you to play those games you have on the pc, especially when it is a desktop and does not go with you on the road. When I installed the app, I saw that it was compatible with Android TV and I find it an interesting option to use that tv that is far away and we can not connect by cable, and thus transmit the screen for when there are several viewers watching the game.
usando la pantalla del smartphone para moverme en el juego | using the smartphone screen to move around the game
---
La app te permite ajustar cosas sencillas, pero los ajustes detallados debes realizarlos en la aplicación de PC, sin embargo, no hay mucho ajuste a realizar mientras se está jugando a menos que quieras modificar paramentaros para mejorar el rendimiento.
The app allows you to adjust simple things, but detailed adjustments must be made in the PC application, however, there is not much adjustment to be made while playing the game unless you want to modify parameters to improve performance.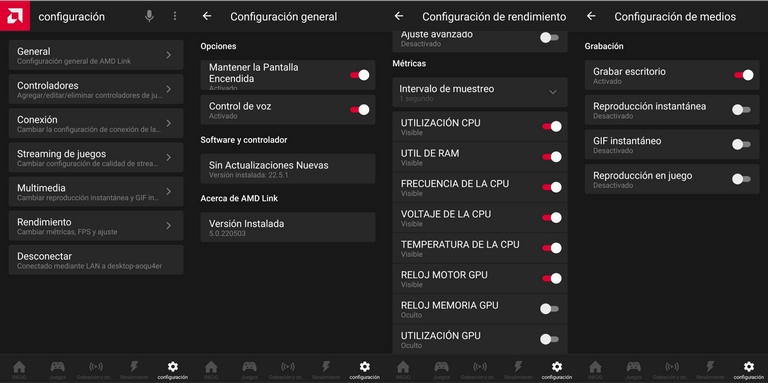 AMD Link me parece una excelente app, me ofrece opciones que me permiten interactuar con el pc y el juego sin tener que salirme del juego o tener que acercarme al PC si quiero utilizar el teclado para una captura de pantalla. Adicional, el poder monitorear a cuantos FPS va el juego, como está trabajando el CPU y la GPU, son extras que te permiten mantener la vida útil del hardware, evitando sobrecalentamiento, etc.
Si tienes un hardware AMD compatible con AMD Radeon Software y que te permita enlazar a AMD Link, no dudes en probarla, es una app que te va a dar una mejor experiencia de juego. Si ya la has probado antes, déjame saber tu opinión en los comentarios y si usas otro tipo de aplicación, déjame saber cuál usas. ¡hasta una próxima entrada de tecnología!
AMD Link seems to me an excellent app, it offers me options that allow me to interact with the pc and the game without having to leave the game or having to get close to the PC if I want to use the keyboard for a screenshot. Additionally, being able to monitor how many FPS the game is running at, how the CPU and GPU are working, are extras that allow you to maintain the life of your hardware, avoiding overheating, etc.
If you have AMD hardware that supports AMD Radeon Software and allows you to link to AMD Link, don't hesitate to try it, it's an app that will give you a better gaming experience. If you have tried it before, let me know your opinion in the comments and if you use another type of application, let me know which one you use. see you in the next tech post!

Si quieres conocer más detalles sobde esta app, visita la página web oficial.
If you want to know more details about this app, visit the official website.
Links Oficiales de descarga | Official Download Links
Google Play Store, Apple App Store, Amazon Appstore y Microsoft Store

---

Todas las imágenes son capturas de pantallas, editadas en PowerPoint para unirlas. La imagen de portada y los separadores, se construyeron a partir de una captura de la pantalla principal de la aplicación AMD Link.
All images are screenshots, edited in PowerPoint for stitching. The cover image and dividers were constructed from a screenshot of the main screen of the AMD Link application.