No hace mucho adquirí un nuevo juego, del cual soy muy fan y he estado jugando un poco tarde. Yo suelo conectar un sistema de sonido en la pc, ya que no soy de utilizar por mucho tiempo audífonos y los audífonos HP que tengo no ofrecen una buena calidad de sonido como para jugar. Como ando jugando tarde en la noche, la idea es no molestar con el sonido del juego o de cualquier serie así que comencé a estudiar algunas posibilidades de audífonos para comprar.
Not long ago I acquired a new game, of which I am a big fan and I have been playing it a little late. I usually connect a sound system to the pc, as I don't use headphones for a long time and the HP headset that I have don't offer a good sound quality for gaming. Since I'm playing late at night, the idea is not to bother with the sound of the game or any series so I started to study some possibilities of headphones to buy.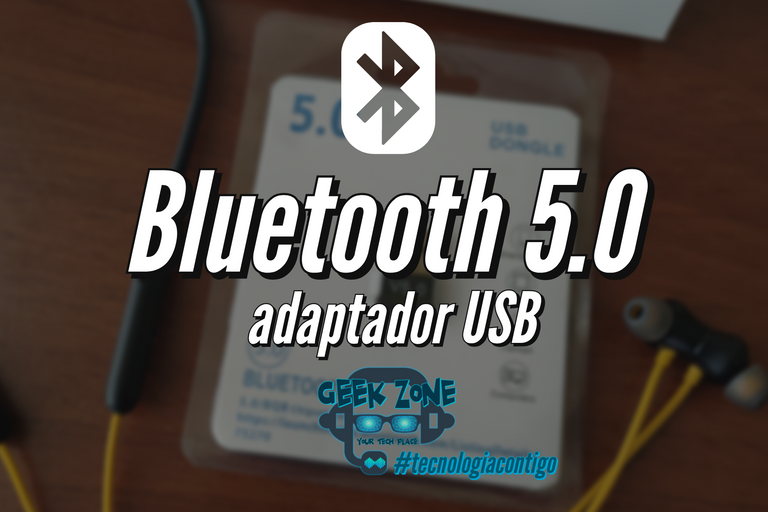 En diciembre adquirí unos Realme Buds Wireless 2 NEO, audífonos que me encanta en todo aspecto y que disfruto utilizar cuando juego en mi móvil, ya que tienen modo gaming para reducir el retraso de sonido. Cuando andaba en la tienda viendo opciones de audífonos, pregunte por un bluetooth y en vez de gastar en audífonos nuevos, termine comprando el adaptador bluetooth para usar los audífonos Realme en la pc.
In December I purchased Realme Buds Wireless 2 NEO, headphones that I love in every aspect and that I enjoy using when I play games on my mobile, since they have gaming mode to reduce the sound delay. When I was in the store looking at headphone options, I asked for a bluetooth and instead of spending on new headphones, I ended up buying the bluetooth adapter to use the Realme headphones in the pc.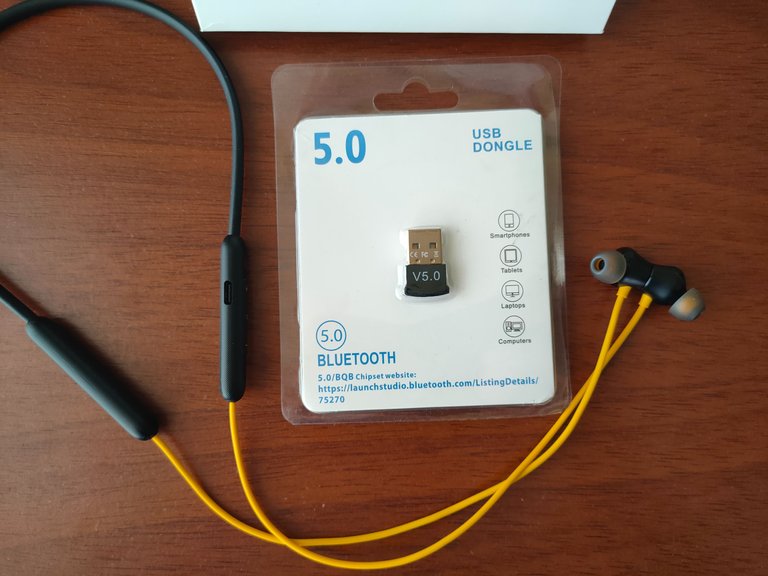 Compré un adaptador USB Bluetooth genérico, que soporta bluetooth 5.0. Es un componente sencillo y que no requiere mayor configuración, solo conectar al computador y lo detecta automáticamente. Quizás en versiones de Windows 7 sea necesario tener drivers, pero en Windows 10 no fue problema alguno.
I bought a generic Bluetooth USB adapter, which supports Bluetooth 5.0. It is a simple component that requires no further configuration, just connect it to the computer and it detects it automatically. Maybe in Windows 7 versions it is necessary to have drivers, but in Windows 10 it was no problem at all.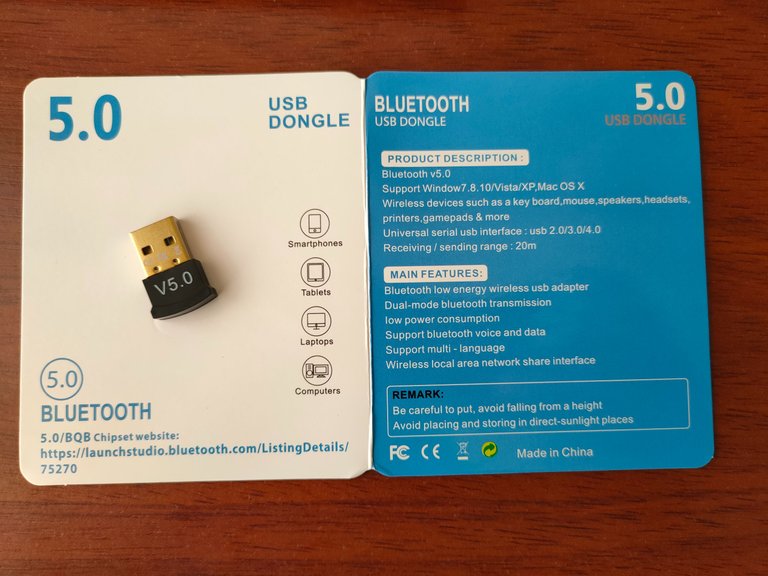 Este adaptador no viene con manual y la pagina que sale en el empaque no te brinda mucha información, pero es algo de esperarse con un dispositivo genérico. De acuerdo a lo que dice, tiene 20 metros de alcance y por tratarse de bluetooth 5.0, hay un mayor ancho de banda y eso ayuda a que el audio sea de mayor calidad y/o conectar varios dispositivos al mismo tiempo. Hay adaptadores bluetooth de TP-Link, pero suelen costar entre 10-15$, a diferencia de este adaptador genérico que me costo 5$ y si, los adaptadores TP-Link tienen mejor calidad.
This adapter does not come with a manual and the page on the packaging does not provide much information, but it is to be expected with a generic device. According to what it says, it has a range of 20 meters and because it is Bluetooth 5.0, there is a higher bandwidth and that helps the audio to be of higher quality and / or connect multiple devices at the same time. There are TP-Link bluetooth adapters, but they usually cost between 10-15$, unlike this generic adapter that cost me 5$ and yes, TP-Link adapters have better quality.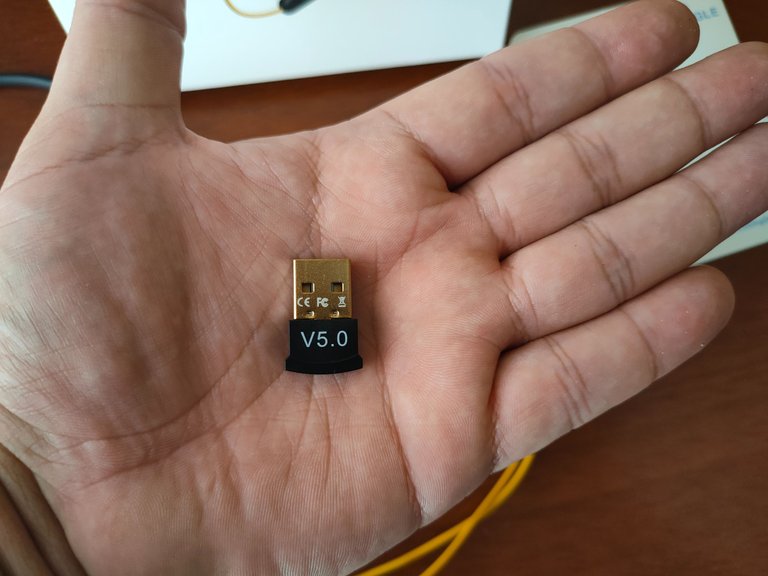 El adaptador es pequeño, por lo tanto no va a sobresalir de manera exagerada al estar conectado en la computadora. En la parte negra tiene un indicador led azul, que no brilla demasiado y no molesta, si eres de las personas que le molesta las luces. La conexión es super rápida, o por lo menos esa ha sido mi experiencia, como ya tengo sincronizado los audífonos Realme, con tan solo activarlos, se conectan enseguida al computador.
The adapter is small, so it will not protrude too much when connected to the computer. In the black part it has a blue LED indicator, which does not shine too bright and does not bother, if you are one of those people who are bothered by lights. The connection is super fast, or at least that has been my experience, as I have already synchronized the Realme headphones, just by activating them, they connect immediately to the computer.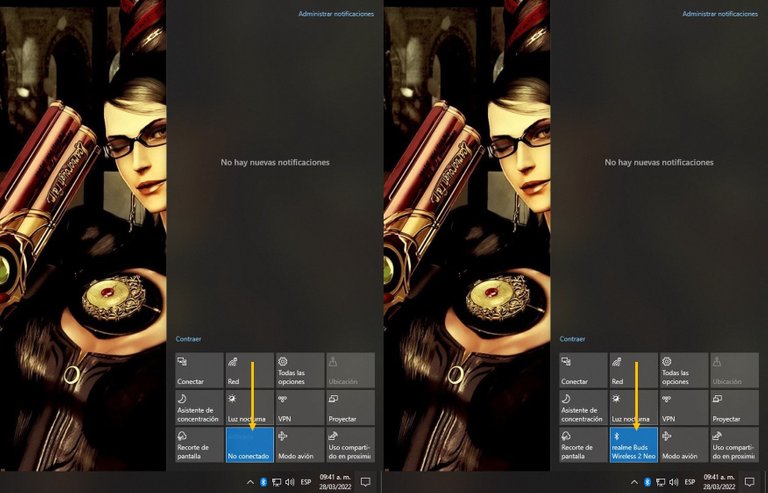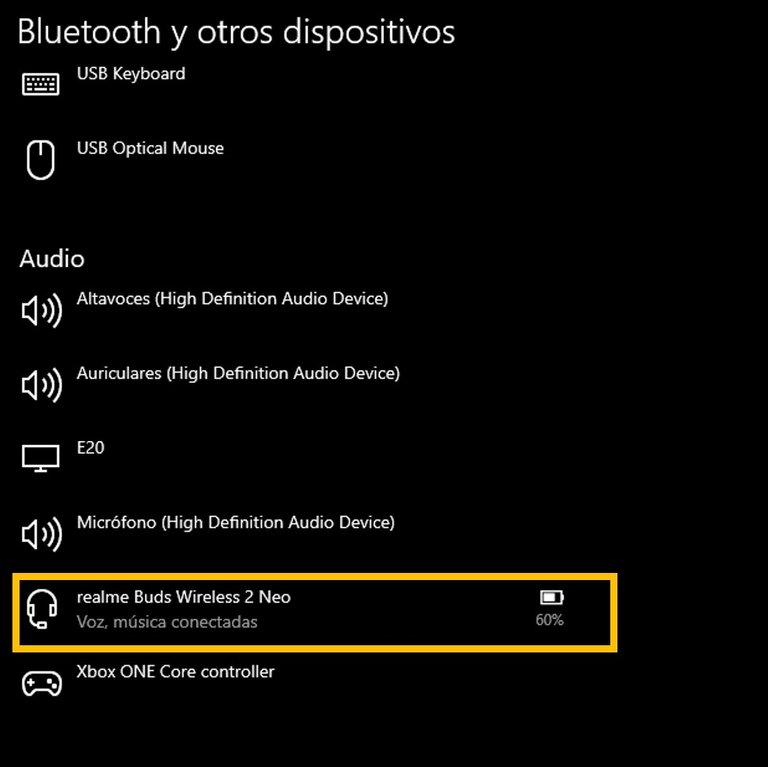 Yo amo la calidad del sonido de estos audífonos Realme, por lo tanto mi experiencia con ellos, ahora ahusándolos en la computadora, ha sido excelente. Se ha mantenido la calidad del sonido y puedo activar el modo gaming sin problemas, aunque no he tenido problemas con el retardo, solo lo he notado en Genshin Impact (con el único juego que activo el modo gaming), pero en otros juegos ha sido casi imperceptible.
I love the sound quality of these Realme headphones, so my experience with them, now using them on the computer, has been excellent. The sound quality has been maintained and I can activate the gaming mode without problems, although I have not had problems with the delay, I only noticed it in Genshin Impact (with the only game I activate the gaming mode), but in other games it has been almost imperceptible.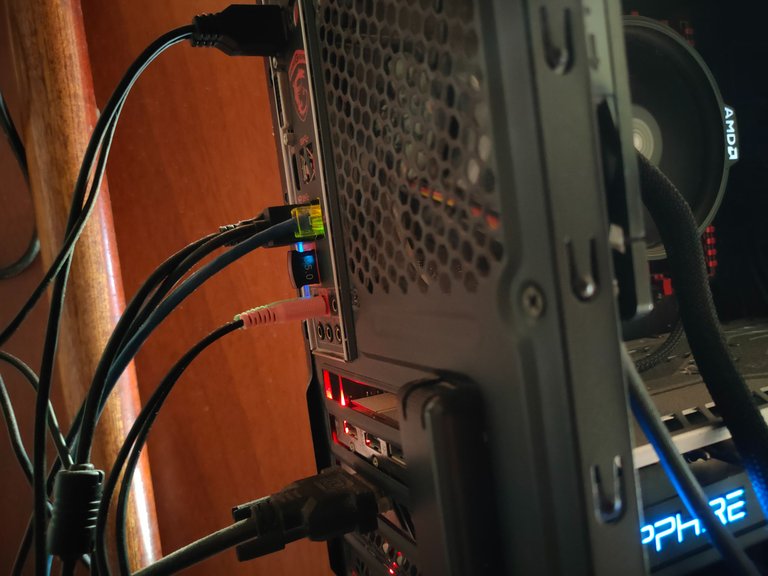 Este adaptador me pareció una compra acertada, a pesar de que mi experiencia con este tipo de adaptador, en el pasado, no ha sido la mejor. Pero es cierto que la tecnología bluetooth ha crecido, ha venido mejorando y la experiencia como usuarios, también ha mejorado. Llevo 5 días utilizando y hasta los momentos ha funcionado bien, sin nada extraño.
I found this adapter to be a wise purchase, even though my experience with this type of adapter in the past has not been the best. But it is true that bluetooth technology has grown, it has been improving and the user experience has also improved. I have been using it for 5 days and so far it has worked fine, with nothing strange.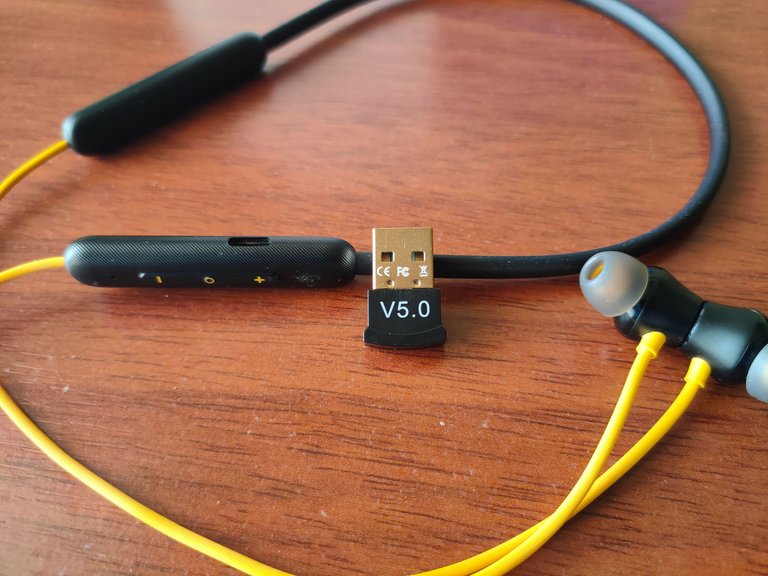 No te voy a mentir, igual tengo pensado comprar unos audífonos alámbricos, quizás de marca Onikuma. La diferencia es que por ahorita puedo evitar ese gasto y disfrutar de buena calidad de sonido. Para mi el sonido es un aspecto importante, también he pensado en adquirir un mejor sistema de sonido, para que la experiencia multimedia sea la mejor, pero eso lo descubriremos mas adelante. Si usas algún adaptador Bluetooth, cuéntame tu experiencia en los comentarios.
I'm not going to lie to you, I'm still planning to buy some wired headphones, maybe Onikuma. The difference is that for now I can avoid that expense and enjoy good sound quality. For me the sound is an important aspect, I have also thought about acquiring a better sound system, so that the multimedia experience is the best, but we will discover that later. If you use a Bluetooth adapter, tell me about your experience in the comments.
---

Todas las fotografías fueron tomadas por mi con un Realme 7 pro para esta publicación, sin autorizar a nadie para reutilizarlas.
All pictures were taken by me, with a Realme 7 pro phone for this publication, without authorizing anyone to reuse them.