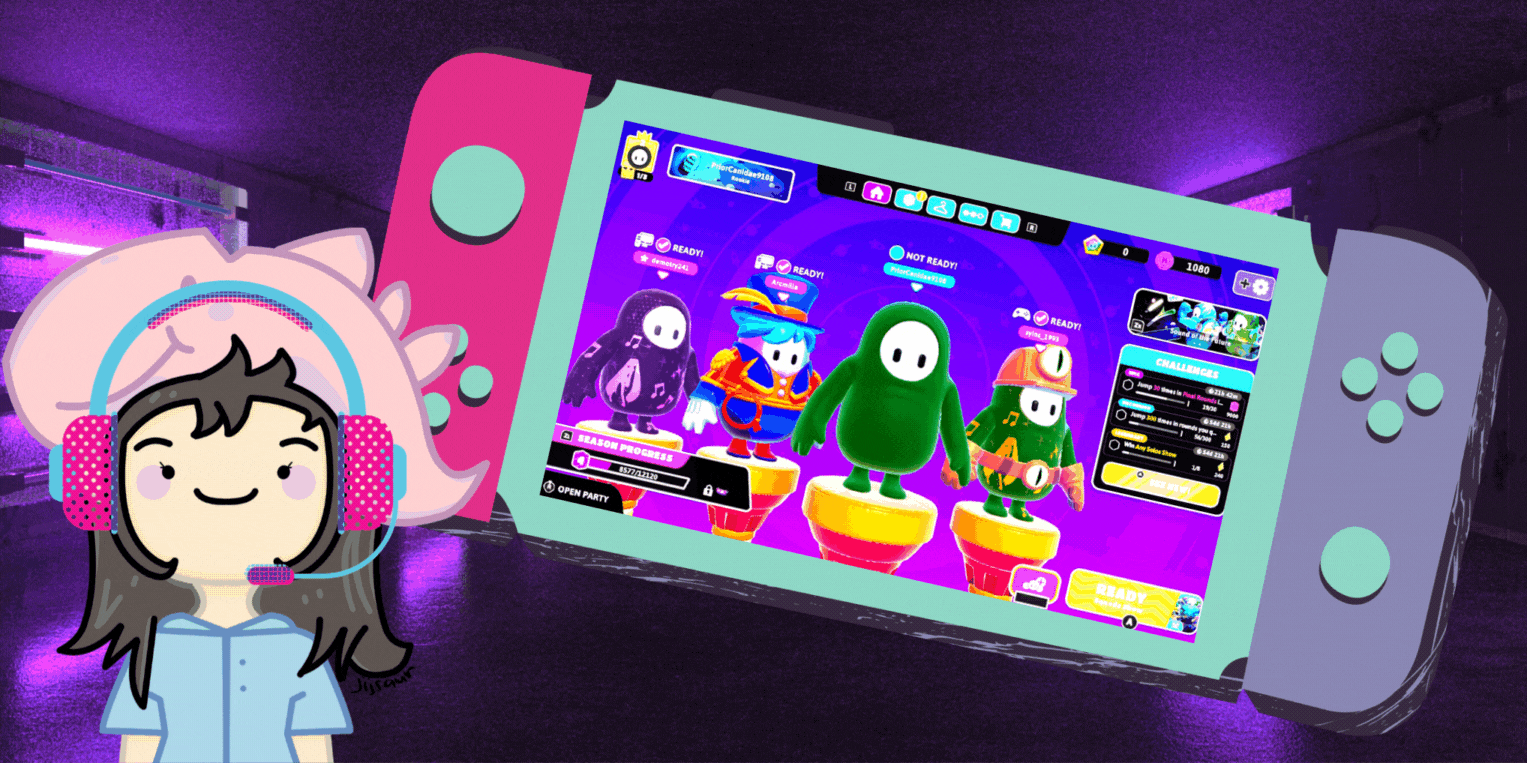 Banner created and Designed in Canva
I never heard of Fall Guys until some of my friends were playing this game live-streamed through Discord. I thought it was really cute! Those quirky hotdogs running around was so funny to watch.
They invited me to play and so, I tried to download the game in my laptop. Too bad, the game is not available in MacOS, what the heck? It was such a bummer! So, I switched to my Windows laptop. It was so slow because my Windows laptop has a lot of files. I just called it a night because I was so pissed at this point, wahah!
Never give up, right? The last resort that I have was my Nintendo Switch. So, I just downloaded and connected it with Epic Games. Good thing about this game is it is free! As a cheapskate, my wallet is happy. People know me not to spend on things especially if I can have it for free. I was so thrilled to play this game because it seemed to be fun and chaotic, lol.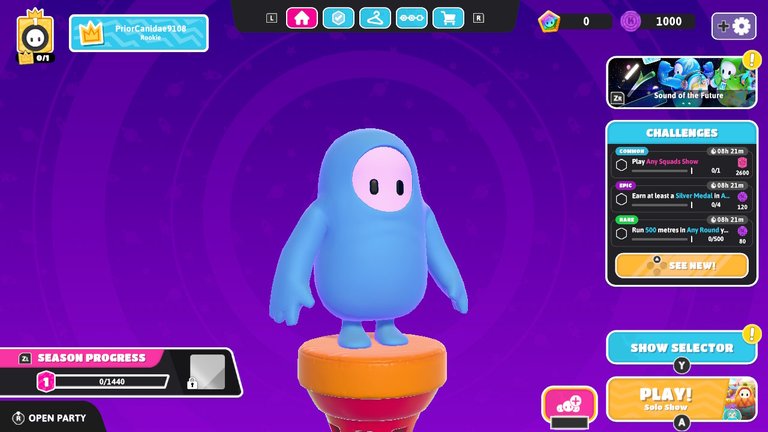 Me in a plain, blue suit!
As a first timer to play this game, it is really confusing to navigate the platform. But as I scrutinized more, I found it easy to hop in to different tabs. Apparently, I can change my looks by buying items or finishing some challenges. By the way, so funny that I call them hotdogs when they actually are jellybeans. My jelly, for now, is plain, haha!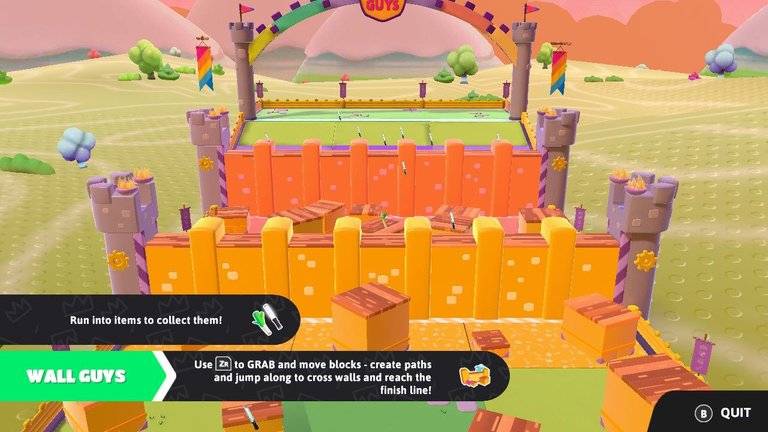 I waited for the room to be filled with 60 people. It took for about 30 seconds for the game to start. I am loving the 3D mini games! Before the game starts, there will be rules and movement instruction prompt. So, a jelly bean can grab, climb, dive, and jump throughout the game. So there are obstacles to go through and make sure not to fall!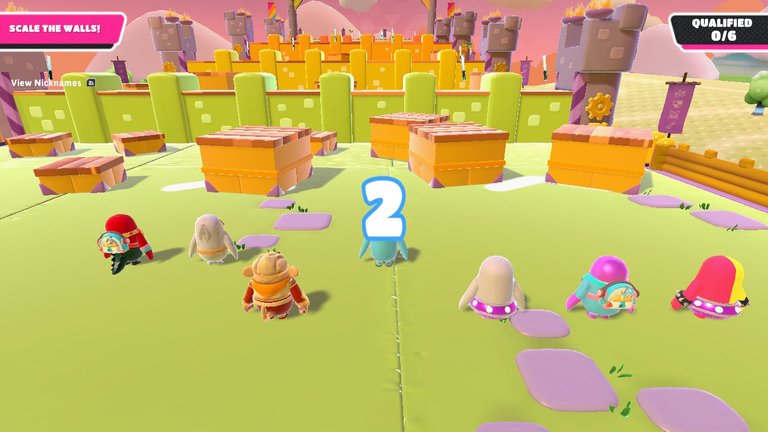 After the preview of the obstacles, there will be a countdown, and bang! Off you go! Look at me as the plain Jane among the players. For sure some of these peeps had already played few times. I was not sure if I was going to make it to the finish line, but did my best and followed my instinct. I managed to each the end of the game, phew.
---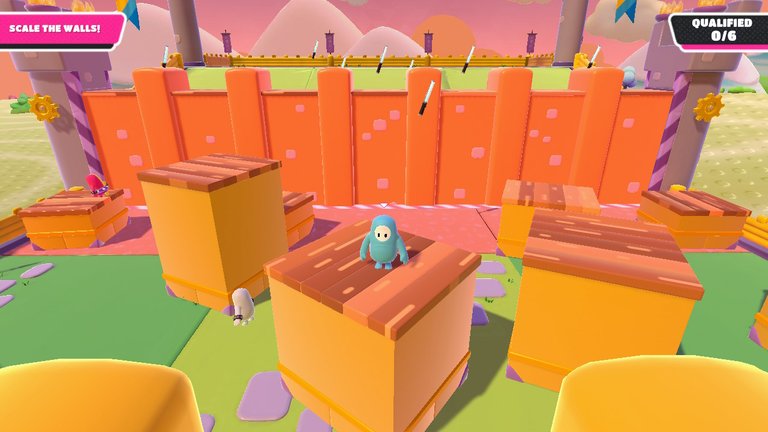 It was so funny that I have to pause to think of what to do, HAHA!
Look how clueless I was. I remembered pressing all the button on the Switch console to find the jump button. So, apparently I have to move the boxes to be able to climb the walls. Well, it was okay because I saw some players clueless too, lol. Ack~ I managed to climb the walls and go throughout the obstacles. I reached the finish line but was too slow. This was a warm up for me in later's game with my friends.
With My Friends, Yey~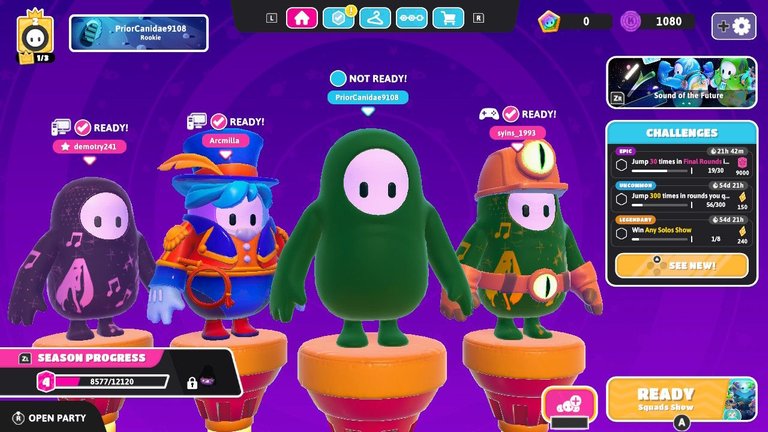 My HivePH friends and I in jellybean form >_<


I was able to catch up with my friends on HivePH Discord this time. At first we had a hiccup connecting to each other. It was hard collecting us in one group because probably we used different platforms. @demotry and @arcgspy were using PC, and @wittyzell was using Playstation. Different platforms, different buttons, ugh. Bottom line was we were able to connect in the same room, phew!
Look how cool their suits are! Me so jelly, no pun intended.
---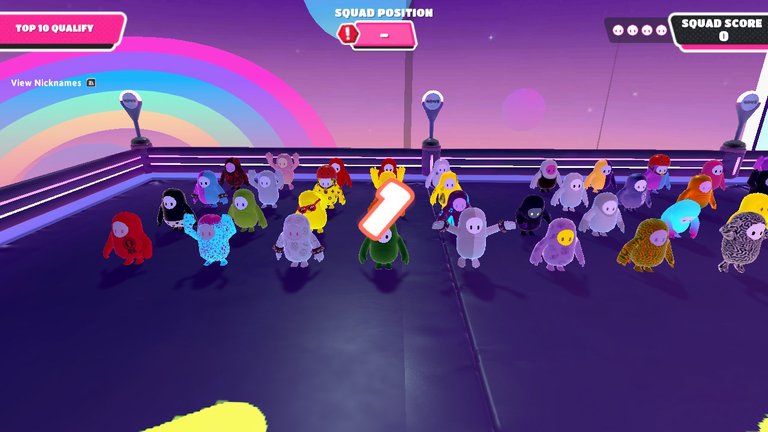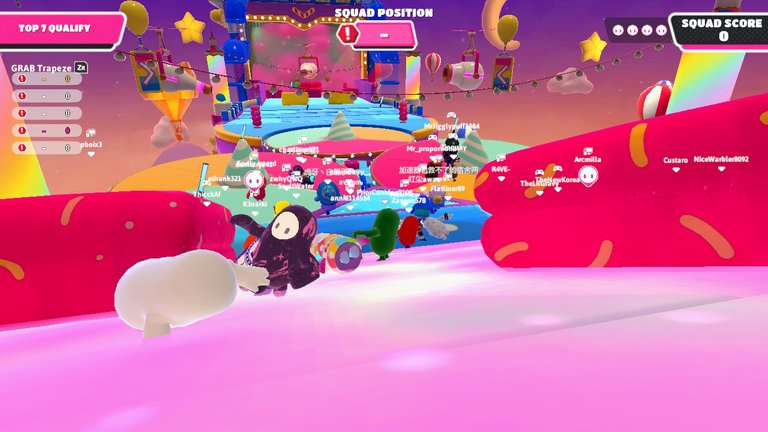 So, in my understanding, one member of the group should at least finish in top place in the mini-game to carry the group in the next round. Look how chaotic when players began to pile up in one place. I cannot even see myself in the throng of jellybeans. What I do is just press buttons and navigate at this point, HAHA! I hate the trapeze part because I spent too much in going back and forth on the obstacle, ugh! Players are eliminated if they are too slow. Players who managed to get to the finish line will be qualified in the next game customed for small number of players.
---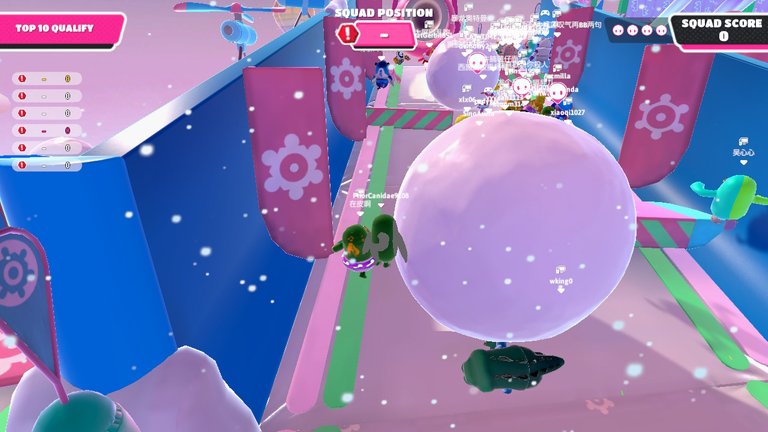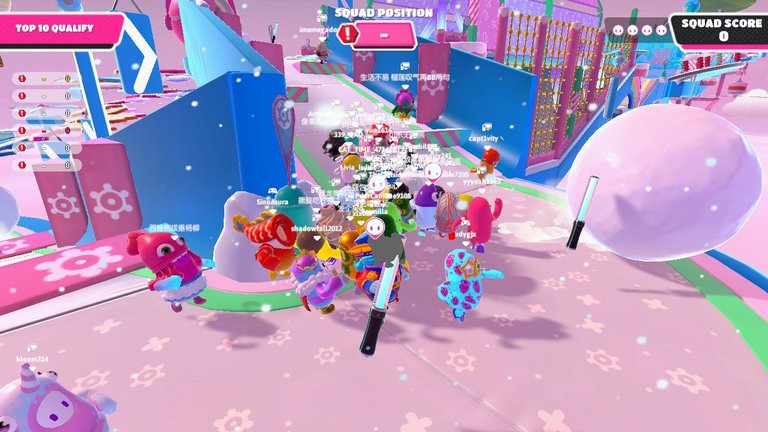 We played more rounds and this time was a snow-themed mini game. I got rattled up when I saw a big snowball coming, like WTF let me through! The trick that I used was just to follow the direction of where people will go, HAHA! Oh, a poor guy in a green suit was smashed by the snowball. I did not feel bad because we have to get to the finish line, HAHAHAHAHA! I was wishing that most players will trip on the snowball to get us to the next round.
---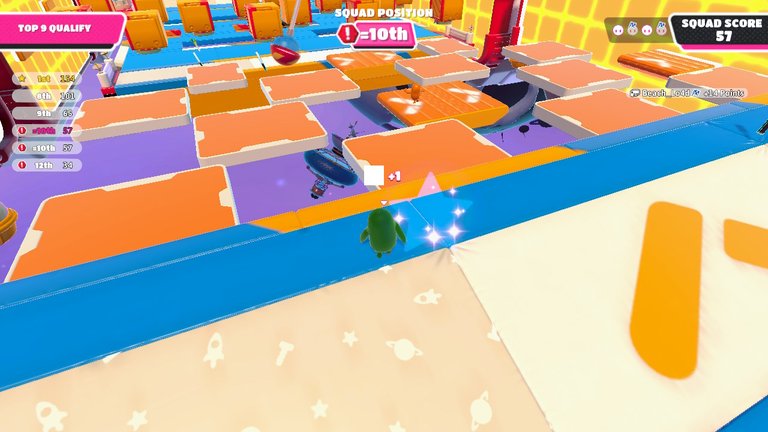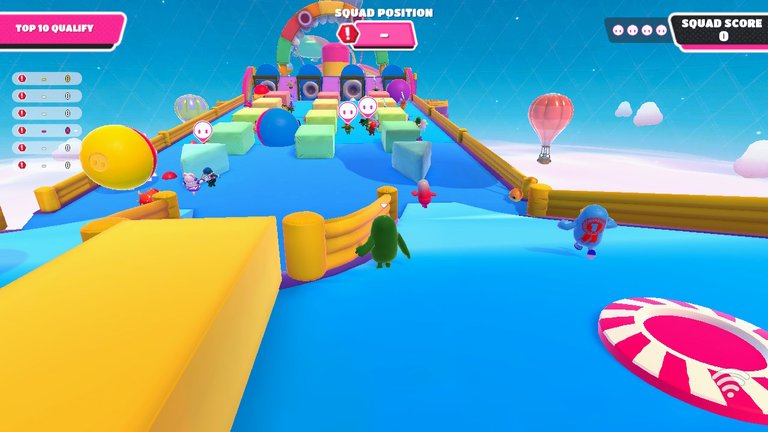 I had a hard time jumping on these moving platforms. I managed to hop in to two and then falling out afterwards. I had to put up my highest coordination game plan in order to finish this obstacle. While I was trying to put my two brain cells together, my friends over the voice chat was cheering me up. Obviously, they already finished the mini game. They were just waiting for me to get to the finish line.
I purposesly stopped for a minute just to take a screeshot. UwU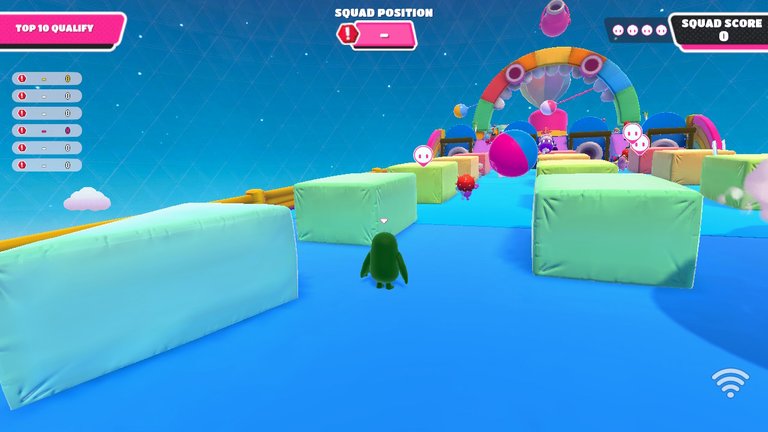 Conclusion
This game is perfect for laughs and just being away from the hectic world. This is a game I would play if I am stressed out. Though it is cute and all, I find this game good for the brain. I like strategic planning and competitiveness. It can accommodate up to 60 players which is really a plus for me. The downside that I can comment is that players with different gaming platforms cannot create a room. Overall, I really enjoyed the game and the company of my friends! It was a blast! ^__^
My rating: 9/10
---
That is it for this blog. I will see you at the next one!
📸 Screenshot are from Fall Guys. All photos are owned and taken by me, otherwise credited. ©️jijisaurart