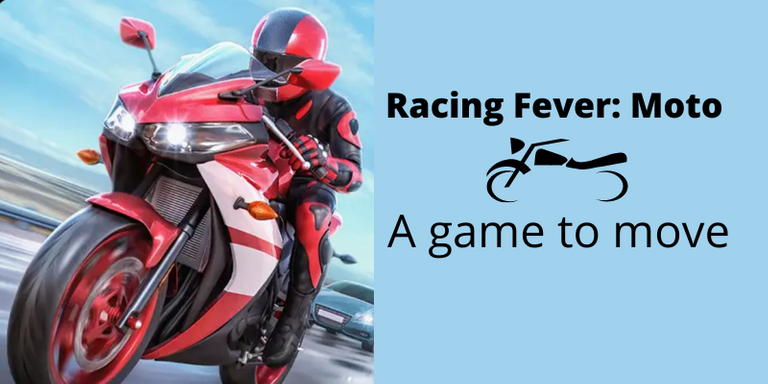 Greetings to all my friends, I hope you are super well, recently when I was a child I remember playing with my brother a car racing game, remember that I was super bad at playing, because I had a hard time learning to coordinate the movements, and sometimes I moved myself instead of marking the keys on the computer that corresponded to the movement I should do.
I don't know about you but I really like to remember, so I went to the Play Store to see if I could get a game similar to that one, and there were many, but I also got Racing Fever: Moto, after seeing the video of this game I felt like playing it, so I downloaded it and the truth is that, although I was never a fan of this game house, I think I like them now.
Saludos a todos mis amigos, espero que se encuentren súper bien, hace poco cuando era niña recuerdo que jugaba con mi hermano un juego de carreras de autos, recuerda que era súper mala para jugar, ya que me costaba mucho aprender a coordinar los movimientos, y a veces me movía yo en lugar de marcar las teclas de la computadora que correspondían al movimiento que debía hacer.
No sé ustedes pero a mí me gusta mucho recordar, así que me fui a la Play Store a ver si conseguía un juego similar a ese, y había muchos, pero conseguí también Racing Fever: Moto, tras ver el video de este juego me dieron ganas de jugarlo, así que lo descargué y la verdad es que, aunque nunca fui fan de esta casa de juegos, creo que ahora me gustan.
---
It is a driving game, like all the others you have to fulfill certain missions, so far I have only had to compete against certain players, all with cars and I am the only one who drives the bike, which seems a little unfair because it is usually faster to get to places with a motorcycle, but that for those who are expert players, in my case I lost on many occasions.
So far I have only tried one of the bikes, the first of them, but as we progress we will be unlocking other options, as well as more speed, acceleration, steering and brakes this to be faster and get better, so it will be easier to compete against opponents.
But, to be able to increase these things we need money, and this we get it by driving our bike and fulfilling the missions, sometimes we are given the option to multiply our money by watching a short video.
Es un juego de conducción, igual que todos los demás tienes que cumplir ciertas misiones, hasta ahora solamente me ha tocado competir contra ciertos jugadores, todos con autos y yo soy la única que maneja la moto, lo cual me parece un poco Injusto porque normalmente es más rápido llegar con una moto a los lugares, Pero eso para Quiénes son expertos jugadores, en mi caso perdí en muchas ocasiones.
Hasta ahora solo he probado una de las motos, la primera de ellas, pero medida que vamos avanzando se nos Irán desbloqueando otras opciones, así como más velocidad, aceleración, dirección y frenos esto para ser más rápidos e ir mejorando, así será más fácil competir contra los oponentes.
Pero, para poder aumentar estas cosas necesitamos dinero, y este lo conseguimos conduciendo nuestra moto y cumpliendo con las misiones, en ocasiones se nos da la opción de multiplicar nuestro dinero viendo un video breve.
---
The game is by motion sensor, that is to say that we control where we go as we move, I find that super cool because I don't know if I'm the only one but normally when we are focused enough in a game, we move and turn to where our character should go, so I feel that it is a super advantage for me, and in fact I think that's why I liked it so much.
When we started the game we were given a brief tutorial on how we can make him give and how we can brake, to accelerate we have the right side of the phone screen, and to brake the left side, this then makes it very simple to play, as well as comfortable.
The truth is that this is the first time I play a game with motion sensor on the phone, but I really enjoyed doing it, it was really fun and simple.
El juego es por sensor de movimiento, es decir que controlamos Hacia dónde vamos según nos movemos, Eso me parece súper genial porque no sé si soy la única pero normalmente cuando estamos lo suficientemente concentrados en un juego, nos movemos y giramos hacia donde debe ir nuestro personaje, así que siento que es una super ventaja para mi, y de hecho creo que por eso me gustó tanto.
Cuándo iniciamos el juego se nos daba un breve tutorial de cómo podemos hacerle dar y cómo podemos frenar, para acelerar tenemos el lado derecho de la pantalla del teléfono, y para frenar el lado izquierdo, esto hace que luego sea muy sencillo de jugar, además de comodo.
La verdad es que esta es la primera vez que juego un juego con sensor de movimiento en el teléfono, pero me gustó mucho hacerlo, fue realmente divertido y sencillo.
---
So I invite you to enjoy this fun game, in which you can move freely and feel that you are inside the game, fulfill missions and enjoy driving a motorcycle virtually, it is quite fun, I hope you liked my publication, but more than anything that has served you, see you soon friends, we will read the next time.
Así que te invito a disfrutar de este juego divertido, en el que puedes moverte libremente y sentir que estás dentro de él juego, cumple misiones y disfruta de manejar una moto de manera virtual, es bastante de divertido, espero que les haya gustado mi publicación, pero más que nada que les haya servido, hasta pronto amigos, nos leeremos la próxima ocasión.
---