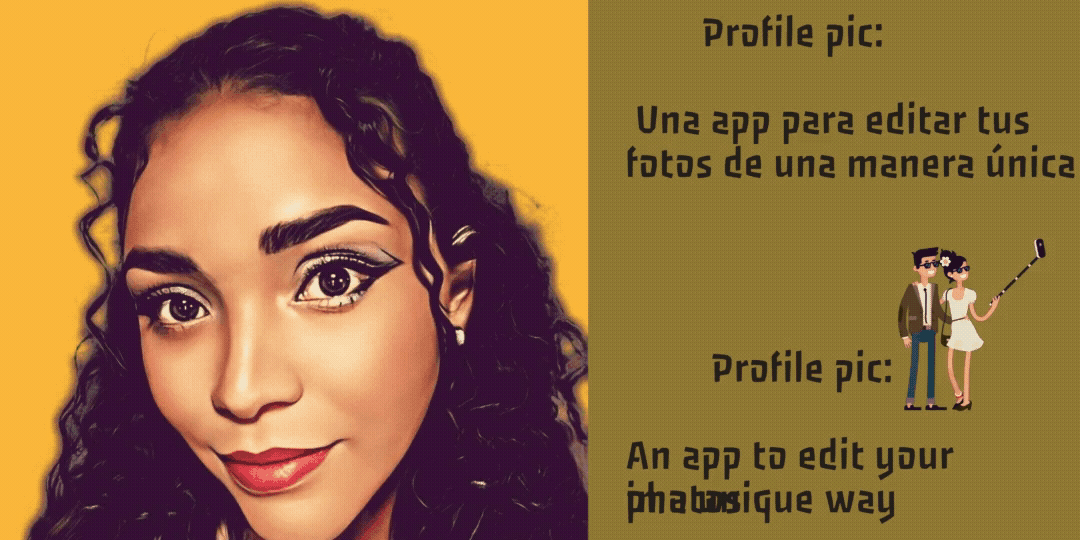 Greetings dear friends of this great community, where we can learn about technology and useful applications that serve us in everyday life. I hope that today you are very well and that you are having a great time, a few days ago I was trying an application that I really liked, because it helps us to edit our personal photos in a unique and fun way but at the same time super cute, allowing us to use them in different places.
The app is called Profile Pic, and we can find it in both the Play Store and the Apple store, and although it is super simple it has to offer us some things that other similar apps don't. For starters the application shows us that all edits are by AI, which explains why it is so accurate when using it, leaving everything in place and without altering our photos as other apps usually do, we can all use it because it is easy to use.
Saludos queridos amigos de esta comunidad tan genial, en dónde podemos aprender sobre tecnología y aplicaciones útiles qué nos sirven en la vida diaria. Espero que el día de hoy se encuentren muy bien y que la estén pasando súper genial, hace unos días estuve probando una aplicación que me gustó muchísimo, pues nos ayuda a editar nuestras fotos personales de una manera única y divertida pero a la vez súper linda, permitiéndonos utilizarlas en diferentes lugares.
La aplicación se llama Profile Pic, y podemos encontrarla tanto en la Play Store como en la Apple store, y aunque es súper sencilla tiene para ofrecernos algunas cosas que otras aplicaciones similares no. Para empezar la aplicación nos muestra que todas las ediciones son por IA, lo que explica que sea tan exacta a la hora de usarla, dejando todo en su sitio y sin alterar nuestras fotos como otras apps suelen hacerlo, todos podemos utilizarlas pues está es fácil de usar.
---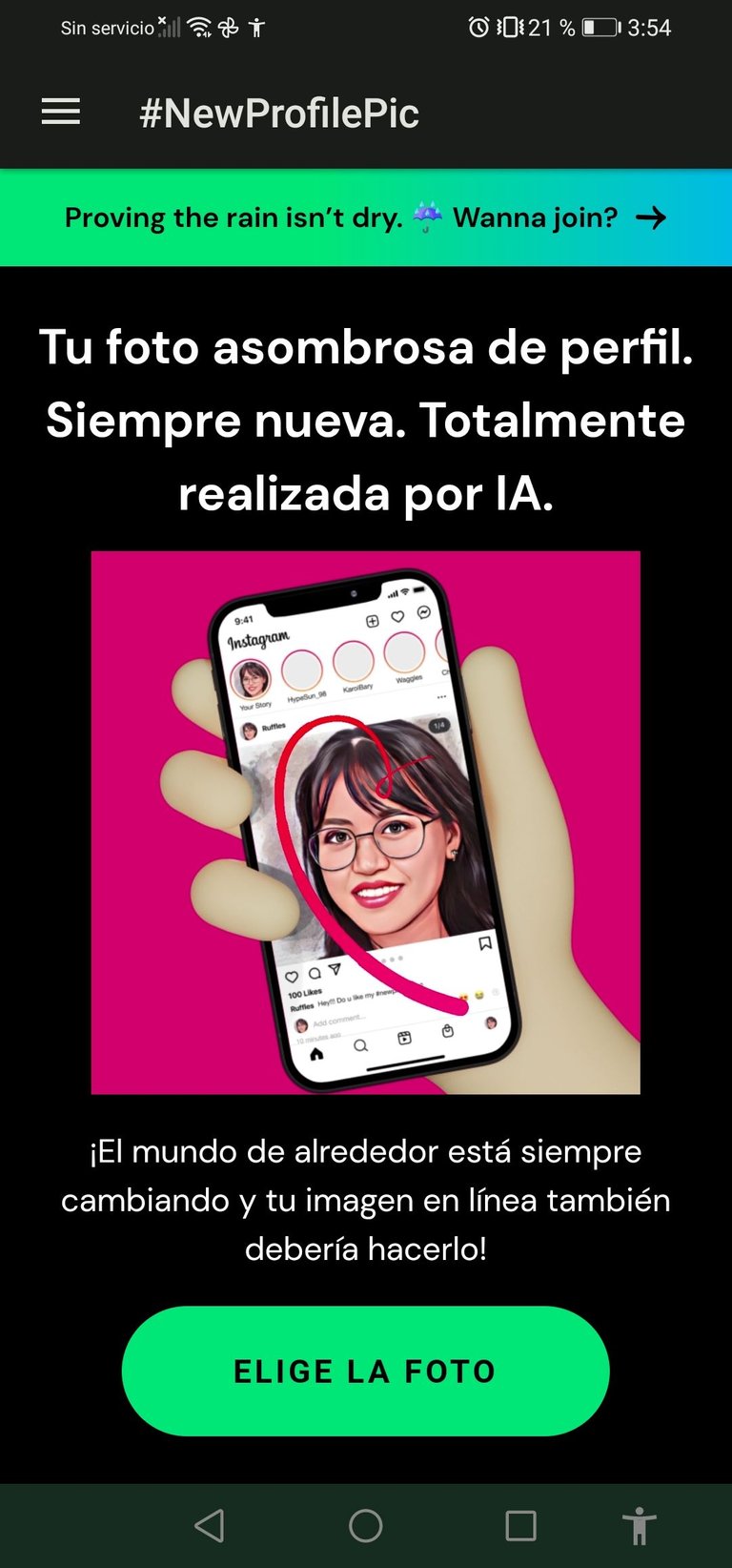 When we enter the app, advertising tells us that we can use it to have nice profile pictures which we can change from time to time, in my case long ago that I saw that people used this kind of applications to animate their photos, but although I had searched many none had worked for me as such, because I did not like how the photos looked when I edited them, because somehow it did not change the face, plus they only allow you to edit one face at a time, that is to say that in those other applications I could not upload a photo with other people and edit them because it did not allow me to do so.
After the brief advertising that gives us the application at the beginning we can get an option in green big enough for everyone to see, which tells us to choose a photo, the first photo I tried was one in which I go out with my husband, at this time I thought I could not edit it but still I tried, And I was very surprised to know or realize that I can also edit photos where I go out accompanied and I think this is my favorite part of the whole application.
Cuándo entramos a la app, la publicidad nos dice que podemos usarlo para tener fotos de perfil lindas qué podemos cambiar cada cierto tiempo, en mi caso hace bastante tiempo que veía que las personas utilizaban esta clase de aplicaciones para animar sus fotos, pero aunque había buscado muchas ninguna me había funcionado como tal, porque no me gustaba como quedaban las fotos al editarlas, porque de alguna manera como que no cambiaba el rostro, además de que solamente permiten editar un rostro a la vez, es decir que en esas otras aplicaciones yo no podía subir una foto con otras personas y editarlas porque no me lo permitía.
Luego de la breve publicidad que nos da la aplicación del principio podemos conseguir una opción en verde lo suficientemente grande como para que todos la veamos, qué nos dice que elijamos una foto, la primera foto que probé fue una en la que salgo con mi esposo, en este momento pensé que no podía editarla pero aún así lo intenté, Y me sorprendió mucho saber o darme cuenta de que también puedo editar fotos donde salgo acompañada y creo que esta es mi parte favorita de toda la aplicación.
---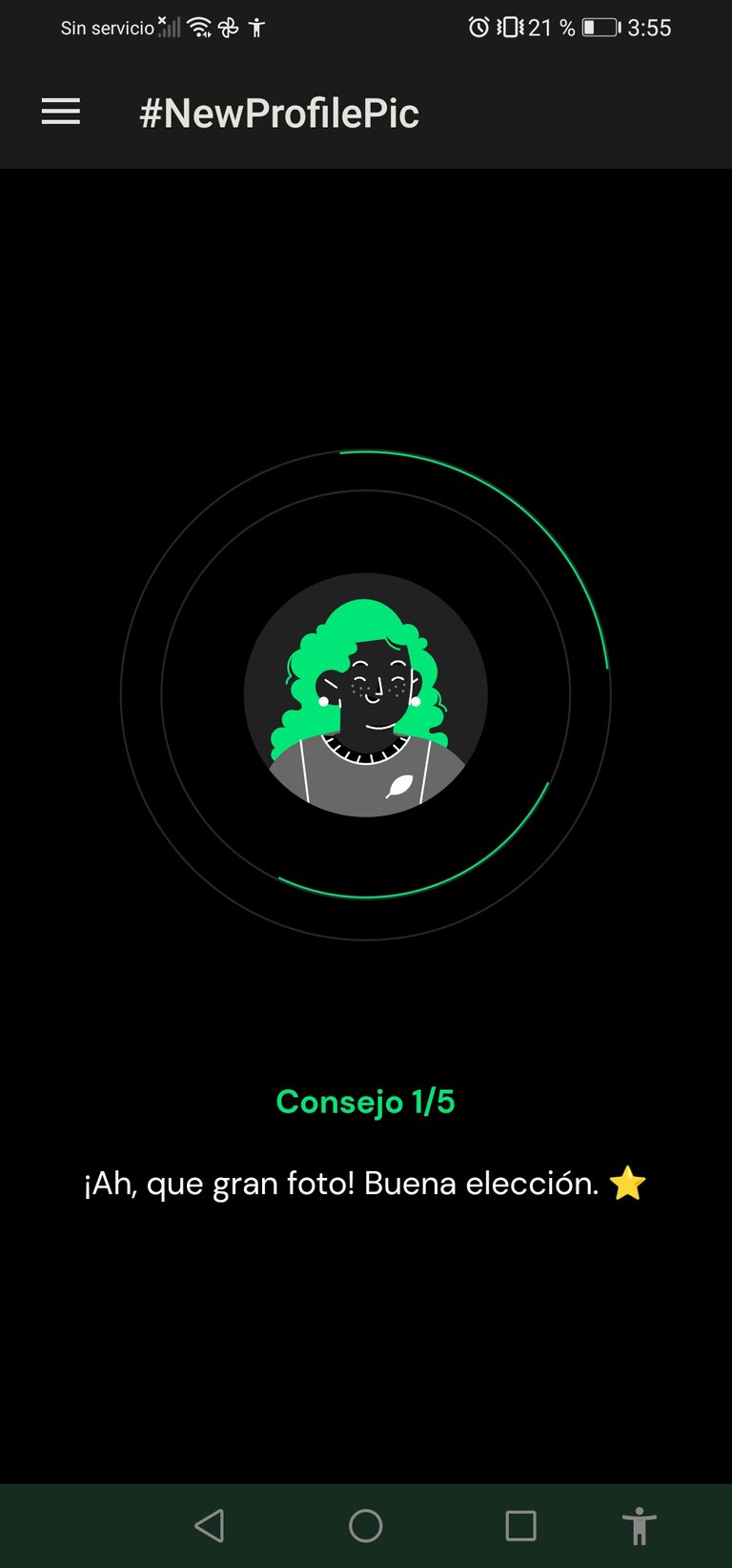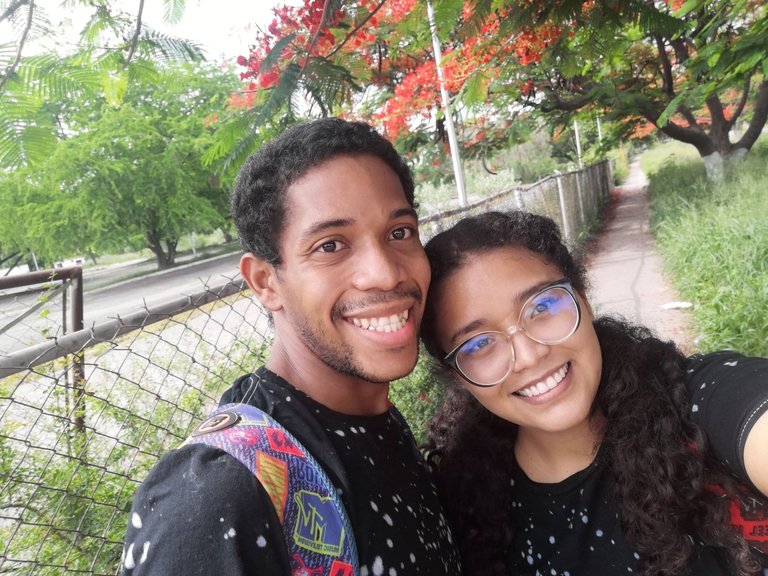 Seleccionamos la imagen entre las fotos que tenemos en nuestra galería y esperamos un poco.
We select the image from the photos we have in our gallery and wait a little while.
---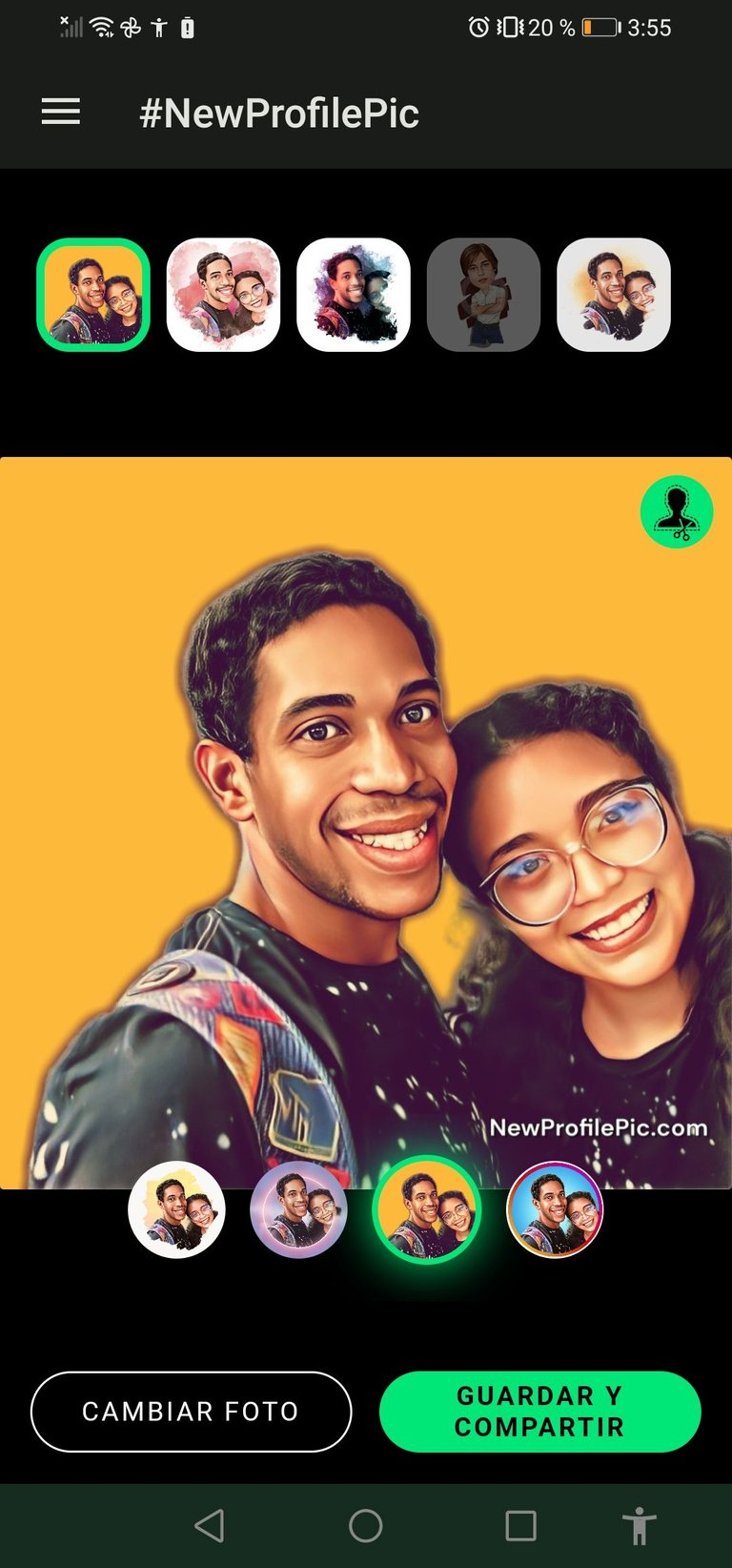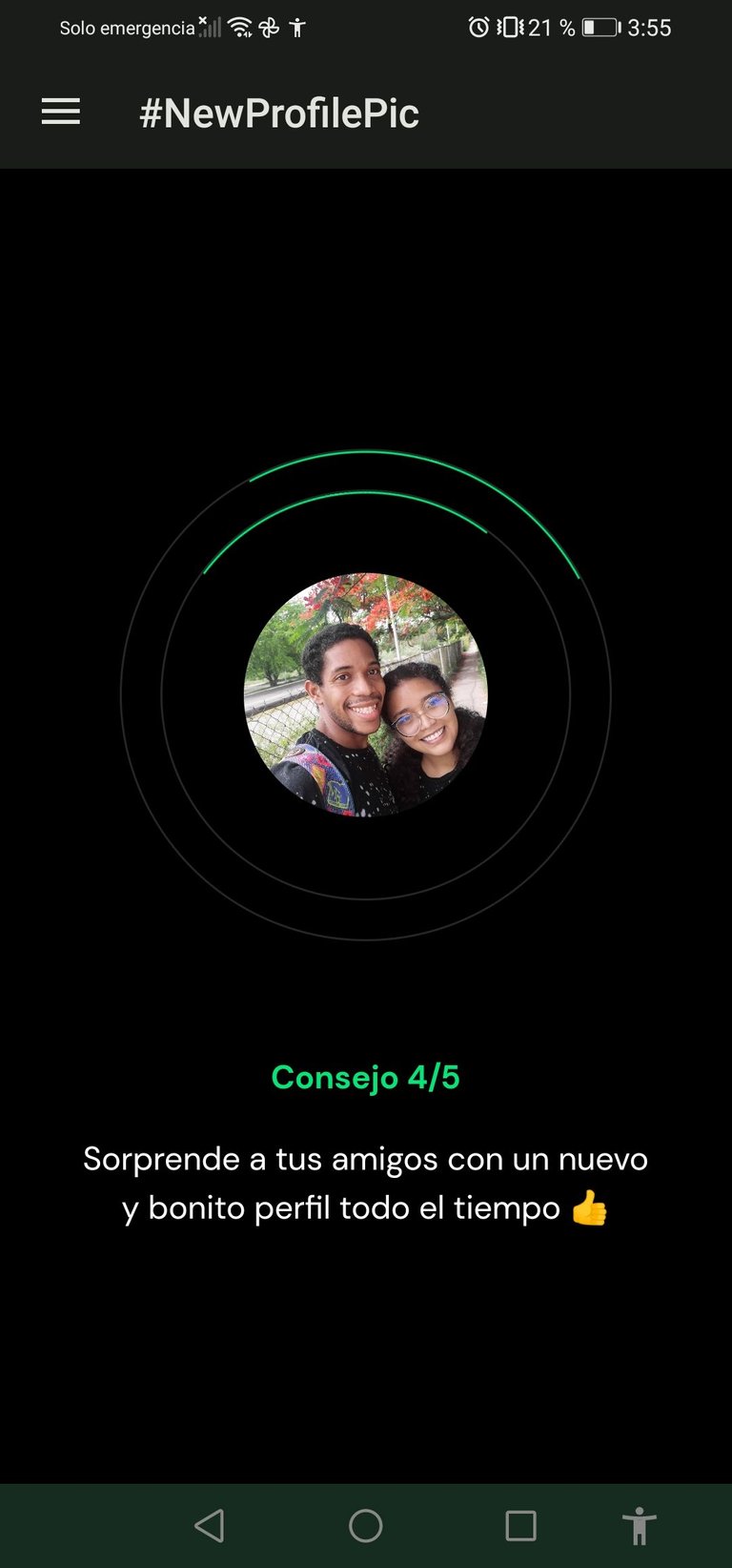 ---
We can select the image we want that is on our device while there are faces in it, because of course being a photo editor for profiles, I need friends faces to edit, rather than to make an elegant or professional editing, this app is for edita master photo in a fun and beautiful way, because when using it gives a colorful and cute touch, highlighting all the colors that have in the photo, has a part which is like a semi-animated edition, and another that can only be used with photos of a single person, which is fully animated.
When selecting our image to upload it we only have to wait a few seconds, it does not take almost no time to load our images, and as soon as it finishes uploading we can see the main result, but if we do not like it we can always change the options we have, although they are few there are still several and we have to choose according to our tastes, some of them give a very nice touch by the colors that have background or even by the finish they give to the image, also highlighting the beautiful parts of our face.
Podemos seleccionar la imagen que queramos que se encuentra en nuestro dispositivo mientras haya rostros en ella, porque claro al tratarse de un editor de fotos para perfiles, necesito amigos rostros para poder editar, más que para hacer una edición elegante o profesional, esta app es para edita maestra foto de una manera divertida y bonita, porque al usarla le da un toque colorido y lindo, resaltando sobre todos los colores que hayan en la foto, tiene una parte qué es como una edición semi animada, y otra que solo puede utilizarse con fotos de una sola persona, que sí es totalmente animada.
Al seleccionar nuestra imagen para subirla solo tenemos que esperar algunos segundos, no tarda casi al cargar nuestras imágenes, y apenas termina de subirse ya podemos ver el resultado principal, pero si este no nos gusta siempre podemos cambiar las opciones que tenemos, que aunque son pocas siguen siendo varias y tenemos para elegir según nuestros gustos, alguna de ellas le dan un toque demasiado bonito por los colores que tienen de fondo o incluso por el acabado que le dan a la imagen, destacando también las partes bonitas de nuestro rostro.
---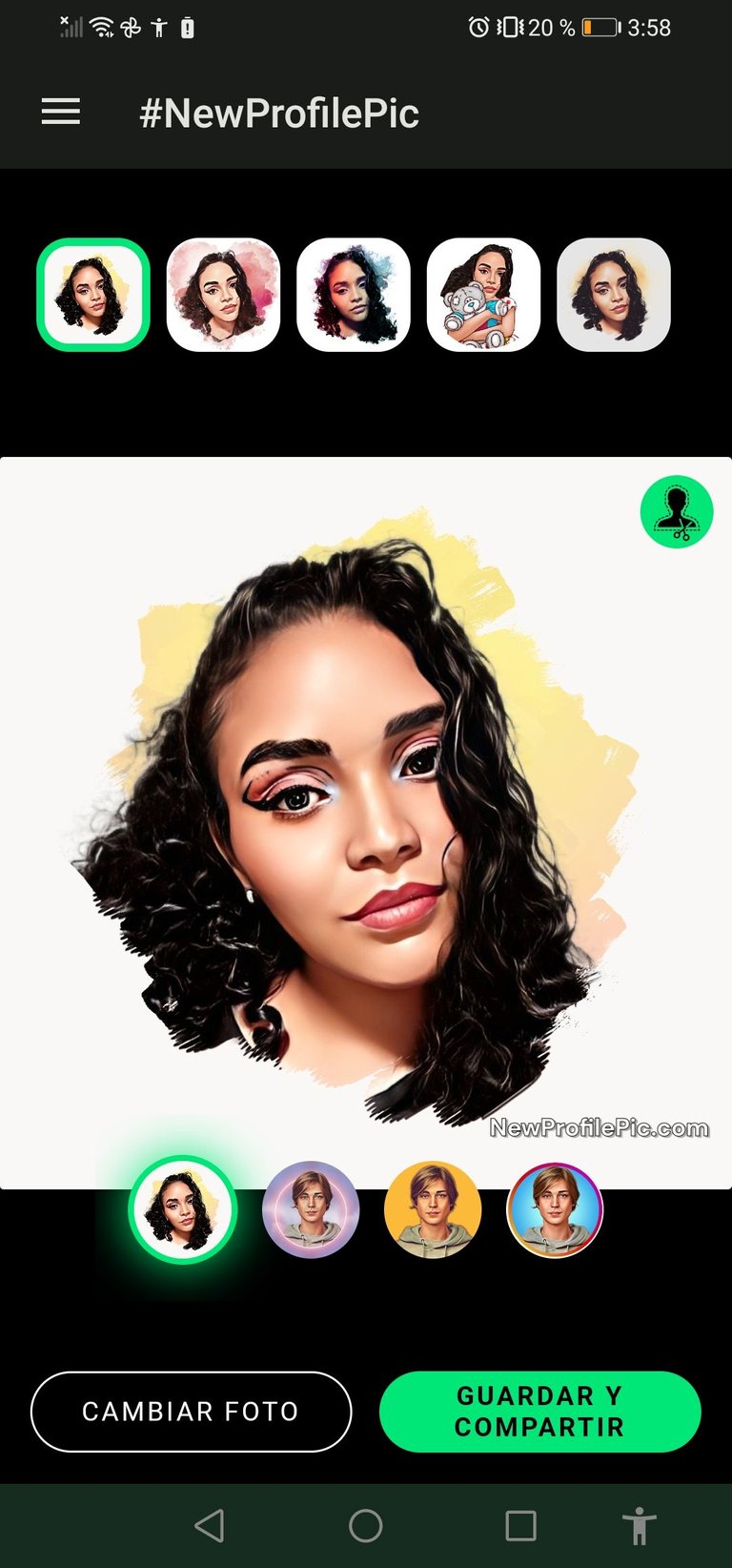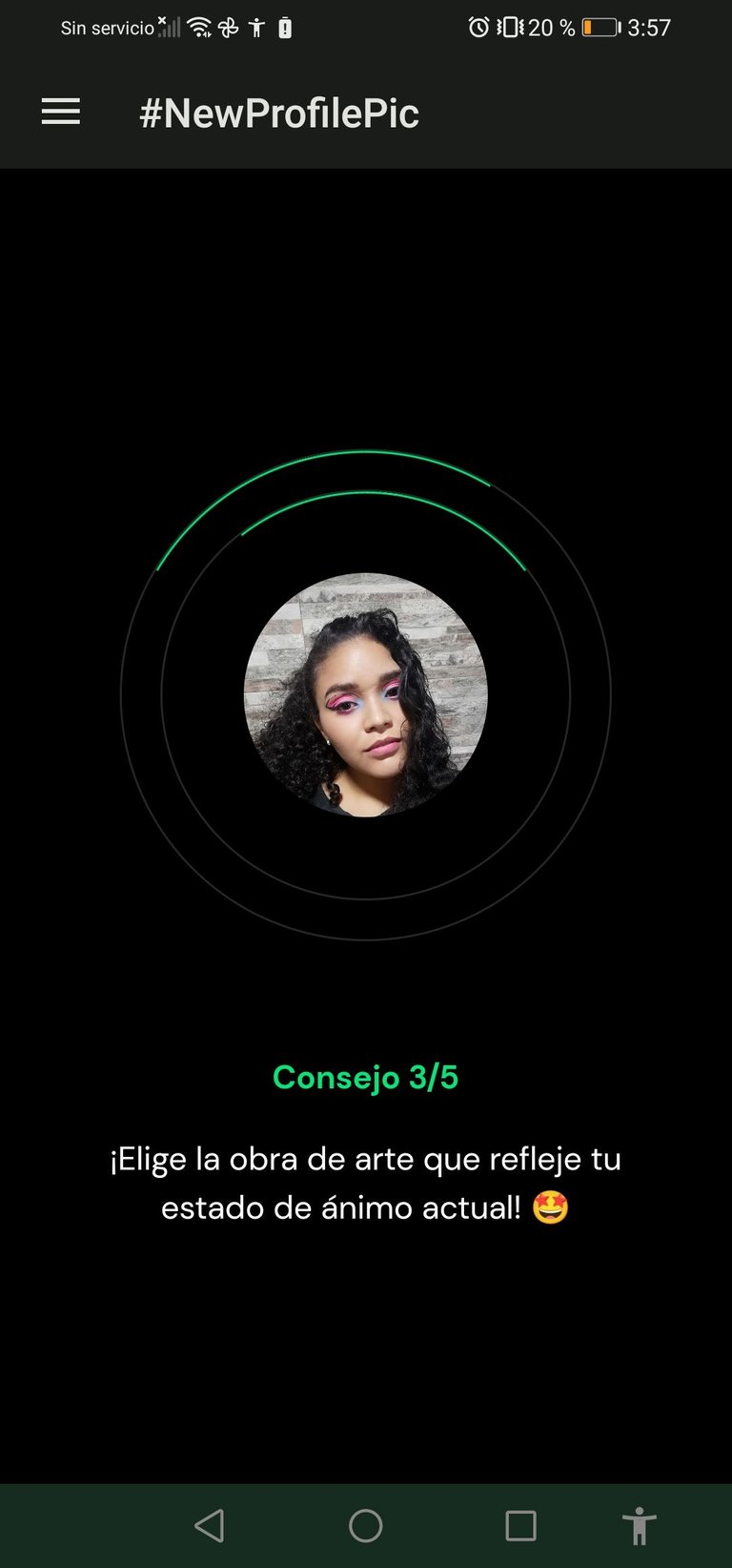 ---
On the other hand when we choose photos where there is only one person we have some other options, actions that are a little more fun because we kind of add our face some animated images that are already predetermined, with different poses and so on, these images could be used to make stickers for Whatsapp, not only to laugh a while too, there are poses for men and also for women so that our face looks good with the animated body that is already in the application.
It is an application too easy to use Besides that it serves us a lot to have nice profile pictures, and why not to avoid our photos in a fun way that is to make publications, although it does not have as much variety as I would like the same with the little you have you can do a lot which is super cool, I personally really liked how the images are edited in this application and certainly I will continue to use it.
I hope you liked my publication but above all that it has served you in some way, I hope you can also try the application and benefit from its functions, or just have fun with your family and friends to use it, Thank you very much for reading my publication until the end, See you soon friends, see you next time.
Por otro lado cuando elegimos fotos en donde hay una sola persona tenemos algunas otras opciones, acciones que son un poco más divertidas porque como que le agregamos nuestro rostro algunas imágenes animadas que ya están predeterminadas, con diferentes poses y demás, estas imágenes podrían usarse para hacer stickers para Whatsapp, no solo para reírnos un rato también, hay poses para hombres y también para mujeres para que así nuestro rostro quede bien con el cuerpo animado que ya está en la aplicación.
Es una aplicación demasiado fácil de usar Además de que nos sirve mucho para tener fotos de perfil bonitas, y porque no para evitar nuestra fotos de una manera divertida que sea para hacer publicaciones, aunque no tiene tanta variedad como me gustaría igual con lo poco que tiene se puede hacer mucho lo que es súper genial, a mí personalmente me gustó mucho cómo quedan las imágenes editadas en esta aplicación y sin duda la seguiré usando.
Espero que mi publicación les haya gustado pero sobre todo que les haya servido de alguna manera, espero que puedan probar también la aplicación y beneficiarse de sus funciones, o simplemente divertirse con sus familiares y amigos al utilizarla, Muchísimas gracias por leer mi publicación hasta el final, Hasta pronto amigos, nos vemos la próxima ocasión.
---