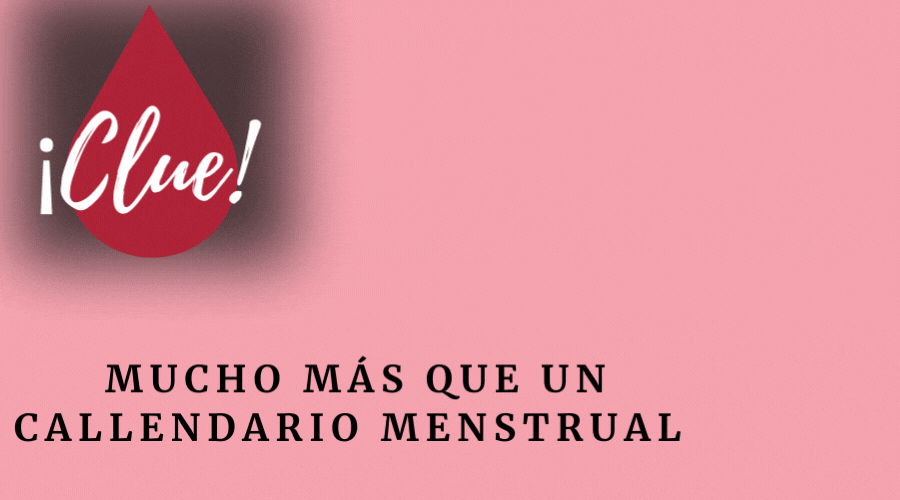 Hello friends, I hope you are very well, having an incredibly great day, today I want to tell you about an app, that I have used for several years and that I love with all my being, because it is for me one of the best that could have been invented, the app is called "Clue" and we can find it in the play store, it claims to be a menstrual calendar, but for me it is more than that.
It is not a very heavy app, it weighs only a little more than 50 MB, but they are the best 50 MB used for a woman, basically it is an app to record the days of your menstruation, and based on that the app makes a prediction of when your next period will be, something useful, especially for those who like me, are a little clueless about it.
Hola amigos, espero que estén muy bien, teniendo un día increíblemente genial, hoy quiero hablarles de una app, que he usado desde hace varios años y que amor con todo mi ser, pues es para mi una de las mejores que pudieron haber inventado, la app se llama "Clue" y podemos hallarla en la play store, dice ser un calendario menstrual, pero para mí es más que eso.
No es una app demasiado pesada, pesa sólo un poco más de 50 MB, pero son los mejores 50 MB usados para una mujer, básicamente es una app para registrar los días de tu menstruación, y en base a eso la app hace una prediccion de cuando Será tu próximo periodo, algo útil, sobretodo para quienes como yo, son un poco despistada con eso.
---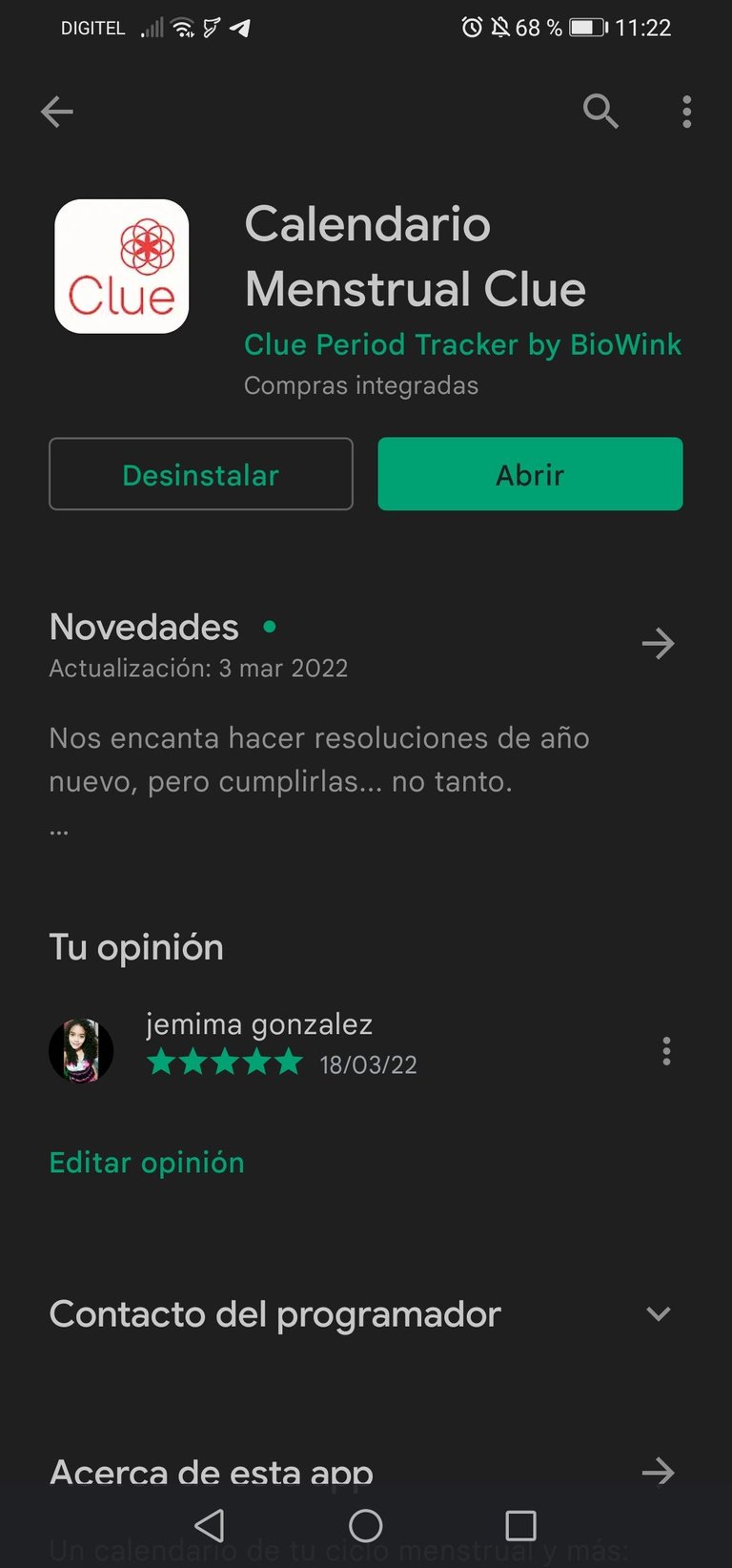 To predict your next period date, the app asks you to fill out daily data, which greatly influences your cycle, how ovulation days, period days and the days leading up to it affect you, are specific data that help us to be aware of our body's reactions and so on.
These data range from mood, to emotions and the hours of sleep we have had that day, but not only that but it explains each option so that we can understand well what we are going to select, and how it influences our menstrual cycle.
Para predecir tu siguiente fecha de periodo, la app te pide que llenes datos diarios, que influyen mucho en tu ciclo, en cómo te afectan los días de ovulacion, los días de periodo y los días previos a ella, son datos específicos que nos ayudan a estar conscientes de las reacciones de nuestro cuerpo y demás.
Esos datos van desde estado de ánimo, hasta las emociones y las horas de sueño que hemos tenido ese día,pero no solo eso sino que nos explica cada opción para que así podamos entender bien lo que vamos a seleccionar, y como influye eso en nuestro ciclo menstrual.
---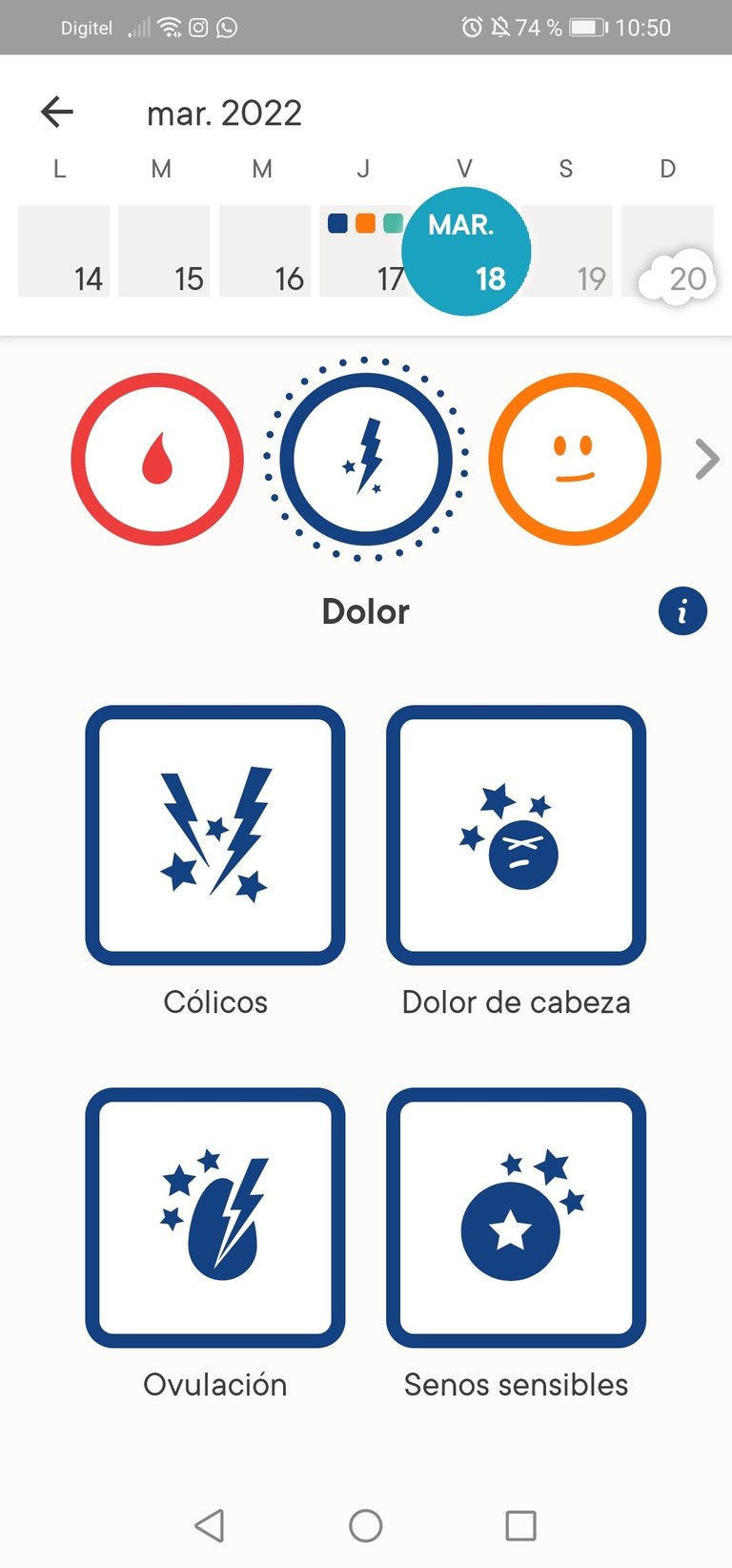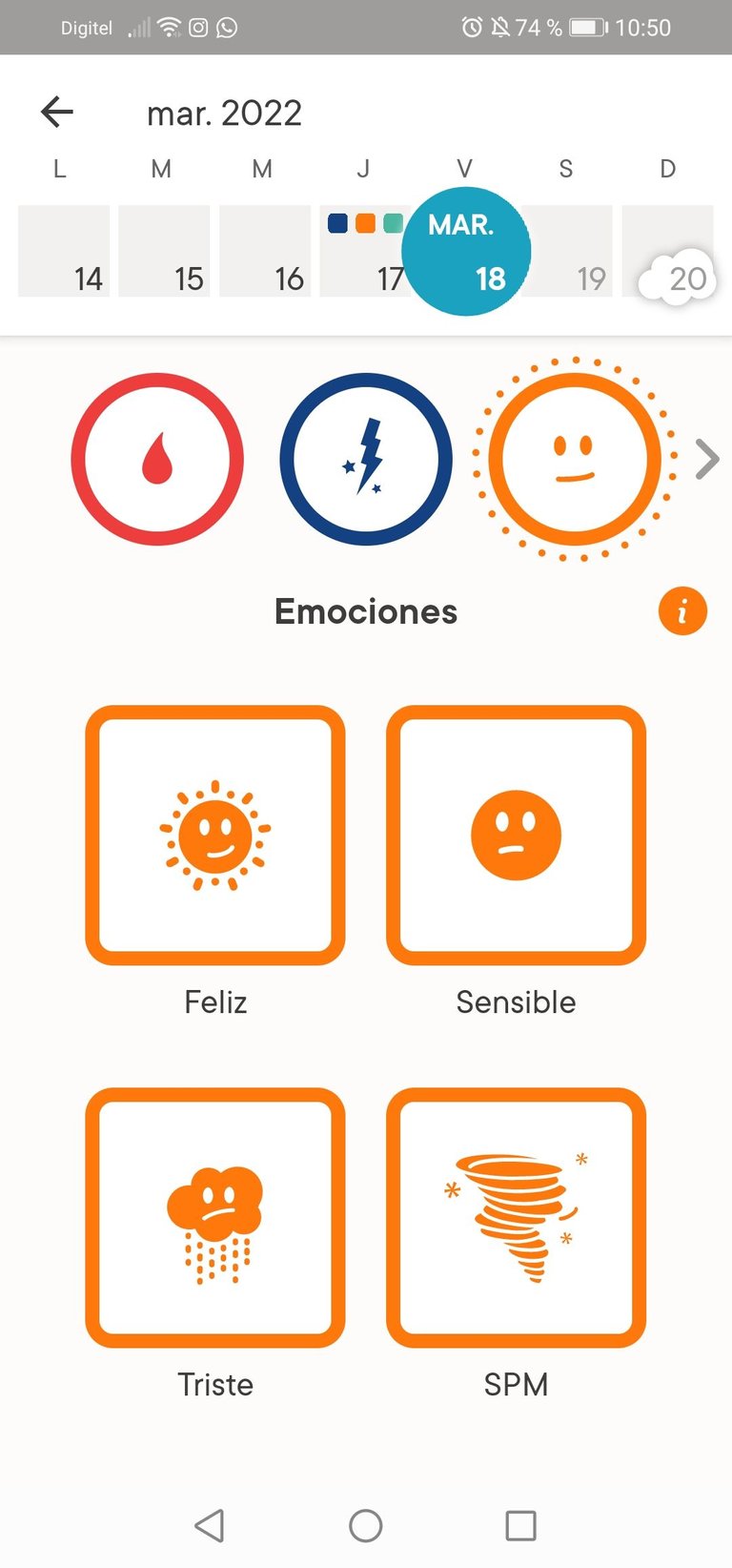 ---
As you fill in more data, it will be easier for the app to predict exactly when your next menstruation will be, but not only this, but also when your fertile days will be, the day of ovulation and in case premenstrual syndrome (PMS) affects you, it also predicts it.
This helps you to be prepared for those moments, to have what you need to make these days as comfortable as possible, but the most important part of all this is that it keeps us well informed about all these processes, something great because until recently menstruation was a taboo subject, and there are many things that too many women do not know about their cycle and so on.
But the same app, explains the importance of knowing it, and we need to understand certain things about our body, to be able to detect when something is not working well, when something feels weird and so go in time to check us with a doctor, apart from our visits that should be regular.
A medida que más datos llenes, será más fácil que la app prediga de manera exacta cuando será tu próxima menstruación, pero no solamente esto, sino también cuando serán tus días fértiles, el día de ovulacion y en caso de que el síndrome premenstrual (SMP) te afecte, también lo predice.
Esto te ayuda a estar preparada para esos momentos, tener lo necesario para hacer de estos días lo más cómodos posible, pero la parte más importante de todo esto es que nos mantiene bien informadas sobre todos estos procesos, algo genial porque hasta hace poco la menstruación era un tema tabú, y hay muchas cosas que demasiadas mujeres no saben sobre su ciclo y demás.
Pero la misma app, nos explica la importancia de saberlo, y es que necesitamos comprender ciertas cosas de nuestro cuerpo, para poder detectar cuando algo no está funcionando bien, cuando algo se siente raro y así ir a tiempo a revisarnos con un medíco, aparte de nuestras visitas que deberían ser regulares.
---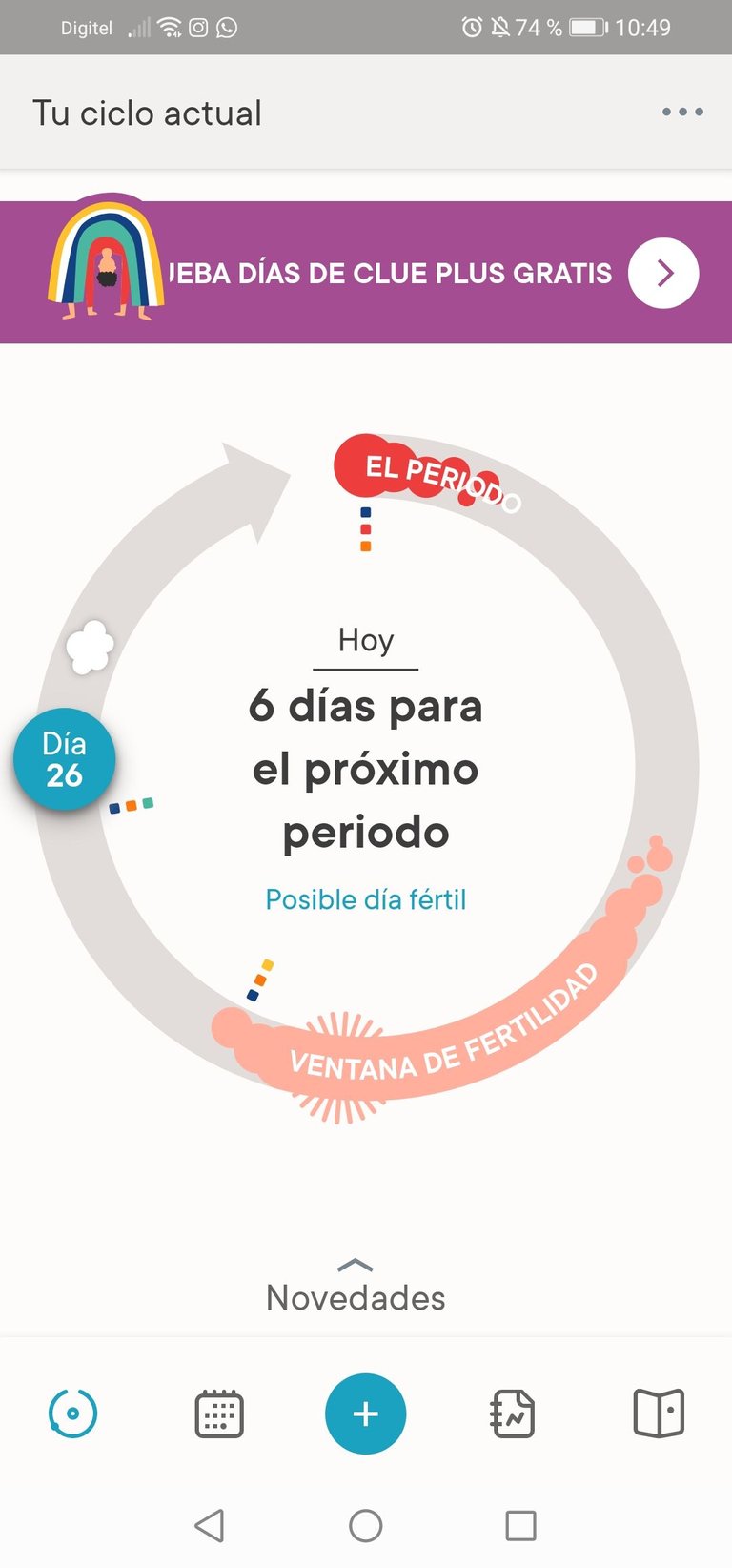 All this is provided by the free version of Clue, which is great. But it has more, you can choose all the things to monitor during the month, the things you want to pay more attention to, whether it's bleeding, cramping pain, weight or how your skin is during the cycle, it's a big list, and you decide which ones to choose and which ones not, depending on what you're going to use the app for.
Besides that, you have the option to activate some reminders, so you can keep better control, you get a notification every time it reminds you of what you asked for. You can ask to be notified when your period is due, in case you are not regular in checking the app (like me).
It also reminds you when your ovulation day and fertile window will be, i.e. the days when you can get pregnant more easily. You can also ask it to remind you when to take your birth control pill.
Todo esto nos lo proporciona la versión gratuita de Clue, lo cual es genial. Pero tiene más, tu puedes elegir todas las cosas que se van a monitoriar durante el mes, las cosas a las que tu quieres darle más atención, ya sea el sangrado, el dolor de los cólicos, el peso o como esta tu piel durante el ciclo, es una lista grande, y tu decides cuáles elegir y cuáles no,dependiedo para lo que vayas a usar la app.
Además de eso, tienes la opcion de activar algunos recordatorios, para así poder llevar un mejor control, te llega una esoecie de notificación cada que te recuerda lo que pediste. Puedes pedir que te avise el día que llegará tu periodo, por si no eres regular revisando la app (como yo).
También te recuerda cuando será el día de ovulacion y la ventana fértil, es decir los días que puedes quedar embarazada con más facilidad. Como también puedes pedir que te recuerde la hora en que debes tomar la pastilla anticonceptiva.
---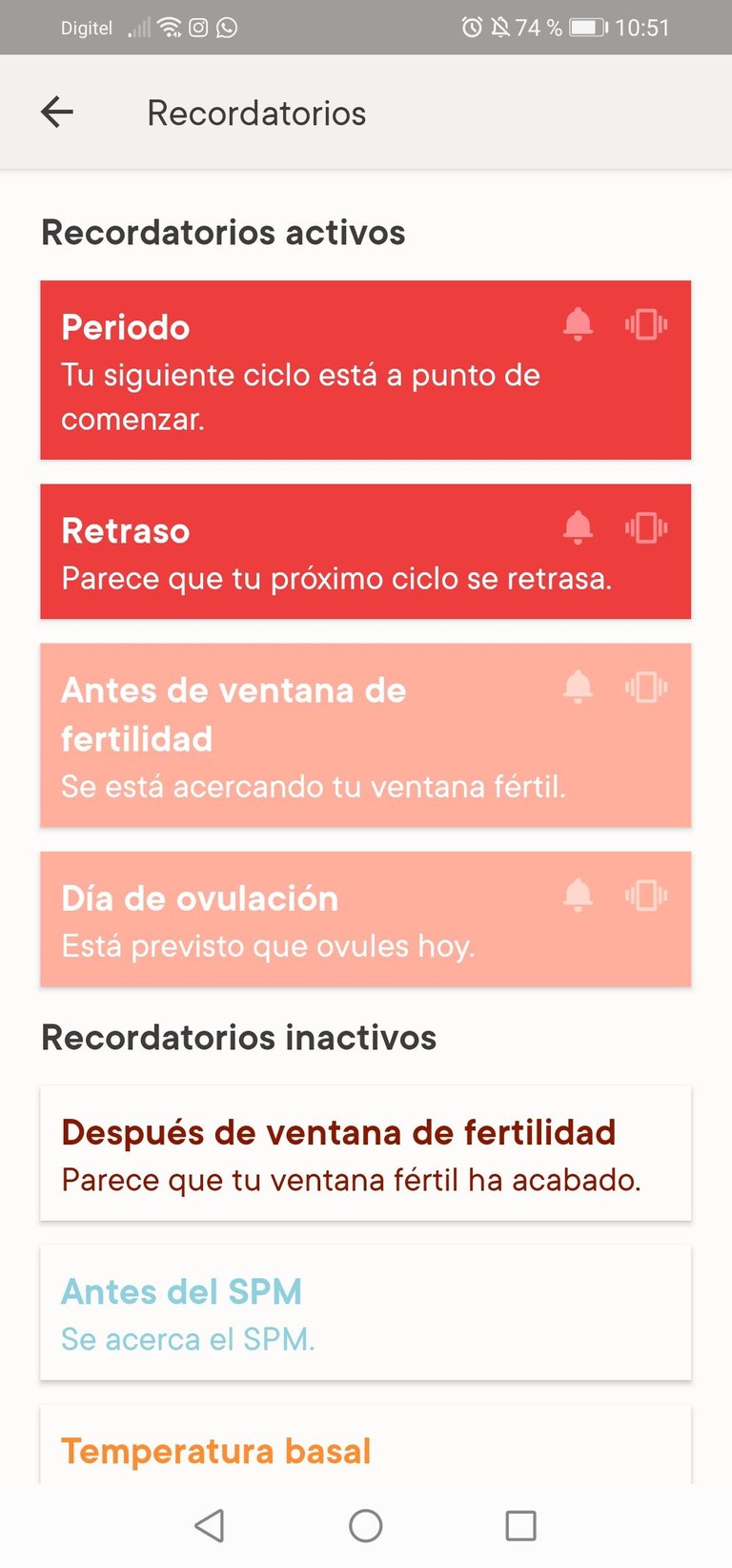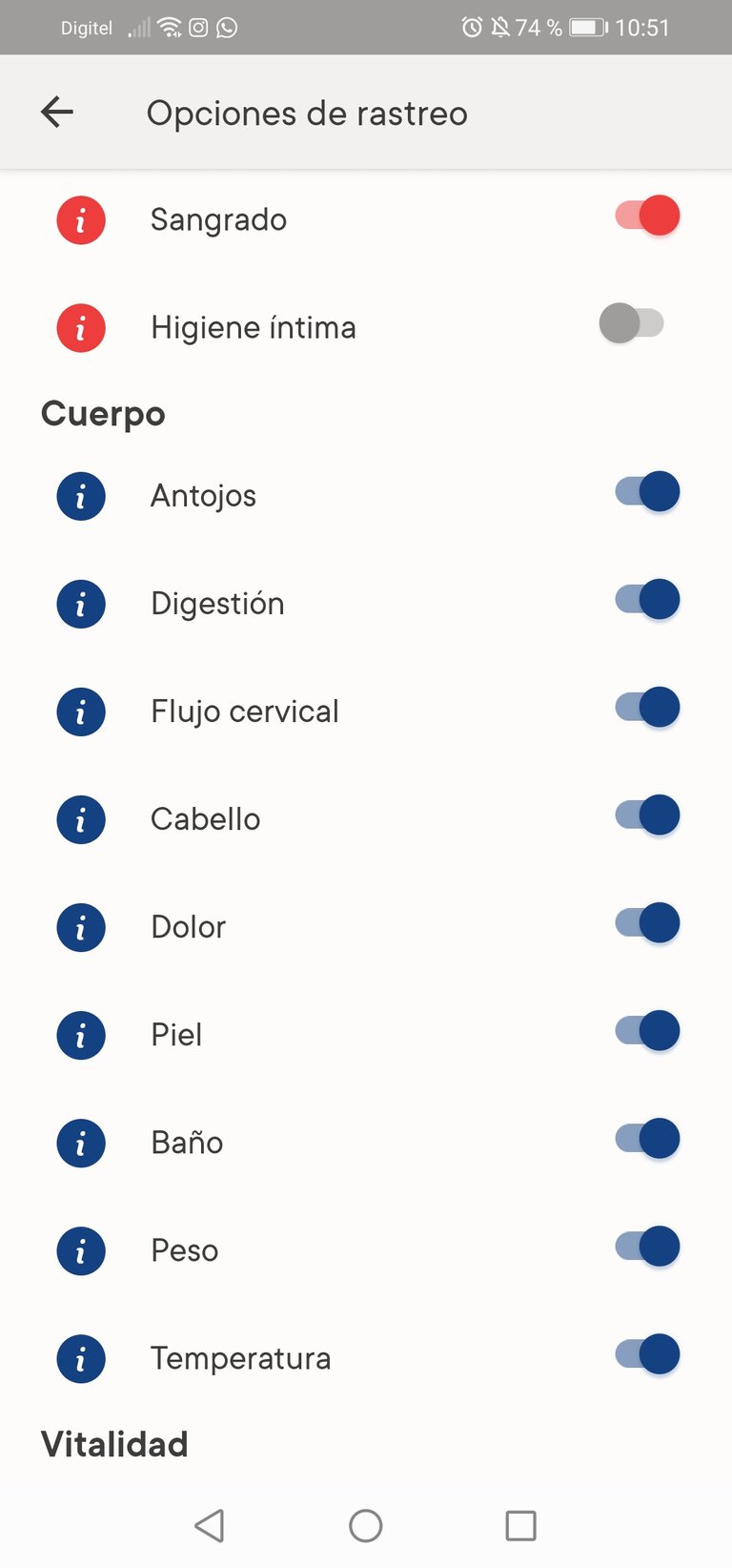 ---
There is something else that I really like about this app, as I said before it provides you with a lot of necessary information for all of us, so it has an option called "content" where we can find that information, about things like "fertility" and "contraceptive methods", they even explain how to use them, always reminding you that it is the normal thing that your body should feel, the latter I think is the best thing that the app has.
And although it does not replace a doctor, it does help us to understand things well, and this is the most important thing, in fact the app also reminds us to always consult a doctor.
Hay algo más que me gusta mucho de esta app, como dije antes te suministra bastante información necesaria para todas nosotras, así que tiene una opción llamada "contenido" donde podemos hallar esa información, sobre cosas como "la fertilidad" y "los métodos anticonceptivos", incluso te explican bien cómo utilizarlos, siempre recordándote que es lo normal que debería sentir tu cuerpo, esto último considero que es lo mejor que tiene la app.
Y aunque no sustituye a un médico, si nos ayuda a entender bien las cosas, y esto es lo más importante, de hecho la app también nos recuerda siempre consultar a un médico.
---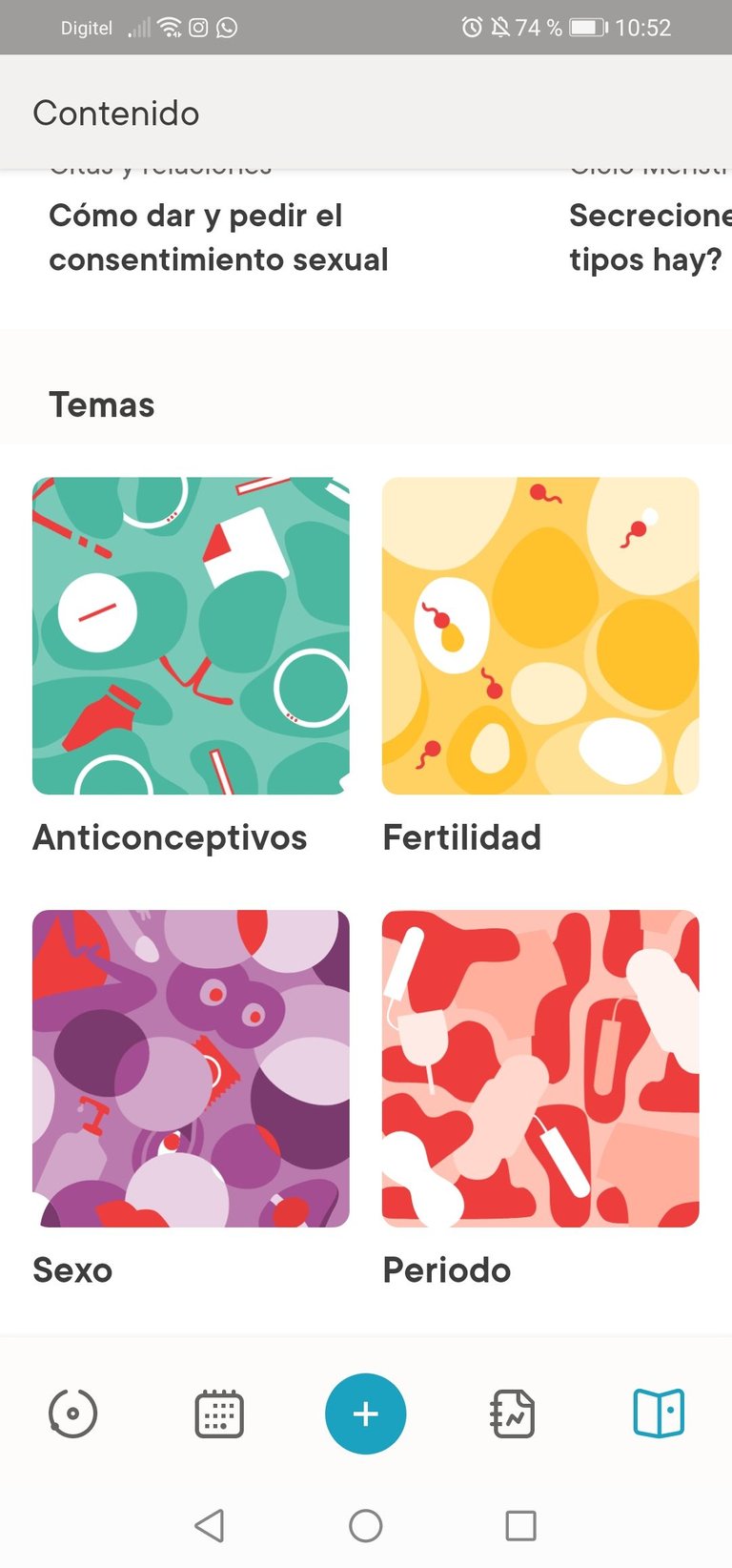 So I invite you to download this app, not only girls but also men who have girls in their lives, so they can understand why we act the way we act when we are close to our days.
It has a plus version, in it you can even acquire more information and also keep track of a pregnancy. I hope you liked my publication, but most of all I hope it was useful for you, see you later friends, we will read each other next time.
Entonces los invito a descargar esta app, no sólo a las chicas sino también a los hombres que tienen chicas en su vida, así podrán entender porque actuamos como actuamos cuando estamos cerca de nuestros días.
Tiene una versión plus, en ella puedes incluso abquirir más información y además llevar el seguimiento de un embarazo. Espero que mi publicación les haya gustado, pero más que nada que haya sido útil para ustedes, hasta luego amigos, nos leeremos la próxima ocasión.
---