[Versión En Español]
Hello Geek Zone! This time I want to give you my opinion about some wireless headphones quite common (for my area and city), they are headphones that I have since October and even before that date I was interested in them because of their price (15$) and finally see their quality, today I can tell you how they have seemed to me, although I have not had the best headphones in the world before them.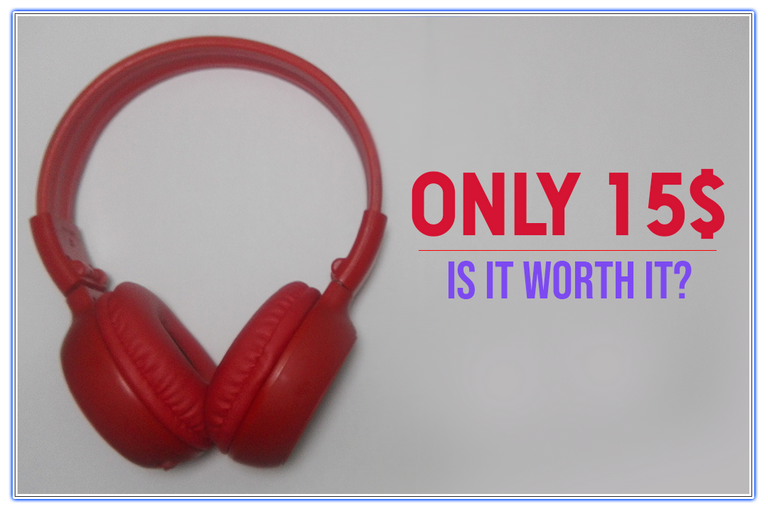 Edited by the author
Lately I have seen a lot of this kind of headphones, if you walk around the center of my city you could find the P47 or the N65BT, I have the N65BT and as I said before, I got them for my birthday and they cost 15$. These headphones came in different colors, I decided to choose the red color because the other colors were very bright colors (more than the red, yes), when I got home I opened the box excited, the box was not the best on the planet and the USB cable simply did not work (besides it was very short), the headphones did not come with something to cover them so that they would not suffer any damage inside the box, they were just rolled up supported by a cardboard inside the box. Definitely not the best presentation in the world, that's a negative point I would give it, I don't really know if it was the fault of the store or the manufacturers.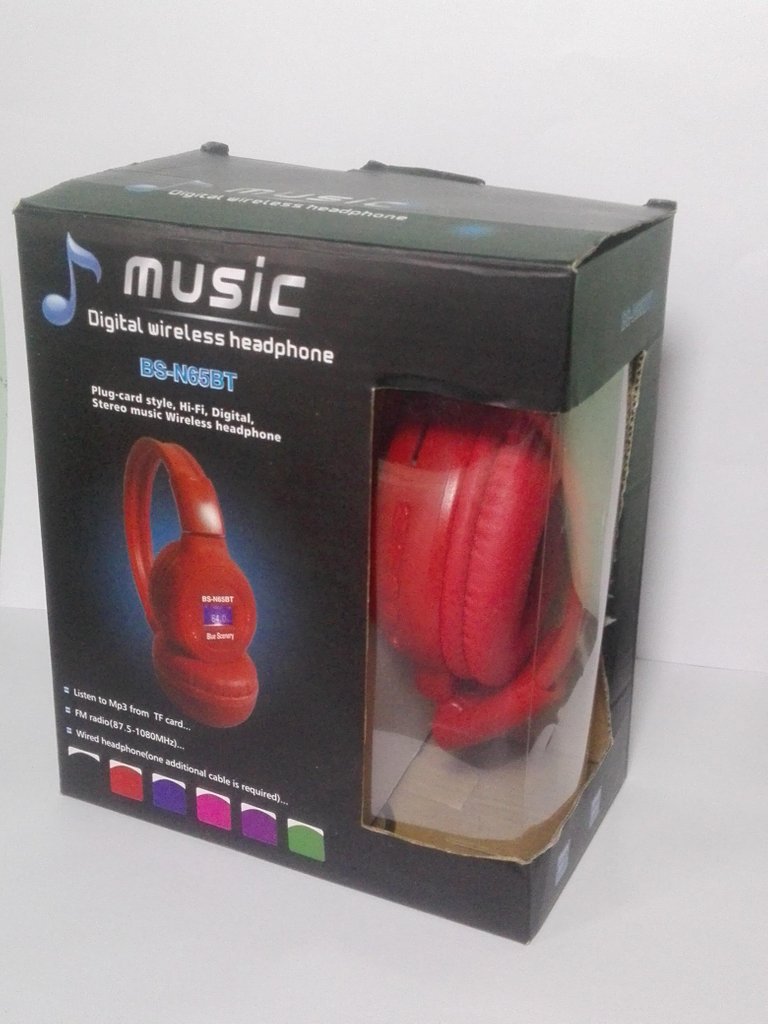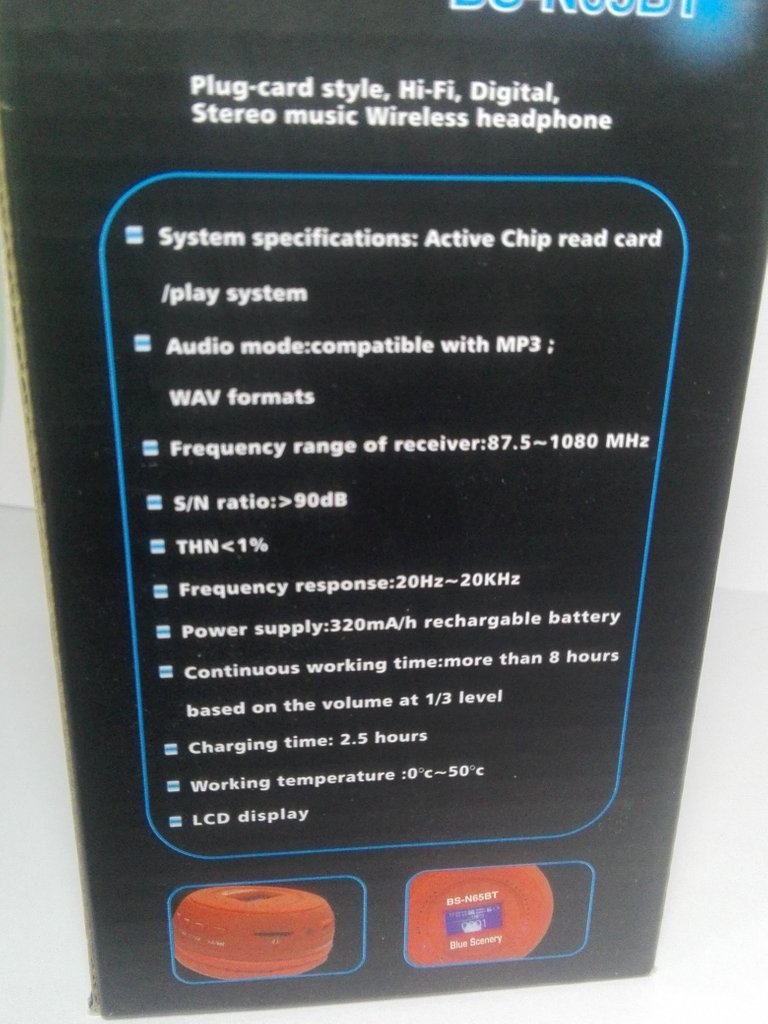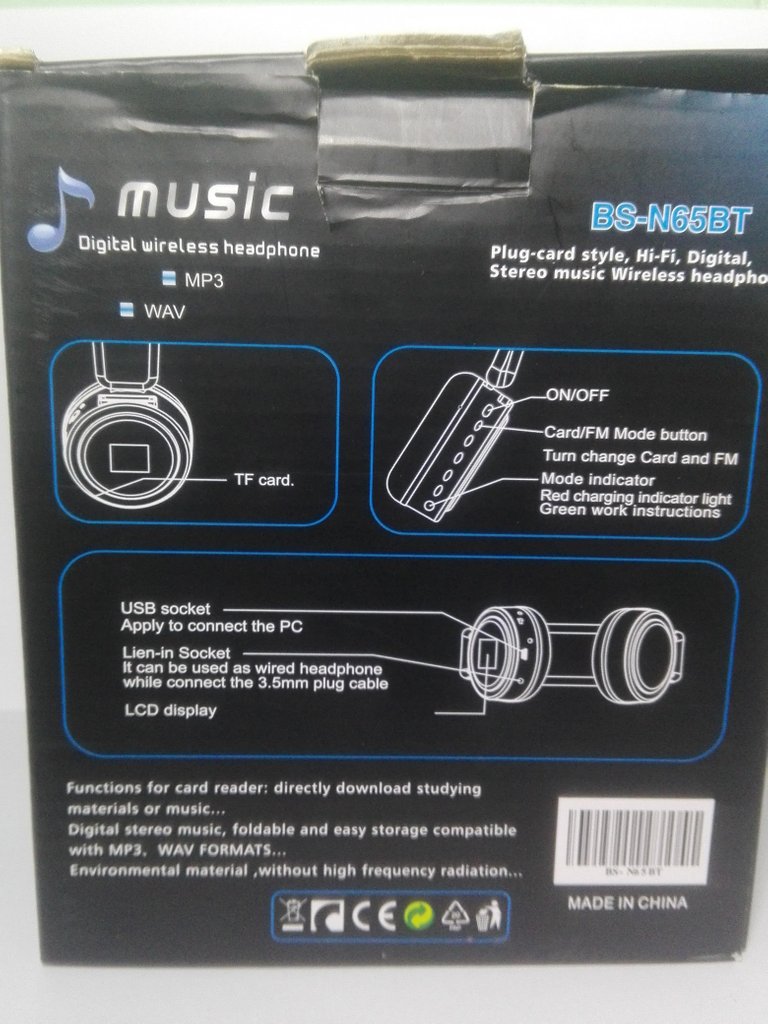 Photos taken by the author
As for the comfort of the headphone, its upper part (where they rest on the head) are made of a material that resembles rubber, inside they seem to have some strong plastic that makes the headphones keep their shape and are tight at all times, this same makes all the noise around us is canceled and even with the volume at 32 in Windows I can lose the sounds around me. I could say that they are comfortable headphones, they have pads that surround the speaker, big enough for anyone, it is comfortable although if you are one of those who use headphones almost all day, this will hurt because they are quite tight. It contains 4 buttons that control the volume, pause, skip and play the previous song through them, there is also one from which you can choose which way the song will be played (as far as I know, it is only available in MP3 mode) forget to mention that it contains a display to see the battery level, volume and the mode you are in.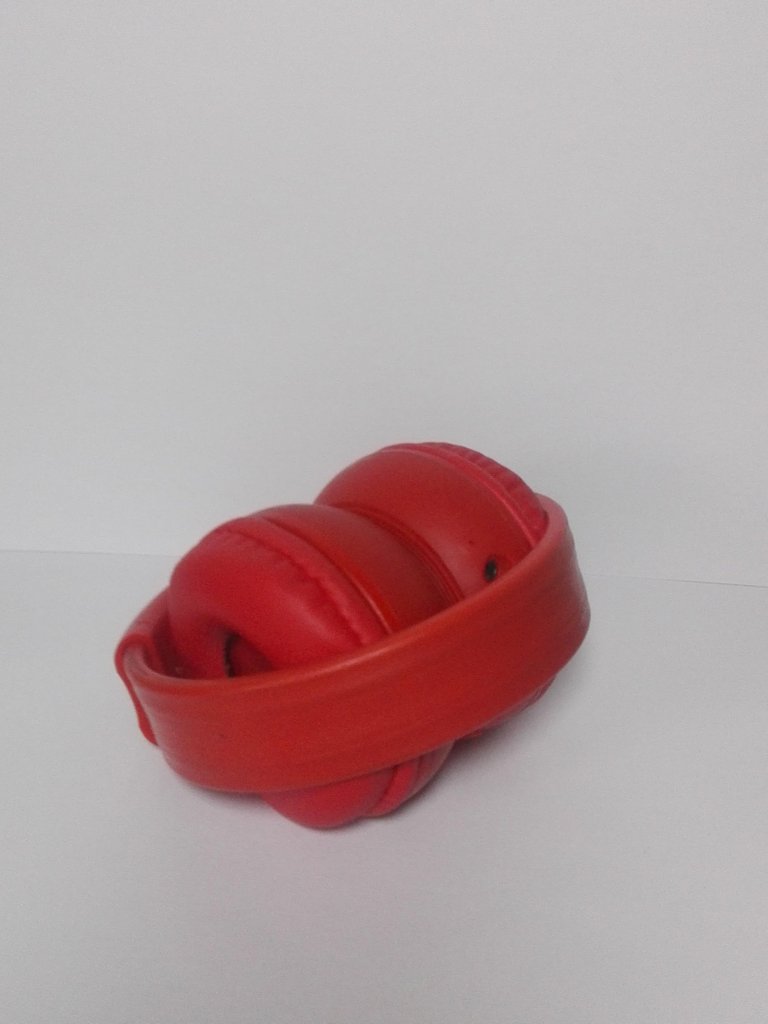 Photos taken by the author
Now entering the sound section, I am pleased to tell you that they are good enough to use them to listen to music or do activities like jogging, they have a sound of 20Hz ~ 20 Khz and sensitivity of 112 dB. Are they good for gaming? I can not say that they are not good for it but they are not the best option, there are better quality headphones at the same price dedicated to these, these being Bluetooth (1.3) may have latency when playing although they have a USB input and another 3.5 mm which could serve connecting it to a PC, something I forgot to mention is that it has 3 functions that I could consider 4, the first and main is Bluetooth, the second is the radio, the third is to use them with an SD card and the fourth would be with USB or 3.5 mm cable, as I said above.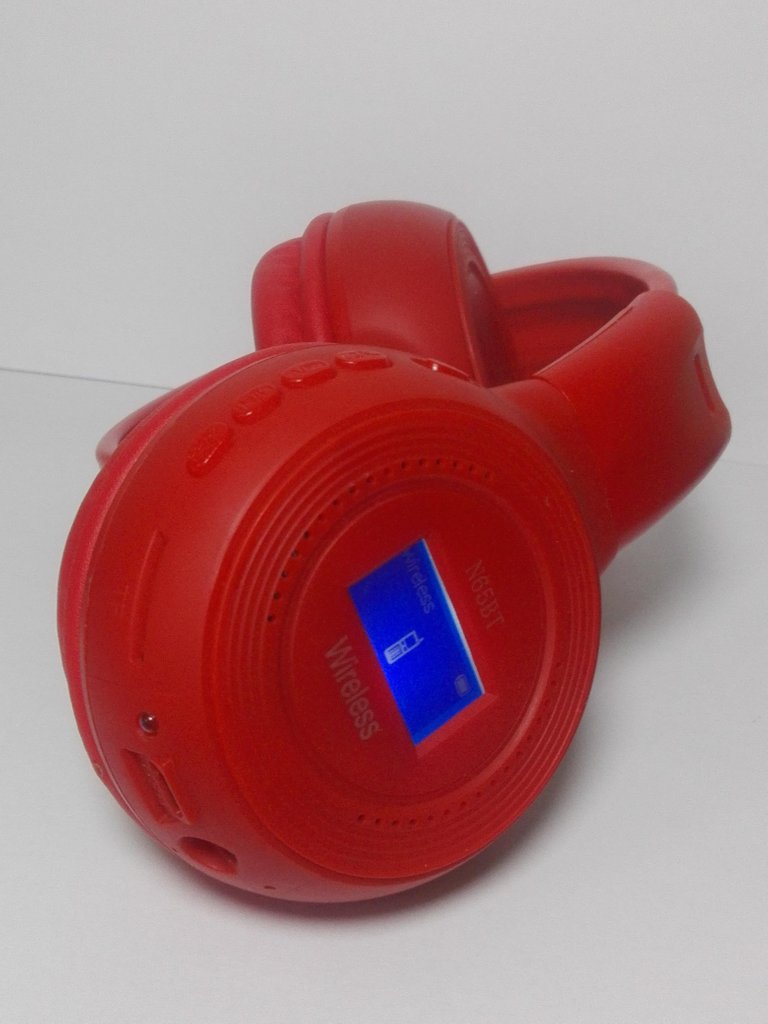 Photos taken by the author
I am someone who loves to listen to music, so I give a positive review for using them for the purpose of listening to music while cooking, doing homework or any kind of common activity you could think of, since I got it as a gift I have not noticed any faults, the battery lasts about 6-8 hours and to charge them I use the same charger I use for my cell phone, which is fast charging and takes a little over 30 minutes to charge.
---
They are headphones that I would recommend for everything, by the description on the internet that I got of these headphones and taking into account its design, these headphones are sporty but still taking into account the sound that gives and its options, they can serve for any activity without giving any problem. In a short summary of this review, they are headphones that you can use for everything at an affordable price, I hope you find my opinion useful and if you have this kind of headphones, I would like to hear your opinion about them because I really like these headphones and I could consider that they are the best cheap headphones I have ever had, I hope you have a nice day everyone, see you next time!

[Versión En Español]
¡Hola colmena Geek! En esta ocasión quiero darles mi opinión acerca de unos audífonos inalámbricos bastante comunes (por mi zona y ciudad), son unos audífonos que tengo desde octubre e incluso antes de esa fecha estaba interesado en ellos debido a su precio (15$) y ver finalmente su calidad, el día de hoy puedo contarles que tal me han parecido, aunque no haya tenido los mejores audífonos del mundo antes de ellos.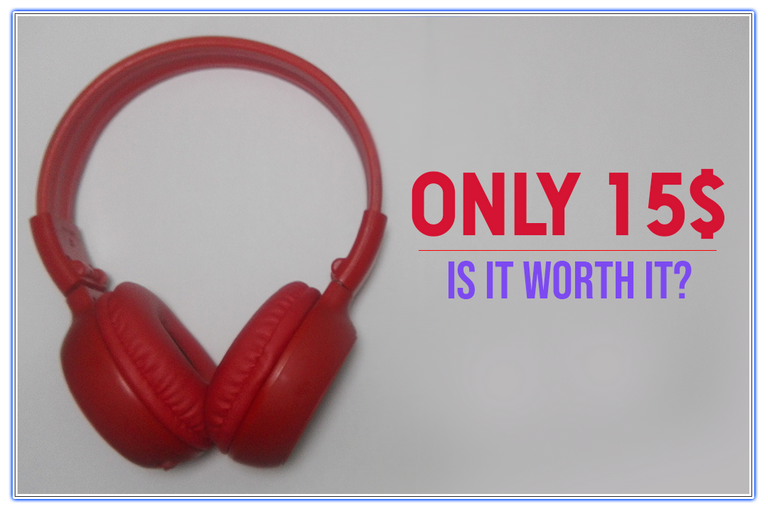 Edited by the author
Últimamente he visto mucho este tipo de audífonos, si caminas por el centro de mi ciudad te podrías encontrar a los P47 o los N65BT, yo tengo los N65BT y como dije antes, me los regalaron por mi cumpleaños y costaron 15$. Estos audífonos venían de diferentes colores, decidí elegir el color rojo debido a que los otros colores eran de colores muy llamativos (más que el rojo, sí), al llegar a mi casa abrí la caja emocionado, la caja no era la mejor del planeta y el cable USB sencillamente no servía (aparte que era muy corto), los audífonos no venían con algo que los cubriera de manera que no sufrieran algún daño dentro de la caja, solo estaban enrollados apoyados de un cartón dentro de la caja. Definitivamente no es la mejor presentación del mundo, eso es un punto negativo que le daría, no sé realmente si fue culpa de la tienda o de los fabricantes.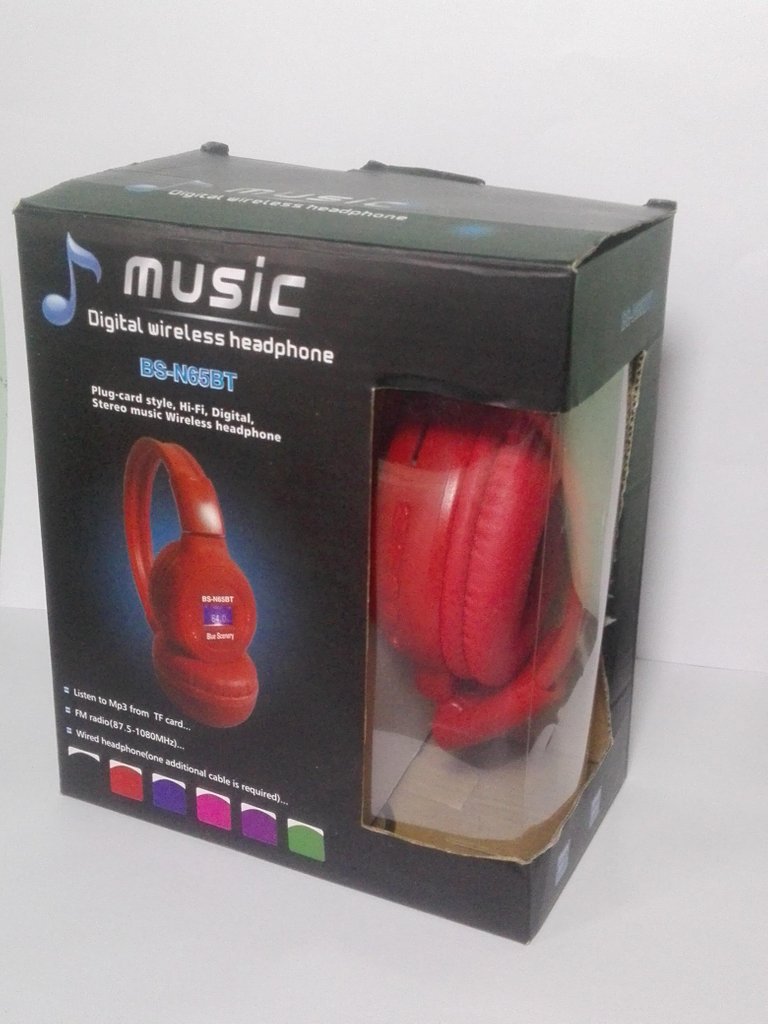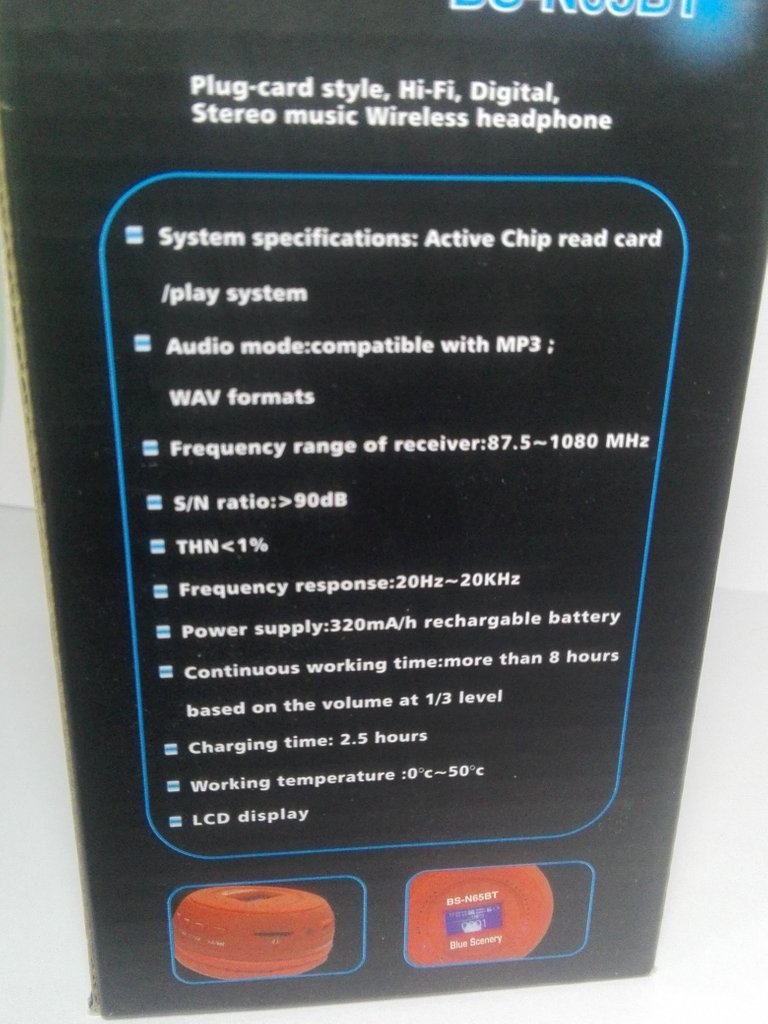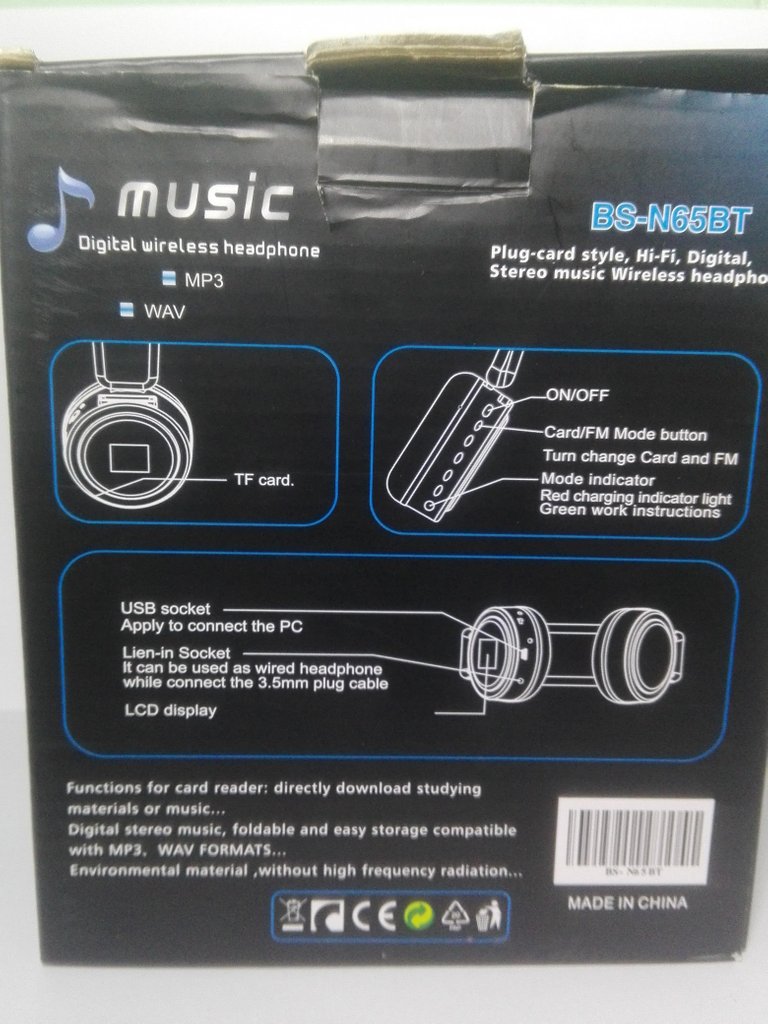 Photos taken by the author
En cuanto a comodidad del audífono, su parte superior (donde se apoyan de la cabeza) son de un material que asemejaría con la goma o un caucho, dentro de ellos parecen tener algún plástico fuerte que hace que los audífonos mantengan su forma y estén apretados en todo momento, esto mismo hace que se cancele todo el ruido alrededor nuestro e incluso con el volumen a 32 en Windows me puedo perder de los sonidos a mi alrededor. Podría decir que son audífonos cómodos, tienen unas almohadillas que rodean la bocina, suficientemente grandes para cualquier persona, es cómodo aunque si eres de los que usan audífonos casi todo el día, esto dolerá ya que son bastante ajustados. Contiene 4 botones que controlan el volumen, pausar, saltar y poner la canción anterior a través de ellos, también hay uno del cual puedes elegir de qué manera se reproducirá la canción (hasta donde sé, solo está disponible en el modo MP3) olvide mencionar que contiene una pantalla para ver el nivel de batería, el volumen y el modo en el que está.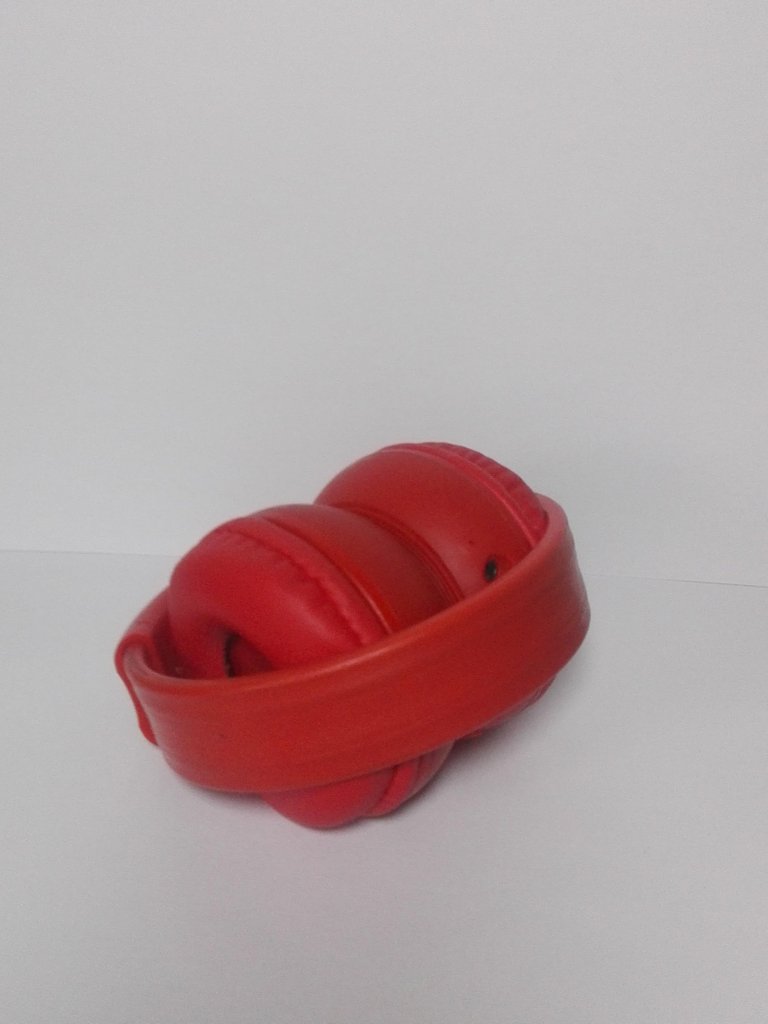 Photos taken by the author
Ya entrando al apartado de sonido, tengo el agrado de decirles que son lo suficientemente buenos como para usarlos para escuchar música o hacer actividades como trotar, tienen un sonido de 20Hz ~ 20 Khz y sensibilidad de 112 dB. ¿Sirven para el gaming? No puedo decir que no son buenos para ello pero tampoco son la mejor opción, hay audífonos de mejor calidad al mismo precio dedicados a estos, estos al ser Bluetooth (1.3) pueden tener latencia al momento de jugar aunque tienen una entrada USB y otra de 3.5 mm lo cual podría servir conectándolo a una PC, algo que olvide mencionar es que tiene 3 funciones que yo podría considerar 4, la primera y principal es Bluetooth, la segunda es la radio, la tercera es usarlos con una tarjeta SD y la cuarta seria con cable USB o 3.5 mm, como dije anteriormente.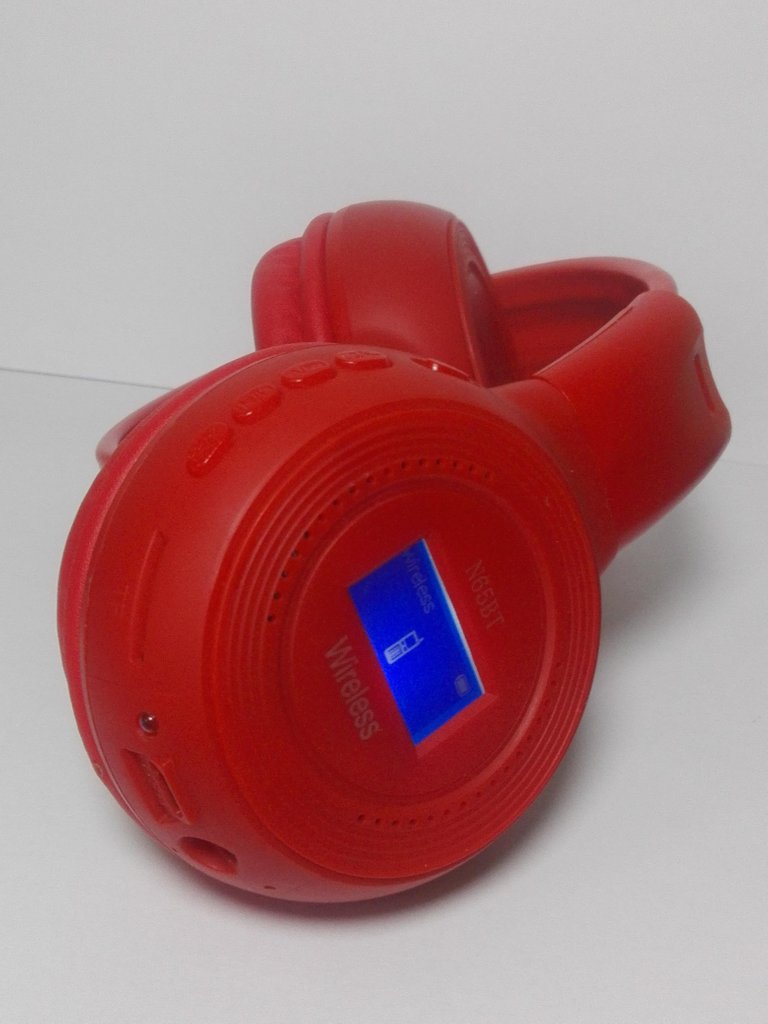 Photos taken by the author
Soy alguien que le encanta escuchar música, así que doy una reseña positiva para usarlos con el objetivo de escuchar música mientras cocinamos, hacemos tarea o cualquier tipo de actividad común que podrías pensar, desde que me lo regalaron no he notado alguna falla, la batería dura unas 6-8 horas y para cargarlos uso el mismo cargador que uso para mi celular, el cual es de carga rápida y dura un poco más de 30 minutos en cargarse.
---
Son unos audífonos que recomendaría para todo, por la descripción en internet que conseguí de estos audífonos y teniendo en cuenta su diseño, estos audífonos son deportivos pero aun así teniendo en cuenta el sonido que da y sus opciones, pueden servir para cualquier actividad sin dar algún problema. En un corto resumen de esta revisión, son audífonos que puedes dedicar para todo a un precio accesible, espero que les sirva mi opinión y si tienen este tipo de audífonos, me gustaría escuchar su opinión acerca de ellos ya que la verdad estos audífonos me gustan demasiado y podría considerar que son los mejores audífonos baratos que he tenido, espero que tengan un buen día todos ¡Hasta la próxima!