---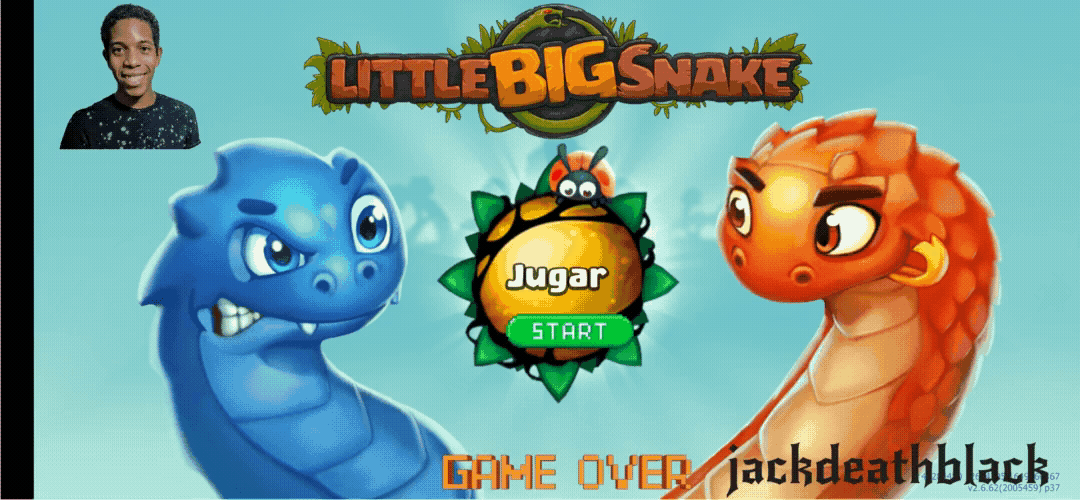 ---
Hello all my dear friends of hive, I recently discovered a game that has hooked me, which will be great for those who do not have much time but are looking for something to distract, as I always look for simple games that do not require much time, and of course although there are many of that style are not always very fun for my taste and that's why I share this one.
So I thought, what game I used to play when I was a kid that would amuse me? Well friends I don't know about you, most probably those who saw the evolution of cell phones with only numbers screens to the Smartphones of today, yes, but the game I thought about was the first Nokia that came with options menus, yes this brand started innovating with its games in two-color screen, a simple game that knew how to catch everyone, and I don't know if you already know what it was but let me refresh you with this magnificent gif to remember.
Hola a todos mis queridos amigos de hive, hace poco descubrí un juego que me ha enganchado, el cual resultará genial para quienes no tienen mucho tiempo pero buscan algo con que distraerse, ya que siempre busco juegos sencillos que no requieran mucho tiempo, y claro aunque de ese estilo hay muchos no siempre son muy divertidos para mí gusto y por eso les comparto este.
Así que pensé, ¿Que juego solía jugar de niño que me divirtiera? Bueno amigos no se ustedes, lo más probable es que los que vieron evolucionar los celulares de pantallas de solo números a los Smartphone de hoy si, pero el juego en el que pensé fue de los primeros Nokia que vinieron con menús de opciones, si esta marca empezó innovando con sus juegos en pantalla a dos colores, un sencillo juego que supo atraparlos a todos, y no se si ya van captando cuál era pero déjenme refrescantes con este magnífico gif para recordar.
---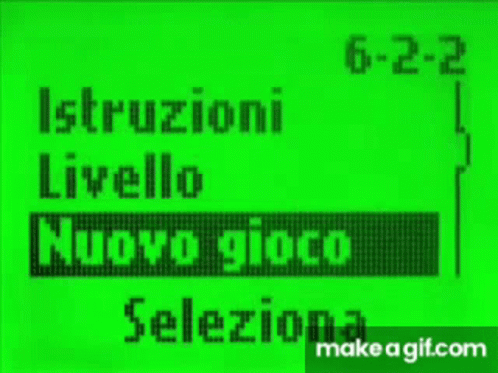 Imagen de tenor galería Peakd
---
Yes, that's right, the famous Snake or Snake as I said, this game knew how to accompany with its easy, normal or difficult mode, and where the bigger the snake was the more difficult the game became, this game did not stay in time but was evolving and I could enjoy other versions on different devices.
Si, así es, el famoso Snake o Culebrita como le decía, este juego supo acompañar con su modalidad de fácil, normal o difícil, y en dónde mientras más grande era la culebrita más difícil se volvia el juego, este juego no se quedó en el tiempo sino que fue evolucionando y pude disfrutar de otras versiones en distintos dispositivos.
---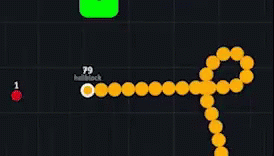 Imagen de tenor galería Peakd
---
And of course the companies have not lagged behind, and have returned this classic with some improvements, so friends how about now I present the new Snake (Snake) a game for Android and iOS phones called:
Y claro las compañías no se han quedado atrás, y nos han devuelto este clásico con algunas mejoras, así que amigos que tal si ahora les presento al nuevo Snake (Culebrita) un juego para celulares Android y iOS llamado:
---
Little Big Snake
---
---
Now we can enjoy a different gameplay with many changes, but with the same essence, eating dots on our screen while our snake grows and we try not to crash.
Ahora podremos disfrutar de una jugabilidad diferente con infinidad de cambios, pero con la misma esencia, comer puntitos en nuestra pantalla mientras crece nuestra serpiente y tratamos de no chocar.
---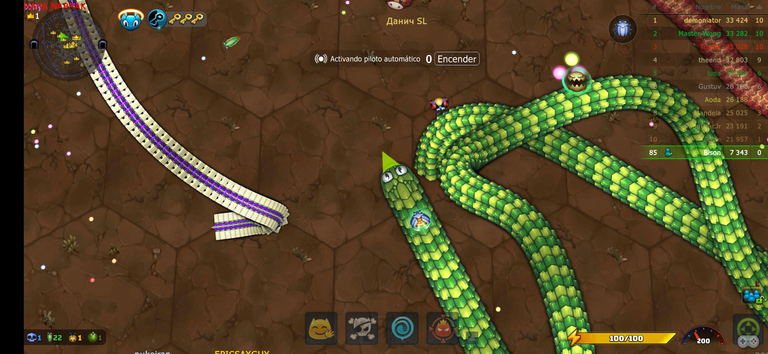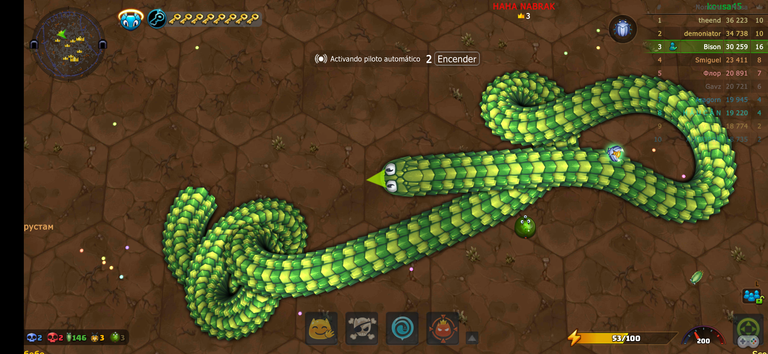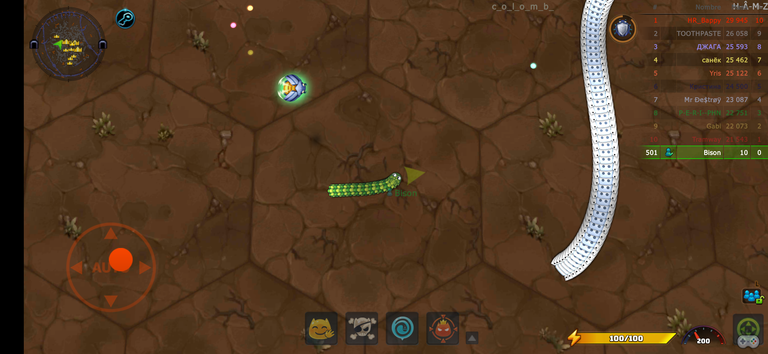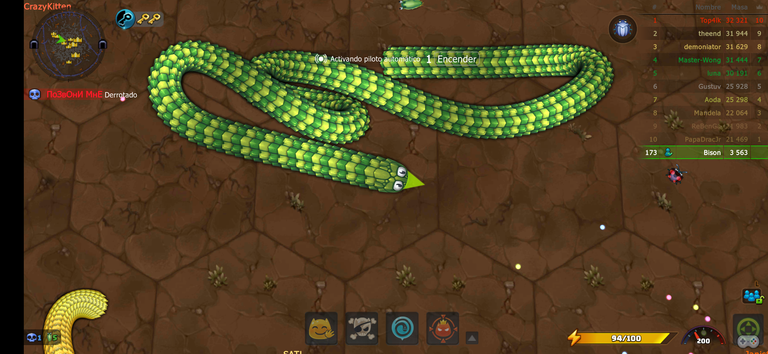 ---
There are some big differences, for example we don't die when we collide with our body, but since we will be playing with other players, colliding with them will kill us, just like colliding with the game limits or the rocks in the game.
Hay algunas diferencias grandes, por ejemplo no morimos al chocar con nuestro cuerpo, pero como estaremos jugando con otros jugadores, chocar con ellos nos mataría, al igual que chocar con los límites del juego o las rocas que en el se encuentran.
---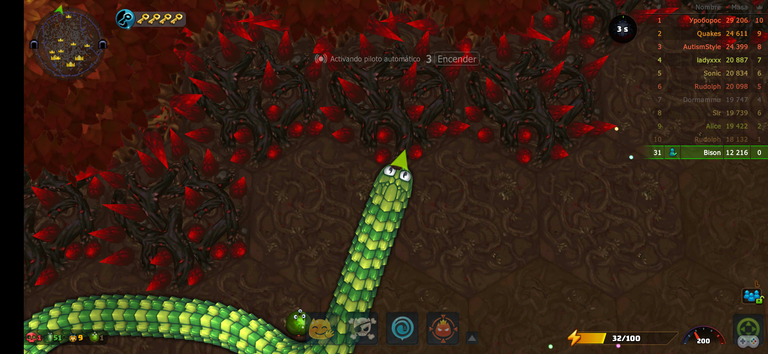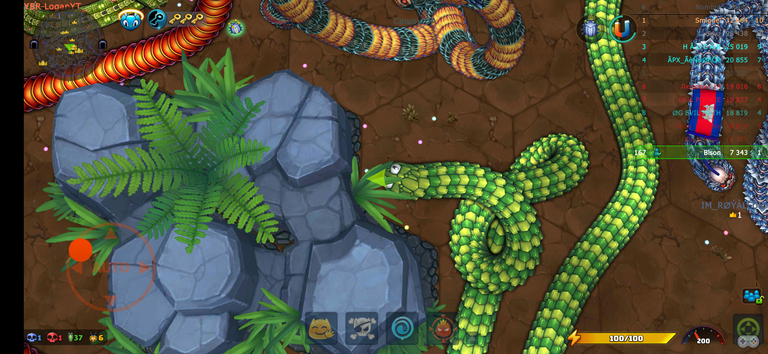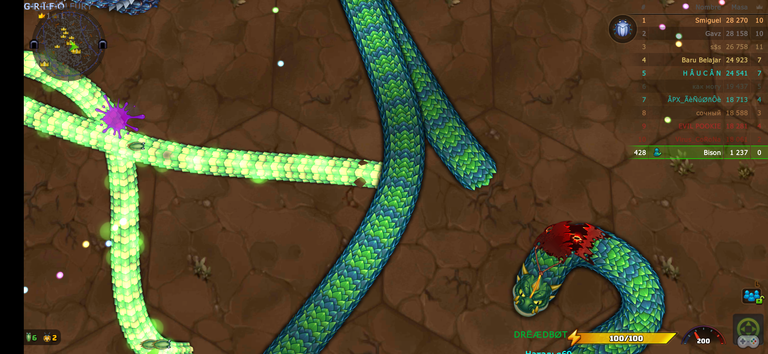 ---
During the game we can eat jujas (ladybugs 🐞) that are other players who have died and have returned in this form to win prizes, but if we eat them they will help us to grow faster since the purpose of these is to eat energy and they will have it stored.
Podremos durante el juego comer jujas (mariquitas 🐞) que son otros jugadores que han muerto y han vuelto en esta forma para ir ganando premios, pero si nosotros las comemos nos ayudarán a crecer más rápido ya que la finalidad de estas es comer energía y la tendrán almacenada.
---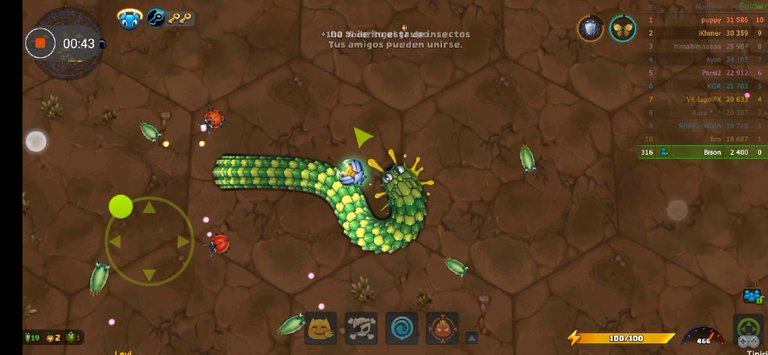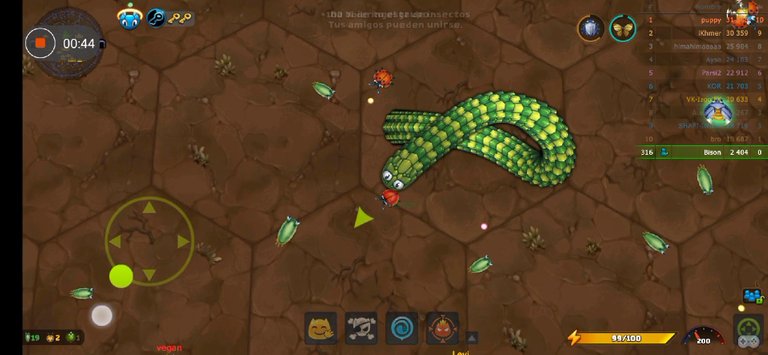 ---
In addition in the game we will be able to get bonuses to get advantages such as seeing the map bigger, grow faster, move faster, attraction so that we only have to pass near the points and be able to grow instantly at the start.
Además en el juego podremos ir consiguiendo bonos para así conseguir ventajas como ver el mapa más grande, crecer más rápido, movernos más rápido, atracción para que solo tengamos que pasar cerca de los puntos y poder crecer instantáneamente al iniciar.
---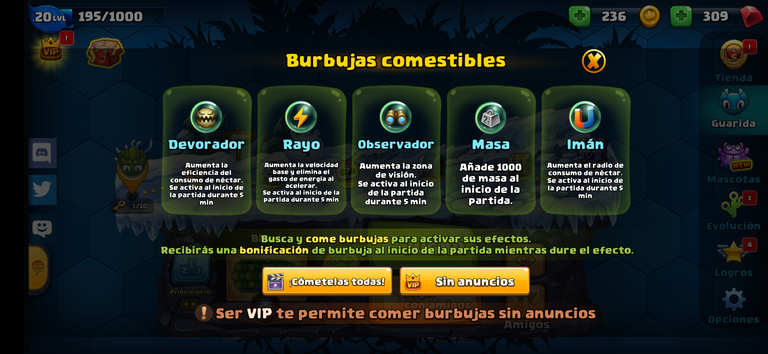 ---
The purpose is to achieve the largest size to position yourself among the best, so you will discover that as you grow you will achieve crowns👑.
So here I mention the best way to grow, and it is by eating other snakes, even if crashing kills you, if you get them to crash you then you can eat their energy and grow fast. This is a little complicated when you are small, but with a little effort you can do it.
La finalidad es lograr el tamaño más grande para posicionarse entre los mejores, por lo que descubrirás que al crecer vas logrando coronas👑.
Así que aquí te menciono la mejor manera de crecer, y es comiendo a otras serpientes, si aunque chocar te mata, si logras que ellas te choquen a ti entonces tú podrás comer su energía y así crecer rápido. Esto es un poco complicado cuando eres pequeño, pero con un poco de esfuerzo se puede.
---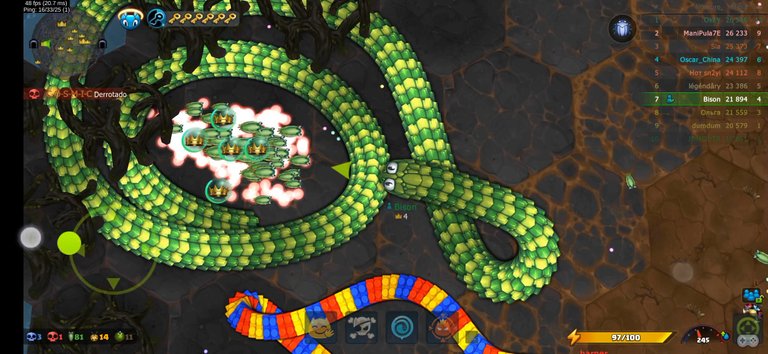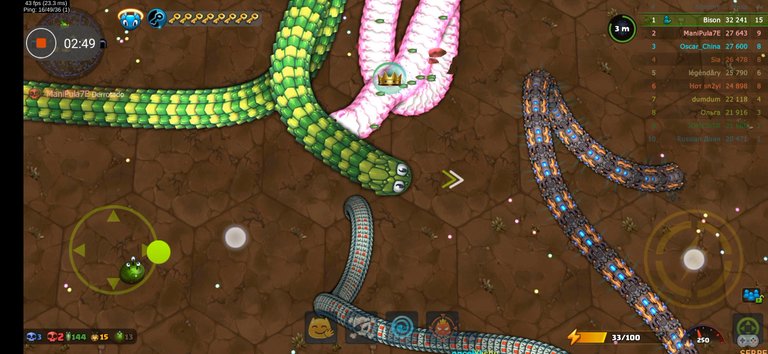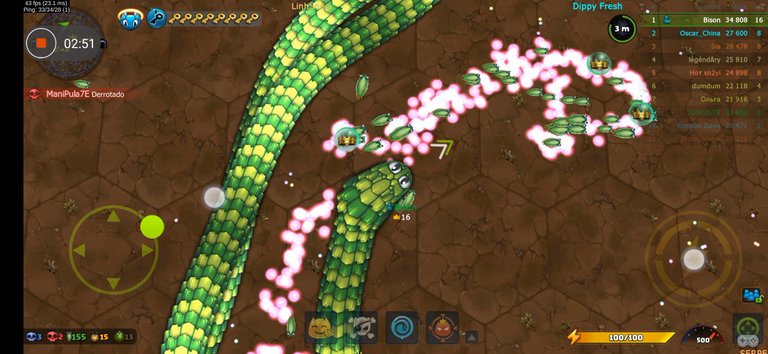 ---
When you have achieved a considerable size then you can look to get crowns👑 quickly and for that you can visualize on the map and the largest crowns are the players with the highest number of crowns which you can roll up to make them lose and keep their crowns.
Besides that you will also have the option to play with the juja, this will basically fly around the map to collect energy (nectar) all over the map without letting the snakes kill you, the other jujas will not kill you but they can collide with you and cause you to flip which leaves you at the mercy of the snakes, but you have the option to flip by touching several times on the juja.
Cuando has logrado un tamaño considerable entonces podrás buscar de conseguir coronas👑 rápidamente y para eso puedes visualizar en el mapa y las coronas más grandes son los jugadores con mayor número de coronas a los cuáles podrás enrollar para así hacerlos perder y quedarte sus coronas.
Además que tú también tendrás la opción de jugar con la juja, esto será básicamente volar por el mapa para ir recolectando energía (néctar) por todo el mapa sin dejar que te maten las serpientes, las otras jujas no te mataran pero si podrán chocar contigo y ocasionar que te voltees lo que te deja a merced de las serpientes, pero tienes la opción de voltearte tocando varías veces sobre la juja.
---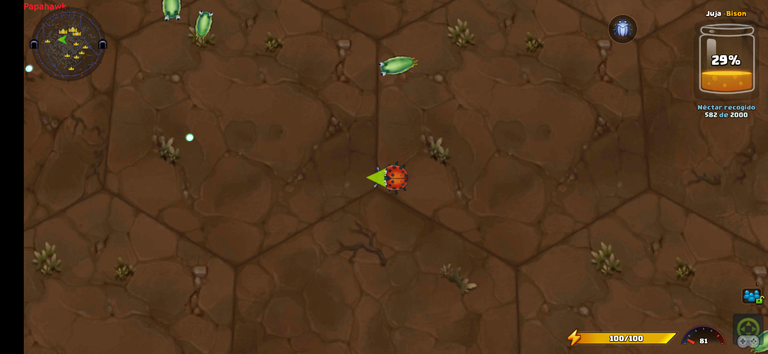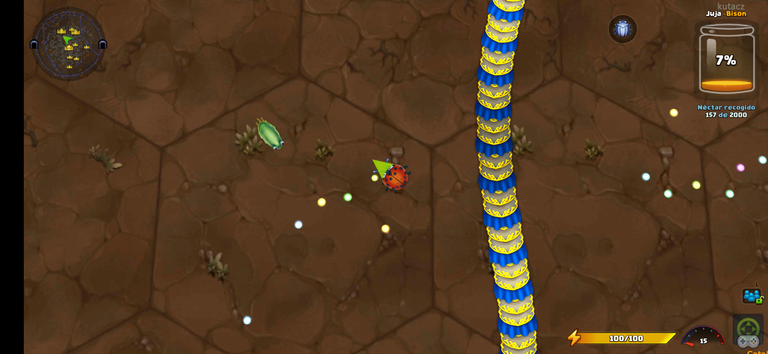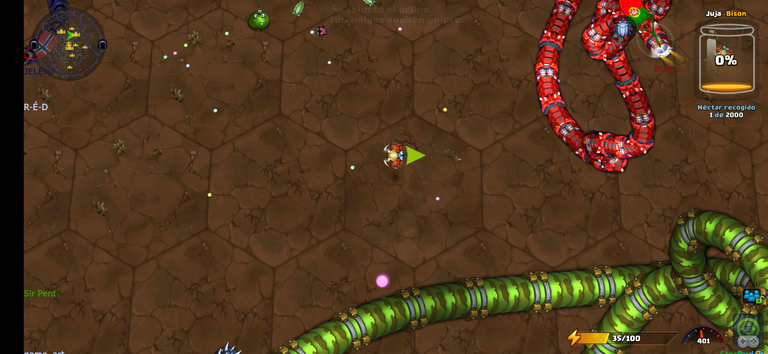 ---
In terms of gameplay this is all that the game allows us, but of course it has a whole menu of options that we can also enjoy, among which we see:
En sentido de jugabilidad esto es todo lo que nos permite el juego, pero claro tiene todo un menú de opciones que también podremos disfrutar, entre los que vemos:
---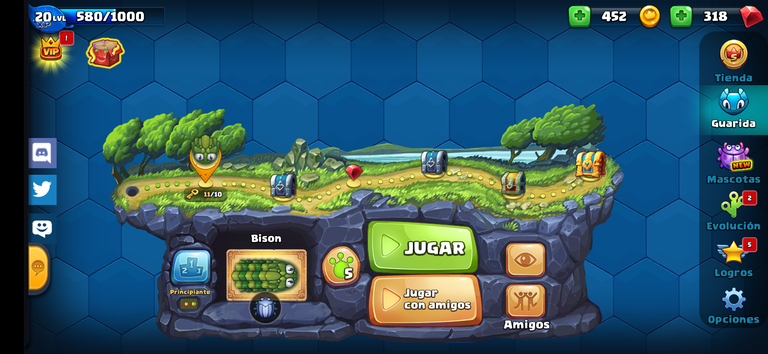 ---
Skins menu:
Achievements menu:
Evolution menu:
Store menu:
Pets menu:
If this last one offers us the possibility of having a pet juja that will be with us in our snake form, I still do not advance much on this topic, but basically it is a helper that will give us a certain percentage of advantage, which already little by little you will be able to go seeing.
So friends, I hope this summary has encouraged you to try this new snake game, Little Big Snake. Until next time, take care, play and let's share our semigamer experiences, your friend Jackdeathblack says goodbye.
Menú de pieles:
Menú de logros:
Menú de evolución:
Menú de tienda:
Menú de mascotas:
Si este último nos ofrece la posibilidad de tener una juja mascota que estará con nosotros en nuestra forma de serpiente, aún no avanzo mucho en este tema, pero básicamente se trata de un ayudante que nos dará cierto porcentaje de ventaja, que ya poco a poco podrán ir viendo.
Así que amigos espero que esté resumen los haya animado a probar este nuevo juego de culebrita, Little Big Snake. Hasta la próxima ocasión, cuídense, jueguen y compartamos las experiencias semigamer se despide su amigo Jackdeathblack.
---
Las imágenes han sido capturas de pantallas de este juego desde mi teléfono, iba a subir algunos gifs pero eh tenido problemas con la carga de imágenes en la plataforma.
The images have been screenshots of this game from my phone, I was going to upload some gifs but I had problems with the loading of images on the platform.
---
---