Español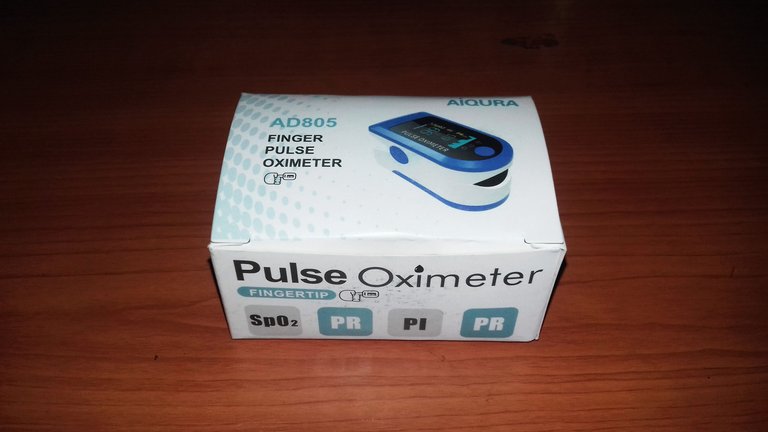 Hola amigos de Hive , hoy quiero compartir con ustedes una importante adquisición que hice gracias a los ingresos de Hive. Se trata de un Oxímetro, un dispositivo que mide el nivel de oxigenación en la sangre, una medición importante en pacientes de COVID-19.
Hace aproximadamente 6 días mi padre empezó a presentar un catarro y una tos persistente, acompañada de algo de fiebre y cansancio. El catarro y todo lo demás fue disminuyendo, pero la tos se ha mantenido. En el trascurso de esos días, mi hermano y yo empezamos a presentar síntomas, yo he presentado fiebre, y ligero dolor de garganta, y mi hermano tos y fiebre, mi madre es la única que no parece tener síntomas.
Mi primo médico acudió en nuestra ayuda y trajo medicinas y vitaminas, mandó realizarnos exámenes de sangre, hematología completa,PCR y VSG, y rayos X de los pulmones a mi padre. El cual se estaría realizando mañana.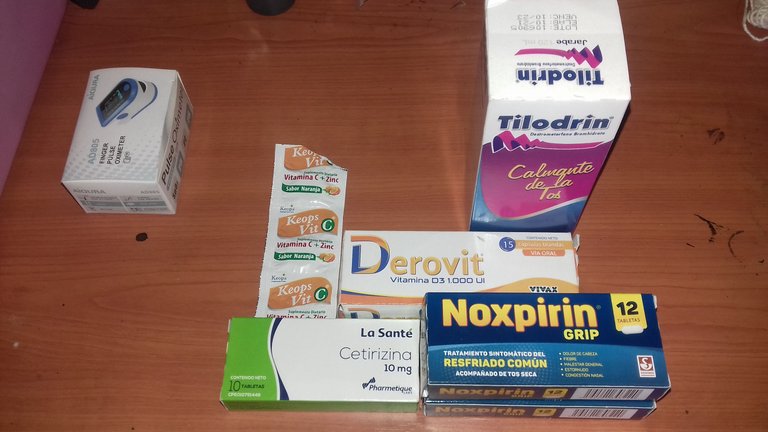 Vitaminca C+Zinc, Vitamina D, Acetaminofen, jarabe para la tos y antialérgico preventivamente mientras se hace el despistaje de Covid-19
De los exámenes se concluyó que todo está en orden excepto el VSG y PCR que están altos, estos son indicadores de fase aguda, es decir cuando el organismo se encuentra en medio de la batalla contra los virus o bacterias.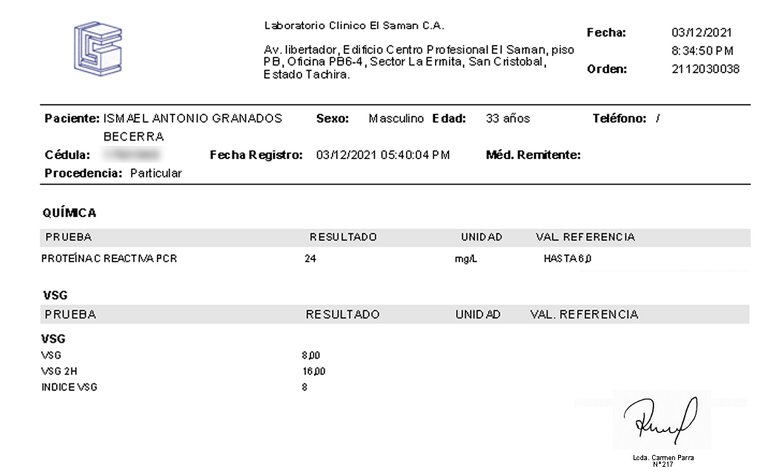 De manera que ante esta situación de la que aún no tenemos certeza si se trata de Covid -19, decidí comprar un Oxímetro, a través del Marketplace de Facebook, y el vendedor se encargó de hacer el delivery hasta mi casa.
Este dispositivo cumple dos funciones, mide el nivel de oxigenación en la sangre y mide el ritmo cardíaco. Siempre me había preguntado cómo este aparatito era capaz de medir el nivel de oxigenación en la sangre, así que decidí investigarlo y pude descubrir según el portal ABC.es que estos dispositivos "emiten diferentes longitudes de onda de luz que pasan a través del dedo. Lo que actúa sobre esa luz es la hemoglobina, una molécula de la sangre encargada de transportar el oxígeno, absorbiendo diferentes cantidades de luz dependiendo del nivel de oxígeno que transporte. Este proceso, contado de forma sencilla, es el que acaba con un valor numérico mostrado en la pantalla y que indica el nivel de saturación de oxígeno en sangre".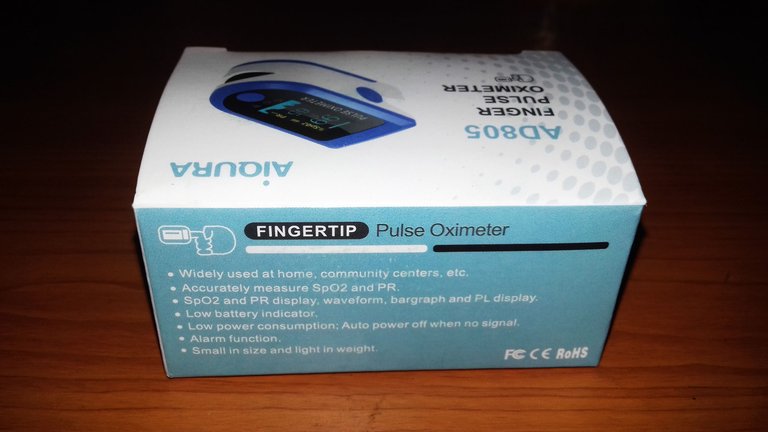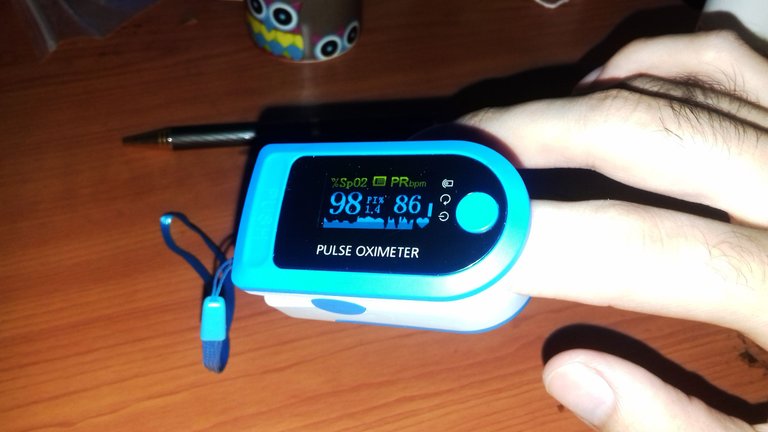 Afortunadamente nuestros niveles de oxigenación están bien entre 97 y 99. Gracias a este aparatito he podido darme cuenta que cuando me surge la fiebre debido al cese del efecto del bajafiebre, mis pulsaciones se elevan rondando entre las 105 pulsaciones.
Cada uno de nosotros se encuentra vacunado con las dos dosis de Sinopharm, la vacuna china de virus atenuado, a la cual se le atribuía un 70% de efectividad, pero según estudios recientes su efectividad es mayor.
De manera que, está por verse mañana el estado de los pulmones de mi padre , que es quien más ha presentado tos y congestión. Esto nos dirá también si se trata de Covid y estaremos acatando la instrucciones de mi primo médico sea cual sea la situación.
Sin duda Hive se ha convertido en una fuente importante de ingresos que contribuye en gran medida para sobrellevar la dificil situación economica de mi país. Normalmente utilizo los ingresos de Hive para gastos del dia a dia, pero espero poder hacerme un autoregalo pronto y comprarme una bicicleta para hacer ejercicio en el parque de mi cudad. Si la compro se las estaré mostrando en algún momento en aventura ciclistica.
Gracias por leerme, espero les haya gustado mi post, seguiré compartiendo contenido con ustedes mientras los sintomas se mantengan leves.
English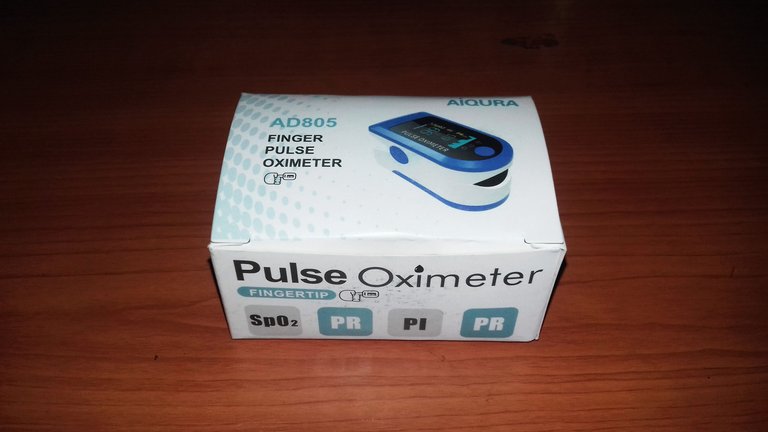 Hello friends of Hive , today I want to share with you an important acquisition I made thanks to the earnings from Hive. This is an Oximeter, a device that measures the level of oxygenation in the blood, an important measurement in COVID-19 patients.
About 6 days ago my father started presenting with a cold and a persistent cough, accompanied by some fever and tiredness. The cold and everything else gradually subsided, but the cough has remained. In the course of those days, my brother and I began to present symptoms, I have presented fever, and slight sore throat, and my brother cough and fever, my mother is the only one who does not seem to have symptoms.
My cousin doctor came to our aid and brought medicines and vitamins, he ordered blood tests, complete hematology, PCR and VSG, and X-rays of my father's lungs. This will be done tomorrow.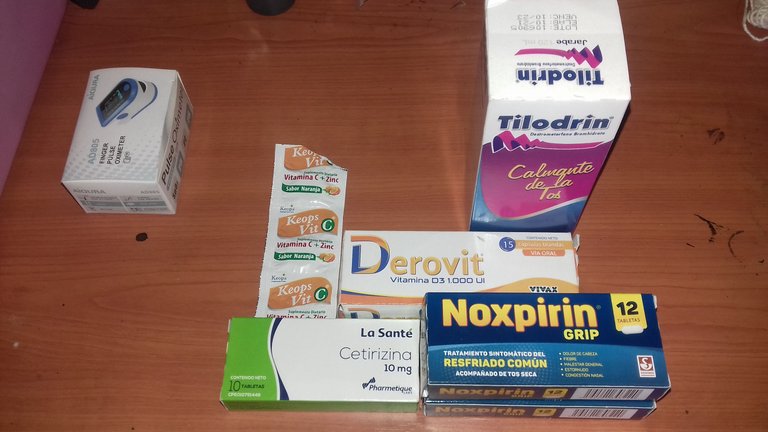 Vitamin C+Zinc, Vitamin D, Acetaminophen, cough syrup and anti-allergic preventively while Covid-19 screening is done
.
From the tests it was concluded that everything is in order except for the ESR and CRP which are high, these are acute phase indicators, that is when the organism is in the middle of the battle against viruses or bacteria.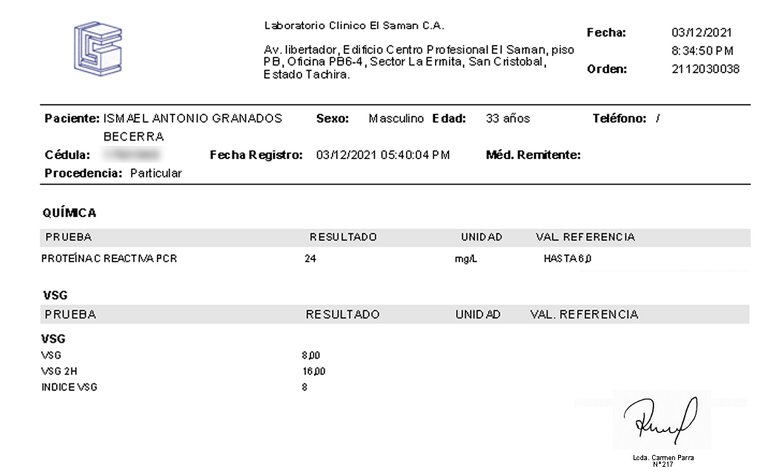 So, faced with this situation of which we are still not sure if it is Covid -19, I decided to buy an Oximeter, through the Facebook Marketplace, and the seller was responsible for making the delivery to my house.
This device has two functions, it measures the level of oxygenation in the blood and measures the heart rate. I had always wondered how this little gadget was able to measure the level of oxygenation in the blood, so I decided to investigate it and I was able to discover according to the ABC.es portal that these devices "emit different wavelengths of light that pass through the finger. What acts on that light is hemoglobin, a blood molecule responsible for transporting oxygen, absorbing different amounts of light depending on the level of oxygen it carries. This process, told in a simple way, is what ends up with a numerical value displayed on the screen indicating the level of oxygen saturation in the blood."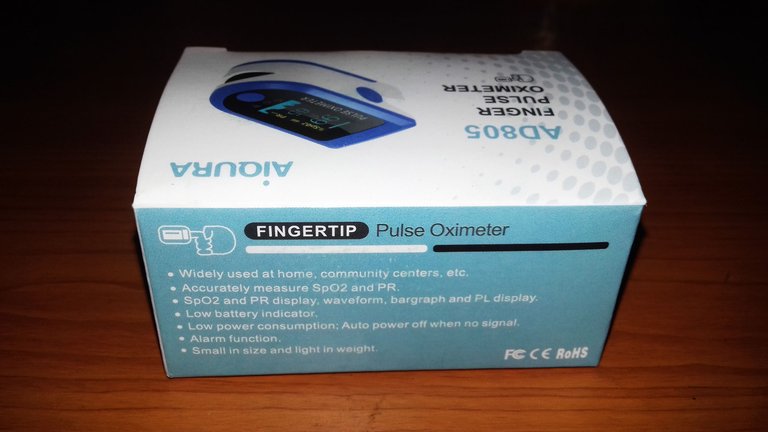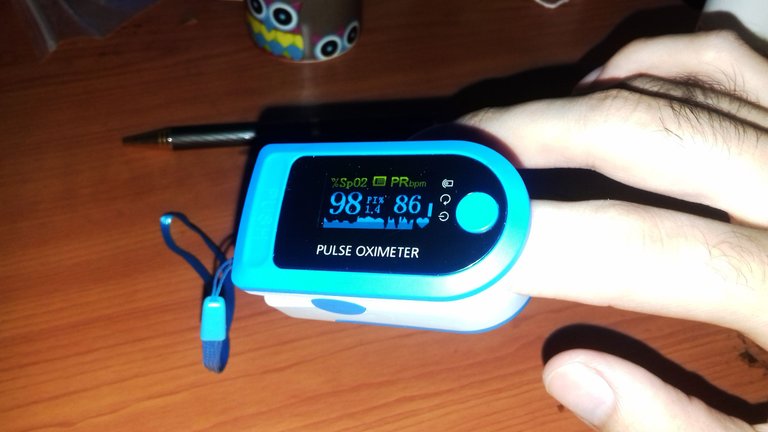 Fortunately our oxygenation levels are well between 97 and 99. Thanks to this little device I have been able to notice that when I get a fever due to the cessation of the fever reducer effect, my heart rate rises to around 105.
Each of us has been vaccinated with the two doses of Sinopharm, the Chinese attenuated virus vaccine, which has been attributed with a 70% effectiveness, but according to recent studies its effectiveness is higher.
So, it remains to be seen tomorrow the state of my father's lungs, who has presented the most cough and congestion. This will also tell us if it is Covid and we will be following my cousin doctor's instructions whatever the situation.
Without a doubt Hive has become an important source of income that contributes greatly to help me cope with the difficult economic situation in my country. I normally use the income from Hive for day to day expenses, but I hope to be able to give myself a present soon and buy a bicycle to exercise in the park in my city. If I buy it I will be showing it to you at some point in a cycling adventure.
Thank you for reading, I hope you liked my post, I will continue to share content with you as long as the symptoms remain mild.