Desde hace un tiempo tuve la posibilidad de comprar una casa en una zona de mi ciudad donde sabía que la conexión telefónica tanto como la de internet, no era nada buena, por estar en una zona montañosa y un poco alejada del centro, pero creo que ese tipo de oportunidad no se pueden dejar pasar y pensé que con el tiempo la situación de la señal se resolvería, cosa que a través de algunos años si ha mejorado, pero no tanto como me gustaría si se optimizo la señal telefónica de algunas operadoras, pero lo del internet aun no, así que hace un tiempo estaba buscando una opción para convertir mi televisor en Smart tv y así poder reproducir lo que descargo en mi teléfono sin necesidad de wi-fi o el uso de datos, es decir irme a un sitio con wi-fi descargar algunas películas y poder verlas en casa en el Televisor.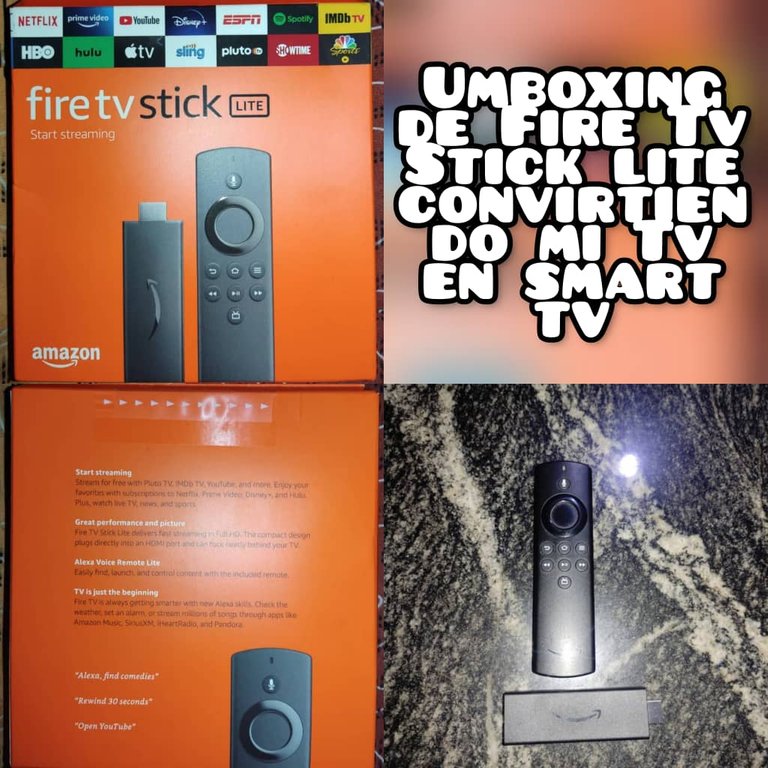 Entonces la verdad eso de la tecnología no es mi fuerte, por alguna razón se me hace un poco complicado todo este mundo, así que le pedí ayuda a mi asesor tecnológico favorito
@Fran-b
y entre varias opciones que investigamos como el Chromecast de Google, Xiaomi Mi TV Box, Roku Streaming Stick, entre otros, y concluimos que el Amazon Fire TV Stick like en relación a su función y precio era el que más se acercaba realmente a mis requerimientos por ser:
- Es relativamente económico aproximadamente 20$ por amazon.com.
- Tiene una caja anaranjada de un color muy llamativo, bastante bonita.
- Viene con Control por Voz de Alexa Lite, Cuando tenemos conexión a internet.
- Realmente es muy fácil de instalar y queda oculto porque se conecta detrás del televisor, vía HDMI.
- Las Baterías Vienen incluida con el producto.
- Ah simple vista cada uno de los accesorios se ven de buena calidad y de un material resistente.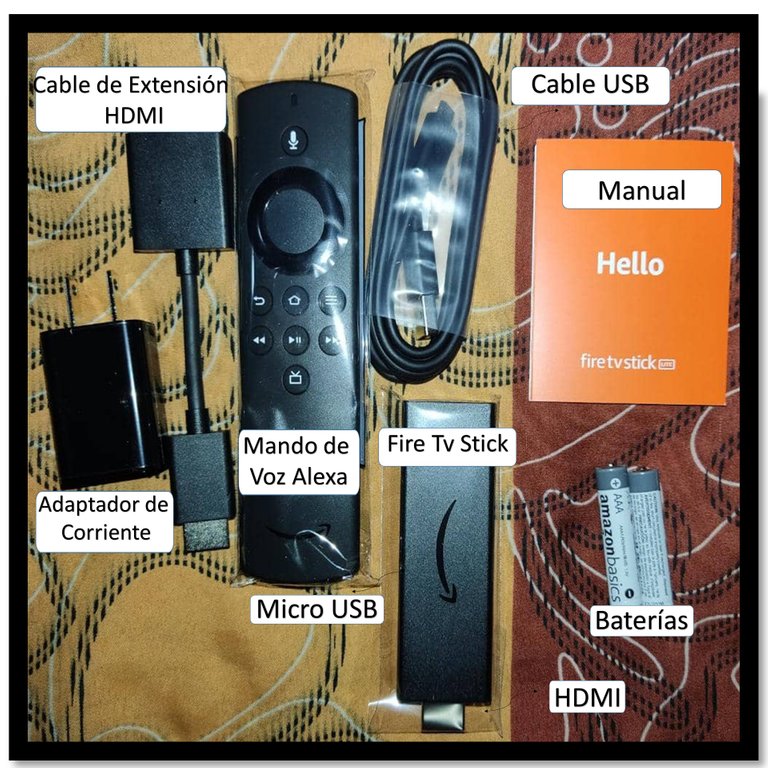 Entonces realizamos la compra del producto, esperamos que llegara y luego procedí a realizar la instalación de mi Amazon Fire TV Stick like , como mi esposo estaba ocupado y quería empezar a usarlo yo decidí instalarlo sola.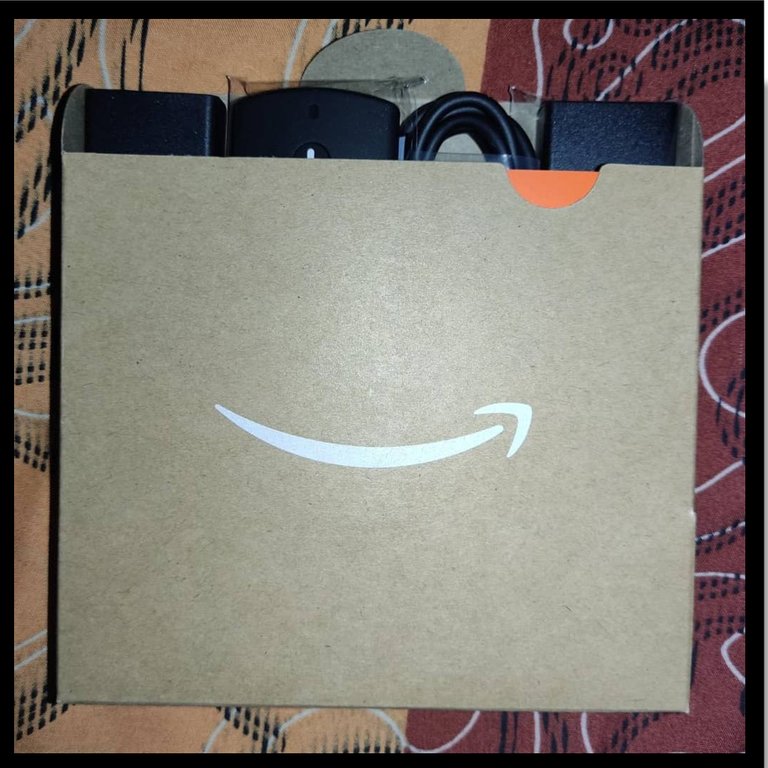 La verdad fue realmente fácil guiándome por el manual solo conecte el cable USB al Amazon Fire TV Stick y el otro extremo en el puerto HDMI del televisor y así mismo enchufe el cable al tomacorriente y listo, encendí mi televisor, que ya se encontraba en la entrada de HMDI y automáticamente se vincularon en un principio necesite conexión de internet para configurarla a mi cuenta de amazon, la conecte a los datos de mi teléfono e increíblemente lo logre y conecte todo correctamente.
Pueden ver el manual aquí
Ahora como me lo había explicado
@Fran-b
, presione durante 5 segundos el botón de inicio de mi mando por voz Alexa y me dio la opción de emitir.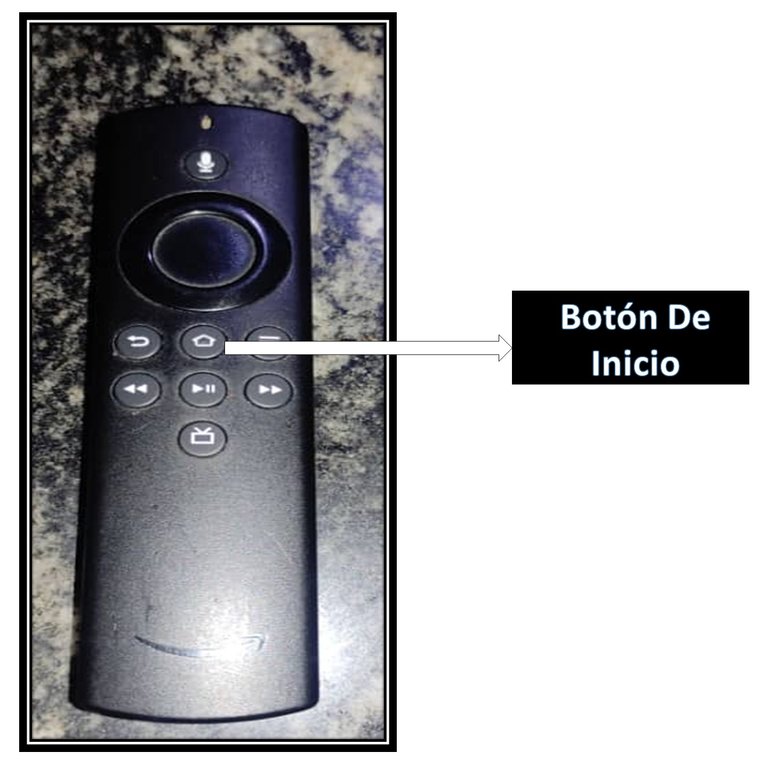 Luego busque en mi teléfono específicamente en la barra de menú, la opción de emitir y funciono, se proyectaba en la pantalla lo que yo veía en mi teléfono tal cual, así que ubique una película que había descargado posteriormente y que se encontraba en la galería de mi teléfono y se vio sin ningún problema, y se puede detener, adelantar , etc. y todas esas funciones con el teléfono.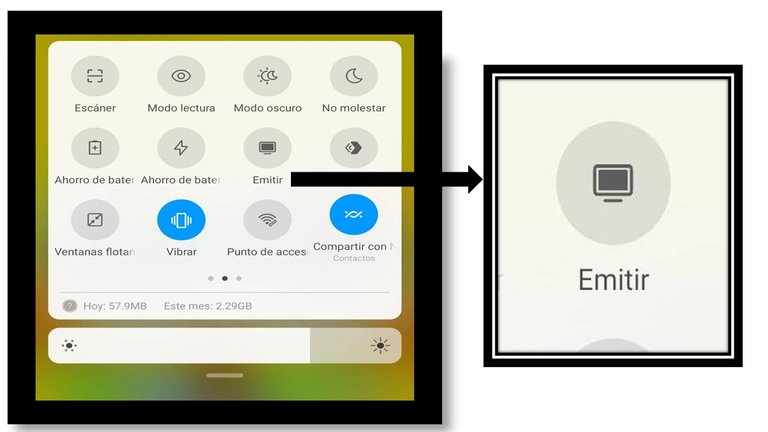 Aunque realmente el producto me parece muy bueno en su totalidad, todavía no he logrado mi objetivo porque por ejemplo, que por cierto nos tomó a todos por sorpresa, es que los canales por suscripción como Netflix, Disney entre otros, no te permite emitir en la pantalla, el contenido que descargues a través de su aplicación en tu teléfono, al colocar la película descargada por dicho servicio de streaming por suscripción, se escucha, se leen los subtítulos, pero no puedes ver la imagen de la película, creo que eso es parte de la política de la empresa para no permitir la copia pirata de su contenido.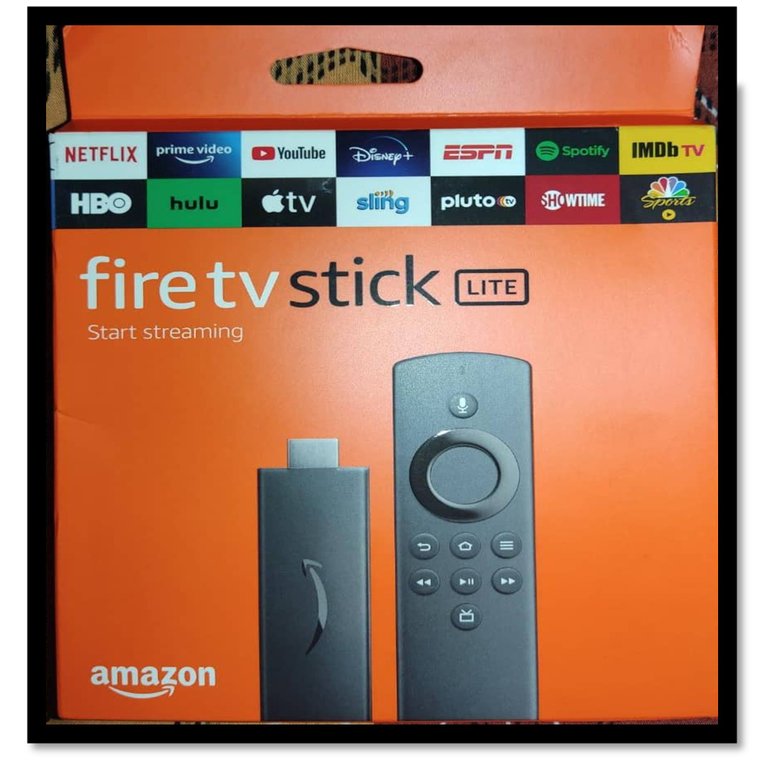 De igual manera fue parte de una solución que poco a poco seguro conseguiré, por ahora seguiré investigando su uso y otras maneras de disfrutar de ella, ya que sé que tiene múltiples usos y funciones espero este sea mi inicio en este ámbito de la tecnología que realmente son muy útiles.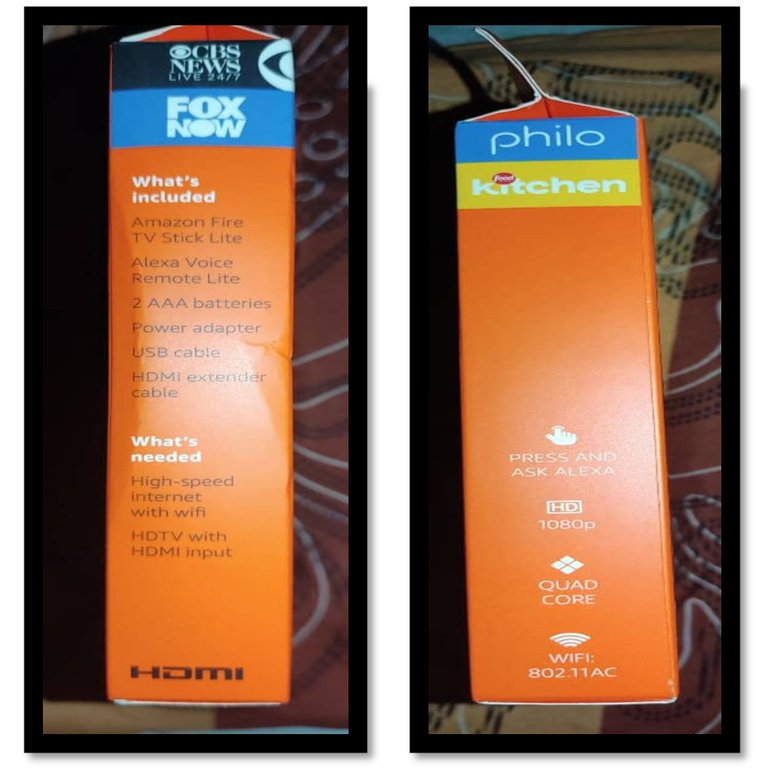 Todas las imágenes son de mi propiedad, tomadas con la cámara de mi teléfono Poco X3 Pro Traducido con https://www.deepl.com/es/translator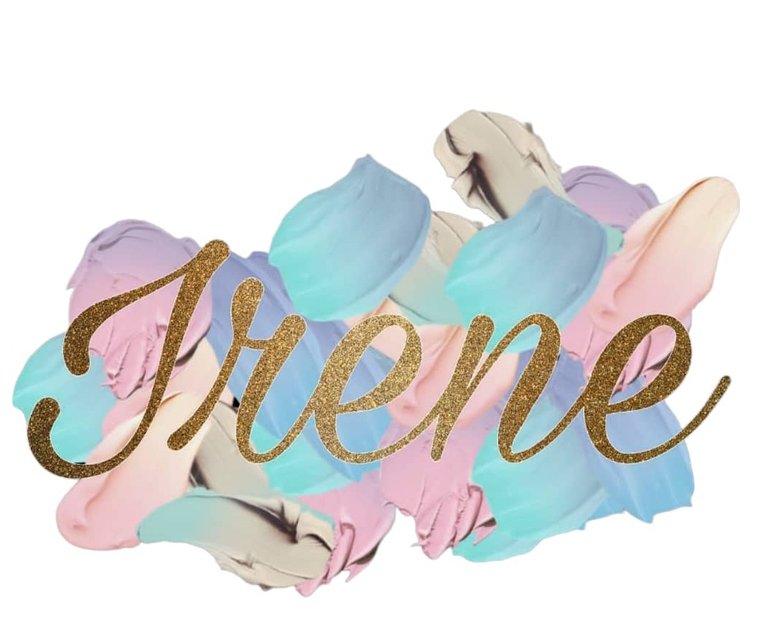 English
Some time ago I had the possibility to buy a house in an area of my city where I knew that the telephone connection as well as the internet, was not good, being in a mountainous area and a little far from the center, but I think that kind of opportunity can not be missed and I thought that over time the signal situation would be resolved, which through some years has improved, but not as much as I would like if the telephone signal of some operators was optimized, but not yet the internet, but not as much as I would like if the phone signal of some operators was optimized, but the internet still not, so some time ago I was looking for an option to convert my TV into Smart tv and thus be able to play what I download on my phone without wi-fi or data usage, ie go to a place with wi-fi download some movies and watch them at home on the TV.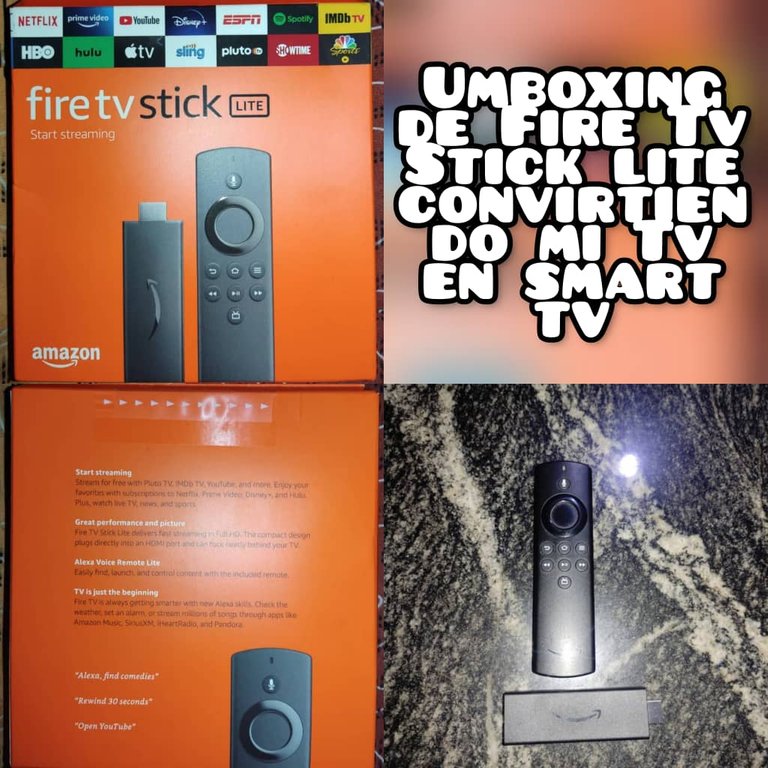 So the truth is that technology is not my forte, for some reason it makes me a little complicated this whole world, so I asked for help to my favorite technology consultant
@Fran-b
and among several options we investigated as the Google Chromecast, Xiaomi Mi TV Box, Roku Streaming Stick, among others, and we concluded that the Amazon Fire TV Stick like in relation to its function and price was the one that really came closest to my requirements for being:
- It is relatively inexpensive at approximately $20 on amazon.com.
- It has a very strikingly colored orange box, quite nice.
- It comes with Alexa Lite Voice Control, when we have internet connection.
- It is really easy to install and it is hidden because it is connected behind the TV, via HDMI.
- Batteries are included with the product.
- At a glance, each of the accessories looks of good quality and resistant material.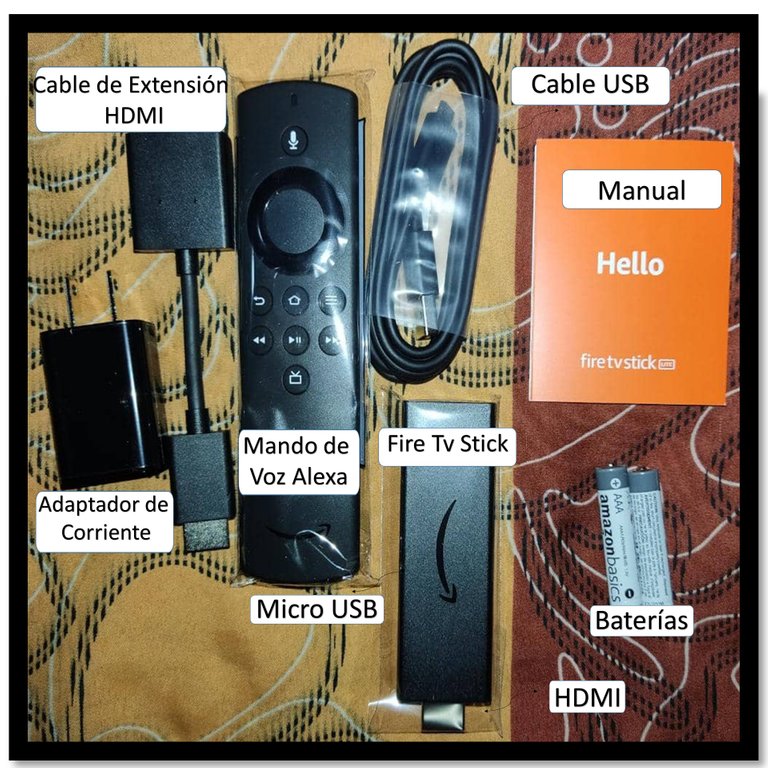 So we made the purchase of the product, waited for it to arrive and then I proceeded to install my Amazon Fire TV Stick like, as my husband was busy and wanted to start using it I decided to install it alone.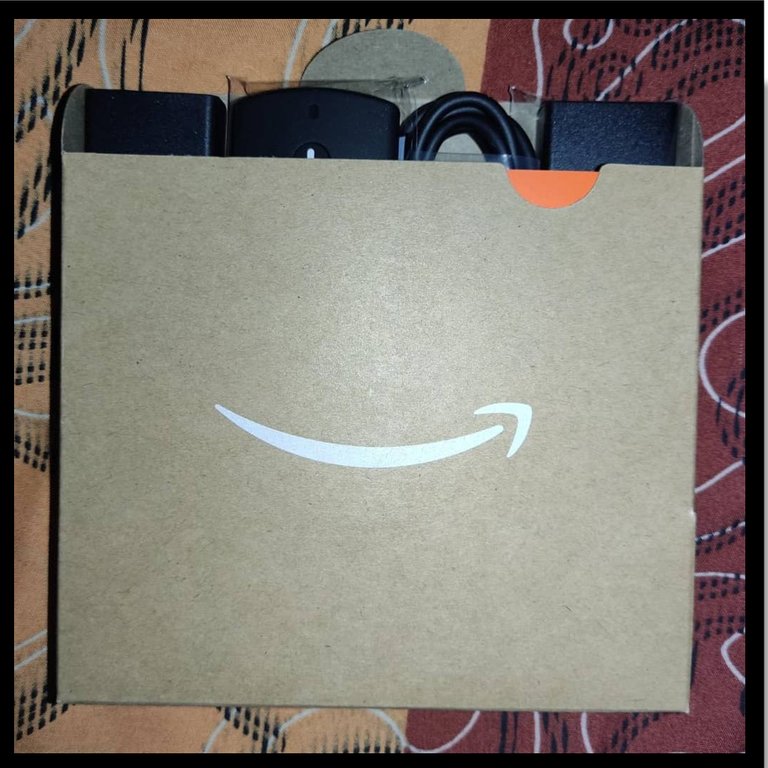 The truth was really easy guided by the manual just connect the USB cable to the Amazon Fire TV Stick and the other end into the HDMI port of the TV and also plug the cable into the outlet and ready, I turned on my TV, which was already in the HMDI input and automatically linked at first need internet connection to configure it to my amazon account, connect it to my phone data and incredibly I succeeded and connect everything correctly.
You can see the manual here
Now as
@Fran-b
had explained to me, I pressed for 5 seconds the home button on my Alexa voice commander and it gave me the option to broadcast.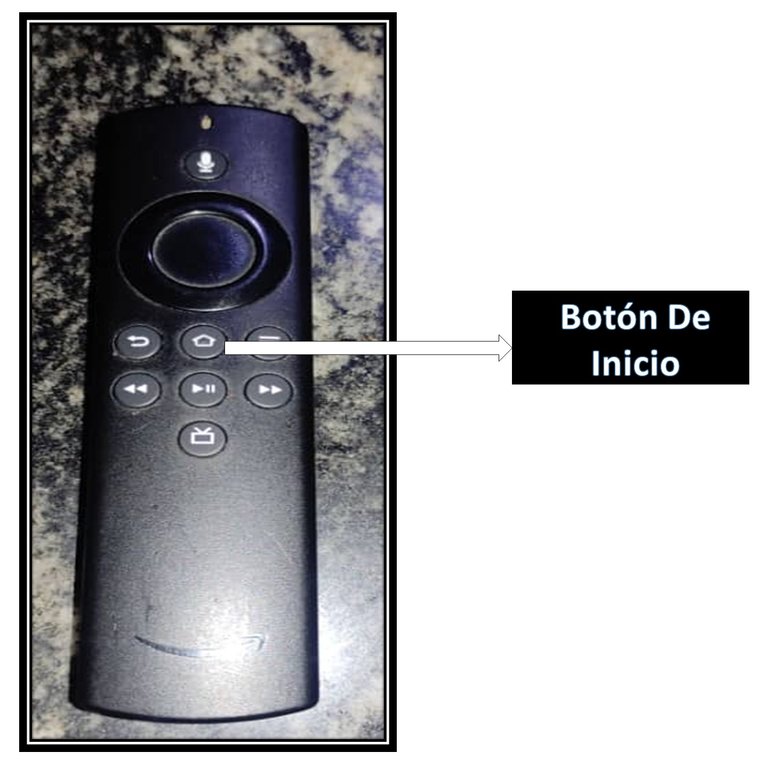 Then I looked on my phone specifically in the menu bar, the option to cast and it worked, it projected on the screen what I saw on my phone as is, so I located a movie that I had downloaded later and that was in the gallery of my phone and it was seen without any problem, and you can pause, fast forward, etc. and all those functions with the phone.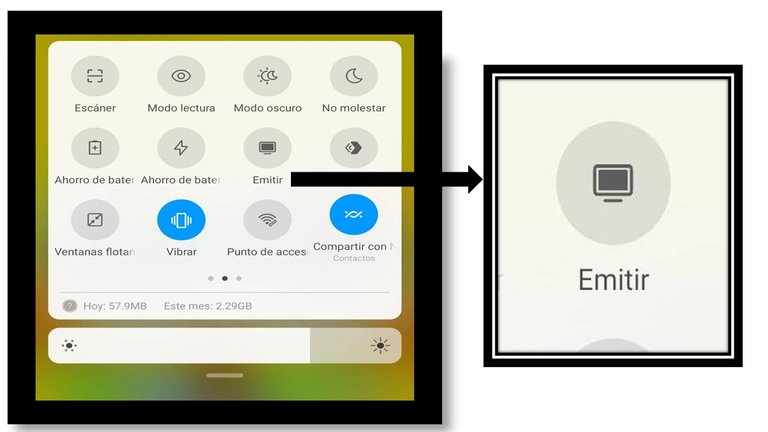 Although the product really seems very good to me in its entirety, I have not yet achieved my goal because for example, which by the way took us all by surprise, is that subscription channels like Netflix, Disney among others, does not allow you to broadcast on the screen, the content you download through its application on your phone, when placing the movie downloaded by such subscription streaming service, you listen, read the subtitles, but you can not see the image of the movie, I think that's part of the company's policy to not allow pirated copy of its content.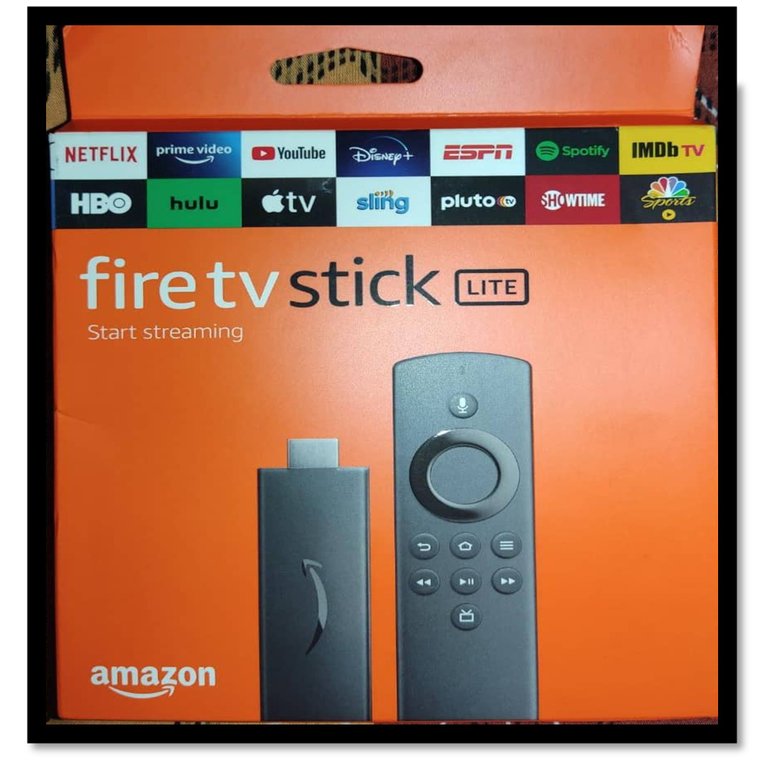 In the same way it was part of a solution that little by little I will surely get, for now I will continue investigating its use and other ways to enjoy it, as I know it has multiple uses and functions I hope this is my start in this area of technology that are really very useful.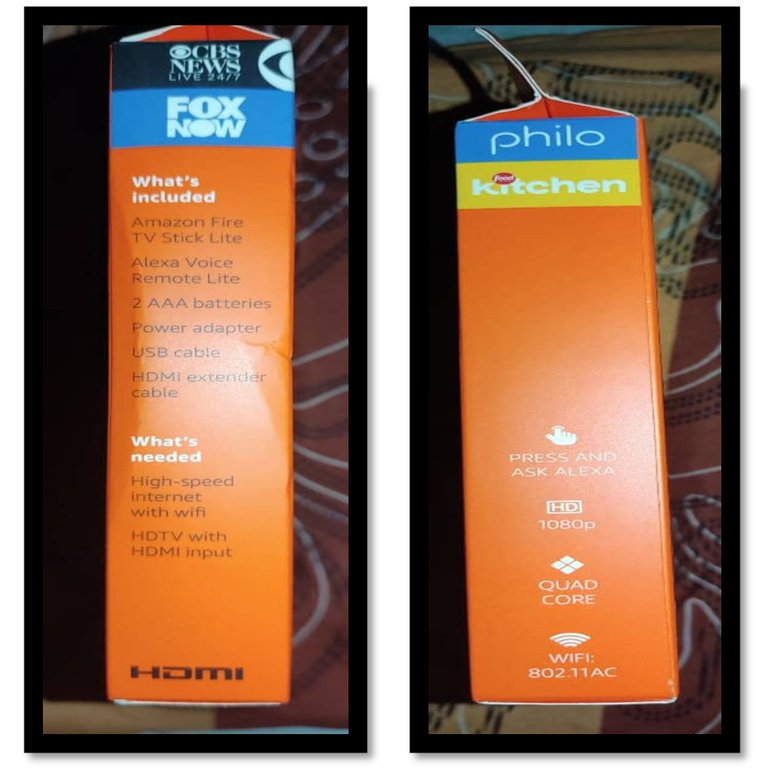 All images are my own, taken with the camera of my Poco X3 Pro phone Translated by https://www.deepl.com/es/translator