Hola a todos hoy por aquí muy agradecida y contenta con todo el mundo que conforma esta fantástica plataforma, creo que una de las cosas más gratificantes en la vida es tener tu independencia económica, y eso es parte de lo que he podido obtener gracias a Hive y realmente lo valoro, porque te permite de alguna manera, sentirte realizada y completa. Entre las muchas cosas que quiero comprarme, desde hace unos meses de verdad quería una freidora de aire, ya que te permite realmente comer más sano y sabroso, es rápida, ocupa poco espacio y de fácil manejo, entre otros beneficios. Y al fin ese momento llego.
Desde que era muy pequeña entre las muchas cosas que me enseñaron en mi casa, es que la mejor manera de obtener las cosas y vivir bien es trabajando, y creo que eso fue de las cosas que más me afecto después de convertirme en madre fue dejar de trabajar y perder mi independencia económica, el simple hecho de tener el dinero, pero saber que no es tuyo, que tú no te lo ganaste para mi es sinónimo de incomodidad, es por eso que además de mi emprendimiento, a través de una amiga busque entrar en esta plataforma donde se fusionan mis dos pasiones la escritura y la cocina, además de las recompensa monetaria.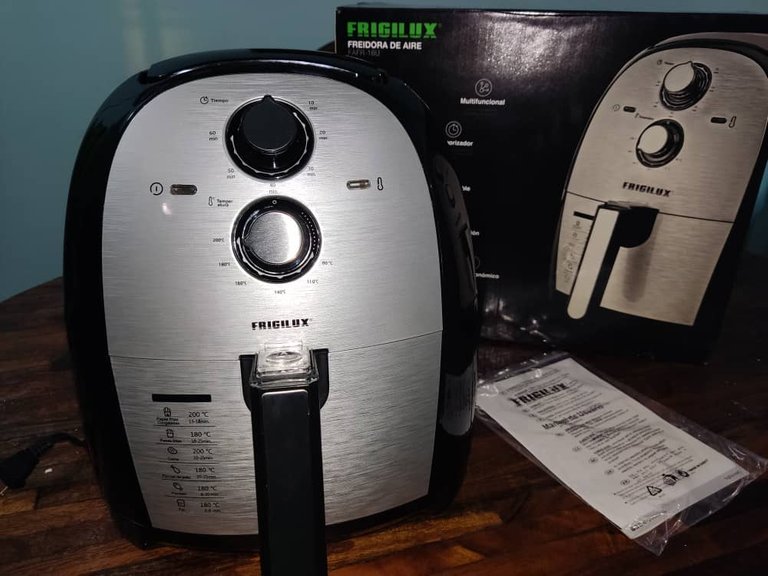 Las freidoras de aire son un poco costosas en mi país, desde que un amigo compro una y me la mostro quedé totalmente flechada, así que decidí ahorrar y comprarla, averiguando precios, tamaños y marcas, una empresa muy conocida de Electrodomésticos de la zona Multimax, coloco en oferta una de 5.5 litros, de maraca frigilux en colores negra y plateada, en 90$ prácticamente el mismo precio de una de 3.5 litros, además en las ventas on line el precio oscila entre los 170$,está a diferencia de muchas posee una garantía de una año, lo que me genero un poco más de confianza, obviamente desde que salió la promoción hasta que decidí comprarla se agotaron rápidamente, así que tuve que recorrer tres tiendas para poder adquirirla, lo bueno es que la atención fue excelente y ellos canalizaron todo para que mi compra fuera más rápida y llegara directo al sitio, cosa que me pareció súper importante.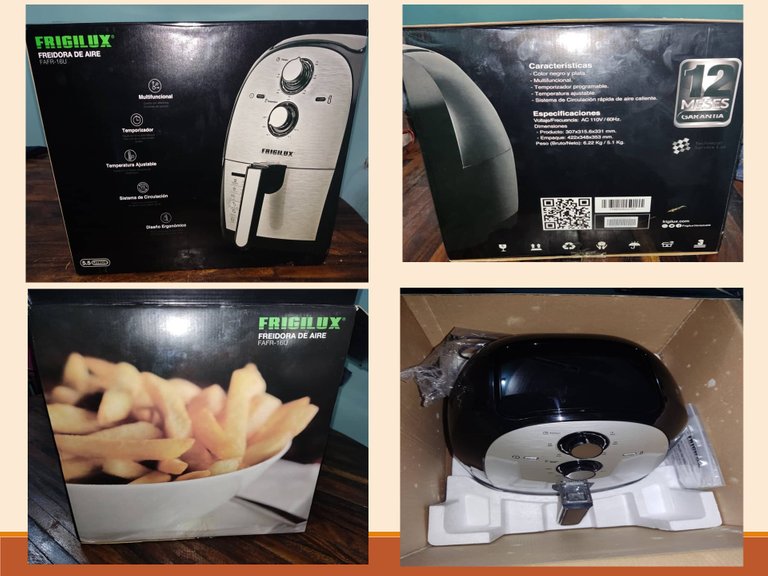 Esta es una freidora multifuncional que se puede utilizar para freír, asar y hornear sin utilizar aceite, bueno algunos alimentos necesitan una cantidad mínima, posee una canasta para freír los alimentos, fácil de extraer y lavar la verdad es bastante fácil su uso. Su voltaje es de 110V por lo que puede ser conectada en cualquier interruptor común, externamente no se calienta solo en la parte de atrás que debe tener a su alrededor un espacio mínimo de 10 centímetros para que expulse el aire caliente y tiene un peso alrededor de los 5 kg, y podría decirse que es bastante espaciosa al momento de cocinar, ya que en su bandeja se puede hacer fácilmente 500g de papas fritas sin ningún problema.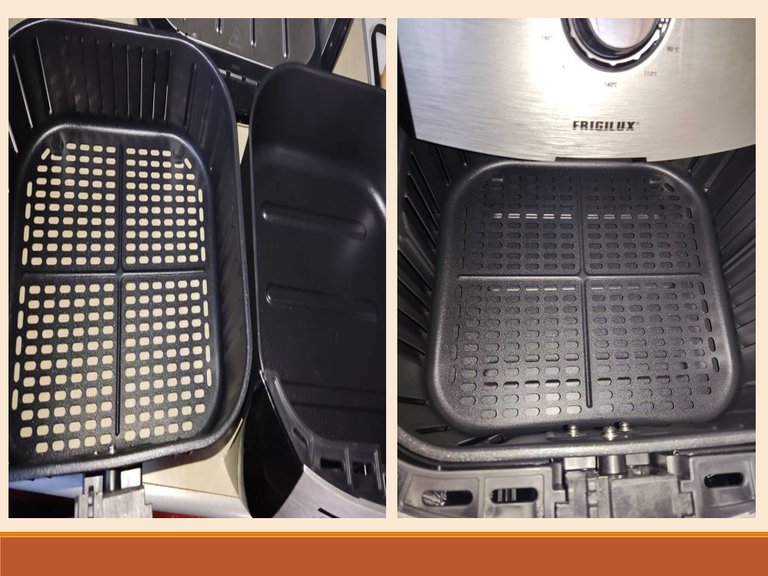 Cuenta con un sistema rápido de circulación de aire caliente con una temperatura ajustable hasta 200 °C y un temporizador de 60 minutos con apagado automático, además cuenta con una tabla de indicación del tiempo y temperatura de cocción de los alimentos más comunes.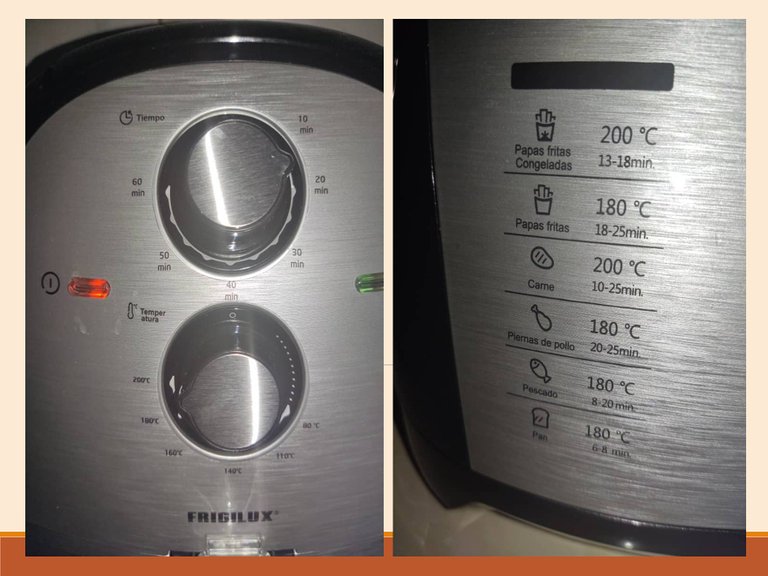 Les puedo decir que lo poco que he preparado todo ha quedado bastante bien, los pastelitos y los tequeños quedan doraditos, eso sí con una brocha les coloque una mínima cantidad de aceite para que tomara un color y textura más deseada, las papas quedan realmente como si fueran fritas, pero el broche de oro realmente hasta ahora fue el pollo crujiente, dorado, bien cocido por dentro, y súper rápido, para mi hija es fascinante y la verdad es una manera de comer más sano para todos.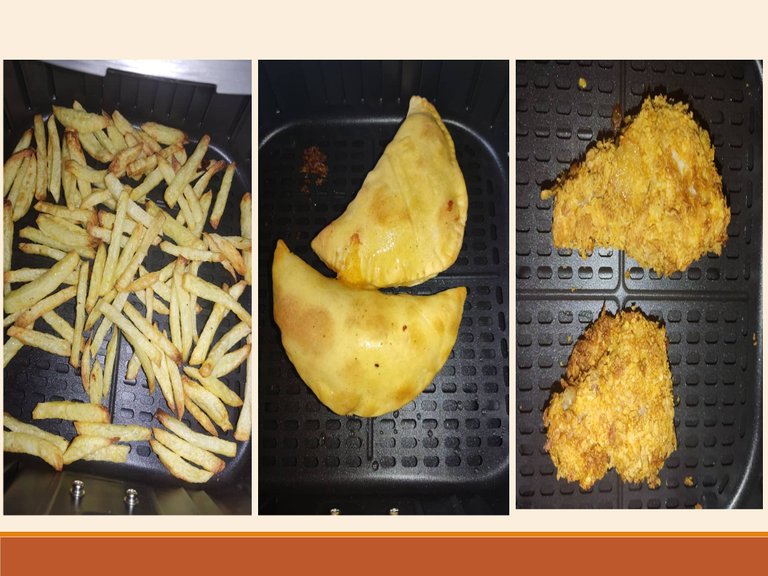 Todas las imágenes son de mi propiedad, tomadas con la cámara de mi teléfono Poco X3 Pro Traducido con https://www.deepl.com/es/translator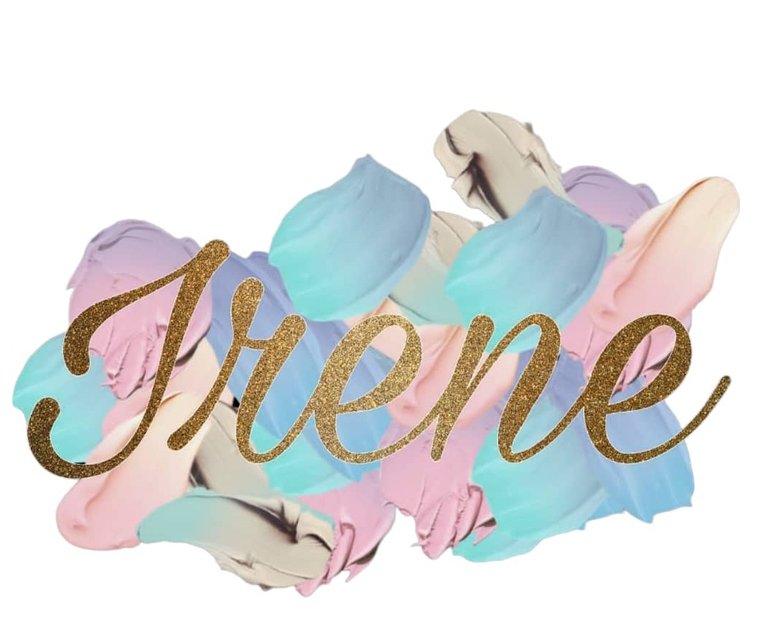 English
I think one of the most rewarding things in life is to have your economic independence, and that is part of what I have been able to get thanks to Hive and I really value it, because it allows you to somehow feel fulfilled and complete. Among the many things I want to buy, for a few months I really wanted an air fryer, because it allows you to really eat healthier and tastier, it is fast, takes up little space and is easy to use, among other benefits. And finally that moment has arrived.
Since I was very small among the many things I was taught at home, is that the best way to get things and live well is to work, and I think that was one of the things that most affected me after becoming a mother was to stop working and lose my economic independence, the simple fact of having the money, but knowing that it is not yours, that you did not earn it for me is synonymous with discomfort, that's why in addition to my venture, through a friend I sought to enter this platform where my two passions merge writing and cooking, in addition to the monetary reward.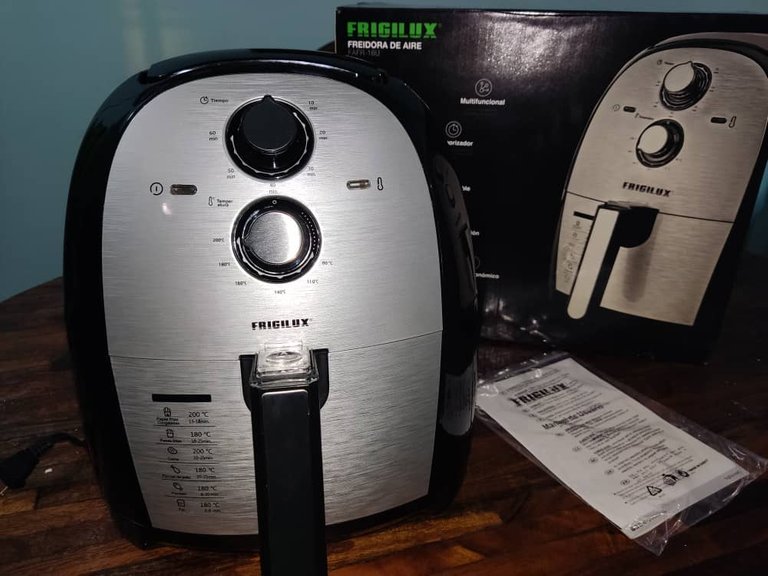 The air fryers are a bit expensive in my country, since a friend bought one and showed it to me I was totally smitten, so I decided to save and buy it, finding out prices, sizes and brands, a well-known company of appliances in the area Multimax, placed on offer a 5.5 liters, frigilux brand in black and silver colors, in $ 90 almost the same price of a 3. 5 liters, also in online sales the price ranges between $ 170, is unlike many has a one year warranty, which generated me a little more confidence, obviously since the promotion came out until I decided to buy it was exhausted quickly, so I had to go through three stores to acquire it, the good thing is that the attention was excellent and they channeled everything so that my purchase was faster and came directly to the site, which I found super important.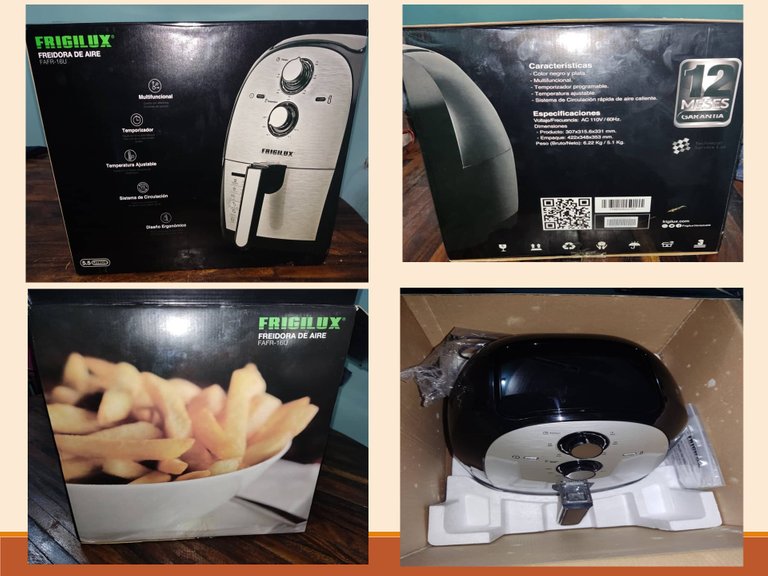 This is a multifunctional fryer that can be used for frying, grilling and baking without using oil, well some foods need a minimum amount, has a basket for frying food, easy to remove and wash the truth is quite easy to use. Its voltage is 110V so it can be connected to any common switch, externally it is not heated only in the back that must have around it a minimum space of 10 centimeters to expel the hot air and has a weight around 5 kg, and it could be said that it is quite spacious when cooking, since in its tray you can easily make 500g of french fries without any problem.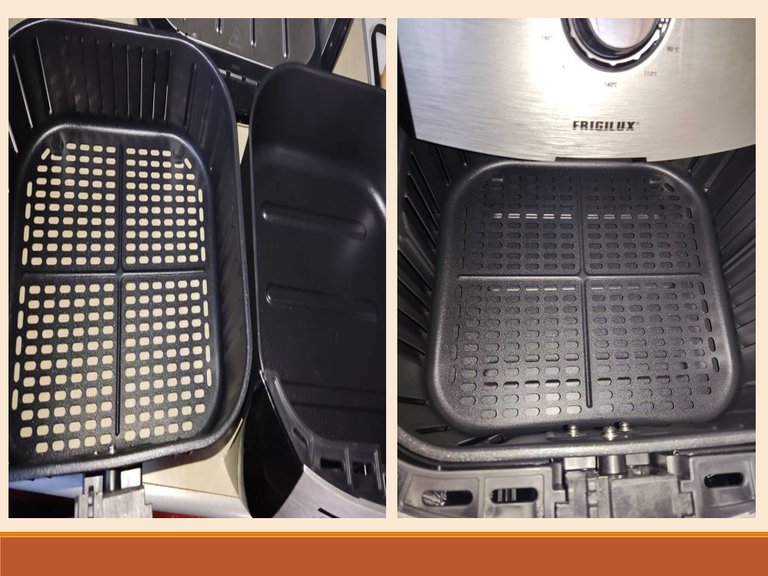 It has a fast hot air circulation system with an adjustable temperature up to 200 °C and a 60-minute timer with automatic shut-off, as well as a table indicating the cooking time and temperature of the most common foods.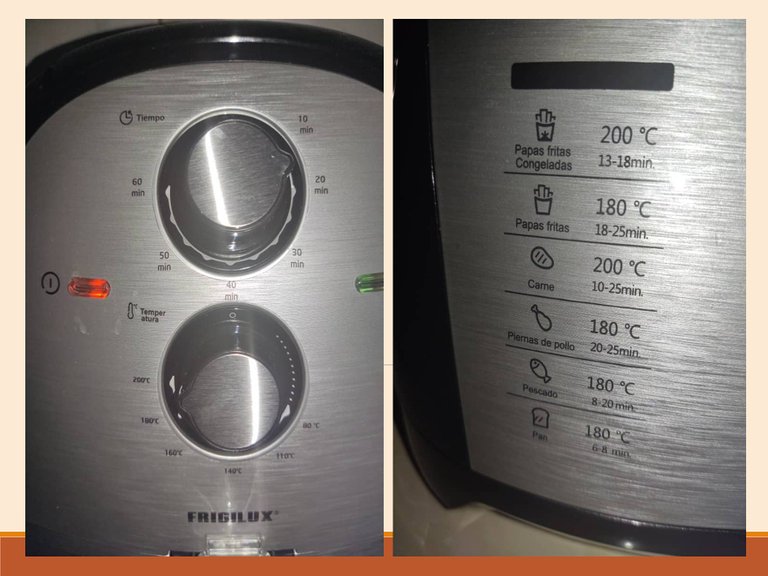 I can tell you that the little that I have prepared has turned out quite well, the cakes and the tequeños are golden brown, but with a brush I put a minimum amount of oil to give them a more desired color and texture, the potatoes are really as if they were fried but the highlight so far was the crispy chicken, golden brown and well cooked inside, and super fast, for my daughter it is fascinating and the truth is a way to eat healthier for everyone.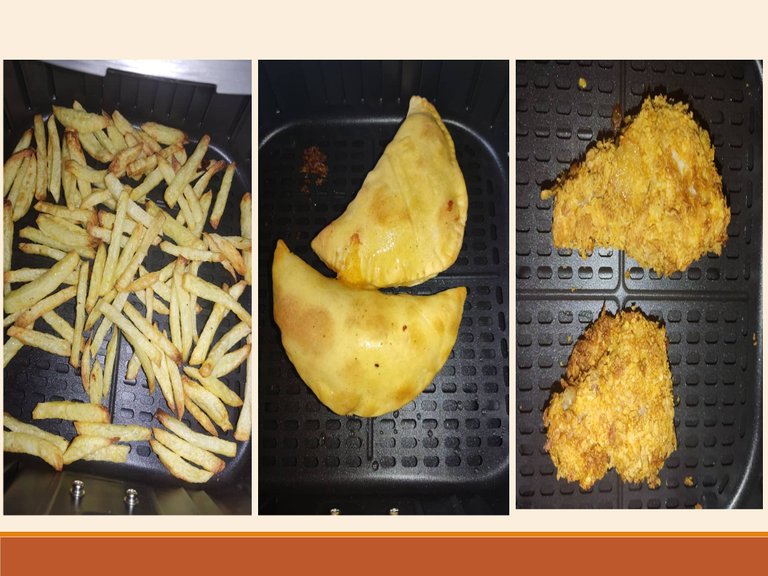 All images are my own, taken with the camera of my Poco X3 Pro phone Translated by https://www.deepl.com/es/translator