---

Me corresponde felicitarme, por aceptar el reto para regresar a la tecnología. Estoy sorprendido por el encuentro y la situación en la que me encuentro. Tengo sesenta y nueve años cumplidos, soy un hombre activo, me alimento sano y muy bien, desayuno, almuerzo y ceno, balanceadamente, hasta mi merienda la disfruto con delicia. Me gusta la lechosa, la consumo permanentemente; periódicamente, desayuno con porciones de lechosa, plátanos maduros sancochados con queso rallado y miel natural de la serranía Maigualida del municipio Cedeño del estado Bolívar, Venezuela.
I am to be congratulated for accepting the challenge to return to technology. I am surprised by the encounter and the situation in which I find myself. I am sixty-nine years old, I am an active man, I eat healthy and very well, I have a balanced breakfast, lunch and dinner, I even enjoy my snacks with delight. I like milky milk, I eat it all the time; periodically, I have breakfast with portions of milky milk, boiled ripe bananas with grated cheese and natural honey from the Maigualida mountain range in the Cedeño municipality of Bolivar State, Venezuela.
---

Esta nueva situación de mi vida personal está motivada por el regreso al cuaderno, el lápiz de creyón, el bolígrafo; es más, la laptop, ella es mi herramienta inseparable, con mis dos teléfonos celulares de alta tecnología. Esto implica y explica que retorno a la tecnología, que cada momento es más intensa por las expectativas que están a la orden del día. He tenido que retornar al teclado, estoy impulsado por la incuestionable dedicación que tengo desde hace un año que me incorpore a la red de Blockchain de HIVE, con mucho esfuerzo intelectual, he construido varios post con unos contenidos inéditos que abarcan de manera muy especial mi situación personal y la condición humana, en general. Reconozco que tengo dificultades para abordar está compleja y superdinámica tecnología, pero he logrado un autoaprendizaje; actualmente, vivo en mi casa solo con suficiente tiempo para atenderme en todas mis necesidades.
This new situation in my personal life is motivated by the return to the notebook, the crayon pencil, the biros; what's more, the laptop, she is my inseparable tool, with my two high-tech mobile phones. This implies and explains my return to technology, which is becoming more and more intense because of the expectations that are the order of the day. I have had to return to the keyboard, I am driven by the unquestionable dedication that I have had for a year since I joined the HIVE Blockchain network, with much intellectual effort, I have built several posts with unpublished contents that cover in a very special way my personal situation and the human condition in general. I recognise that I have difficulties in dealing with this complex and super-dynamic technology, but I have achieved self-learning; currently, I live at home alone with enough time to take care of all my needs.
---
| | |
| --- | --- |
---
Estoy destacando en este texto que me mantengo levantado por mantener mi autoestima con suficiente felicidad, con los aportes de mi experiencia espiritual, como docente jubilado. La red de HIVE me ha provocado la necesidad de regresar a la computadora, por la carga de tener que responder a las expectativas de esta malla de Hivers, estoy intercambiando experiencias con otras personas de una condición humana fabulosa en el ecosistema, cada día voy descubriendo nuevos espacios para volar hacia nuevas comunidades que tienen sus propios intereses y necesidades de intercambio cultural con sus contenidos para enriquecer el nivel vida de los Hivers.
I am stressing in this text that I am keeping myself up by maintaining my self-esteem with sufficient happiness, with the inputs of my spiritual experience, as a retired teacher. The HIVE network has provoked me the need to return to the computer, because of the burden of having to respond to the expectations of this mesh of Hivers, I am exchanging experiences with other people of a fabulous human condition in the ecosystem, every day I am discovering new spaces to fly towards new communities that have their own interests and needs of cultural exchange with their contents to enrich the level of life of the Hivers.
---
| | |
| --- | --- |
---
Siento la necesidad de escribir y leer más contenidos de calidad. Superar las expectativas y las nuevas cumbres del pensamiento humano. Cada vuelo y cada reto superado es una satisfacción que disfruto en paz.
Actualmente, me distraigo con los juegos de la laptop, juego un solitario TriPeaks; estoy en el nivel ochenta y uno, me distraigo y estudio el juego. Debo mantener mis destrezas y habilidad, manejar con agilidad el mouse para superar cada nivel. Son impresionantes mis capacidades funcionales y operativas. De esta forma mantengo mi autonomía personal en forma. A veces pienso, que no soy parte las personas que conformamos el especial estamento de los adultos mayores, porque mi condición psíquica y afectiva demuestra que tengo una notable condición para amarme, en primer lugar; amar a mi familia, amar a mis semejantes y amar por sobre todas las cosas a la potencia de del gran foco eterno, omnímodo e infinito del inconmensurable universo, que por ser "uni y verso", universo es la potencia dinamizadora del amor que lo llamamos Dios. Sí, esa potencia que mueve los planetas y todos los astros es Dios, es Amor.
I feel the need to write and read more quality content. To surpass expectations and new heights of human thought. Every flight and every challenge overcome is a satisfaction that I enjoy in peace.
Currently, I distract myself with laptop games, I play TriPeaks solitaire; I am at level eighty-one, I distract myself and study the game. I must maintain my dexterity and skill, nimbly handling the mouse to get through each level. My functional and operational capabilities are impressive. In this way I keep my personal autonomy in shape. Sometimes I think that I am not part of the people who make up the special group of older adults, because my psychic and affective condition shows that I have a remarkable condition to love myself, in the first place; to love my family, to love my fellow men and to love above all things the power of the great eternal, omnipotent and infinite focus of the immeasurable universe, which being "uni and verse", universe is the dynamising power of love that we call God. Yes, that power that moves the planets and all the stars is God, is Love.
---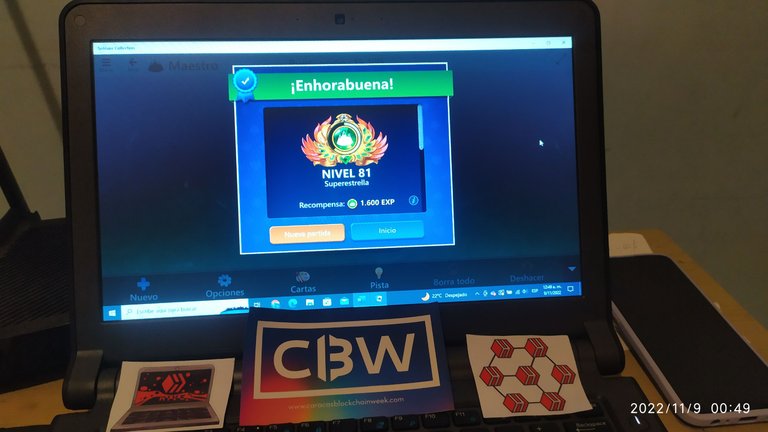 ---
Mis amistades de la frecuencia vibratoria de la C/Geek Zone, les comento que me siento recompensado por la vida por seguir volando en los nuevos amaneceres y preciosos atardeceres en esta trascendencia de la tecnología que avanza con la velocidad de la luz del pensamiento humano, humanidad. Cada amanecer es un nuevo alumbramiento de la vida humana y de la tecnología.
Continúo laborando para nutrirme con sus comentarios, como siempre son muy oportunos para enriquecer nuestra fraternal comunicación humana.
Gracias por leer mi post.
My friends of the vibratory frequency of the C/Geek Zone, I tell you that I feel rewarded by life for continuing to fly in the new dawns and precious sunsets in this transcendence of technology that advances with the speed of light of human thought, humanity. Each sunrise is a new birth of human life and technology.
I continue to work to nourish myself with your comments, as they are always very timely to enrich our fraternal human communication.
Thank you for reading my post.
---

---
REFERENCIAS: Las muestras fotográficas tomadas con mi teléfono Redmi Note 7 son de mi propiedad patrimonial.
REFERENCES: The photographic samples taken with my Redmi Note 7 phone are my propert