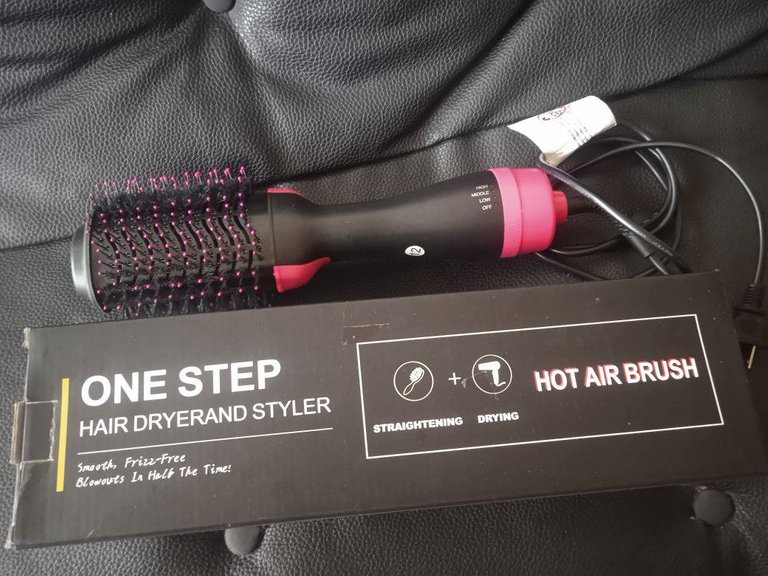 Buenos días comunidad hive amantes de la tecnología siempre publico artículos de computación y juegos pero hoy vengo con algo distinto un artículo para las princesas del hogar siempre debemos impresionarlas con algún detalle con esta herramienta para la belleza van ahorrar tiempo para que estén hermosas es un regalo que todas mujer debe tener en su hogar. Se llama cepillo de aire Caliente-Hot Air Brush. Vamos con lo que es y la descripción del producto.
Good morning hive community hive technology lovers always publish articles on computers and games but today I come with something different an article for the princesses of the home we should always impress them with some detail with this tool for beauty will save time so that they are beautiful is a gift that every woman should have in your home. It's called Hot Air Brush. Let's go with what it is and the product description.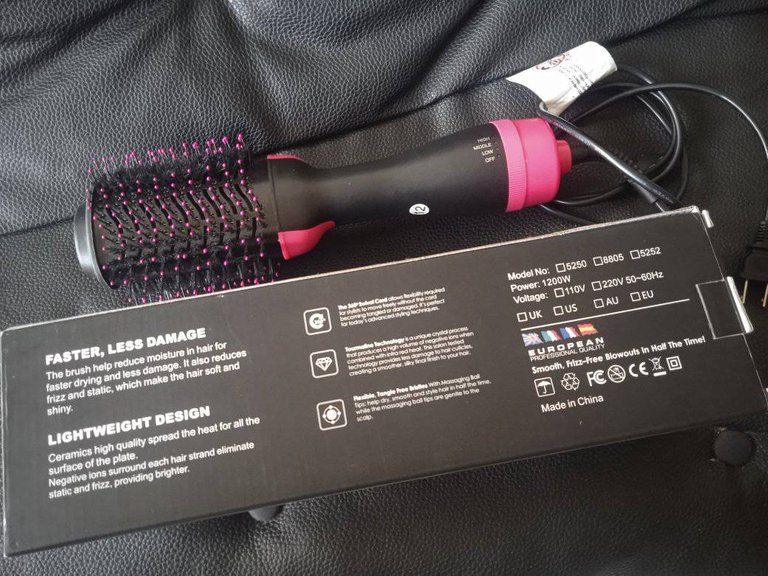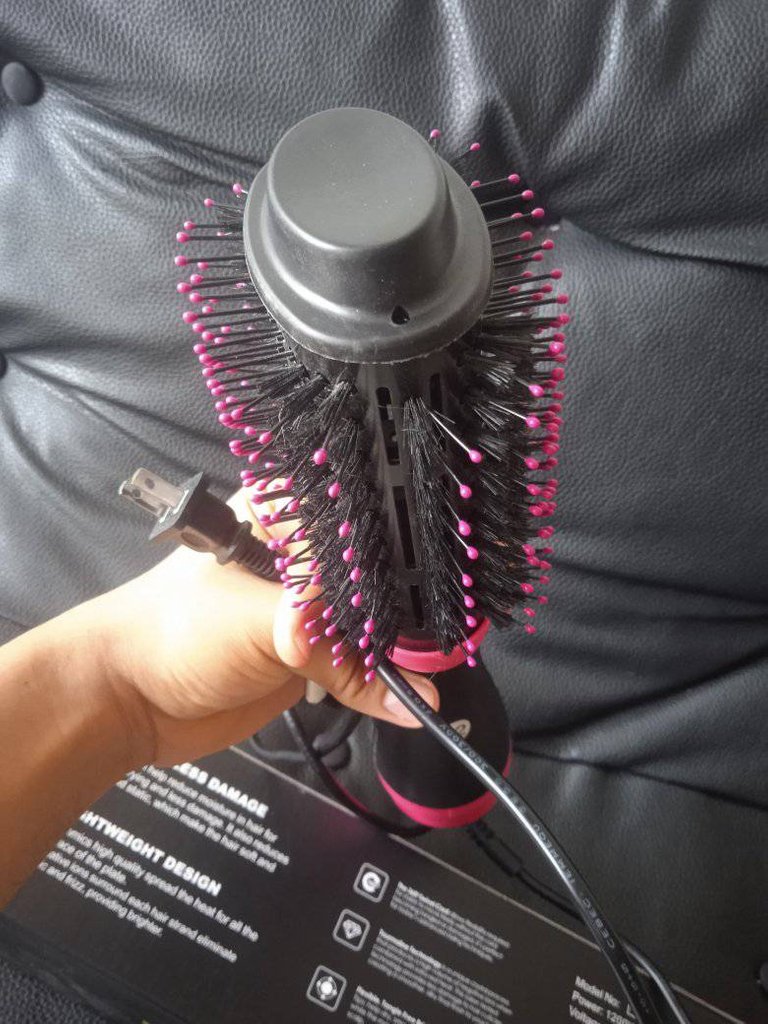 Cepillo De Aire Caliente Este cepillo secador de cabello le da a tu cabello un aspecto suave, sedoso y brillante natural al sellar las cutículas del cabello, reduciendo así las puntas abiertas y los nudos. Perfecto para cabello seco y húmedo y para todo tipo de cabello. Puede usarlo como secador de pelo o moldeador para hacer que su cabello sea ondulado o liso.
Hot Air Brush This hair dryer brush gives your hair a soft, silky and naturally shiny look by sealing the hair cuticles, thus reducing split ends and knots. Perfect for dry and wet hair and for all hair types. You can use it as a blow dryer or styler to make your hair wavy or straight.
Fuente de texto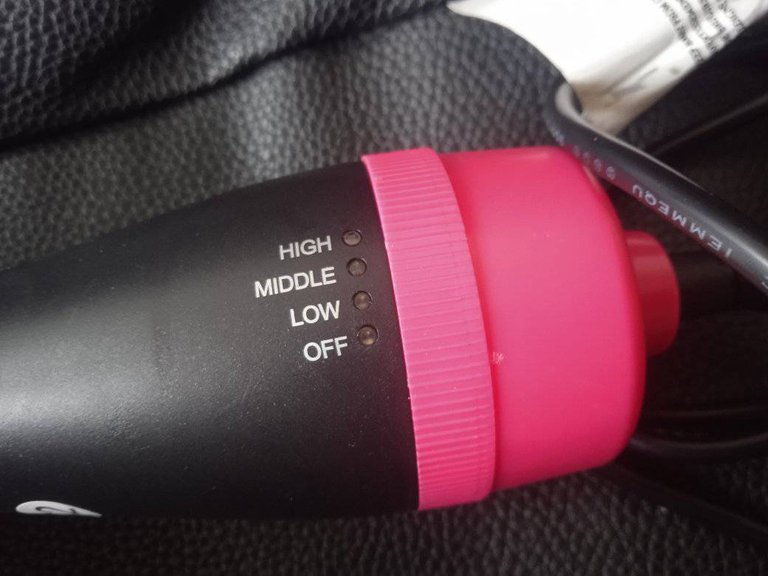 Descripción Cepillo para dar volumen al secador de cabello: Con este cepillo para cabello caliente, puede hacer que su cabello sea ligero, anti-enredos, brindando brillo y textura sedosos, haga cualquier estilo usted mismo. Tecnología iónica: cepillo de secador de pelo de un paso con iones negativos que saturan el flujo de aire. Esto ayudará a acondicionar el cabello y nutrir el cabello dañado. El cepillo también ayudará con el peinado y hará que tu cabello sea brillante y suave mientras reduce la estática. Diseño ergonómico: el cepillo de forma ovalada evita que el cabello se enrede y los bordes redondos ayudan a agregar volumen al cabello. El mango ergonómico está diseñado para la máxima comodidad y facilidad de uso durante el diseño. Configuraciones personalizables: 3 configuraciones de temperatura y 2 configuraciones de velocidad están disponibles para un estilo flexible. La configuración se puede ajustar para usar en todo tipo de cabello. Cepillo secador de pelo, cepillo de aire caliente, secador de pelo de un solo paso y voluminizador con frizz suave y tecnología iónica
Información adicional
Peso 1 kg
Color negro /fucsia
Description Hair dryer volumizing brush: With this hot hair brush, you can make your hair light, anti-tangle, providing silky shine and texture, make any style yourself. Ionic technology: one-step hair dryer brush with negative ions saturating the airflow. This will help condition hair and nourish damaged hair. The brush will also help with styling and make your hair shiny and smooth while reducing static. Ergonomic design: the oval shaped brush keeps hair from tangling and the rounded edges help add volume to hair. Ergonomic handle is designed for maximum comfort and ease of use during styling. Customizable settings: 3 temperature settings and 2 speed settings are available for flexible styling. Settings can be adjusted for use on all hair types. Hair dryer brush, hot air brush, one-step hair dryer and volumizer with gentle frizz and ionic technology.
Additional information
Weight 1 kg
Color black /fuchsia
Fuente de texto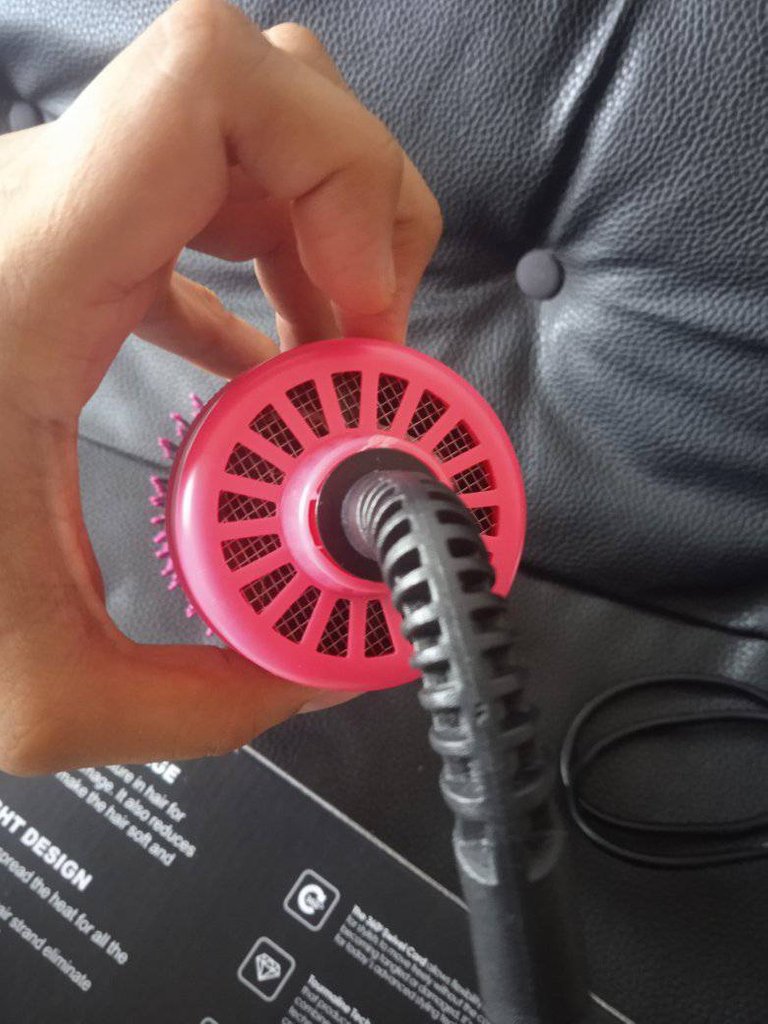 Conclusión es una herramienta practica que no maltrata el cabello es fácil de utilizar queda el cabello perfecto sin necesidad de ir al estilista con una pequeña inversión de 15 dólares que te puedes ahorrar mucho dinero para lucir con un cabello impecable ahorra tiempo puedes arreglarte en pocos minutos se los recomiendo mi esposa esta fascinada con tan novedosa herramienta.
Conclusion it is a practical tool that does not mistreat the hair is easy to use is perfect hair without having to go to the stylist with a small investment of $ 15 you can save a lot of money to look with a flawless hair saves time you can fix in a few minutes I recommend my wife is fascinated with such a new tool.

La descripcion del producto / Cepillo De Aire Caliente fuente del contenido
Product Description / Hot Air Brush source of contents
Fuente de texto
Las imágenes son tomadas de mi teléfono Cepillo De Aire Caliente
The images are taken from my Hot Air Brush phone.
Translated with www.DeepL.com/Translator (free version)
Instagram
Alejandrojimenez86
Discord
Abgalejo#2572
Canal YouTube
https://www.youtube.com/channel/UC8QThO8MrRLhjVZqNMgNmkg
Canal peakd
https://peakd.com/@guaritosex